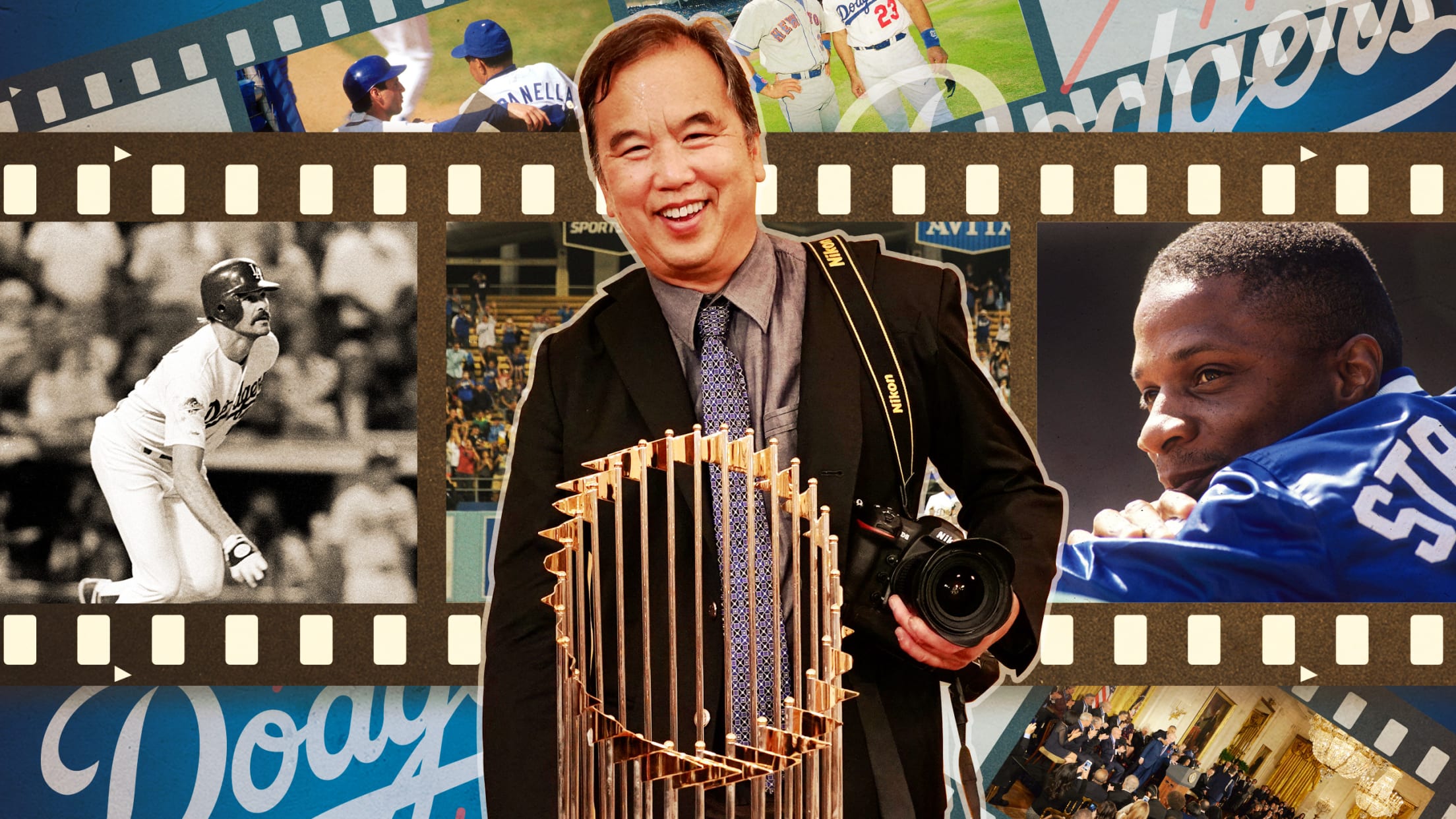 Scroll
Dodgers history is seen through Jon SooHoo's camera lens
Jon SooHoo was entering the great unknown.
In 2020, Major League Baseball enforced strict precautionary measures due to the COVID-19 pandemic. The number of people permitted to be on the field had been slashed. For SooHoo, this meant a change in perspective.
SooHoo, the Dodgers team photographer, was now confined to the outfield bleachers, hundreds of feet from the action. He faced the same restrictions when he covered football at USC, his alma mater. The limitations were unlike anything SooHoo had ever had to navigate. His work was going to be different. But a photographer's responsibility is to get the shot. So, he improvised.
He worked with different angles. He searched for pockets of light. The cardboard cutouts became central characters. He even took the annual team photograph from up behind home plate, a microscope being needed to see who was who.
SooHoo's photos during the regular season no longer felt intimate, but it was those unfamiliar characteristics that allowed SooHoo to document the magnitude of the moment.
SooHoo is a photographer, yes. But by extension, he is a storyteller.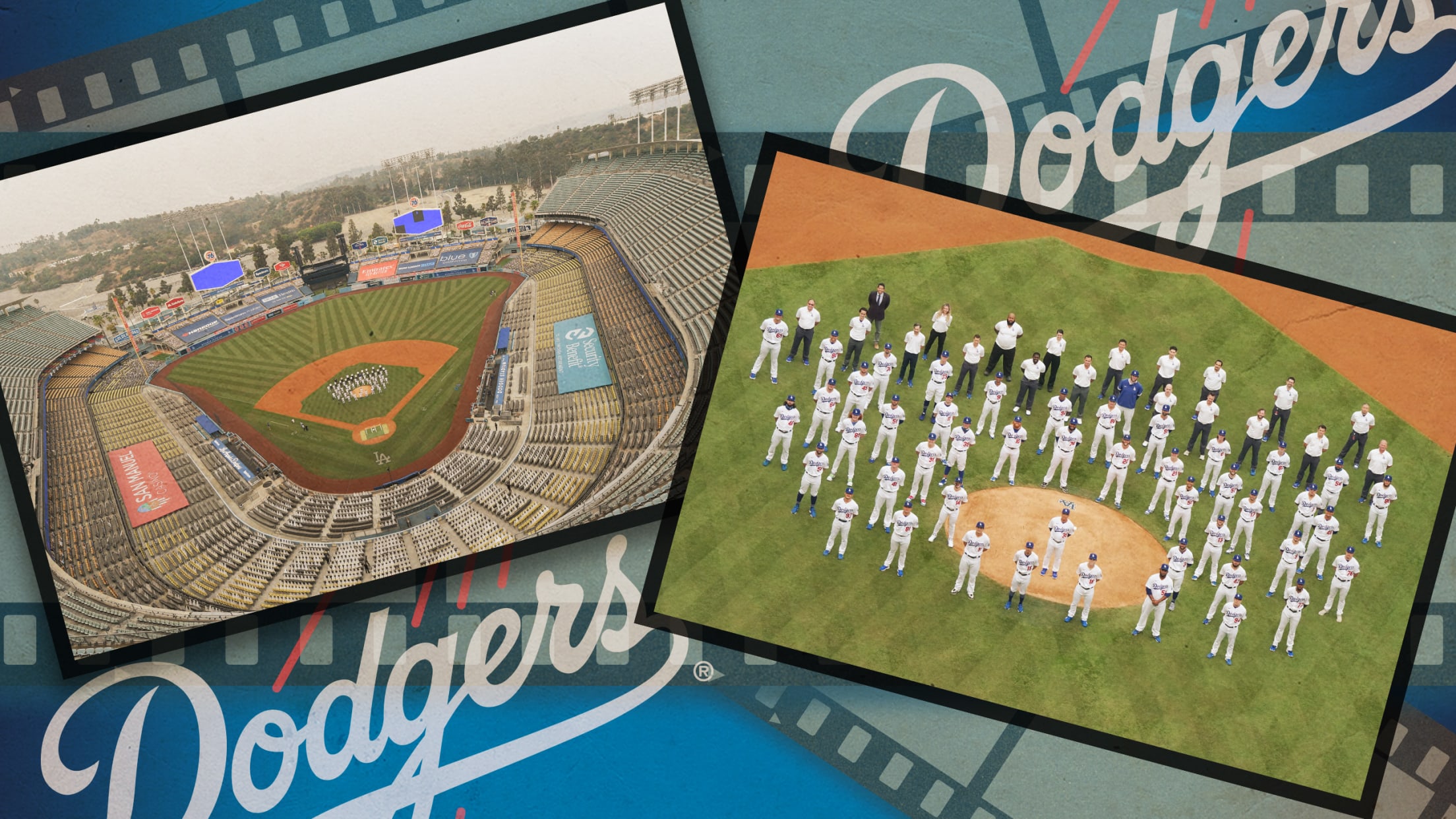 Last year's circumstances may have been unique, but SooHoo executed what he's been entrusted to do over the last 36 years: tell the stories of the Los Angeles Dodgers.
From Kirk Gibson's famous game-winning home run to last season's unprecedented championship run, SooHoo, one of the few Asian American lead photographers in league history, has captured it all.
"I spent 67 years trying to put into words more than the event in front of me," legendary Dodgers broadcaster Vin Scully said. "Jon SooHoo captures the event with depth and a brilliant sense of the story. I have tremendous respect and admiration for Jon's artistry and sensitivity with a camera."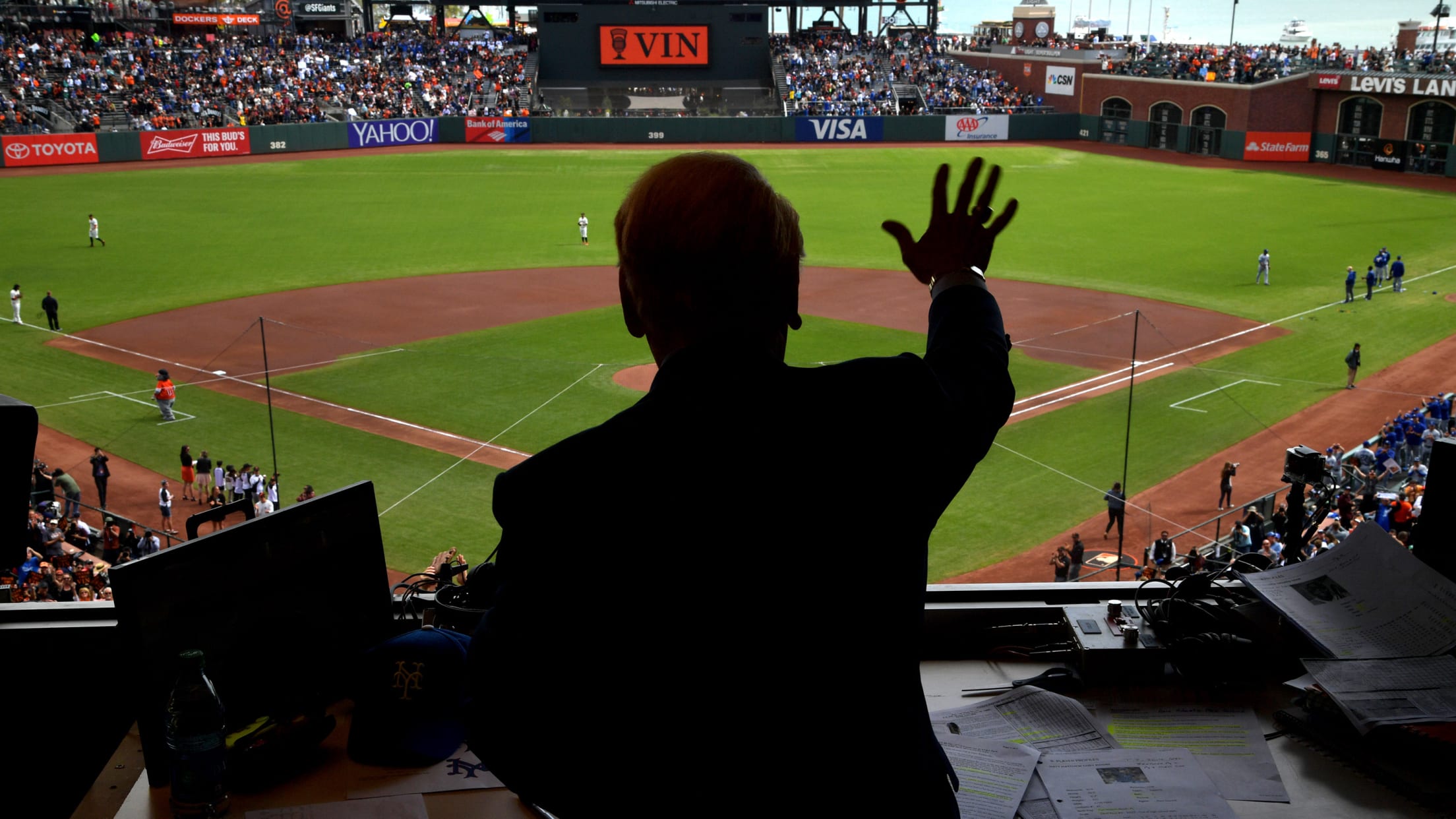 The great irony of SooHoo's career, one that classifies as grandmaster status, is that he has no formal education in photography -- unless an introductory course in middle school qualifies.
When SooHoo stepped onto the University of Southern California's campus as a freshman, his résumé was almost completely barren. His only learning in a classroom setting was an eighth-grade black-and-white photography class.
But what SooHoo lacked in experience, he made up for through his passion for sports. Not only was SooHoo an all-league basketball player and track athlete at L.A.'s John Marshall High School, but his parents, Peter Jr. and Lucy, were USC alumni who frequently took Jon to football games at Los Angeles Memorial Coliseum. To this day, SooHoo keeps sporting equipment in the trunk of his car. SooHoo recalled watching a Trojans football game as a child, wondering how he could gain access to the field. The answer was through photography.
SooHoo began his time at The Daily Trojan, the school's student newspaper, as a dark room technician, but worked his way up from photographer to chief photographer. Despite the lack of earlier experience, SooHoo shined with his fervor and talent.
"You can tell right away [if] a photographer has 'it' or not, and Jon has had 'it,'" USC's longtime sports information director, Tim Tessalone, said. "His stuff was always very professional and sharp and compelling."
SooHoo was on a trajectory to continue shooting post-graduation, and soon enough an opportunity arose. On a Saturday afternoon, SooHoo was at the old Sports Arena to cover a women's basketball game; the Clippers were scheduled to play later in the day. Toward the end of the women's game, Andrew Bernstein, who began covering the Lakers in 1983, set up next to SooHoo. Bernstein mentioned that he had dark room work that he needed done. SooHoo offered to help. Neither knew it at the time, but that chance interaction ended up being the watershed moment in SooHoo's career.
"It was kind of a magical thing," SooHoo said. "I'm glad I worked out with him because it worked out for me."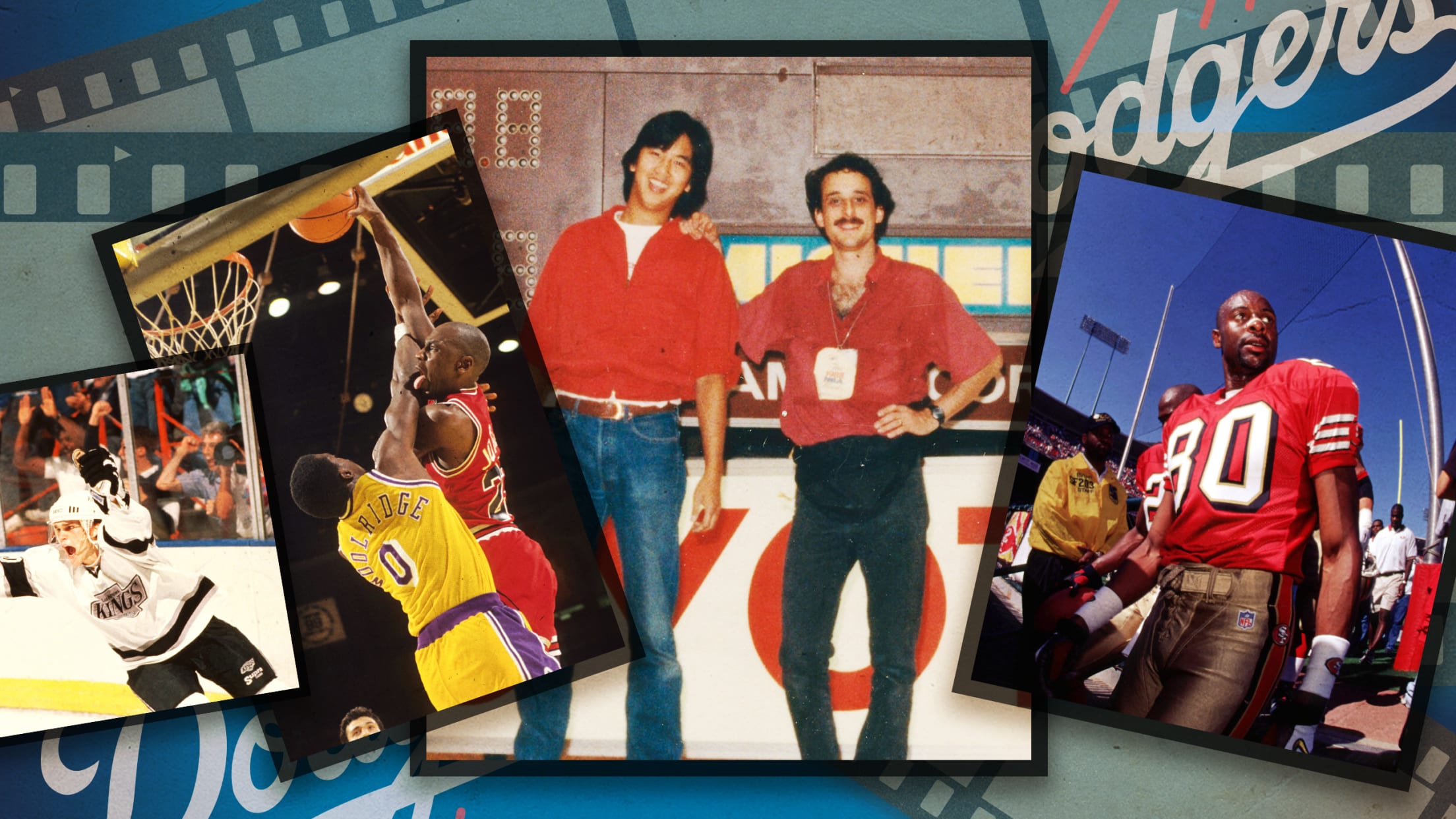 Under Bernstein, SooHoo evolved. Bernstein not only helped refine SooHoo's technical skills – like how to light an arena or effectively shoot portraits – but he also taught him how to handle matters away from the camera, like managing the business elements and handling people.
"It was almost a seamless transition when he did start shooting because his photography skills were terrific," Bernstein said. "I mean, here's a guy – at that point, I think he had just graduated from USC – and his photography skills were up there with all my contemporaries that I was working with."
Early in his career, SooHoo had the opportunity to cover some of sports' most infatuating subjects, from the "Showtime" Lakers to the Wayne Gretzky-led Kings to the Al Davis-run Raiders. It wasn't uncommon for SooHoo to also document the biggest of big-time names, from Michael Jordan to Jerry Rice to Barry Bonds. But as time went on, SooHoo found himself frequenting one venue more than others: Dodger Stadium.
The Dodgers weren't initially SooHoo's primarily responsibility. Along with his work for Bernstein, SooHoo also freelanced with United Press International, Sporting News and Sport Magazine, among others.
Just a few years into his professional career, SooHoo captured one of baseball's most iconic moments – Kirk Gibson's walk-off home run in Game 1 of the 1988 World Series.
"He's really helped multiple generations of Dodger fans see the game through his eyes," said Josh Rawitch, the new president of the National Baseball Hall of Fame who previously spent 15 years with the Dodgers. "He's as impressive of a photographer as there is in the entire sport."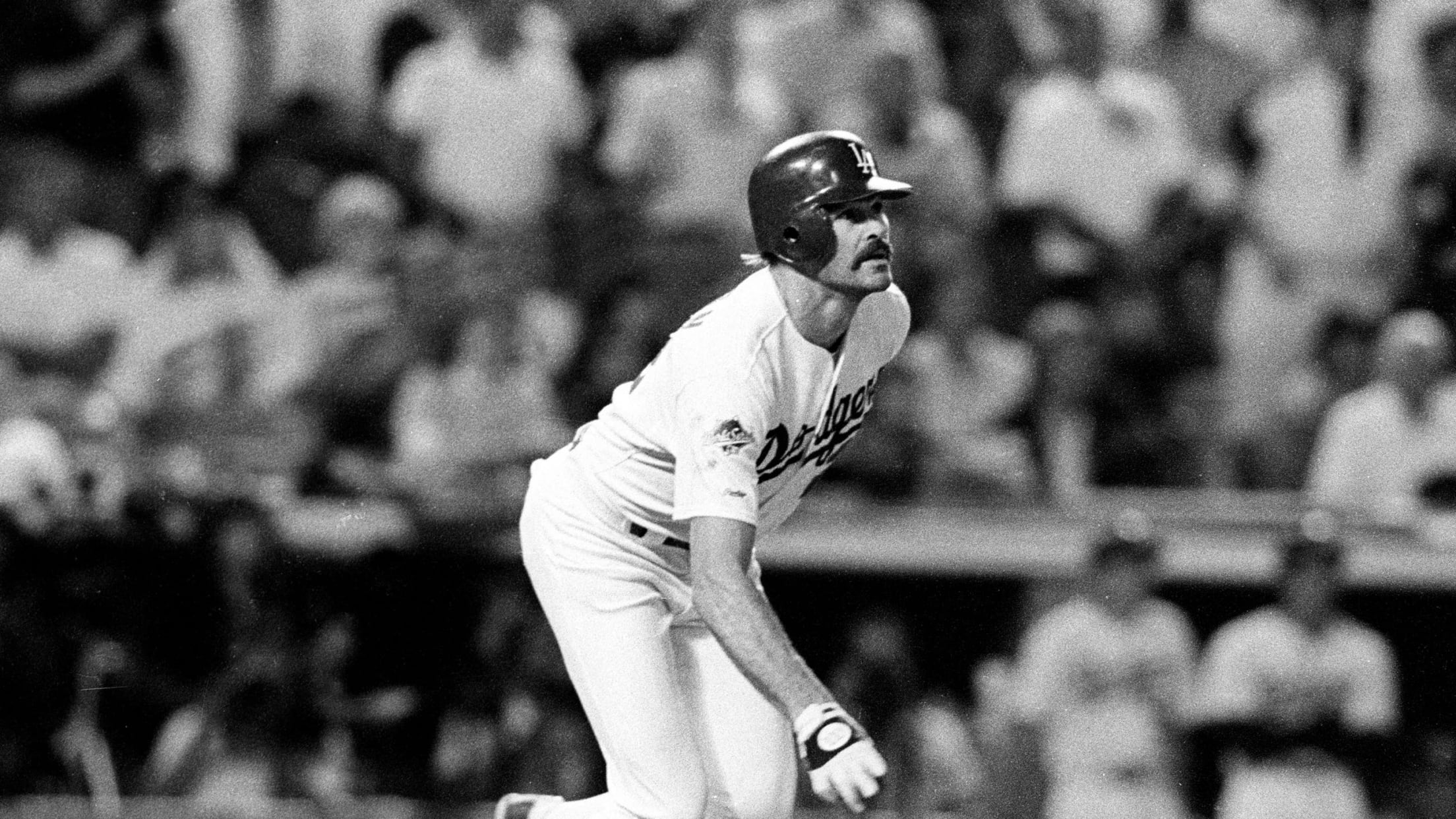 In 1995, Bernstein, who had a contract with the Dodgers, could no longer manage his responsibilities with the team and the NBA. With SooHoo already having informally stepped into the role as team photographer, the Dodgers didn't need to look far for a replacement. SooHoo was handed the torch, one that he still carries to this day.
"He's always there capturing every moment," said longtime Dodgers public relations director Steve Brener. "He's always there for the right shot and setting things up and catching the moment. His dedication to the organization has been endless."
What's been particularly impressive about SooHoo's longevity has been his ability to adapt to and master the evolutions in technology.
SooHoo began his career on film, which had numerous limitations. There was no auto-focus. The motor drive was slow. With each roll of film having only a certain number of shots, SooHoo employed a bulk loader. There was no screen to provide instant feedback. He could only use color film during the day (due to technological limitations). Once shooting was done, photos had to be developed in dark rooms.
Team historian Mark Langill compares SooHoo's career to that of Scully, who came of age as a broadcaster around the time that the portable transistor radio was invented.
"Vinny became an icon in part because of that technology," Langill noted. "I think it's the same with SooHoo because the first 10, 15 years, he's really limited by slide film and negative film and dark rooms and things like that. When digital cameras come out, suddenly, he's not on a pitch count. He's got a whole canvas in front of him. Then suddenly, when the Internet comes along, the whole world can see his work."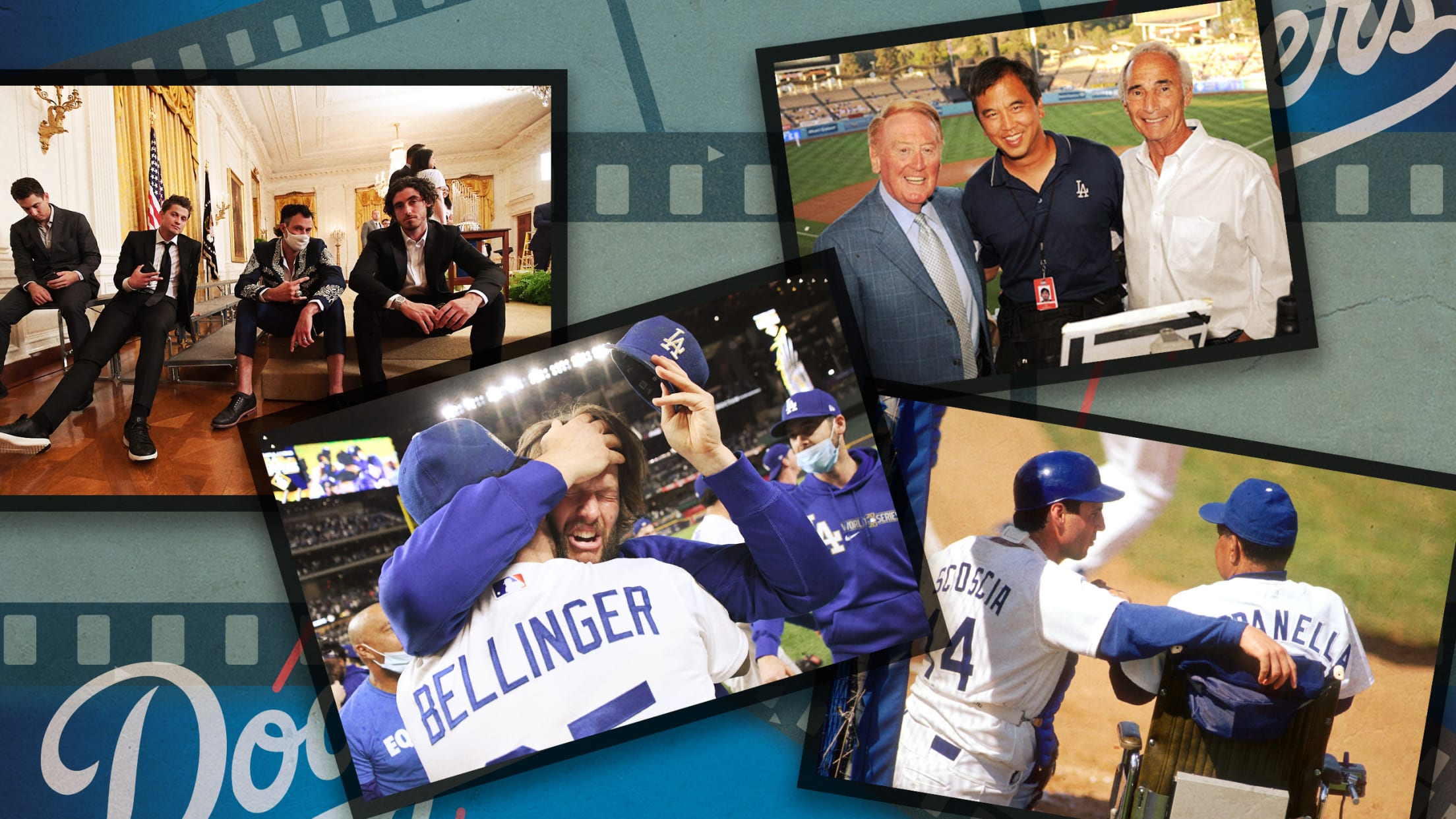 Instagram, in particular, has been a boon for SooHoo, whose @jon.sohoo handle has more than 137,000 followers.
SooHoo uses his "SooHoo Scrapbook" to post the best images from games during a season. He'll also drop gems from the '80s, '90s and 2000s. SooHoo's social media portfolio is an infatuating blend of contemporary and nostalgic, a balance that has earned admiration from Dodger fans.
"He's one of the best photographers technically that I know, which is one of the reasons why he's stayed there for so long," said Rich Pilling, Major League Baseball's former director of photography.
But being a team photographer isn't just about documenting what happens between the lines. SooHoo captures everyone who touches the organization, from celebrities to ushers, front office executives to clubhouse attendants. The stories that SooHoo tells only begin with the players on the roster.
And even with them, SooHoo doesn't just cover what unfolds on the field. He has the opportunity to be around players when the spotlight isn't shining down. Unfettered access helps; but what has enabled SooHoo to capture these moments is also his personality.
"Jon's warmth, his presence, his sense of humor, his ability to build relationships serves him so well," said Marlins general manager Kim Ng, who worked in the Dodgers front office from 2002-12. "That really comes through in his photographs."
He's a Dodger without a uniform.

Rich Pilling
"I consider him a friend first," manager Dave Roberts said. "The character is through the roof. The work ethic, the consistency. He hasn't changed. The world has changed some for the good, some for the bad, but Jon SooHoo has remained consistent."
SooHoo has taken too many photos to have one definitive favorite, but his favorite singular moment to cover was when Scully received his Presidential Medal of Freedom in 2016. It was former President Barack Obama's last Medal of Freedom class, one that also featured Jordan, Kareem Abdul-Jabbar, Bill Gates and Bruce Springsteen, among others. With the help of a ladder that provided him with a clear line of sight, SooHoo captured the moment with the same expertise as the hundreds of games he's witnessed.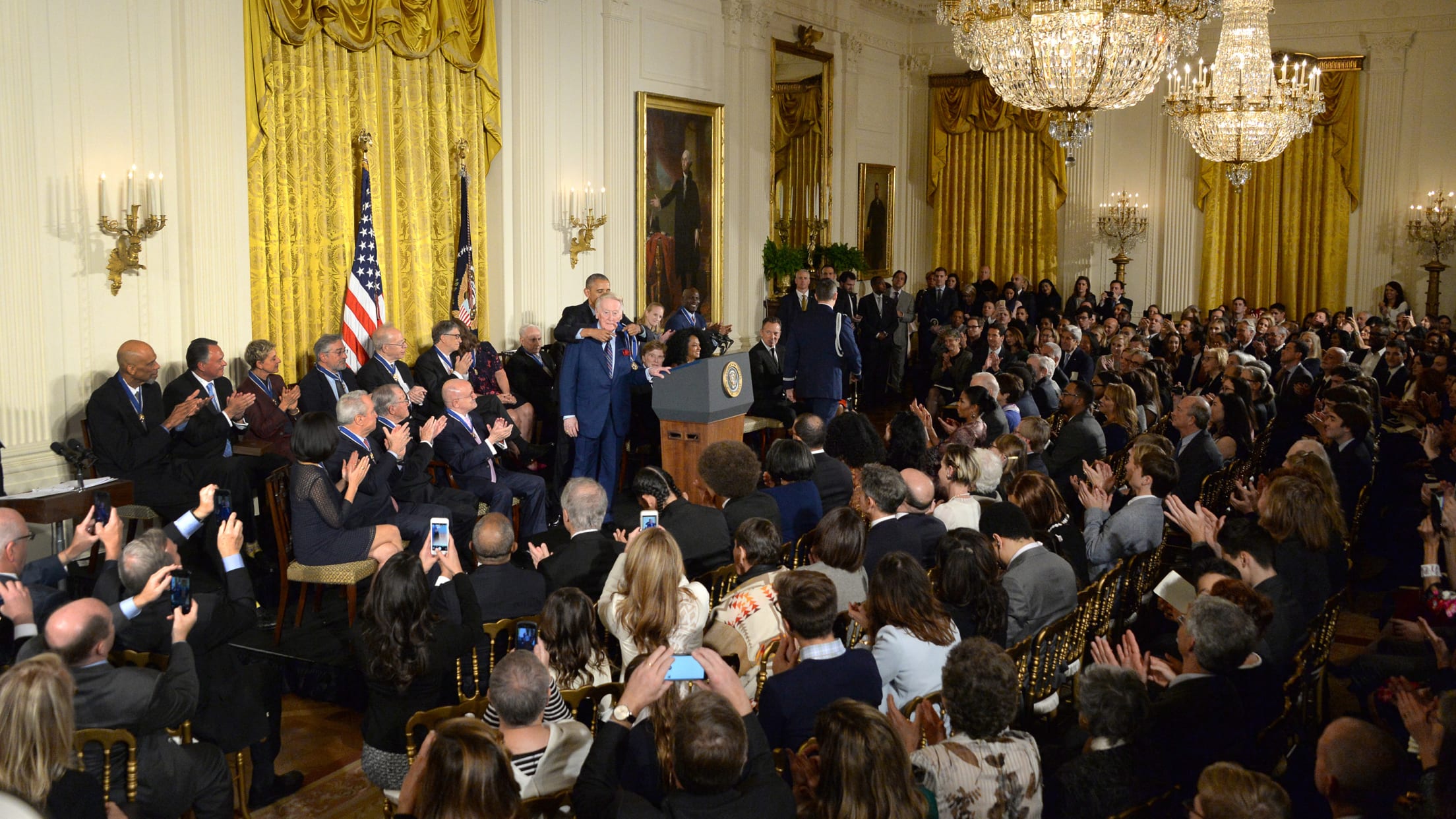 "Over the years, the amazing things he would shoot, either in the clubhouse or in the weight room or the trainer's room or a broadcast booth, all the places that, generally speaking, you can't go, he always earned enough trust to get himself in there and capture really candid, cool moments of people interacting," Rawitch said.
Said Pilling: "He's a Dodger without a uniform."
For SooHoo's career to have unfolded within arm's reach of where his grandfather, Peter SooHoo Sr., cemented his own legacy, only adds to his unique story.
Born and raised in what became Old Chinatown, Peter graduated from USC with an engineering degree. He was the first Chinese American to join the Department of Water and Power, and with fluency in Cantonese and English, SooHoo maneuvered expertly between Chinatown and the rest of Los Angeles after the California Supreme Court approved the condemnation of Chinatown in 1931.
Newly displaced Chinese residents needed a solution, and it was Peter SooHoo Sr. who stepped in to help. On June 25, 1938, "New Chinatown" opened. A plaque commemorating SooHoo still stands there today.
[E]very ballpark I've been to, I've been looked at as a freaking foreigner because I'm an Asian carrying a camera. I've gotten it at every ballpark across the land since I started in '85. I have to reiterate that I am an American. I am an Asian-American that happens to take pictures of the Los Angeles Dodgers.

Jon SooHoo
"I take pride in that," SooHoo said of his grandfather's legacy. "It's just a matter of trying to keep alive what memory is real and remembered accurately."
SooHoo is a fifth-generation Chinese American. His family's roots nearly date back to the first presence of Chinese immigrants in the 19th century. He's unabashedly proud of his heritage, and believes he was the first Asian American lead photographer in Major League Baseball.
Yet, despite his credentials, SooHoo hasn't always found acceptance.
"I keep reminding that to people because every ballpark I've been to, I've been looked at as a freaking foreigner because I'm an Asian carrying a camera," SooHoo said. "I've gotten it at every ballpark across the land since I started in '85. I have to reiterate that I am an American. I am an Asian-American that happens to take pictures of the Los Angeles Dodgers."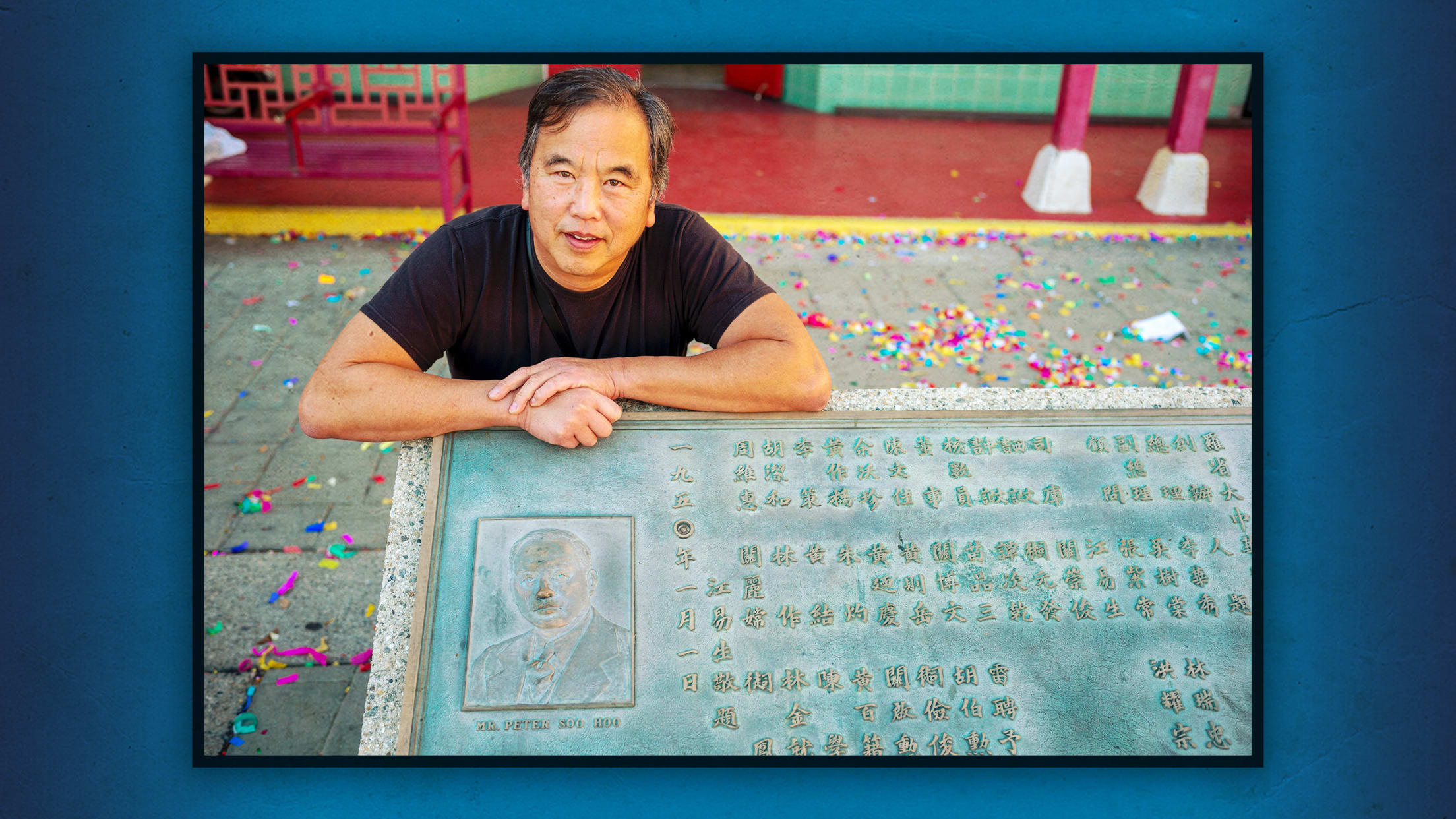 The last year has been a trying one for the Asian American community, subjected to a rampant rise of anti-Asian rhetoric and violence. The elderly community has specifically been targeted, with some of the attacks occurring in Chinatowns just like the one Peter SooHoo Sr. founded. The phrase "Stop Asian Hate" has become ubiquitous.
"We have a lot of conversations about the Asian hate that has been going on," Roberts said. "He's given me some insight and things that I need to know, and I've been fortunate to have an opportunity to share it. His passion and love for the Asian American community is incredible."
SooHoo has gained acclaim primarily for his work as a photographer, but to the Asian-American community, it's been his ability to carve out space that has been as important as any photo he has captured.
SooHoo has been honored for his impact on multiple occasions. Along with Ng, he was recognized in 2009 by the Chinese Historical Society of Southern California as part of a celebration of Chinese Americans in sports, as well as by USC's Asian Pacific Alumni Association in 2018. But these honors can only capture a fraction of SooHoo's fingerprint on the community at large.
"He's a great representative of the community," Ng said. "I was always so extremely proud to know Jon and to know that history and to know that his family were really torchbearers for Chinese Americans and helped to create a community in Los Angeles for folks that are of Chinese-American descent as well."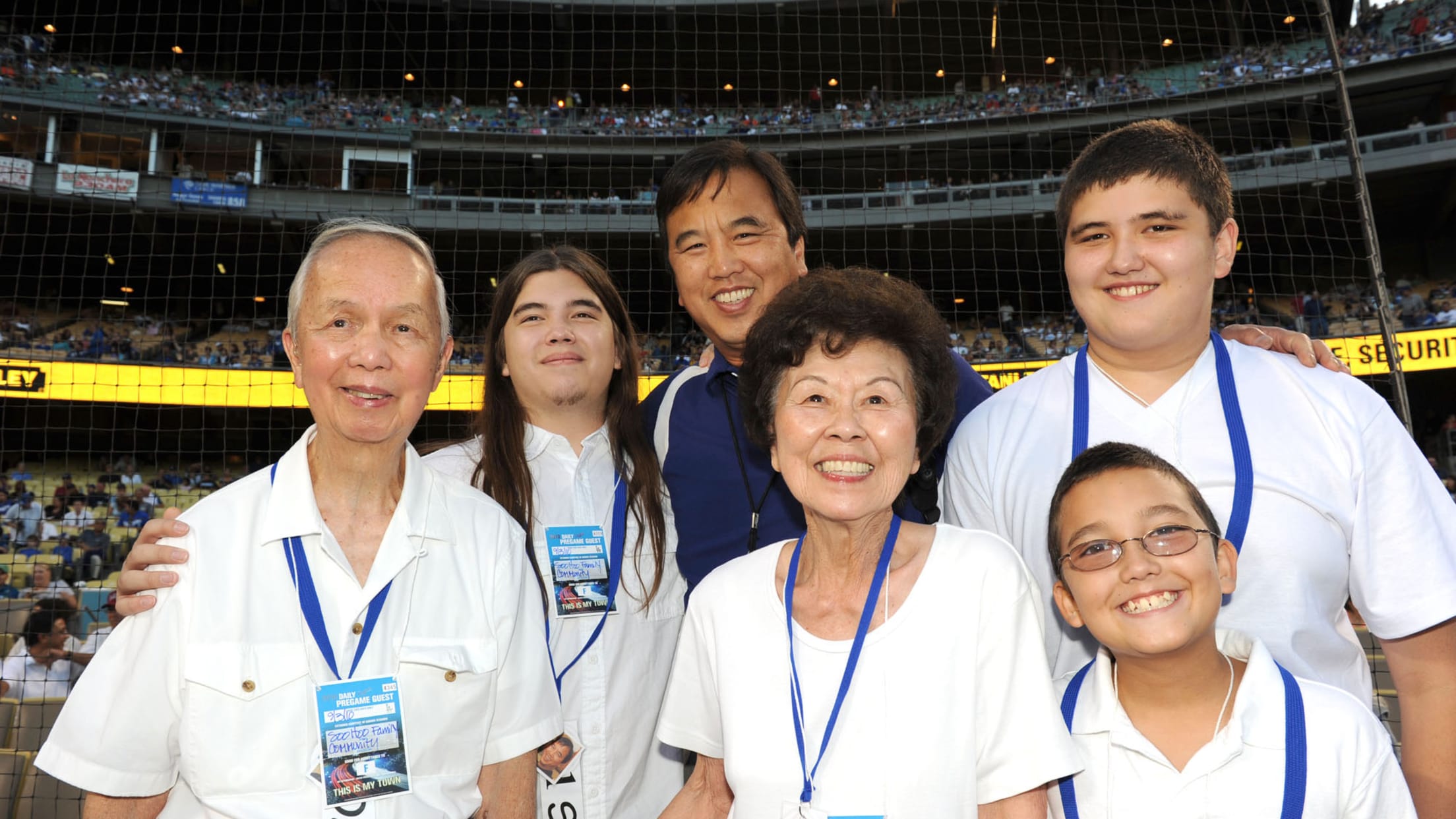 SooHoo has captured too many games, too many events and too many personalities to remember them all. There are few photographers in the sporting world who can match his expansive résumé, one that features a vast array of subjects aside from baseball. Given what he's done for the Dodgers, there are some who believe SooHoo is deserving of a spot in Cooperstown.
A couple years ago, Langill campaigned for SooHoo to have a spot in the Baseball Hall of Fame, going so far as to produce shirts that read, "SooHoo HOF."
"If you look at the Baseball Hall of Fame, you've got writers, you've got umpires, you've got so many different factions, but you don't have photographers in the Hall of Fame," Langill said. "That just doesn't make sense to me. I think Jon is the walking example of somebody whose career deserves Hall of Fame mention."
If there was ever an inaugural class of photographers, Rawitch said he can easily see SooHoo as part of that group. Yet, the pursuit of acclaim is not what keeps SooHoo going.
"I want to be on everybody's living room wall or piano or refrigerator door because I took a picture of them and gave it to them because this is their family legacy," SooHoo said. "I see how fast baseball careers come and go. For the amount of time I spend over there, I still get fired up by all of it."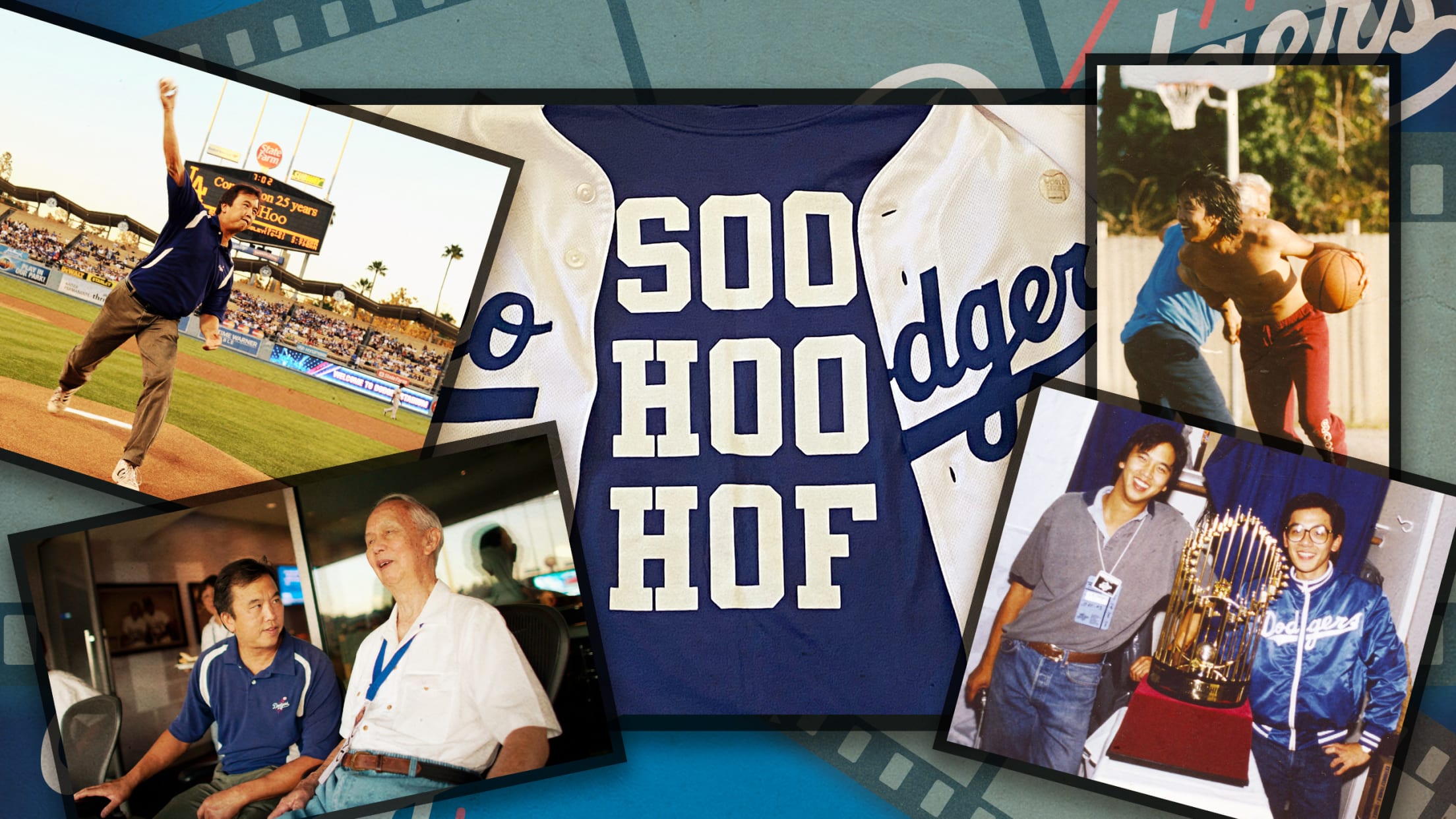 SooHoo's education in photography may have been informal, but his formal education at USC came in gerontology, the study of aging. The driving force to pursue that major came when SooHoo, then 11, remembers being in a room surrounded by his grandmother's siblings, holding his father tightly as he cried after his grandmother had passed away.
In that moment, SooHoo realized the people in this room were his family's legacy. He wanted to retain that history while he still had the opportunity to do so.
To SooHoo, gerontology revolves around the process of remembering. In a sense, that's what SooHoo has done in his career. Through the photos he takes and the stories he tells, the slivers of time that SooHoo captures will be remembered long after his final shot.
"I know that my place here is to record," SooHoo said. "I've been blessed to be able to do that, given the access to do it, and, God willing, I get to do it for as long as I can."
credits:
Justice delos Santos is a reporter for MLB.com. Follow him on Twitter @justdelossantos. Photos by Jon SooHoo. Design by Tom Forget.