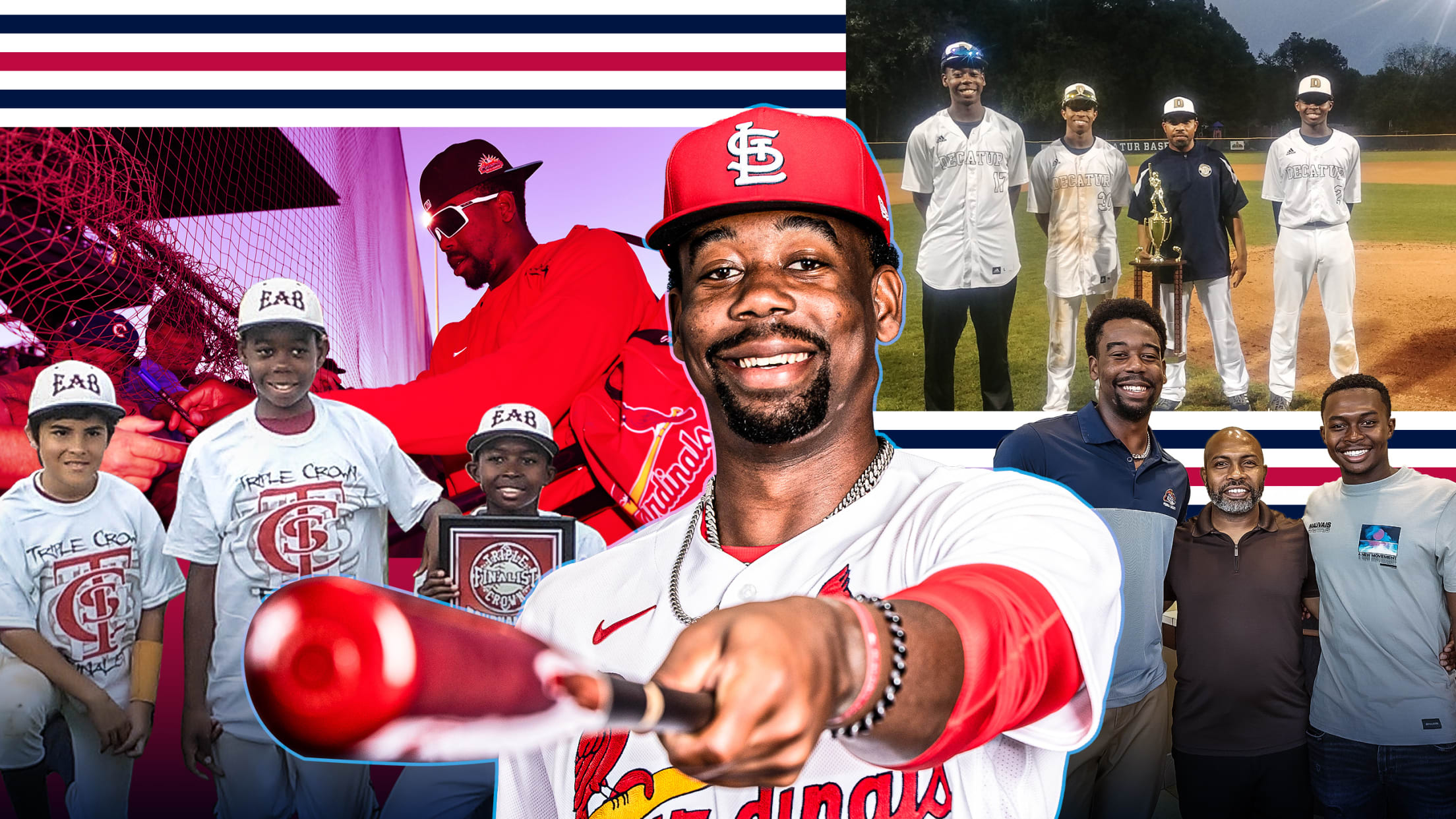 Scroll
Can Jordan Walker possibly be this good already?
JUPITER, Fla. -- The first indication that Jordan Walker might be different -- in terms of a brimming confidence, an advanced maturity and a high baseball IQ -- came during a low-profile meeting between the Cardinals and the then-17-year-old prodigy in December 2019.
Walker, a somewhat gawky teen at the time with his long limbs, bushy hair and toothy smile, was already very much on the club's radar in the months leading up to the 2020 MLB Draft because of the massive potential stored inside his wide-shouldered, 6-foot-5, 220-pound frame.
Walker seemed almost too good to be true with his 3.98 GPA, a scholarship offer to Duke University, a massive and athletic frame, a megawatt smile and a deep love of baseball. Deeply intrigued, Cardinals brass had to see it for themselves.
The late scout Charles Peterson assembled a meet-and-greet in suburban Atlanta for some of the top 2020 Draft prospects in the Southeast. The primary focus for the Cards all along, however, was the 17-year-old from Decatur, Ga.
The moment when the Cardinals truly fell for Walker -- love at first sound, if you will -- came when they heard him speak for himself.
"In those types of settings, usually the parents talk a lot more than the kids," remembered Randy Flores, the Cardinals' assistant general manager and director of scouting. "Almost right away, Jordan took ownership of the session. He was very confident, but in a way that was understated, and he was very self-aware. He was comfortable in his own skin, and it belied a maturity that made us even more intrigued.
"There's a line that players often give when they are doing these interviews when you ask them about whether they would rather start their pro careers or collegiate careers," Flores continued. "They usually give some prepared statement of, 'I'm fine either way,' and it sounds practiced and not authentic. In Jordan's case, his face, his smile and his eyes showed you how authentic he was, and it seemed as if he was finding his way [as a young adult]. There was an ease to him that didn't seem practiced or fake. In that split second, you came away from the conversation with him impressed with how comfortable he was with his path and where he was going in life."
Where Walker would be going was into the Cardinals' farm system as the No. 21 overall pick in 2020. With the benefit of hindsight, it now seems implausible that seven high schoolers were picked ahead of him.
Now, after excelling at a COVID-impacted off-site camp in 2020, two Minor League seasons and in the Arizona Fall League, Walker, 20, is on the precipice of pushing his way onto the Cardinals' Opening Day roster.
MLB Pipeline's No. 4-overall ranked prospect needed just 10 Spring Training games to start pushing the door open, smashing three early home runs distances of 470, 450 and 430 feet while racking up five multihit games.
His only misstep came when discussing the overpowering stuff of Gerrit Cole -- a pitcher he singled off with a ball that left the bat at 102.6 mph. Seconds after letting slip a mild curse word while praising the Yankees ace, Walker flashed a sheepish look and apologized.
"I can't lie and say I haven't been thinking about St. Louis," said Walker. "That's definitely my dream, so I am going to continue to work for it. I feel like when the time is right, I'll be there."
I feel like people overlook the fact that big guys can be athletic, too.

Jordan Walker
A Strong Family Foundation
To fully understand how Walker became this perfect package of size, skill and smarts, you must trace his path back to Decatur.
The middle of three children, Walker learned about work ethic and poise from his parents, Derek and Katrina Walker. Derek graduated from Massachusetts Institute of Technology (MIT) and now works at a software development company in suburban Atlanta. Katrina got her undergraduate degree at Harvard and a Master's in Business Economics at Washington University in St. Louis. She would later get a second Master's from Emory and became a high school teacher.
It's no surprise then that discipline and education were important in the Walker household. The family celebrated when Jordan earned a scholarship offer from Duke.
Walker always had a passion for baseball, even though several coaches along the way tried to sway him toward football and basketball. Decatur High's former football coach tried unsuccessfully to recruit Walker to his team all four years. Walker said the refrain from coaches, fans and rivals was often the same when they saw someone a head taller than everyone else playing baseball.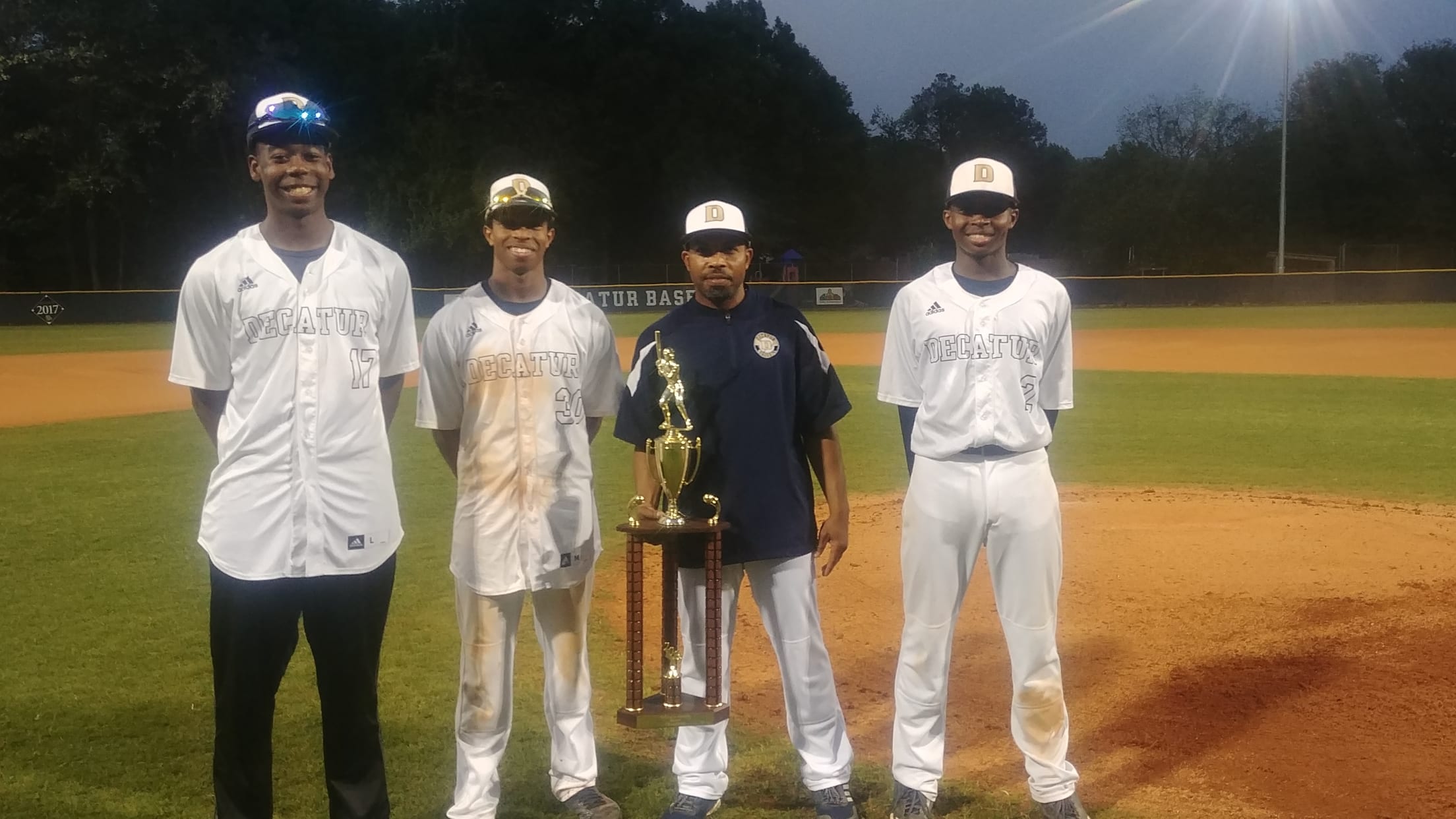 "People have always told me that I'm too big for baseball, but I don't really care about what they say," Walker said with a hearty laugh following a Spring Training game where he shared the field with Yankees sluggers Aaron Judge (6-foot-7) and Giancarlo Stanton (6-foot-6). "I feel like people overlook the fact that big guys can be athletic, too. Guys like Oneil Cruz, Stanton and Judge -- Judge is pretty athletic for his size -- and all those guys are athletes."
Walker's love of baseball came from his grandfather, Adolphus, and his father. After growing up in South Carolina, Adolphus moved to Atlanta as a young man and quickly became a Braves fan.
"There probably weren't five games in his life after he moved to Atlanta that he didn't listen to on the radio," Derek said of his father. "He passed down that love of baseball to me, and I passed it to Jordan."
Derek said he and the family would usually attend a handful of Braves games a season, but that number rose as Jordan grew older and became more invested in baseball. While Chipper Jones was Jordan's favorite player, former Brave Jeff Francoeur was the first MLB player he met in person. That came after Jordan batted .400 early in his high school career and qualified for a meet-and-greet banquet.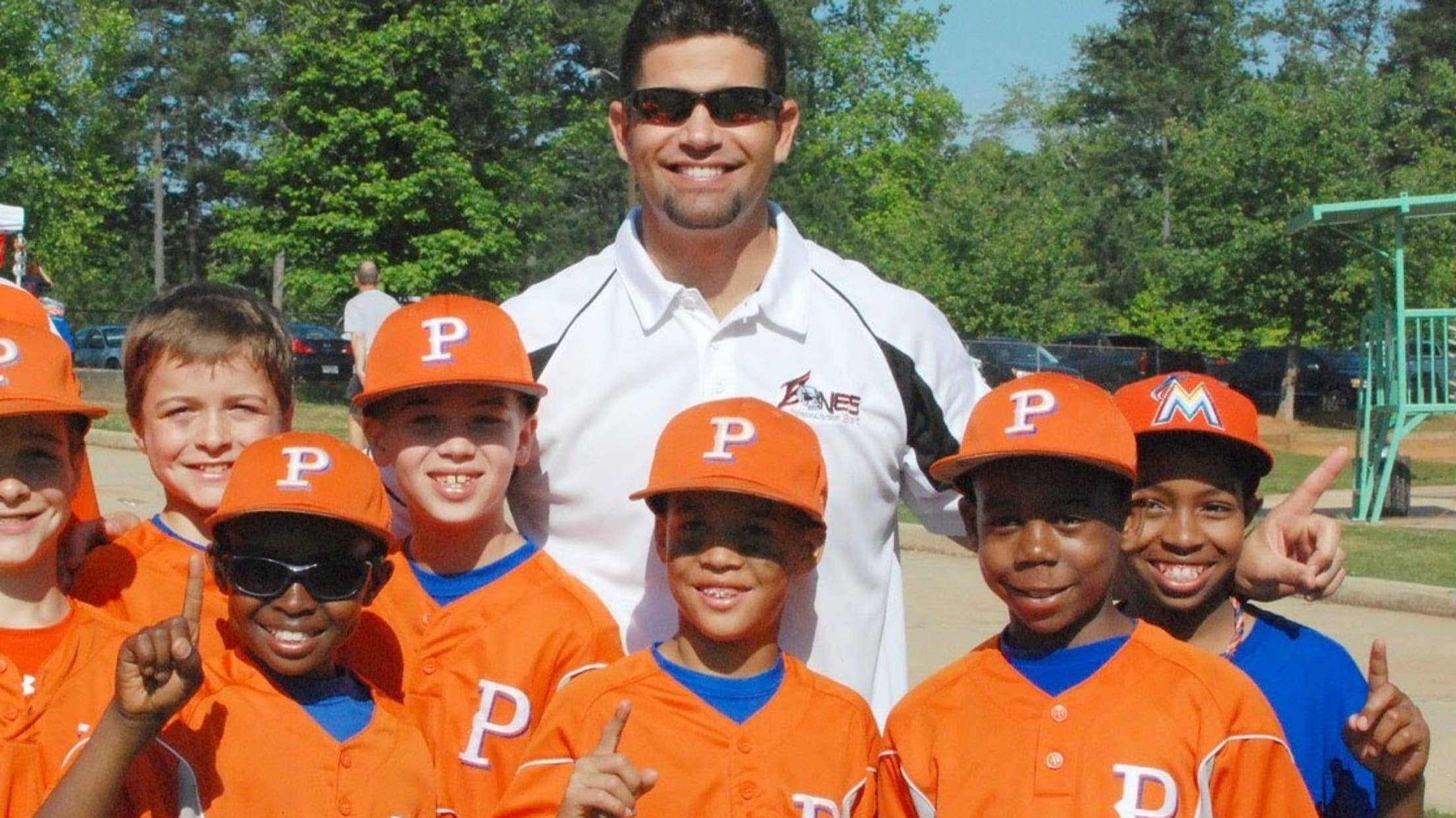 Derek first took notice of MLB scouts (including the Cardinals) and college coaches attending Jordan's games when he hit .519 with 17 home runs as a junior in high school. It was then that Derek started to think Jordan could someday play professionally.
Quipped Jordan: "When people said I could play at the next level, I used to think they meant college."
While Walker's on-field upside was obvious, it was hearing scouts rave about their son's smarts, maturity and character away from the baseball diamond that pleased Derek and Katrina most.
"One of the best quotes he had coming up was when Perfect Game referred to him as 'The Résumé' because of his prospects on the field and how committed he was to his grades and how he handled himself off the field," Derek said. "To me, that was one of the best compliments they could have given him."
'He checks all the boxes and it never got to his head'
No one has seen Jordan Walker play more baseball than Jonathan Paden, the slugger's coach from the time he starred on Decatur's 7- and 8-year-old all-star team. Paden's son, Jaylen, and Jordan were three months apart in age, and they played together for approximately 10 years. Jaylen is now a redshirt-sophomore pitcher at Georgia Southern University, where he went 6-2 with 64 strikeouts in 71 1/3 innings in 2022.
Even though Jonathan Paden's youth baseball teams usually played up in age brackets, it didn't take long to see Walker's advanced maturity.
"The first time I coached Jordan was on that 7- and 8-year-old all-star team, and he was probably the youngest kid on that team," said Paden, who moved Walker from right field to first base and ultimately to pitcher. "Even though he was so young, I still had him batting fourth or fifth, because he was already running the team by getting the big hits and driving in runs. It didn't matter the competition; he might get fooled on one at-bat, but then he would come back the next time and drive the ball hard somewhere."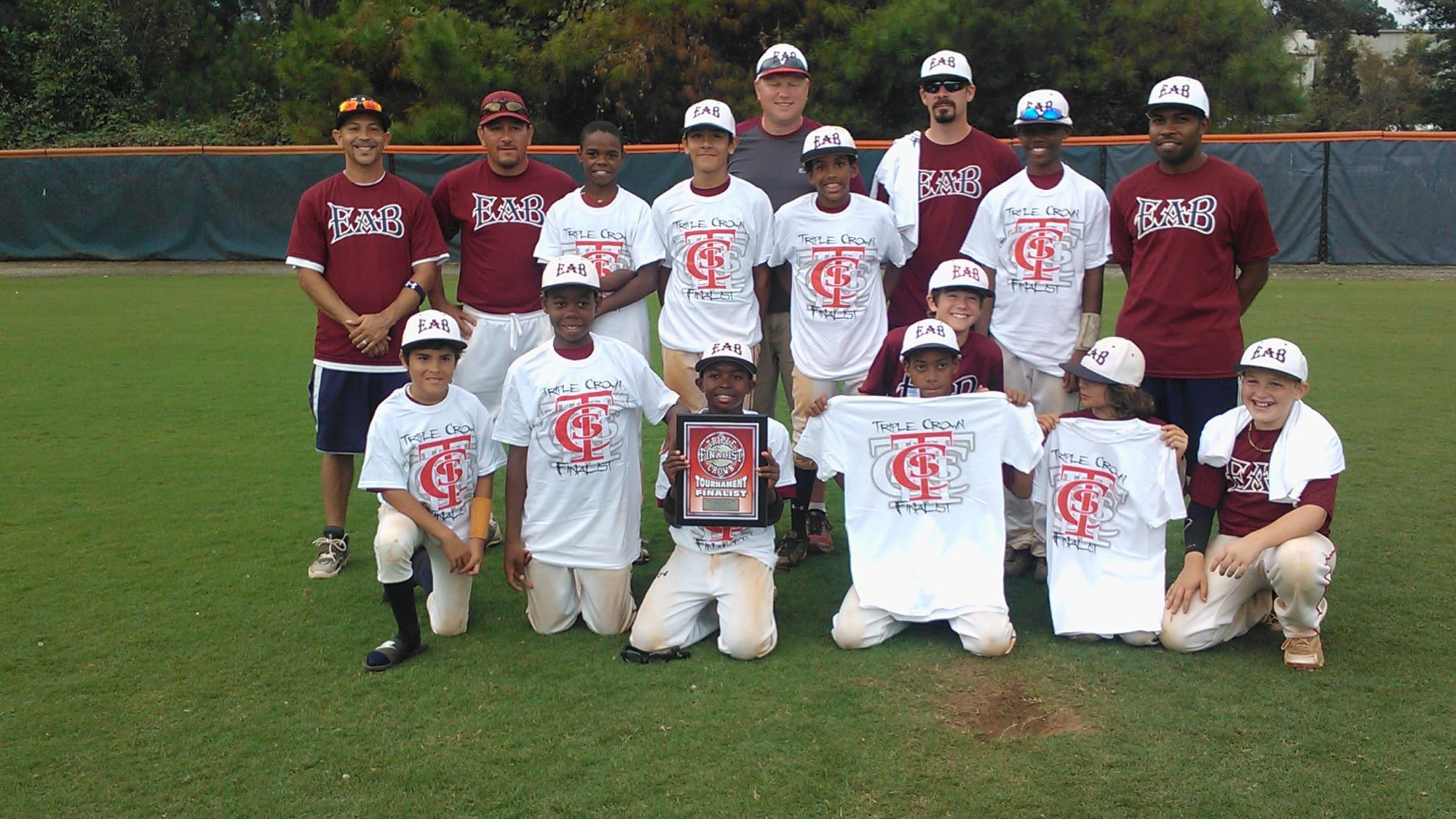 One deep drive, in particular, got Jordan in a bit of hot water with his grandmother, Deborah Wingfield. Playing on a youth field with a 120-foot fence, a then-8-year-old Jordan drove a ball out of the park and onto his grandmother's car, which was parked well beyond the outfield fence.
"His grandmother still talks about that all the time -- Jordan hitting her car with the baseball," Derek Walker said with a laugh. "That was one of those early moments that made you say, 'Wow.' Most of those kids weren't even getting the ball to the fence and Jordan hit it way over."
Paden was Walker's coach at Decatur High when Perfect Game ranked the blossoming slugger as the No. 1 high school player in the country before the 2020 season. Twice, Walker would be named Georgia's Gatorade High School Player of the Year.
"He was the No. 1 player in the nation, and there was so much attention on Jordan," Paden said. "He was the tallest one on the team, so he couldn't hide. We went to the Perfect Game Showcase, and as soon as we stepped off the bus, people would be shouting over to him, and there were scouts everywhere. All the teams would turn around and look at him, and he'd have cameramen in his face when he went out on the field to warm up. Yet, Jordan didn't ever let that get to him.
"With Jordan, a lot of the stuff he does is impressive and amazing, but actually, it's the same Jordan that I grew to know when he was coming up," Paden added. "He's still humble and respectful. You love to coach those type of players -- 'yes sir, no sir' -- and his parents and grandparents raised him well. I can't say enough about the kid, because he checks all the boxes and it never got to his head."
Flores also saw how Walker gracefully handled the attention when he played in all-star games and travel-ball showcases. He believes one of the reasons Walker has proven himself so ready for MLB-level competition this spring is because of the intense scrutiny he's faced while coming up in baseball.
"One thing I know about this generation that's different from decades ago, it's that they have played under a fishbowl as amateurs," said Flores. "You have so many third-party publications ranking these kids and so much social-media hype that follows them that they're not able to have a bad game and hide as a high school player. There are so many video cameras up with every at-bat and posting about it on social media. The pressure that comes with just trying to get to the big leagues, the modern players are tackling that at ages that players of my generation didn't have to tackle."
'They've got to make a sixth tool for him'
Masyn Winn, the second player picked by the Cardinals in the 2020 MLB Draft, considers himself "Jordan's No. 1 hype man." He said he recently lost his voice when he screamed after Walker smashed a 430-foot home run in Grapefruit League play. Winn, Walker's roommate last year at Double-A Springfield (Mo.), said the slugger's talents are outsized by most standard measurements.
"I think Jordan threw a ball home [recently] that might have touched 100 [mph]," Winn said. "It might have shocked people, but to me, that's just Jordan. The way he catches a barrel, the way he fields, the way he throws and runs, he's the complete package. Five tools? They've got to make a sixth tool for him."
Winn, also 20 years old and the No. 2-ranked player in the Cardinals' farm system, was also on the receiving end of one of Walker's finest plays on a baseball field.
Last August, Winn watched as Arkansas Travelers first baseman Connor Hoover smoked a line drive to right field that had Walker turning to his right and then back left. After fielding the carom, Walker noticed Hoover trying to stretch the hit into a double. Winn, covering second base, immediately knew what was about to happen.
"I was like, 'Oh he doesn't know Walker's arm from out there in right field!'" said Winn, who caught Walker's throw from the warning track on the fly for the tagout. "I just sat back and waited for the ball to come into the perfect spot, and it was a nice, easy play."
Hoover isn't the only one still getting used to seeing the Cardinals' muscular big man in the outfield; Winn is still adapting to not having his best friend alongside him at third base.
The Cardinals shifted Walker from third to the outfield midway through 2022. With 10-time Gold Glove winner Nolan Arenado ensconced at third in St. Louis, the move clears a path for him to get to the Major Leagues sooner.
The biggest difference?
"It's a lot quieter in the outfield, because Masyn was always chirping at me over there from shortstop," Walker joked.
Winn, who has teamed with Walker to become the talk of Cardinals Spring Training, chirped plenty of plaudits about his close friend, saying: "Honestly, his hit tool is probably the best of anyone in the Minors. He's just so good at baseball in every way, and somehow, he stays humble. He's just got a really good head on him."
Walker has also quite the build -- one that continues to develop as he matures into something closer to a finished product. In many ways, he looks like an NFL tight end or an NBA forward, only he's in spikes and wraparound shades and fully committed to perfecting his craft in baseball.
In March 2022, when he came to Major League Spring Training as a non-roster invitee, Walker, then about 230 pounds, looked especially thin when standing alongside muscular veterans Tyler O'Neill and Paul Goldschmidt.
The way he catches a barrel, the way he fields, the way he throws and runs, he's the complete package. Five tools? They've got to make a sixth tool for [Jordan Walker].

Fellow Cardinals prospect Masyn Winn
By late August 2022, Walker's weight had hit 250 pounds -- something that came by design while working with Springfield strength and conditioning coach Donald Trapp. Walker, who loves eating Subway sandwiches as he battles Winn in NBA 2K video games, said the plan has been for him to add bulk, while continuing to focus on mobility and plyometric work that will keep him agile and strong.
Said former Springfield hitting coach Tyger Pederson: "Jordan has a huge frame, and as he continues to fill out, he's going to be really scary with what he can do in this game. He has everything there to be a really special player."
'It's easy to dream with the potential he has'
Upon his first meeting with Walker, Cardinals president of baseball operations John Mozeliak saw many of the same characteristics Flores had first picked up on. Mozeliak liked how Walker made good eye contact, had a strong handshake and carried himself with a humble confidence.
But any first impression usually involves his imposing physical stature.
"He's very put together," said Mozeliak. "He kind of reminds me of Stanton with that kind of physique he has. When you talk about combining the physical impression with the performance impression, it's an exciting combination to have.
"You never want to put ceilings on players, and we certainly won't do that here, but it's easy to dream with the kind of potential this young man has."
Some of that massive potential was realized early in Spring Training. Before a mild shoulder injury that kept him sidelined for a few days, Walker was leading the Grapefruit League in hits (14), batting average (.438), slugging (.813), OPS (1.251), total bases (24) and extra-base hits (six).
"For me, [Fernando] Tatis [Jr.] was the most exciting prospect in San Diego, and then I saw Jordan Walker, and that's pretty dang close to it … the next Tatis," Marlins manager and former Padres and Cardinals coach Skip Schumaker gushed. "He's about as exciting a position player as I've seen in my coaching career."
One thing that has become widely apparent to the Cardinals is that Walker is far more than just a masher. He showed the ability to spray the ball all over in 2022 at Double-A Springfield. He hit at least .300 in every month but one, while mixing in 19 home runs, 22 stolen bases and 100 runs scored in 119 games.
"He's shown that he's a hitter," said Cardinals manager Oliver Marmol, "and not just a one-trick pony that's going to sell out for power.
"It's what you expect to see from a guy who has been around a lot longer than he has."
If Walker is on the Opening Day roster, he very well could have his own cheering section inside of Busch Stadium for the March 30 game against the Blue Jays. Walker's parents, Derek and Katrina, have plans to attend. So, too, does Paden.
Flores only wishes Peterson, who died in 2020, was still around to witness the player and person Walker has become.
Said Flores: "I know he's smiling in heaven now, ear to ear."
"When you make a pick, you're always wondering how they're all going to do, especially a talent like Jordan," Flores said. "I've described drafting players as being similar to picking out Christmas gifts for your kids. You put time and effort into it and you go and find a gift you think your kid will like, and then you wrap it and wait. When it turns out that they like the present and they're playing with it with their friends, that's a great feeling. When you draft a player like Jordan and they hit, then others get to enjoy that player and that's a good feeling for you, too."