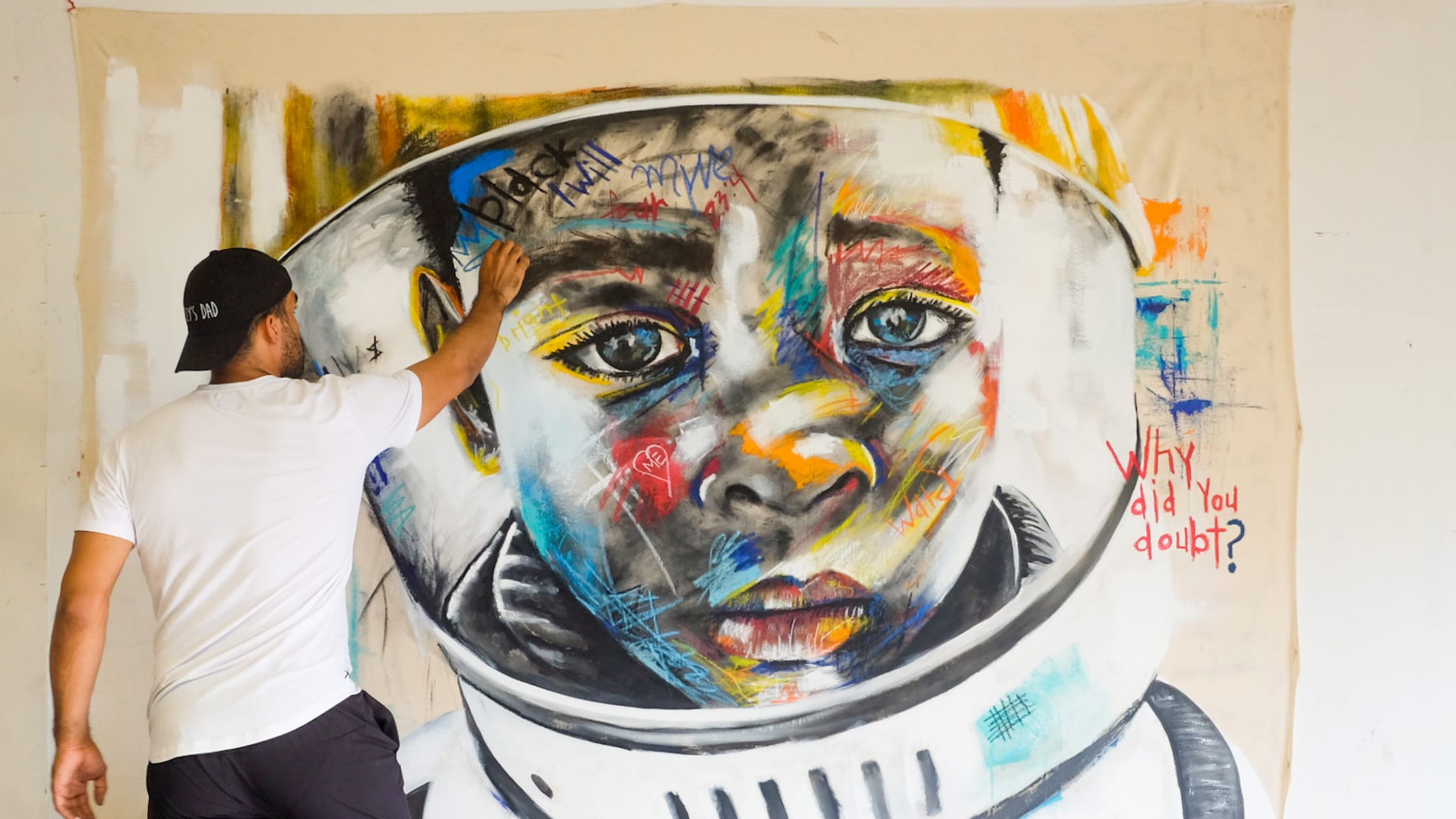 Scroll
The former MLBer inspiring Black kids through art
"Mom, can astronauts be Black?"
That's the heartbreaking question that has fueled former big leaguer Micah Johnson's recent artistic work.
The former second baseman and outfielder for the White Sox, Dodgers, Braves and Rays has done plenty of dreaming in his life. He was a big league baseball player and now he's a professional artist of critically acclaimed and highly sought-after fine art paintings.
But when he heard his nephew ask that question, Johnson was reminded of just how far the world still has to go.
-----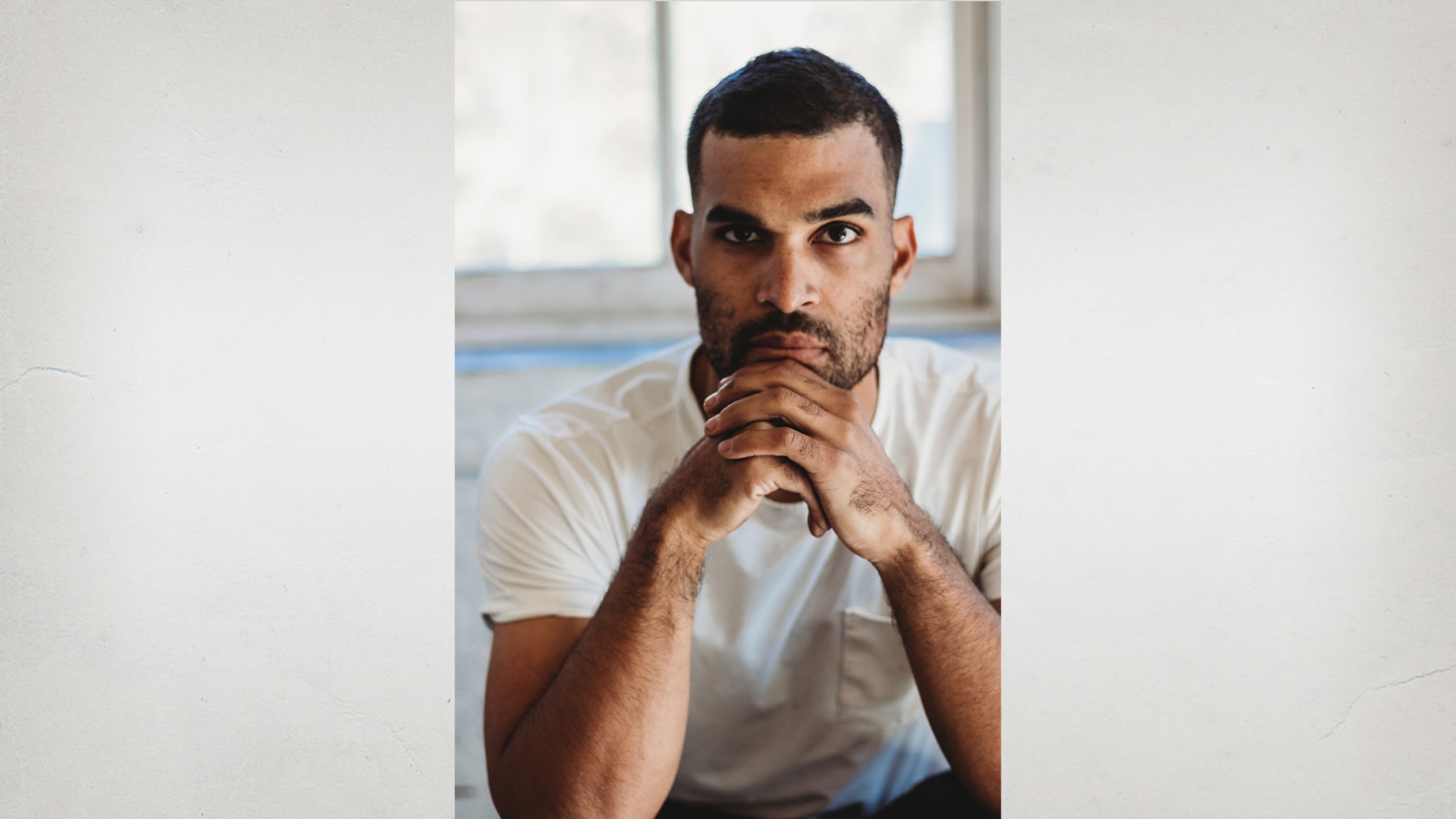 A decade ago, Micah Johnson wouldn't have considered himself an artist. He was a baseball player, a Major Leaguer, something he had worked at every day since he was a child. He spent hours at the gym and the ballfield, refining his skills and reaching the pinnacle of the sport.
You can thank Dodgers manager Dave Roberts and a Spring Training icebreaker for changing all that. To begin each Dodgers season, Roberts has newcomers stand up in the clubhouse and share something about themselves with their new teammates.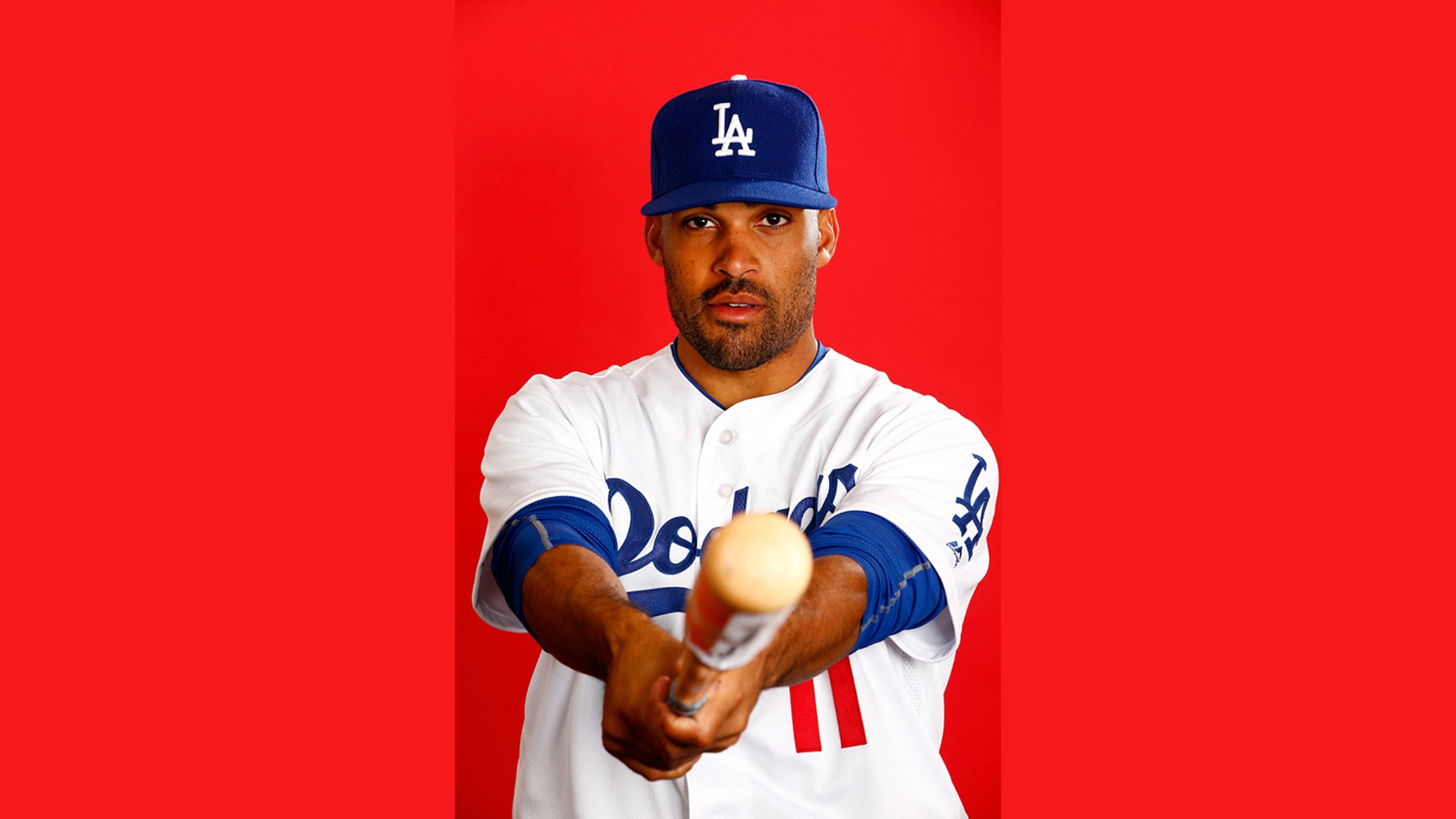 Johnson was too shy to say he played piano, so he pivoted to something that seemed less likely to get him called on to perform on the spot.
"I did that paint and sip class right before I went to Spring Training," Johnson told MLB.com in a recent phone call. "I thought it was a safe bet, to say I like to paint. I didn't think he'd make me do a painting, but at the end of the day, he made me do a painting of Maury Wills."
That simple admission led to Johnson's first commission. Nervous about his skills and with a need to unwind after ballgames, Johnson worked for hours in the middle of the night to perfect the piece.
The hustle paid off.
"Maury still has his [painting] as a matter of fact," Johnson said. "And the rest of the guys on the team thought it was really good. That fueled me. They continue to -- like Justin Turner, Adrián González -- all those guys support my art to this day. So, it's pretty cool."
Soon, other players wanted pieces. Blake Snell commissioned a portrait of Ken Griffey Jr.
Jace Peterson had Johnson design him a tattoo. His mural featuring Jackie Robinson went up in the Negro Leagues Museum. His first show -- "What Lines?" -- debuted at the Woodruff Arts Center while Johnson was a member of the Braves in 2017.
But this was simply the start of Johnson's artistic journey. He was still heavily influenced by Shelby and Sandy, the famous pop art duo in Los Angeles who helped introduce the ballplayer to the art world.
"They had this particular skill set, which was painting really crisp lines and smooth lines, and they're very tidy and neat people. That's not me," Johnson explained. "So, as time evolved, I developed a style of my painting. I just go with the flow. My paintings have an end, but the end is loose."
After Johnson spent the 2018 season in Triple-A with the Rays, the outfielder hung up his cleats and threw himself entirely into painting. Not surprisingly, he approached his artwork the same way he had athletics.
"For me to get to the Major Leagues, it took me 18 years of continuous work -- I started when I was three," Johnson said. "So, with art, I'm trying to work at that rate to condense those 18 years down. But that work ethic is instilled in me because I know at the end of that work, you're going to get rewarded."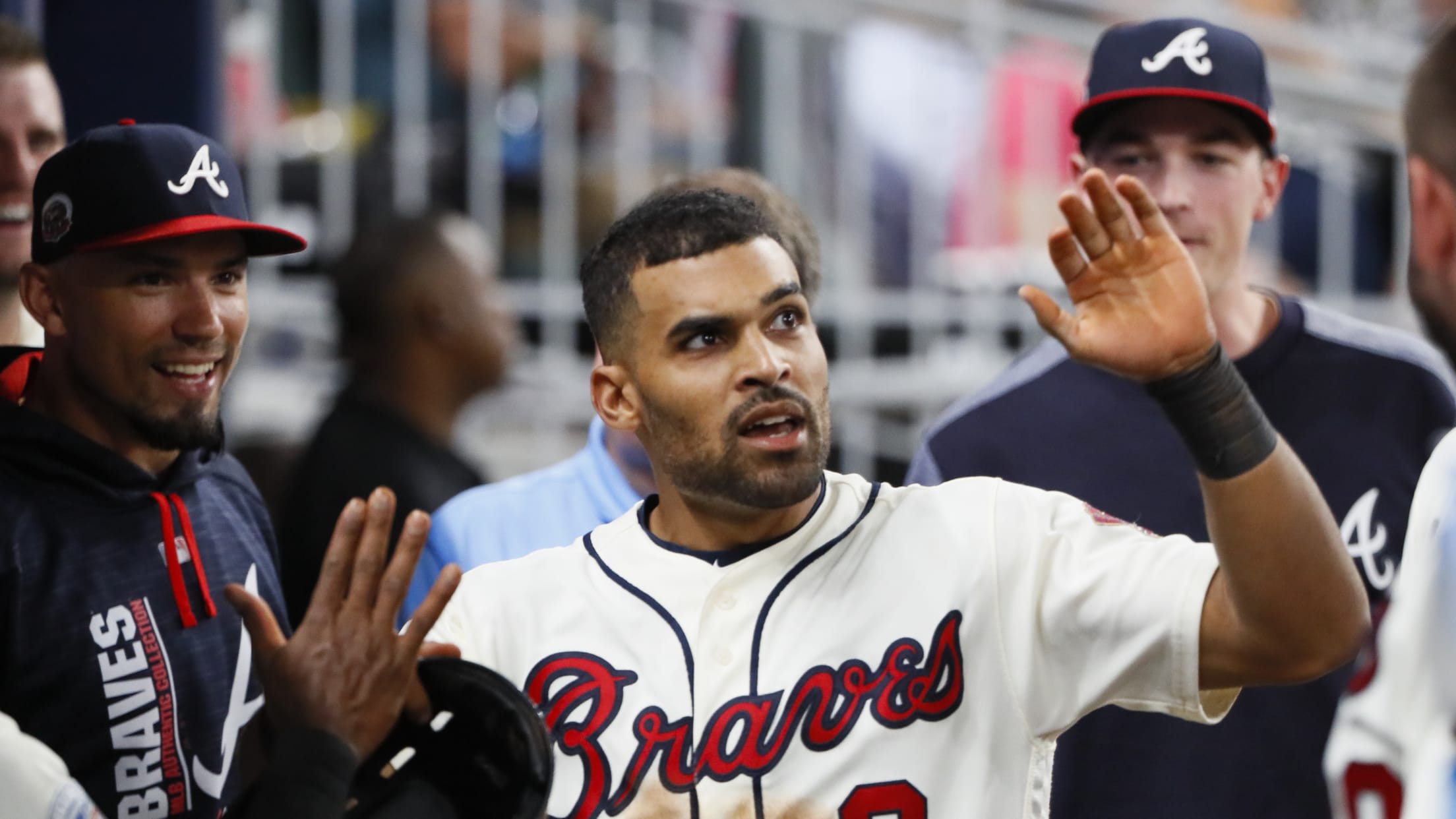 "I'm really fortunate because my dream was to play Major League Baseball, and I did it," Johnson added. "I wasn't special -- six-foot tall in cleats. So, I wasn't special at all. I just wanted to show people I did that. But now everybody's talking about my art. They're not talking about baseball anymore. I'm not a special artist, either. I didn't have classes, I just work. That's it, I've got nothing special at all."
He's found his own voice and perspective along the way. He's drifted toward working with charcoals and a kaleidoscope of colors. And he realized what story he wanted his artwork to tell.
"My whole mission is to inspire children," Johnson said. "But I try to have that looseness to it. And that's just how I am. I work a lot with just my hands. Sometimes I don't even have a paintbrush in my studio. I try to do these really bold lines and have that perfect blend of whitespace and also color. That's how I'd define my style now."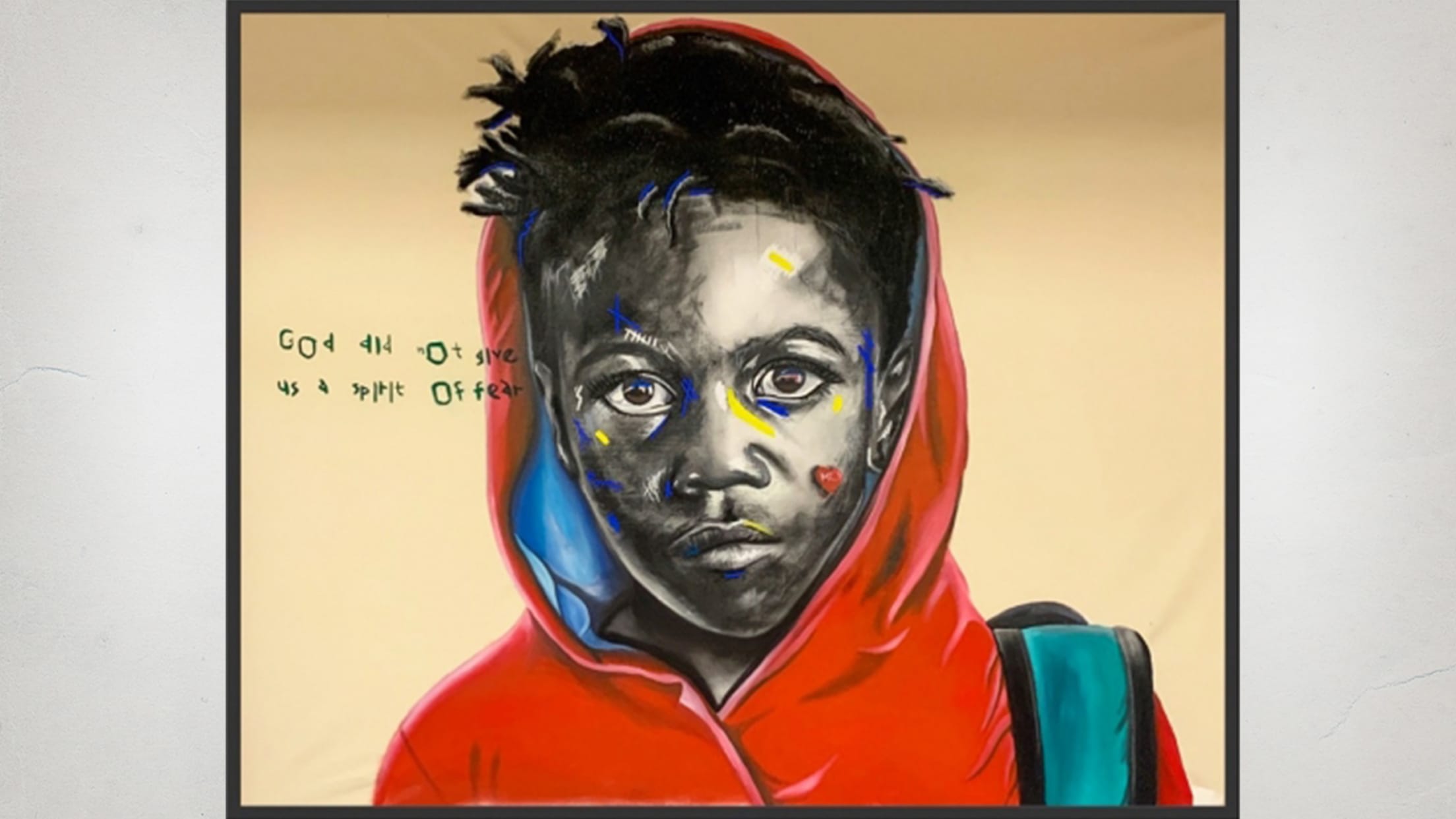 That's led to his most recent dream-focused work, which opened at Art Angels over the summer. Many of his paintings feature real subjects wearing an astronaut's helmet, while they paint or draw or learn the cello or simply play hopscotch. The helmet represents the dreams Black kids have and the opportunities that are hopefully open to them. He uses colors and images that children can relate to. He wants Black children to see themselves in a fine art world that is historically dominated by white artists and subjects.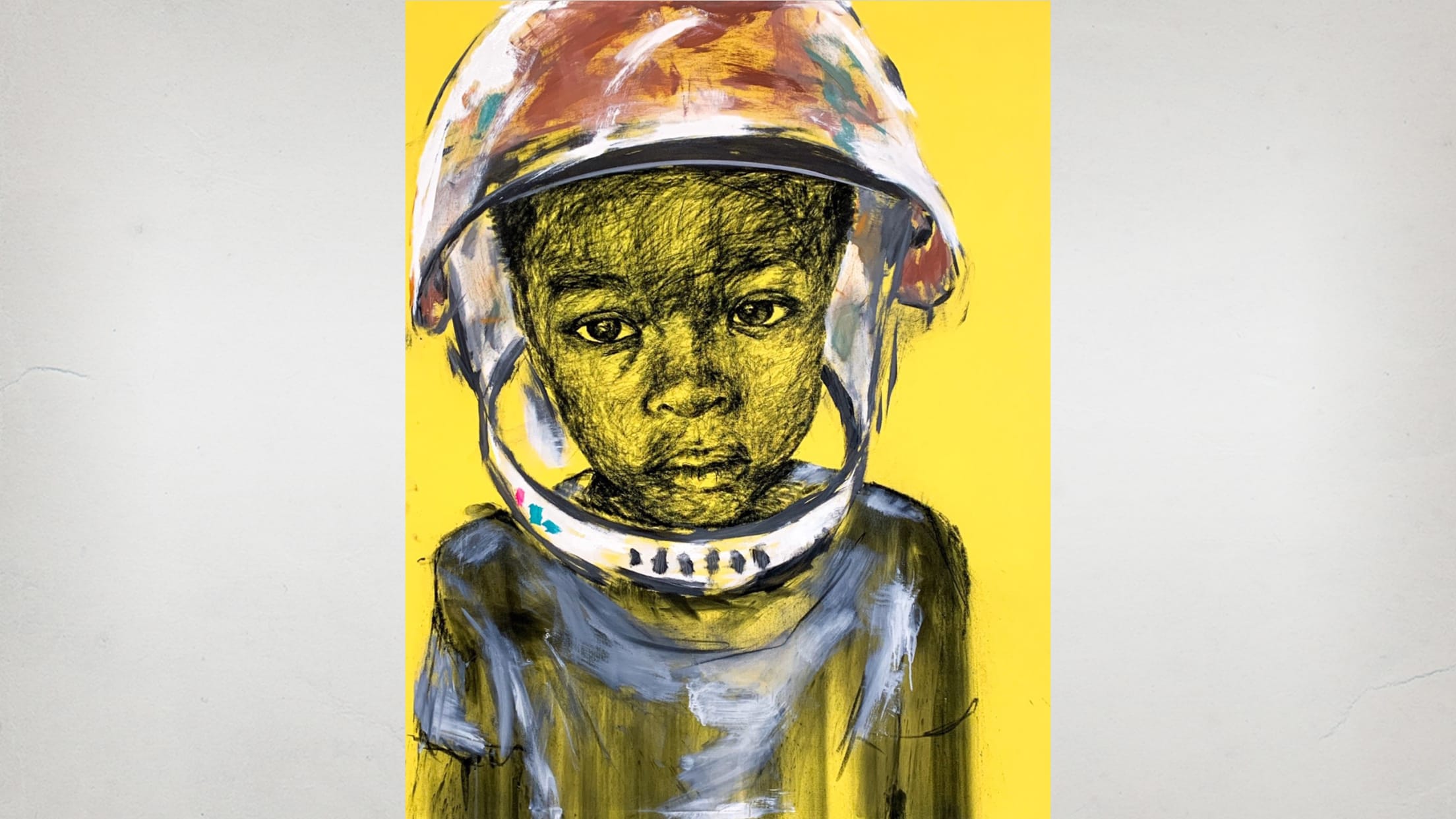 "If I try to really, really focus on the eyes, make the viewer feel this connection -- and if they feel that connection -- then maybe it will change their perspective on something," Johnson said.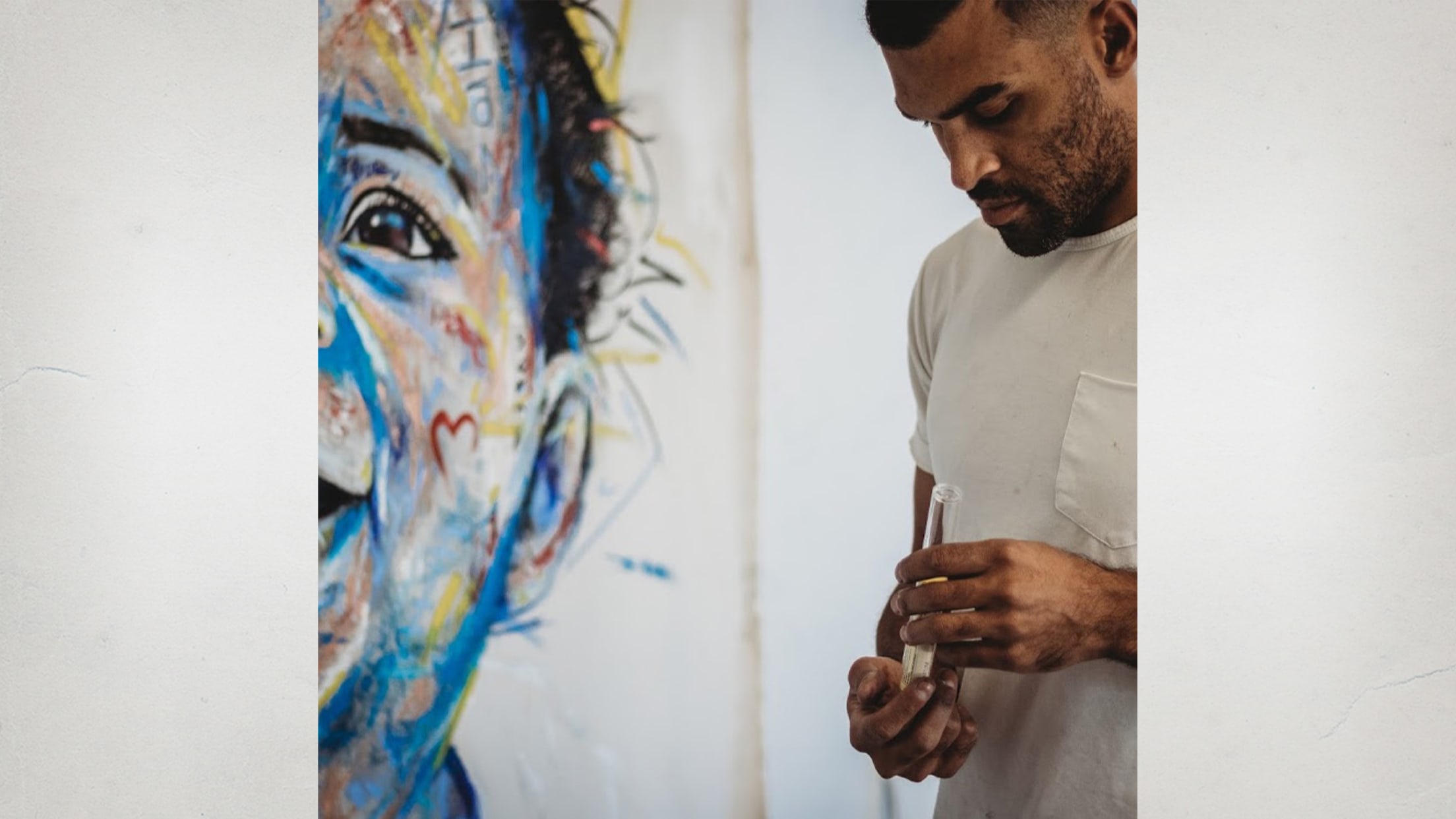 "In the beginning, it was all inspired by my nephews because I just wanted to inspire them. And that's how my approach is -- I tried to focus on inspiring one person," Johnson said. "So, a lot of my subjects are real subjects. And I think that's a message for everybody else -- just focus on impacting one person and you'll really impact the world. So, for me, it's my nephews, and they're young, and maybe when they grow up, and they start looking at this, maybe they'll feel inspired."
His most recent work, "sä-v(ə-)rən-tē" (pronounced sovereignty), is a continuation of that theme, but the work is drastically different from anything Johnson has done before.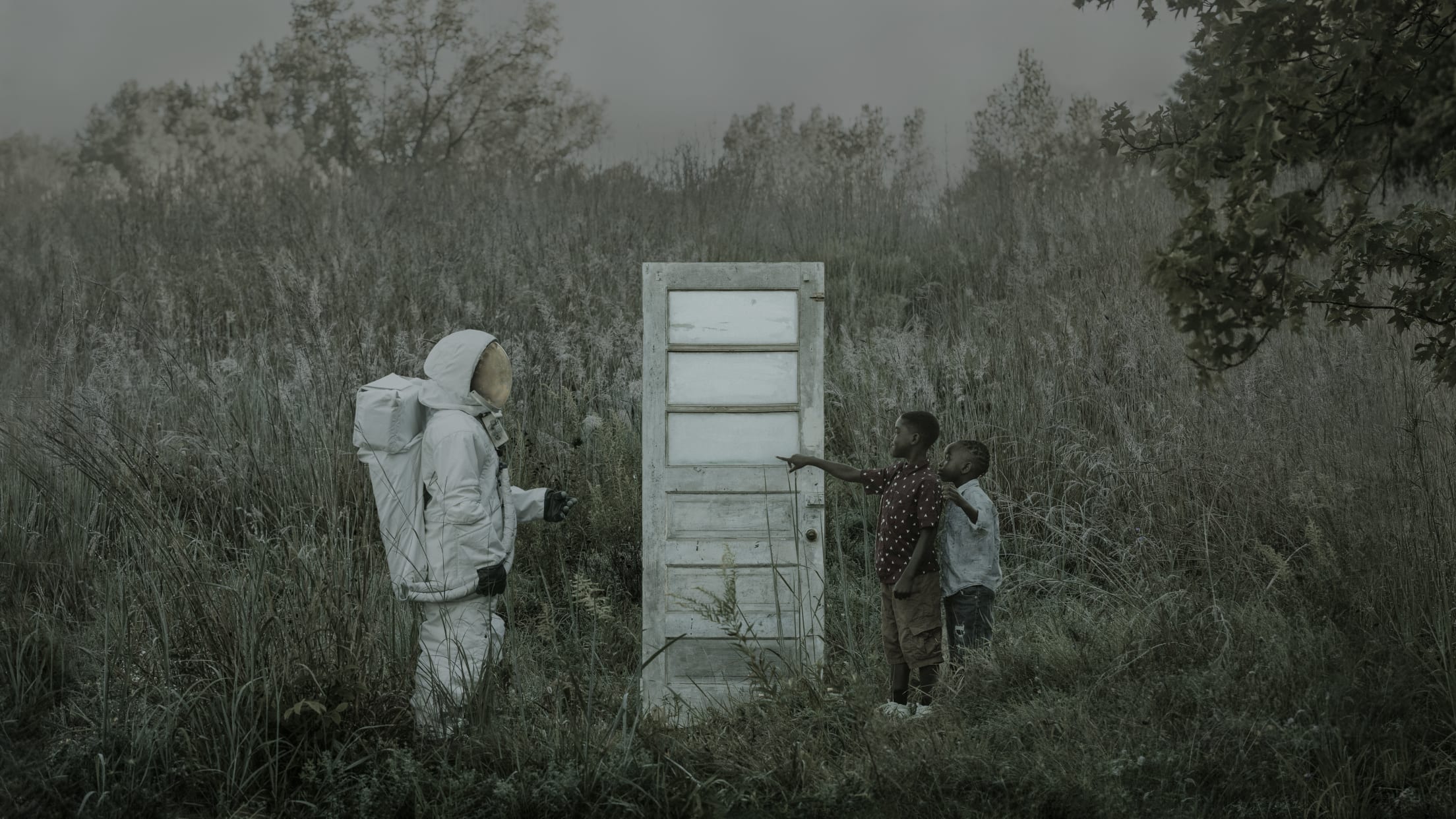 The piece is a digital artwork available to view on Apple TV or on a billboard at 901 W. Olympic Blvd. in Los Angeles from Dec. 7 through Jan. 10. It features two young children (Jacque, 8, and Rayden, 7), who have experienced tragedy in their lives staring at a closed door in a field, with an astronaut standing on the other side.
Unlike a painting, viewers can watch "sä-v(ə-)rən-tē" change in real time. The light shifts from day to night and with each passing year, the door will swing open a little wider, giving Jacque and Rayden a wider glimpse at the astronaut who awaits them on the other side of the door. A QR code connected to a bitcoin wallet also appears on the children's birthdays, allowing viewers to donate directly to them.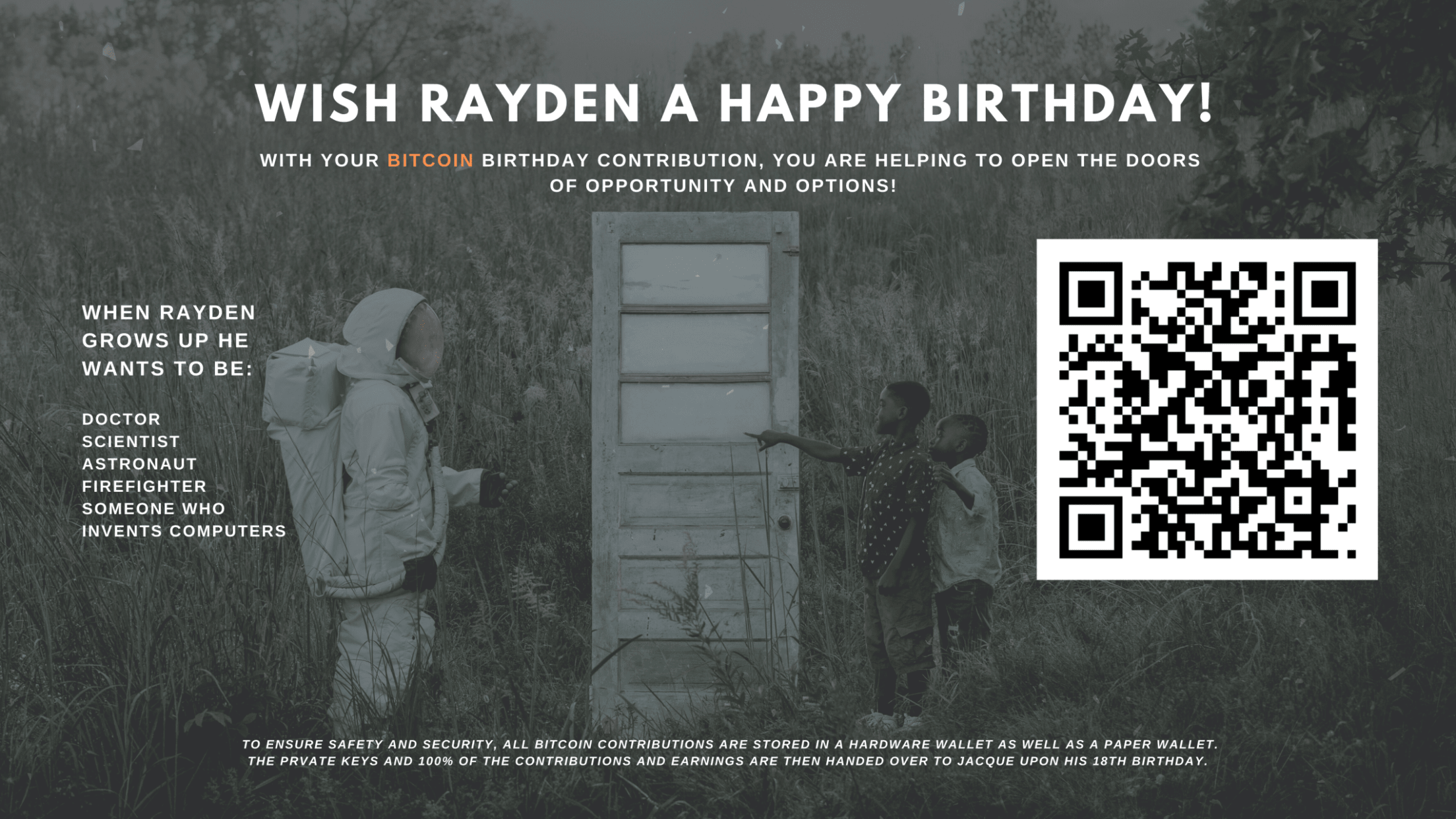 "The whole idea behind it was I wanted to show an independent solution to the historically prejudiced financial system in the United States," Johnson said. "So I started thinking of ways to do that."
"The potential there is pretty unique," Johnson added. "And it also allows people to see different ways to invest, different ways to build wealth, and not rely on the traditional system, which has basically turned its back on the Black community for a long time."
The piece is programmed for the next 11 years, ending with the children stepping through the door when they turn 18.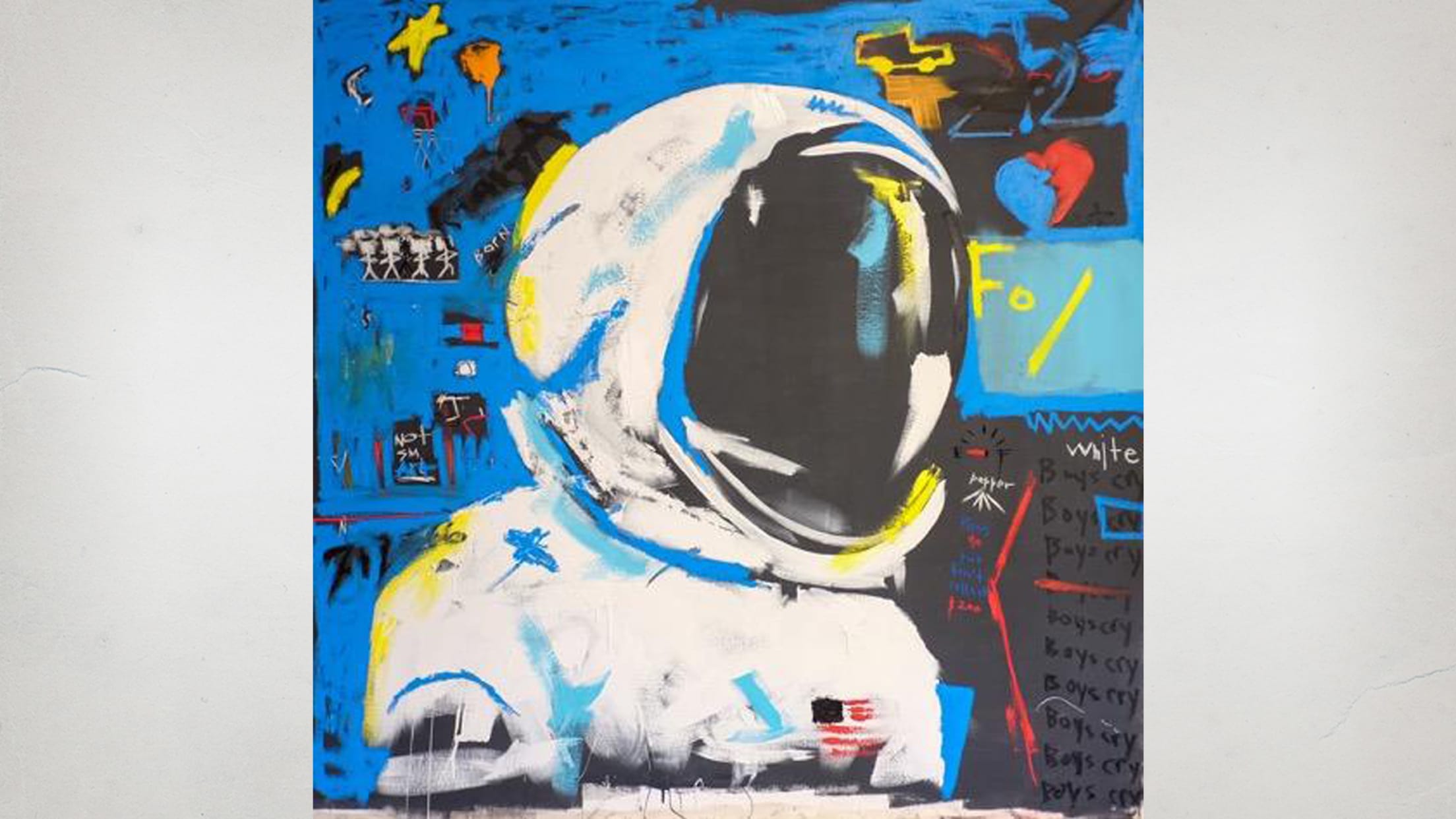 Hopefully, the world will continue to change along with it. Perhaps it has already started, as evidenced by this summer's massive protests in support of the Black Lives Matter movement, with baseball players across the league showing their support for their Black teammates and communities. But Johnson knows this was just the very first step.
"It's hard to see progress in a couple months," Johnson said. "It's the equivalent of you break up with somebody and they say, 'I changed,' and it's only been a couple of weeks. Nobody could change that quickly."
Johnson points to the newest Rookie of the Year voting results, which saw the Mariners' Kyle Lewis and Brewers' Devin Williams take home the awards -- the first time since 1984 that two Black players have won it.
"To me, that's important. But you look at all the comments on posts and stuff. Everyone's like, 'Why does this matter if they're Black? Or blonde?' I don't know if we still get it or not, so you have to keep talking about it. I think people are becoming more aware, but you've got to keep on pushing the message."
Still, Johnson is hopeful. That's obvious when you look at his works, colorful and messy, and the impact that he can make on the lives of the children he paints.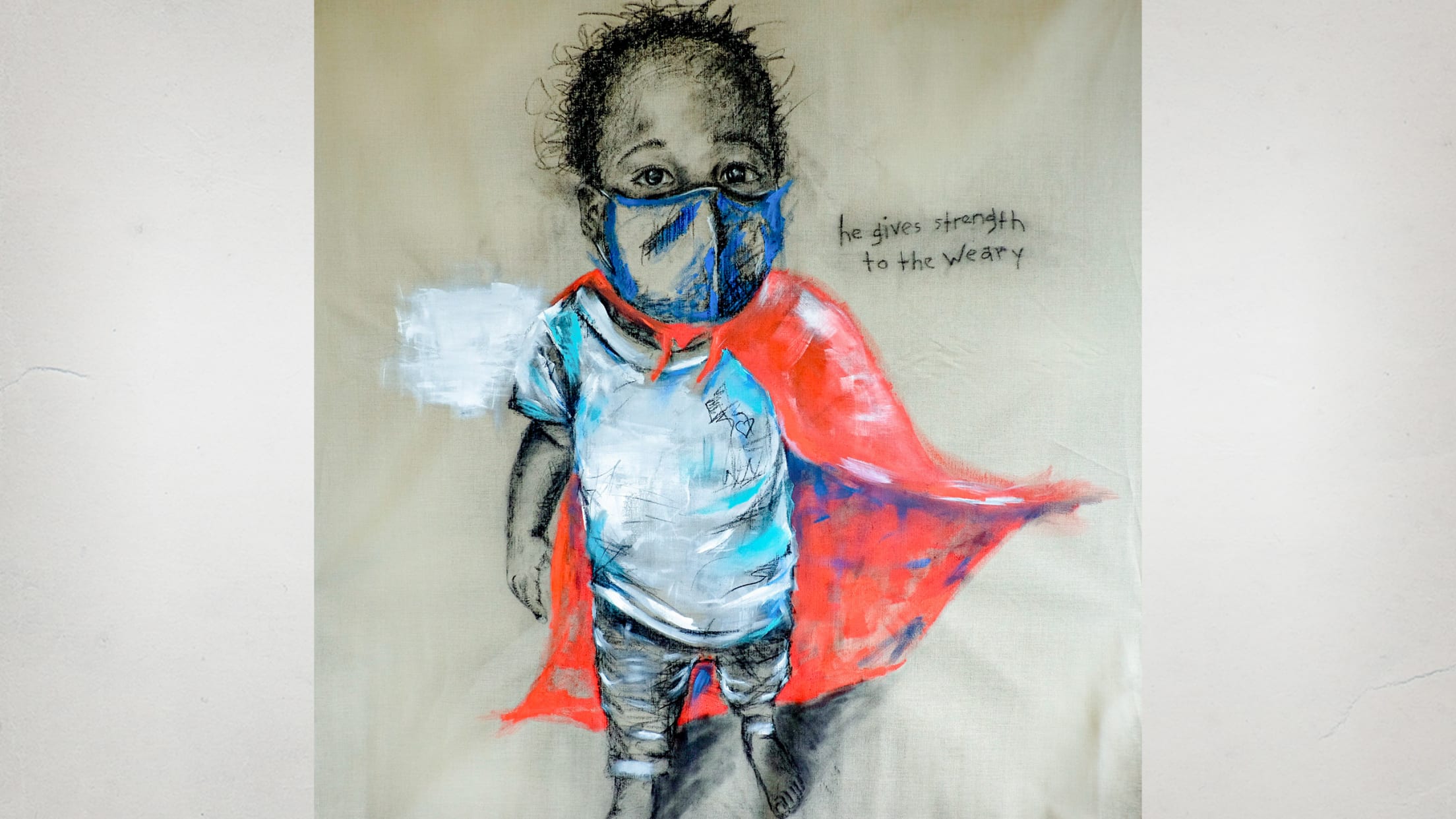 "It's hard to tell because I'm trying to inspire children, right?" Johnson asked. "So, we're not going to be able to know what and who we're really inspiring -- or what the results are going to be -- until you and I are old and we see these kids running for Congress and doing these amazing things. Which is the hope."
You can view sä-v(ə-)rən-tē on Apple TV through the Async Art app and on the StandardVision billboard at the Courtyard Marriott at 901 W. Olympic Blvd. in Los Angeles from Dec. 7 through Jan. 10. Johnson is currently at work on a new exhibit that will debut at Art Angels in 2021.