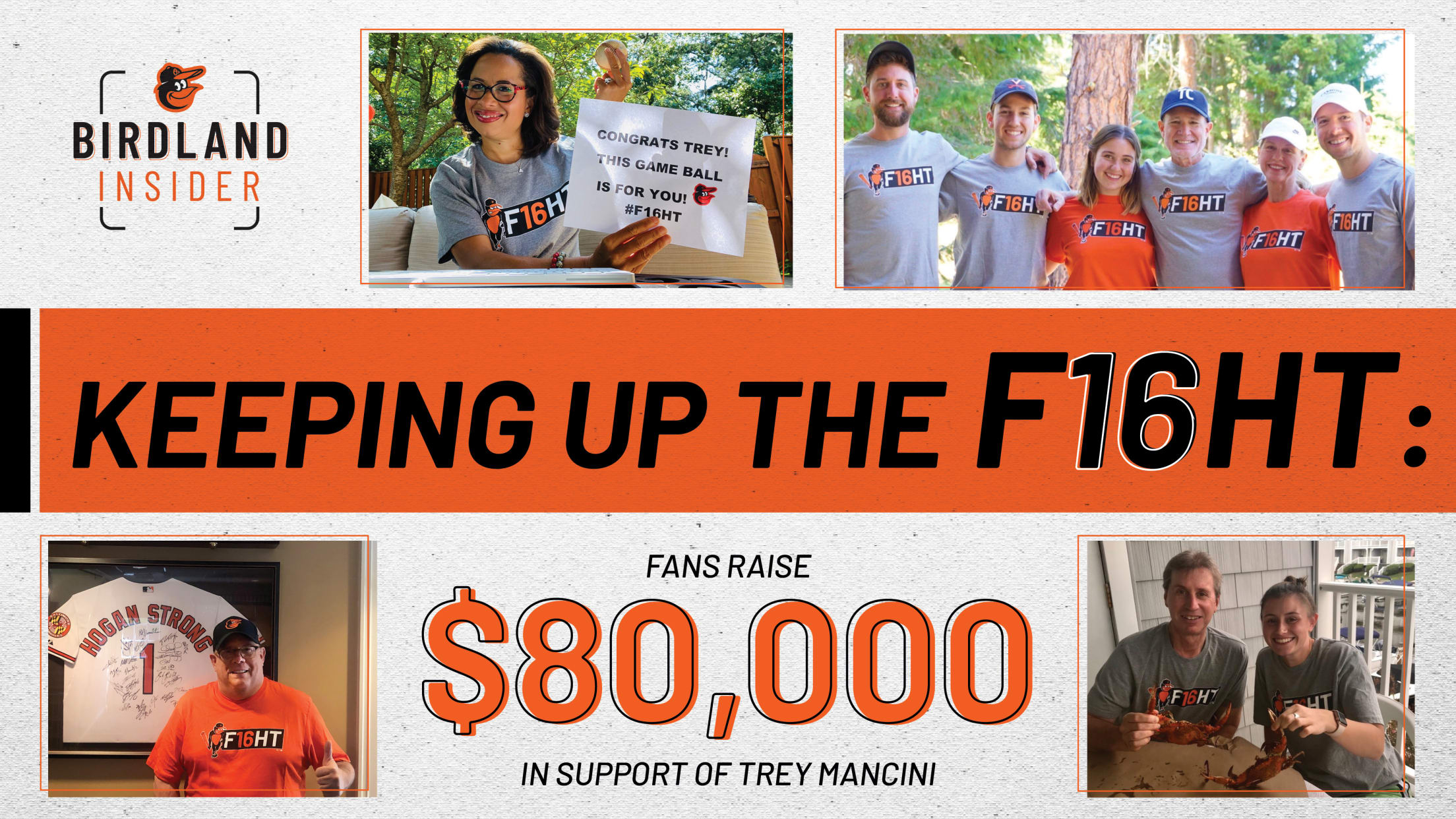 Scroll
Orioles Raise More Than $80,000 Through F16HT T-Shirt Sales
During Spring Training 2020, Orioles infielder/outfielder Trey Mancini was diagnosed with stage III colon cancer. As a response to this news, Caroline Means, wife of Orioles pitcher John Means, shared a tweet encouraging Trey to keep fighting, integrating his number 16 into the word FIGHT, and just like that a movement was born.
As Trey shared his story, all of Birdland rallied around him, sharing messages of hope and positivity. Fans and teammates alike encouraged him to keep pushing forward through his diagnosis and eventual chemotherapy treatments.
During a team Zoom call in May, his teammates and members of the Orioles baseball operations staff surprised him by holding up F16HT signs to show their solidarity.
His teammates continued to rally around him throughout the season, often wearing #F16HT shirts during batting practice.
A sign was also installed above the exit to the dugout, which players often interacted with before taking the field, a constant reminder of Trey's presence despite not physically being there to join them.
As a gift to celebrate Trey's final schedule chemotherapy treatment in September, his teammates surprised him a framed team photo in their #F16HT shirts, signing their names along with well wishes.
Following his diagnosis, Trey announced his partnership with the Colorectal Cancer Alliance, including his role on the organization's "Never Too Young" advisory board, which advocates for all young on-set patients and survivors of colorectal cancer.
In June, the Orioles produced F16HT t-shirts available for fans to purchase with all net proceeds benefitting the Colorectal Cancer Alliance Patient and Family Support Services.
More than $80,000 was raised through this campaign, as nearly 5,000 shirts were sold to fans across North America, with orders spanning 45 states, Washington D.C., and Canada.
In a season like no other, while fans were also fighting battles of their own, the Orioles recognized "The Fighters" as a group of Birdland Community Heroes on Opening Day in Baltimore. Inspired by Trey's battle with colon cancer, the Orioles highlighted individuals overcoming insurmountable odds everyday as they fight cancer, social injustice, and COVID-19.
To recognize The Fighters, the Orioles made a $5,000 donation to Thread, a local organization that harnesses the power of relationships to create a new social fabric by engaging young people that are facing the most significant opportunity and achievement gaps.
Since finishing his regularly scheduled chemotherapy treatments in September, Mancini has been preparing to return to the field, fully believing he will be ready for Spring Training 2021.
I'm not even lying when I say this: If spring training started today, I'd be good to go.

Trey Mancini, to MASNsports.com's Roch Kubatko