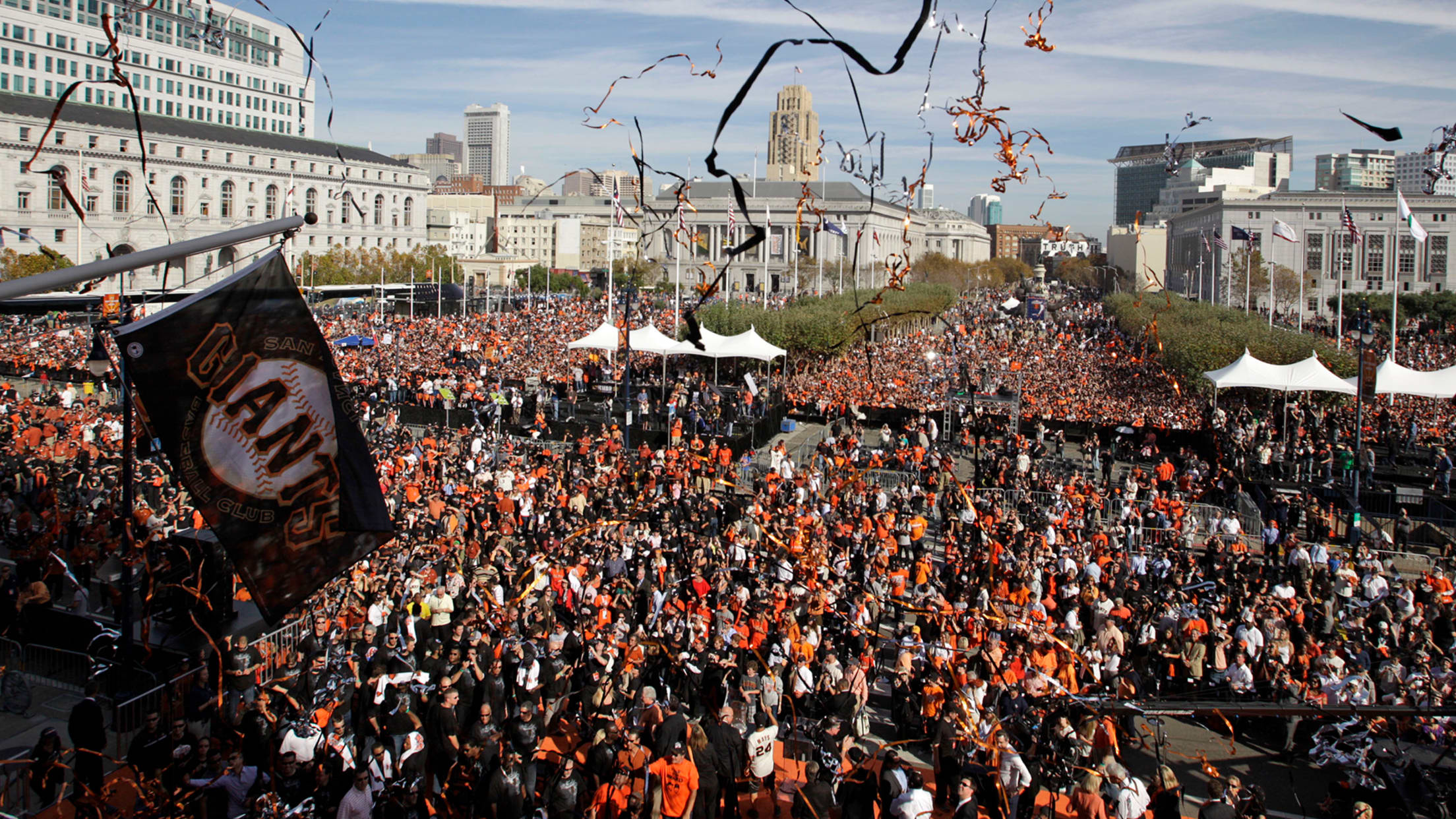 Scroll
'The beauty of the parade': Remembering Giants' 2010 title run
The footprints tracing the Giants' ascent to the 2010 World Series title, the first in the franchise's San Francisco tenure, still look fresh.
Maybe that's because 10 years doesn't seem that long ago.
Or maybe it's because that team's character -- and characters -- remain on the active roster in that playground where nostalgia supplants oxygen. It's called memory.
Rewind 10 years, and behold the Giants' superior pitching staff led by twin aces Tim Lincecum and Matt Cain, backed by the bullpen's "Core Four" ensemble featuring closer Brian Wilson.
Veterans such as Aubrey Huff and Pat Burrell provided levity and leadership. Rookies Buster Posey and Madison Bumgarner began the season in Triple-A and ended it as full-fledged heroes.
"The shared energy of that roster was palpable," said Bill Neukom, the team's managing general partner at the time.
Many of these stories will sound familiar. Also pleasant, if you're a Giants fan.
EXPECTATIONS
The Giants failed to qualify for the postseason for six consecutive years entering 2010. But signs of competence emerged. San Francisco ended a streak of four straight losing seasons by finishing 88-74 in '09, a 16-game improvement over '08. Lincecum had established himself among the game's elite as the National League's reigning two-time Cy Young Award winner. He was complemented by Wilson, who was in the middle of a four-year stretch (2008-11) during which he recorded 163 saves. Though the Giants ranked 13th in the NL with 657 runs scored in '09, third baseman Pablo Sandoval performed like a budding superstar that year (.330 batting average, 25 home runs, 90 RBIs).
Dave Righetti, pitching coach: Everybody kind of sensed there might be some urgency. You just couldn't let these years pass. It wasn't like we thought we were going to win it all, but we knew we were going to compete. We knew we were going to be in it for the year if we stayed healthy.
Travis Ishikawa, first baseman: We all believed that it was possible. Even though it wasn't said, you could feel like this team had the makings to do it -- to make the playoffs and be competitive in the playoffs.
Jeremy Affeldt, left-hander: Toward the end of 2009 is when it seemed like there were some things clicking, and we started winning and fans started coming to the games. At the beginning [of '10], it seemed like there were some fans not interested still. But we had hope, especially knowing that Madison and Buster had shown promise at the end of September 2009 and in Spring Training.
MASTERS OF THE MOUND
"When you talk about the 2010 team, to me, the opening sentence better be about the pitching," Burrell said.
In fact, San Francisco carved out a Major League-best 3.36 ERA. But the starters actually faltered in August, compiling a 5-13 record and a 5.56 ERA in 25 games. An 11-3 loss to Arizona on Aug. 28 prompted general manager Brian Sabean to herd the starters -- sans Cain, who was scheduled to pitch the next day -- into manager Bruce Bochy's office for what can kindly be termed as a lecture. Six games separated NL West-leading San Diego from the Giants at the time.
When you talk about the 2010 team, to me, the opening sentence better be about the pitching.

Pat Burrell
Starters and relievers maintained shared excellence in September, when the Giants became the first team since the 1917 Chicago White Sox to limit opponents to three runs or fewer in 18 consecutive games.
Nobody was an afterthought on Bochy's staff -- not even right-hander Ramon Ramirez, who was acquired from Boston in what appeared to be a meaningless Trade Deadline deal. He recorded an astounding 0.67 ERA, yielding two earned runs in 27 innings spanning 25 appearances. The Giants obtained Javier López on the same day from Pittsburgh as a left-handed complement to Affeldt.
Affeldt: I was pitching injured a lot of the year. I had a hamstring problem for a lot of the year. I had oblique tears. I was pitching OK, but I really wasn't able to do what I wanted to do because my body wasn't functioning the way it needed to function.
López: When I got traded for at the Deadline, I knew I was going to a possible winner. We had played the Giants twice prior to the Deadline, and I saw that they had solid starting pitching and some veteran bats. We played the Giants on our first road trip, and that's the one where Huff hit his inside-the-park home run. That was a sign that strange things were afoot in San Francisco.
I had played with Jonathan Sánchez in the World Baseball Classic in 2009 [with Team Puerto Rico], and I got to know him a little bit. … Later in the year, he was running poles after pitching, and he stopped, and we talked for a bit, and he told me they will trade for me and that this team is special. That's all I knew. I never had San Francisco on my mind as a team to be traded to. When it happened along with the other moves, it just kind of felt right.
SCUFFLING AND SHUFFLING
Championships aren't built on pitching alone, however. Survival in a the pennant race requires at least average offense. Too often during the season's early stages, the Giants fell short in this area.
Bengie Molina, who drove in 256 runs over the previous three seasons, hit .184 in May. Center fielder Aaron Rowand batted .194 in the same month. Mark DeRosa, San Francisco's Opening Day left fielder, battled a left wrist injury. But the Giants found capable reinforcements.
Burrell, released by Tampa Bay after being miscast as a designated hitter, signed on May 29 and joined the active roster June 5 after a brief tuneup stint at Triple-A. On June 11, he hit his first of 18 home runs, seven of which put the Giants ahead.
The popular Molina was dealt to Texas on July 1, enabling Posey to become the everyday catcher. And Cody Ross was acquired off waivers from the Marlins on Aug. 22. That filled the Giants' complement of postseason heroes -- though they didn't know it yet.
Burrell: I really wasn't sure if I was going to have any more [opportunities] left. There was a need for a veteran presence as a position player. Huff had kind of solidified that role. We just kind of ham-and-egged it.
Affeldt: We didn't know what we were getting. Tampa Bay let [Burrell] go because he wasn't producing like he was supposed to produce in Philly. You didn't know if he had anything left in the tank. But what you did have was a guy who knew the strike zone; a professional hitter. Might have swung and missed a lot, but he swung and missed at a lot of strikes. That's not a knock on him.
We all believed that it was possible. Even though it wasn't said, you could feel like this team had the makings to do it.

Travis Ishikawa
Ishikawa: You need guys like Burrell and Huff in the clubhouse that not only have that experience and that wisdom. He also made the clubhouse lighter. I think that was one of the things that team had an abundance of. There were so many guys who wouldn't let you sulk.
Posey (on Burrell and Huff): At the root of it, they're baseball players, right? They love to compete, they love to do the little things right and just win. I think that's what the group bought into, and I think Boch was selling it as well. We're trying to accomplish something here that's bigger than any one individual. Everybody bought into it. That's such a fun way to play the game, when a group buys into that concept.
Burrell (on sparing Posey from the treatment rookies usually get): Buster was young. And obviously our best player. It's a fine line: Are you really going to do a bunch of rookie hazing-type maneuvers with your four-hole hitter who's calling the game right now?
Posey (on Molina): On one hand, I was sad to see Bengie go because I had become friends with him pretty quickly. On the other hand, I took it as a huge compliment from Sabes, Bobby [Evans, assistant GM] and Boch that they were going to trust me the rest of the way to lead the staff. So I took it as a vote of confidence.
Affeldt (on Ross): Every time I played the Marlins, that guy would kill us. He's always, for me, been a pretty clutch player. Whenever he committed, he committed. He wasn't afraid to swing for the fence if he had to. I was pretty excited to acquire him.
OWNING OCTOBER
The Giants roared through the postseason, winning 11 of 15 games.
"After the World Series, we were looking for somebody else's [butts] to kick," Sabean said.
The roll call of victories was indeed impressive. Included were Lincecum's two-hit, 14-strikeout blanking of the Braves in the NL Division Series opener; the three-error nightmare that Atlanta's Brooks Conrad endured in Game 3; Ross' two homers off Phillies ace Roy Halladay in the NL Championship Series opener; San Francisco's 3-2 win in the Game 6 clincher highlighted by airtight relief pitching and Juan Uribe's eighth-inning, go-ahead homer; the eight shutout innings woven by Bumgarner and Posey in Game 4 of the World Series and Edgar Renteria's three-run homer that accounted for San Francisco's scoring in the Game 5 World Series finale.
Burrell (on the untested Giants winning the postseason opener): I think that was a huge hurdle -- "We know we can beat these guys."
Ross: That first series against the Braves, for me, was the toughest series. The stuff that happened -- the errors by Brooks Conrad, the performances by our bullpen -- one little thing could have happened one way or the other, and it changes the whole scenario.
Bench coach Ron Wotus: The Phillies were the class of baseball. But we felt like we had a shot because our pitching was so dominant.
Ross (on facing Halladay): Even though my numbers against him were terrible, I was really confident. I remember thinking, "I've tried everything against this guy -- try to hit the ball up the middle, try to hit the ball the other way, try to hit it on the ground. The one thing I haven't done is try to hit a homer. So I'm going to try to hit a homer right here." I got away from the approach I had my whole career, which is to try to hit the ball as hard and as far as I could. I went back to that approach, and it worked.
Posey: I thought Cody tried to hit a home run every swing.
Ross' thoughts before his second homer: "He's probably not going to throw me that pitch [a sinker] again. He's probably going to throw me a slider or a curveball or a changeup." Sure enough, he threw me the exact same pitch, and I almost hit it in the exact same place. When I ran around the bases, I felt like I was running on clouds.
Lopez: Uribe was my first shortstop when I broke into the league [with the Rockies in 2003]. I knew what he was capable of doing. He showed that he liked the big moments just a few years earlier when the White Sox ran through the World Series in 2006, I believe. My favorite memories of Uribe came late in the year. The road trip to the Cubs and his two-homer, six-RBI game [on Sept. 23]. It was awesome, and it got him going for the rest of September and in the playoffs.
Ross (on watching lefties Affeldt, Bumgarner and López baffle the Phillies): I had never experienced anything like that, because with most of the teams I had been on, the bullpens were absolutely terrible. Boch put every guy in the exact situation that they had to be in.
Righetti (on watching both President Bushes admire Bumgarner and Posey): They were all stuck on the warning track, since an enormous flag covered the field. I remember [the Presidents] in the golf cart turning around and watching those two play catch. I was kind of sensing that they knew these young guys were good. It was Game 4 of the World Series, and this team was counting on this young catcher, Posey, and this 21-year-old pitcher. It was kind of like a Giants pride thing. Because they stopped to watch them. They're big baseball fans, so you could tell they were watching them. It was kind of neat.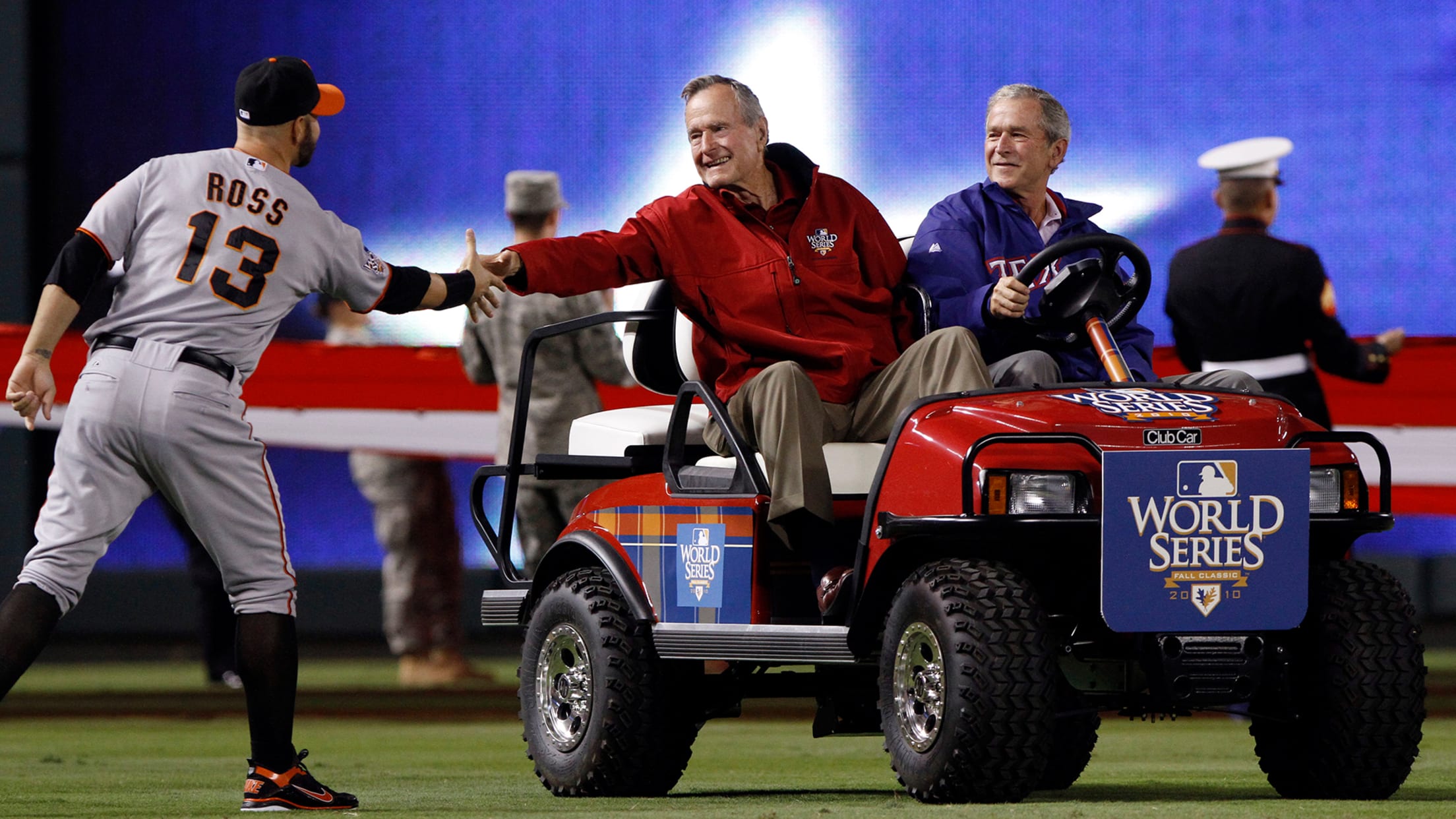 Posey: George W. called me over, and I got to shake their hands and say hello very briefly. That was a special time, being recognized by a couple of Presidents who have a passion for the game. To me, that Game 4 with Bum was the pivotal game. Texas had gained some momentum in Game 3, obviously, with that win. For a 21-year-old and a 23-year-old … it gives me chills thinking about it. It was one of those moments where we were just synced up. I can remember calling a front-door cutter to, I believe it was Mitch Moreland, and I don't think I had ever called that with Bum before, and he executed it for strike three.
Ross (on Renteria's late-September "pep talk" at Chicago's Wrigley Field): I remember thinking, "What is he going to say?" Because Edgar doesn't talk a whole lot. [He said,] "This is going to be it for me. This is going to be my last run. I want it to be the best experience I've ever had. I want to go out as a world champion. And I want all you guys to be a part of it." Basically, he was guilting us into making us win. After that, every one of us on that team would have run through a wall for each other.
Righetti: They took over the coaches' room to give the trophies to Boch and our ownership. And Renteria got the MVP Award. So we got to watch this. And Renteria took that MVP trophy and stuck himself in the eye with the pointed end of it.
CELEBRATE!
Everybody who attended the parade to salute the victorious Giants, it seems, will always remember it. The festivities drew an estimated crowd that exceeded 1 million.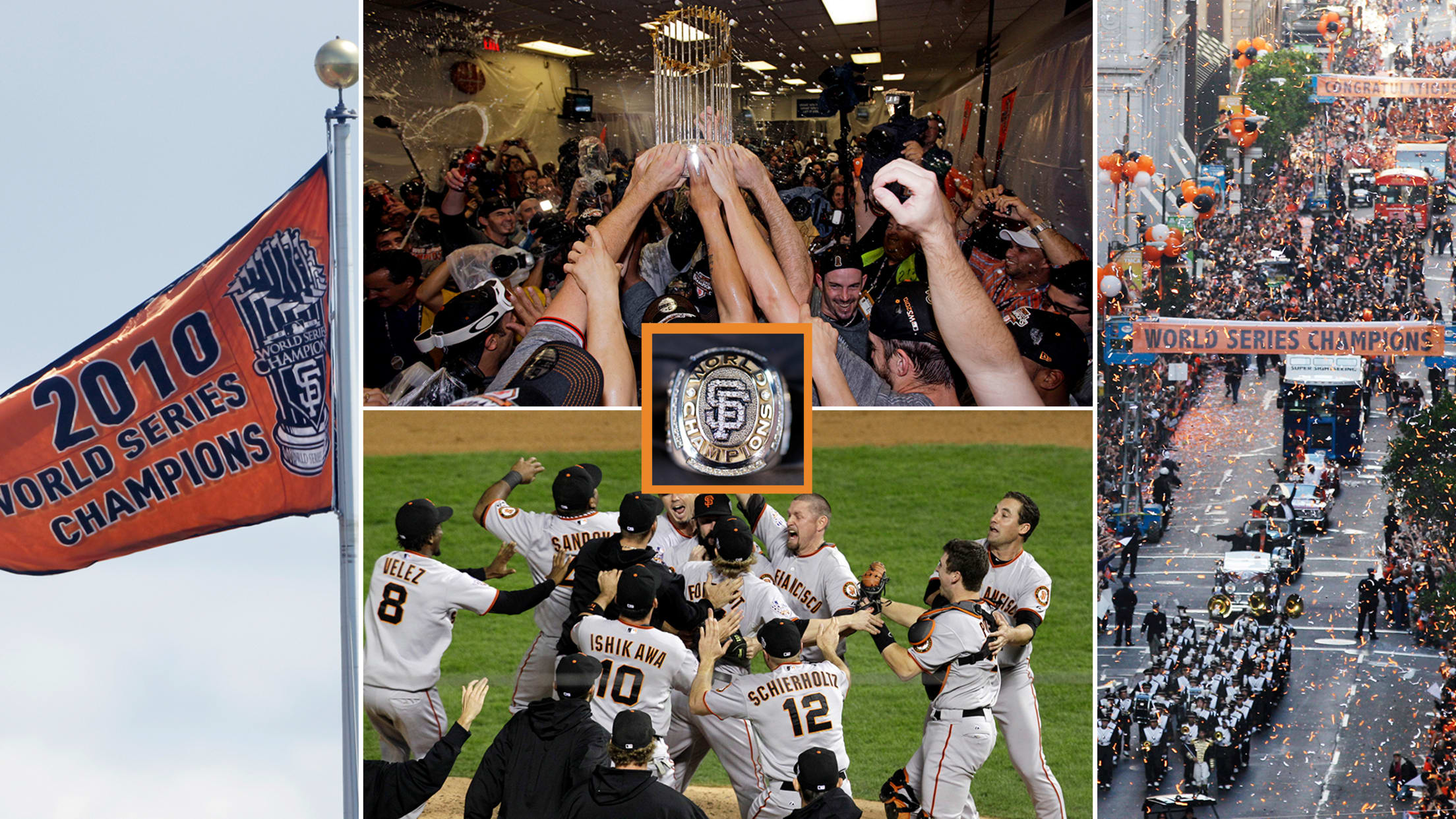 López: Things that stick out for me was the sheer joy on the faces of the citizens of San Francisco. We flew back, and we had a mini-parade to the ballpark. Fans were lining the streets to 24 Willie Mays Plaza. It was truly humbling. You always play for yourself and the other guys in the clubhouse, but to see the impact it made on the city was just truly inspiring. To be a part of the first championship in the Bay will be something that I and all my teammates will cherish. The older we get, the only things we have are our memories, and that year and that season will always be on the forefront of mine. A great team and great friends for life in 2010. Looking back, how I wish we could do it again.
Ross: Going down the most famous streets in San Francisco and seeing waves and waves and waves of people who got there so early just to get a glimpse of everybody as they drove by … it was in the middle of the week, people obviously must have gotten off work or school, because the amount of people there was absolutely breathtaking. I was literally in awe the entire way thinking, I remember thinking, "This is the most incredible thing I've ever seen in my life." I was literally in awe the entire way thinking, "Wow. Wow, wow, wow. Incredible."
Wotus: Your accomplishment continues to live on. That's the beauty of the parade.
credits:
Chris Haft has covered the Major Leagues since 1991 and has worked for MLB.com since 2007. Follow him on Twitter at @goodforball.