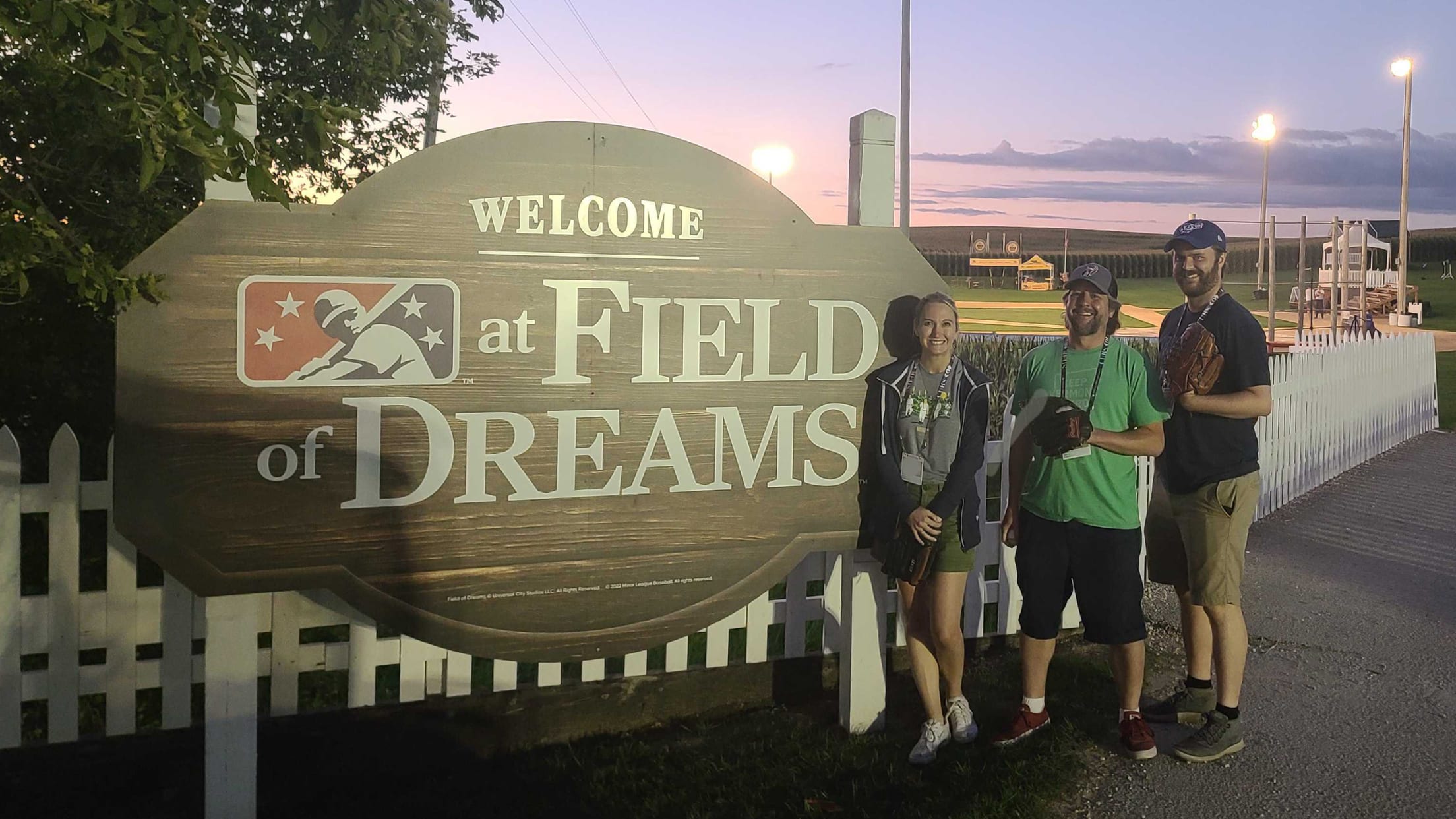 Scroll
Road trip journal to MiLB at Field of Dreams
DYERSVILLE, Iowa -- I had just finished explaining our plans to a nearby coworker when a voice from beyond echoed across the floor of MLB HQ in Midtown.
"You're driving where?!?"
A two-day journey from New York City to Dyersville to cover MiLB at Field of Dreams with coworkers Kelsie Heneghan and Benjamin Hill. Think Kevin Costner, James Earl Jones and a younger Burt Lancaster racing from the east to the Midwest in a car with GPS, a backup camera and a little less space than a Volkswagen Type 2 van.
In other words, a long road trip to celebrate the game we love in one of its most celebrated settings.
"It doesn't get any more Minor League than that," bellowed back the voice.
She wasn't wrong. This is the story of how we went the distance.
New York
7 a.m. Sunday. Car-rental employee checks me in, discovers where I work, says he's been a Mets fan since 1969. Based on the way his eyes light up at the name deGrom, I believe him.
I meet up with Ben and Kelsie at Citi Field, nearly adjacent to the LaGuardia rental location. It's a little off our beat to begin in the Majors, but we're starting our journey big. We salute the Tom Seaver statue and hit the road west.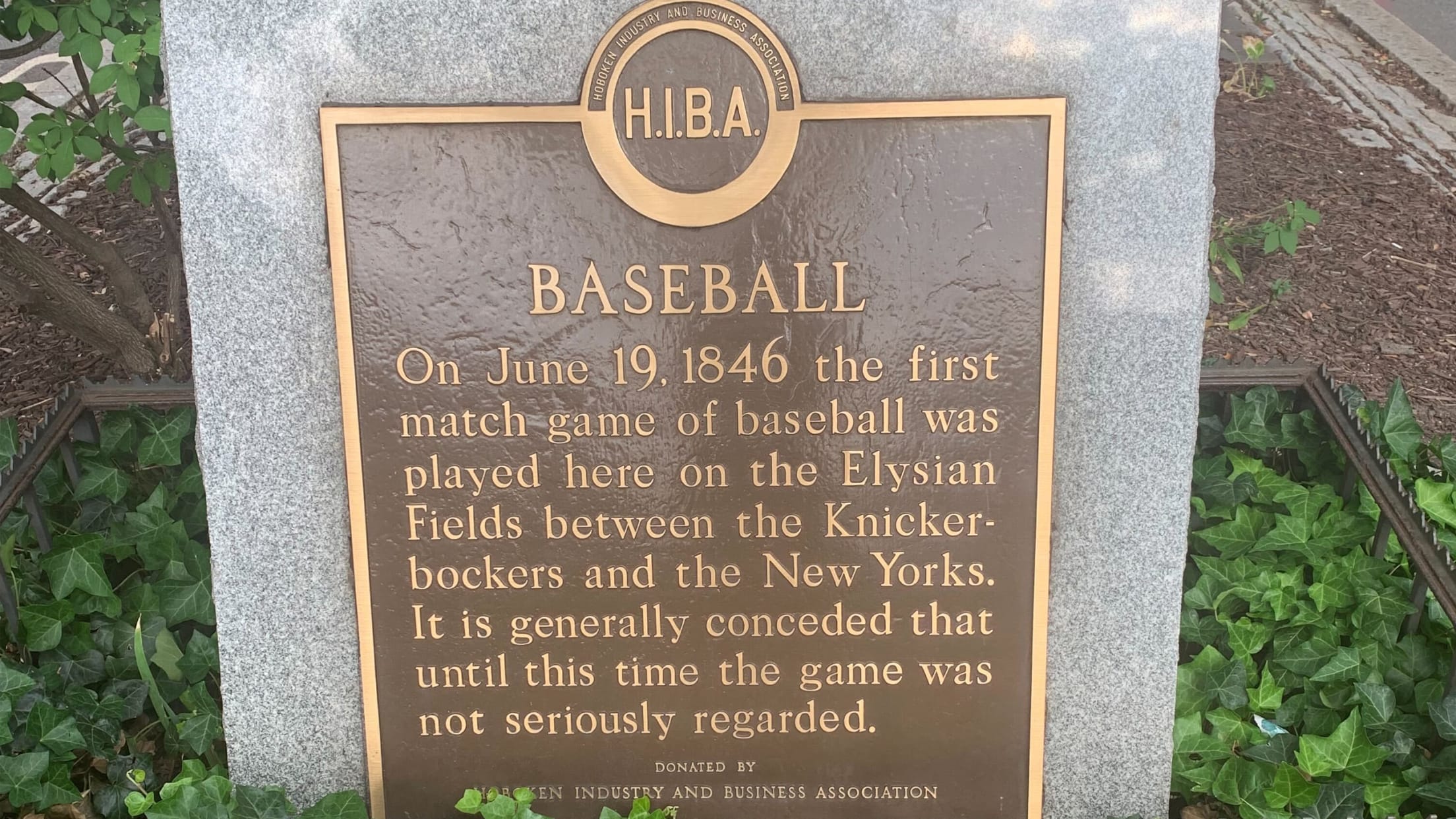 New Jersey
You might not know it based on looks, but the corner of Washington and 11th in Hoboken lays claim to the first match game in baseball history between the New Yorks and Elysians on June 19, 1846. The field is long gone, but a plaque remains. The locals keep the legend going, too.
"Cooperstown claims they have the first game," says a passerby, out for his morning dog walk. "We know better though."
A 15-minute drive southwest in Jersey City, there is no debate. This is where Jackie Robinson, then a member of the Montreal Royals, played his first regular-season game in the Dodgers' system, thus breaking affiliated ball's color barrier. Robinson picked up four hits in that debut including a three-run homer, and added two stolen bases in a 14-1 rout over the Giants' farm club. A statue of Robinson — arms outstretched, full extension, making a catch — rises above Journal Square. As Ben snaps a picture to mark our visit, a bystander adds an audio component.
"Go Dodgers," he shouts.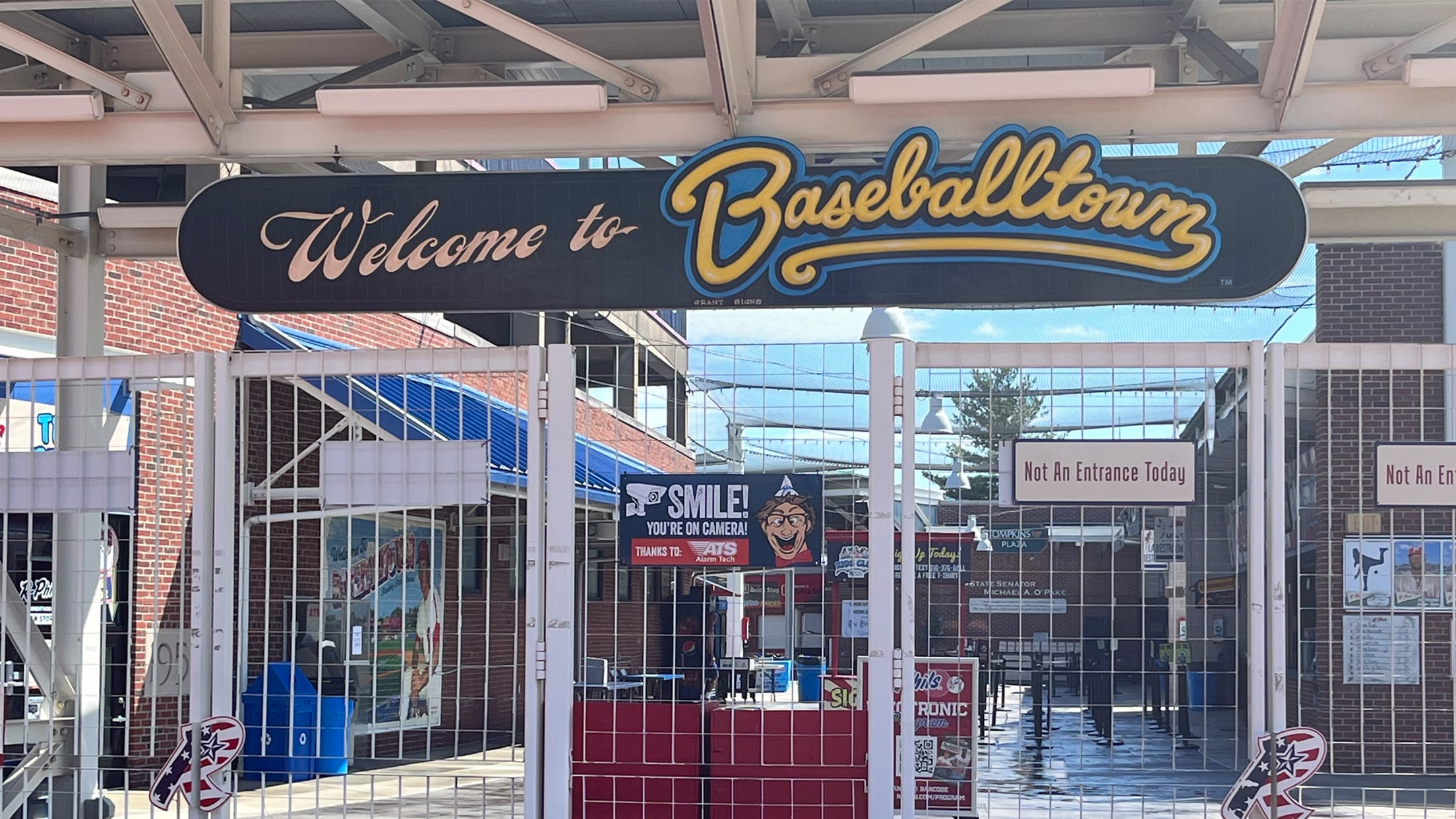 Pennsylvania
Four years after Robinson's Montreal debut, Reading's Municipal Stadium opened its doors. The ballpark still stands as the home of the Fightin Phils, Philadelphia's Double-A club, and now goes by FirstEnergy Stadium. Think twice if you imagine a post-war ballpark means Reading is due for new digs. Assistant GM Matt Hoffmaster tells us about the club's plans to expand a structure into right field that will improve player facilities and add new event space. For now, Reading groundskeeper Dan "Dirt" Douglas readies the current version of FirstEnergy while his dog roams the infield. First pitch is in 6 hours.
Back in the car, we start picking up more ground than ever, whizzing through central PA with an eye on making Toledo by a decent hour. We pass a sign for Altoona and start blaring the Curve's old jingle to pay homage. "Baseball. Double-A Eastern League Baseball," has been ringing in my ears since.
We get into Pittsburgh around 4:30 p.m., first swinging by Ben's alma mater Pitt, where the Pirates long played at Forbes Field. The ballpark is gone, demolished in 1971, but an outfield wall remains, marking the 436- and 457-foot dimensions in center. I'd like to have seen Oneil Cruz hit here, I think. He might be the only Pirate on the current roster to finish with double-digit homers. Bill Mazeroski Field, a humble diamond around the corner, serves as a reminder of the power of the dinger.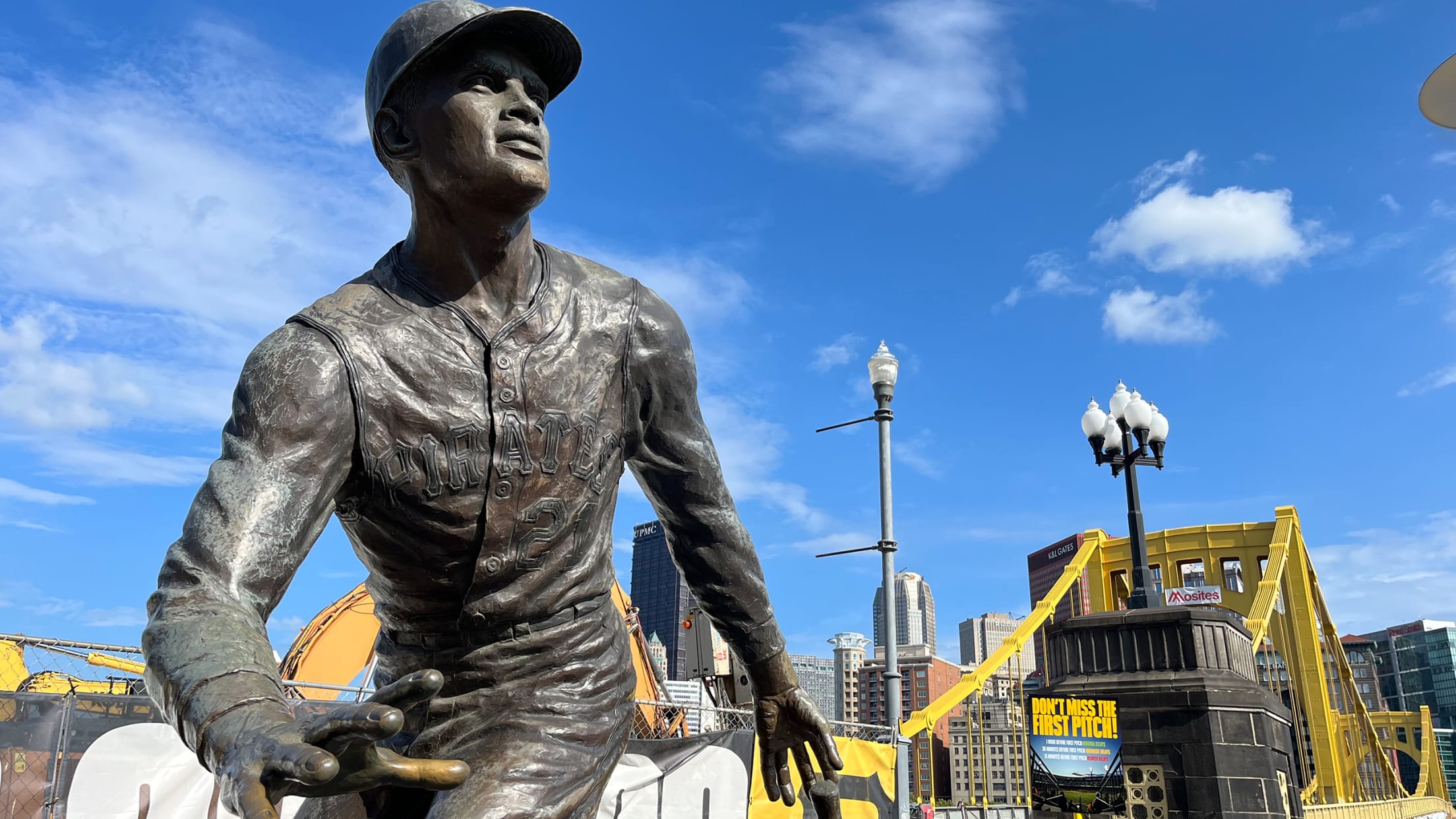 Closer to the center of the city, the Roberto Clemente Bridge is closed. It's the closest to being sad I've reached yet on the trip, having missed an opportunity to cross arguably baseball's most famous overpass. We drive over the Andy Warhol Bridge instead and walk past more statue tributes to Bucs icons in Willie Stargell and Clemente — the latter of which was created by Susan Wagner, who also made the Robinson memorial earlier in our day.
Bridge walk or not, you can't help but be reminded this is Clemente's city and rightly so. Three-thousand hits. Maybe the best defensive right fielder ever with a dozen Gold Gloves on the resume. Key roles in two of Pittsburgh's five World Series titles. Twenty-one forever.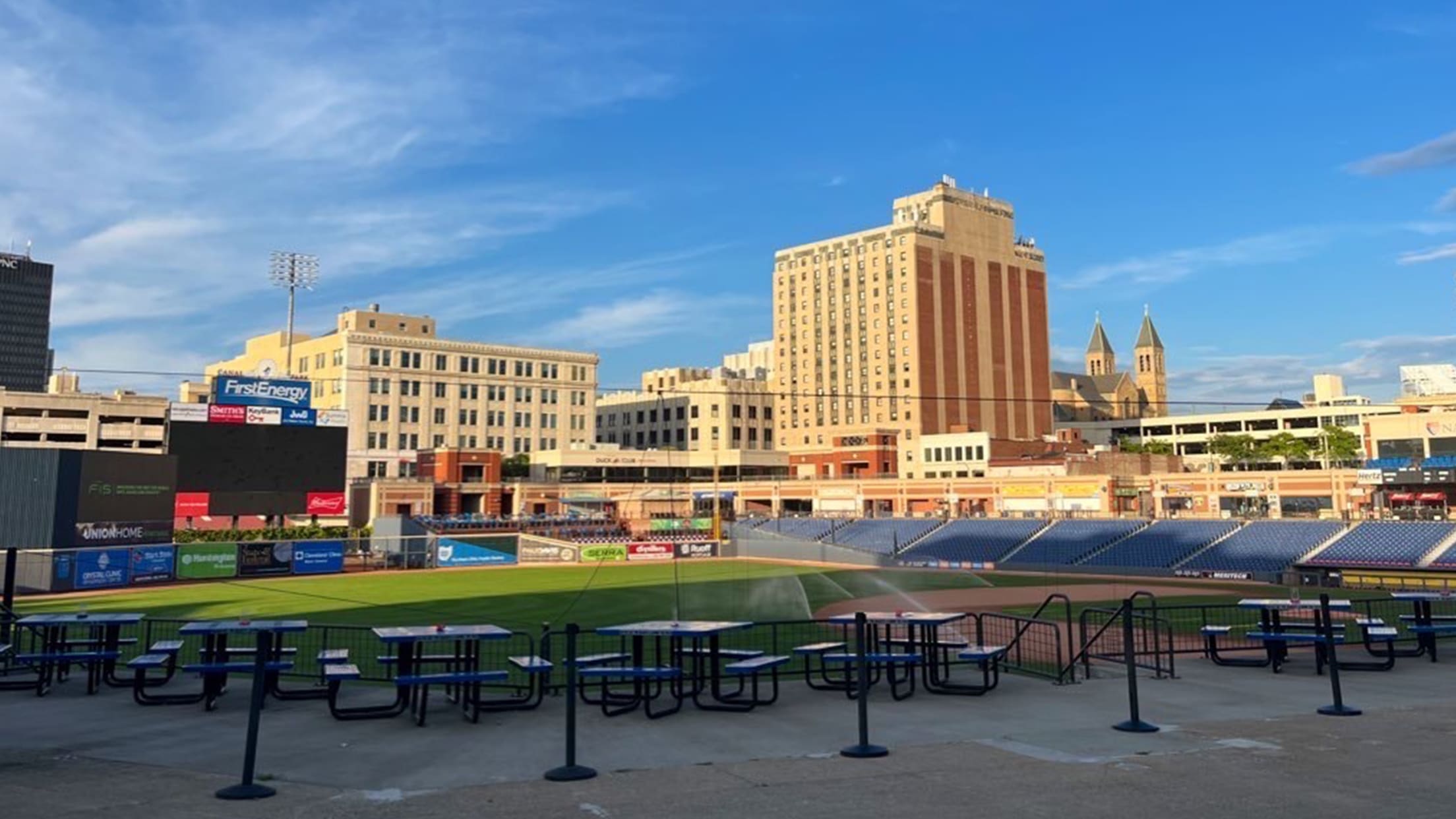 Ohio
One last stop on Sunday: Akron's Canal Park. The home of the RubberDucks presents a much more downtown setting than its Eastern League counterpart in Reading, while the naturalistic Ohio & Erie Canal Towpath Trail offers a dichotomy beyond the outfield wall. I consider asking a wading crane for its opinion on Guardians prospect George Valera's power but think better of it.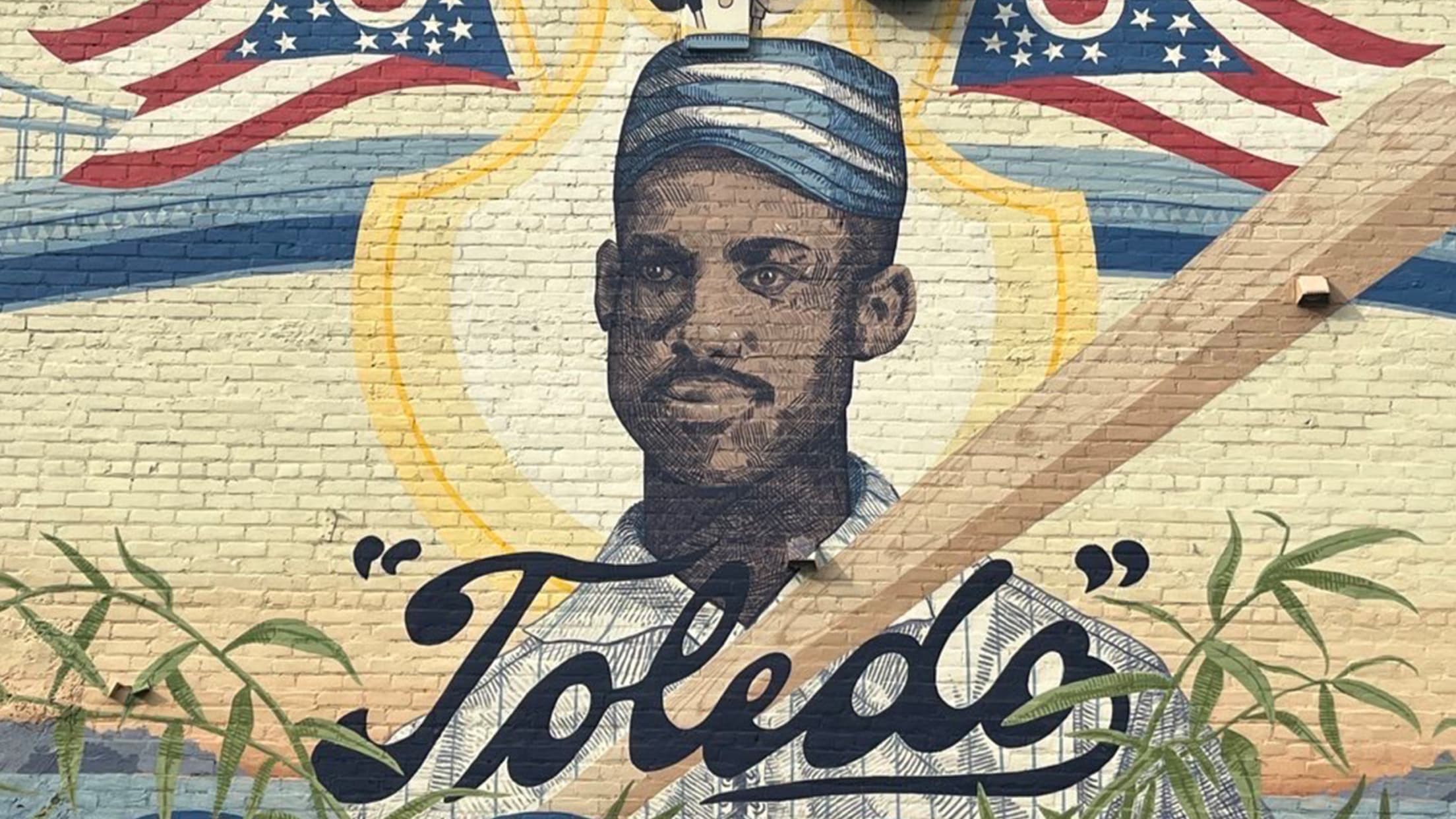 We crash for the night in Toledo, saving the Mud Hens' Fifth Third Field for the morning. This city knows to celebrate the legend of Moses Fleetwood Walker, a 19th-century Black ballplayer who went on to become a renaissance man, with a plaque and impressive downtown mural. Somehow, the fact that he was a barehanded catcher is not one of the most interesting facts about him.
Indiana
We're making one stop in the Hoosier State, but there's a lot to see in the city of Fort Wayne. TinCaps broadcaster John Nolan, a mensch of the Minor League community, meets us at Camp Allen Park to explain the home of the first professional game in baseball history. Shortly after, he leads us a mile and a half away to Fort Wayne's current Minor League home Parkview Field, which maintains open doors as a public facility.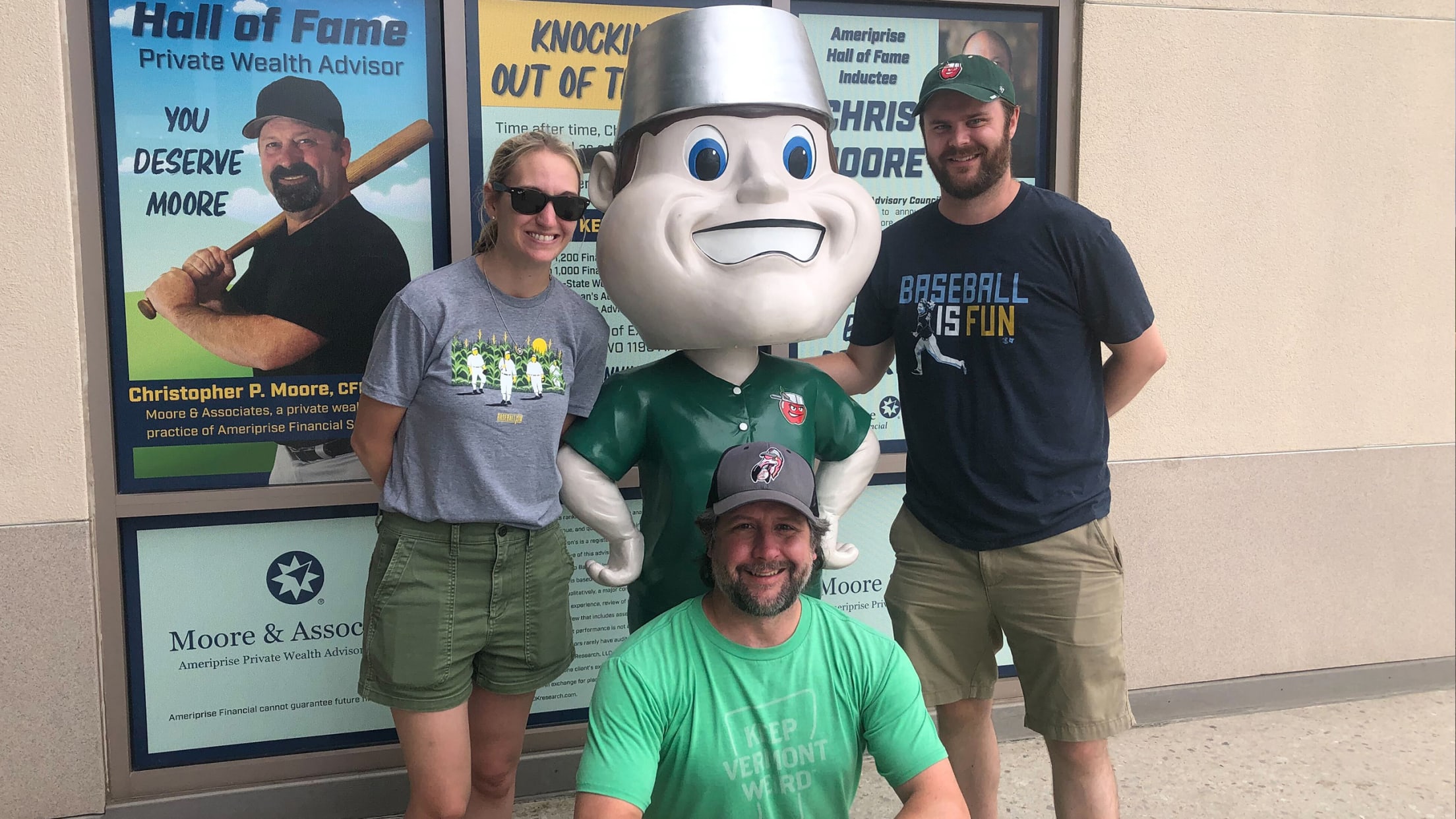 John explains only one TinCap has ever homered to The Summit, a group seating area atop the batter's eye in center. You may have heard of him. Fernando Tatis Jr.
Illinois
Rain and traffic pick up hand in hand as we head north toward Chicago, and if we want to make Dyersville by nightfall, we need to push on. Our route thankfully takes us past Guaranteed Rate Field, home of the White Sox, so we can say hello through the driving rain and passing cars.
Skies clear up away from the Windy City, and we press on to Beyer Stadium, home of the All-American Girls Professional Baseball League's Rockford Peaches in the mid-20th century. Yes, the same Rockford Peaches that were the focus of "A League of Their Own" and an upcoming Amazon series of the same. We're doing multiple movie hits on this trip. Louise Erickson, Dorothy "Dottie" Ferguson and Helen Fox are immortalized in the park, and the original ticket booth still stands at the entrance -- a reminder to visitors this wasn't a set. It was real.
Sidebar: If you're ever allowed the chance to drive Route 20 from Rockford, Ill., to Dyersville, Iowa, jump at the opportunity. We were fighting to make it to our final destination before the dying of Monday's last light, and the views of rolling hills, blankets of cornstalks and ornamental farmhouses gave us second, third and fourth winds. Heaven was within grasp.
Iowa
The Illinois-Iowa border is the Mississippi River, and Dyersville is roughly 27 minutes beyond that. They might as well have been neighbors in our minds. On our seventh state in two days, Iowa alone is a celebration -- a celebration that takes us to the Kinsellas' front door.
We fly on the highway (legally, officers), zig-zag through the maze of roads seen in the film's final credits and arrive just in time for there to still be pink and purple in the Iowa sky. We grab our gloves and make a dash for the diamond in the stalks. And we do what every legend we've learned about on this trip -- Jackie Robinson, Roberto Clemente, Moses Fleetwood Walker, Dottie Ferguson -- did at every point in their own baseball journeys.
We play catch.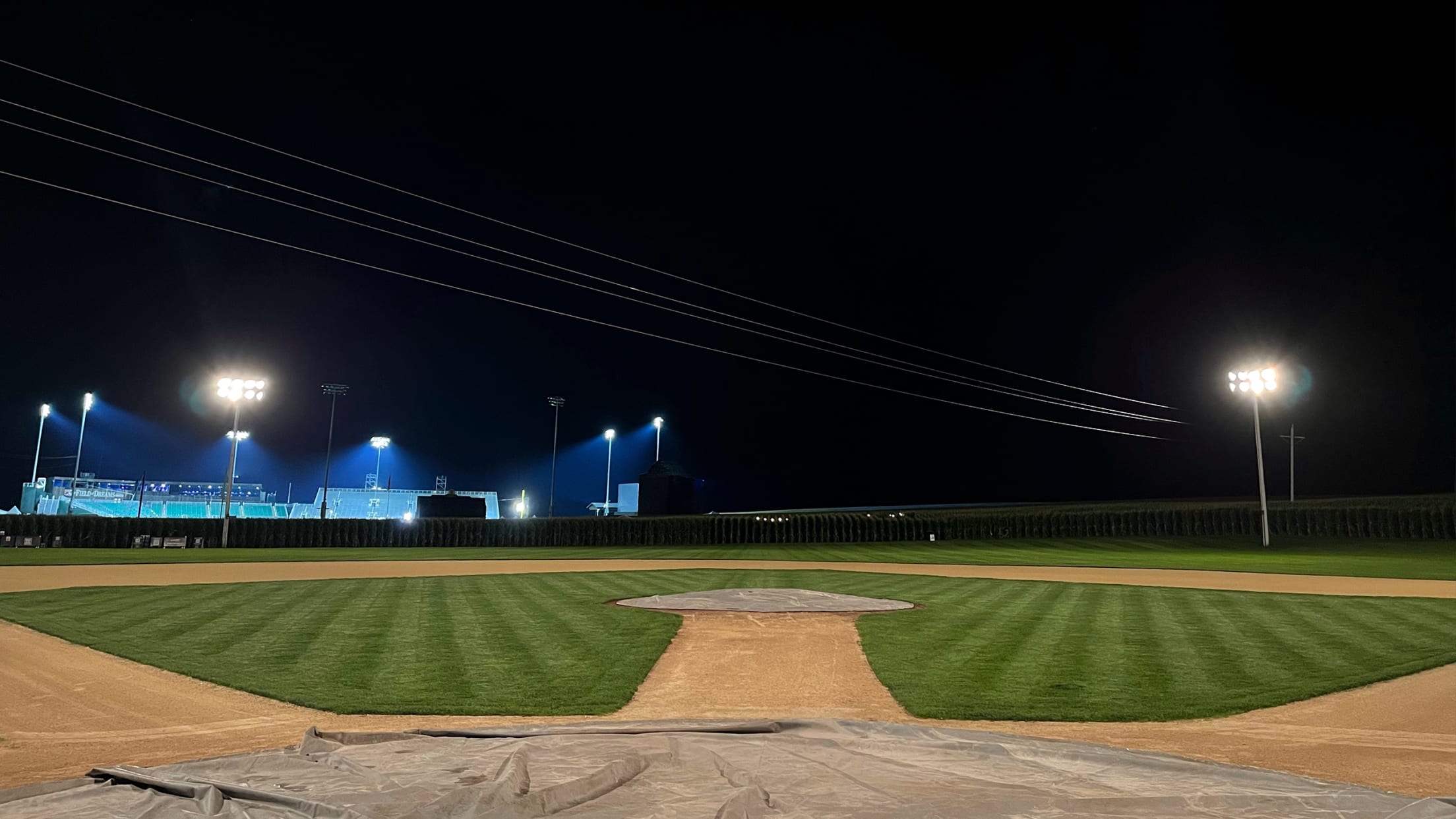 Final thoughts
"Field of Dreams" relies on the history of baseball to tell its story, and that history is all around us at all times.
While a seven-state trip is certainly extensive, we didn't go well out of our route to find the roots and branches of this game. It was there to be found in any direction, from every era.
Keep your curiosity piqued. Keep your eyes peeled. Keep listening for those voices. Baseball history may just be in your backyard too.