Scroll
The story of the modern Moonlight Graham
"There were a lot of people in baseball five or six years ago that thought Ron Wright would be in his third or fourth year of power-hitting success in the Major Leagues," Rangers broadcaster Tom Grieve said as Mariners rookie Ron Wright stepped back into the box.
It was April 14, 2002, and it was the big league debut for the power-hitting Wright, who was once seen as a future star. After seven years in the Minor Leagues, he had finally cracked a Major League starting lineup. Normally, that's a dream moment: Your life's work finally paying off.
Instead, Wright had what may be the most painful debut in big league history.
Forget Moonlight Graham. In his first -- and only -- game in the Majors, Wright struck out, hit into a double play, and hit into a triple play.
One man, one game, six outs.
This is his story.
Drafted in the seventh round by the Braves in 1994, Wright quickly got to work decimating Minor League pitching. In his first full professional season in '95, Wright smashed 32 home runs -- fourth among all Minor Leaguers. The next year, he bashed 36 -- third in the Minors -- and was traded to the Pirates along with Jason Schmidt in exchange for Denny Neagle.
"This was back when the Braves were just winning every year, turning out prospects every year," MLB Pipeline's Jim Callis said. "They were doing a pretty amazing job of it, kind of like the Dodgers are doing today."
Wright was one of those guys and was now seen as a power-hitting cornerstone of the future for the Bucs. Callis, who was at Baseball America at the time, was one of the voices who helped rank Wright 48th in the game entering the 1997 season.
"The guy had produced everywhere he had been," Callis said. "He looked like he was one of the best young power hitters in baseball."
Wright did nothing to dissuade the Pirates or the editors from thinking that. That season, playing in Triple-A for the first time, he cut his strikeouts and posted a career-high .304 batting average. He hit just 16 home runs, but that was because he played in just 91 games due to a broken wrist he suffered in the final weeks of the season.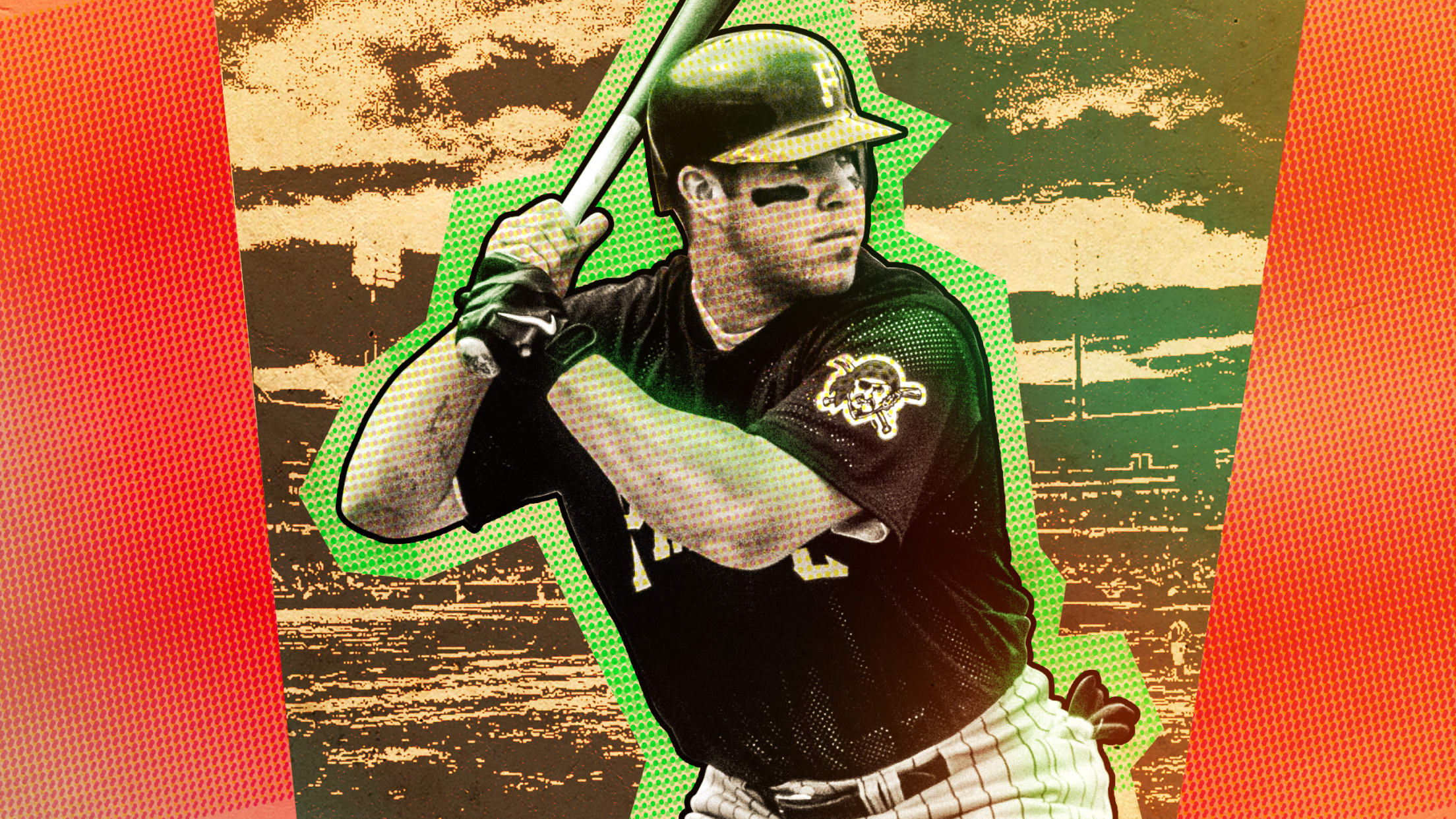 Hand and wrist injuries are always tricky, especially for power hitters. So, when the Pirates called up Wright that fall, they were cautious with him.
"[The Pirates] told me, 'We're gonna call you up,' and so I traveled with them. But they were also more worried about a check swing than anything else," Wright told MLB.com. "I was taking BP, and they kept telling me they were going to activate me any day, and then they were like, 'Man, you have the next 10 years here, we don't want any setbacks.'"
The moment stings now because first baseman Kevin Young had gone down with an injury around the same time. That would have set up Wright with month-and-a-half of at-bats as the team's starting first baseman. Instead, Wright waited.
No one was concerned, though. Wright was only 21 years old. The future was bright.
"The plan was to be in Pittsburgh for a long time after that," Wright said.
First at-bat
Wright took the first pitch from Kenny Rogers on the outside corner. In a life lived without regret, it may be the one he still harbors today.
"The best pitch I saw that day was that very first one. I'd been hitting the first pitch well, I like hitting the first pitch. I let it go because I hadn't seen a [live] pitch in four days," Wright said. "And that first big league pitch, I felt like I really could have smoked it. After that, I don't think I saw one over 84 miles an hour."
Rogers was a veteran pitcher who knew exactly what a power hitter making his debut would want to see: Fastballs over the plate. Rogers never threw another one. On an 0-2 pitch, the Rangers' starter caught the inside corner and Wright went down looking. Striking out against an eventual 219-game winner in your first big league at-bat is no problem. Tons of rookies have done it.
But Wright's day wasn't done.
----
Sent back down to start the 1998 season, Wright got hurt again when he took a swing at the start of the year in Nashville. It was a dreaded back injury.
"I just went down just like I'd been shot," Wright said. "The disk totally blew out."
That meant surgery. Even worse, the surgeon nicked Wright's sciatic nerve.
"When the surgery happened, I woke up with a numb right leg and was concerned," Wright remembers. "I went from prospect to suspect pretty quick."
It's an issue that Wright struggles with to this day. His legs were tingling as we spoke on the phone, and he still can't build muscle in his right leg the way he can in his left. That would make life difficult for anyone, much less a young ballplayer who relied on strength and was trying to reach the Major Leagues.
Wright played in 44 games the next two years and hit only two home runs -- both in rookie ball -- before the Pirates waived him.
Wright could remain angry at the surgeon, blaming him for the loss of his big league dreams that he had nearly attained.
"I mean, the guy was a really good surgeon," Wright said. "The Pirates sent me to the best, so I can't blame them and I can't blame [the surgeon] for trying. I look at it the other way, where if I had gone to a less experienced surgeon, maybe I wouldn't even be walking right now. So, I'm trying to see the glass half-full."
That began a string of waiver claims and Minor League free-agent deals as teams hoped he could recover and revert to the hitting prospect he once was. He landed in Cincinnati and Tampa Bay before the Mariners signed him as a free agent before the 2002 season, leading to the infamous game.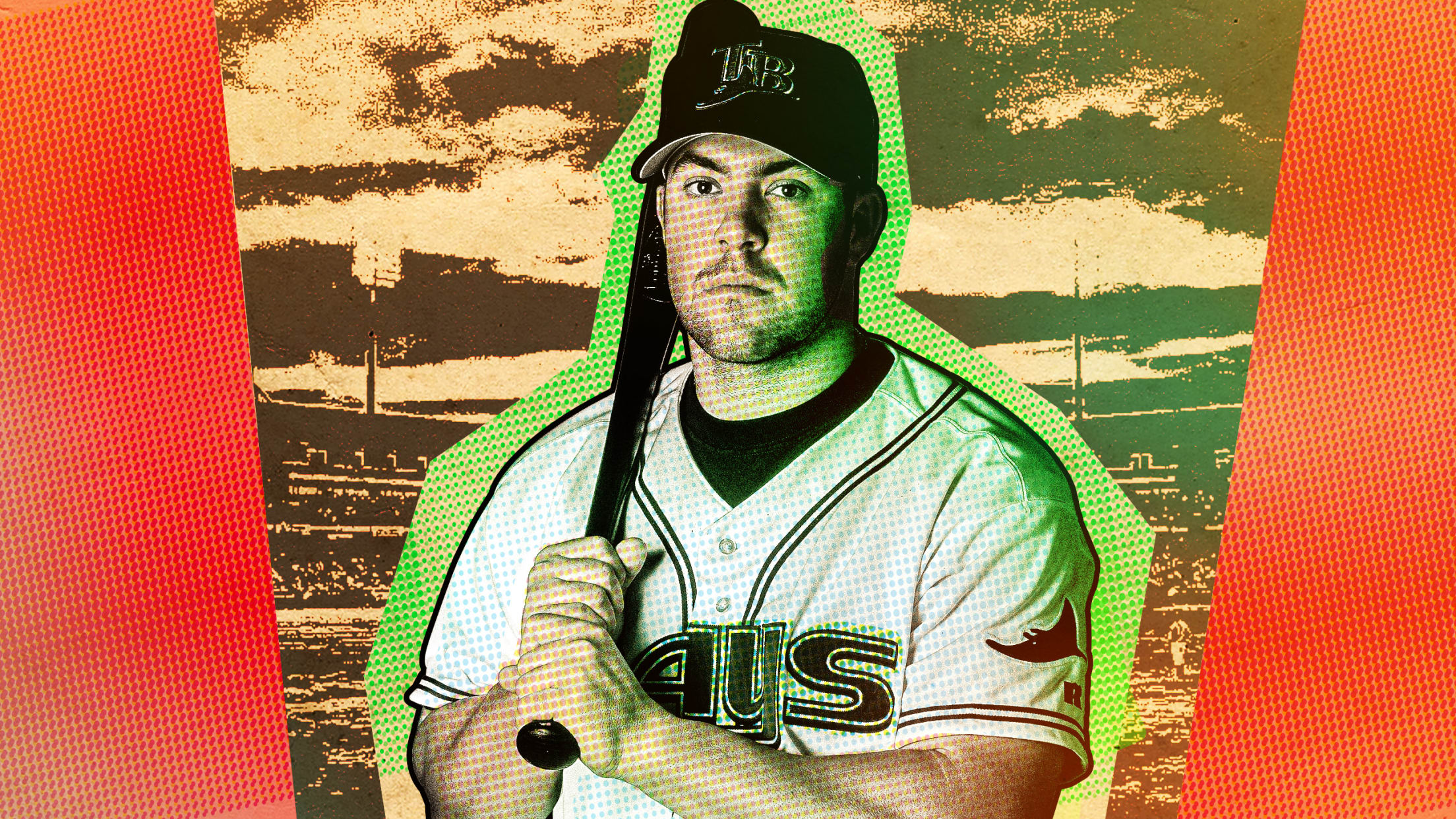 "I had a lot of teams thinking I would go back to my old self and, of course, I was trying to be my old self," Wright said. "I tell people I was just trying to be a good hitter, hit line drives, and I would look at the end of the year and I'd have 35 home runs, I'd have 120 RBIs. And then after the injury, I always felt like I had to sit on a pitch or do something different with my swing to try to hit home runs in certain locations. Before the injury, with my right leg healthy, home runs just happened."
Second at-bat
Wright came to the plate again in the top of the fourth with runners on the corners and no one out. This was a great opportunity to at least drive in a run as long as Wright could make contact. He battled, working the count to 2-2. He was ready for what Rogers was about to throw.
It would have been better if he wasn't, if he had whiffed on the pitch.
Wright softly tapped the ball back to the mound. Had it been a different pitcher that day, perhaps one who fell off the mound toward third base, there's a chance Wright could have wound up with an infield single. At worst, it's a double play with a run coming in to score.
Instead, in this reality, disaster slowly unfolded -- leading to the only 1-6-2-5-1-4 triple play in baseball history, according to SABR.
"[Kenny Rogers was] off balance when he fielded the ground ball, so I'm like, 'Man I could probably beat this out and have an RBI,'" Wright said. "And of course they just got [Ruben Sierra] in a pickle. I got waved around first and got out there in no-man's land and saw it all happen."
Manager Lou Piniella could only look on in horror from the dugout.
"I could see it developing," Piniella said at the time, "like a thunderstorm on the Gulf down home in Tampa."
Bret Boone, who was playing second base that day for the Mariners, went up to the rookie in the dugout to speak to him. What sage words did he offer?
"I said, 'Hey dude, that was BAD.'"
Third at-bat
Wright again came up with runners on first and second with no one out in the top of the sixth. This time, he didn't give Rogers any chance to get ahead, swinging at the first pitch. Because he couldn't buy any luck, Wright grounded it sharply to short for a by-the-book 6-4-3 double play.
That would end Wright's day. Piniella pulled him before his next at-bat and sent Mark McLemore to the plate in his stead.
The next day, the Mariners got runners on first and second against the Rangers and Wright told The New York Times he remembered Piniella coming up to him in the dugout.
"'I'd put you in," Wright remembers Piniella joking. "But I'm afraid you'd hit into a triple play."
While he knew he wasn't going to get straight back into the veteran-laden lineup, more at-bats would surely come, right? He had waited seven years to get his chance, so what would be a few more days on the bench?
Unfortunately, that game was a 13-11 10-inning slugfest and the Mariners needed fresh arms, not bats. Wright was optioned back to Triple-A and never saw the big leagues again.
"As a player -- bad things happen all the time," Wright said. "I mean, geez, how many times had I hit into two double plays in a game and how many times did I hit for the cycle? It's just an anomaly that happened to be on my first day up there."
According to the Elias Sports Bureau, Wright isn't the only player to hit into a triple play in his debut. Leo Foster also did it when he came up on July 9, 1971. But that wasn't the end of Foster's career -- he played in 143 more games.
These days, Wright is happily married and raising a family. He used his college bonus from the Braves to go back to school and is now a pharmacist in St. George, Utah. He gives private hitting lessons and helped coach Dixie State University -- the local JuCo team -- to its first championship. He's written a hitting guide that was published by one of the players as his senior thesis that's "done really well for people who still read books," he jokes.
He could have quit the game and been bitter. He could be sad from the day. But Wright isn't -- at least, most of the time.
"It's hard. I mean, I'm human. Look at the guys that I came up with -- [Paul] Konerko and [Derrek] Lee and those guys -- that's about what I figured my career would be like. So, yeah, it cost me $80, $90 million -- what those guys made," Wright said.
"It was never about the money for me anyway. Don't get me wrong, I'd love to be out of school debt. I'd hope to have a couple mil in the bank, but that's never why I played. I never thought money equates to happiness. I just try to consider myself lucky and I have a great wife, a great family."
Instead, he enjoys being remembered as a part of big league history, an answer to a trivia question that few people ever get a chance at.
"It's fun to look back on. I wouldn't really joke about it because it was sacred to me. I loved it," Wright said. "Of course, I wish it had gone better, but I'm glad I got into one game. I felt like a big leaguer for a lot of years, so it's nice to have that."
Moonlight Graham may have been a depressing character in "Field of Dreams," but Wright is anything but. Still, maybe one day we'll find him in a movie, too.
"I wish somebody would make a movie out of it so I could make some money off it," Wright says with a laugh. "People always ask, 'Why don't they make a movie?' I'm like, 'I don't know, dude, I'm not a TV star. Probably find someone a lot better to play me than I really was.'"
credits:
Michael Clair writes for MLB.com. He spends a lot of time thinking about walk-up music and believes stirrup socks are an integral part of every formal outfit. Follow him @michaelsclair. Triple play diagram and animation by Tom Forget and Cate Nolan / MLB.com