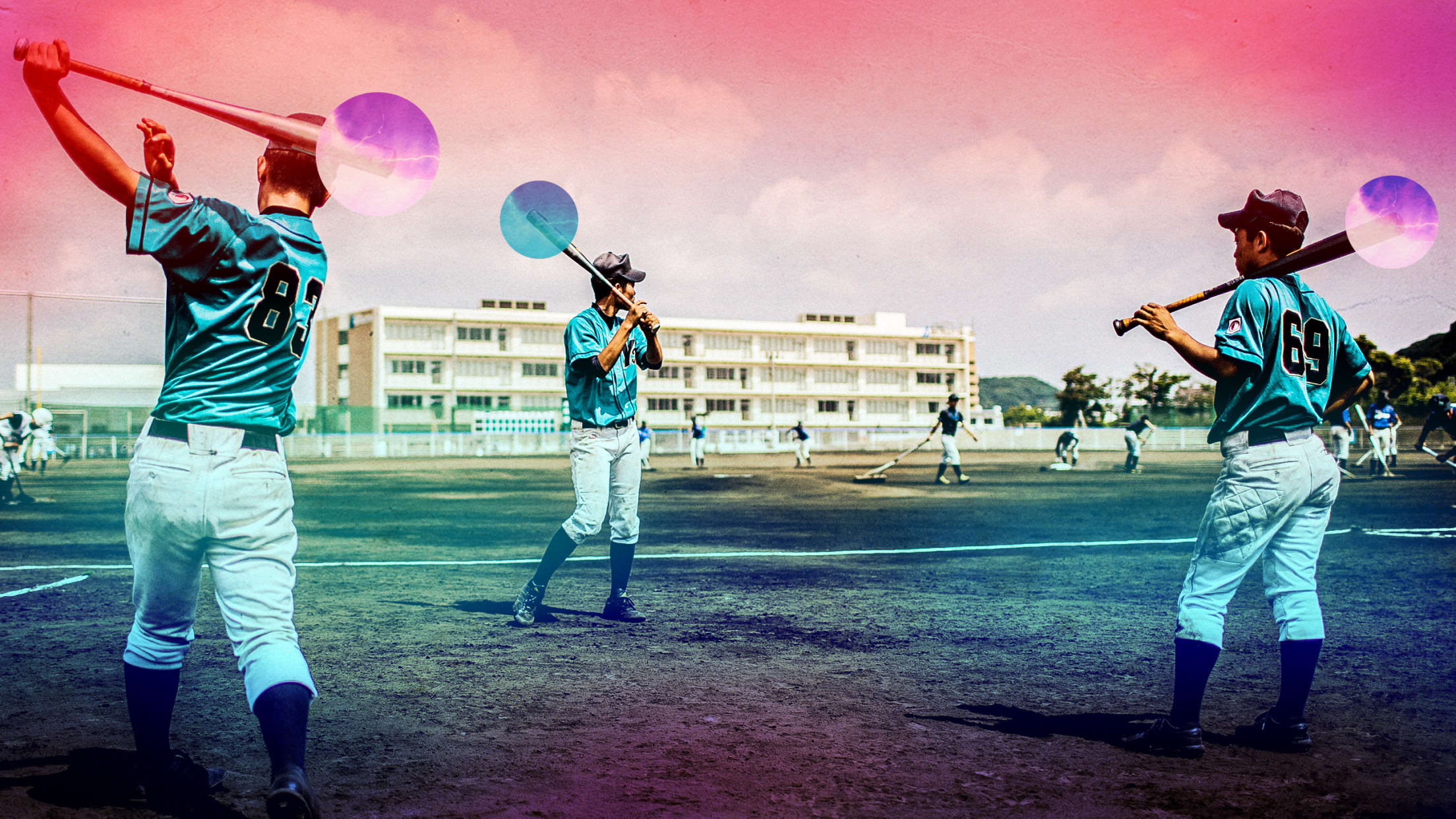 Scroll
Summer Koshien: Dreams are made, crushed
The players, some not old enough to shave, crouch down in the infield, their uniforms and faces stained with sweat and mud. They hunch over, scooping the volcanic Koshien Stadium dirt into sacks to take home, to remember this moment, this loss, this brush with greatness. The cameras are sure to catch it all, the tears running down the boys' faces, the pain evident as the dreams they've had their whole life have been crushed.
This is the Summer Koshien, which is just about to begin its semifinals this weekend, and it is not merely Japan's premier national high school baseball tournament: It is a countrywide cultural event.
In the pre-Covid times, fans would fill the ballpark, cheerleaders and supporters from the local prefectures would be there in support, singing and shouting throughout the game, and nearly every TV across the country is tuned in. The only way to describe it is if March Madness was mixed with the Super Bowl -- and it all took place in one blistering hot stadium across two weeks in August every summer.
"Of course, kids watch the pro game," Twins starter Kenta Maeda said during the 100th Koshien tournament in 2018, "but it's Koshien they aspire to."
We feel so much for the losing team and the beauty of how they've lost. I think it just matches the sensibilities of what Japanese people appreciate in watching sports.

Ema Ryan Yamazaki
This is where a new hero will be crowned, a new legend made, but for most, it's where their baseball career ends.
"I associate the U.S. with loving winners, and I think in Japan, we care more about how how they lose," Ema Ryan Yamazaki, the director of "Koshien: Japan's Field of Dreams," said in a recent Zoom call. She has just finished shooting a new documentary on the recent Tokyo Olympics, and the country has quickly shifted its attention to the Koshien. (While it is mostly known as the Summer Koshien, separating it from the invitational Spring Koshien tournament, when one says "the Koshien," most will assume you're referring to the larger, more famous summer tournament.)
"Even the broadcast, as soon as the game's over, they will cut to the losing team, [who are] weeping and they scrape the dirt off of the ground to take home. [They focus on the loser] more than the winner -- because the winner we'll see again in the next game," Yamazaki said. "We feel so much for the losing team and the beauty of how they've lost. ... I think it just matches the sensibilities of what Japanese people appreciate in watching sports."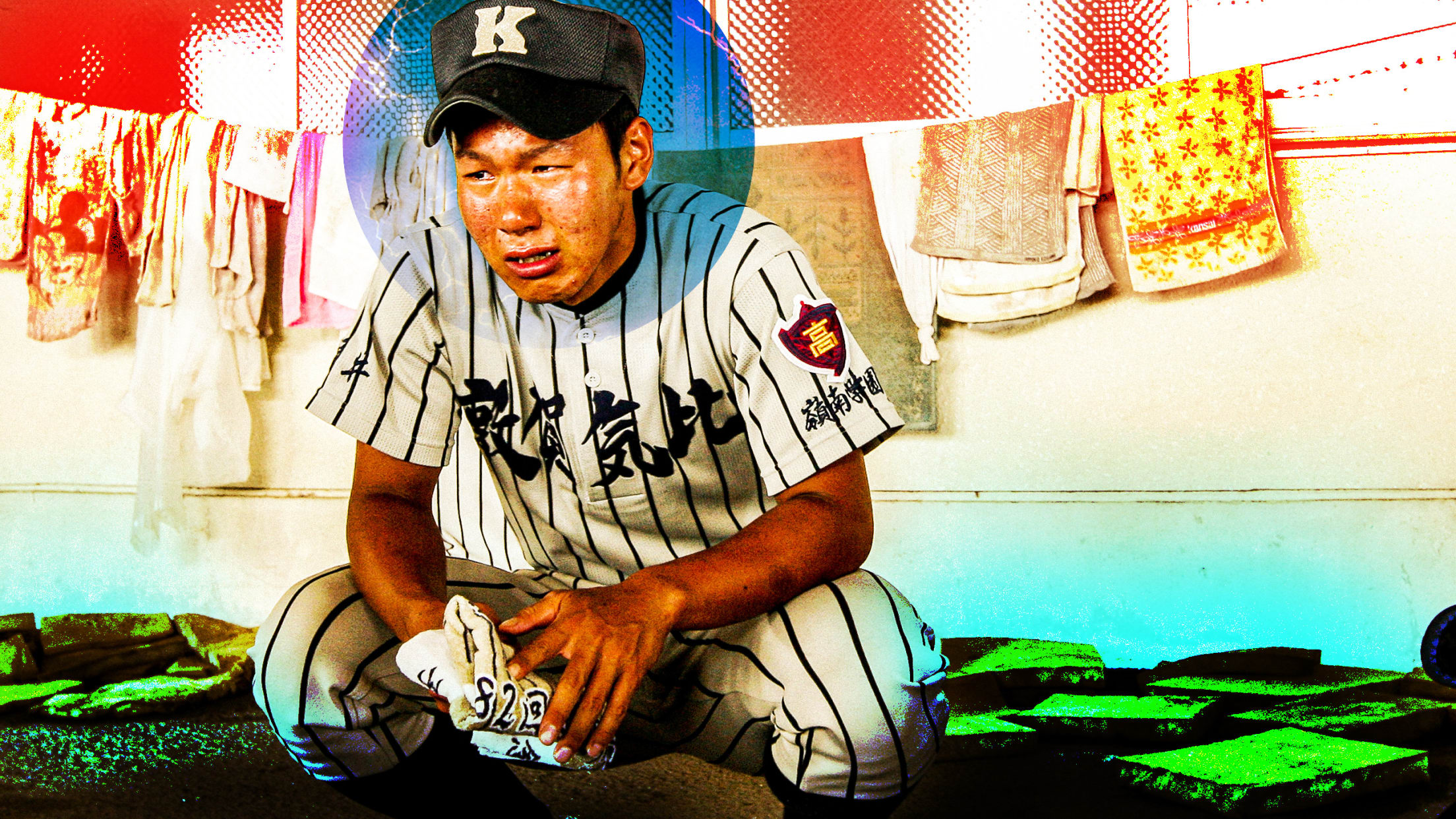 While the fans may feel a deep connection with those who lose, the players themselves leave everything out on the field for a chance to win. Ace pitchers take the mound in nearly every game, and every pitch is treated like it's life or death. Turn a game on for just a few innings -- available to stream here -- and you'll see it in action.
"Usually, the batter will dive headfirst into first base, even though he's out, to show how hard he's trying," journalist and author Robert Whiting said. His new book, "Tokyo Junkie," is a look back at his 60-year career covering the country, the sport and its connections to Japanese culture. "And then the cheering sections are really interesting. Each school has its own cheering section that they brought and they're very well organized. They really get emotional about these games."
"Koshien is a page of history," former Tokyo Giants infielder Shigeo Nagashima said in Whiting's iconic book on Japanese baseball, "You Gotta Have Wa." "It burns somewhere inside every man's heart. I never made it there, and I always feel that it was an opportunity lost. I always think, what if ..."
* * * * * * * *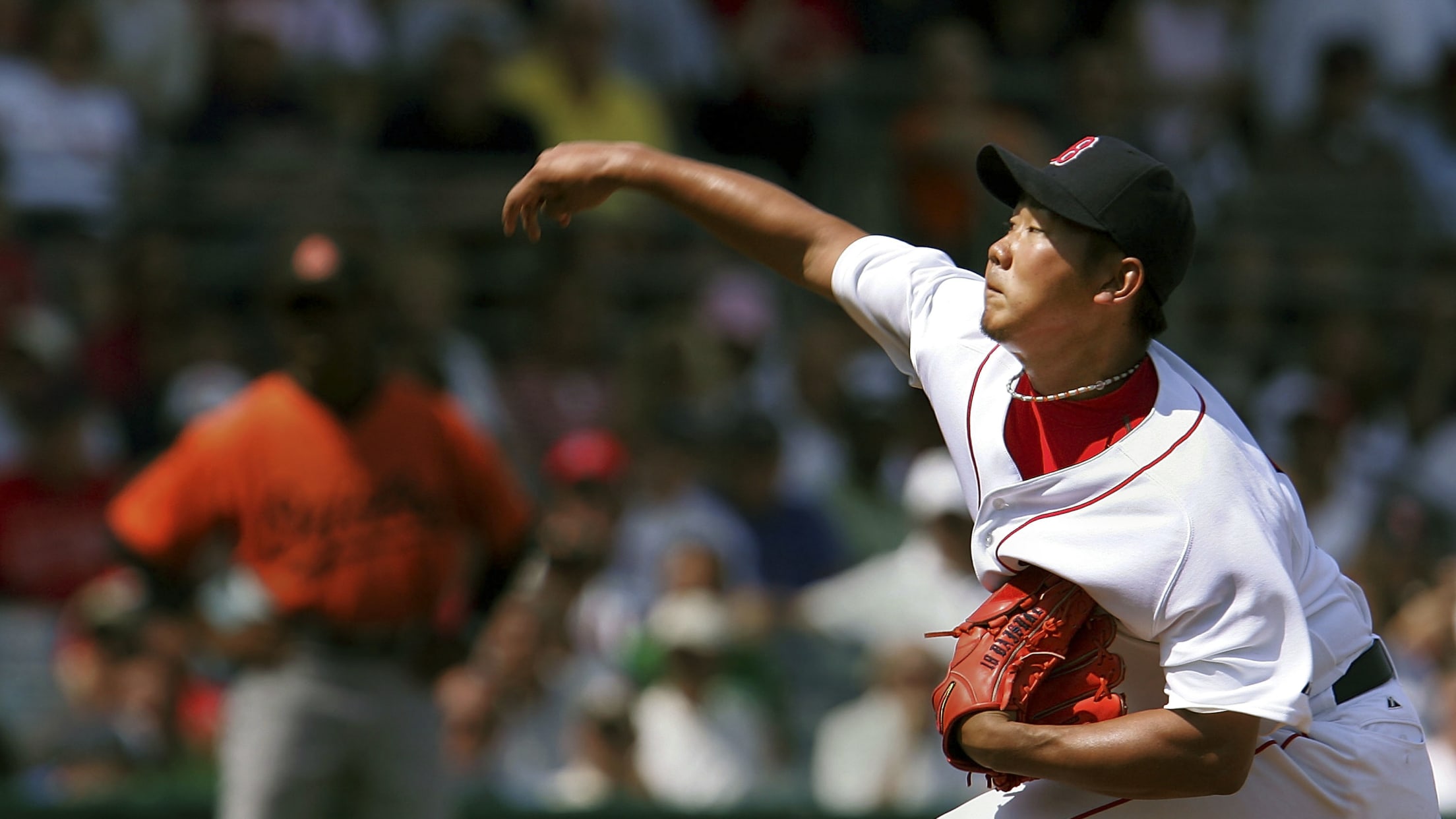 Koshien Lore ... Matsuzaka's no-hitter (1998)
Long before Daisuke Matsuzaka joined the Red Sox, he became famous for a legendary performance with Yokohama in the Summer Koshien.
He threw an astonishing 250 pitches in 17 innings to defeat the powerful PL Gakuen in the quarterfinals.
The next day, he was called on to pitch the top of the ninth as Yokohama came back from a 6-0 deficit to defeat Meitoku Gijuku.
He saved his best for last.
I had used every last bit of energy, and didn't have enough left to even celebrate.

Daisuke Matsuzaka
The night before the final against Kyoto Seisho, Matsuzaka's mentor and former sporting director at Yokohama High School, Kyoichiro Ogura, told him, "You walk too many batters so a perfect game is out of reach. If you pitch a no-hitter tomorrow, I'll let you eat all the Yakiniku [Japanese-style BBQ] you want."
Apparently, that was enough of a reward. Matsuzaka threw a complete game no-hitter as Yokohama won, 3-0, and Matsuzaka -- given the honorific "Monster" for his Koshien performance -- became just the second pitcher in the tournament's history to accomplish the feat.
"I had used every last bit of energy, and didn't have enough left to even celebrate," Matsuzaka wrote in an email to the New York Times in 2007.
* * * * * * * *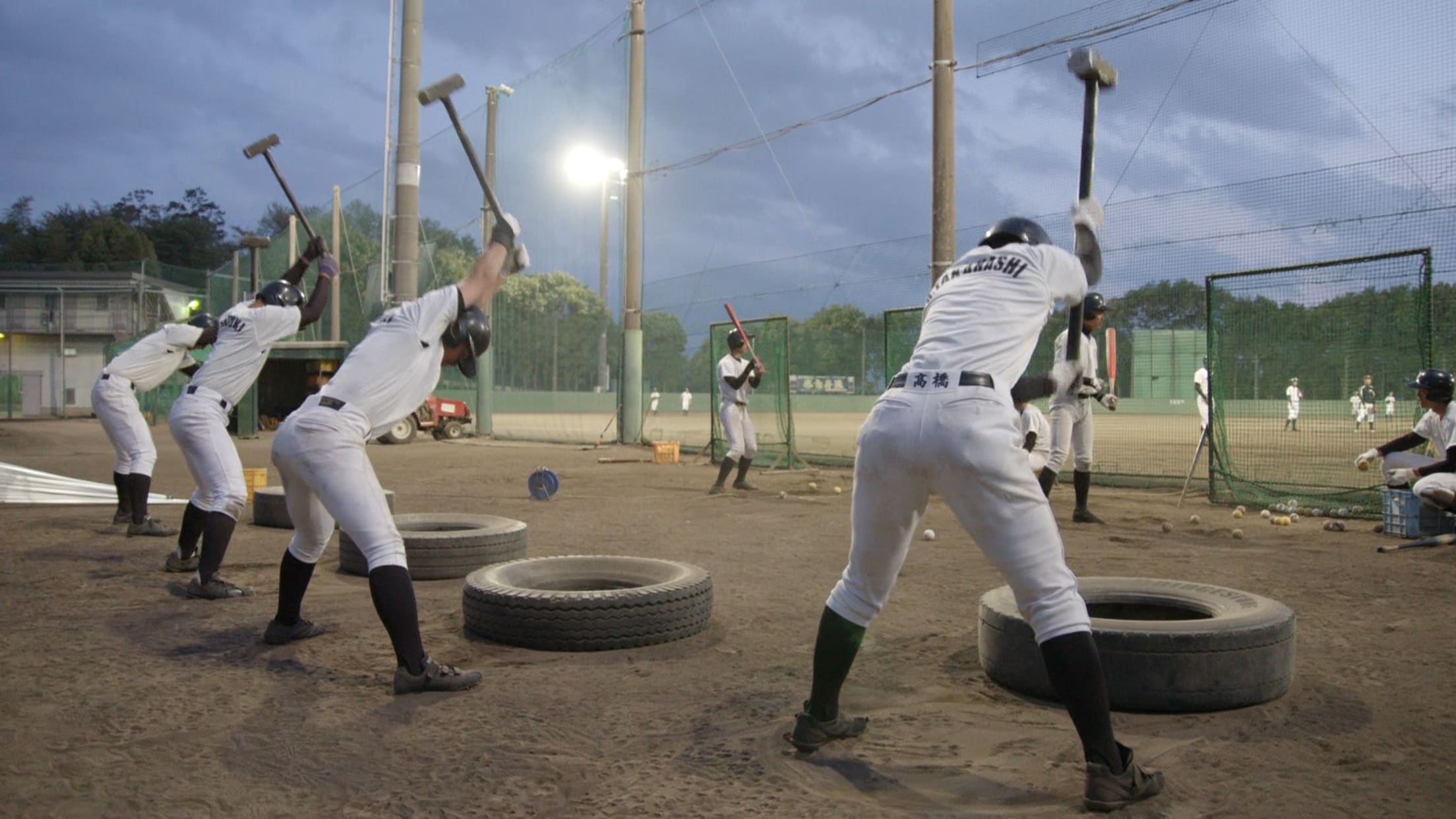 The tournament began in 1915, 21 years before the first professional baseball game in Japan. Since then, it's been held every year -- being canceled only for World War II and last year because of the pandemic. Heartbroken seniors who missed their chance to compete on the grand stage were instead mailed keychains containing dirt from the stadium to atone for what they lost.
Like with America's college sports conference tournaments or England's FA Cup, some 4,000-plus teams across the country first battle in their prefectures for the right to become one of the 49 selected to go to the prized tournament that every player and coach dreams about.
The roots of Koshien and the attitudes that surround it go back to the earliest days of Japanese baseball.
"The Japanese adopted baseball in 1873. And by the turn of the century, their high schools and colleges had grafted the philosophy of the martial arts onto baseball, meaning endless training, total dedication. Instead of it being a spring and summer sport, you had to play all year from New Year's to Christmas," Whiting said.
"The whole idea of self sacrifice, group cooperation, total obedience and development of spirit," Whiting added. "And that's what all the foreign sports that they adopted, they grafted this same philosophy on it. You can see the same thing in the school system, in the corporate world, entertainment world, Sumo world, the actual world, that same dynamic that came from martial arts, from the samurai ethic."
This attitude is still prevalent today. The players all live together in team dormitories and they stay there year-round, perhaps getting New Year's off. Most teams require the players to shave their heads to show their commitment to the team over themselves. The players are rarely given positive feedback, with coaches instead calling out a player's mistakes in front of everyone. In Yamazaki's documentary, Yokohama Hayato manager Tetsuya Mizutani makes one player eat extra rice every day to get his weight up, proving his dedication and getting him in line with his expectations.
"I thought I knew high school baseball having watched it growing up," Yamazaki said. "I was expecting it to be quite an extreme part of Japanese culture, because of the shaved heads and it's very intense, people are training every day. But I guess I just didn't realize the depth of that; how it is every day for many, many hours a day."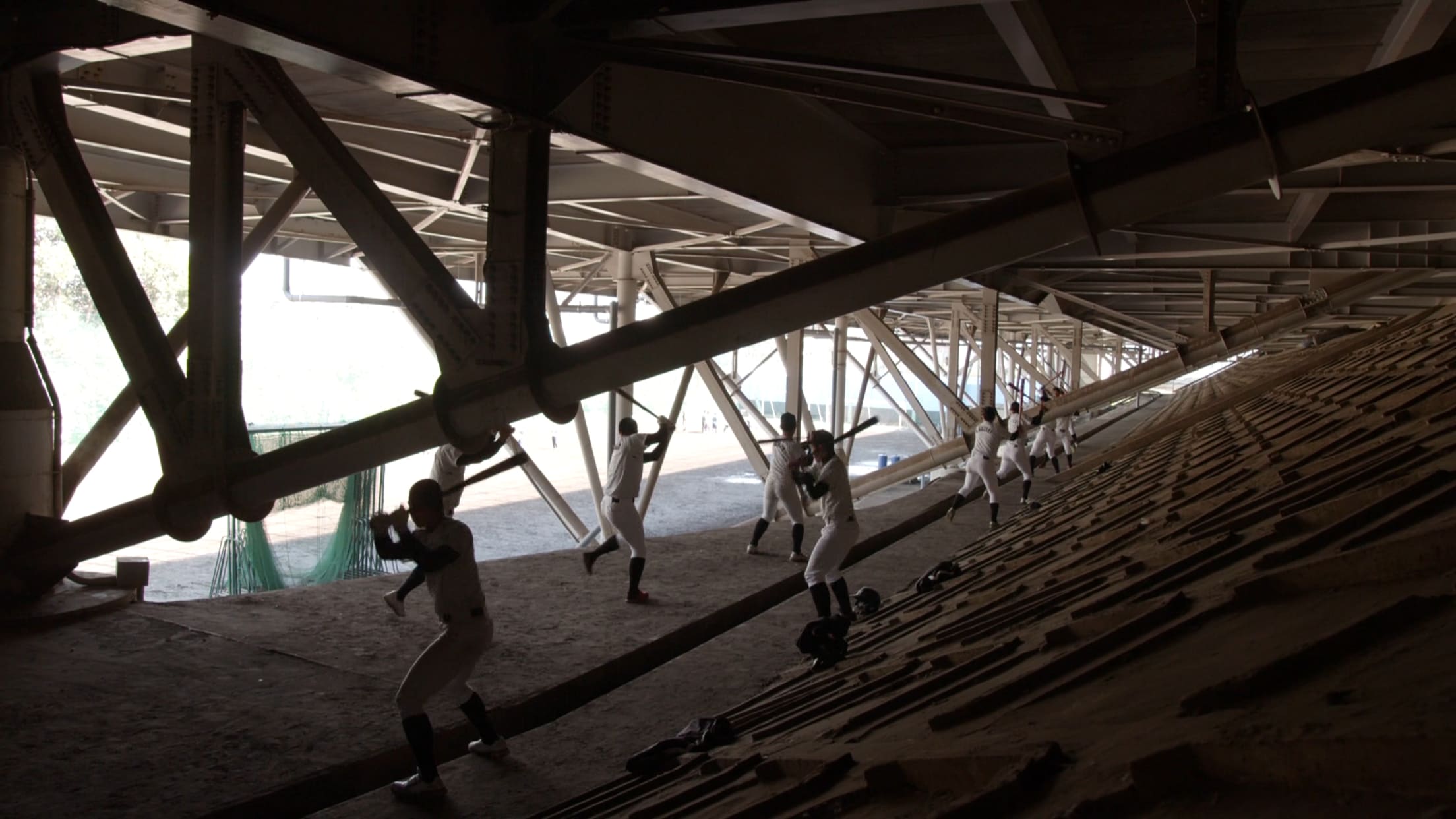 "There's this famous manager, Tobita Chujun, who managed Waseda in the 1920s, who said, 'A manager has to love his players, but treat them as cruelly as possible. Only then can they succeed. It's only when a player's laying on the ground, foam coming out of his mouth, that you know he's practiced hard enough,'" Whiting said. "They had these drills called the 1,000 fungo drill, where you're fielding ground balls for two, three hours, until you collapse from exhaustion. And this was not a fielding drill. It wasn't a conditioning drill. It's a drill to hone your fighting spirit, the idea that you reach your limits, and try to exceed them, that makes you better and somehow gives you a stronger spirit."
* * * * * * * *
Koshien Lore ... 'The Handkerchief Prince' (2006)
There was Yuki Saito, the ace pitcher for Waseda Jitsugyo High, taking the mound against two-time reigning champion Komazawa University Tomakomai High School and their ace, former Yankees pitcher Masahiro Tanaka. While Tanaka's club was the powerhouse, many in the country had fallen in love with Saito. Saito had thrown six complete games in the tournament and his habit of wiping his face with a blue handkerchief earned him the nickname, "The Handkerchief Prince."
The final feels more like a folk tale. Each pitcher tossed 15 innings and allowed only one run, requiring a rematch scheduled for the next day.
(Click here if video does not display)
Saito would not let anyone else take the mound.
"After throwing 15 innings in the first game, I was already committed to throwing the next one," Saito told MLB.com. "When our manager asked if I could do it, I was thinking 'Of course.' I did feel fatigued, but I knew the memory wouldn't last if I didn't throw in that second game. Looking back, I now understand the magnitude of that game, but in that moment, it didn't feel like I was doing anything special."
With Komadai Tomakomai going with their second starter, Waseda took the early lead. So, in the third inning, Tanaka was called back in to pitch. From there, the two aces matched each other nearly pitch for pitch.
And then, with two outs in the ninth inning and Waseda up, 4-3, Tanaka came to bat. It was truly do or die.
"I was thinking strikeout from the very beginning and started my sequence with that intent," Saito said. "I was able to use my slider to get ahead, but found myself tighten up once [Tanaka] started to work the count. He was someone we had to be careful with because of his ability to hit the ball out of the park."
"I get asked if I was swinging for a home run that last at-bat, and the answer is 'No,'" Tanaka recently said on his YouTube page. "I was trying to give my best swing, a swing I wouldn't regret as my last at the Koshien."
(The final at-bat begins at 16:40. Click here if video does not display.)
On a 1-2 count, Saito reared back. He fired a fastball, up and outside. Tanaka swung and missed. Waseda were champions.
"That last pitch, I threw hoping I could finish the game with a whiff for strike three," Saito remembered. "I thought the adrenaline rush and atmosphere in the ballpark could help me mash out 150 kmh (93.2mph) which would have been a personal best, but I didn't get that perfect ending. Still, I burst with joy the moment I closed the game out with that K."
* * * * * * * *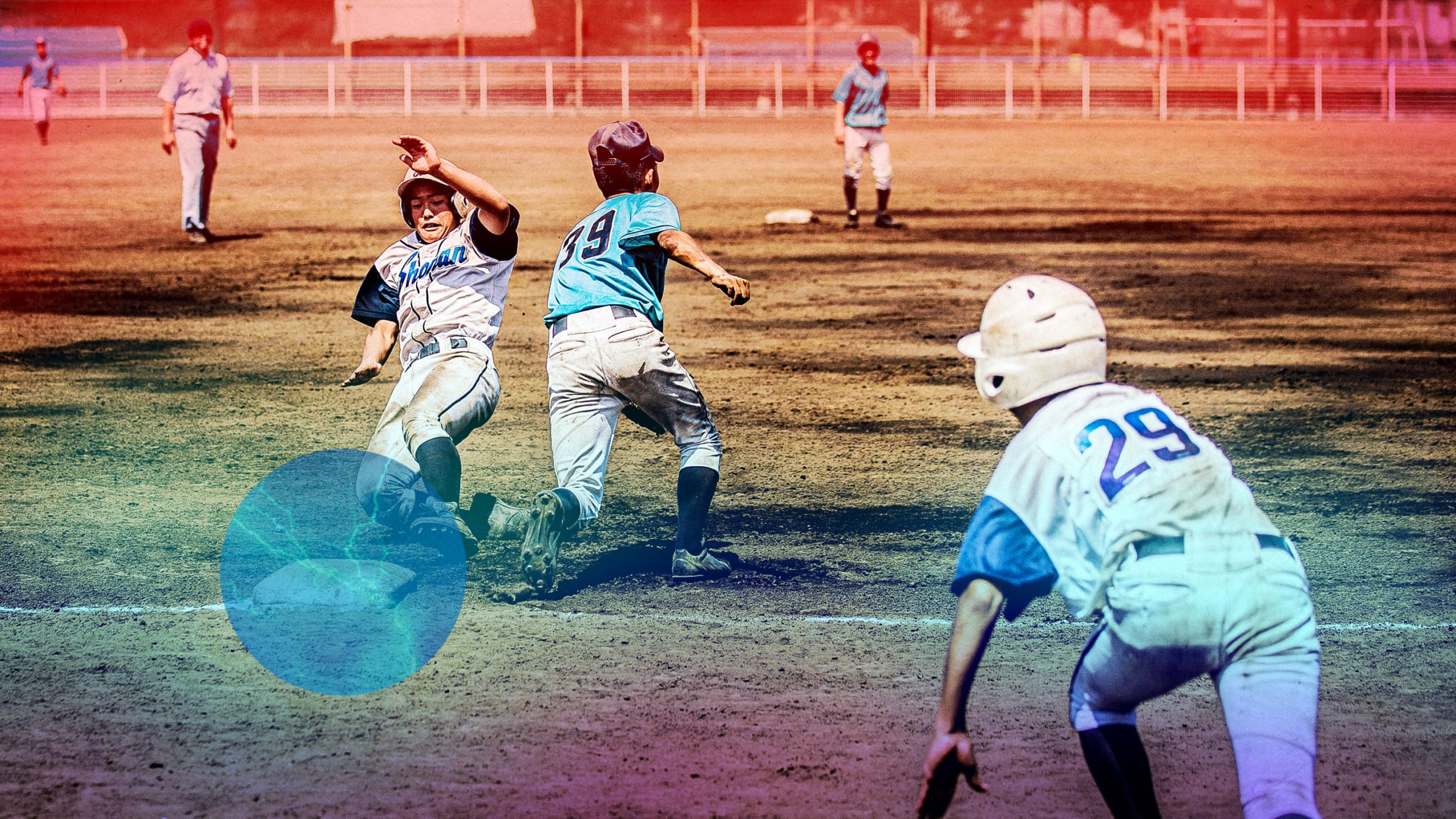 The regional aspect of the competition is one reason Koshien resonates so strongly. Fans will cheer for their high school if they are one of the lucky few to have reached the tournament, but if not, they'll root for the one closest to their prefecture. When that team loses, they'll often pick the next closest team that is still playing.
You have everybody from the governor of the prefecture on down to your next door neighbor rooting for you in this tournament. ... And it's the only chance there is for your hometown, your home prefecture, to shine on a national stage.

Robert Whiting
"Japan is -- especially from the outside -- known as this monolithic country," Yamazaki said. "But of course, like in every culture, there's nuances and regional flavor. And I think high school baseball brings that out."
Whiting agrees.
"You have everybody from the governor of the prefecture on down to your next door neighbor rooting for you in this tournament," Whiting said. "And these busloads of supporters go into Koshien and they have their own regional customs and regional food that they sell in the concession stands downstairs. And it's the only chance there is for your hometown, your home prefecture, to shine on a national stage."
The timing of the tournament works in its favor, too. Koshien is held at the same time as Obon, a Japanese holiday that honors one's ancestors. It's a time when Japanese companies traditionally close, allowing people to travel to see their families and visit their hometowns.
"I think the fact that Koshien coincides with Obon [means] people have more time," Yamazaki said. "Of course, there's always people who never make it home who are in the big cities trying to live vicariously through watching Koshien, wishing they were home as well."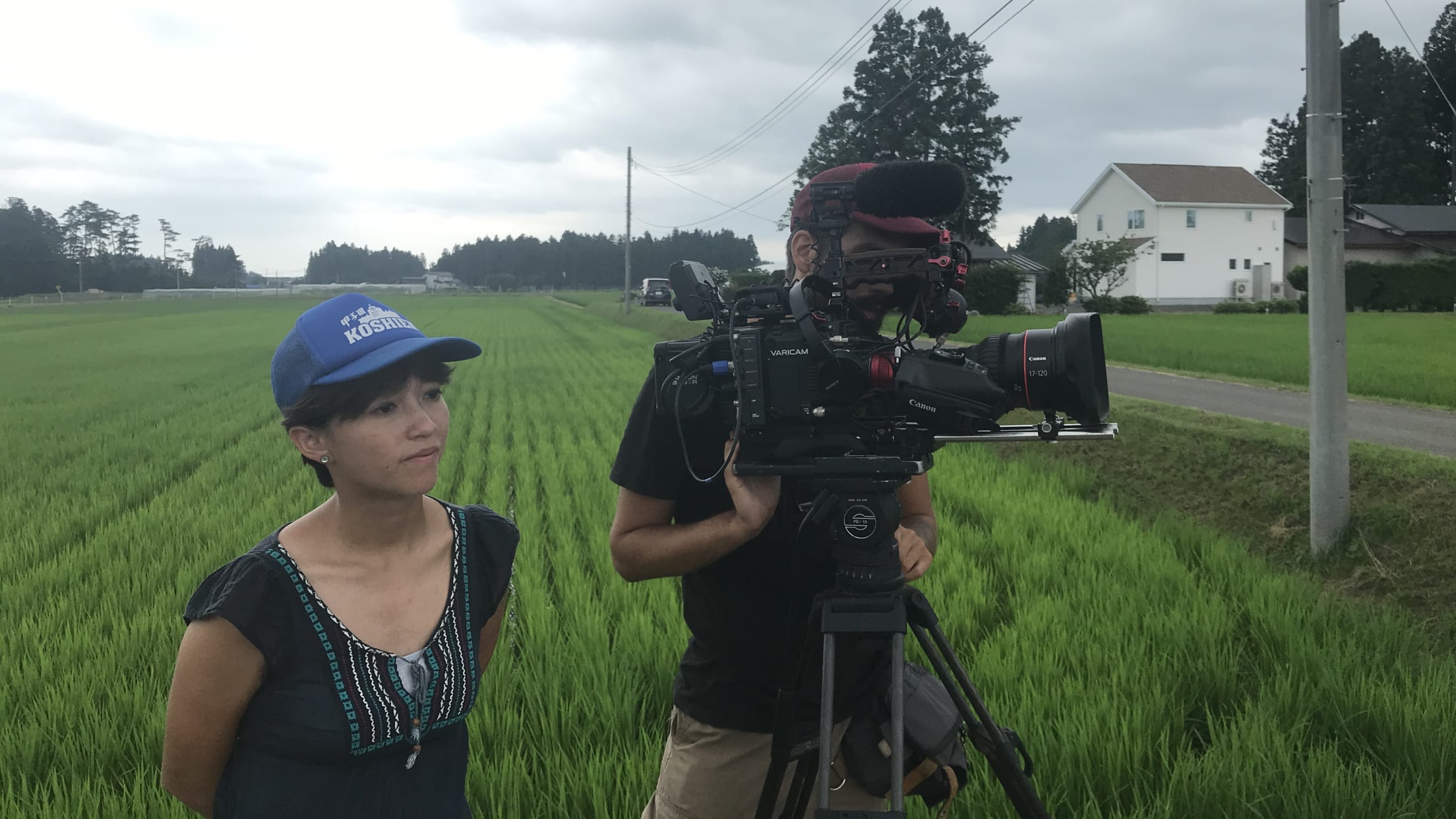 August is also the anniversary of Japan's tragedies, with the anniversary of the end of World War II coming the day before Obon on Aug. 14. The popularity of the tournament and the shared experience amongst so many people in the country makes it all the more important.
"There's also the dates of the two atomic bombs that fell in Hiroshima and Nagasaki, all during this period," Yamazaki said. "So, there's often moments of silence at the Koshien games, which I think is why we associate this kind of nostalgia as well, marking those things through this tournament. It's not fully intentional, but over the years, I think people subconsciously or not, associate it with that."
* * * * * * * *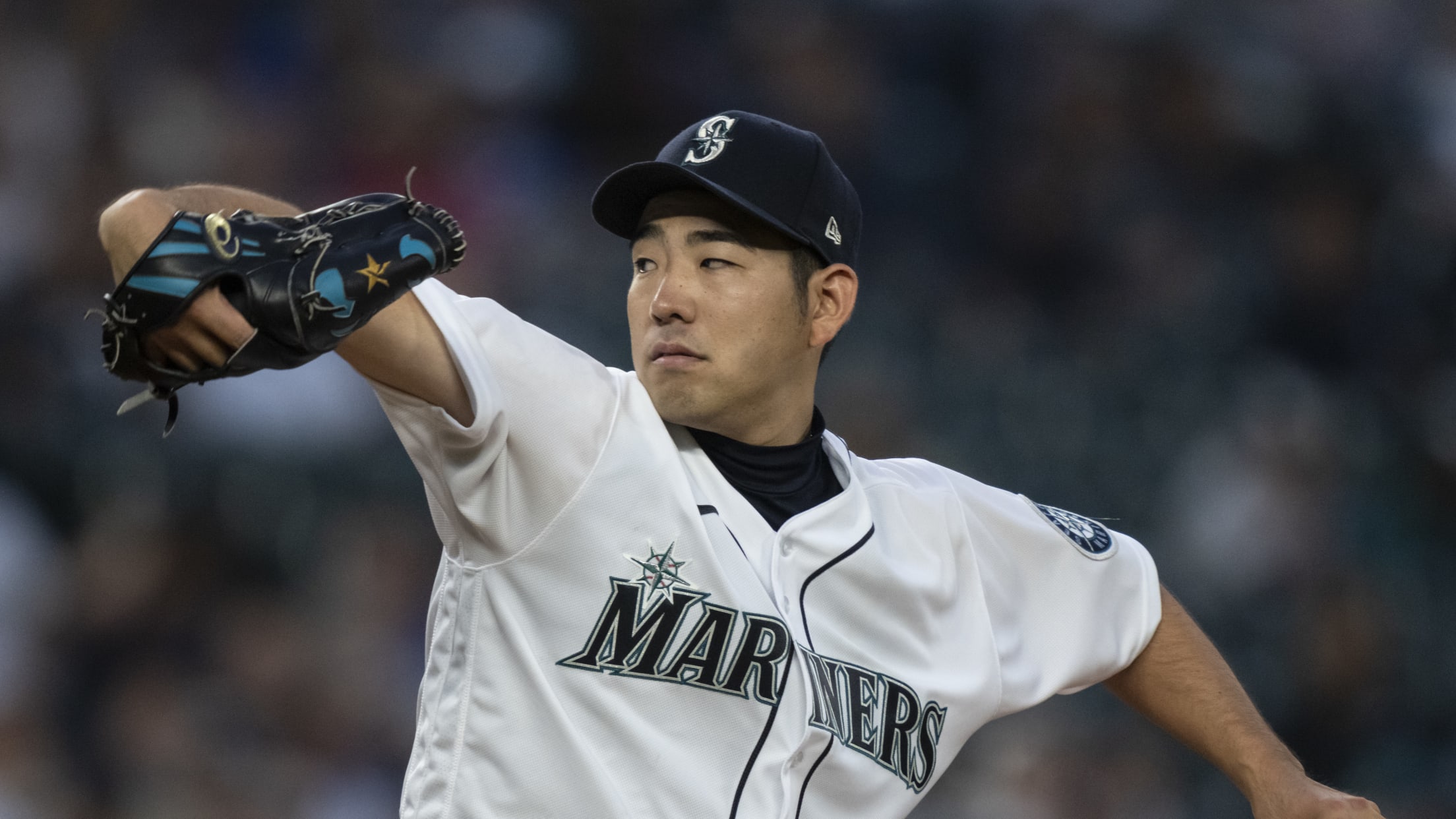 Koshien Lore ... Yusei Kikuchi is taken out (2009)
The 2009 Summer Koshien meant everything for the current Mariners starter. Not only was his school, Hanamaki Higashi (the same school that Shohei Ohtani attended), playing in the tournament, but all eyes were on the southpaw as there was a chance he would opt to forgo the Japanese professional circuit and come to the Majors instead. At least, that was what the reports in the New York Times were saying.
But that wasn't on Kikuchi's mind.
"When I was in high school, winning the Koshien was my only dream and goal at the time," Kikuchi recently said through his interpreter Kevin Ando. "I wasn't really thinking of playing in pro ball or anything like that. It was just win the championship."
He had topped out at an impressive 96 mph and had pitched three complete games already -- throwing nearly 400 pitches in just nine days. That workload led to what was thought to be a back injury, but was later revealed to be a broken rib. Still, there was no thought of not pitching in the final. So, Kikuchi took the mound.
But after struggling in his start, his manager, Hiroshi Sasaki, pulled him from the game early. It was a shocking decision: In the biggest game of the year, the fireballing ace that pushed the team to the finals was taken out. That almost never happens.
Though the powerhouse Chukyōdai Chukyō won the championship, Kikuchi would likely not do anything differently.
"Yes, there was one time where I had a rib injury and the correct decision was most likely to not pitch that game," Kikuchi recalled. "But because, again, we had worked so hard all year for that game, I just had to go out there and give it my best."
* * * * * * * *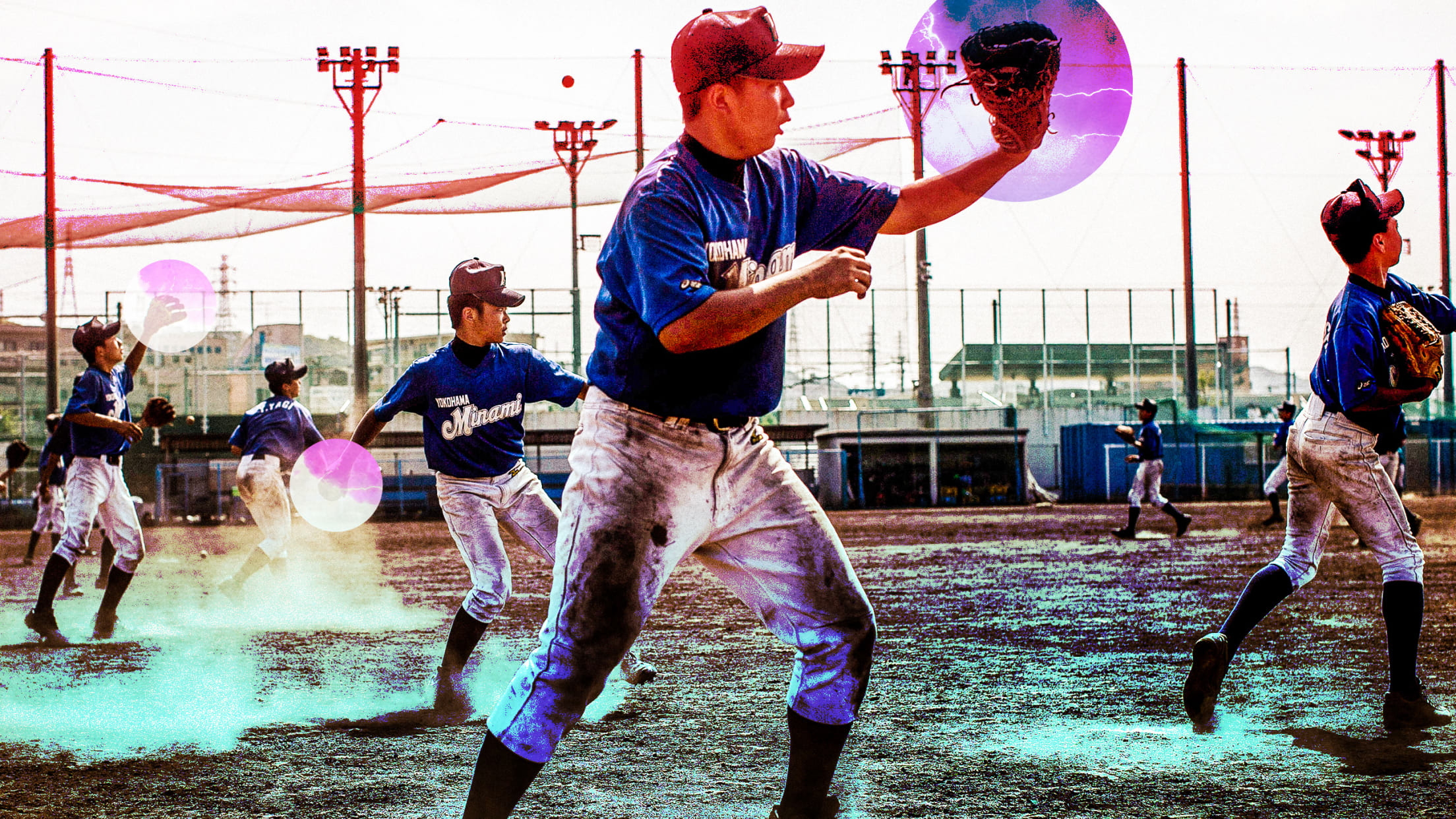 Teams usually reach the finals on the backs -- and arms -- of their aces. Saito's professional career hasn't matched the heights of his Koshien, but his fame remains thanks in part to the nearly 1,000 pitches he threw in the tournament. Whiting first fell under Koshien's sway while watching Koji Ohta's performance in the 1969 tournament. Ohta threw four complete games in a row, including an 18-inning shutout in a 0-0 final. When the rematch was played the next day, Ohta once again took the ball and threw every pitch in the victory.
But the times are starting to change in response to criticism. Yu Darvish said that no one is giving a "single thought" to the children taking part in the tournament, and so more off-days have been introduced to allow for rest. Teams like Sasaki's no longer require the players to shave their heads. Training methods are no longer as strict as they once were.
"I think high school baseball has been forced to change -- constantly -- but especially in the past decade and in the past few years, because not as many kids are choosing to play baseball compared to the post-war era," Yamazaki said. "Everybody played baseball and now soccer is very popular here. And even the idea of dedicating your youth so much to this sport is not necessarily a universally acclaimed approach anymore. There are families and kids who would rather have a more balanced teenage life."
But the love of Koshien endures. Though this year's tournament has limited spectators, the action on the field remains unparalleled in its intensity, and the tear-streaked faces show that, for better or worse, this tournament still means the world to its participants and fans.
Some players are even named for it.
After losing in the quarterfinals of the Shiga Prefectural Tournament in 1989, Atsushi Tsukada decided that he would name his son Koshiro in the hope that "he plays in the Koshien."
Years later, after training with his father every day -- taking laps up and down the stairs in the family's 13-floor apartment complex and swinging inside until the flooring began to wear out -- Koshiro fulfilled his father's dream by making the tournament this year with his team, Japan Aviation High School.
Embarrassed of his name growing up and the weight of expectations thrust upon him, Koshiro smiled recently when he was asked. "I'm not embarrassed anymore," Koshiro said.
Some things don't change, though. After Koshiro singled in a 5-3 victory against Nitta earlier in the tournament (they have since been eliminated), a proud Atsushi admitted that he did not plan on praising his son because, "I don't want him to get too relaxed."
The semifinals of the tournament will begin on Friday night (if you're in America), with Ohmi playing Chiben Wakayama and Chiben Gakuen taking on Kyoto International. Though only one team will emerge victorious, the memories, sweat and tears forged in the Koshien Stadium dirt will last forever.
Additional reporting by Daniel Kramer and Keishiro Jubaru. Research and translation by Sho Kurematsu. Design by Tom Forget.
credits:
Michael Clair writes for MLB.com. He spends a lot of time thinking about walk-up music and believes stirrup socks are an integral part of every formal outfit. Follow him at @michaelsclair.