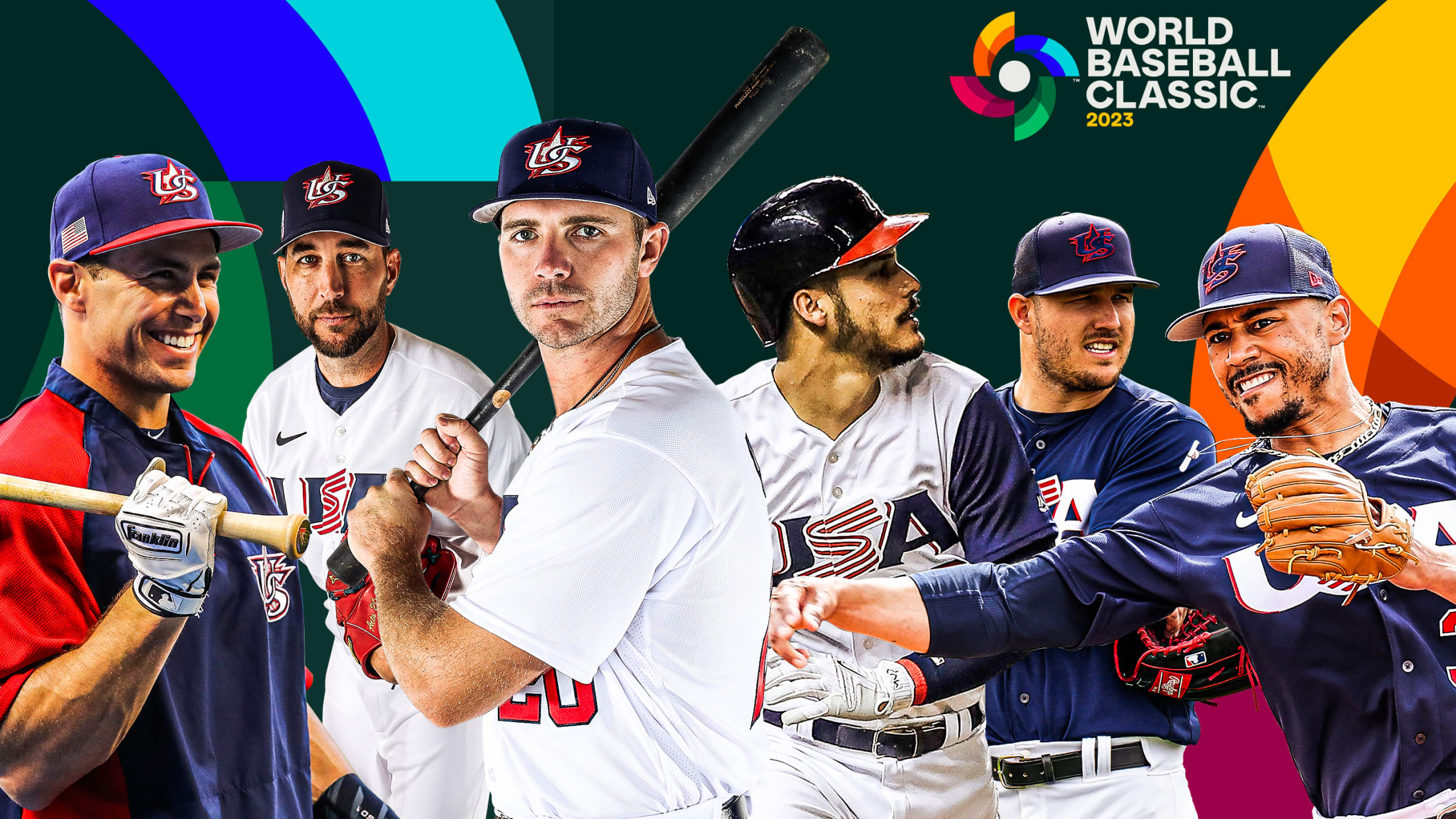 Scroll
Here's how Team USA got its superstars to say 'yes'
It is USA Baseball's answer to the "Dream Team" -- a 30-man roster packed with future Hall of Famers, perennial All-Stars, MVPs and rising studs. Even the coaching staff has eye-popping names from baseball past.
The American entry for the 2023 World Baseball Classic is arguably the top-to-bottom best squad Team USA has ever fielded in an international competition. It certainly features more star power than the 2017 unit that captured the crown and ended the country's ignominious history in this World Cup-like showcase that began in 2006.
• Complete World Baseball Classic coverage
While other countries -- most notably the Dominican Republic, which again will be fielding a jaw-dropping roster of its own in this tournament -- always put their best foot forward from a roster perspective, many of the best American players had been accused of treating this tournament like an afterthought or a nuisance, instead of the awesome opportunity it is.
• Watch the World Baseball Classic live on FOX, FS1, FS2, FOX Deportes and Tubi
Not anymore.
So how and why did so many big names come to be involved with Team USA and the '23 Classic? And what will it take for the U.S., which opens play Saturday in Phoenix in a pool featuring Mexico, Colombia, Canada and Great Britain, to repeat?
We talked to many of those involved to get the answers. Here, in their own words, is the story of how baseball's Dream Team came together.
THE BACKGROUND
In the three iterations of the World Baseball Classic prior to 2017, Team USA had been beaten at its own game. The Americans had reached the semifinals just once and had never reached the final.
Paul Goldschmidt, 2017 Team USA first baseman: One of the main topics [going into 2017] was how some of the best players didn't play. Team USA had never won, so a lot of guys had a chip on their shoulder to be the first team to win it. And we were able to do that.
Mike Trout, Angels center fielder: Watching those games, the one thing that stood out was the Adam Jones catch.
Goldschmidt: It was one of the greatest baseball experiences I've ever had, the two or three weeks we were together. I made a lot of lifelong friends, it was great baseball, and it really prepares you for the season.
Nolan Arenado, 2017 Team USA third baseman: I remember after playing in it, I was like, "Man, I want to continue to prepare and continue to be as good a baseball player as I can so I can get the opportunity to do it again."
Goldschmidt: [Afterward] I was recruiting as many guys as I could to get back on the team or even play for other countries, just because I thought it was so great. And I was basically begging to get back on the team this time.
Paul Seiler, executive director and CEO for USA Baseball: The success of our 2017 team got some guys' attention.
Adam Wainwright, Cardinals pitcher: Man, I was watching every pitch. I couldn't wait to watch those games.
Trout: It looked like they were having so much fun. I'm always having fun on the baseball field, but when they were out there making plays and winning, I regretted that I wasn't out there.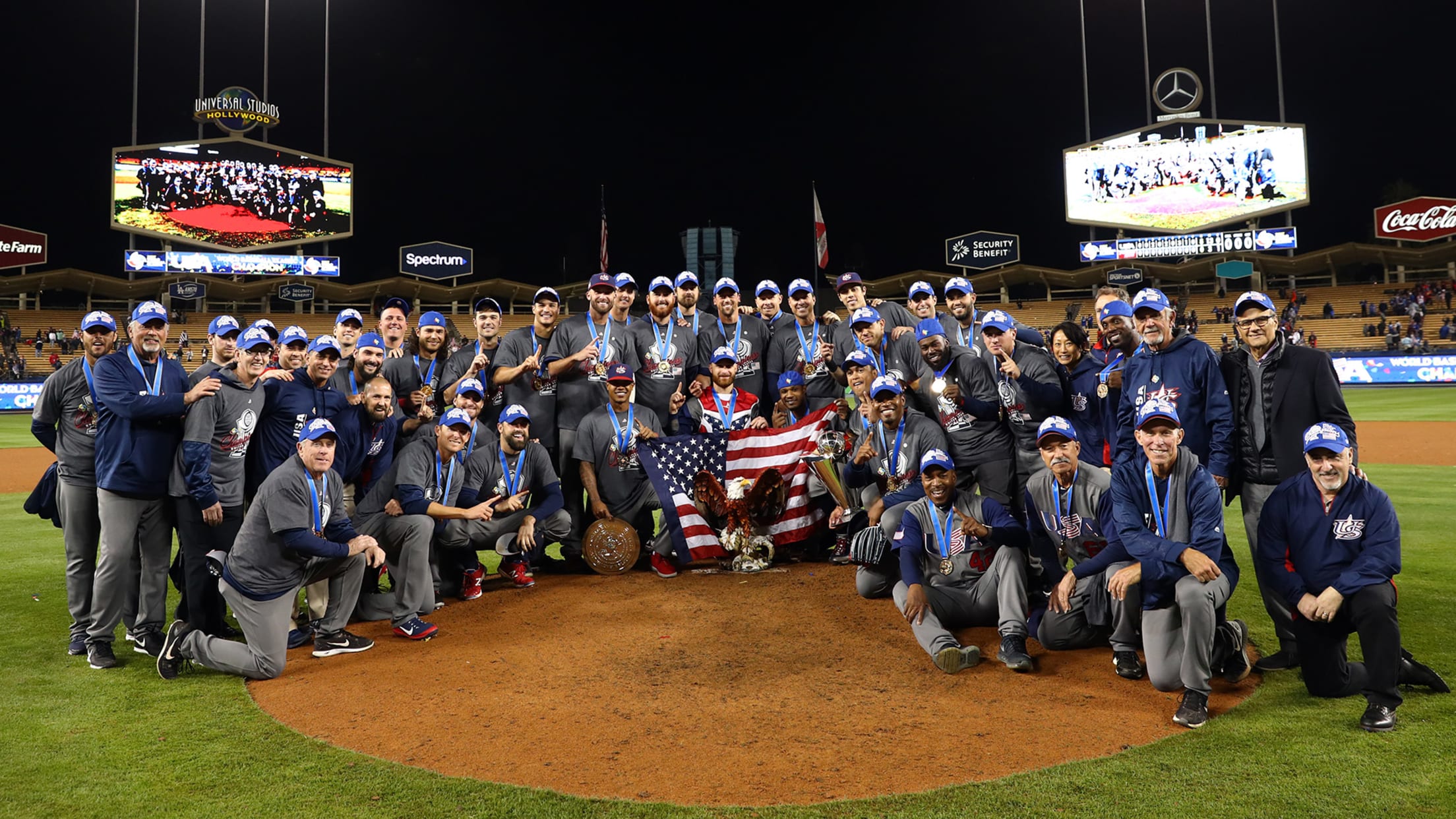 THE CAPTAIN
In the summer of 2022, Tony Reagins, former Angels general manager and current chief baseball development officer for MLB, was tasked with the role of GM for Team USA in the World Baseball Classic.
Seiler: Tony, through his role in the Commissioner's Office, was very hands-on when we were putting together our Olympic qualifying team back in 2020. Then, when that was delayed because of COVID, it rolled into 2021. So I worked with Tony very closely over the last couple years in putting teams together. When this was the next iteration of our national team on the pro level, it made sense to have a former GM and a guy who would be very close to USA Baseball and Team USA to lead the 2023 World Baseball Classic team.
Reagins: I was familiar with the process and had been involved in one shape or form with the World Baseball Classic for a long time. So I've kind of seen both sides of it -- from a GM's perspective with a club and now, on this side, putting the team together. And Mike Trout was priority No. 1 for me.
Seiler: You couldn't ask for a better table-setter.
Reagins: We have a relationship from our days at the Angels. I typically go to the All-Star Game at least a week prior to the game, but, with the All-Star Game in Los Angeles last year, I went a couple days earlier than I normally do and drove down to Orange County to talk with Mike face-to-face.
Trout: When Tony came up to me and asked me, I thought it would be pretty cool, pretty awesome.
Reagins: There was no hesitation from Mike, even though we didn't have a manager yet and we didn't have any commitments from any other players.
Perry Minasian, current Angels GM: [Trout] asked about playing, and I'm a big believer in this event. I think it's outstanding. And if he wanted to play, then we were all for it.
Seiler: So many guys wanted to be a part of it because of Mike's commitment.
Minasian: This guy is just different when it comes to baseball. His mind works different. He knows players. I joke that he's the center fielder/assistant GM. He can identify guys that can play and guys that are winning players and all those things. So it didn't surprise me at all with how aggressive he was.
Reagins: We announced Mike's participation at the All-Star Game Media Day, and the phone started ringing. They were calling Mike, they were calling me, and it was players that were very high-profile. Many of them were playing in that All-Star Game.
Trout: I think the first one I reached out to was Bryce [Harper], because, growing up, being compared to each other and just both coming up to through the system at the same time, I thought that was pretty cool to be able to play with him. I told him, "Look, you know, this is a chance we have to play together, and I think it'd be a pretty cool moment."
There was no hesitation from Mike [Trout], even though we didn't have a manager yet and we didn't have any commitments from any other players.

Tony Reagins
Harper (to the Philadelphia Inquirer in September 2022): "We all kind of talked about it -- me, Trout, Mookie [Betts], Trea [Turner], J.T. [Realmuto] -- and this is kind of our year to do it, we're all 30, 31, 32. Once Mike came out and said he was going to be the first guy to do it, it was like, 'We're all doing it. We're all going to try our best to get over there and play.'"
Harper had to pull out of the Classic after undergoing Tommy John surgery in November 2022.
Reagins: Arenado and Goldschmidt and Realmuto, those guys were the first to reach out.
Realmuto: It was a no-brainer.
Mookie Betts: Mikey, he texted me and he told me he wanted me to play, and I told him I'll play with him. We don't get to share the field very often. So to be on the same side playing with him and all the other guys, really it's going to be a lot of fun.
Turner: It's kind of like a bandwagon thing where, "Oh, if he's doing it, I can do it."
Pete Alonso, Mets first baseman: I talked to Mike at the All-Star Game since he was the captain. I was like, "Hey buddy, if you need a first baseman, I'll be in. I'd really like to play. That would be sick." He was like, "Oh dude, sweet. Great. I'll tell them."
Trout: I would text Tony to get the feelers out there on which guys I would want on a team and which would want to play.
Reagins: It just took off from there.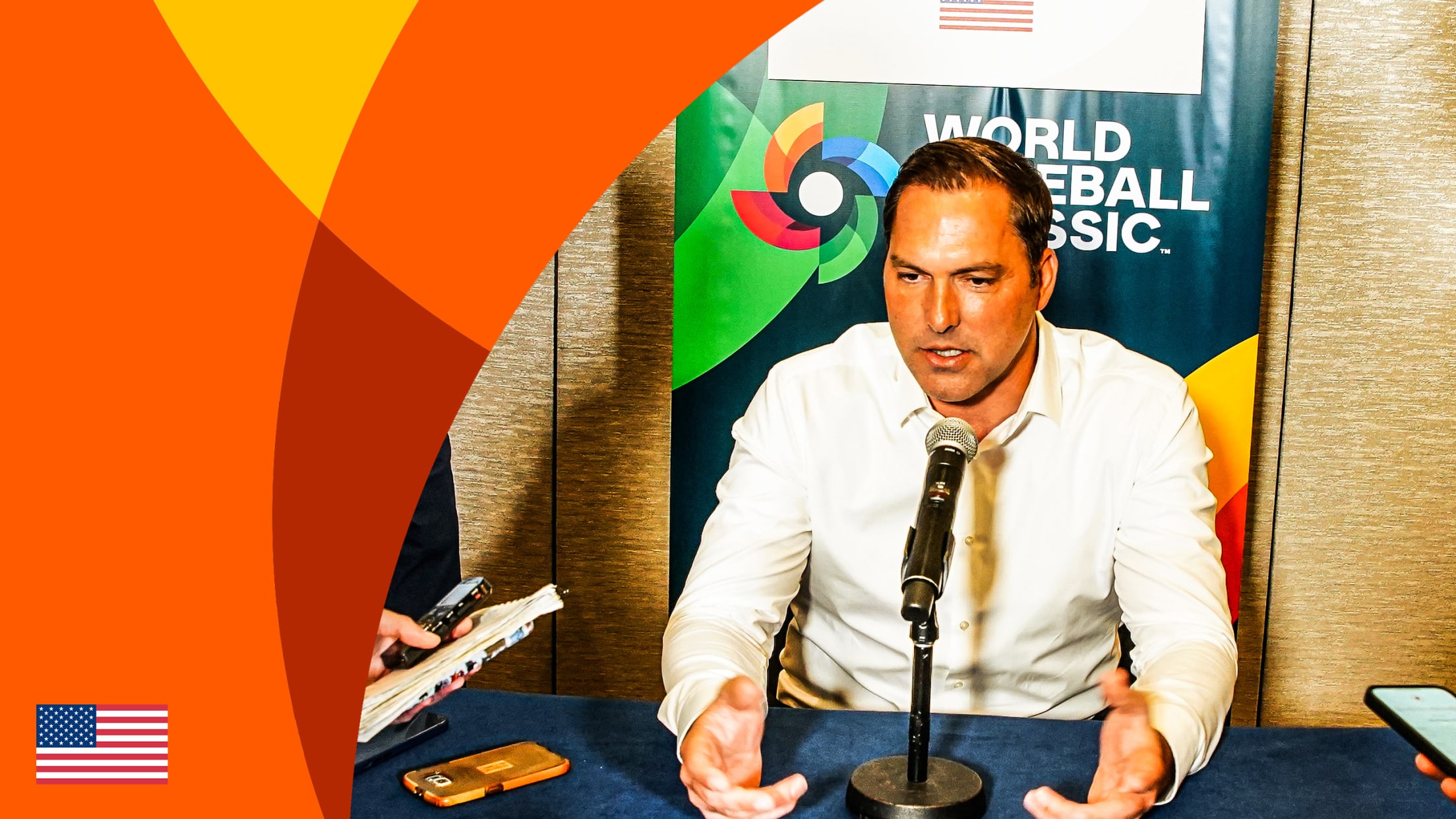 THE STAFF
After the linchpins of the lineup had begun to commit to play, Reagins set about arranging a coaching staff. His managerial search quickly centered on Mark DeRosa, a veteran of 16 big league seasons who had played for Team USA in the 2009 Classic and who now serves as an analyst for MLB Network.
Reagins: I targeted Aug. 1 as a date to start work on the coaching staff. I had recommendations from some folks that I trust regarding DeRosa and others. I wanted to meet with DeRo, because I had heard so many good things about him at MLB Network. I invited him up to my office [in Manhattan] to interview for the manager position.
DeRosa: I had been through what I believe to have been the entire [managerial interview] process with the Marlins back in '15, and then I sat with Sandy Alderson and a couple Mets people in 2017 in a hotel lobby [when they were looking for a manager]. I think Sandy Alderson opened my eyes to the fact that maybe I wasn't 100-percent ready to dive into that level. He said, "Mark, if you're ever going to do this, you're going to have to approach the interview process differently and go in there and say, 'This is everything I've ever wanted.'" He got the impression that I was interviewing them as much as they were interviewing me. And he was right.
Lauren Shehadi, DeRosa's co-host on "MLB Central": DeRo has said he goes into these interviews and other people are bringing books of notes. I said, "What do you bring?" He says, "I'm bringing myself. I'm a people person, I'm a leader of men."
Reagins: Everybody that I talked to about him -- guys that played with him -- said, "This guy is a leader. He brings people together and is respected."
DeRosa: I just went in and sat one-on-one in Tony's office with him.
Reagins: We were supposed to talk for an hour. It ended up being 3 1/2, almost four hours.
DeRosa: This just seemed like the perfect storm to me. I think the reason I was so intrigued by it is because I've always strived to get the best version of my teammates. I really worked hard towards the end of my career to try and get them to believe they were even better than they even thought. I would be brutally honest with guys and tell them what I thought they needed to do to get better to maximize their careers.
Reagins: There were other people I definitely considered and talked to. I'm not going to make those names public. But when I sat down with DeRo, the fact that he had never managed didn't bother me. Because with this team, you're not going to do a lot of teaching and instructing. Being able to communicate and get players to row in the same direction is what's most important.
Trout: I got to know DeRo over the years. You know, Jersey boy. He's been a part of this [tournament], so he knows how it is as a player. I think he's got a really good mindset.
Reagins: And then [bench coach] Jerry Manuel. I've known Jerry for about seven or eight years. His knowledge of the game, his instincts, his ability to watch the movement and flow of the game, commands respect. He's a really nice complement to DeRo. He's been in the dugout in both leagues, as a manager. I felt that anything we run up against from a technical or tactical standpoint, Jerry would be able to assist DeRo in that effort.
DeRosa: The coaching staff has been phenomenal throughout the process. [Pitching coach] Andy Pettitte has gone above and beyond.
Reagins: Andy did some work with USA Baseball, and so I had conversation with Paul Seiler, who spoke highly of Andy, and obviously I know him well as a player. What stood out to me with Andy was he was a gentleman and a good communicator and he competed.
Pettitte: With the [2020] Olympic team, Scott Brosius [senior director of player development for USA Baseball] had asked me to be his pitching coach. So we spent a lot of time on that. And of course COVID hit and canceled it. And then when it went back on [in 2021], both of my in-laws were lost on the same day to COVID. So for me to leave my wife at that time, it just wasn't going to work. But I think they knew how much I put into that and how excited I was about that. And so my name was on the radar for this.
Reagins: As I'm rounding out the staff, and I get a call from Junior [Ken Griffey Jr.]. He said, "Who's on your coaching staff?" and I started to tell him the names. He said, "You got any open spots? I want to be a part of it." I was like, "Are you serious?" [As the hitting coach] he'll command respect, and he'll be a great asset from the hitting side.
Trout: I think every kid wanted to emulate Griffey, swinging in the backyard or on the baseball field. Him being one of the coaches is gonna be cool. I got to meet him over the years, obviously [when] playing in Seattle, seeing him around baseball. But I'm really looking forward to just interact with him and get to know him more.
Seiler: As a player, you ask yourself, "What am I signing up for?" That staff has made it that much more attractive to the best players to want to be a part of this.
The rest of the coaching staff includes Dave Righetti (bullpen coach), Lou Collier (first-base coach), Dino Ebel (third-base coach), Michael Young (batting-practice pitcher), and Brian McCann (bench coach).
FILLING OUT THE ROSTER
Later in the 2022 regular season, after DeRosa had been publicly named manager, the remainder of the roster -- particularly the pitching staff -- began to take shape. The process continued through the winter, leading up to the final roster announcement in early February of this year.
Seiler: Not that we had to chase guys before, but it seems the energy on this thing has really ramped up, in terms of guys asking to be on this roster, as opposed to, "Hey, would you like to participate?"
Goldschmidt: I got asked about it by players last year, and I always was truthful and honest with them, but I really told them that they should do it if they get an opportunity. I talked to a lot of guys at first base, and I was definitely telling them and encouraging them to do it.
DeRosa: After I was named the manager, Adam Wainwright -- I've known Adam since he was 18 years old and a first-round pick by the Braves -- he reached out to me and said, "My face is painted. I'm completely interested."
Wainwright: I found out he was the manager, and I didn't call him and tell him I'm on the team or anything. But I just said, "I would love the opportunity, if that's something you would like to bestow on me."
DeRosa: Lance Lynn has been the best story so far. I was sitting on my couch, it was probably 11 o'clock at night. I'm watching some West Coast college football game. And I got a FaceTime from a number that I had no idea about. Normally, I'm like, "This is going straight to unanswered voicemail." But I hit the button, and it was Lance with his high school buddies around a campfire on some hunting land. I had never spoken to him. But he said, "My buddies dared me to FaceTime you right now to let you know I'm your guy, I'm dying to do this."
Lynn: I [played for Team USA] in college [in the Pan American Games]. I was 19, 20 years old and didn't quite understand what that meant back then. So being a little older and being around and seeing a lot different things, I really understand what it means now.
DeRosa: I said, "Lance, are you kidding me? You're in. Anybody willing to do that, you're in."
Jeff McNeil, Mets infielder/outfielder: I talked to DeRosa in Mexico at a golf tournament down there and told him I was interested. He goes, "Yeah, we'd love to have you and hopefully it works out." And it worked out.
DeRosa: I thought we were a little too right-handed early. So Kyle Tucker was a guy I had my eye on. A huge, left-handed bat, young. I felt he could help us a ton. There were a couple guys I wanted to try to balance out and not make us so predictable. We've blended the roster a little better to combat the early right-handed commits that we had.
Reagins: Guys wanted to be a part of it. Wearing Team USA across their chest means a lot to them.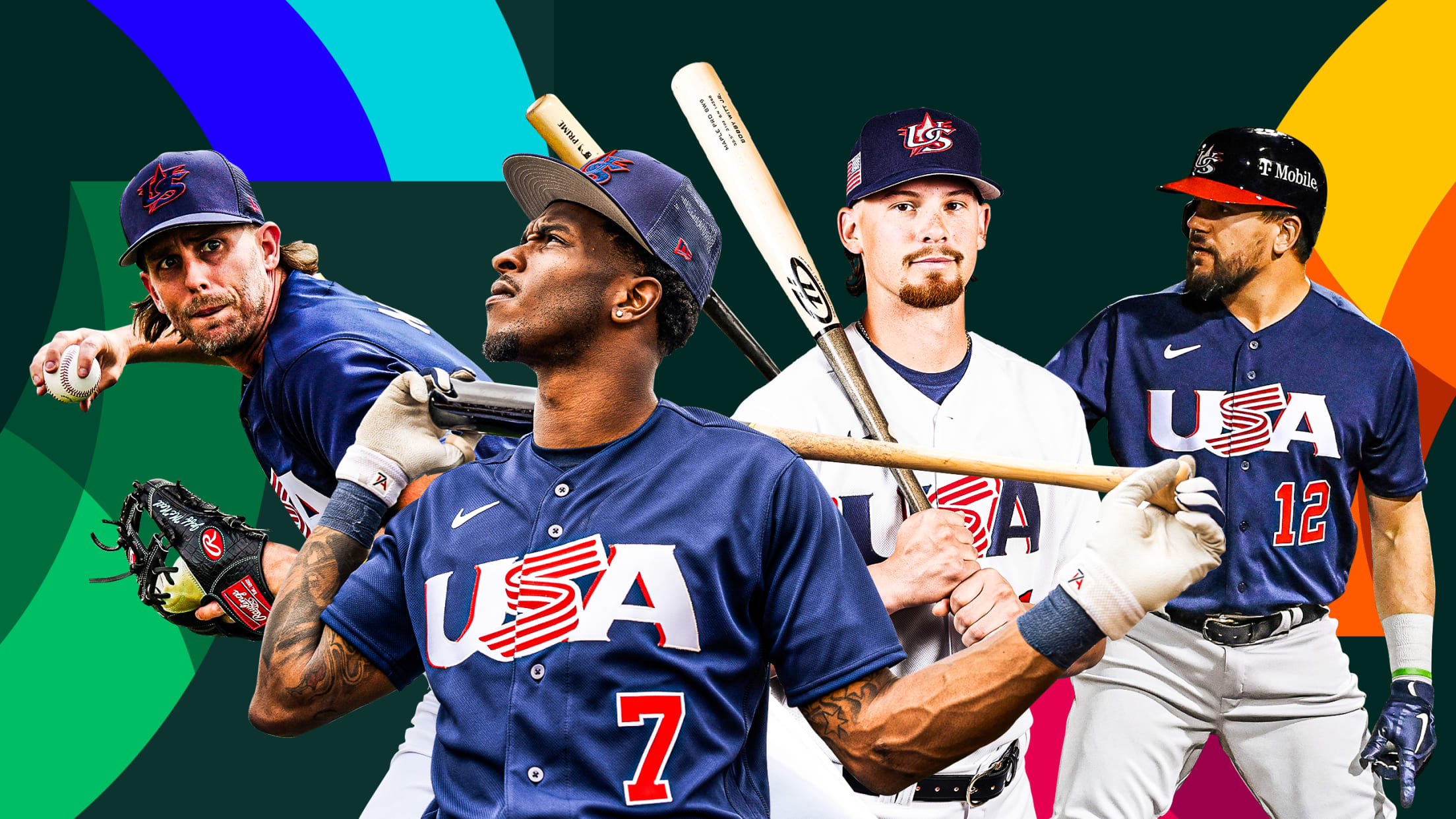 Tim Anderson, White Sox shortstop: You are representing the United States but, also, think about how many people would like to be a part of it that play in the big leagues.
Bobby Witt Jr., Royals shortstop: Representing U.S.A. is unbelievable. And then looking down the roster and seeing the names I'd get to play with -- All-Stars, MVPs. It's an immediate "yes."
Reagins: Witt, his reason for doing this was to accelerate his career because of the knowledge of the guys on the roster and the coaching staff, to learn how to go about his business from guys that have done it at the highest level for a long time. I thought that was really powerful, for a young guy in the league.
Witt: You don't know if you're going to get that opportunity again, so you've got to take advantage of it.
Kyle Schwarber, Phillies outfielder: This is maybe a once-in-a-lifetime thing.
DeRosa: When we found out we weren't going to have Harper [because of elbow surgery] there was a quick pivot to Schwarber. And he's perfect.
Reagins: When I got off the phone with him to tell him he was on the team, he was so fired up that it made me fired up.
Schwarber: He didn't even have to finish his sentence. Who doesn't want to be a part of team that could have a bunch of future Hall of Famers? You'd be crazy not to.
Reagins: Pete Alonso was another one that was just really, really passionate.
Alonso: I've wanted to play for Team USA in years past. I tried out for the 18U team when I was in high school. I made a few of the cuts, but I didn't make the team, and that was really frustrating. I wasn't selected in college. So it's really, really exciting. The Classic, it's the World Cup of baseball.
Barring injury, Team USA's final roster for the World Baseball Classic is as follows:
Catchers: Kyle Higashioka (Yankees), J.T. Realmuto (Phillies), Will Smith (Dodgers)
Infielders: Pete Alonso (Mets), Tim Anderson (White Sox), Nolan Arenado (Cardinals), Paul Goldschmidt (Cardinals), Trea Turner (Phillies), Bobby Witt, Jr. (Royals)
Outfielders: Mookie Betts (Dodgers), Jeff McNeil (Mets), Cedric Mullins (Orioles), Kyle Schwarber (Phillies), Mike Trout (Angels), Kyle Tucker (Astros)
Pitchers: Jason Adam (Rays), Daniel Bard (Rockies), David Bednar (Pirates), Kyle Freeland (Rockies), Kendall Graveman (White Sox), Merrill Kelly (D-backs), Lance Lynn (White Sox), Nick Martinez (Padres), Miles Mikolas (Cardinals), Adam Ottavino (Mets), Ryan Pressly (Astros), Brooks Raley (Mets), Brady Singer (Royals), Adam Wainwright (Cardinals), Devin Williams (Brewers)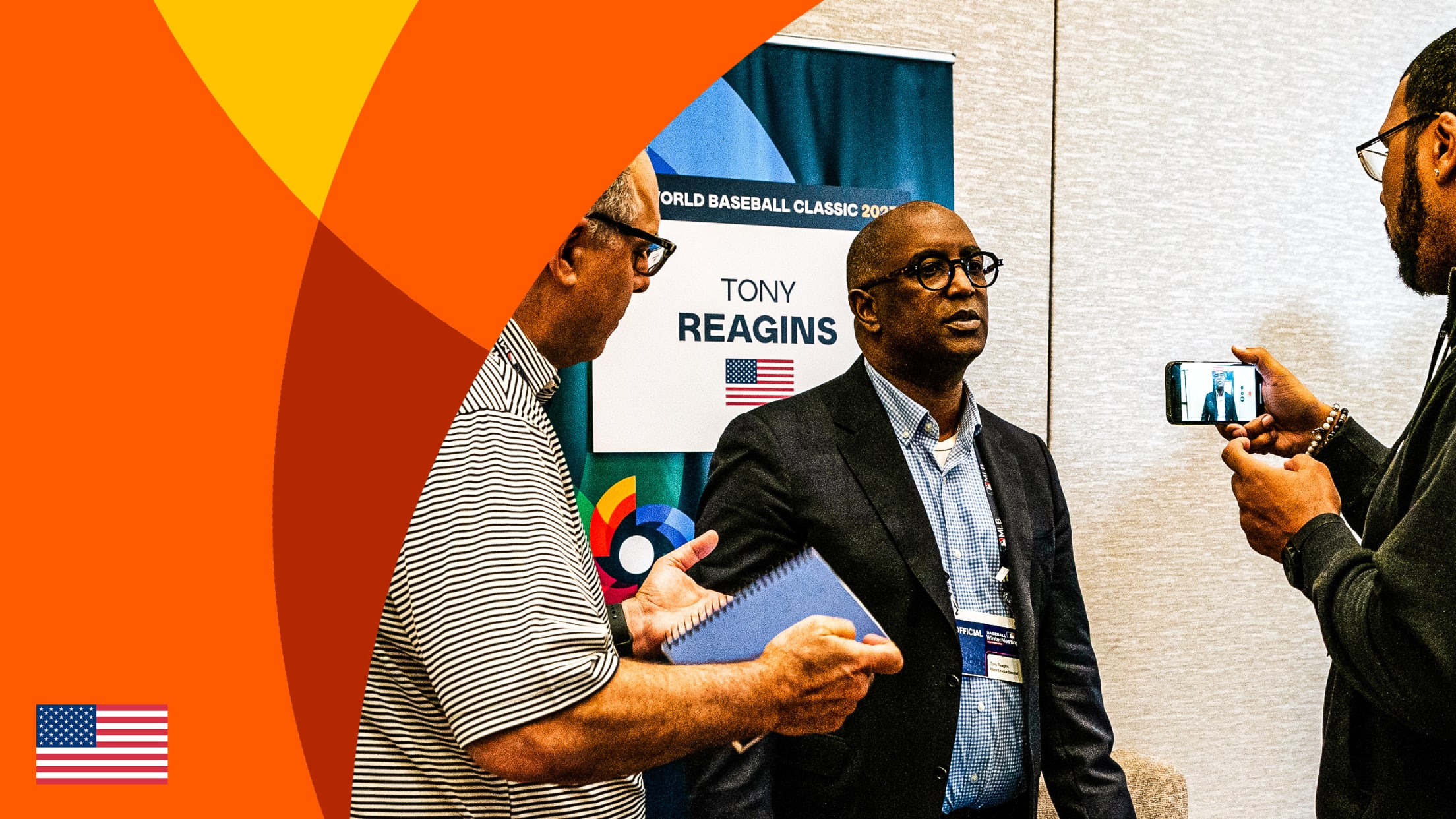 THE PLAN
In 2006, Team USA had future Hall of Famers Derek Jeter, Chipper Jones and Griffey, along with Roger Clemens and Alex Rodríguez … and didn't even reach the semifinals. So what looks good on paper might not work in practice. That's why the staff put extra effort into having a plan in place for when Team USA reported for duty.
DeRosa: The last thing I want is these guys to show up in Phoenix and not feel prepared. That will not be the case. Early in the process, I told Tony that I kind of wanted an analytics presence on the staff. Through Dino Ebel, we were able to get the Dodgers to sign off on loaning us one of their guys, Patrick O'Shea. He's been my sounding board on how best to use the roster.
Pettitte: He's been helpful in breaking this down. I've been out of the game for nine years now, so, just seeing everything available now, you're like, "Wow!" It's awesome, because I can see who matches up best against who. Some of the guys aren't big league players, so it's more challenging to get info on them, but then it comes down to quality pitches.
Seiler: Andy with the pitchers and Mark with the pitchers and position players have been doing a lot of communicating and engaging with every single one of these players. A lot of groundwork has been laid.
Reagins: There weren't a lot of demands like, "I need to get X amount of at-bats or X amount of innings." It was more like, "I'll do whatever you want me to do, whatever you need me to do." That makes it a lot easier for the coaching staff. And I think that starts with like the conversations we have very early on and being really straightforward with each player.
DeRosa: Myself and Andy Pettitte have spoken to every pitching coach of every pitcher, and we know to the letter of the law how they want them used. For example, Waino is going to open up against Great Britain [on March 11]. I've been on the phone with Dusty [Blake, St. Louis' pitching coach], and he says, "A light 'pen on [March] 8th." We're doing that with every guy we have so that when we show up, we know exactly what we have to do. There won't be any guesswork in the workout through pool play.
Seiler: I'm really excited to see our first meeting in Phoenix. There's going to be a ton of familiarity in that room because of the work these guys have done on the front end.
• Star-studded Team USA embraces high expectations at Classic
DeRosa: It's going to be a little bit different than in 2017. In 2017, they went four starters and a plethora of relievers. It's set up a little bit differently now, with seven games in 11 days. So we're going to probably be piggybacking starters, and we don't want to have two of the same guy following each other. We wanted different looks, different shapes. I didn't want to just show up and be like, "Oh, you've got 12 years in the league, so you've got Game 1, and you've got nine years, so you've got Game 2." No. That's how you get bounced.
DeRosa: Myself and Mike Trout talked throughout the NFL playoffs. I'm a Cowboys fan and he's an Eagles fan, so we couldn't hate each other more [laughs]. I texted him, "Where do you feel comfortable hitting in this lineup, two or three? And don't say, 'I don't care.'" He wrote back, "Honestly, I don't care."
Trout: The whole main reason we're here is to win this thing. I mean, all the other stuff's great, you know, being able to play with each other, get to know each other a little bit more. But there's only one thing on our mind: trying to win this whole thing.
Goldschmidt: Nolan [Arenado], last time, he tried to bunt to win a game. I've never seen Nolan put down a bunt his entire life. That was the kind of group we had last time. We had guys that didn't play much or played a different position or were willing to do whatever it took.
DeRosa: I want these guys to be friends for life when they walk away from this. I want them to have the best three-week experience of their lives. So even a stupid, goofy thing like how I want the guys dressing on the plane, flying from Arizona to Miami. I come from Bobby Cox, where you're wearing a suit. Well, I know that doesn't fly, but I also don't like ripped jeans and do whatever you want. So I asked a few big dogs on the roster, what are they thinking. They thought it would be cool to look like the Dream Team. Track suits. So we're putting that together. I'll wear it, too, I don't care. I've tried to empower a lot of these players as well, as far as the decision-making process or picking their brains.
Realmuto: Baseball is kind of a unique sport where we all play with so many different people from so many different places, representing tons of countries. And this is a cool event where we get to kind of put our own country on our back and play for our flag and play for where we're from.
I want these guys to be friends for life when they walk away from this. I want them to have the best three-week experience of their lives.

Mark DeRosa
Reagins: I think the international players have always treated [the World Baseball Classic] as a right and an obligation that they had to go and participate, because it was about their country. The pride in wearing Team USA was not as much of a priority. But I think the guys that we have on this club are evidence of how that's changed. These guys want to play together and know what this means for our country to go back-to-back and repeat.
Arenado: We're playing this to win the gold medal. We're the last team to win it, and we want to do it again.
Trout: Anything else is a failure.
credits:
Anthony Castrovince has been a reporter for MLB.com since 2004. Read his columns and follow him on Twitter at @Castrovince.