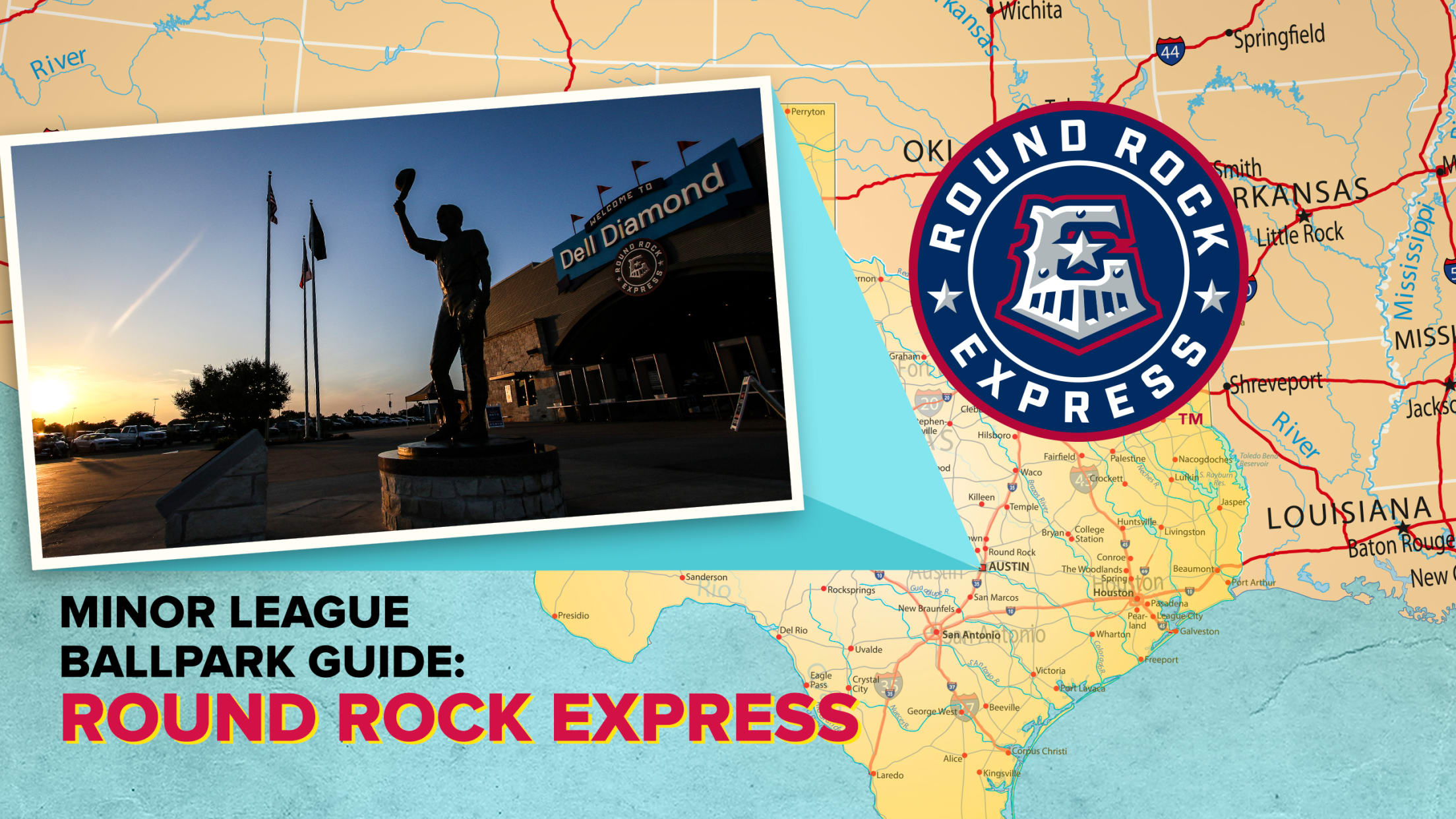 Scroll
Visit Round Rock's Dell Diamond
Welcome to Round Rock's Dell Diamond, where Nolan Ryan's influence looms large. Take real swings in a virtual setting, hobnob with a train-loving dog and eat at a concession stand named in honor of Will Ferrell's baseball alter-ego.
Round Rock Express (Triple-A affiliate of the Texas Rangers since 2015)
Established: 2000
Ballpark: Dell Diamond (opened 2000)
League: Triple-A West, East Division
Notable Alumni: Hunter Pence, Roy Oswalt, Yordan Alvarez, Kyle Tucker, Joey Gallo
Championships: 2000 (in the Texas League)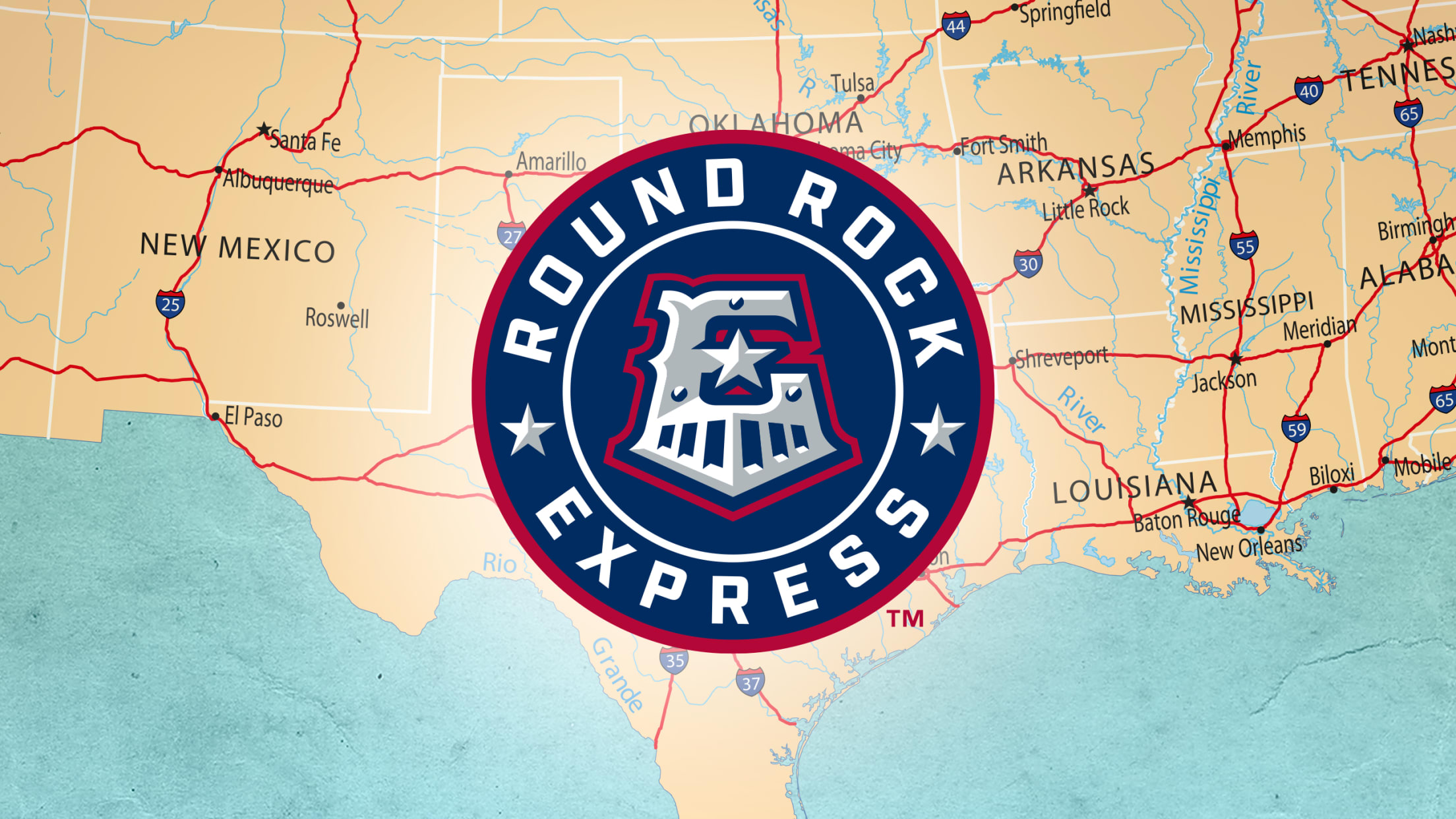 The Round Rock Express, located just north of Austin, Texas, were members of the Double-A Texas League from 2000 through 2004. Following that season, the Double-A team relocated to Corpus Christi, Texas and became the Hooks. In a corresponding move, the Triple-A Edmonton Trappers moved to Round Rock and assumed the Express moniker. Both the Express and the Hooks are owned by Ryan-Sanders Baseball; the "Ryan" part of that equation includes Hall of Fame flamethrower Nolan Ryan and his son, Reid. The team's Express moniker is an homage to Nolan's "The Ryan Express" nickname.
For the entirety of their existence, the Express have alternated affiliations between Texas's two Major League teams. They were aligned with the Houston Astros from 2000-'10, the Texas Rangers from 2011-'18 and the Astros in 2019 and 2020. The Express entered into a 10-year affiliation with the Rangers prior to the 2021 campaign.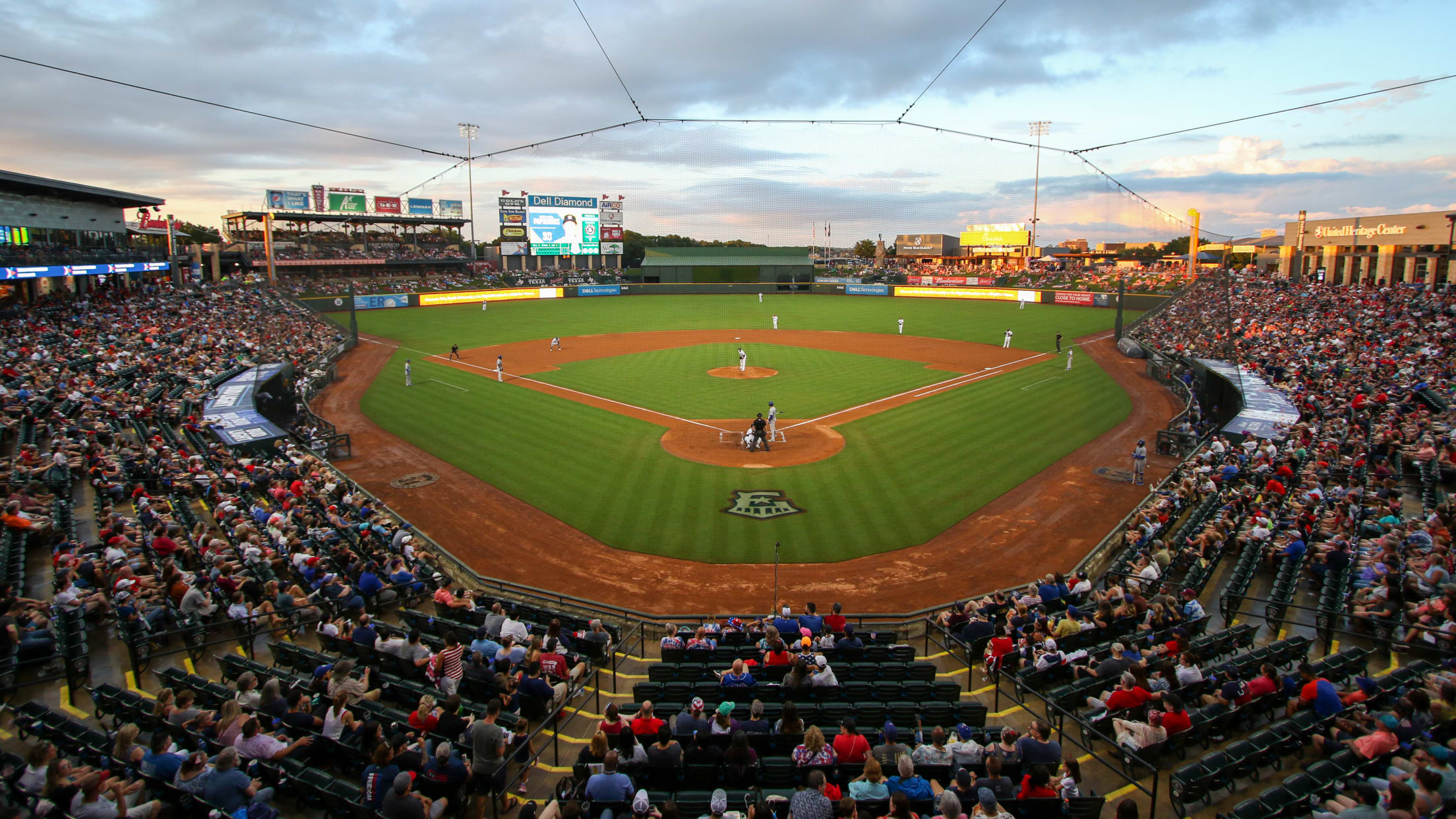 Dell Diamond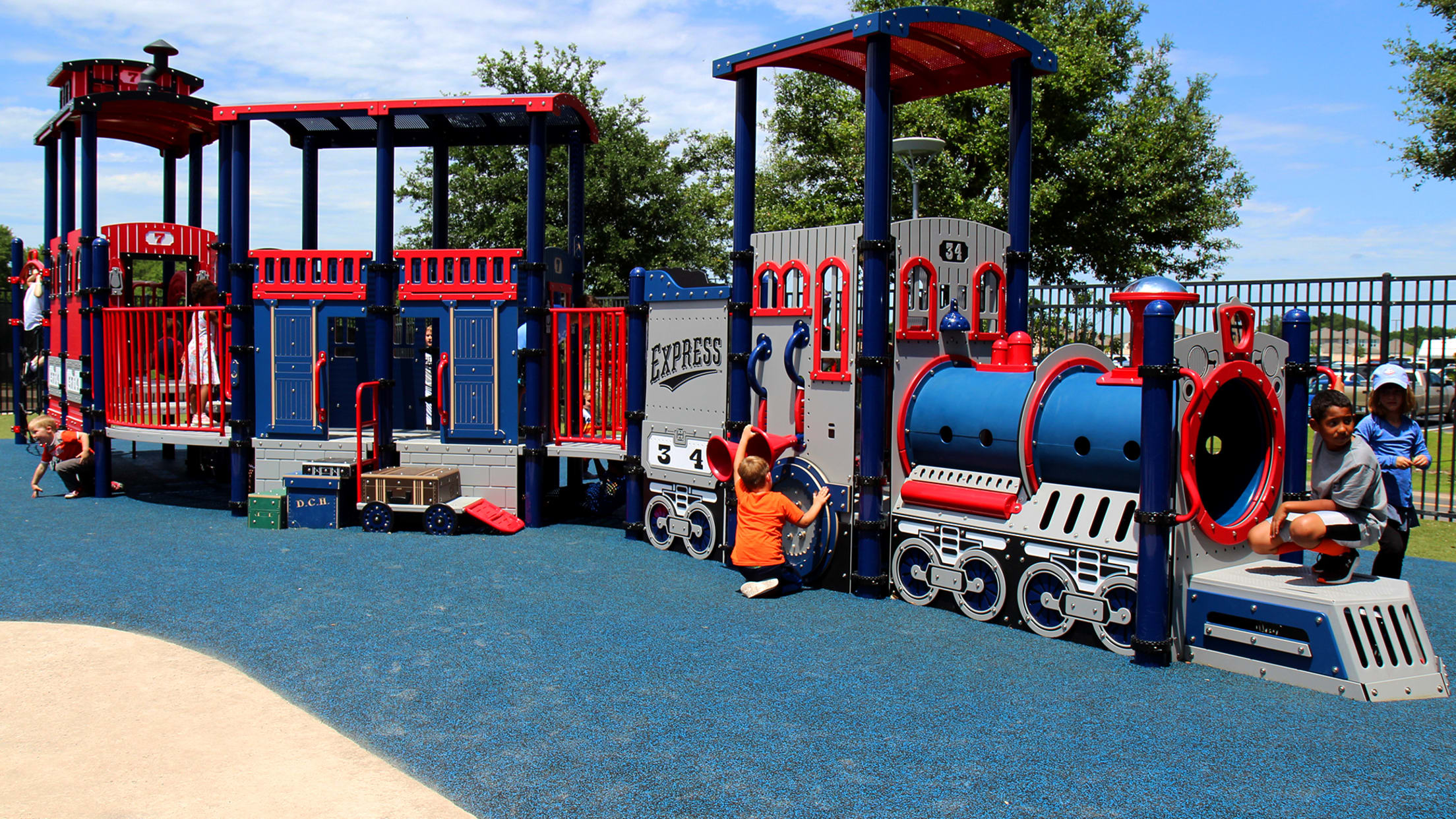 When the Express played their inaugural season in 2000, Round Rock's population was approximately 60,000. It has since doubled and then some. This growth is indicative of a larger population explosion, as the Round Rock-Austin metro region now has well over 2,000,000 inhabitants. Dell Diamond, located on what used to be farm land, is convenient but not particularly scenic. It is located off state route 79, in close proximity to the nation-spanning north-south behemoth that is I-35.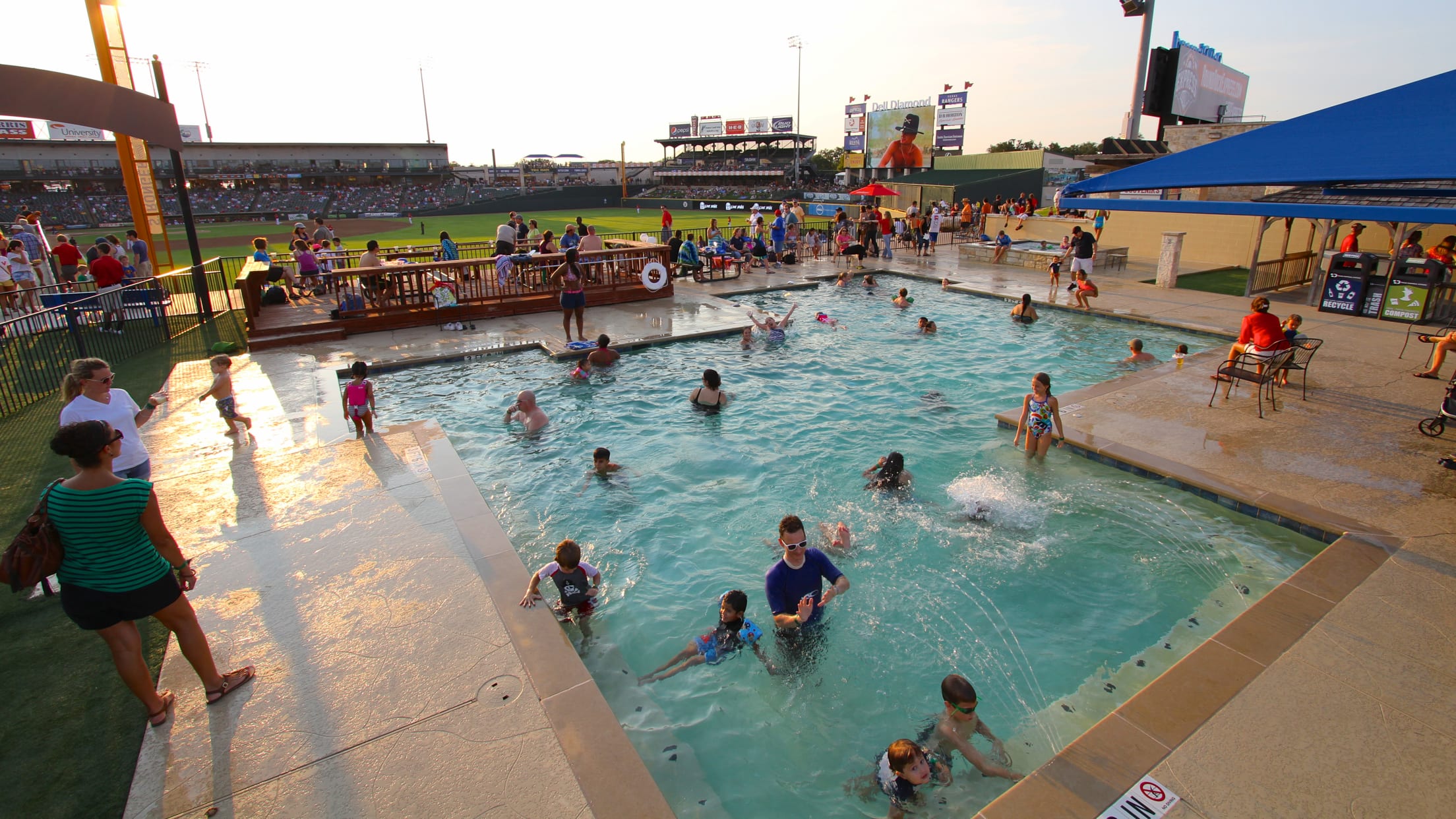 Features
It's easy to say something is "Texas-size" when talking about something in Texas, but in the case of Dell Diamond it's true. This is a ballpark with plenty of room to move, via a 360-degree concourse that is particularly expansive on the right field side of the park. Moving toward center from the foul pole, one will find a picnic area, a spacious pool, the Home Run Dugout and, finally, the Fun Zone. The fun that can be had in this zone can't be found at many, or perhaps any, other ballparks. It includes a rock-climbing wall and a giant train-themed playground.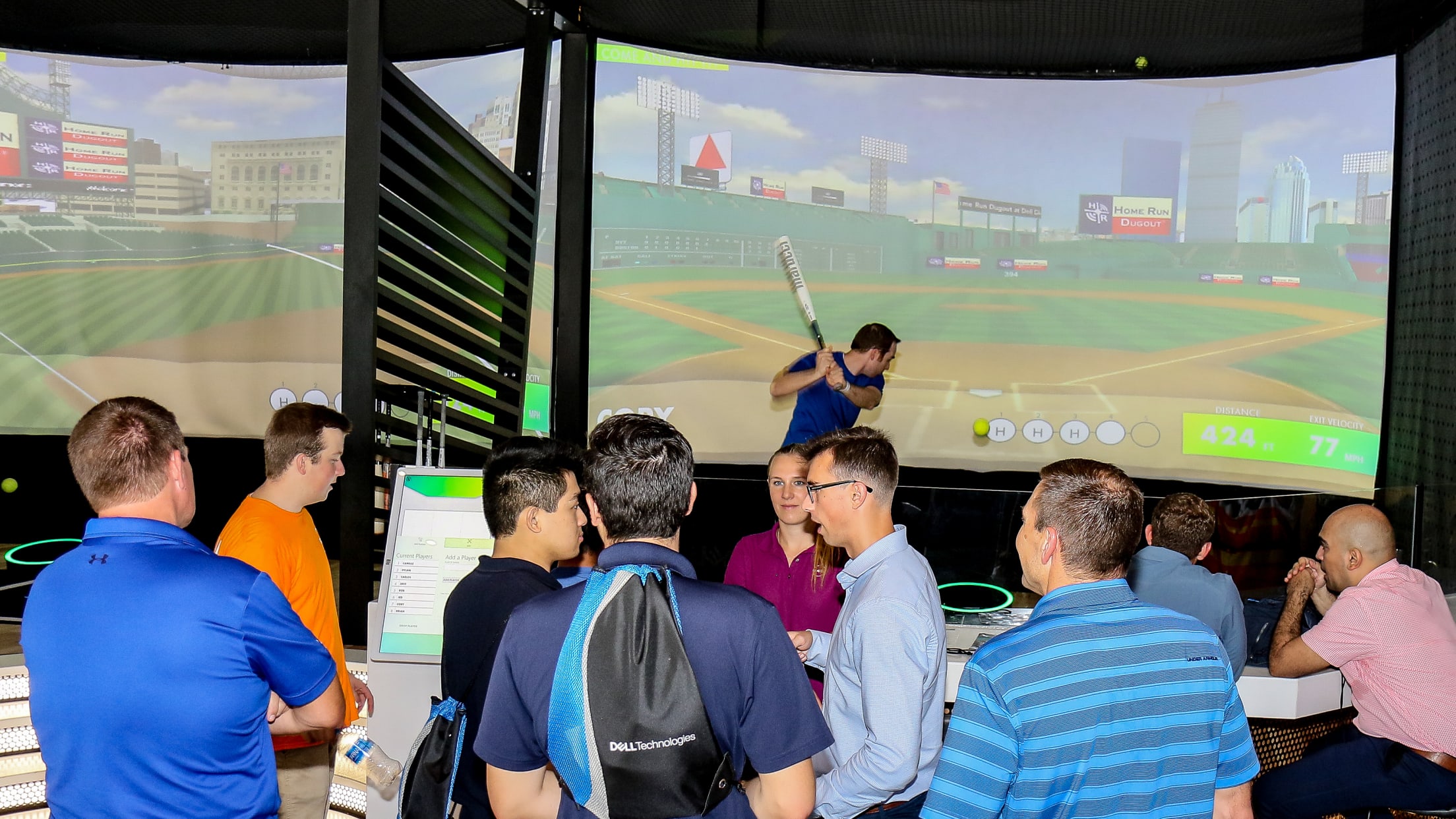 As for the aforementioned Home Run Dugout, it's one of the most unique group areas in Minor League Baseball. Included within are two video bays equipped with a soft-toss pitching machine. Participants can hit against a variety of ballpark backdrops, with key stats such as distance, velocity and launch angle displayed on the screen.
Concessions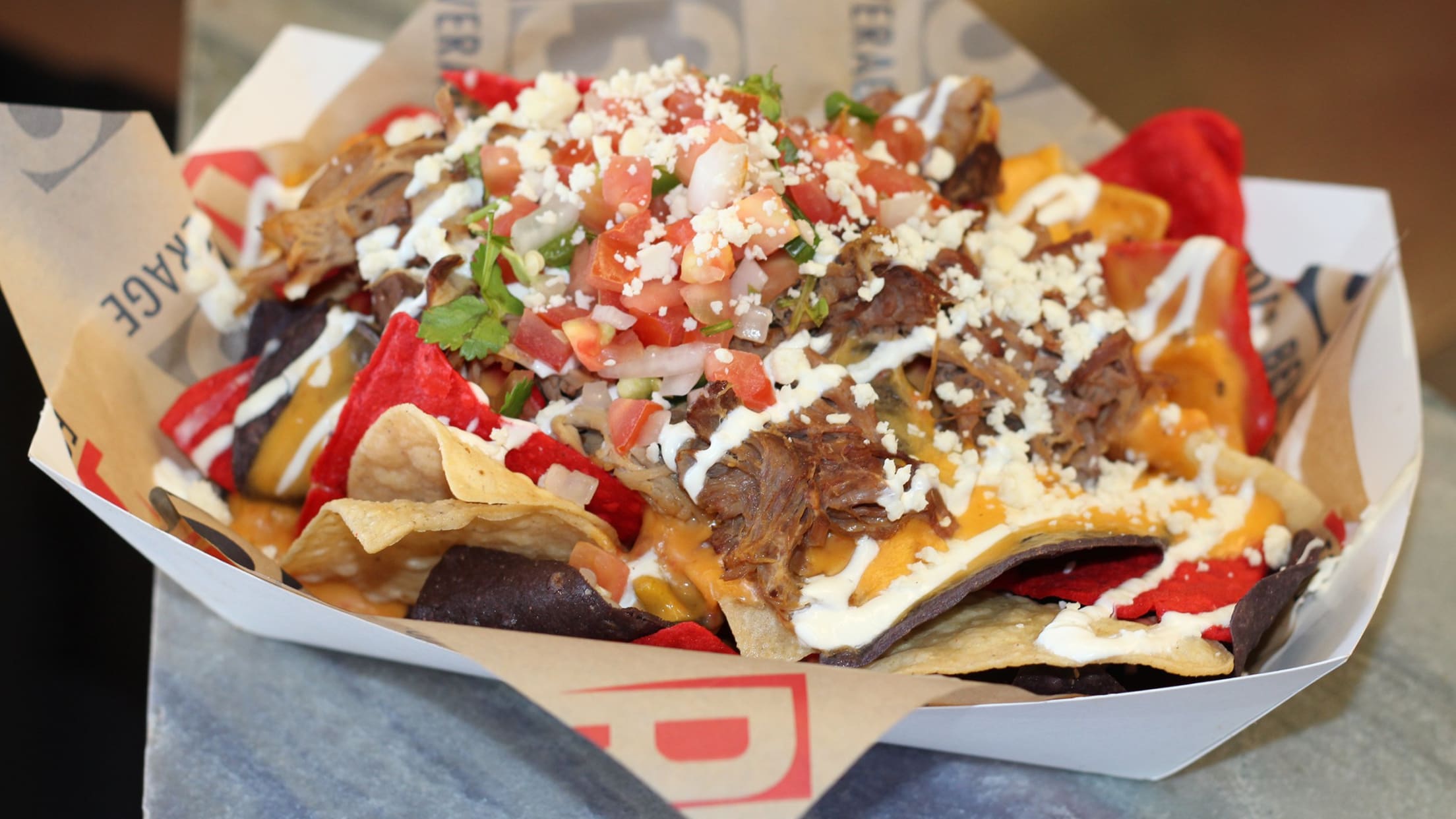 Dell Diamond's food and beverage is managed in-house by the RS3 Hospitality Group, falling under the larger umbrella of the Ryan-Sanders Strategic Sports Services company. The concourse is ringed with uniquely branded food and drink areas, ranging from ballpark staples to local specialties.
The Brew at the Rock Pub, near the left field foul pole, offers a wide variety of local craft beers. Beer flights are available, as are outdoor games such as cornhole. Rojo's Southwestern Hideaway is named for Rojo Johnson, a Will Ferrell alter-ego who memorably appeared on the mound for the Express in 2005. The Nolan Ryan Goodstock Grill serves up meaty ballpark fare sourced from Ryan's own product line. The '50s-themed Fairlane's Diner has specialty hot dogs named for stars of the era, while Southside Market and Barbecue (based in the area) sells Texas-style BBQ with all the fixins.
Mascot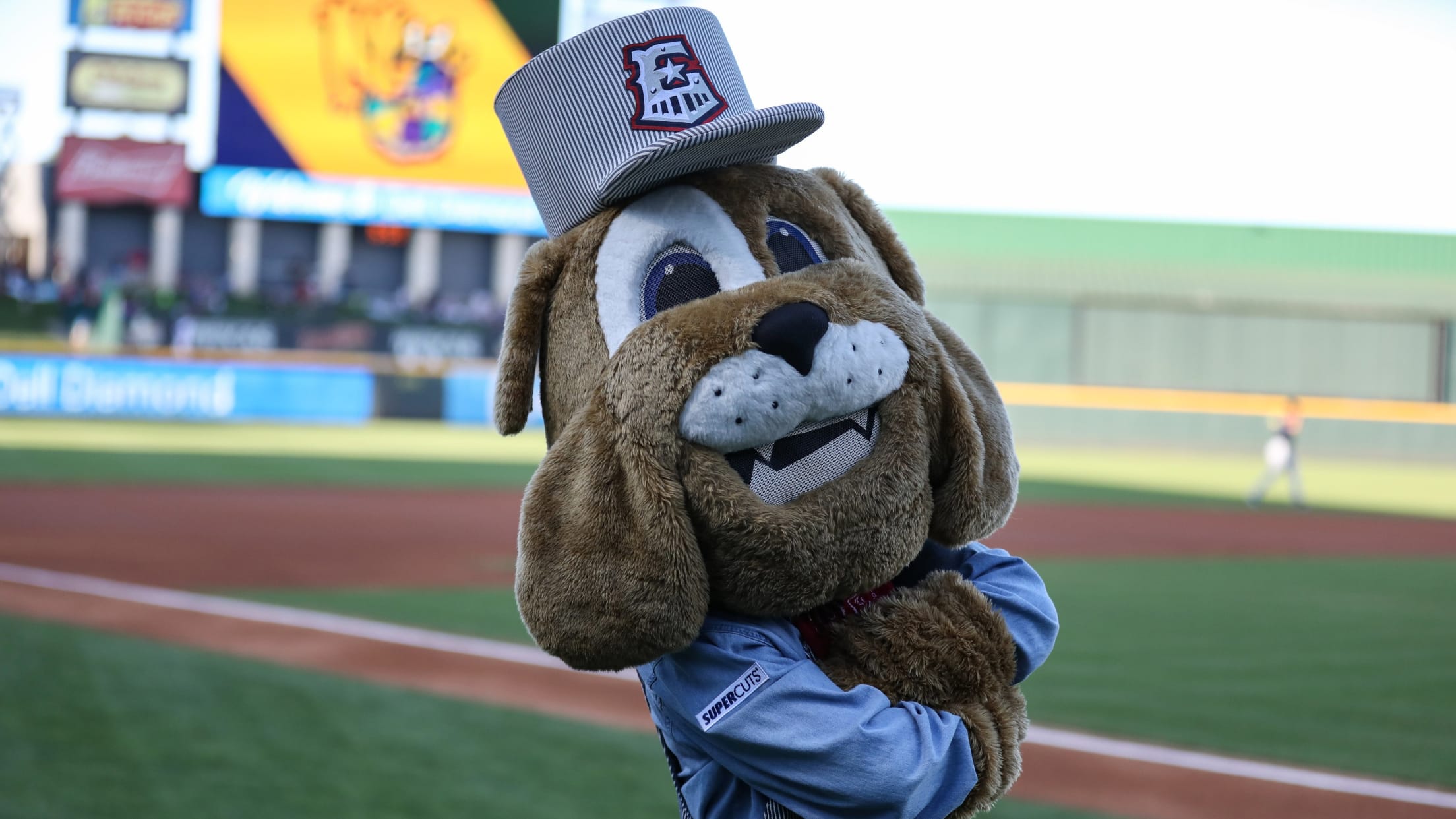 Spike, an erstwhile railroad worker who hopped off a train and went to live at Dell Diamond, is a giant dog. He is is adept at driving in railroad spikes, but there's nothing spiky about his personality. He loves to have fun, and fun is what you'll likely have if you're anywhere near the vicinity of this overall-wearing canine.
Local Attractions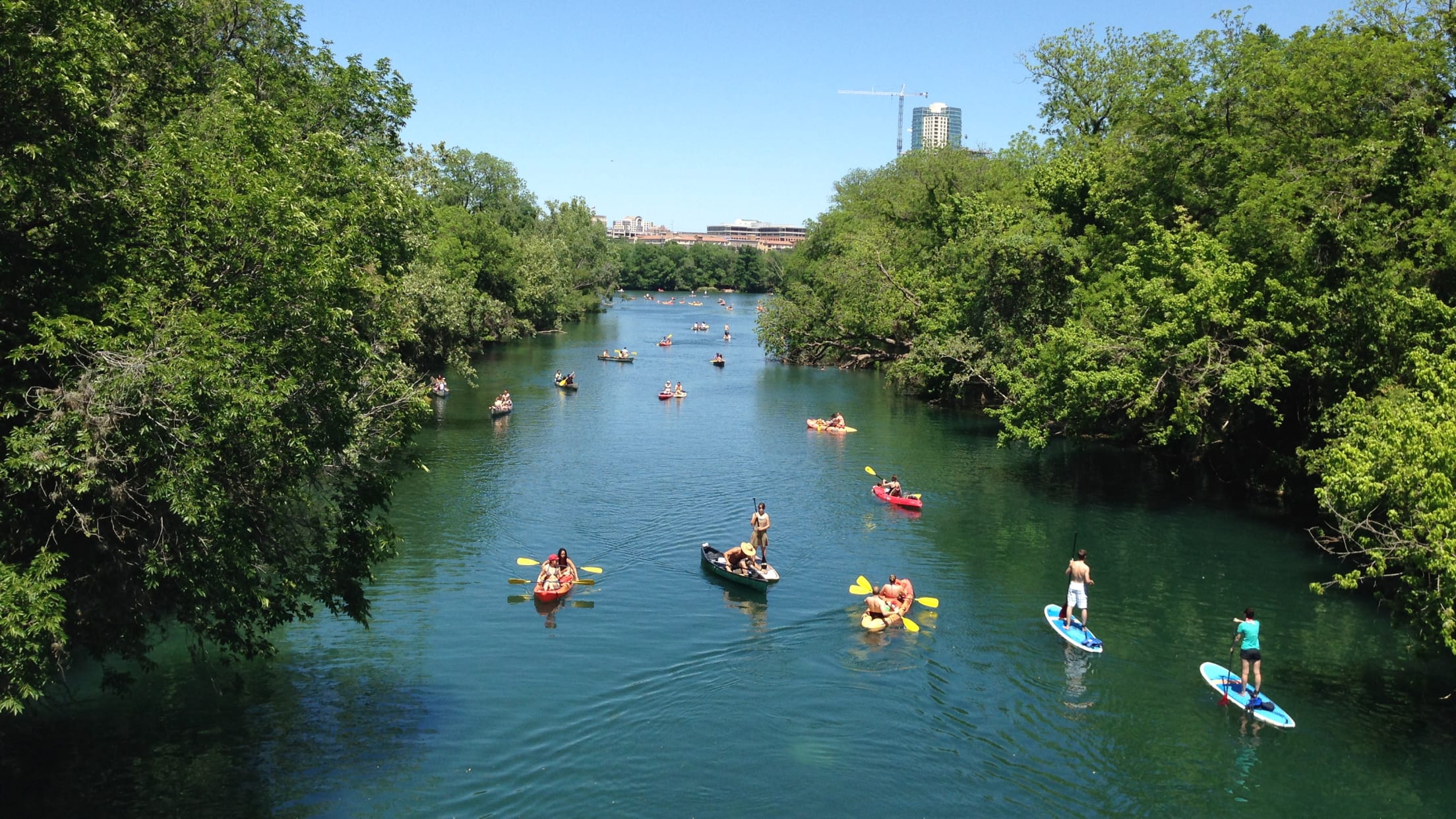 When in Round Rock, why not check out the round rock for which the city is named? It's located near Chisolm Trail Street, in the middle of Brushy Creek. A corresponding historical plaque notes that it "marked an important low-water wagon crossing" for early settlers traversing the region.
Even closer to the ballpark is a massive Kalahari Resorts, advertised as "America's largest indoor waterpark." It's located across the street from Dell Diamond, on what used to be farmland.
Round Rock is bordered by Austin to the south, and that self-consciously "weird" city offers plenty of things to do. Go kayaking! Ogle bats! Visit the state capitol building! Wile away the day at vintage stores, book stores and record stores! Channel your inner McConaughey by visiting the shopping center where portions of "Dazed and Confused" were filmed! And so on and so forth.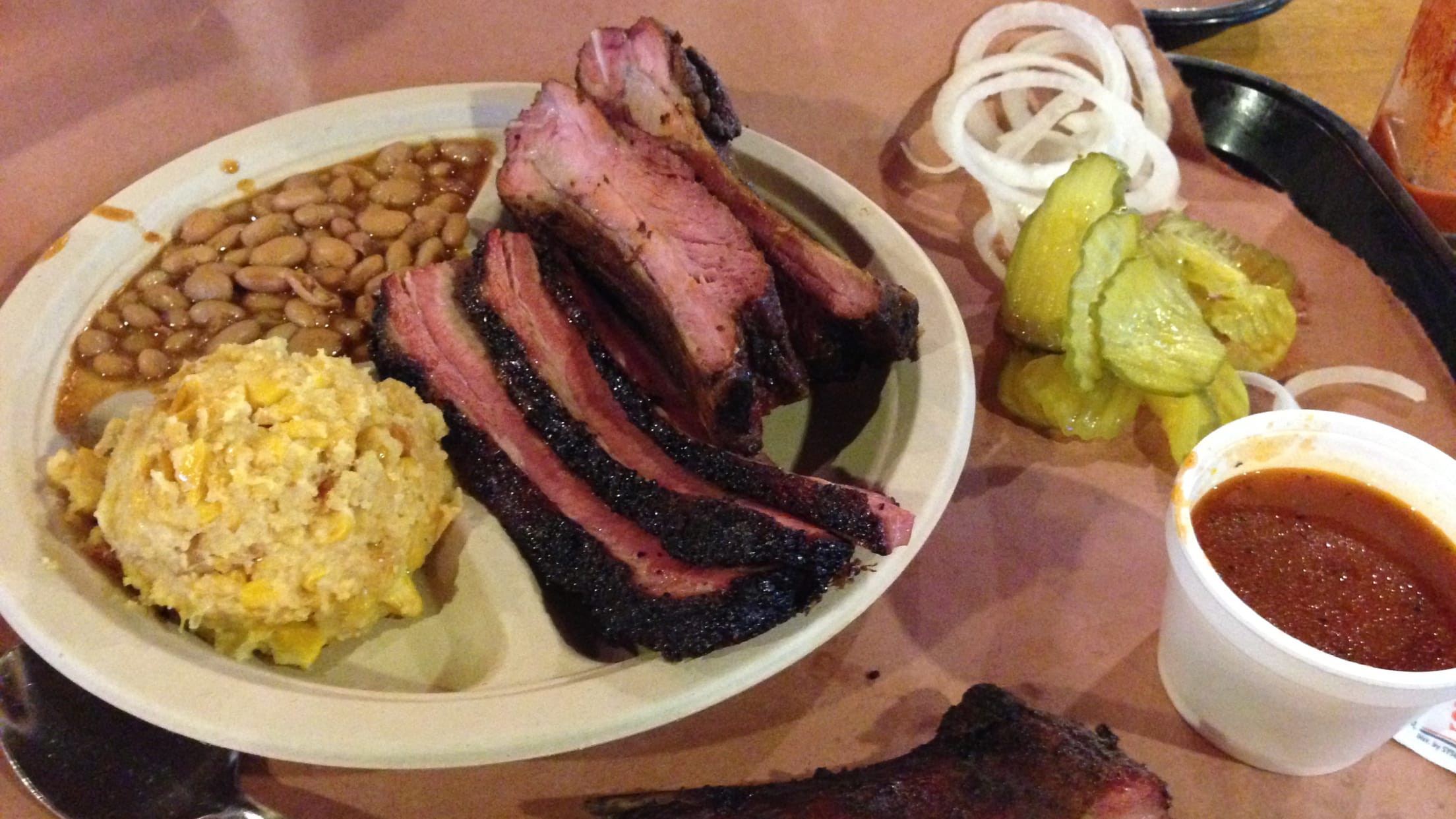 Food and Drink
If you want barbecue, you'll find it. One esteemed place to get it is Stiles Switch, located in the Violet Crown Shopping Center (yes, the very same shopping center where "Dazed and Confused" was filmed).
Barbecue provisions, and plenty of other meat and meat-adjacent product, can be obtained at Nolan Ryan's Goodstock Butcher Shop. It's located in a shopping center that's (practically) next door to Dell Diamond. There is also an outpost of Salt Lick Bar-B-Q in very close proximity to the ballpark.
Lodging
There are innumerable places to rest your head in the area, of course. Rooms will generally run a little cheaper in Round Rock than in Austin proper. There's an abundance of options along I-35, just minutes from Dell Diamond.
Moving On
The Round Rock Express are one of seven Minor League teams in the state of Texas. It would require a lot of driving -- and fortuitous schedule alignment -- but all of them could be visited in a week's time. Suggested itinerary: Amarillo to Midland to Frisco to San Antonio to Corpus Christi to Round Rock to Sugar Land. Or vice-versa.
The Road to Arlington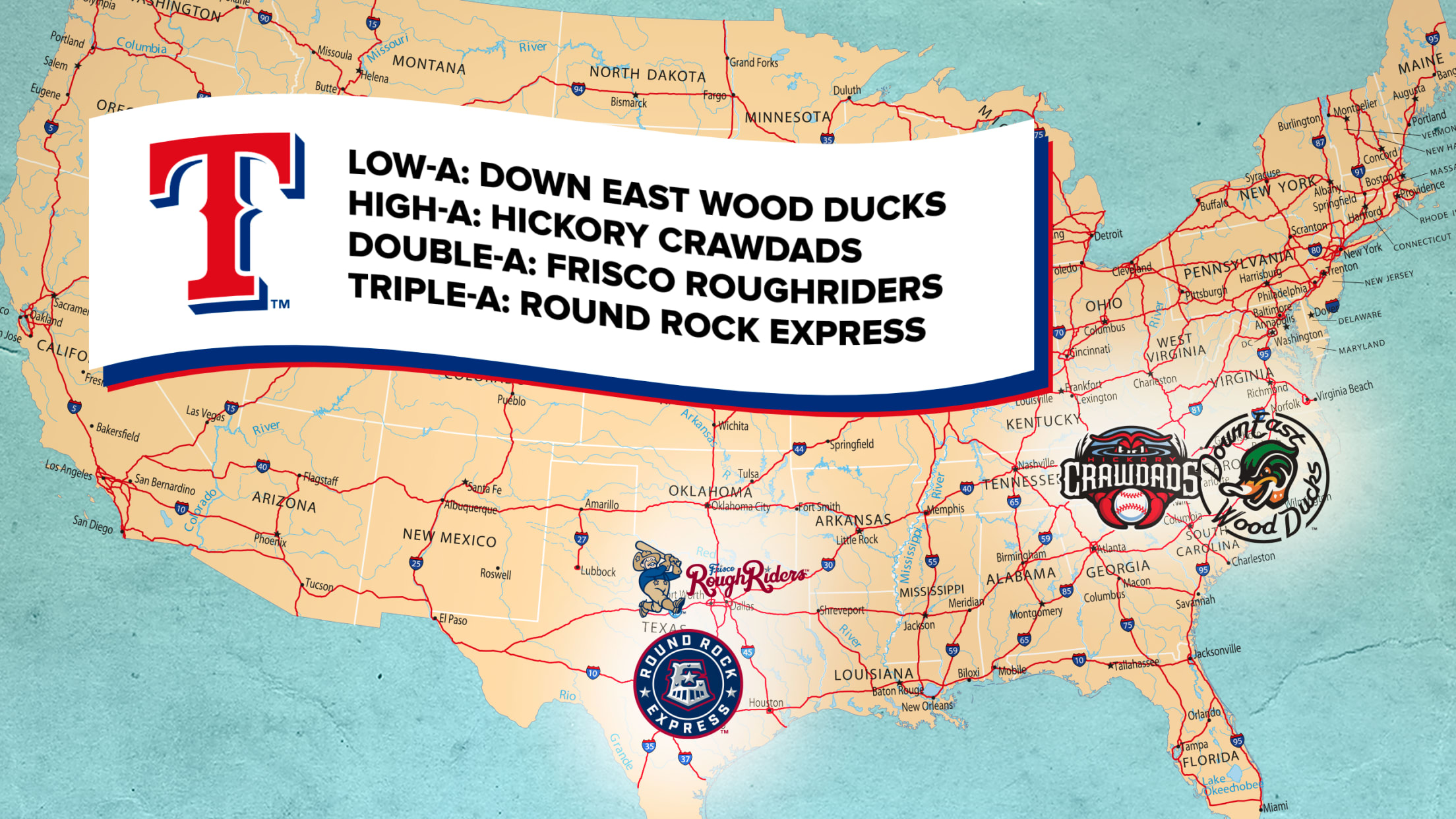 The four teams in the Texas Rangers' system are split between two states. The Express and Double-A Frisco RoughRiders make their home in the Lone Star State, while the High-A Hickory Crawdads and Low-A Down East Wood Ducks are North Carolina entities.
Low-A: Down East Wood Ducks (Kinston, North Carolina)
High-A: Hickory Crawdads (Hickory, North Carolina)
Double-A: Frisco RoughRiders (Frisco, Texas)
Triple-A: Round Rock Express (Round Rock, Texas)
credits:
Benjamin Hill, who covers the business and culture of Minor League Baseball, has visited 177 Minor League ballparks.