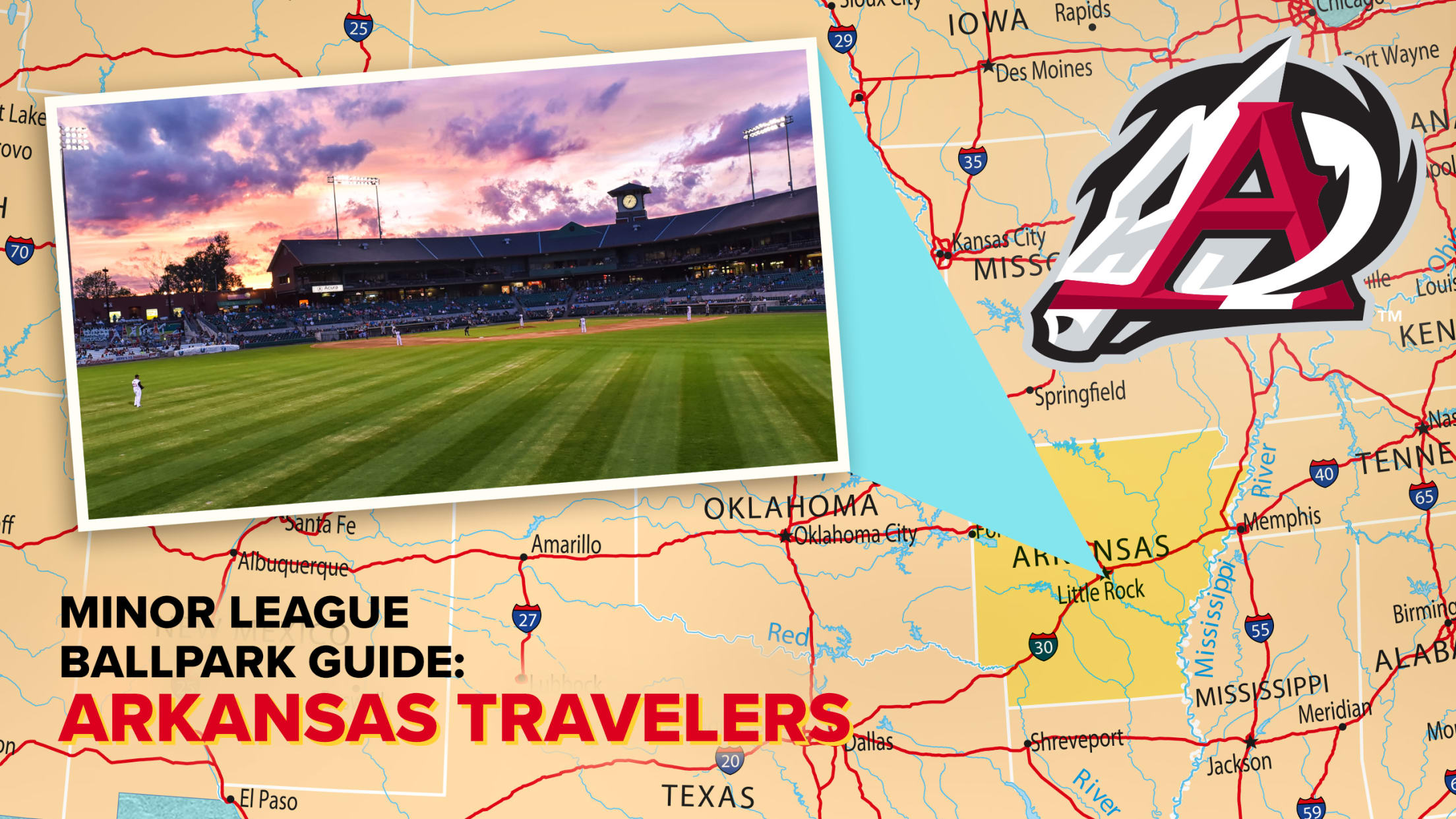 Scroll
Explore Arkansas' Dickey-Stephens Park
Welcome to Dickey-Stephens Park, a 21st-century stadium where the echoes of baseball history are palpable, a swamp possum runs amok and the fans root on Mariners prospects in the Double-A Texas League.
Arkansas Travelers (Double-A affiliate of the Seattle Mariners since 2017)
Established: 1963
Ballpark: Dickey-Stephens Park (opened April 12, 2007)
League: Texas League, North Division
Championships: 1966, 1971, 1977, 1979, 1980, 1989, 2001, 2008
Alumni: Dick Allen, Keith Hernandez, Andy Van Slyke, Luis Alicea, Todd Zeile, Joe McEwing, J.D. Drew, Chone Figgins, Howie Kendrick, Mike Napoli, Kyle Lewis, Julio Rodríguez
With a name derived from a 19th-century legend immortalized in folk song and professional baseball roots loosely traceable to the turn of the 20th century, the Arkansas Travelers carry a tradition steeped in the flavor of barnstorming and old-fashioned hardball into the contemporary times of Minor League fun, food and ballpark amenities.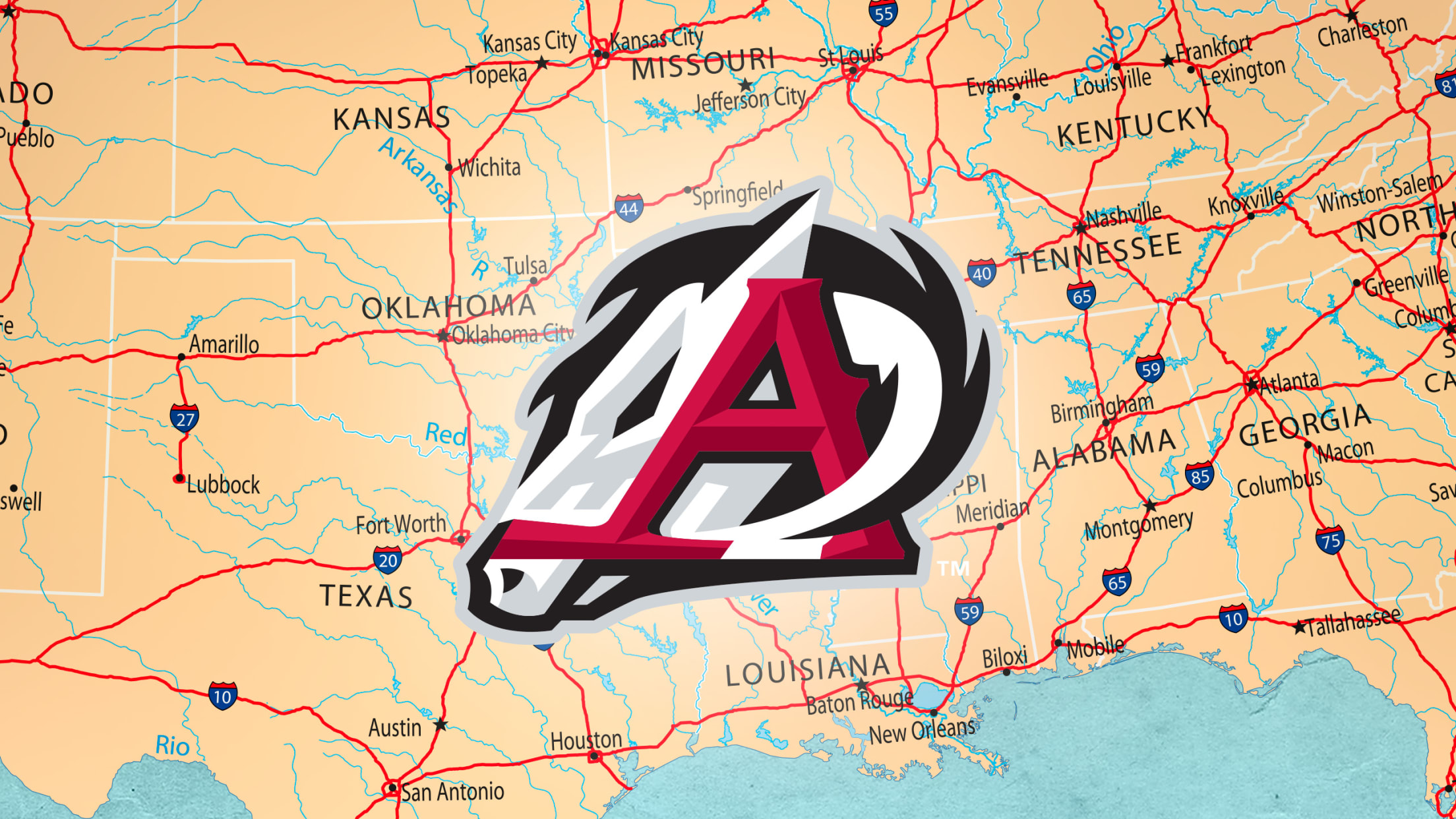 With a 2022 agreement between the city and the team in place to make improvements to the playing surface and more at this municipally-owned facility, the Travelers are positioned to stay put in North Little Rock.
Occasional field-level flooding and sinkholes were part of the necessity for those improvements, but even that (temporary) thorn was the growth off a heck of a rose: the field was built below ground-level, creating dazzling skyline views of downtown Little Rock, beyond right field and across the Arkansas River.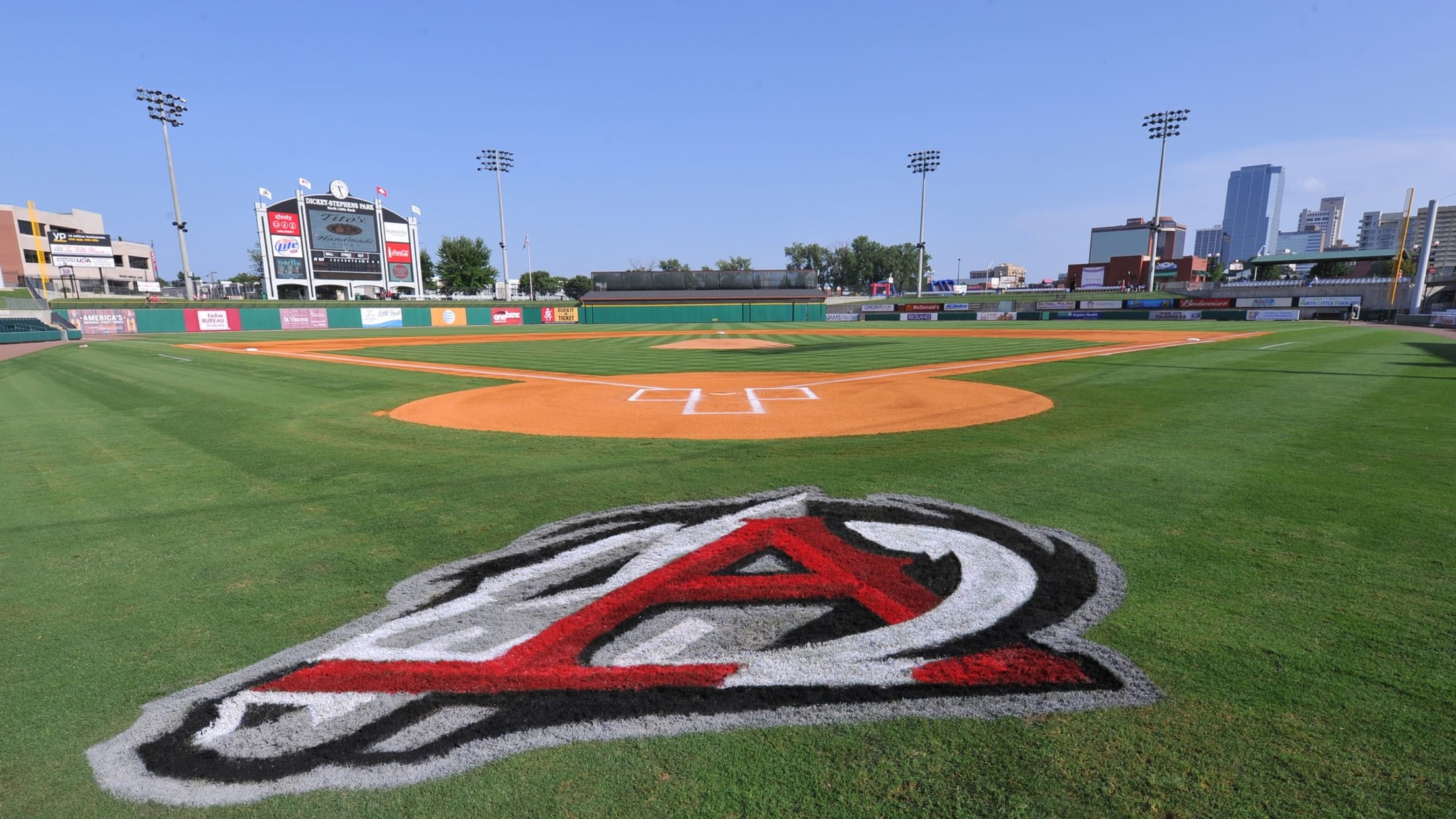 A curious visitor may wonder who this ballyard is named after, anyway.
Dickey-Stephens was not one man, but four. Many baseball fans already know the name of at least one of them: Bill Dickey, the Hall of Famer who set the standard for catchers in the modern era as a member of the Yankees from 1928-46, spending the 1944 and '45 seasons in the Navy. Dickey made his pro debut with the Southern Association's Little Rock Travelers at age 18 in 1925, returned to manage the Travelers of 1947 at age 40, and died in Little Rock at age 86 in 1993.
His brother, George "Skeets" Dickey, was also a Major League catcher. Six years younger than his Yankees backstop sibling, Skeets Dickey played for the Travelers in '35 and '36 -- also seeing time with the Red Sox at the big league level those seasons. He was perhaps building a fulltime role in The Show with the White Sox in 1941 and 1942, but spent his age 27-29 seasons in the Navy, working as an instructor in an anti-aircraft gunnery program.
After their careers (in the Navy and baseball), the Dickey brothers went into finance, with the younger leading the way. The firm they worked for belonged to another pair of brothers. Who? Local businessmen and philanthropists Jackson Stephens and Witt Stephens, who were active Little Rock community members and donors to myriad area concerns and projects throughout their days.
Thus: Dickey-Stephens Park.
Plaques dedicated to each of the four men can be found on your way into the ballpark, outside of the home-plate entrance.
Features
The aforementioned skyline views beyond right field are among the finest of their ilk in Minor League Baseball, and fans interested in maximizing their time taking in such a view should try for seats somewhere near home plate along the third-base side.
Those who like to minimize their intake of sun and watch the sky go dark, conversely, are better off sitting along the first-base side, which is built on a not-quite north-south line along the western side of the park.
Some fans, of course, have limited interest in staring off into the distance no matter the view. These types will be very happy with any seat in the house, as all offer an excellent vantage of the action on the field.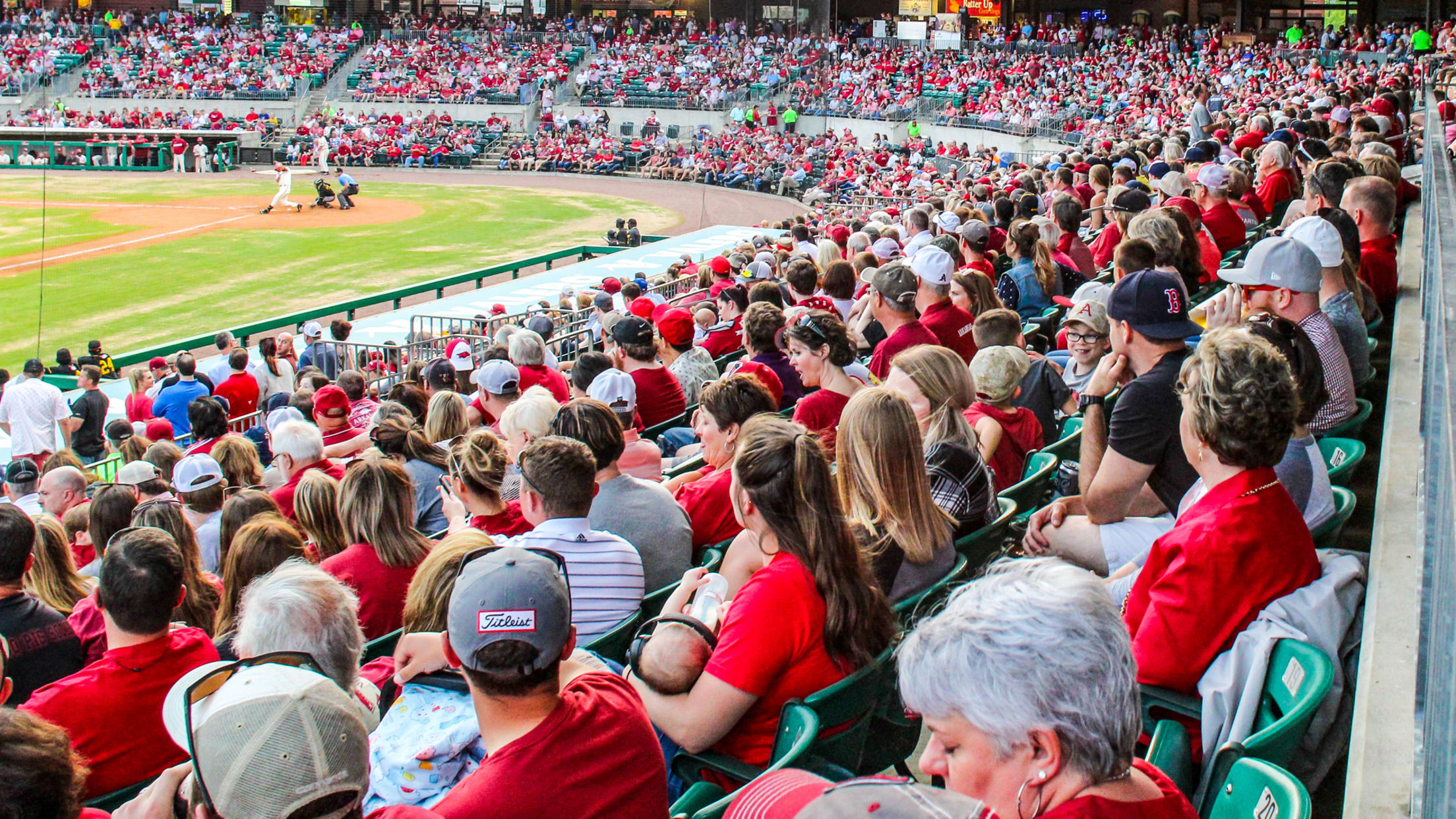 That quality of vantage extends to The Yard, lawn seating down by the left-field foul pole.
Go that far and you'll see that the Dickey-Stephens concourse goes 360 degrees around the stadium. One could spend the whole game, if one chose, on a pleasant circular stroll and never miss a pitch.
That'd be a fine tribute to the Arkansas Travelers, but there are more practical ways to take in a game. Whether a wanderer or a stationary sort, you can count on finding a fun atmosphere and a chance to watch great baseball from anywhere in the park.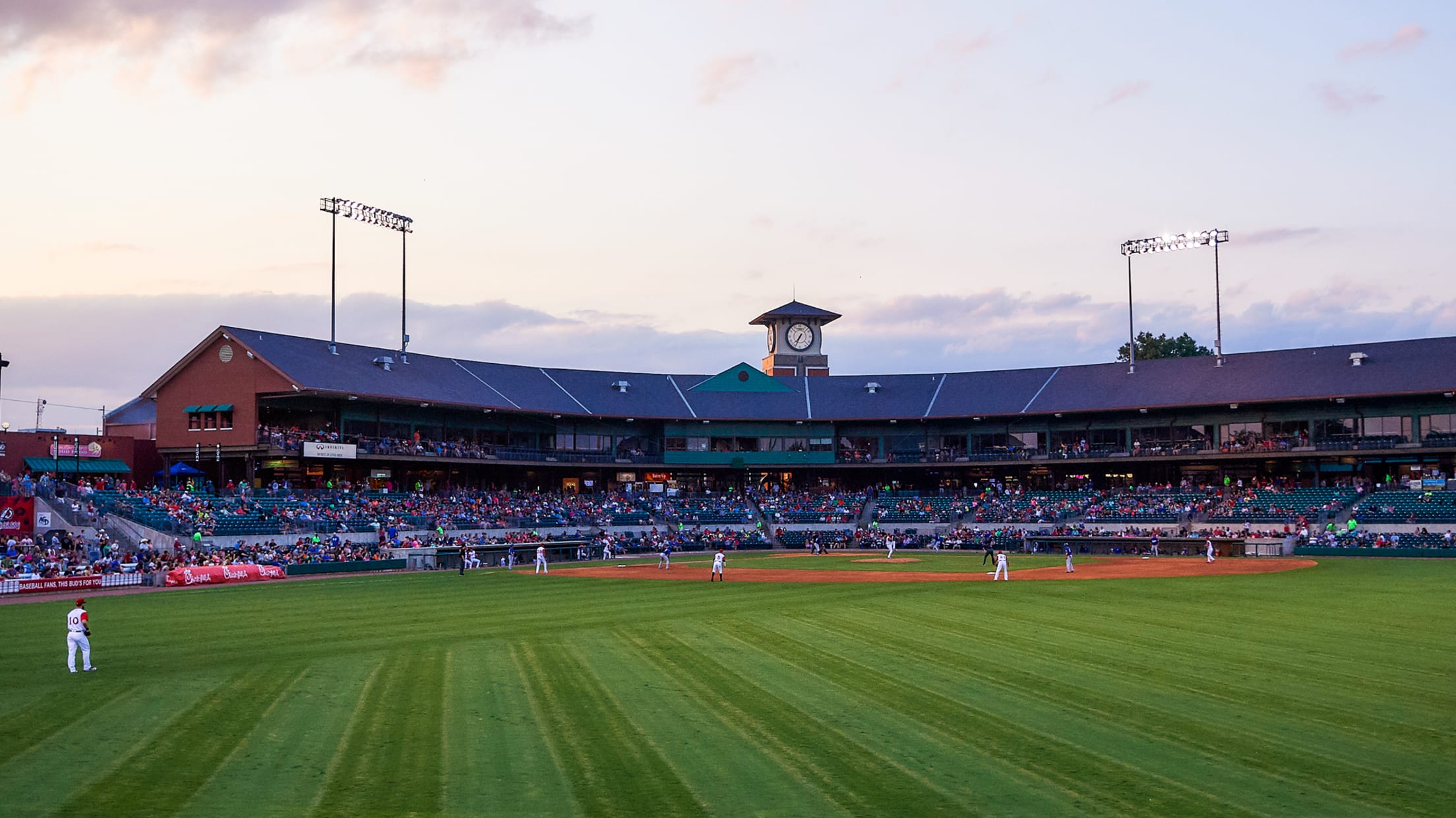 The Historic Travelers Baseball Museum, found a meager bunt's length toward third base from behind home plate, is stuffed with photos, artifacts, memorabilia and purpose-designed displays celebrating the rich heritage of the game in the Little Rock area and the state of Arkansas at large.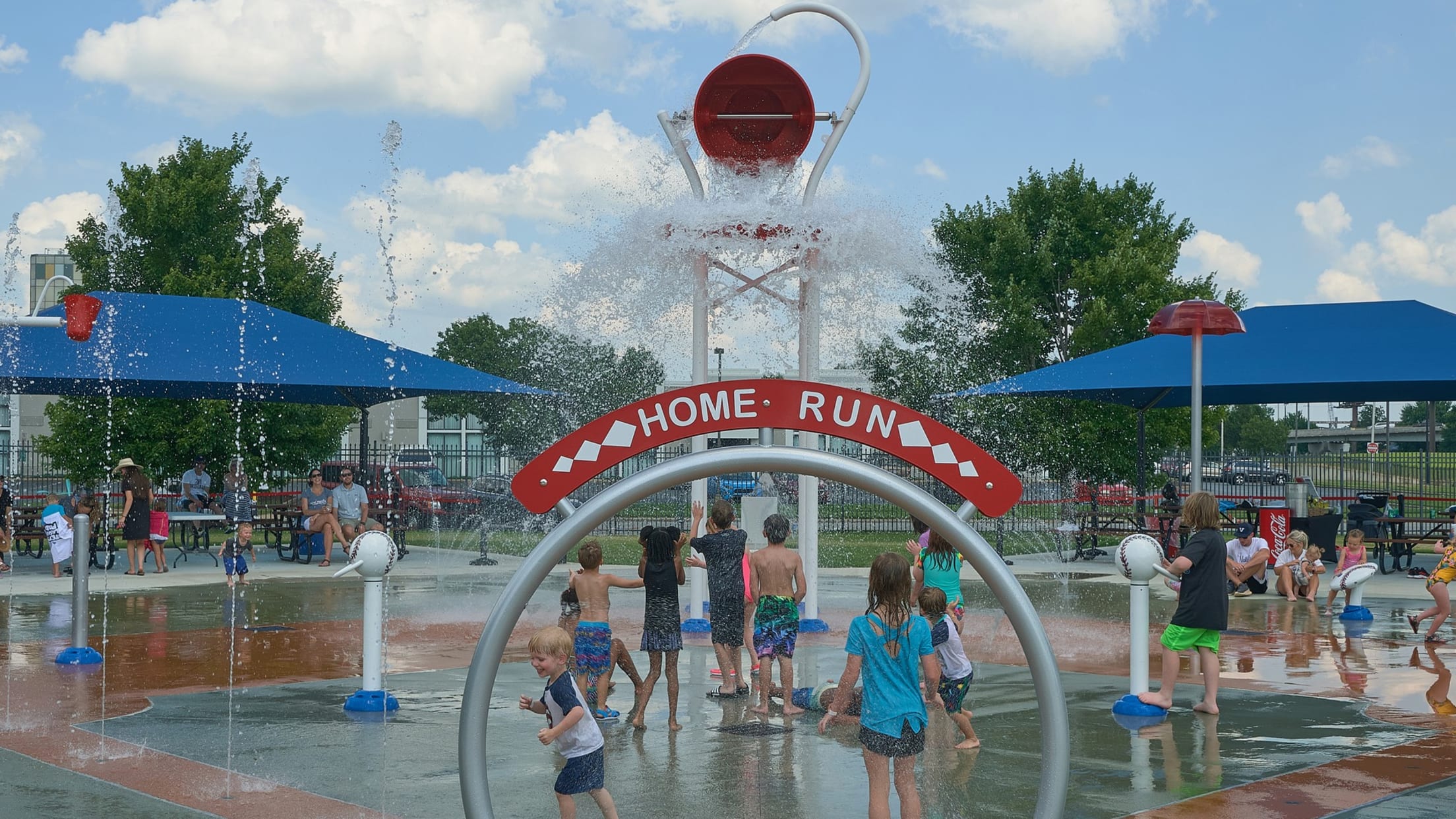 The Travelers have numerous group seating options. The Tracks Inn, for example, can accommodate upwards of 500 people in a picnic area up above the right-field wall. The Dickey Room, by contrast, is an indoor space (did somebody say, "air conditioning"?) down the line past first base perfect for a group of between 25 and 40.
On a hot day, kids can chill out in Otey's Splash Pad, a ticketed inside-the-yard miniature water park that's also available for parties.
Concessions
The Travelers live up to and perhaps even surpass the lofty promise of the typical Minor League ballpark culinary experience -- concession stands replete with concoctions both familiar and creative, and options to satisfy any degree of indulgence.
For example, stop at the stand near home plate just toward first base to scarf some deep-fried Oreos. If you prefer your sugary treats fruity rather than chocolatey, make sure to grab a slushie at the same location.
If it's an adult beverage you seek, all aboard for Brewski Junction! You'll find it along the third-base side of the concourse, and it offers frozen margaritas and a plethora of canned drinks. For draft beer, find the Iron Horse Bar nearby Brewski Junction, or saunter over to the beer garden down the right-field line. The Travs' local and specialty options include selections from Diamond Bear Brewing and Flyway Brewing (both headquartered within a half mile of Dickey-Stephens Park), as well as Lost 40, Stonesthrow, Core Brewing Co., Ozark and Black Apple.
You're not going to be left thirsty here. You won't go hungry, either.
Find the Build-Your-Own Nachos Bar on the third-base side not only for nachos any way you'd like them, but for savory eats like fried bologna sandwiches or Philly cheesesteaks.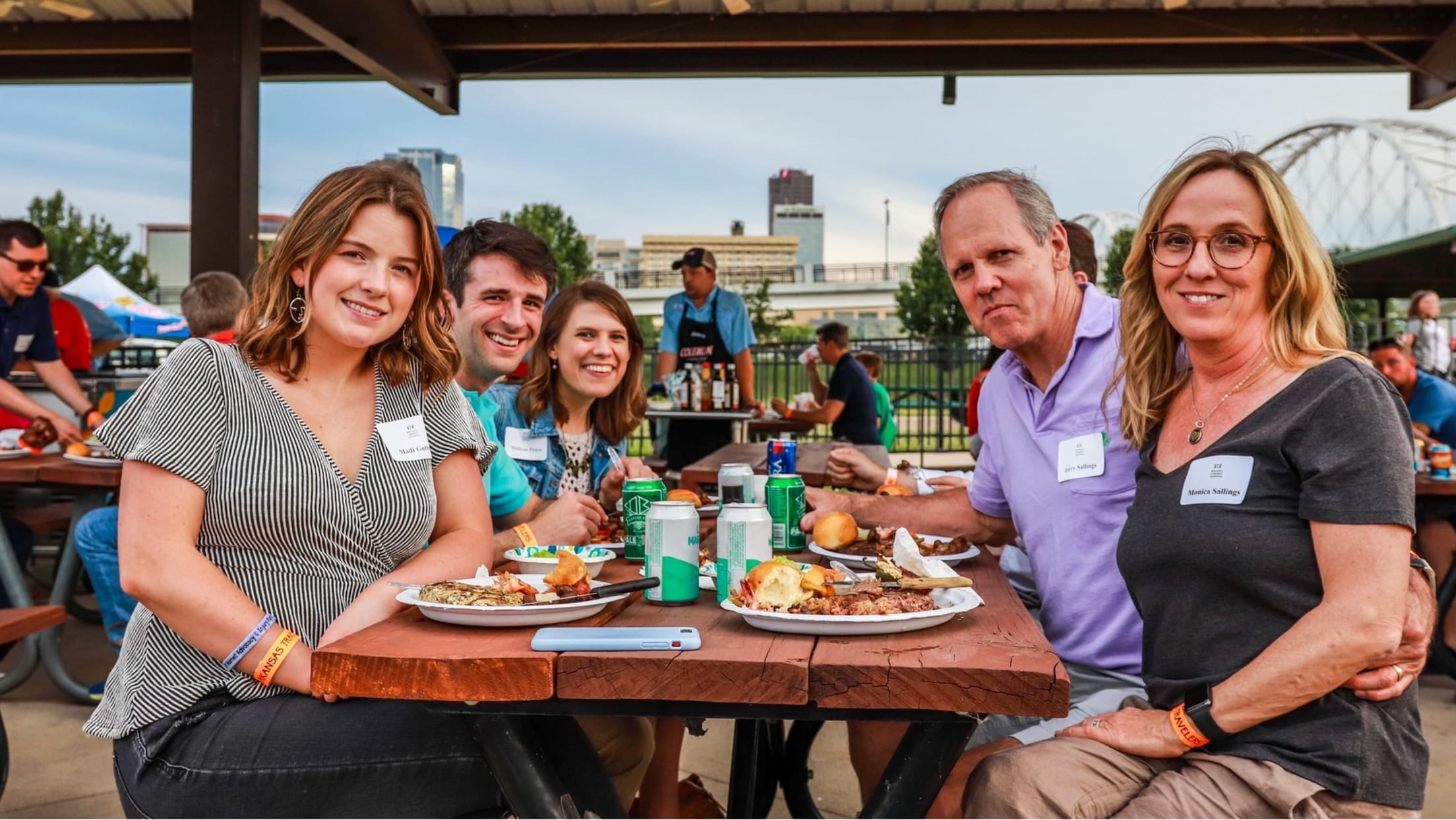 If you're the kind of epicurean who wants an ideal beverage pairing for your deep-fried Oreos, slushies and brewskis might not do the trick. But you'll happen to be on the home turf of the Westrock Coffee Company. Developing from partnerships with independent coffee growers in eastern Africa and having opened a roastery in Little Rock in 2010, Westrock has been an Arkansas' coffee-and-tea industry success story. Grab a cup of at the Shortstop Drink Shoppe by home plate.
Mascot
There's no finer partnership of a horse and a swamp possum in all of Minor League Baseball -- possibly in all the world -- than that of Ace and Otey.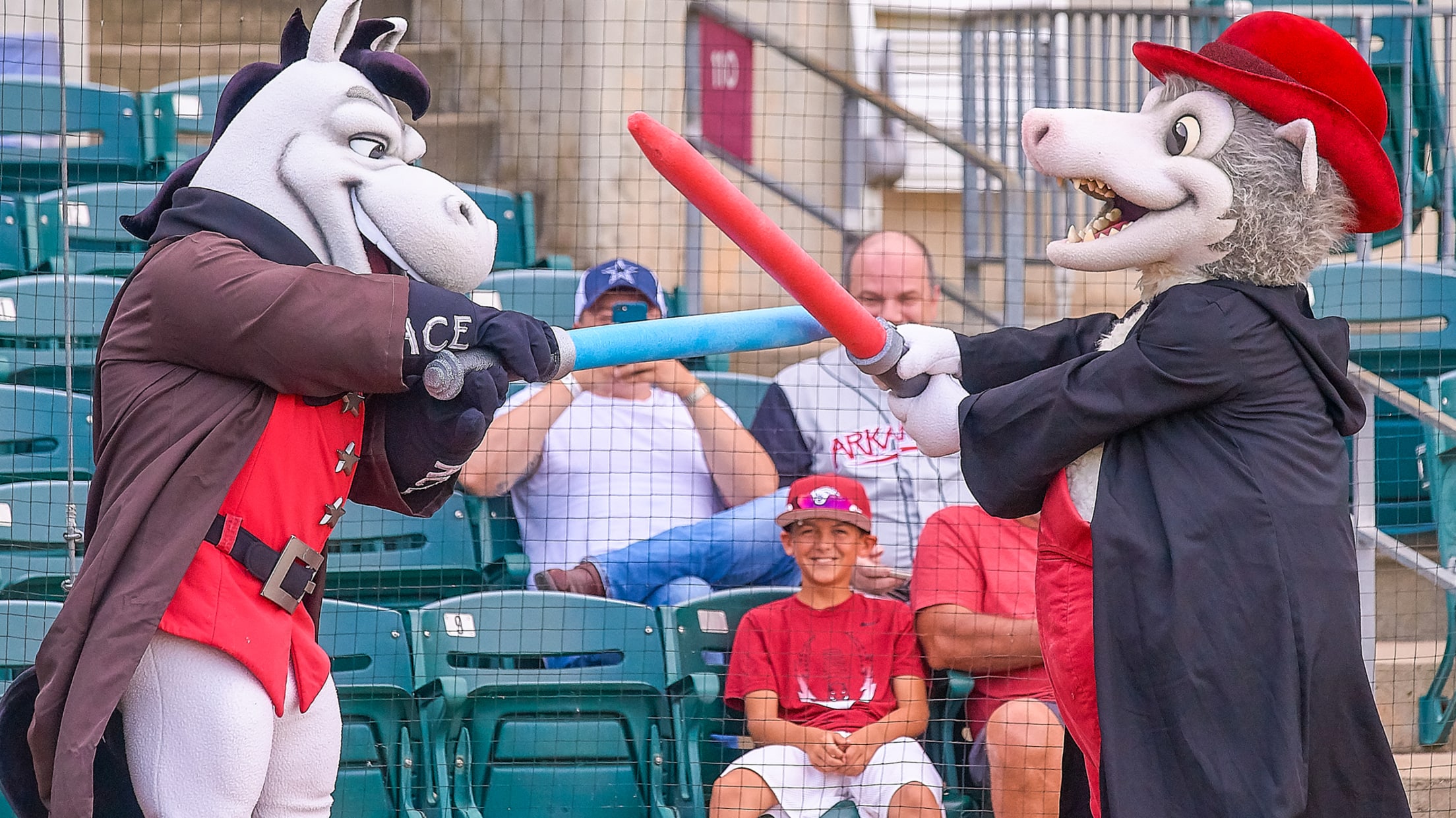 Ace (the horse) is over seven feet tall, sleeps standing up and has been a Travs fan for as far back as he can remember.
Otey (the swamp possum, namesake of Otey's Splash Pad) is two feet shorter than his best buddy, doubles as the team's good luck charm and gets his name from R.C. Otey, an infielder who played 14 Minor League seasons -- the bulk of them with the Little Rock Travelers of the 1950s -- and was the head groundskeeper at Ray Winder Field (the precursor to Dickey-Stephens Park) for almost 30 years.
The duo can be found delighting in the company of fans young and old on the concourse and in the stands throughout each home game.
Local attractions
The area immediately surrounding Dickey-Stephens Park has a charm that will discourage you from searching far and wide for things to do. Right there in the historic downtown neighborhood called the Argenta Arts District, you'll find walkable, treelined streets with cafes, breweries, galleries and music venues.
The Arkansas Inland Maritime Museum is home to two World War II-era naval vessels (the tugboat Hoga and the submarine the U.S.S. Razorback), as well as a number of (ahem) immersive exhibitions and artifacts.
North Little Rock's Burns Park is huge -- about 6,000 acres -- and in addition to offering the chance for a lovely stroll among locals, has facilities and designated spaces for just about anything you could want to do on a free afternoon. There are playgrounds and picnic areas, ballfields and basketball courts. Tennis courts. There's an amusement park. A lake you can fish in. A boat launch into the Arkansas River. There are disc golf courses and regular golf courses. There's an old Union Pacific rail car, and for years there was an old U.S. Army tank. Close your eyes and picture something. Anything. Now go find it in Burns Park. It's there, or once was, or is coming soon.
Cross the river to Little Rock, and find at your disposal all of the historical, cultural, culinary and entertainment attractions befitting a state capital.
The one can't-miss stop for anybody with a passing interest in history or American life at large is the Little Central High School National Historic Site, where the Little Rock Nine advanced the civil rights movement and prompted progress on the integration of public schools in September of 1957. Admission is free, but ranger-led programs require advance reservations.
Food and drink
In addition to the many local breweries whose products a fan can try at Dickey-Stephens Park, North Little Rock and Little Rock boast a diverse and tantalizing dining scene.
Bobby's Country Cookin' ("Like comin' home to eat"), on the west side of Little Rock, features exactly the kind of fare you might think of when you think of typical Arkansas eats. Come for the chicken-fried steak if you like, but whatever you do, stay for the pie.
Brave New Restaurant, just upstream from the Travelers' park across the Arkansas River, is decidedly more upscale but also sure to please all comers. The Root Café is another Little Rock favorite, prized by locals for its commitment to sourcing from area farms and its burgers (including a delectable vegetarian option) -- but it's worth checking out the breakfast menu, too.
On the subject of breakfast, how's about a cup of joe? If you've tried Westrock Coffee Co. at the ballpark and want to check out other options, do not miss the chance to try beans from Trailblazer Roasting Co., a family-owned North Little Rock roastery.
Later in the day, head over to South Main St. for a scoop (or few) of ice cream at Loblolly Creamery.
Lodging
There are numerous hotel and motel options right around Dickey-Stephens Park, and even more directly over the Broadway Street Bridge in Little Rock.
On your way into or out of town, you might want to camp (in a tent, a rental cabin, or an R.V.) in the Ozark-St. Francis National Forests about 80 miles northwest of the ballyard.
Moving on
Take Interstate 40 eastbound out of town to hit the Memphis Redbirds (Triple-A affiliate of the Cardinals), the Jackson Rockabillys (of the independent Prospect League) and the Nashville Sounds in a straight shot.
Or, head northwest in Arkansas to see the, well, Northwest Arkansas Naturals (Double-A affiliate of the Royals) before crossing the Oklahoma border to catch two Dodgers affiliates -- the Double-A Tulsa Drillers and Triple-A Oklahoma City Dodgers -- or heading north to Missouri to see the Springfield Cardinals (Double-A).
The Road to Seattle
The Naturals form the point of the misshapen triangle that is the geographic illustration of the M's developmental course.
Single-A: Modesto Nuts
High-A: Everett AquaSox
Double-A: Arkansas Travelers
Triple-A: Tacoma Rainiers