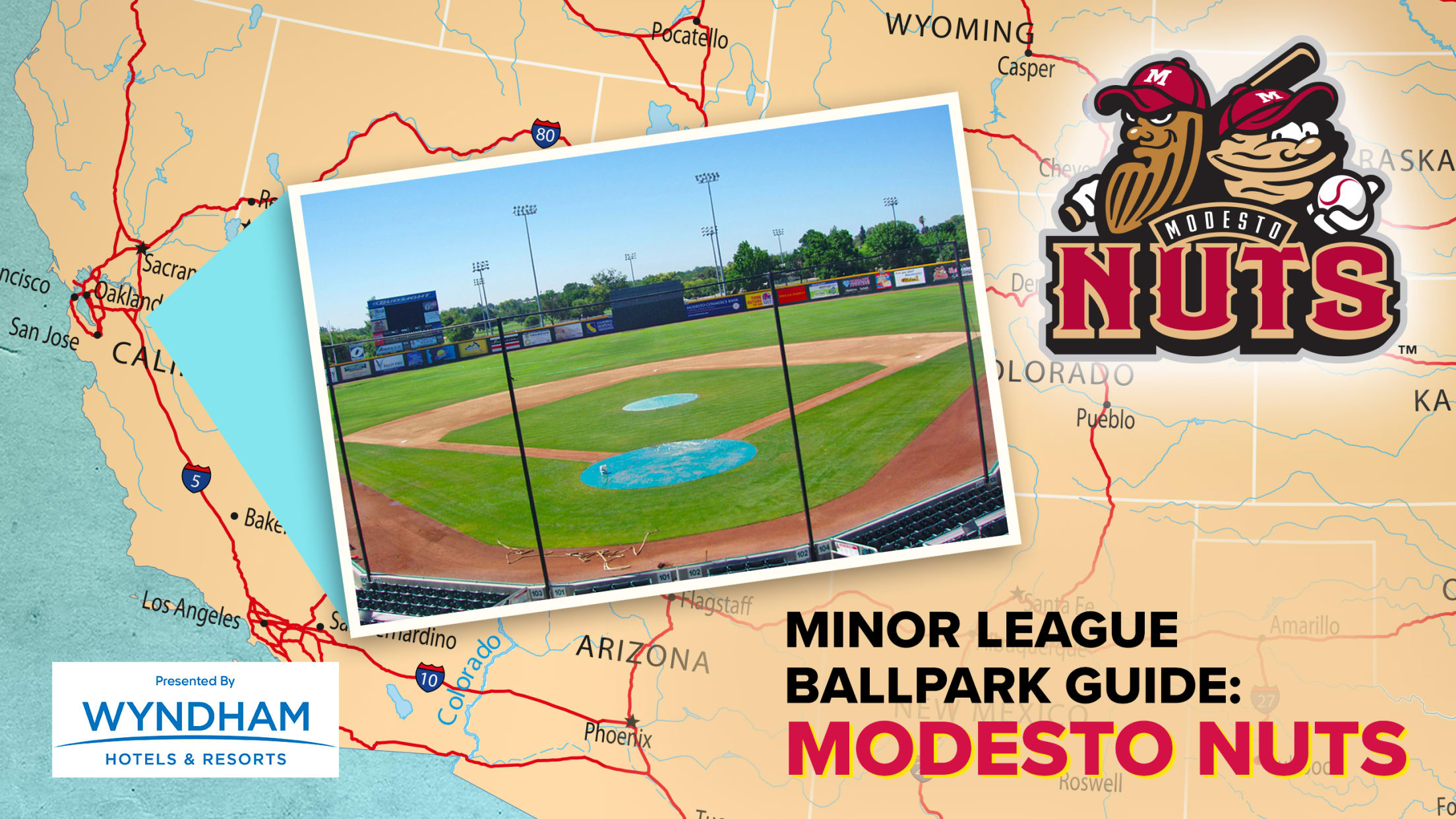 Scroll
Explore Modesto's John Thurman Field
Welcome to John Thurman Field, where the Modesto Nuts keep the parent-club Mariners rooted in the mainland, the fans celebrate their agricultural roots and mascots Al, Wally and Shelly never get too salty.
Modesto Nuts (Affiliate of the Seattle Mariners since 2017)
Established: 1946 (as the Modesto Reds)
Ballpark: John Thurman Field (opened 1955, as Del Webb Field)
League: California League
Notable Alumni: Tony Freitas, Dick Greco, Sparky Anderson, Rollie Fingers, Rickey Henderson, Reggie Jackson, Tony La Russa, Joe Morgan, Ted Simmons, Jose Canseco, Mark McGwire, Jason Giambi, Nolan Arenado, Troy Tulowitzki, Miguel Tejada, Charlie Blackmon
Championships: 1950, 1954, 1959, 1966, 1972, 1982, 1984, 2004, 2017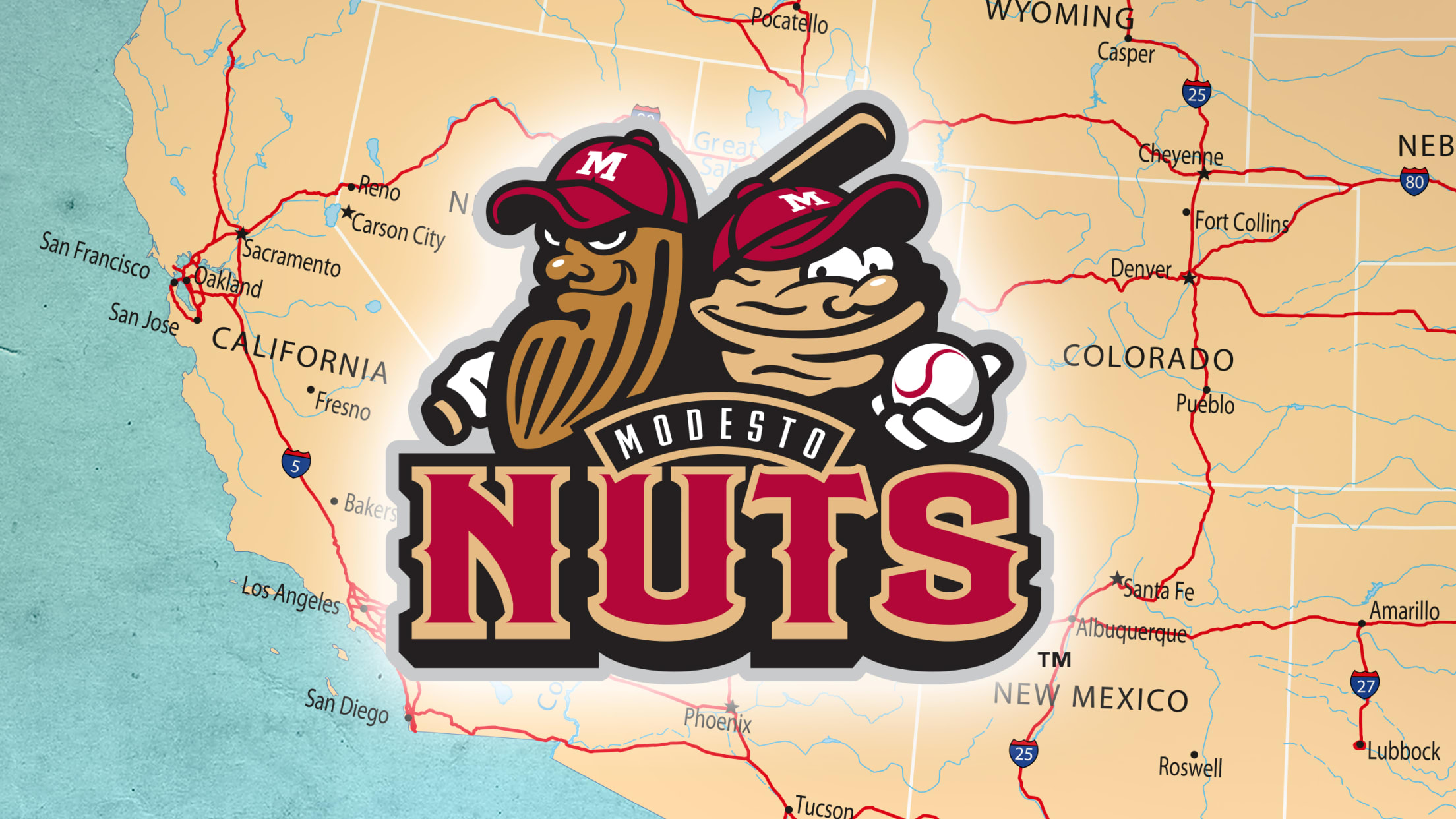 When the Mariners bought a majority share in the Modesto franchise after the 2016 California League season, the deal signified that one of the Minors' most historic clubs on the West Coast also had a bright future. The Nuts can draw a straight line back to the 1946 Modesto Reds -- one of the teams debuting in the Cal League's rebirth after World War II. The franchise was part of the circuit's biggest home run race , featured future stars of the Oakland A's in the late '60s, '70s and '80s and ushered its ballpark through a major renovation in the 1990s.
Today, John Thurman Field is the hospitable home of the Nuts. The Nuts, situated in California's fertile Central Valley, can't be said to be the only team in Minor League history to base their identity upon the product grown by local agriculturalists, but they are undeniably the nuttiest.
John Thurman Field
Ballpark Location (via Google Maps)
Nuts Roster
Nuts Schedule
601 Neece Drive
Modesto, CA, 95351
(209) 572-4487
Capacity: 4,000
Dimensions: right field, 319; center field, 400; left field, 312
Park Factors (2021-22)
100 = league average
Runs: 93 | Homers: 59 | Hits: 99
California League environment: 5.83 runs per team per game (highest among 11 full-season leagues)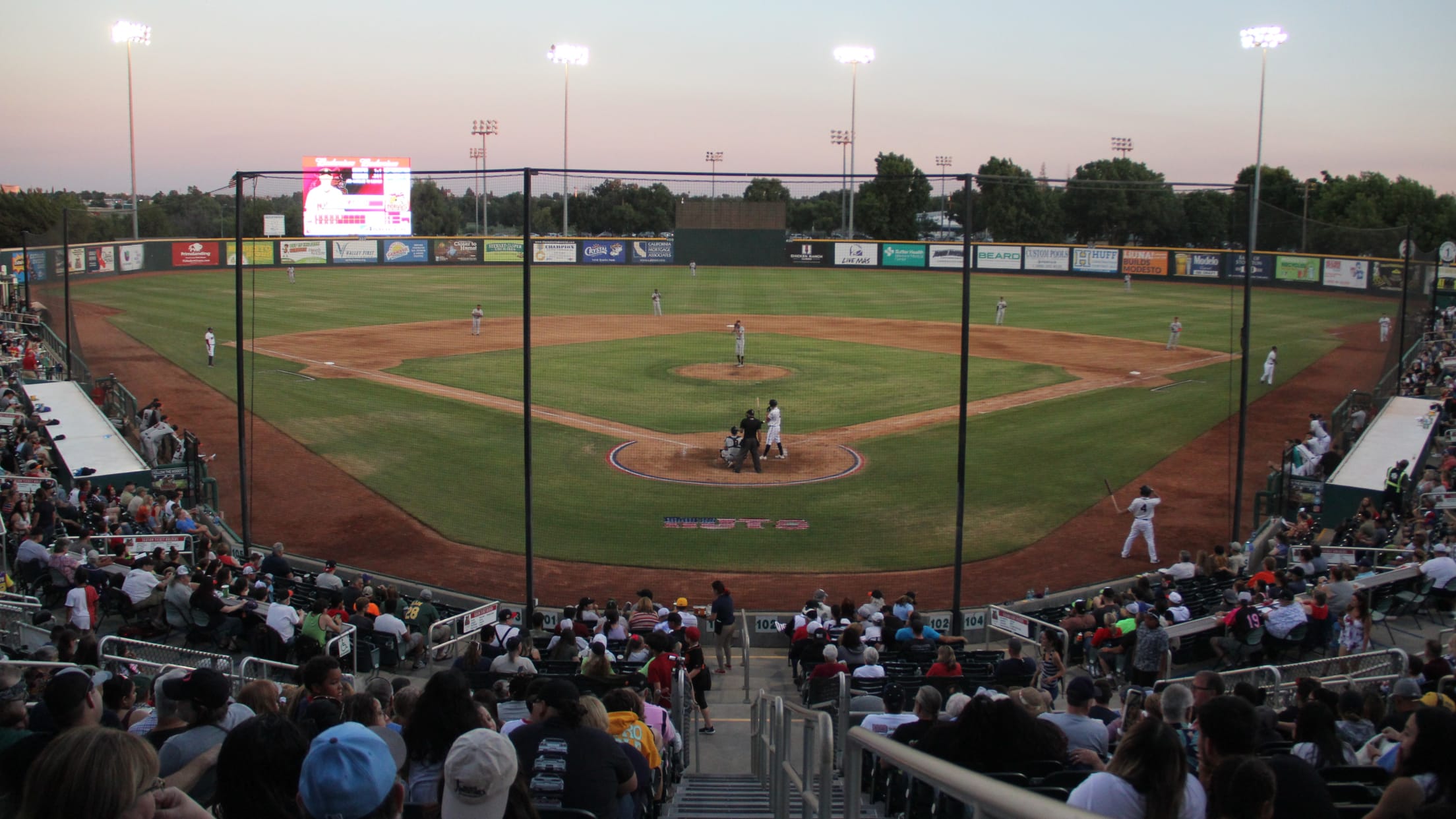 With a timeless, intimate atmosphere, John Thurman Field is a dream for baseball nostalgists as well as fans (of any era) who can never get too close to the action. Whereas some Minor League parks are beloved for frills ranging from amusement park rides to luxury boxes that could be mistaken for fine restaurants, this ballyard is a favorite because it's all about baseball. The Nuts imbue the gameday atmosphere with MiLB-style fun in the form of mascots, between-innings entertainment and local flavor, but the game itself is king.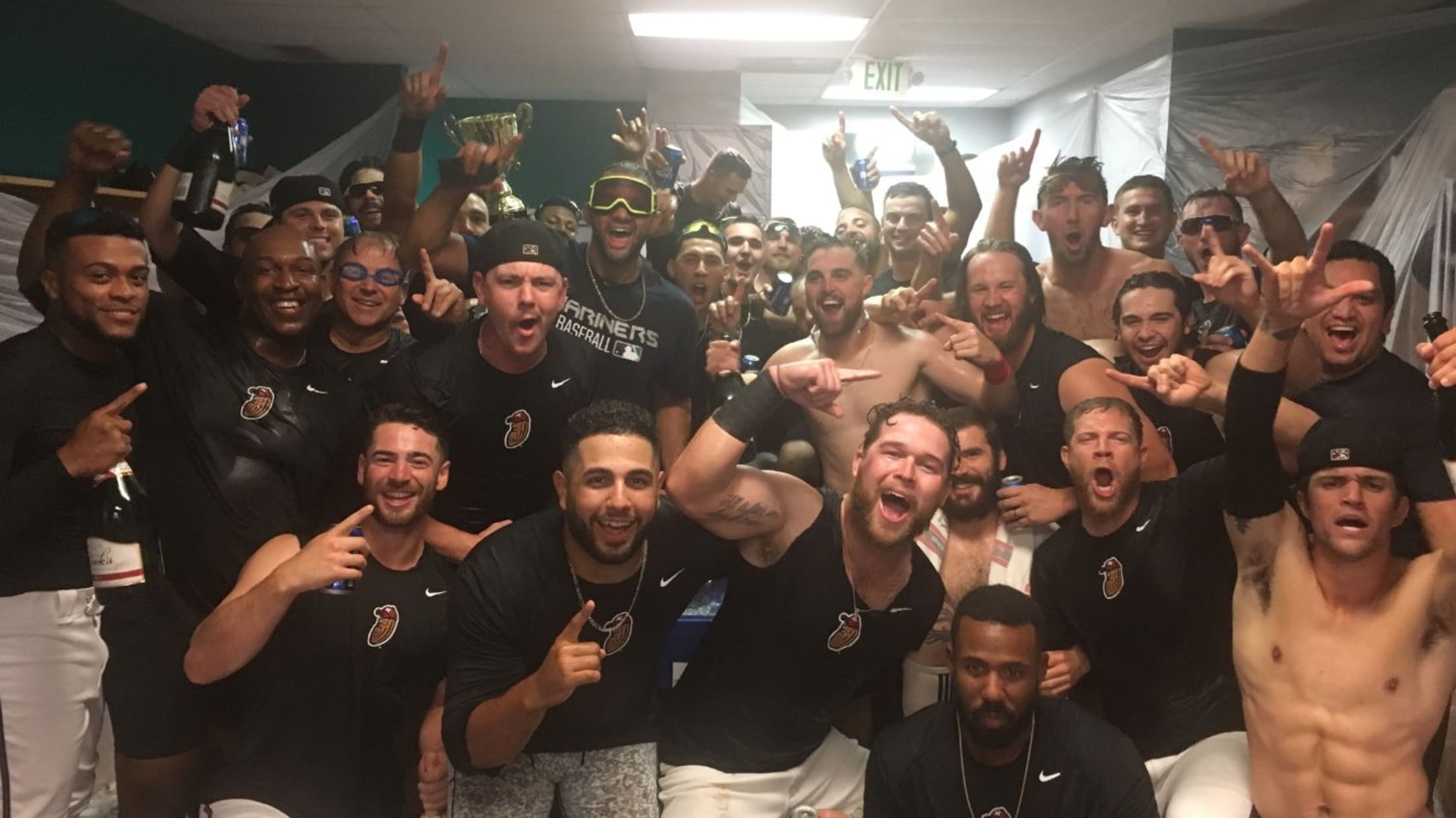 Municipally owned, the Modesto diamond was christened Del Webb Field in 1955. Webb, a co-owner of the Yankees from the mid-'40s to the mid-'60s, was born in Fresno and played semipro ball in Modesto as a young man.
The park went through changes (including renovations after a 1957 fire) over the ensuing decades, and took on the name of California assemblyman and World War II veteran John E. Thurman in 1983.
Features
The sightlines of the diamond at John Thurman Field are tough to beat, no matter your seat -- all of which are more or less atop the infield. A stone's throw from the western bank of the Tuolumne River and facing just about due south, the ballyard gives fans on the third-base side incredible sunset views. Those on the first-base side benefit from a little more shade during the hottest hours of a night game.
Much of the stadium's concourse is both open-aired and shaded, with built-in concession stands under the grandstands along the baselines and various food and drink carts on the opposite side of the walkway.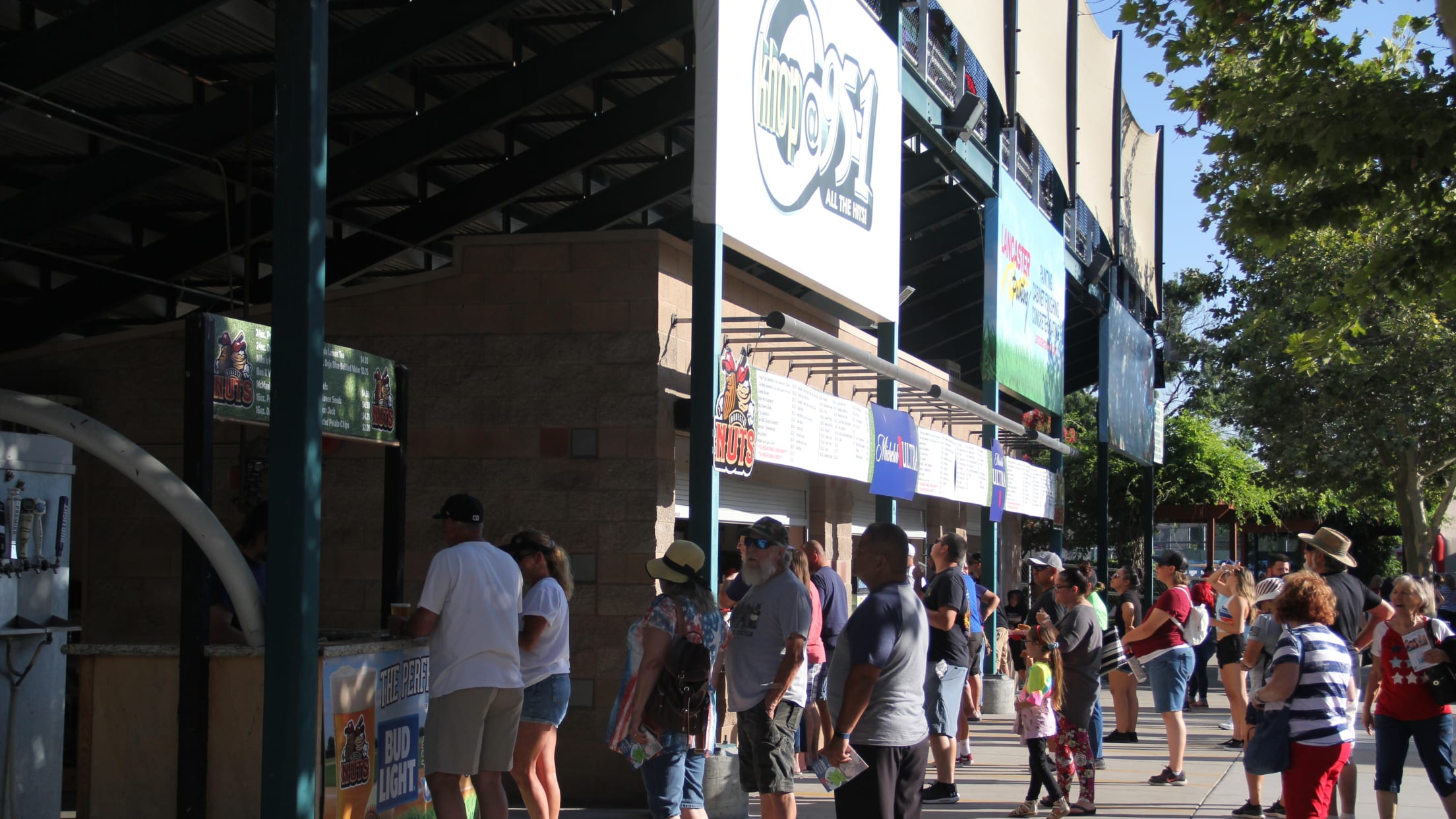 There are ballparks where one might wonder if the players can actually hear the exhortations from fans in the stands. John Thurman Field is not one of them. The stadium's old-fashioned intimacy makes player access as easy as it is just about anywhere in pro baseball.
The concourse down the right-field line runs right up to the Nuts' bullpen, where the fence is low enough for a child to hand over an object to be autographed. There are also spots along both lines where fans can stand as near to the field as humanly possible without signing a contract and putting on a glove.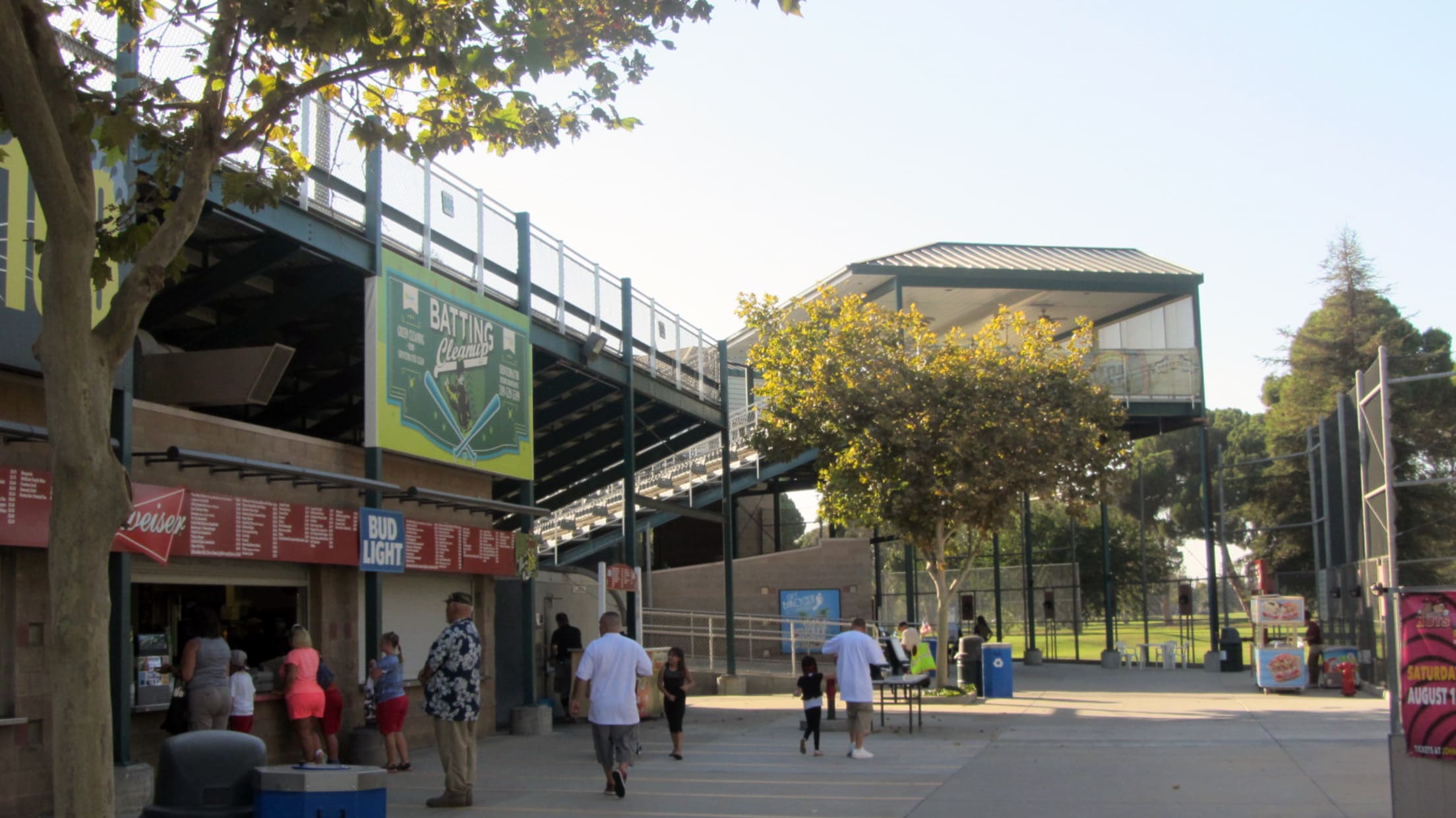 The Hot Corner Deck -- a group seating area right on top of, well, the hot corner -- puts fans close enough to hear the third-base coach talk to runners. It features high-top tables and comfortable seating to go with barbecue menu options.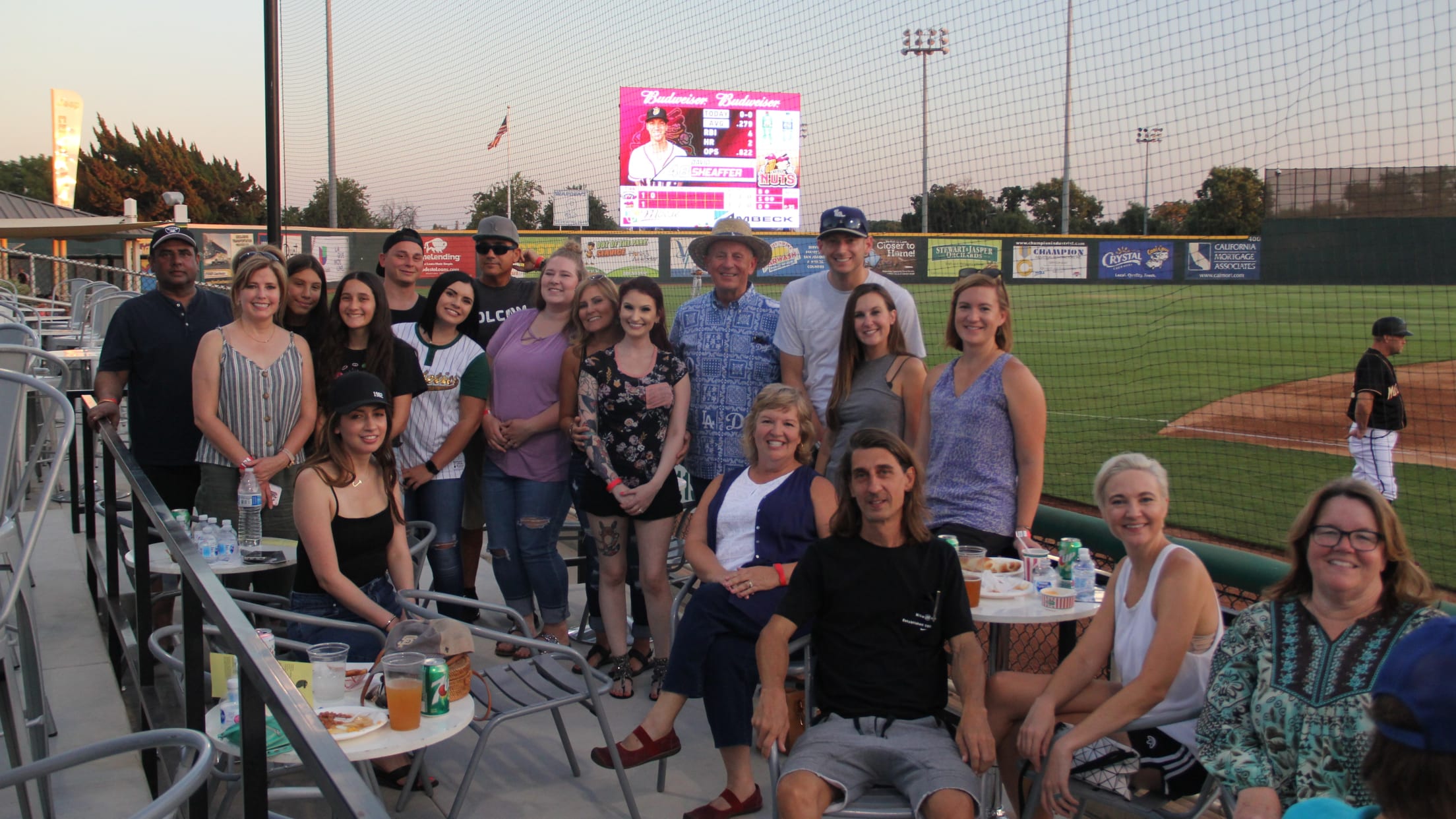 The Dust Bowl Pavilion (sponsored in 2022 by California's Dust Bowl Brewing Company) is another group seating section along the left-field line. Dust Bowl Pavilion packages include all-you-can-eat barbecue for 90 minutes and a ticket for a seat in an upper box.
There are two additional all-you-can-eat barbecue party deck options with seating behind home plate, and two luxury suites -- one of which is leased to Valley First Credit Union and the other of which is available for groups of 16 and includes a concession package.
Concessions
Here, fans will find standard ballpark fare at agreeable Minor League prices, but the Nuts also take pride in experimenting with specialty items from season to season. Asada fries have been a big hit in recent years and figure to be around for a while.
On a hot day, make sure to stock up at the shaved ice stand.
On Friday and Saturday games, find La Prima Vera's booth for top-notch tacos.
Craft beer from Dust Bowl and other breweries are available throughout the park.
Mascots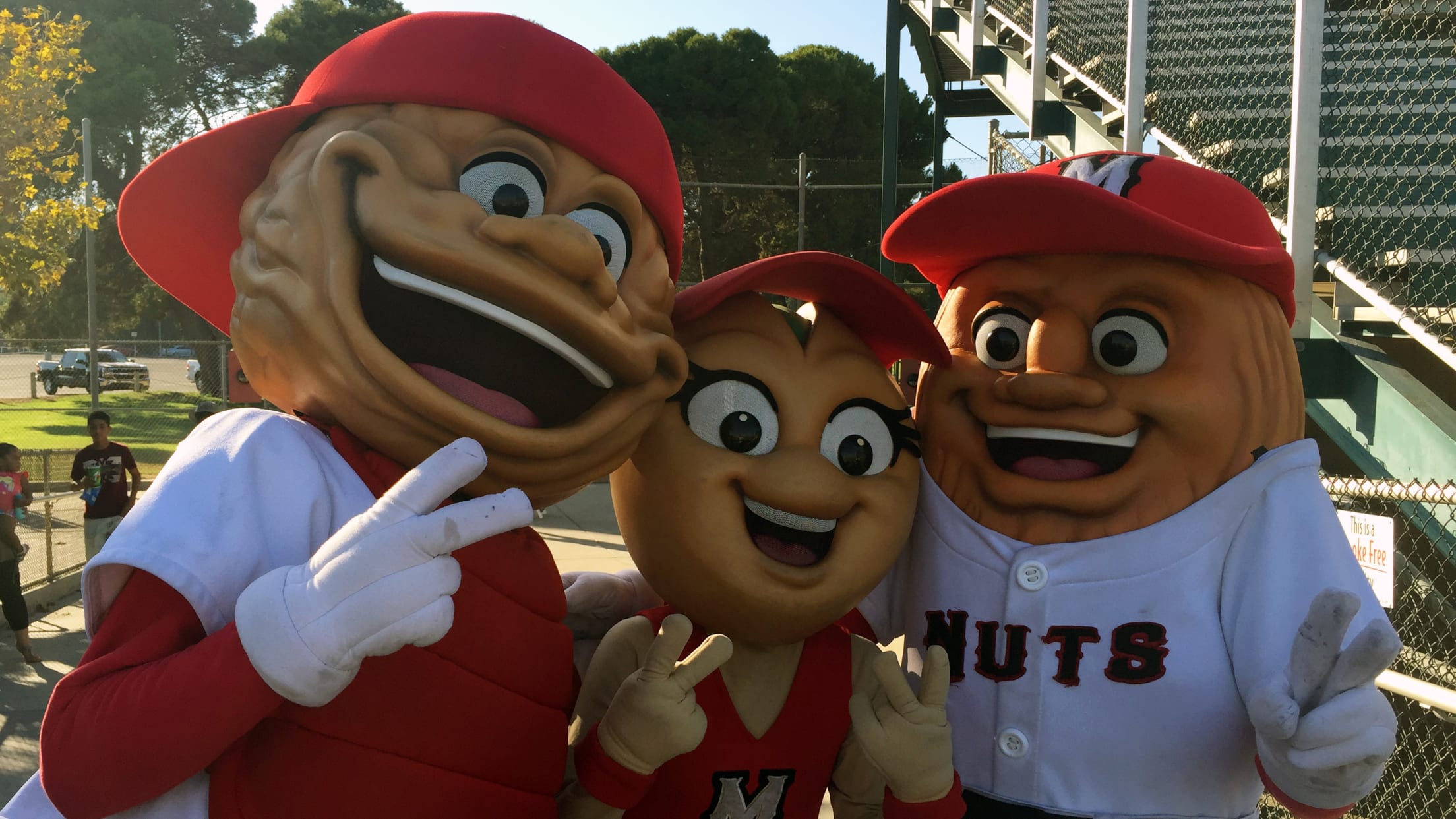 The Nuts' mascots are local products.
Wally and Al, gigantic nuts, are said to have burst onto the scene from a tree near the stadium. Brothers, Wally is the elder sibling who likes to liven up a "party mix," whereas the less mature Al has a wild streak and is prone to nutty pranks.
Shelley, of sassy personality and warm heart, cracked into the park about 10 years after Wally and Al, trading a slow life back on the farm for the hustle and bustle of John Thurman Field.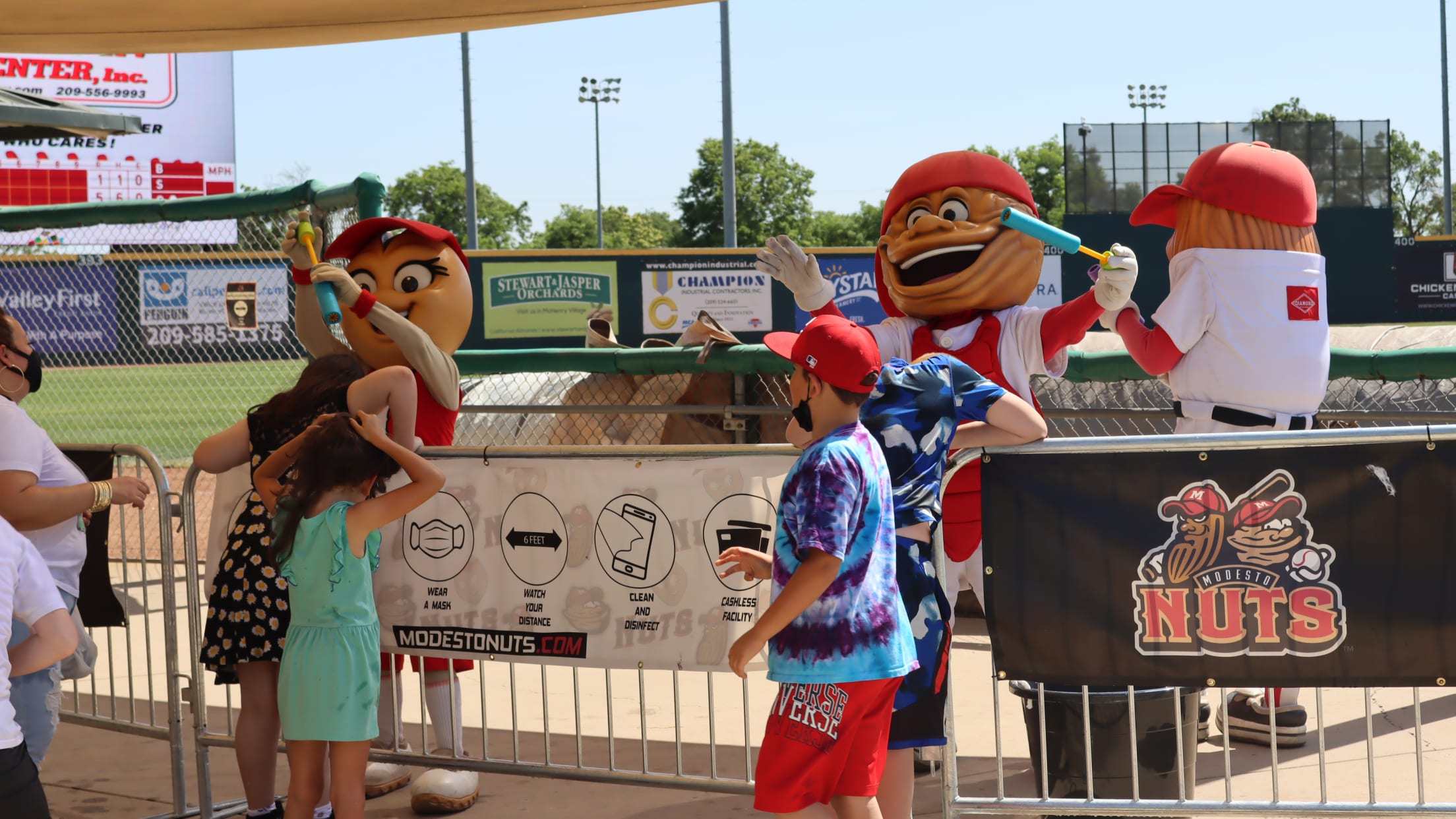 Local attractions
Feeling sporty? Steps from the gates of John Thurman Field is a municipal park with a soccer pitch, and the city-run Dryden Park Golf Course is an under-10-minute walk away.
The McHenry Museum is dedicated to the history of Stanislaus County (of which Modesto is the seat) and includes exhibitions about agriculture, the Gold Rush, the Yokuts Native Americans and Modesto's extensive baseball history. The similarly named but not the same McHenry Mansion, operated by the municipality, offers free tours of a 19th-century estate preserved to the era. The Great Valley Museum, which has a planetarium, focuses on science and natural history.
At the end of the opening week of each month in the spring and summer, downtown Modesto opens several blocks to a pedestrian-oriented First Friday festival, with food and beer vendors, dancing, shopping and more.
The "American Graffiti" Festival, a classic car show and parade held every summer, pays homage to George Lucas' 1973 nostalgia-tinged, Modesto-set cinematic romp. Die-hard fans of the film -- or classic cars -- will want to keep their eyes on the burgeoning Graffiti USA Museum.
Those who prefer two wheels to four need not despair; in 2021, Modesto ranked 73rd in the entire nation in a LawnStarter evaluation of bike-friendly cities, and People for Bikes has noted Modesto's evolution into a cycling haven over the last decade. Rental options in town are still scarce, though, so you'd be wise to come with your own bike or perhaps pick up a rental earlier in your road trip.
The Tuolumne River Trail is a part of what makes Modesto a great bike city, but it's also enjoyable on foot.
Food and drink
Camp 4, named for the legendary climbers' camp in Yosemite National Park, is open for lunch and dinner with wines from near and far and beers from (predominantly) up and down the West Coast. For food, think charcuterie boards, panini, poke bowls and entree salads.
Galletto Ristorante offers fine dining, updating its Italian menu seasonally. The northern and southern part of the boot get more or less even play, with an assortment of fritto misto, grilled fish, carbonara, pizzas and more ready to please any crowd. A number of excellent California wines are on hand, as are options from Italy, France and Spain.
Widely beloved, La Morenita has been serving upscale Mexican fare in town since the '70s.
El Coco Loco specializes in seafood but has an extensive menu of all the Mexican casual cuisine and comfort food hits.
TNK Vegan Cafe is a family-owned establishment with tasty new takes on American classics (burgers, club sandwiches, barbecue chicken) and Pan-Asian dishes (lemongrass chicken, orange chicken, Mongolian beef, wonton soup) at reasonable prices.
Zip by Queen Bee Coffee House or Preservation Coffee & Tea for a satisfying morning fix.
Lodging
There are many hotels near downtown Modesto, particularly along McHenry Ave., and more still on Orangeburg Ave. near Highway 99 -- about a 10-minute drive from John Thurman Field.
Vacation rentals grow more abundant and more varied the wider the net a traveler is interested in casting. There are houses and apartments available around town, with options for different budgets.
It's possible to stay on a working ranch in the Central Valley and still be within a 45-minute drive to the ballpark.
Within an hour's drive to the west are winery and winery-adjacent lodging, and Yosemite National Park itself is just a couple hours to the east with places to stay -- both rustic and luxurious -- in the valley and hills in between.
Moving on
If you're in the Central Valley, you're looking at a lot of low-hanging fruit in terms of both agricultural abundance and options for a baseball road trip.
Head north on Highway 99 and within 40 minutes you can be at a Stockton Ports (A's Single-A affiliate) game. From there, stay on 99 northbound or take the 5 Freeway in the same direction and check out the Sacramento River Cats, Triple-A affiliate of the Giants.
If you're headed south, the Fresno Grizzlies (Single-A affiliate of the Rockies) play not 100 miles down the road from John Thurman Field, and the Visalia Rawhide are just another 50 miles. Of course, adventurous types may want to elongate that trip with a loop eastward through Kings County and Sequoia National Parks in the Sierra Nevada.
If you're dead set on heading straight to the Bay Area to see big league games, make sure you know the way to San Jose to get in a visit to San Francisco's Single-A affiliate.
Any way you go, you'll find options for enjoying California's majestic outdoors, vibrant cities and, of course, many outstanding ballparks.
The Road to Seattle
Literally, it's a long but straight shot on the 99 and the 5. Most Mariners prospects will be better off taking it step by step. The next stop is closer to the mothership, in Everett, WA. From there, it's off to Double-A in North Little Rock, AR, before coming back to the Evergreen State for Triple-A in Tacoma.
Single-A: Modesto Nuts
High-A: Everett AquaSox
Double-A: Arkansas Travelers
Triple-A: Tacoma Rainiers