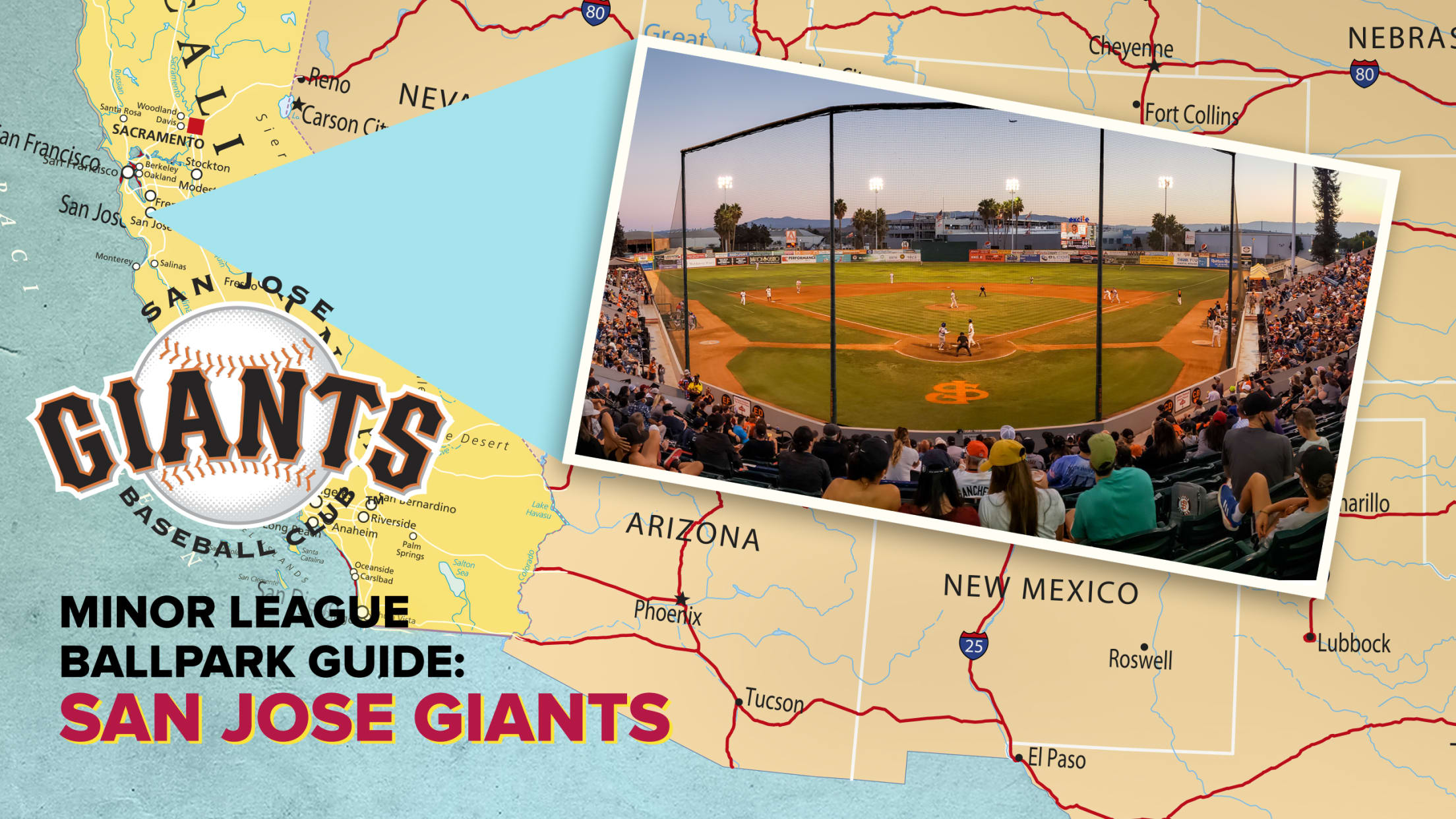 Scroll
Visit San Jose's Excite Ballpark
Welcome to Excite Ballpark, where the San Jose faithful bleed orange and black while cheering on future Giants, churros and craft beer are in delightful abundance and mascot Gigante makes all visitors forever fans.
San Jose Giants (Affiliate of the San Francisco Giants since 1988)
Established: 1947 (as San Jose Red Sox in the California League)
Ballpark: Excite Ballpark (opened 1942, as Municipal Stadium)
League: Low-A West
Notable Alumni: George Brett, Ron Washington, Rod Beck, Royce Clayton, Bill Mueller, Russ Ortiz, Matt Cain, Tim Lincecum, Sergio Romo, Pablo Sandoval, Madison Bumgarner, Buster Posey, Brandon Belt, Brandon Crawford
Championships: 1949, 1953, 1962, 1967, 1979, 1998, 2001, 2005, 2007, 2009, 2010, 2021
Many Minor League teams have rich partnerships with a parent club, but few affiliates can match the San Jose Giants' ties to the big league organization just up the 101 Freeway.
The city's connection to the Giants runs so deep that in the decades before the construction of Oracle Park, there were plans at various points to move the big league team to San Jose. From their proximity to their shared passionate fanbase and common moniker, the Giants are an integral part of Minor League Baseball in San Jose, and Minor League Baseball in San Jose is an integral part of the Giants' system.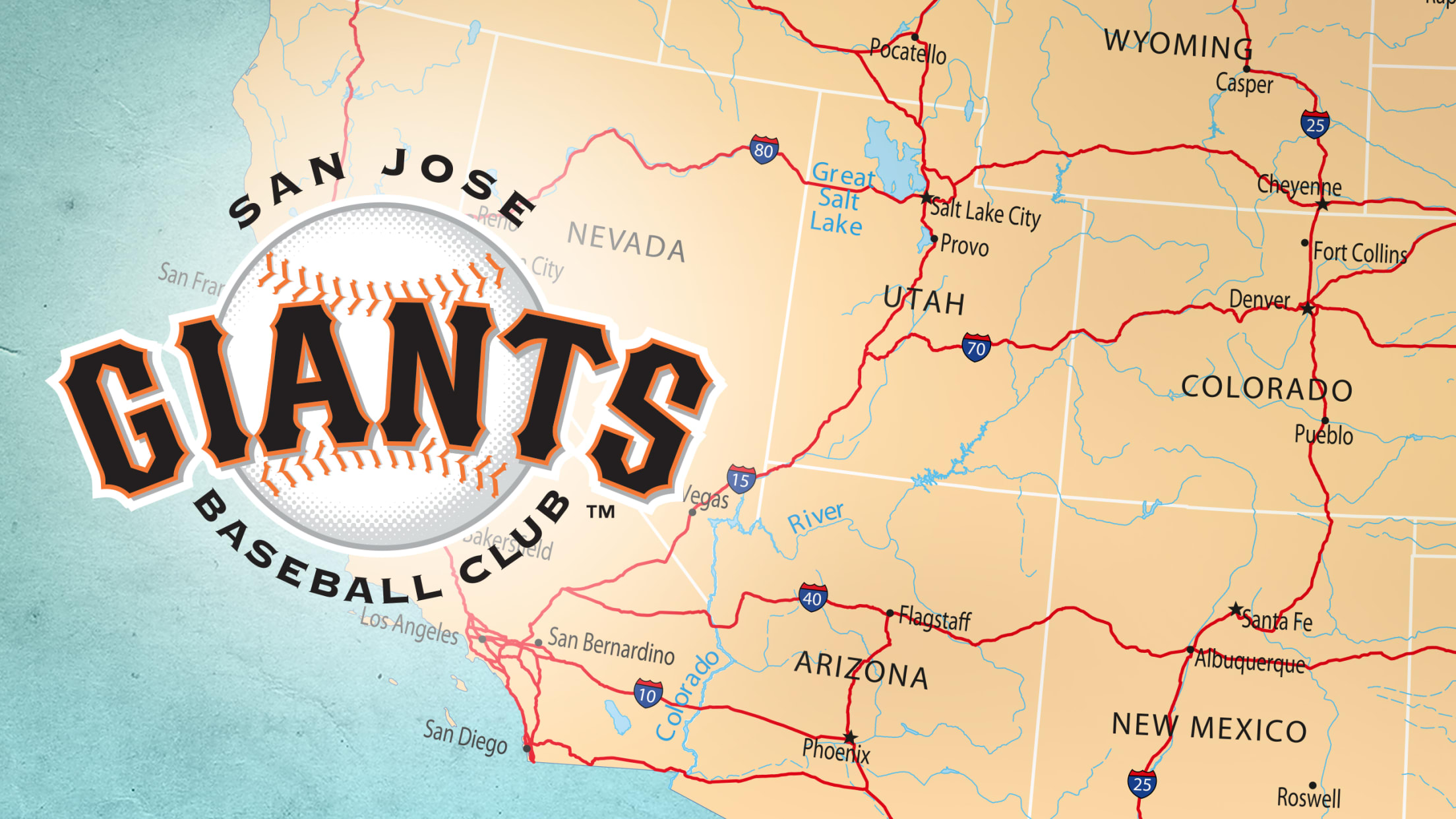 Excite Ballpark is an absolute must-stop spot for Giants partisans, but any baseball fan will love its intimate and lively baseball atmosphere featuring exceptional concessions and top-notch Minors-style fun.
Excite Ballpark
Google Maps
Giants schedule
Giants roster
588 East Alma Ave.,
San Jose, CA 95112
909-888-9922
Capacity: 4,200
Dimensions: left field, 320 feet; center field, 390 feet; right field, 320 feet
A Works Progress Administration poem in concrete, Excite Ballpark opened in a suburb coming out of the Depression and has balanced its classic, hometown feel with modernization as San Jose has blossomed into a multicultural tech capital in its own right.
On April 24, 1942, the the San Jose Owls christened the park -- then called Municipal Stadium -- with a 13-1 shellacking of the reigning Cal League champion Fresno Cardinals. More recently, San Jose has claimed six 21st century titles and served as a breeding ground for World Series champions in San Francisco. All the while, it's been a Santa Clara Valley treasure.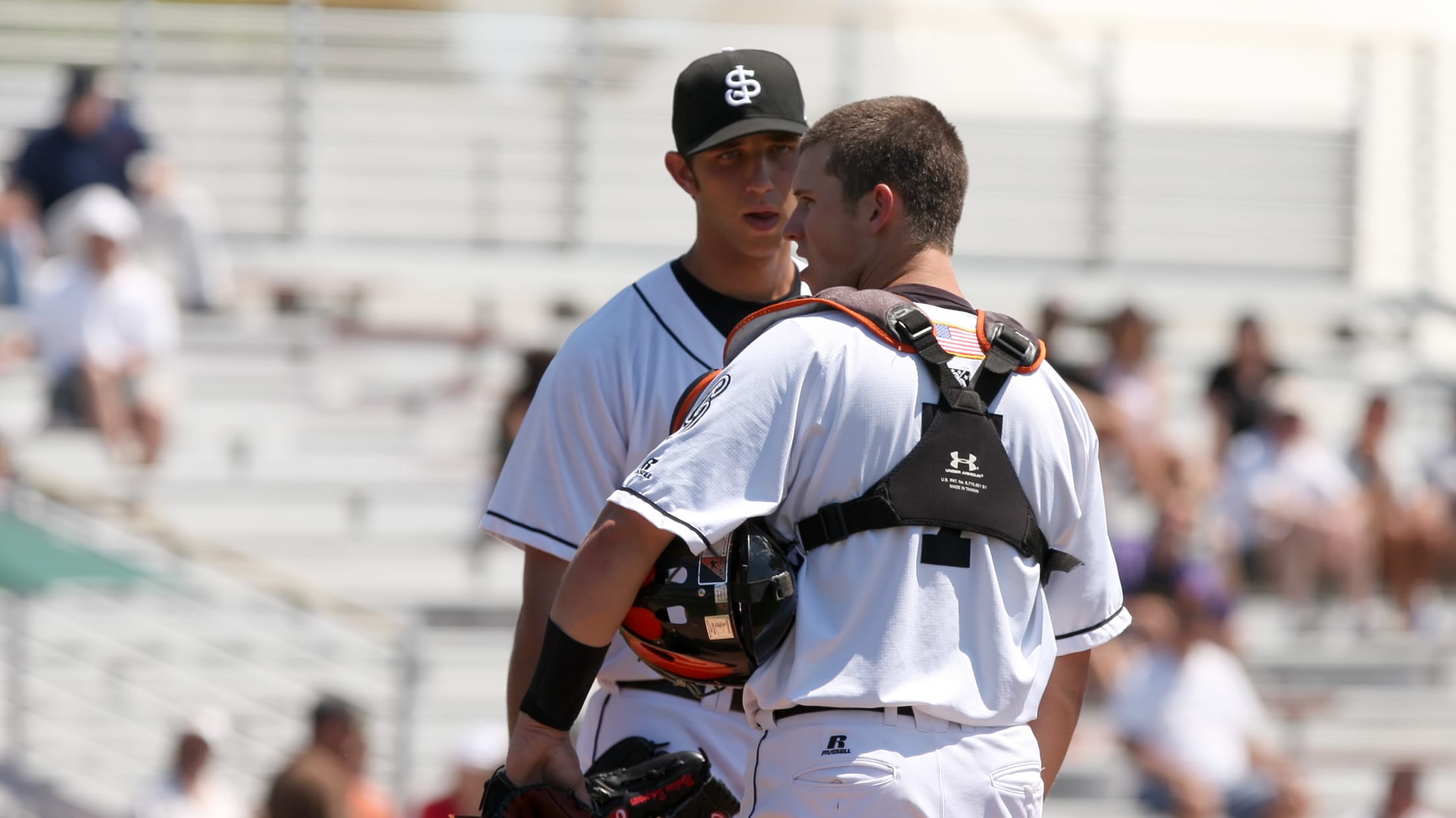 Features
Murals inside and outside Excite Ballpark display the team's pride in its connection to the Giants and its own heritage. There are homages to Madison Bumgarner, Buster Posey, Matt Cain and San Jose's own Kevin Frandsen. George Brett also gets the mural treatment, as do non-San Jose baseball figures from Jackie Robinson to Eddie Gaedel.
There's one wall dedicated to the team's championship seasons, and another cataloguing each San Jose alumnus who's gone onto San Francisco. Don't miss painted tributes to the club's former identities.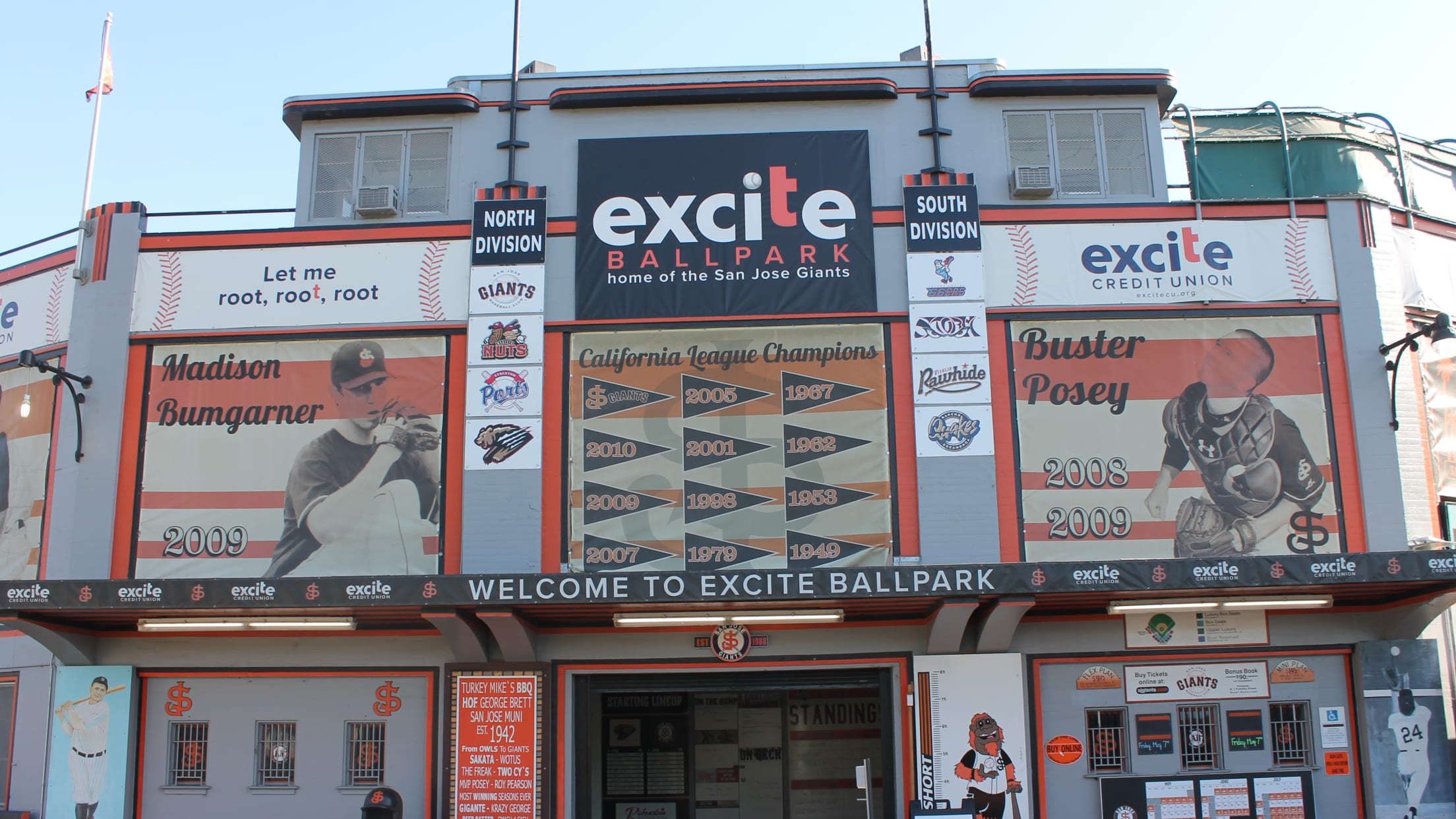 "Smash for Cash," a game in which contestants try to bust a truck's headlights via thrown baseballs, is a San Jose tradition. Should the "smash" occur, the "cash" is won for a predetermined fan. COVID-19-related precautions scratched Smash for Cash in 2021, but the Giants are determined to bring it back -- even if it needs to be revamped to meet health and safety protocols.
It's a good thing, because even when the thrower misses, there's a highly satisfying sound.
'Krazy' George Henderson, the inventor of the wave, has been a steady presence here. In 2003, the team honored him with bobblehead, some of which occasionally pop up on eBay with staggering price tags.
For all the pomp, though, Excite Ballpark's best feature may be its intimacy. Typical of the stadium's vintage in the best way, the seating feels directly on top of the action on the field.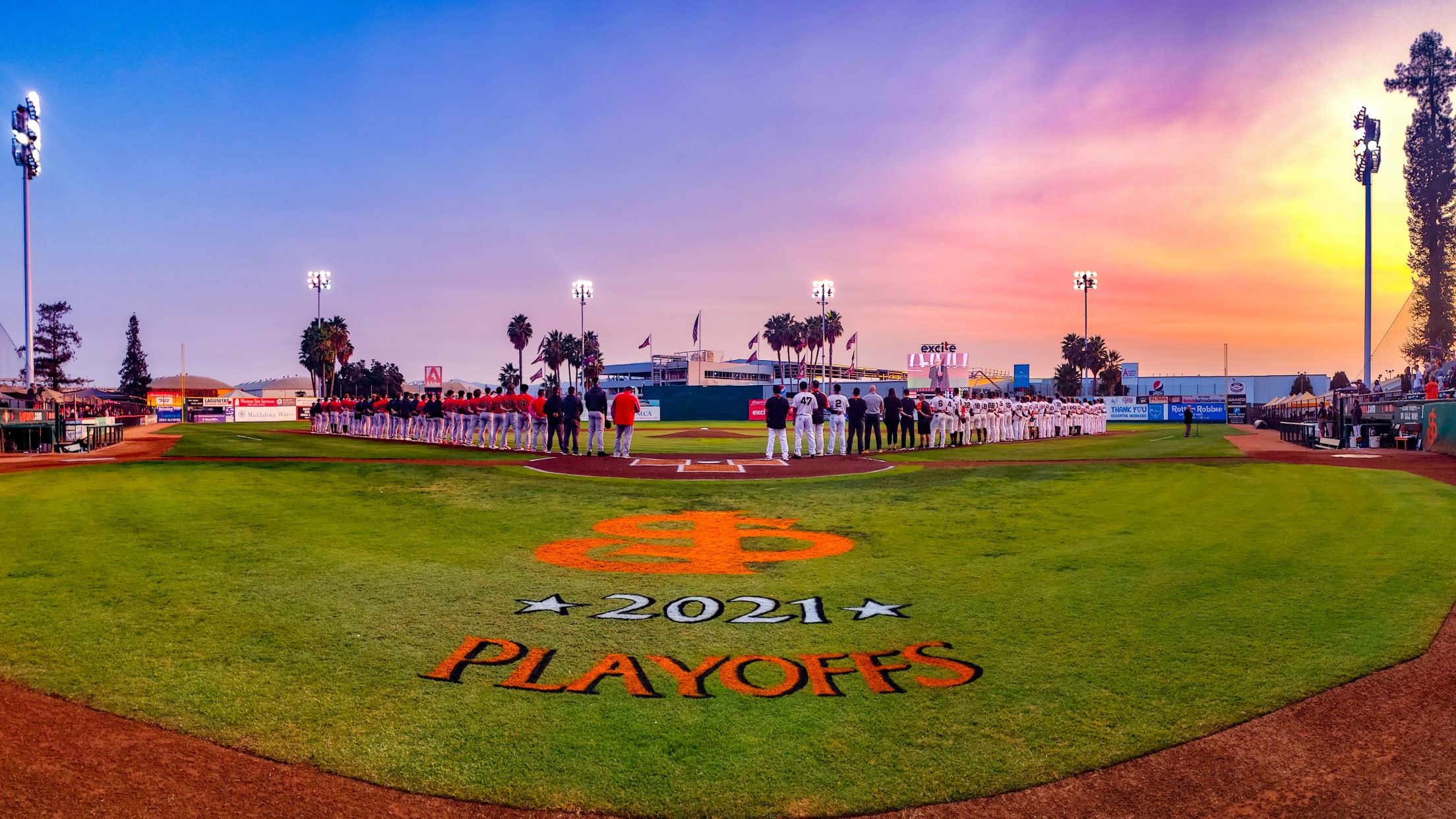 The Giants also offer a variety of group packages, including a premium "party patio" near the home dugout and a pair of field-level patios down the left-field line.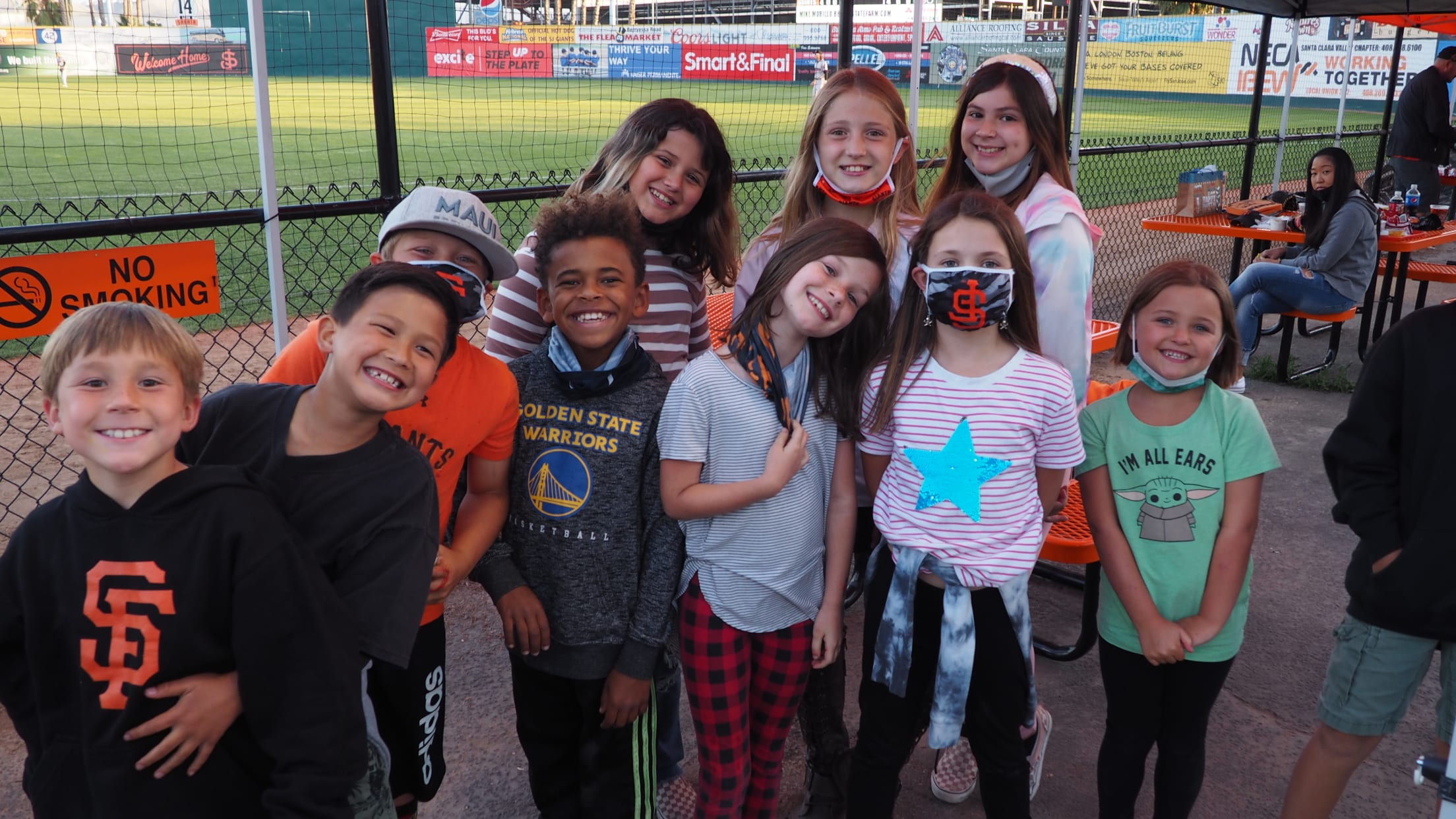 Mascot
Gigante, an orangutan-like being said to weigh "5,000 bananas" and toss coconuts, embodies the phrases "living large" and "friendly giant."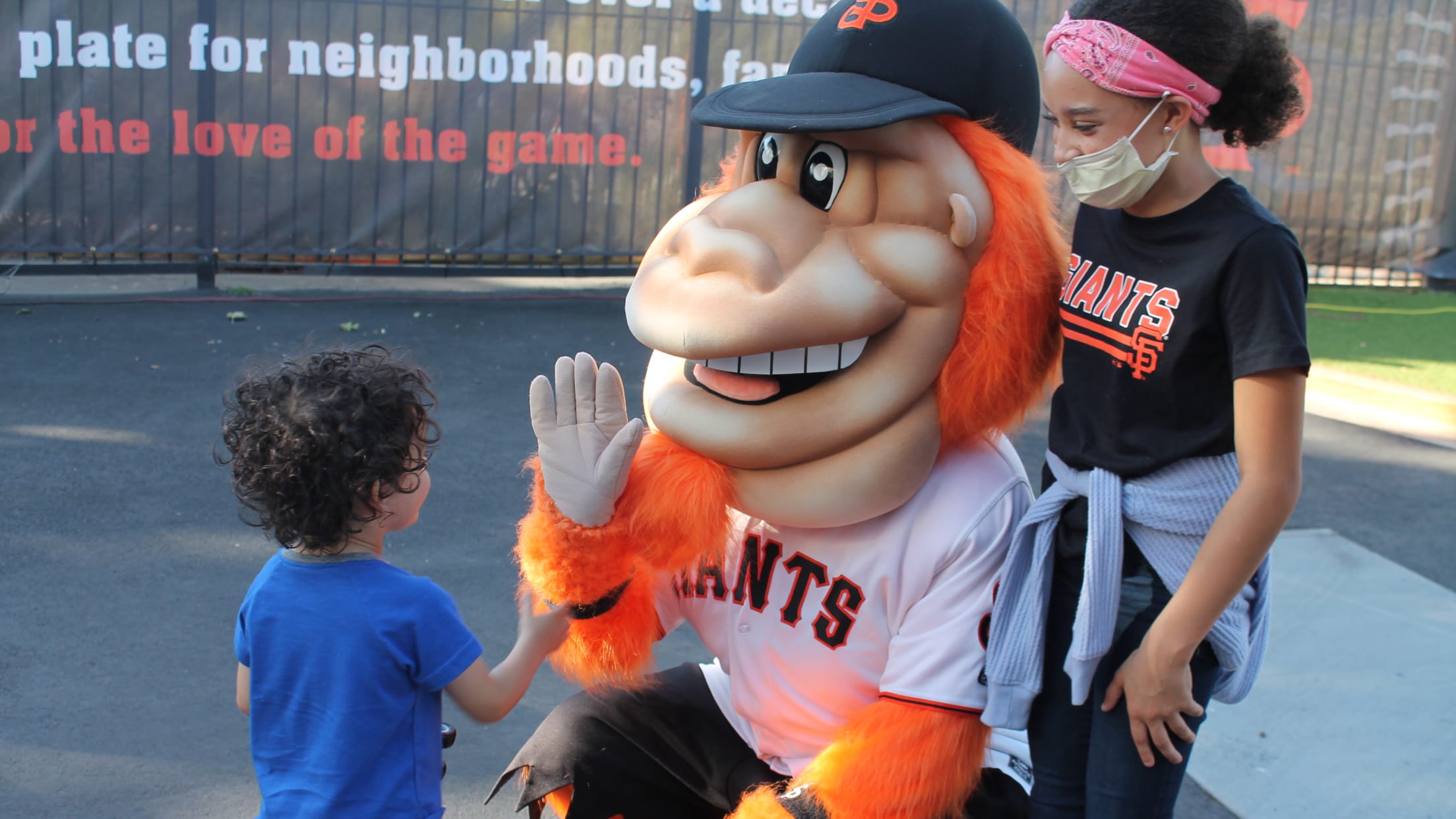 Gigante routinely befriends fans with high-fives, but even the most mascot-averse rooter is likely to be won over when he goes into a dance. Gigante's moves tend to be funky, and he matches them to the mood -- such as going into the Hustle on '70s Night.
Concessions
A Low-A team by classification, the Giants are prepared to welcome big league foodies.
The team's Copa de la Diversión entry is the Churros, which honors the delicious fried dough treat as well as iconic in-house churros vendor Hipolito 'Paul' Cerda and his legendary Olimpos Churros stand.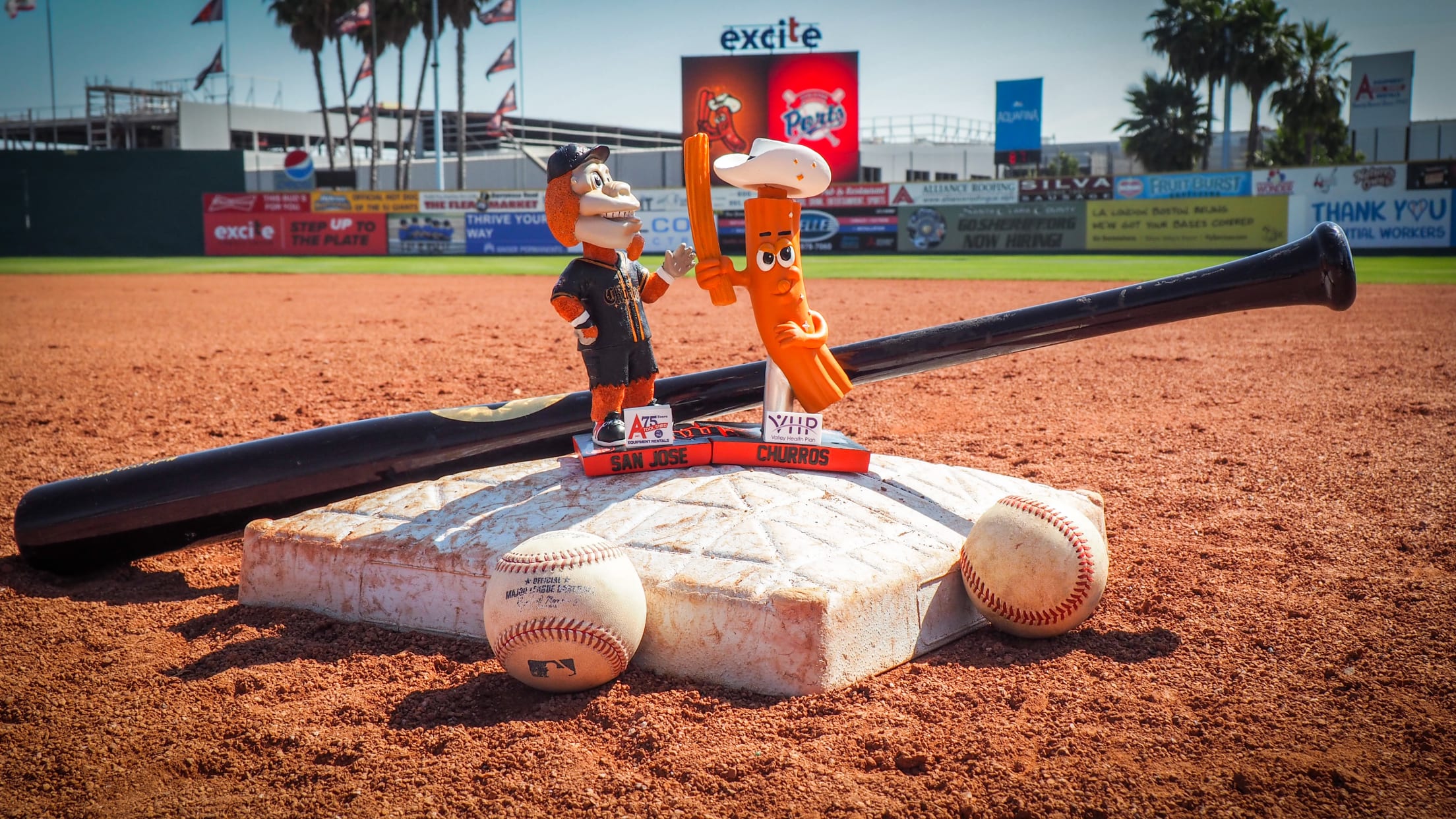 Gigante's Alley, a concourse behind the seats along the third-base line, has multiple stands with local takes on standard and atypical ballpark fare alike. No self-respecting gastronome walks away without some garlic fries and a couple tacos.
Gigante's Alley also leads to Turkey Mike's BBQ. Baseball history buffs find Turkey Mike's extra tasty, as it's named after 'Turkey' Mike Donlin, who got his start with San Jose's Pacific Coast League team in 1898 and, among other feats, led the NL with 124 runs for the Giants -- the New York Giants -- in 1905. Donlin liked to strut in the manner of a fowl, earning him his nickname, and lo these many years, a namesake in the form San Jose's finest barbecue stand.
Some baseball fans seem to like beer. Excite Ballpark features a beer-related promo that began in 1988 as the brainchild of Mark Wilson, who retired as general manager after 38 years with the team (30 as GM) in 2020. Wilson's in-game promo, which has been adapted and imitated elsewhere, is beautiful in its simplicity. Each game, the Giants name an opposing hitter the "beer batter." If the beer batter strikes out, any beer on draft is half-priced for the 15 minutes following the third strike.
In 2021, the team also launched a merchandise line celebrating this fan-favorite event, and there are numerous craft beers in house.
The Strike Brewing Company specializes in baseball-themed brews (Two Seam IPA, Triple Play IPA, Colossus of Clout Red Ale, Fielder's Choice Harvest Ale, etc.), many of which are available at the Strike Brewing Co. stand in the ballpark. Members of the Giants organization even helped name its Haze of Fame.
Other local breweries, including the beloved S27 Ales, also have an in-park presence.
Local attractions
While San Francisco's many enticements are easily accessible by a variety of transportation options, San Jose is one of the rare Minor League cities with a population larger than that of its parent club. As such, there's a ton going on right in town.
Almost directly outside of Excite Ballpark is Kelley Park, a public space of some 170 acres featuring the city's Japanese Friendship Garden, a museum known as History San Jose, the Viet Museum, a zoo and more. San Jose's public trail system covers over 60 miles, some of which wind through Kelley Park.
Also nearby is Downtown San Jose, where a visitor can drop in on the Dr. Martin Luther King Jr. Library (150 E San Fernando St.), housing the city's public library and the San Jose State University Library in an eight-story building with a gorgeous atrium. Within a few blocks of the Dr. King Library are the San Jose Museum of Art and the Children's Discovery Museum of San Jose.
Families also might want to check out the Rosicrucian Egyptian Museum and the Winchester Mystery House -- a somewhat morbid but kid-friendly haunted-mansion attraction said to be home to ghosts of the many 19th-century persons slain by Winchester rifles.
Food and drink
The craft beer selection within Excite Ballpark hints at the thriving scene outside the stadium's walls. Both Strike Brewing and S27 Ales have taprooms in San Jose, as do the Hermitage Brewing Company, Hapa's Brewing Company, Camino Brewing Co. and others.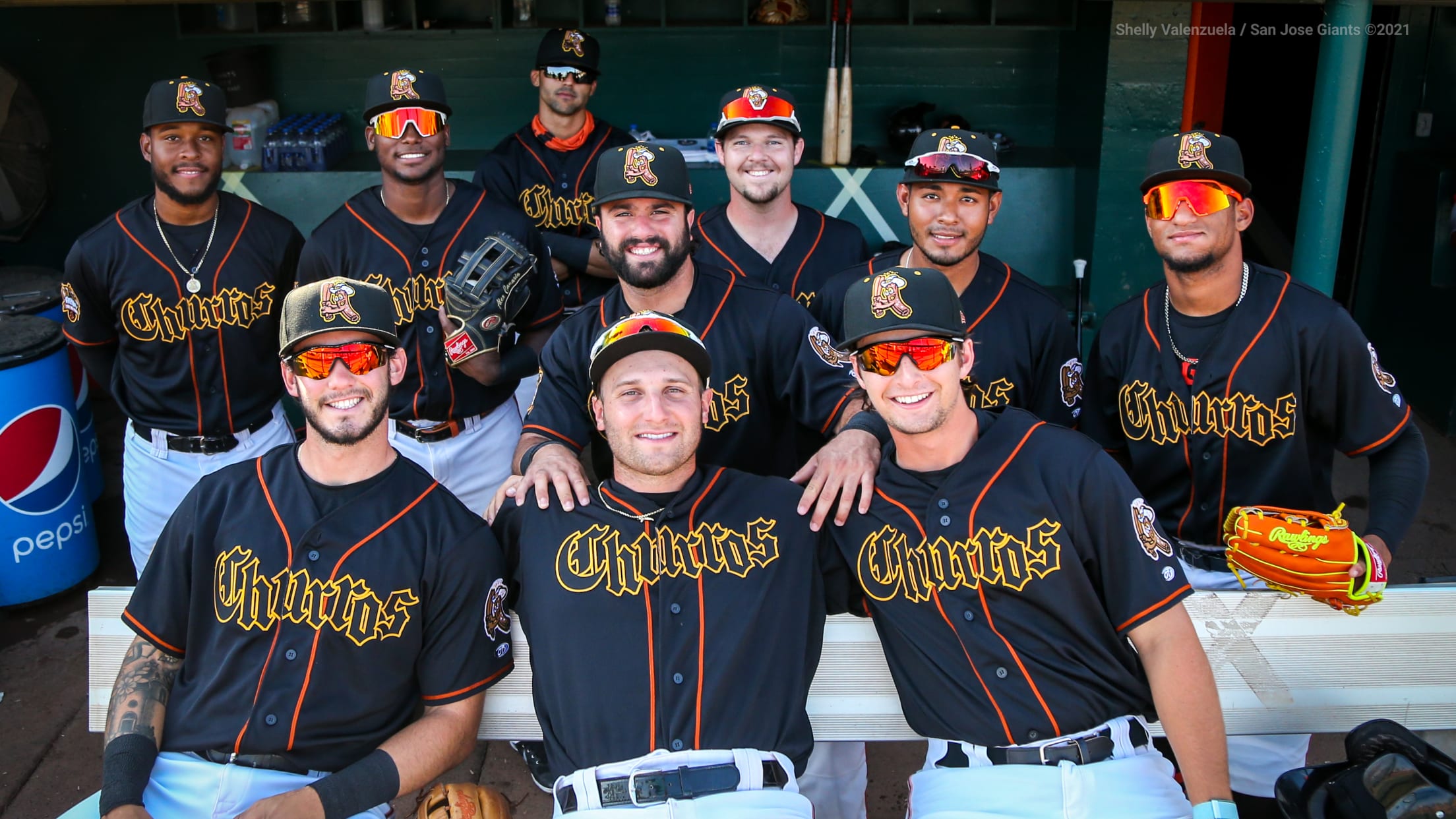 Downtown and the Willow Glen neighborhood are full of restaurants, with options for any palate or price range. Original Joe's Italian steakhouse (established downtown two years before the Giants moved to San Francisco) is an old standby. The Table (opened in 2012 in Willow Glen) centers its contemporary American cuisine on seasonal ingredients.
Pho fans will leave their hearts San Jose. Pho Kim Long and Bun Bo Hue An Nam are a couple of the numerous local favorites.
Those looking for a special morning fix could do a lot worse than the Chromatic Coffee Co., which is just a few doors down from Hapa's.
Lodging
Downtown San Jose has many hotel options. The Hyatt Regency Santa Clara is less than a 20-minute drive from the ballpark and right near another kind of ballpark -- the 49ers' Levi's Stadium.
Those interested in a exploring a different atmosphere could stay in Santa Cruz (40-45 minutes away), or even Monterey (about an hour and 20 minutes). Of course, San Francisco is just 50 miles or so in the other direction, too.
Moving on
If you knew the way to San Jose, you've likely also planned stops for Giants and A's games. But why quit there?
You could make a counterclockwise circle by starting at Excite Ballpark, hitting up Oracle Park, hopping across the Bay to Oakland, getting on the 80 to see the Sacramento River Cats (Triple-A affiliate of the Giants), taking the 5 down to the Stockton Ports (Low-A affiliate of the A's), zipping down Highway 99 to the Modesto Nuts (Low-A affiliate of the Mariners) and looping back to San Jose. Hate driving? This route could also be covered with combination of trains, ferries and buses.
Those excited to go farther afield might see the Fresno Grizzlies (Low-A affiliate of the Rockies) and the Visalia Rawhide (Low-A affiliate of the D-backs) a bit more southerly in California's San Joaquin Valley, or go northeast to Reno (the Aces, Triple-A affiliate of the D-backs), or southeast to Las Vegas (Triple-A affiliate of the A's).
If you're driving through Big Sur to get to Southern California, make sure to check out the Minors scene down there, too.
The Road to San Francisco