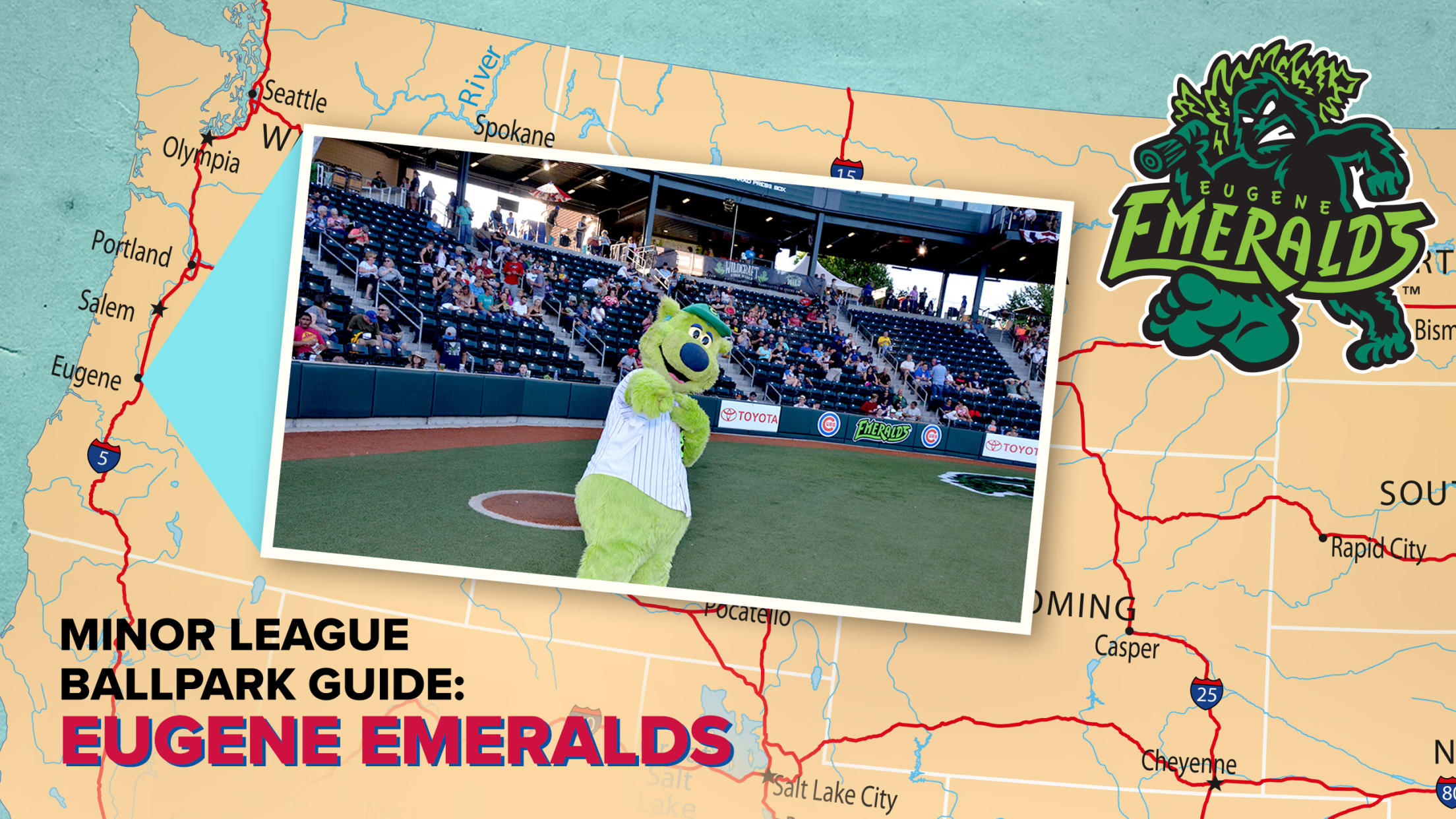 Scroll
Explore Eugene's PK Park 
Welcome to Eugene's PK Park, where Giants play before they're fully grown. The hometown Emeralds share their stadium with the Ducks, an amiable bear and a perhaps not-so-amiable sasquatch.
Eugene Emeralds (High-A affiliate of the San Francisco Giants since 2021)
Established: 1955
League: Northwest League
Ballpark: PK Park (since 2009)
Championships: 1955, 1974-'75, 1980, 2016, 2018, 2021-'22
Notable alumni: Mike Schmidt, Kevin Appier, Bob Boone, Eric Davis, Tom Gordon, Corey Kluber, Trea Turner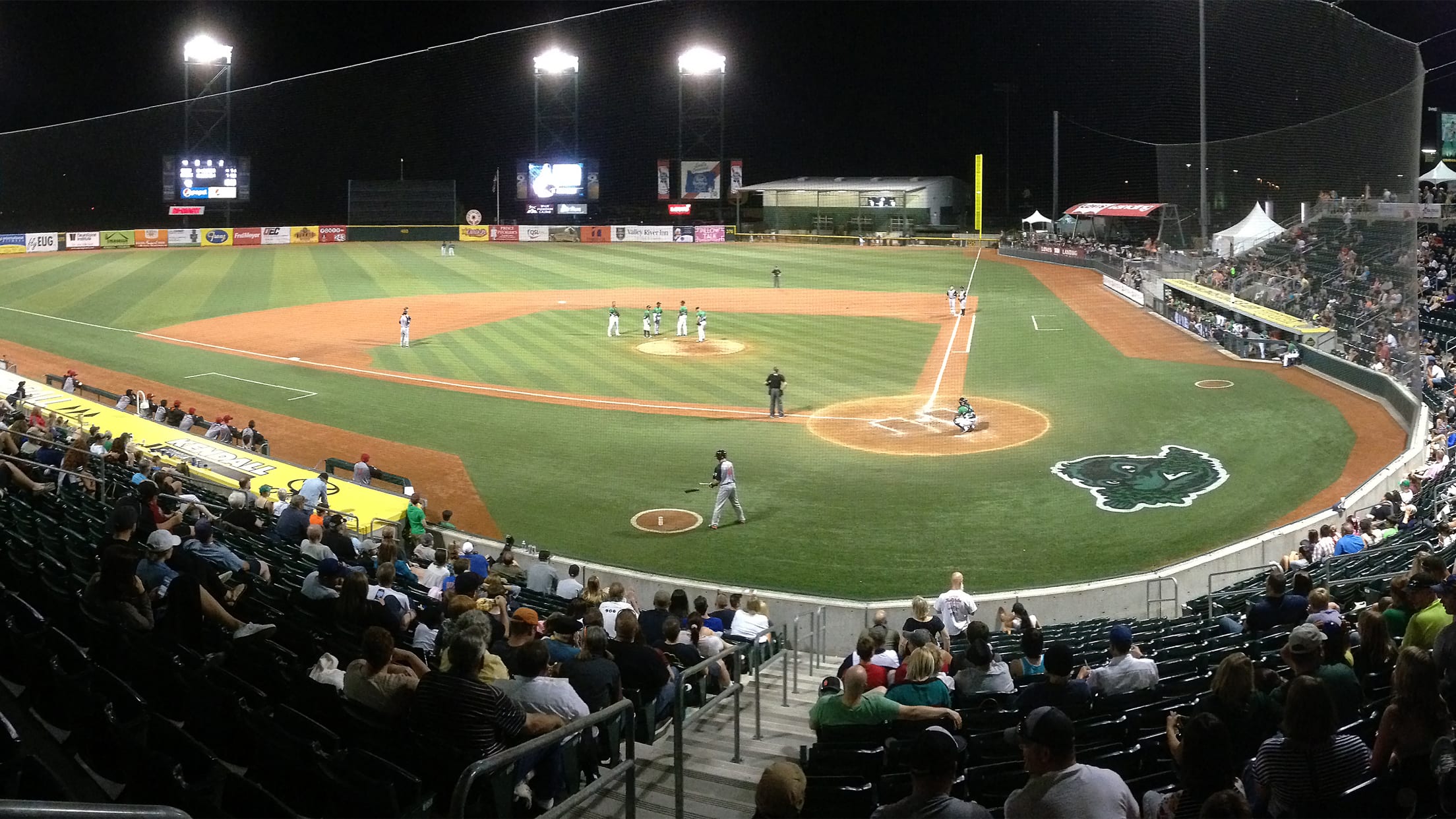 The Emeralds were established in 1955 as a charter member of the Northwest League, the same circuit that they compete within today. The Emeralds - or Ems, for short - haven't played in the NWL for the entirety of their existence, however, as from 1969-'73 they were members of the Triple-A Pacific Coast League. Eugene was a Phillies affiliate during this time, with Mike Schmidt suiting up for the Emeralds in 1972 prior to making his Major League debut late that season.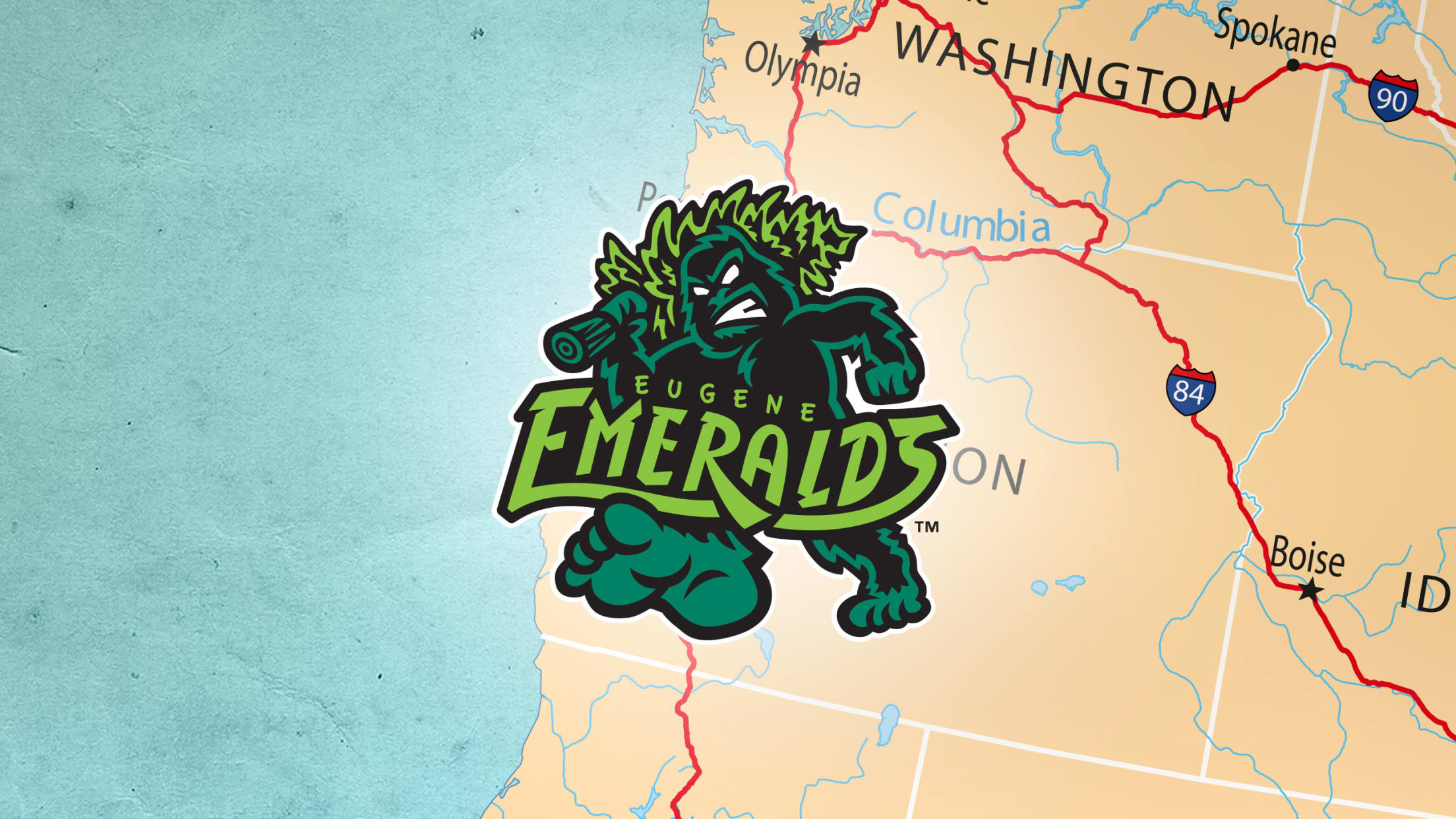 The Emeralds returned to the Northwest League in 1975, affiliating with Cincinnati (1975-'83), Kansas City (1984-'94), Atlanta (1995-'98), the Chicago Cubs (1999-2000; 2015-'20), San Diego (2001-'14) and, finally, San Francisco. The Northwest League was a Class A Short-Season circuit from 1974-2020, playing a 76-game schedule. In 2021, the same year in which the Emeralds' affiliation with the Giants began, the NWL was reclassified as a High-A (full-season) league.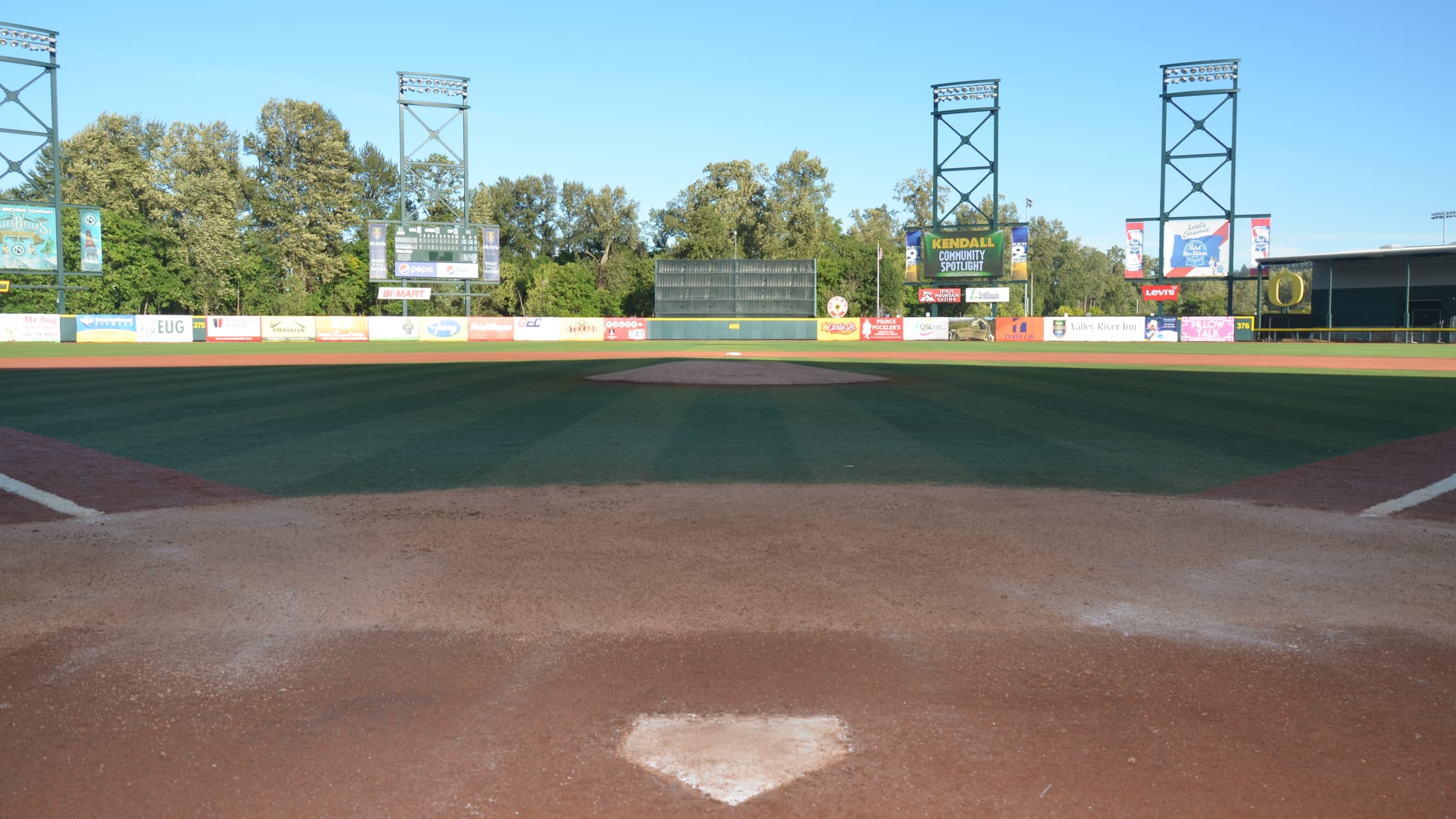 PK PARK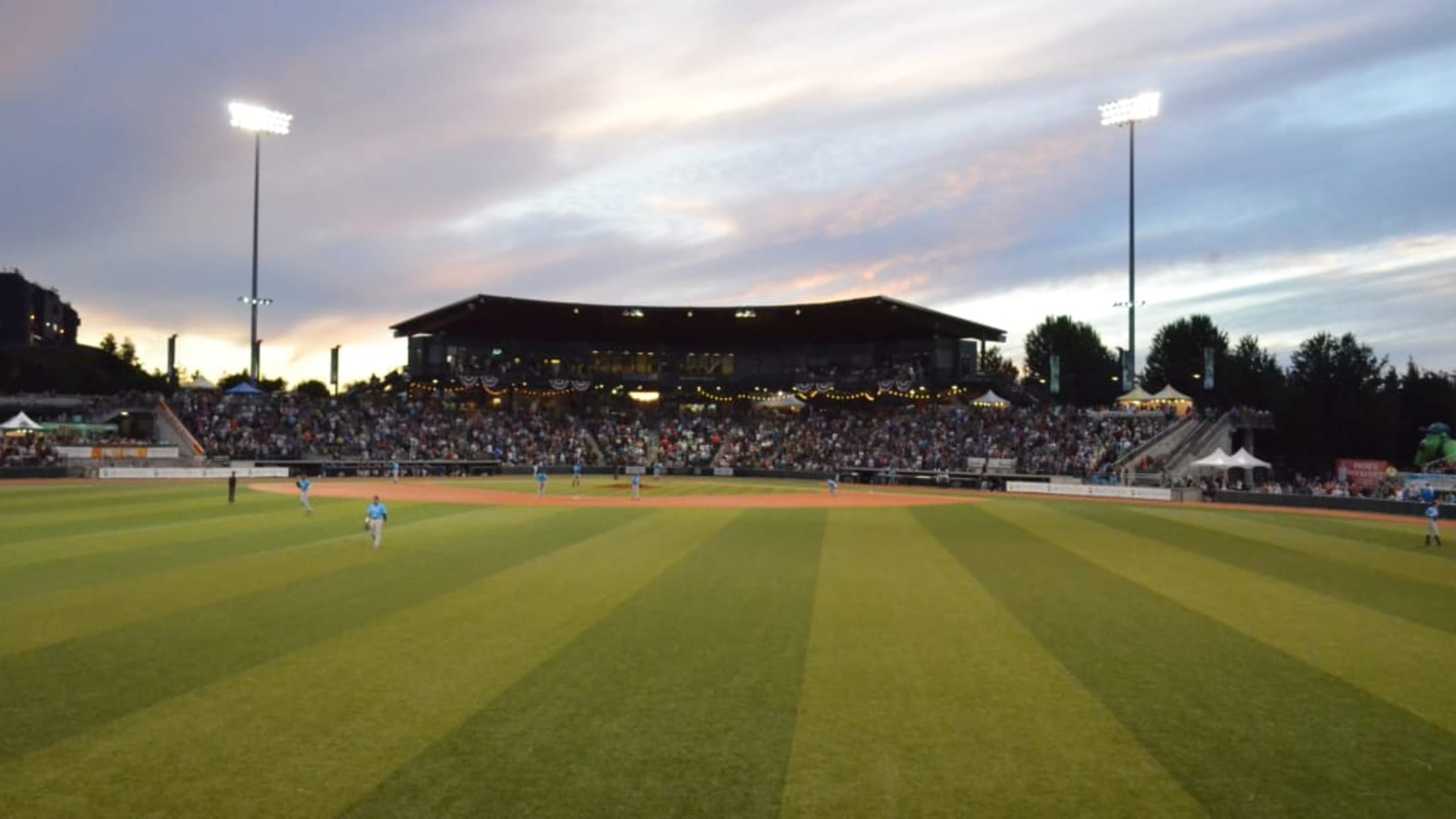 PK Park is the third stadium that the Emeralds have called home, following Bethel Park (1955-'68) and Civic Stadium (1969-2009). The Emeralds share the facility with the University of Oregon, who built it in conjunction with the revivification of their moribund baseball program. The Oregon Ducks played their first season there in 2009, with the Emeralds moving in the following year. The ballpark's "PK" moniker is an homage to former University of Oregon athletic director Pat Kilkenny, whose donations helped fund its construction.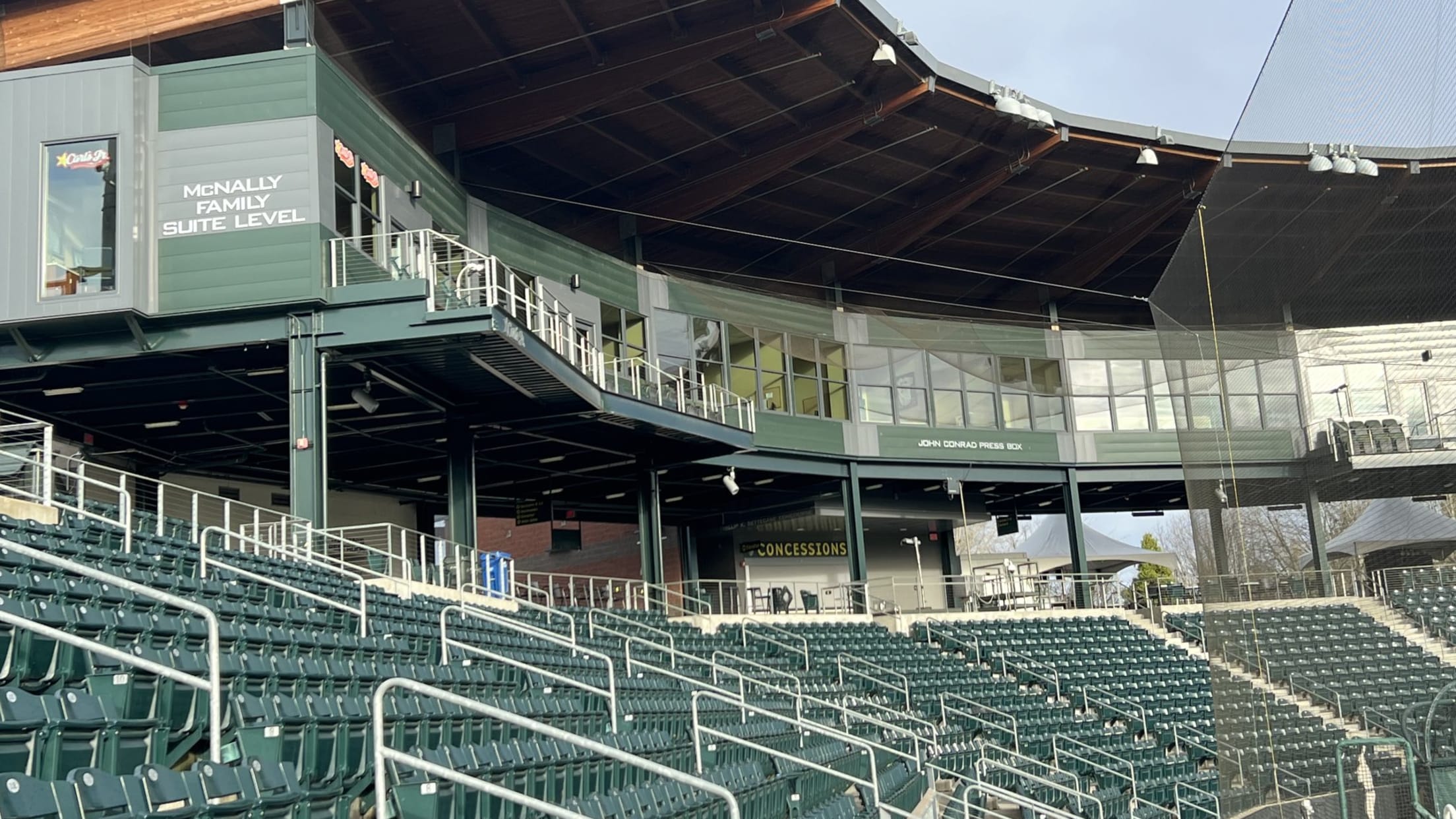 PK Park is located north (and across the Willamette River) from the University of Oregon's campus, in the shadow of gargantuan Autzen Stadium. This facility, which holds 60,000 green-and-yellow-clad Ducks fans, opened in 1967 and was extensively renovated in 2002. PK Park is therefore an exceedingly easy venue in which to park one's car, as the surrounding area regularly accommodates far larger crowds. The facilities are situated to the northeast of downtown Eugene, bounded by I-105 to the north and I-5 to the east. Day Island, located to the south and home to sprawling Alton Baker Park, is situated between Autzen Stadium and the Willamette River.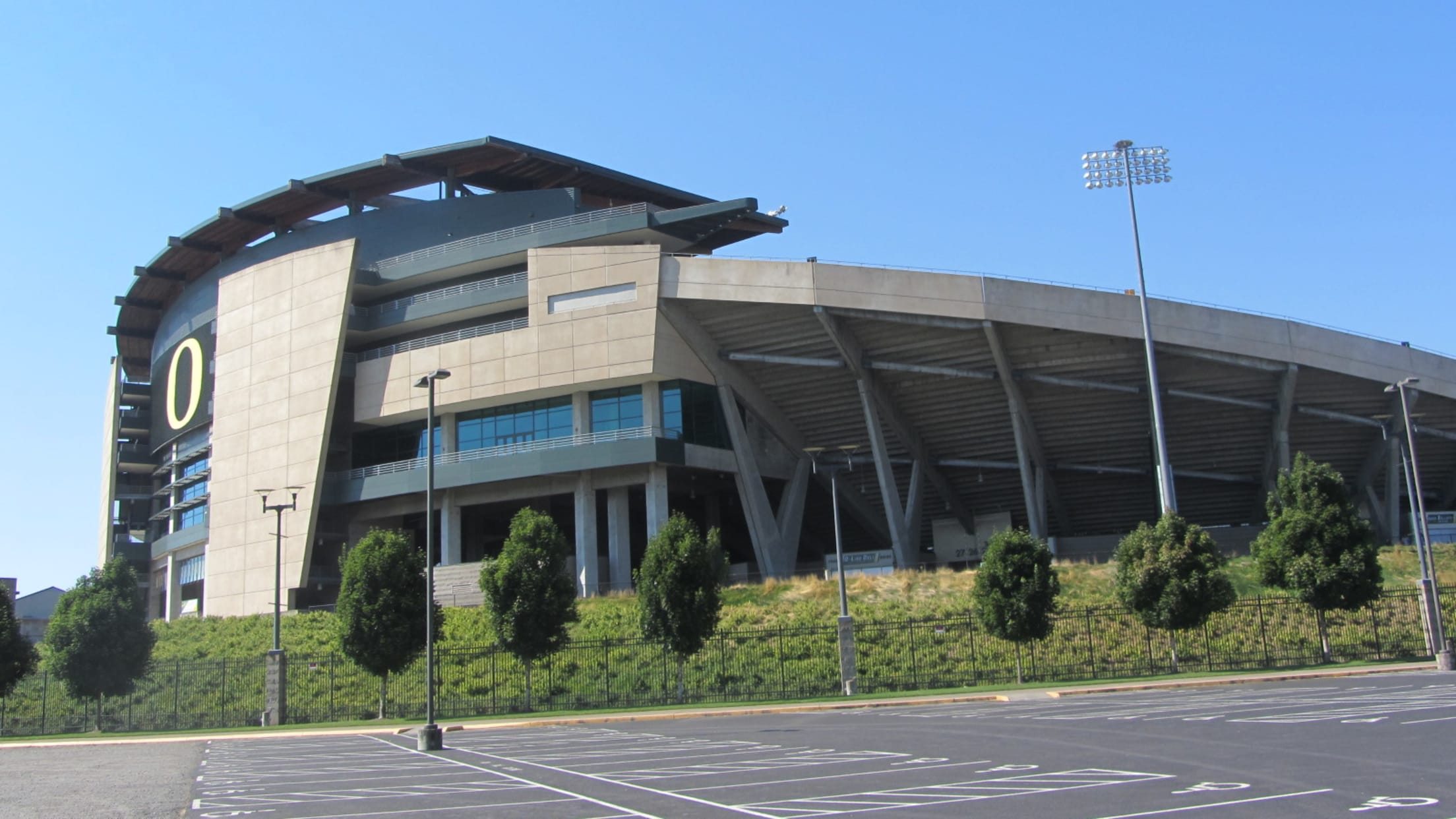 When the Emeralds switched classifications and became a full-season team in 2021, they joined the Ducks baseball team in playing games in April and May. PK Park is therefore quite a busy facility, and the Ems' longer-term goal is to move into a ballpark built specially for them. Regardless, the Ems have found great success while playing at PK Park. They've won four championships since 2016, equaling the number they won in the 51 seasons prior.
PK Park has an artificial surface, and the only dirt to be found is on the pitcher's mound and surrounding home plate. It holds roughly 4,000 fans, approximately half of which can be accommodated within a seating bowl that stretches from third base to first base. The open concourse, meanwhile, stretches from foul pole to foul pole. A section of bleacher seating is located down the left-field line, with a kids play area situated directly behind it.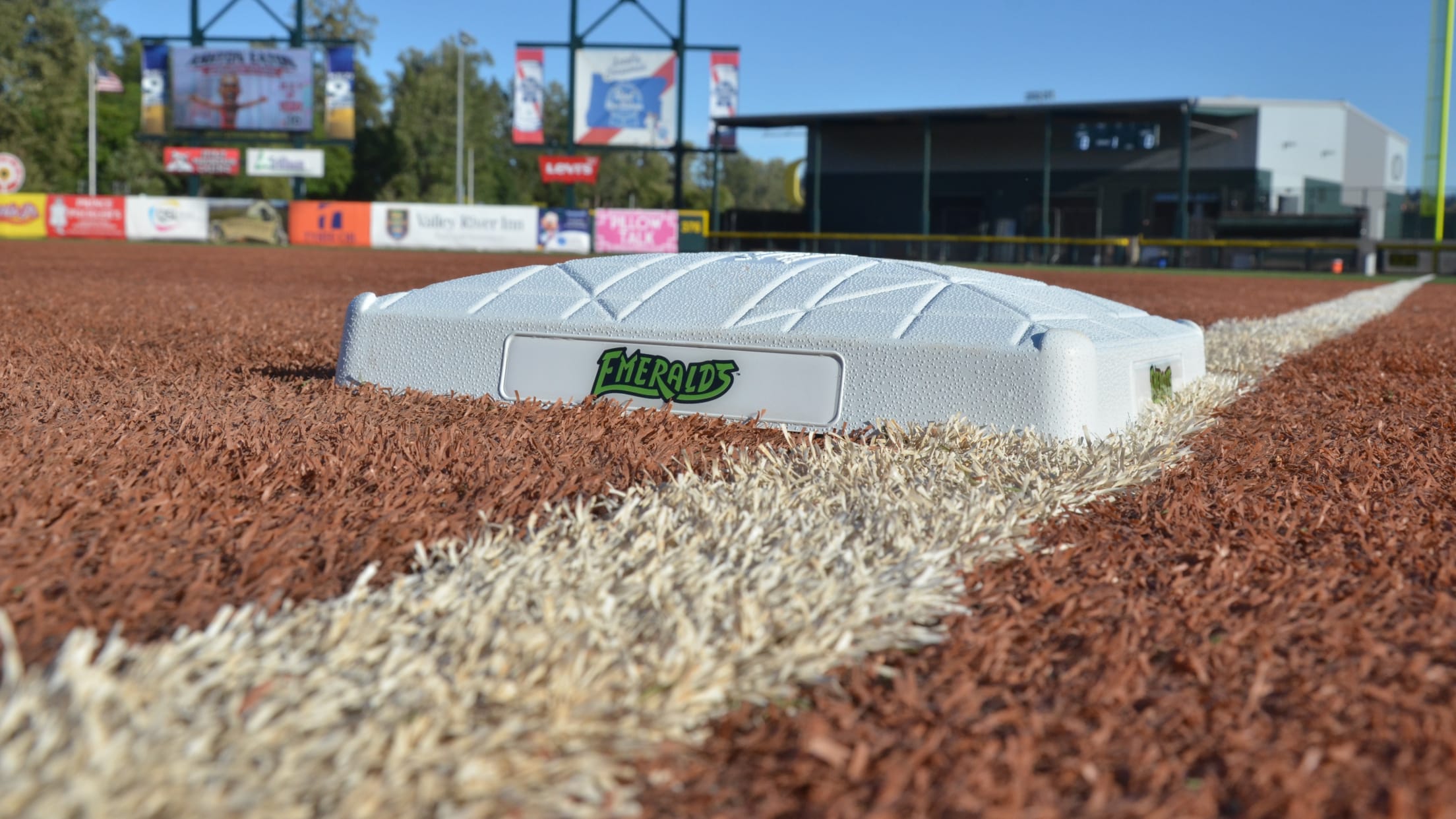 No matter where you sit (or stand, or wander), expect a lively and oft-irreverent gameday environment indicative of Eugene's iconoclastic, off-center sensibilities. The Emeralds' sasquatch-themed primary logo has led to sightings of an actual (?) sasquatch around the ballpark, while notable promotions have paid tribute to the Grateful Dead, "Twin Peaks," "The Simpsons" and "Portlandia."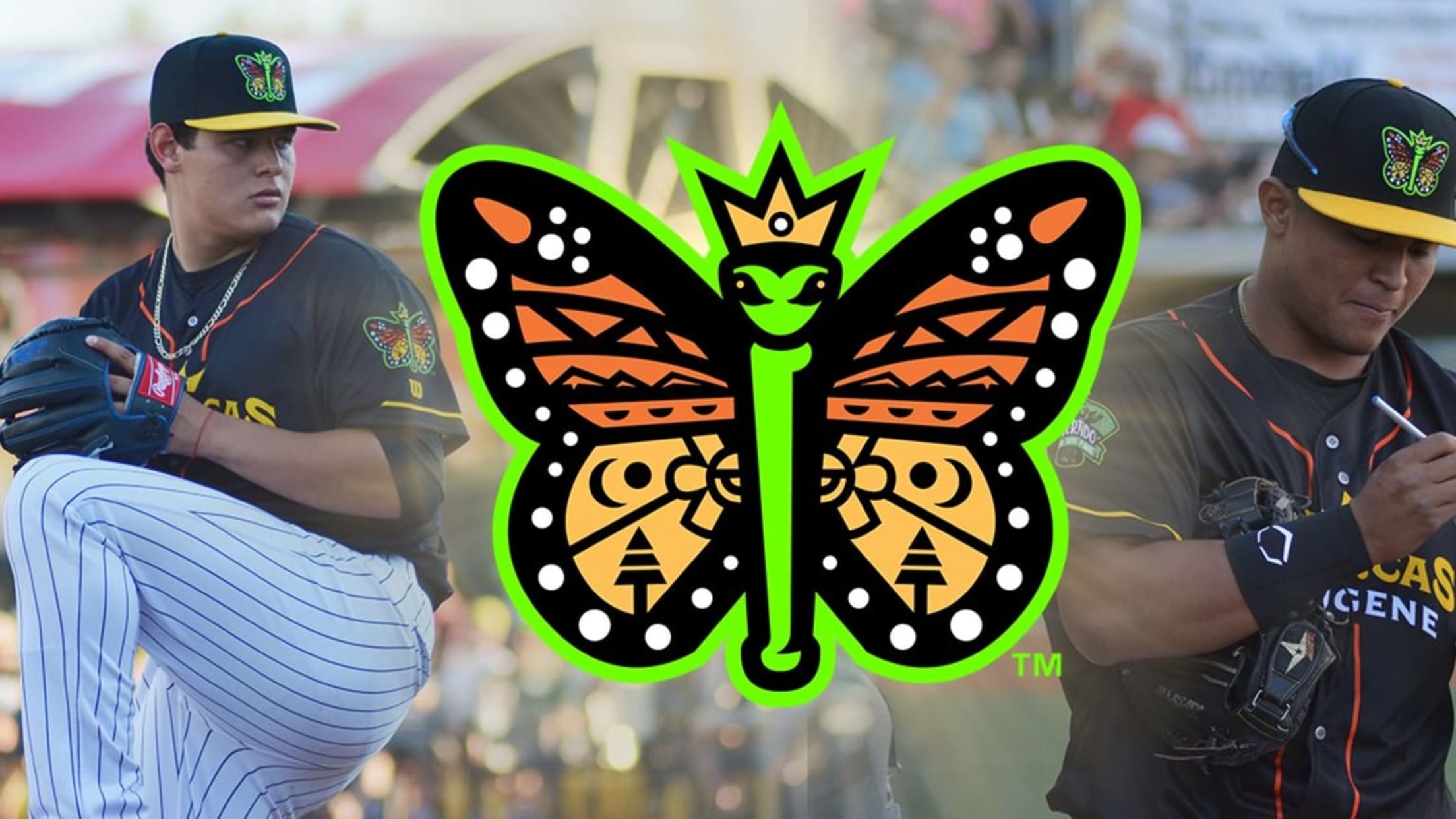 In recent seasons the Ems have found success with their "Las Monarcas de Eugene" Copa de la Diversión identity, featuring a butterfly logo with 33 dots representing both the number of Latin American countries and Oregon's status as the 33rd state. The team has also made an impact with their Pride Night celebrations; in 2019 they became the first Minor League team to take the field wearing Pride-themed uniforms.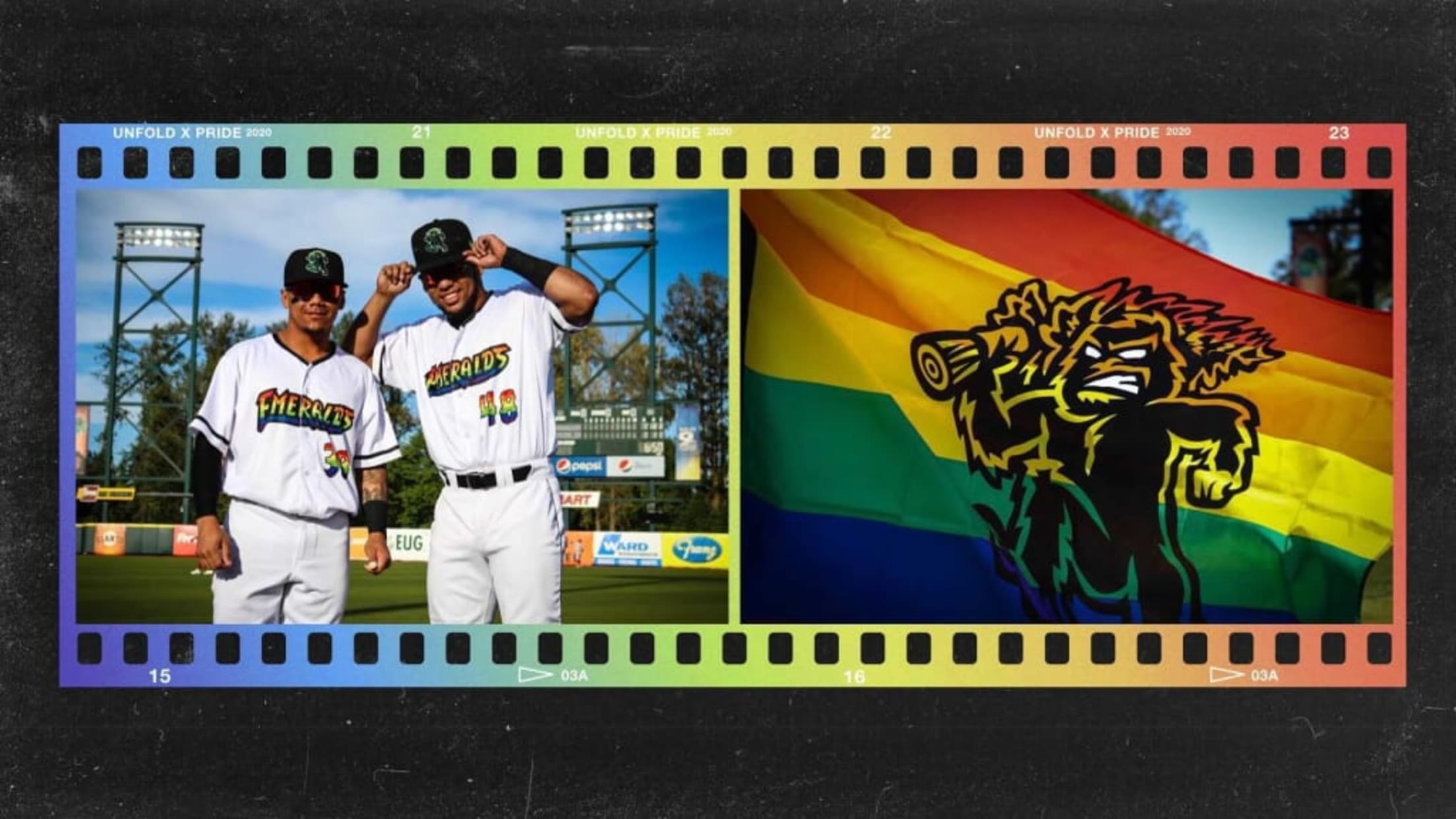 Concessions
The Emeralds' wide-ranging and ever-changing array of concessions are served at a variety of concourse locations. The Dugout Diner, on the first-base side, is the go-to spot for ballpark favorites as well as specialty hot dogs and burgers. Other highlights include Loaded Nachos from the El Super Taco cart and ice cream from the Prince Puckler's Ice Cream Tent. The latter is an offshoot of Eugene's famous ice cream shop, which has been serving up gourmet treats since 1975. Craft beer aficionados should keep an eye out for local offerings, as the Eugene area is home to a wide array of breweries.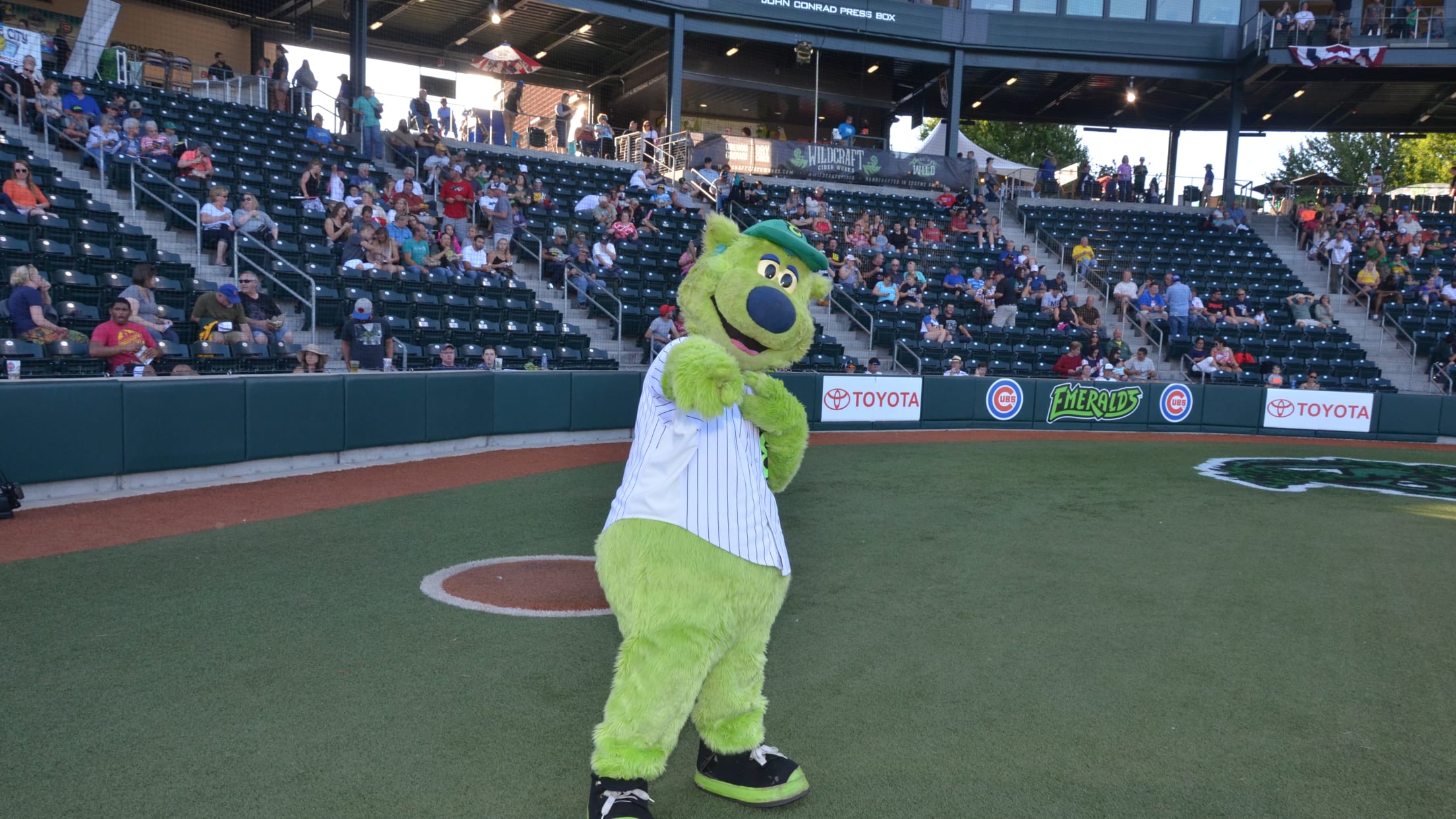 Mascot
Sluggo, a green bear, once found a pair of abandoned binoculars in the woods and used them to spy on an Emeralds game at Civic Stadium. He soon worked up the courage to visit the ballpark, and the rest is history. He's been an Emeralds fan favorite for decades, and easy to spot due to his anomalous luminescent hue. Sluggo's name is a baseball reference, sure, but it's more than that: Slugs are prevalent in the Eugene region, to the extent that a SLUG Queen serves as an unofficial city ambassador. (SLUG, in this case, stands for "Society for the Legitimization of the Ubiquitous Gastropod).
Local Attractions
When Sluggo found his aforementioned pair of abandoned binoculars, he was living within the thick vegetation of Spencer Butte. Maybe you'll spot a green bear while hiking the Spencer Butte Trail, a 1.7 mile loop highlighted by panoramic views at its 2,000-foot summit. This is just one of many outdoor activities available to pursue. Eugene is an eminently bike-able city, for example, while runners can (literally) follow in the footsteps of local track legend Steve Prefontaine by doing a loop or three on Pre's Trail. The trail is located within Alton Brown Park, as is the Eugene Science Center.
There is much to explore on the University of Oregon campus, including a self-guided tour of all the locations where "Animal House" was filmed. If you've ever wanted to visit Dean Vernon Wormer's office, now's your chance. Another pop culture location of note is the nearby town of Springfield, which claims to have inspired the town of the same name where "The Simpsons" takes place. There's a Simpsons mural in the town's main street, as well as a plaque signed by show creator (and Oregon native) Matt Groening.
Food and Drink
Speaking of "The Simpsons," Max's Tavern is rumored to have inspired that show's Moe's Tavern. This venerable establishment has been around since 1932, when bars were not allowed within 1,000 feet of the University of Oregon campus. Max placed his 1,005 feet away. Another iconic establishment of more recent vintage is the Eugene outpost of Voodoo Doughnut. Yes, they have a donut named The Homer in honor of "The Simpsons" patriarch (strawberry frosting with round sprinkles). Voodoo Doughnut is within Eugene's Kesey Square, named after psychedelic explorer Ken Kesey (who spent part of his childhood in Springfield and went on to attend the University of Oregon).
Eugene's dining scene, on the whole, offers something for everyone. Explore a wide variety of ethnic cuisines or hit up an iconic campus pizza joint. You can't go wrong. There is also a vibrant craft beer scene, with Ninkasi, Oakshire, and Hop Valley all located in the city's Whiteaker neighborhood.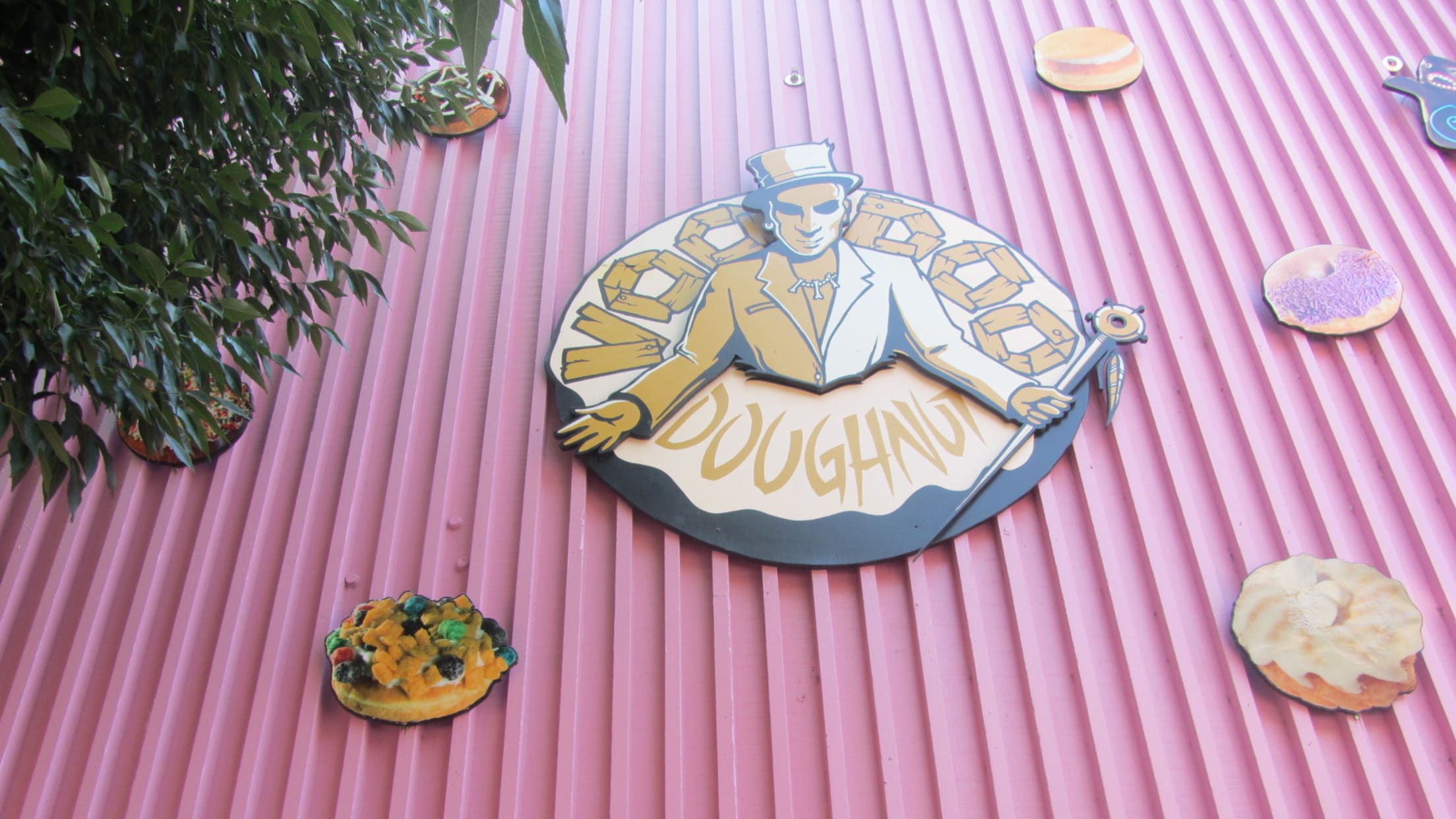 Lodging
Eugene is home to an abundance of hotels, particularly within the downtown area close to the University of Oregon campus. Unique options include The Graduate (check out their collection of rare Nikes) and The Gordon (local art in the rooms and throughout the common areas).
Moving On
Eugene is the southernmost destination in the six-team Northwest League, the smallest circuit in Minor League Baseball. Visit them all by traveling north to see the Hillsboro Hops, Tri-City Dust Devils, Everett AquaSox and Vancouver Canadians (the only Minor League team not in the United States). The Triple-A Tacoma Rainiers are located more or less in the middle of these Northwest League locales, with their parent club, the Seattle Mariners, located nearby as well.
The Road to San Francisco
Giants prospects, and those who love them, log plenty of miles along the way to San Francisco. The journey starts in California before heading to Oregon, Virginia and then back to California.
Single-A: San Jose Giants
High-A: Eugene Emeralds
Double-A: Richmond Flying Squirrels
Triple-A: Sacramento River Cats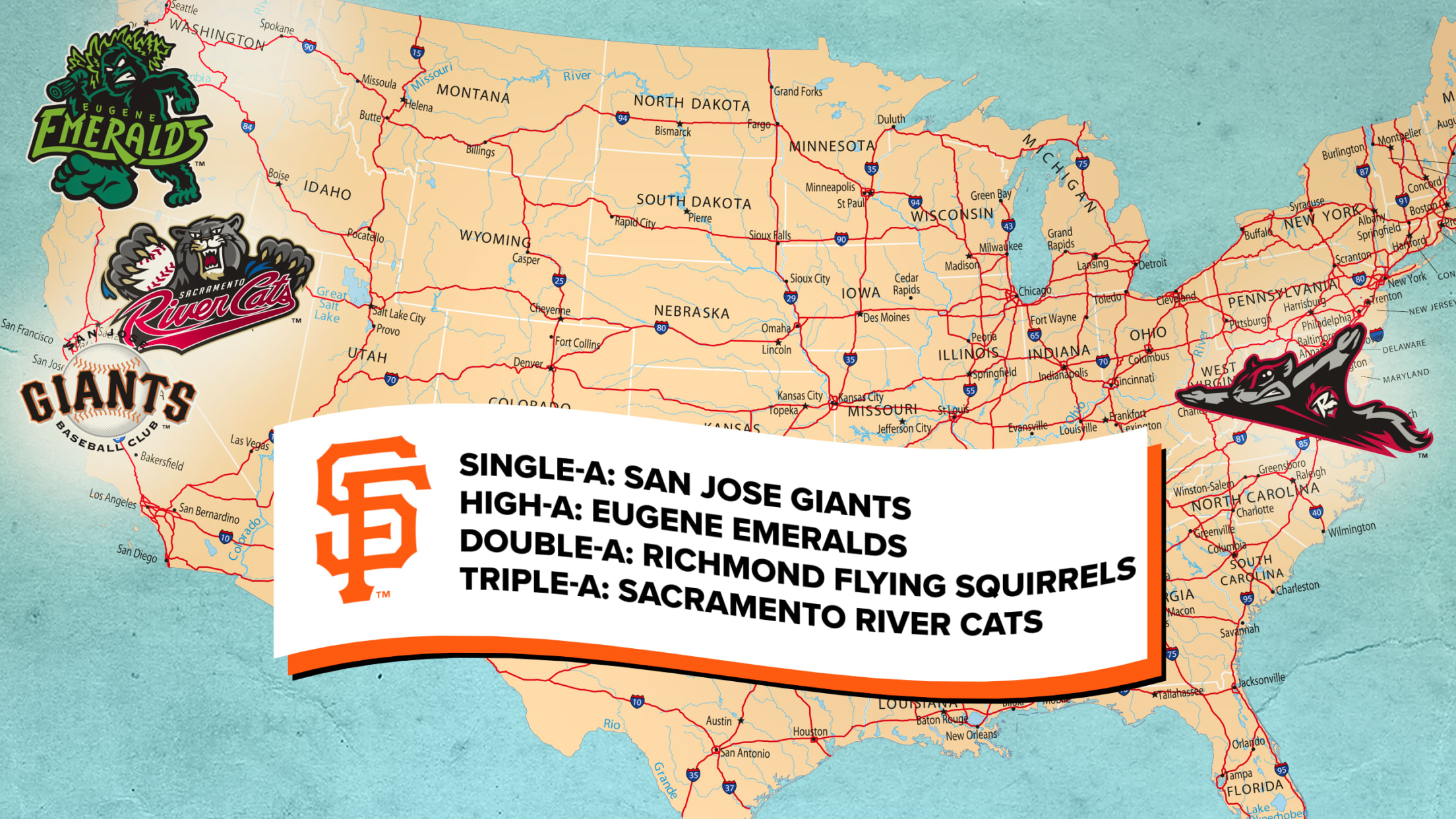 credits:
Benjamin Hill, who covers the business and culture of Minor League Baseball, has visited 186 Minor League ballparks.