Explore Down East's Historic Grainger Stadium
Welcome to Grainger Stadium in Kinston, N.C. The ninth-oldest ballpark in the Minor Leagues, it now serves as home to the Single-A Down East Wood Ducks.
Down East Wood Ducks: (Single-A affiliate of the Texas Rangers since 2021, Rangers affiliate since 2017)
Established: 2017
Ballpark: Grainger Stadium (opened 1949)
League: Carolina League
Notable Alumni: Pete Fairbanks, Leody Taveras, Sam Huff, Kyle Cody, Anthony Gose
Championships: 2017 (shared title with Lynchburg due to Hurricane Irma)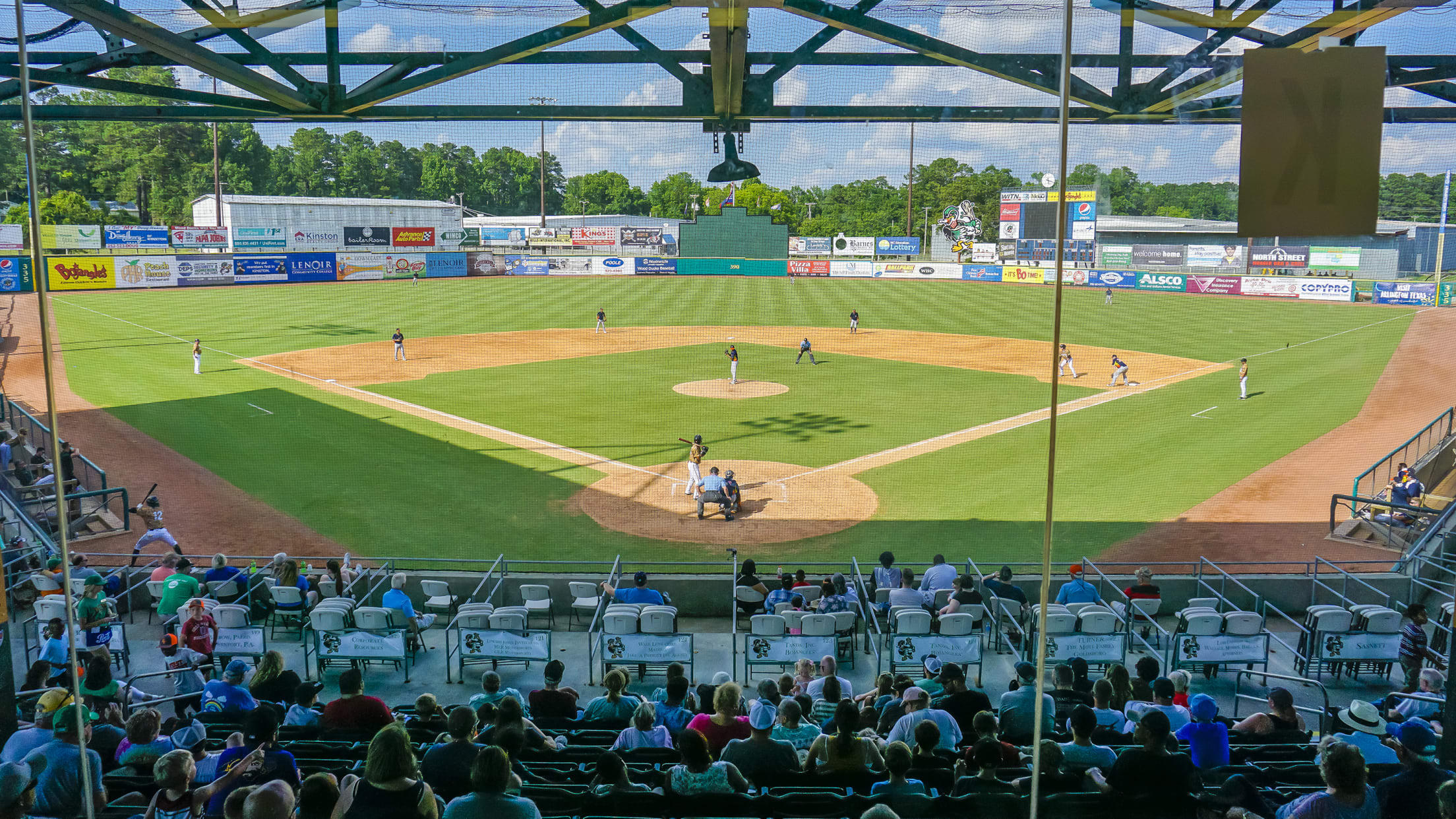 Kinston, N.C., has been on the Minor League Baseball map in various incarnations since the early part of the 20th century, and for the bulk of that time, Grainger Stadium has been the game's home. As the ninth-oldest ballpark in the Minors, Grainger opened in 1949 as the home park of the Coastal Plain League's Kinston Eagles and primarily hosted Carolina League ball, first joining that circuit in 1956 and later hosting the league from 1978-2011. During that time, the team was a Cleveland affiliate from 1987-2011. The Kinston Indians hoisted the Carolina League's Mills Cup in 1988, 1991, 1995, 2004 and 2006 and produced future big league stars like Albert Belle, Bartolo Colón, Manny Ramirez, CC Sabathia and more.
The K-Tribe left town following the 2011 campaign, and the Minor Leagues were absent from Kinston until their return in 2017 when the Down East Wood Ducks (given a geographic moniker for a region close to Kinston but not actually containing it) and Buies Creek Astros (now Fayetteville Woodpeckers) joined the Carolina League.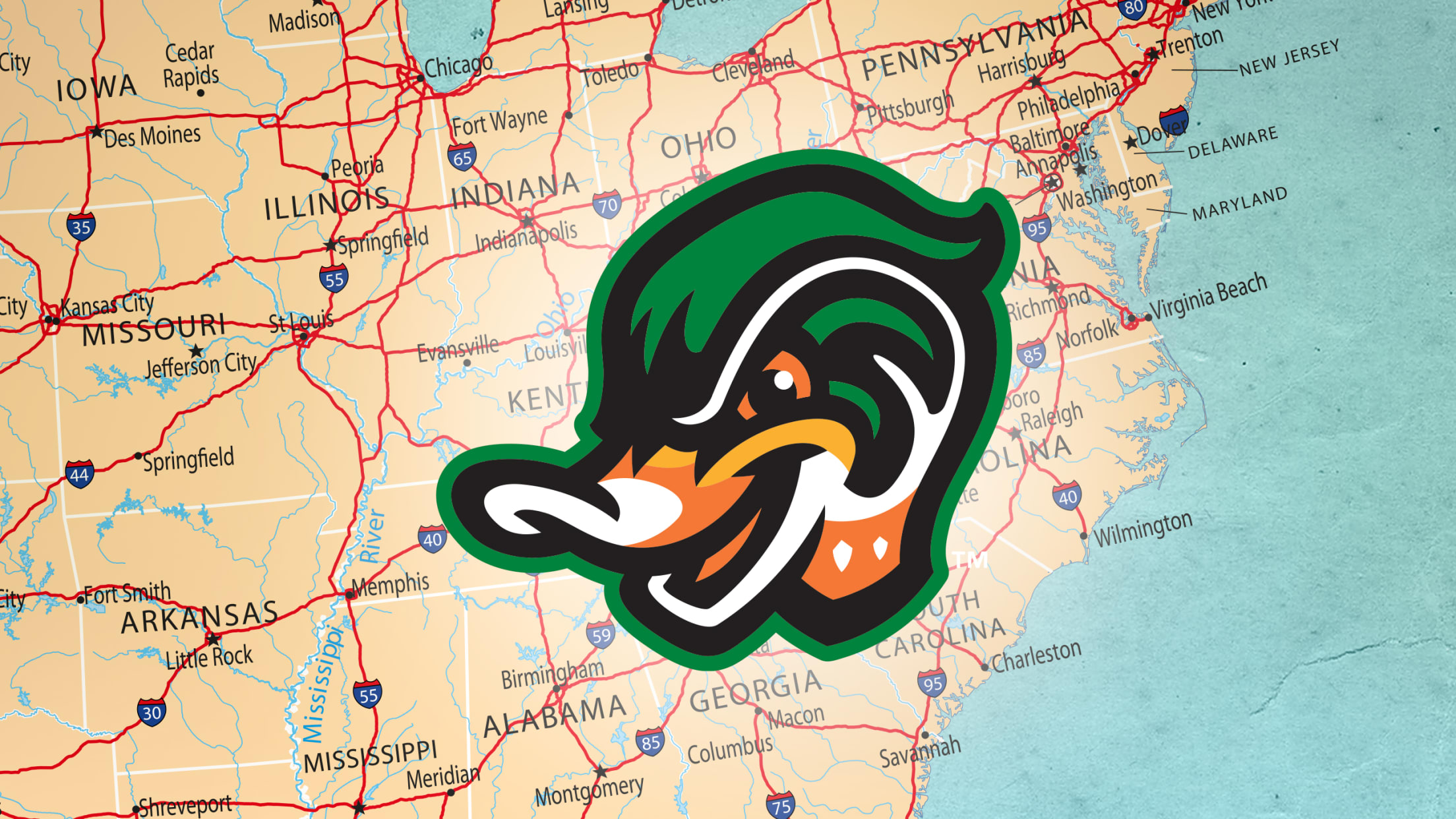 Grainger Stadium
Google Maps
Wood Ducks Roster
Wood Ducks Schedule
400 East Grainger Ave.
Kinston, North Carolina 28504
(252) 686-5164
Capacity: 4,100 seats
Dimensions: Left field, 335 feet; Center field, 395 feet; Right field, 335 feet
Park Factors (2021-22)
100 = league average
Runs: 89 | Homers: 94 | Hits: 90
Carolina League environment: 5.10 runs per team per game (fourth-highest among 11 full-season leagues)
Stepping inside Grainger Stadium is like walking back in time. Built just after the end of World War II, Grainger harkens back to a different boom era in Minor League Baseball, and the ballpark still plays that role beautifully today. Built by the city, Grainger is situated in a neighborhood just northeast of downtown Kinston and has hosted teams in the Carolina, Virginia, Eastern Carolina, Coastal Plain Leagues over its lifespan. Upon entry into the park, Grainger Stadium doesn't feel like a ballpark built in 1949. It feels as though fans have returned to that time given how well the facility has been maintained and upgraded. From its covered grandstand to the front yards of houses across the street from the left-field fence to its staggered outfield wall replete with local sponsor billboards and a giant wood duck logo beyond right-center, Grainger Stadium is a baseball-centric paradise in the fertile grounds of the sport's North Carolina roots.
That isn't to say that Grainger Stadium is without its modern touches, which have been seamlessly incorporated into its historic framework. While the grandstand provides intimate sightlines from behind the plate and down the baselines, the Wood Ducks have expanded fans' options, particularly down the first-base side. Beyond a few rows of field-level seats that stretch down the right-field line sits the Mother Earth Pavilion, a 10,000 square-foot, two-level outdoor bar, patio and seating area sponsored by renowned local craft beer sensation Mother Earth Brewing. Baseball's rebirth in Kinston also came with expanded concession and shopping options for fans as well as refurbished and newly constructed player amenities like clubhouses and a training facility.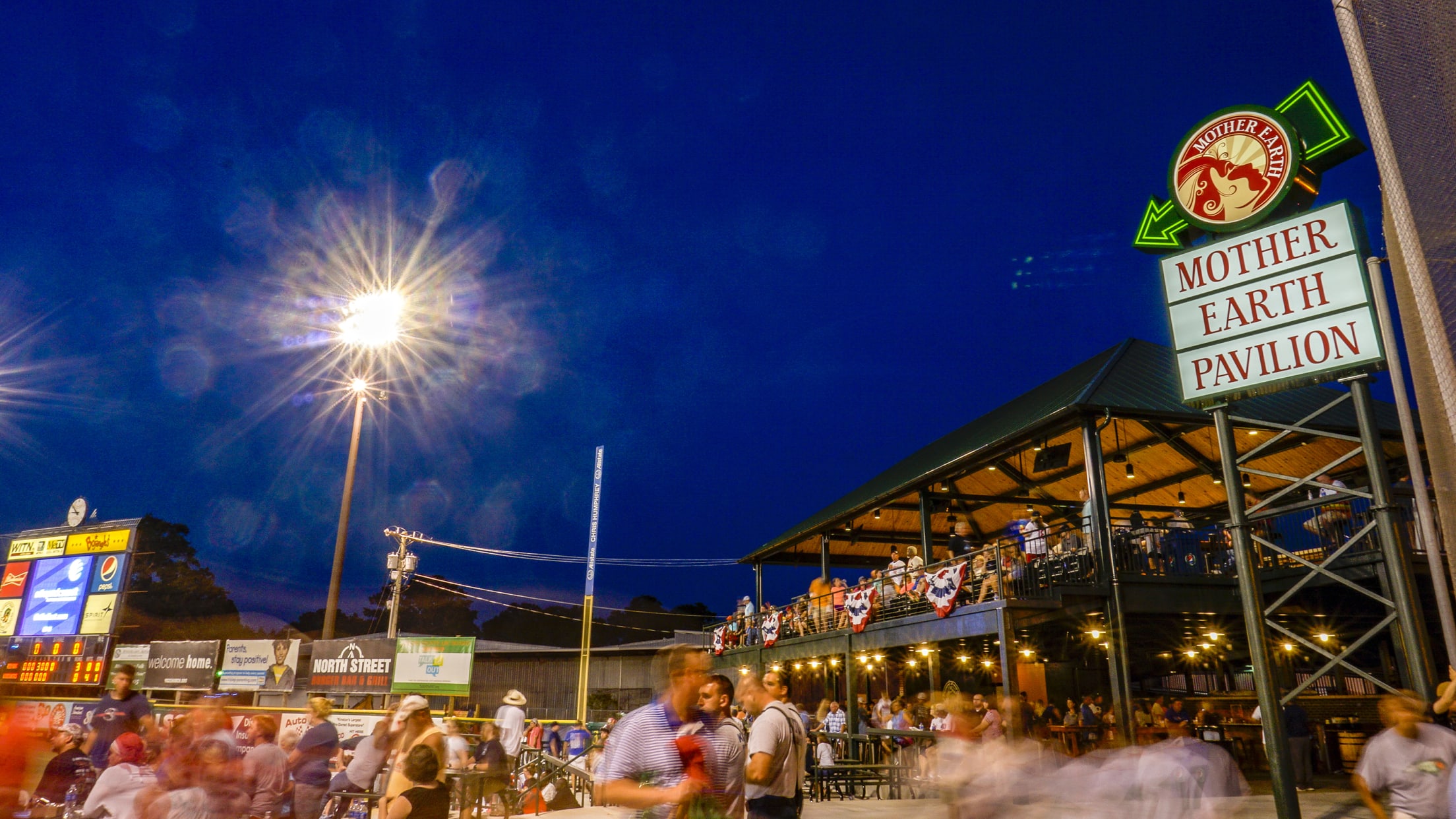 Concessions
Like many places throughout the Carolinas, the food options at Grainger Stadium begin and end with the area's legendary barbecue. Legendary local haunt King's BBQ supplies the meats and sauces for the Wood Ducks' Bang Bang BBQ sandwiches and nachos as well as the team's Five-Tool Tater Tots. All hot dogs at Grainger are red ones -- an eastern North Carolina staple, while cheeseburgers, chicken tenders and pizza abound for classic tastes. Beverage options are more than plentiful, especially for those looking for a brew. Mother Earth slings its craft creations (including the Duck Blind Amber Ale that the brewery created in conjunction with the Wood Ducks), while local spirits are also offered from Mother Earth and Kinston distillery Social House Vodka.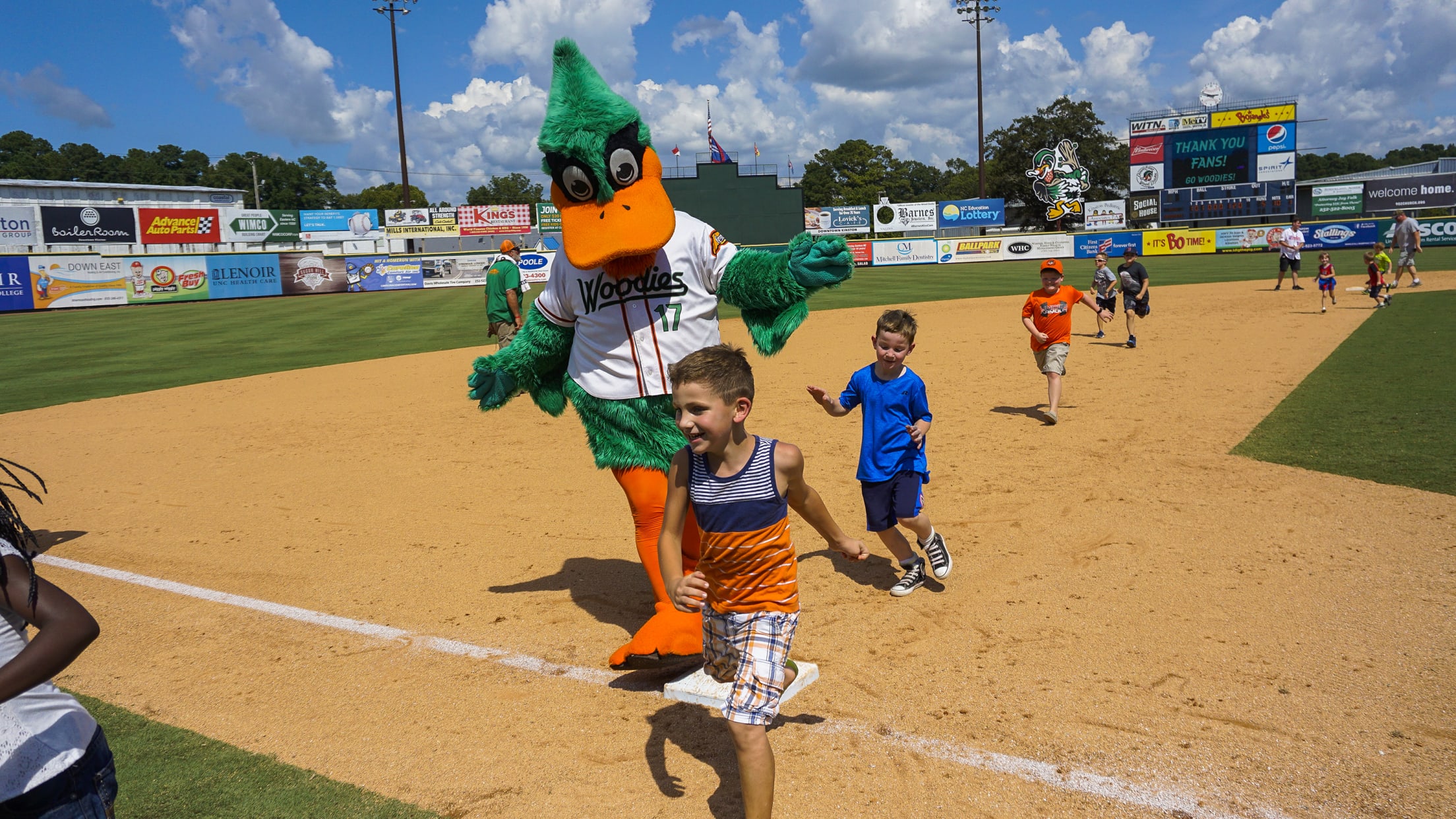 Mascots
With an easy acronym to make a name out of and an easy name to base a mascot on, the Wood Ducks debuted DEWD, their oversized, fuzzy duck mascot, for their inaugural season in 2017. DEWD is no longer the Woodies' lone costumed representative. In 2020, the Wood Ducks unveiled a mascot based on a team alternate identity (the Kinston Collard Greens) with the aptly culinarily named Cornbread.
Where to Stay
Headed to the stadium and looking for a hotel nearby? Your Wyndham is waiting. As the Official Hotel of Minor League Baseball, Wyndham Hotels & Resorts welcomes baseball fans with a portfolio of 24 trusted brands. Find Hotels by Wyndham closest to the ballpark below and book now at wyndhamhotels.com.
• Super 8 by Wyndham Greenville
• Super 8 by Wyndham Goldsboro
• Baymont by Wyndham Greenville
Local Attractions
Kinston is in the middle of ag country in eastern North Carolina, but it's also located in an area full of history. The Lenoir County Farmers Market brings vendors from all over the area with local produce, meats, cheeses and loads more. The "Flue" earthworks sculpture project stands on the site of what was once the Brooks Tobacco Warehouse and pays tribute to Kinston's tobacco heritage with seven tobacco barn facades in an otherwise empty field.
History aficionados will find much to study in Kinston and the surrounding area, especially from its role in the Civil War. The CSS Neuse Interpretive Center hosts the remains of one of the few surviving ironclad gunboats from the Civil War while the CSS Neuse II is a replica of that same ship just around the corner from the museum. The First Battle of Kinston Park tells the story of a Civil War collision between the North and the South that took place just three miles from Grainger Stadium.
The African American Music Trail also passes through Kinston and details the city's musical roots from jazz to blues to funk, gospel and more. Legends like Duke Ellington, Louis Armstrong and James Brown played in Kinston as they formulated their unique sounds.
It's a short drive from Kinston to the Atlantic Ocean. Just an hour from the coast, it's easy to spend a day relaxing on the beach and a night taking in a Woodies game.
Food and Drink
Kinston has experienced a renaissance in its food and arts scene over the past decade, and its culinary options might, ahem, take the cake. Start with the stalwarts at Kings Restaurant, which has served barbecue in Kinston since 1936. Chef & the Farmer dishes out eclectic, mouth-watering, locally inspired dishes heavily centered on local ingredients and was featured on a PBS series, "A Chef's Life", featuring founder and chef Vivian Howard. Middle Grounds Coffeehouse is a local staple in downtown Kinston, as is Mother Earth Brewing (if you couldn't tell already) which serves up its signature brews in an LEED Gold-certified facility. Social House Vodka recently opened up its own space with The PumpHouse 1906, which the company boasts is "the first tasting room of its kind in eastern North Carolina." Byrd's Restaurant is another local favorite.
Moving On
Minor League teams abound within driving distance from Kinston. Aside from the Wood Ducks, nine more franchises are scattered throughout North Carolina. The closest are the Carolina Mudcats in Zebulon, while the Asheville Tourists are farthest away. Five more MiLB clubs call South Carolina home and another another five reside just north in Virginia.
The Road to Texas
The Rangers have a North Carolina-to-Texas pipeline. From Kinston, prospects climb the ladder to High-A Hickory before traveling to the Lone Star State with stops in Double-A Frisco and Triple-A Round Rock on the way to Arlington.
Single-A: Down East Wood Ducks
High-A: Hickory Crawdads (Ballpark Guide)
Double-A: Frisco RoughRiders (Ballpark Guide)
Triple-A: Round Rock Express (Ballpark Guide)