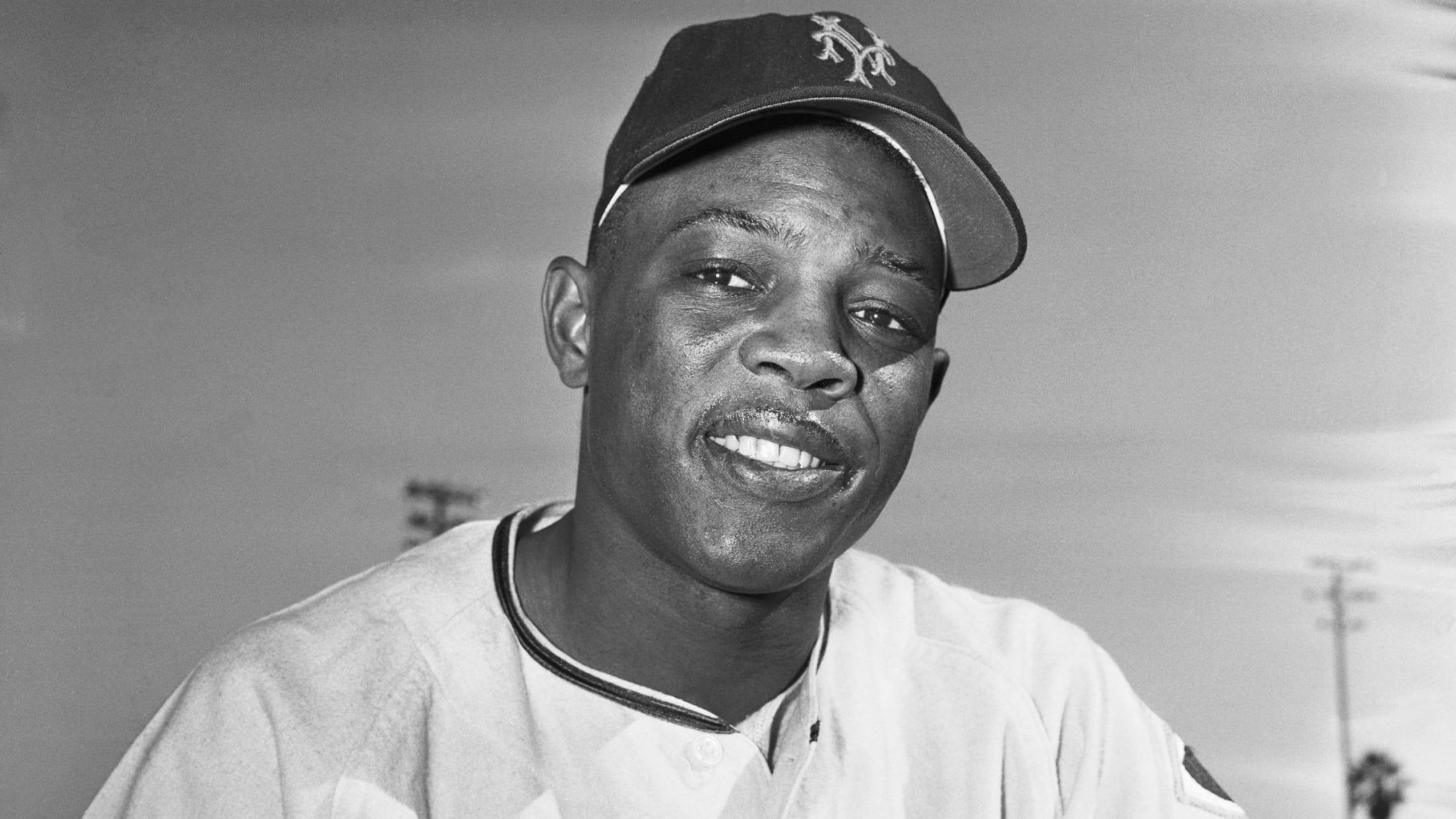 Scroll
Timeline of Say Hey Kid's legendary career
Decades after his final game, Willie Mays still stands among the greatest athletes and ambassadors baseball has ever seen.
Few players, if any, have looked like a more natural fit to play baseball than Mays. He doesn't top many all-time statistical lists (though he's darn close in so many of them), but his case as the best player in MLB history comes from testimonies of the men and women who saw him play -- and still marvel at how effortless he made an extremely difficult game appear.
"If somebody came up and hit .450, stole 100 bases, and performed a miracle in the field every day," said Leo Durocher, Mays' former manager and a Hall of Famer whose baseball life stretched from the primes of Babe Ruth through Hank Aaron, "I'd still look you right in the eye and tell you that Willie was better."
Mays' legacy is one that will never be forgotten. Here are some of the biggest moments in the life of the "Say Hey Kid."
May 6, 1931: Mays is born in Westfield, Ala.
Mays' mastery of baseball was partly written into his genetic code. His grandfather, Walter, was a pitcher. His father, William Howard Mays, was a semipro ballplayer for the local iron plant. His mother, Anna, was a talented multisport athlete as well.
But while Mays was born with athletic advantages, his surroundings were often the opposite. He was born and raised as a young Black man in the Deep South during the Great Depression. His parents separated and his father, a porter, was often away working on Pullman trains. Much like another Alabama baseball legend, Hank Aaron, Mays worked to provide for his family from a young age, all the while excelling at football and basketball at Fairfield Industrial High School. The school did not have a baseball team, so Mays played alongside his father on factory and semipro clubs.
1950: Mays signs with New York Giants
Mays' life as a baseball prodigy accelerated after his 16th birthday, when he began playing with the Negro American League's Birmingham Black Barons on the weekends while still carrying out his high school education during the week. By far the youngest member of the Barons, Mays still impressed, soon taking over in center field and even collecting a base hit off Satchel Paige. The teenager quickly became a star of the Birmingham club, producing several clutch hits against the Kansas City Monarchs during the 1947 playoffs and then helping the Barons reach the '48 Negro League World Series.
Birmingham's talented center fielder eventually caught the big leagues' attention. Dodgers star Roy Campanella begged his club to sign Mays, but it was the Giants -- upon Durocher's instruction that they send someone to Alabama "with a barrelful of money" -- who would sign Mays to a $4,000 bonus.
May 28, 1951: Mays gets first hit
Mays endured horrendous insults and segregated accommodations while playing for a Class B team in Trenton, N.J., but his obvious talent meant he didn't stay there long. He began the 1951 season with Triple-A Minneapolis, but was called up in May at Durocher's urging. Durocher immediately installed the 20-year-old Mays both in center field and in the heart of New York's lineup.
Thrust into the spotlight, Mays initially struggled. He began his career 0-for-12 before homering off Hall of Famer Warren Spahn at the Polo Grounds.
"I'll never forgive myself," Spahn would humorously recall. "We might have gotten rid of Willie forever if only I'd struck him out."
Mays went hitless for another 13 at-bats after that homer until, after a spirited pep talk from Durocher ("As long as I'm the manager of the Giants," he is believed to have told Mays, "you are my center fielder"), he finally got on track. The Alabama kid hit .288 and knocked 19 home runs over his last 114 games of the season to become the runaway winner of the National League Rookie of the Year Award.
Mays' play helped the Giants erase a 13-game deficit to the Dodgers, setting up Bobby Thomson's "Shot Heard 'Round the World" (with Mays in the on-deck circle) in the pennant tiebreaker.
Sept. 29, 1954: A superstar comes into his own
Debates raged across sandlots, city streets, parking lots and anywhere else kids could scrounge together a pickup baseball game during the 1950s about who was the best center fielder -- Mays, Mickey Mantle or Duke Snider. Those who chose Mays had a strong case in how their man simply glided across an outfield, making a dazzling show of the cans of corn or pulling off the plays that were previously thought impossible.
"There were men faster than Willie Mays," Buck O'Neil, whose eyes took in many of the greatest Negro League and MLB players of all-time, once recalled. "But I never saw one faster with a fly ball in the air."
Such was the case in Game 1 of the 1954 World Series, when Mays took the air out of a heavily favored, 111-win Cleveland club. Vic Wertz clubbed a ball that would have been a no-doubt homer in almost any other park, but Mays took full advantage of the cavernous Polo Grounds confines.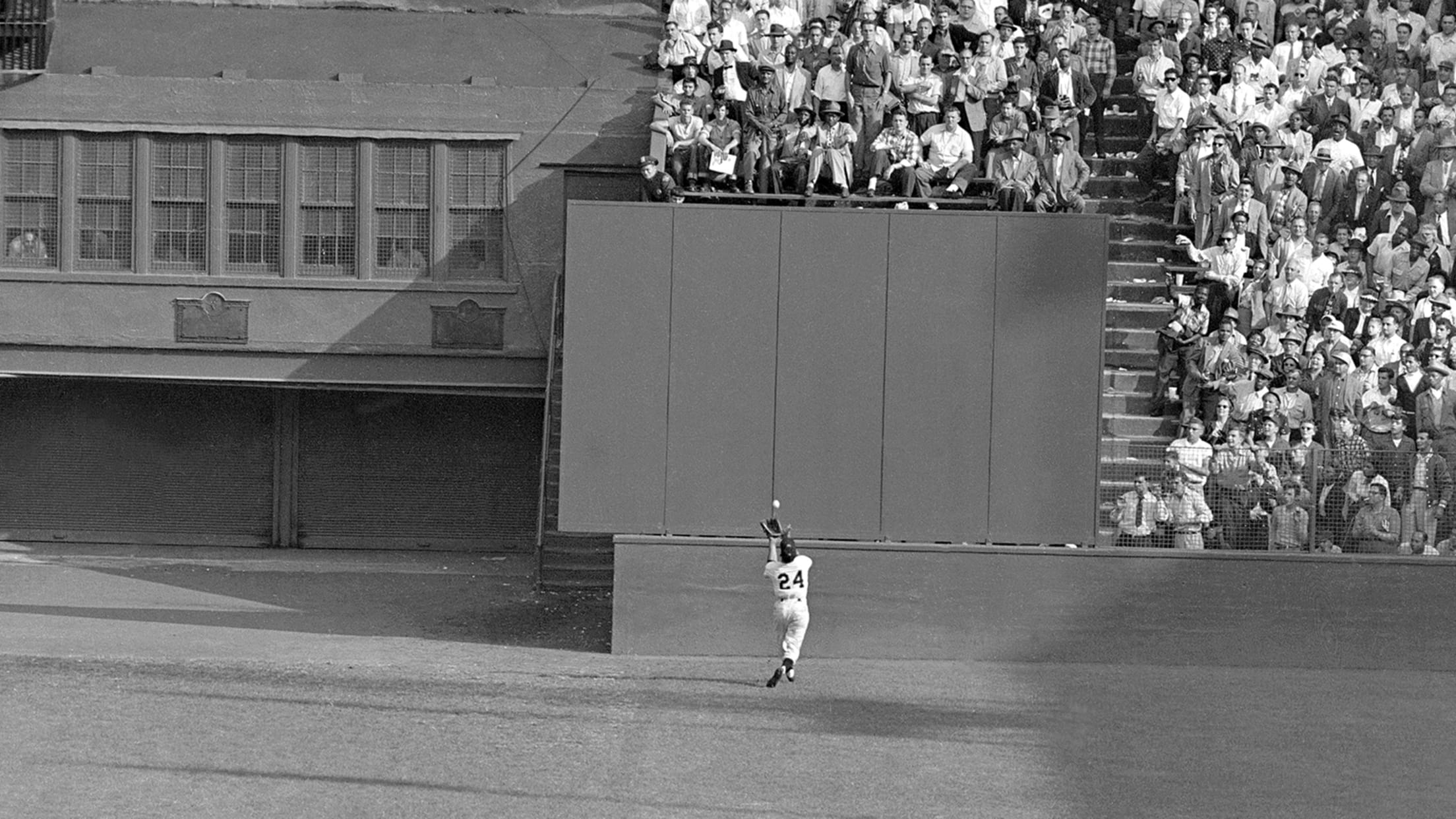 Per eyewitness accounts, Mays turned and went on a dead sprint before he even heard the crack of Wertz's bat, eventually hauling in Wertz's drive over his shoulder for the most famous catch in baseball history. Then, with incredible awareness, Mays stopped on a dime and fired the ball back in to stop the speedy Larry Doby from scoring.
When teammate Monte Irvin congratulated Mays on the catch, Mays coolly replied that he had it all the way. That play vaulted the Giants to an extra-inning win in the opener and to an unexpected sweep, as the franchise captured what would be its final World Series title in New York. Mays would ultimately appear in four World Series, but this was his only Fall Classic triumph.
"The Catch" was the lasting image from a sublime year for Mays. Just 23 years old and only recently returned from nearly two full years of service in the U.S. Army, he was the NL's runaway MVP Award winner after leading the Majors in batting average (.345) and slugging (.667), knocking 41 homers and 13 triples and adding that phenomenal defense in center field.
April 30, 1961: Mays slams four homers in a game
Mays got off to a slow start to the 1961 season by his standards, tallying two homers and six RBIs in his first 15 games. But then he bested both of those totals in one incredible afternoon in Milwaukee.
With Aaron looking on for the Braves in center field, Mays became the ninth player in Major League history to club four home runs in a single game. He finished the Giants' 14-4 romp with eight RBIs, going deep in the first, third, sixth and eighth innings.
Incredibly, Mays almost didn't play in this game; he felt so weak from a case of food poisoning the night before that he initially asked manager Alvin Dark to be taken out of the lineup. But after trying teammate Joey Amalfitano's lighter bat in batting practice, Mays decided to suit up -- and that bat now resides in the Hall of Fame.
Sept. 13, 1965: Willie's 500th homer caps season for the ages
While the 500-homer club is much more crowded today, only four men -- Babe Ruth, Jimmie Foxx, Ted Williams and Mel Ott -- had reached that milestone before Mays walloped his 500th blast against Astros pitcher Don Nottebart.
Mays was 34 years old when he reached the milestone, but he wasn't looking any older to his opponents. Eleven years after winning his first NL MVP, Mays would claim his second thanks to a career-high 52 homer runs and Major League-best marks in on-base percentage (.398), slugging (.645) and total bases (360). Though he was certainly MVP caliber in many seasons in between, the 11-year gap marks the widest for any player between his first and second BBWAA MVP awards.
Sept. 22, 1969: Willie's 600th home run
The 600-homer club was even smaller, containing Babe Ruth and nobody but the Babe, when Mays dug in against San Diego's Mike Corkins late in 1969. Many might claim they were there for the big moment, but in truth an announced crowd of just 4,779 was on hand at San Diego Stadium to see Mays come off the bench as a pinch-hitter and go deep in the top of the seventh.
Four months later, the Sporting News would name Mays its "Player of the Decade" for the 1960s, topping an incredibly crowded field that included Hank Aaron, Roberto Clemente, Bob Gibson, Sandy Koufax and Frank Robinson. Mays tallied 1,050 runs, 1,003 RBIs, 350 homers and 126 stolen bases during the '60s, a decade he began when he was already 28 years old.
July 18, 1970: Mays joins 3,000 hit club
The 500-homer club had four members when Mays joined, and the 600-homer club had just one. Then, Mays created a new club all on his own. When he notched career hit No. 3,000 off Expos pitcher Mike Wegener at San Francisco's Candlestick Park, Mays became the first player in history with both 3,000 hits and 600 round-trippers. Only Hank Aaron, Alex Rodriguez and Albert Pujols have joined him since.
Mays was only the 10th player to join the 3,000 hit club, earning his membership just more than months after Aaron. He was also the first to reach the milestone on America's West Coast. Cardinals legend Stan Musial (the NL's leading hit man at the time), Giants Hall of Fame pitcher Carl Hubbell and Monte Irvin, who mentored Mays as a rookie, were there to congratulate him.
May 11, 1972: Willie returns to New York
Mays was integral in helping the Giants win the 1971 NL West title, pacing the Senior Circuit in walks and OBP in his age-40 season. But after a work stoppage delayed the '72 season, the Giants shocked the baseball world by trading Mays to the New York Mets for Minor League pitcher Charlie Williams. Though it marked the end of an all-time partnership between Mays and the Giants, he got to go back to the city where he laid his legacy's foundation.
"When you come back to New York," Mays later said in his autobiography, "you come back to paradise."
Mays was not the dynamic, athletic force in Queens that he was when he patrolled center field in Manhattan, and he would ultimately retire after the 1973 season. But he did get to experience a few more moments in the spotlight, making his 24th and final All-Star Game appearance (second only to Aaron) and then helping the "You Gotta Believe" Mets reach the 1973 World Series. With the final hit of his career off Oakland's Rollie Fingers, Mays drove in what proved to be the game-winning run in the 12th inning of Game 2.
Jan. 23, 1979: Willie gets the Hall call
To the surprise of no one, Mays was elected to the National Baseball Hall of Fame in his first year of eligibility -- though he was somehow left off 23 voters' ballots. Still, Mays made history; he was only the ninth first-ballot Hall of Famer at the time, and his ballot share of 94.6% was the highest since garnered by anyone since the Hall's inaugural class was elected in 1936.
"What can I say?" Mays said in his induction speech. "This country is made up of a great many things. You can grow up to be what you want. I chose baseball, and I loved every minute of it."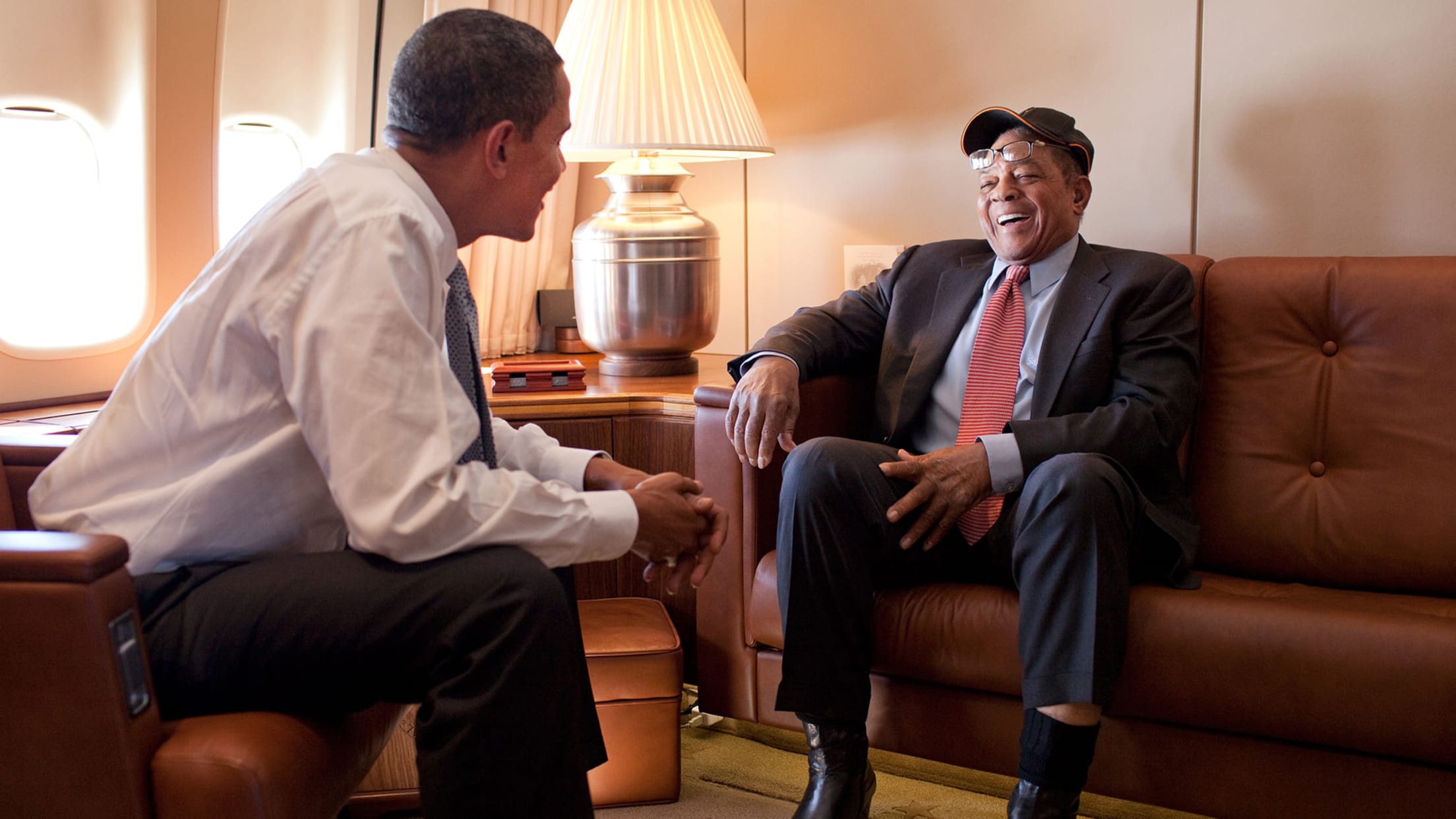 Sept. 29, 2017: Mays' name graces World Series MVP trophy
Though he often remained out of the public eye, Mays received a number of accolades and his company was sought out repeatedly by U.S. presidents. In 2009, Mays flew on Air Force One alongside President Barack Obama to the All-Star Game in St. Louis.
In 2015, Mays was honored before the All-Star Game alongside Hank Aaron, Johnny Bench and Sandy Koufax as baseball's four "Greatest Living Players." Two years later, MLB announced that it had renamed its World Series Most Valuable Player Award in honor of Mays, ensuring that the honor for the best performance under the baseball's brightest lights would evoke one of the sport's all-time legends.
Mays' legacy continued on the diamond as well. He was the godfather to Barry Bonds, who would surpass Mays on the all-time homer list with his 661st blast in 2004. Mays' boundless joy, graceful demeanor and breathtaking athleticism continue to inspire -- both in the sporting world and beyond.
"For an artist," said celebrated American painter LeRoy Neiman, whose 1996 painting of Mays resides in the Hall of Fame, "watching Willie Mays hit a baseball is an experience far more overpowering than painting a beautiful woman or leading political figure."
credits:
Matt Kelly is a reporter for MLB.com based in New York.