Pirates call Tucker up for weekend series help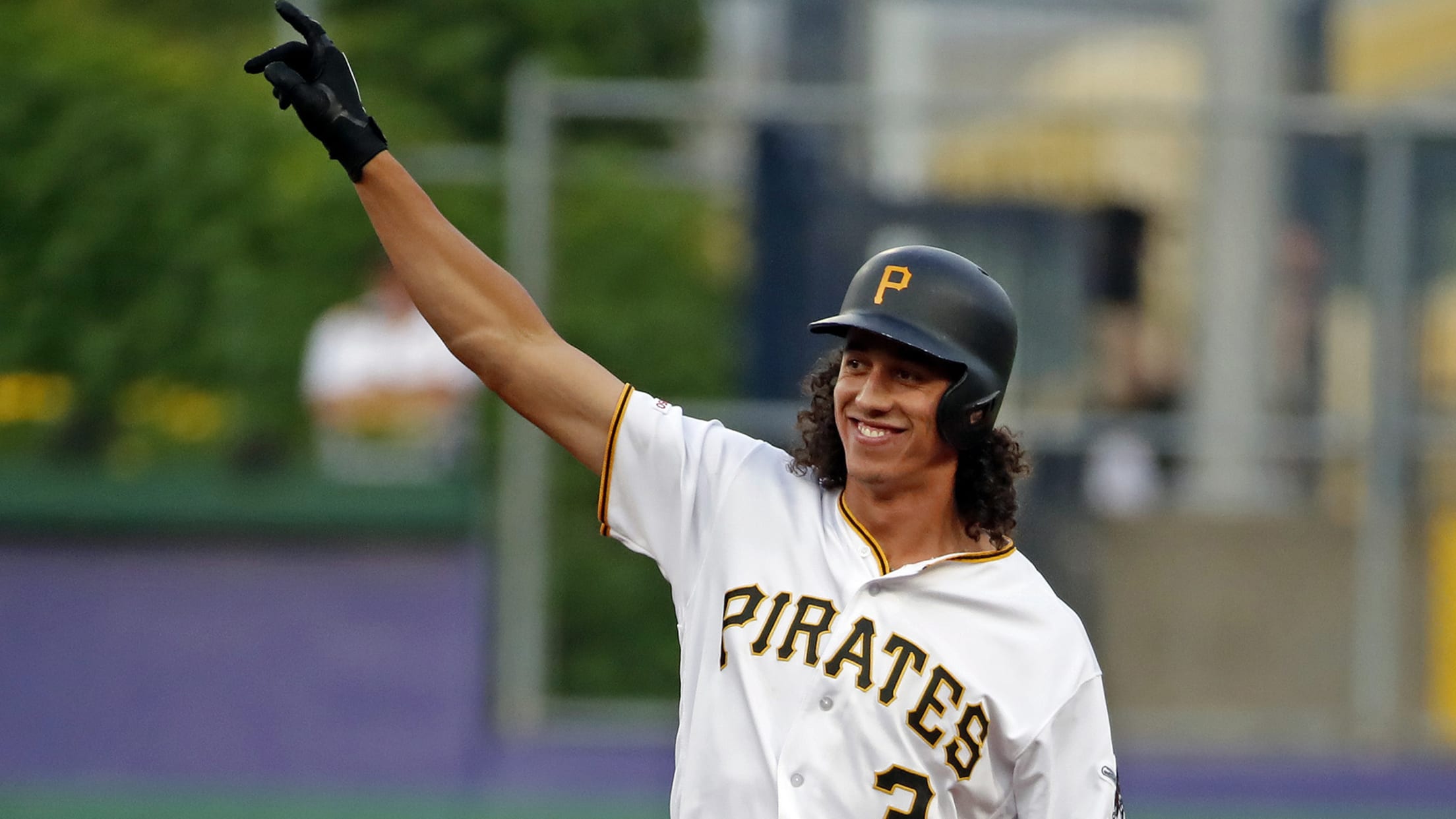 PITTSBURGH -- Rookie shortstop Cole Tucker is back with the Pirates, but apparently not for long. Pittsburgh recalled Tucker and optioned reliever Geoff Hartlieb to Triple-A Indianapolis before Friday's series opener at PNC Park. Tucker was not in the Pirates' starting lineup against Cubs right-hander Kyle Hendricks, but entered the
PITTSBURGH -- Rookie shortstop Cole Tucker is back with the Pirates, but apparently not for long.
Pittsburgh recalled Tucker and optioned reliever Geoff Hartlieb to Triple-A Indianapolis before Friday's series opener at PNC Park. Tucker was not in the Pirates' starting lineup against Cubs right-hander Kyle Hendricks, but entered the game as a pinch-hitter in the bottom of the ninth and worked a seven-pitch walk to load the bases and force in the tying run. Tucker's two-out walk paved the way for Kevin Newman's walk-off single in the Pirates' 3-2 win.
However, Tucker's second stint in the Majors may not last more than a few days.
Pirates manager Clint Hurdle said Tucker was called up to provide "short-term help" while corner infielder/outfielder Jose Osuna serves a five-game suspension, which began Wednesday. The Bucs played Wednesday's series finale in Anaheim with a two-man bench, and they didn't feel comfortable getting through this series with a three-man bench.
The switch-hitting Tucker could start Saturday or Sunday (possibly even both), as the Cubs are set to start a pair of lefties in Jon Lester and Jose Quintana. In that scenario, Kevin Newman would shift to second base with Tucker playing shortstop. Tucker has played four games at second base in Triple-A, but Hurdle said the Pirates aren't interested in moving him around the field yet.
After Osuna returns, the Pirates anticipate sending Tucker down to play every day in Triple-A until rosters expand on Sept. 1 and Indianapolis' season ends.
Tucker played excellent defense during his first Major League callup, which came earlier than he and the Pirates expected because shortstops Newman and Erik Gonzalez were injured in April. But the 23-year-old hit just .196 with a .565 OPS in 38 games. He made a mechanical adjustment before he was optioned, moving his hands toward the middle of his chest, and recorded seven hits in his final 14 at-bats.
"Obviously just trying to have more consistent, professional at-bats and just learning what the league is teaching me. Playing at the highest level, these pitchers kind of have an idea what they're doing," Tucker said. "Hendricks, Lester and Quintana have been in the big leagues for longer than I've been alive, so I'm just trying to learn what they're trying to teach me and how they're trying to attack me, just taking it day by day and trying to be the best hitter I can be."
The Pirates and Cubs will be able to call up an extra position player for Sunday's Little League Classic in Williamsport. The Bucs' options are limited, as infield prospect Kevin Kramer is on the injured list in Triple-A with a right knee contusion. That leaves outfielder Jason Martin as the most likely candidate, considering he is the only other healthy position player occupying a spot on Pittsburgh's 40-man roster.
Around the horn
• Jacob Stallings, who was scratched on Wednesday night due to a migraine, returned to the lineup on Friday to catch starter Joe Musgrove.
• During an appearance on MLB Network, Pirates general manager Neal Huntington was asked to comment on a report by The Athletic regarding two late-July incidents that resulted in team-issued, two-game suspensions for setup man Keone Kela and bullpen coach Euclides Rojas.
"We had a lot of discussions to learn from how something like that would happen, how we could learn from it, how we could make adjustments going forward, and we've done just that," Huntington said. "We're looking to build on the positives as we look to finish strong and build momentum for next year.
"It's certainly a product of frustration. There are some things we learned we can do better -- the communication, the consistency, the awareness. There are things that we can absolutely -- and have -- learned from and will build on as we move forward."