Gonzalez excited for everyday opportunity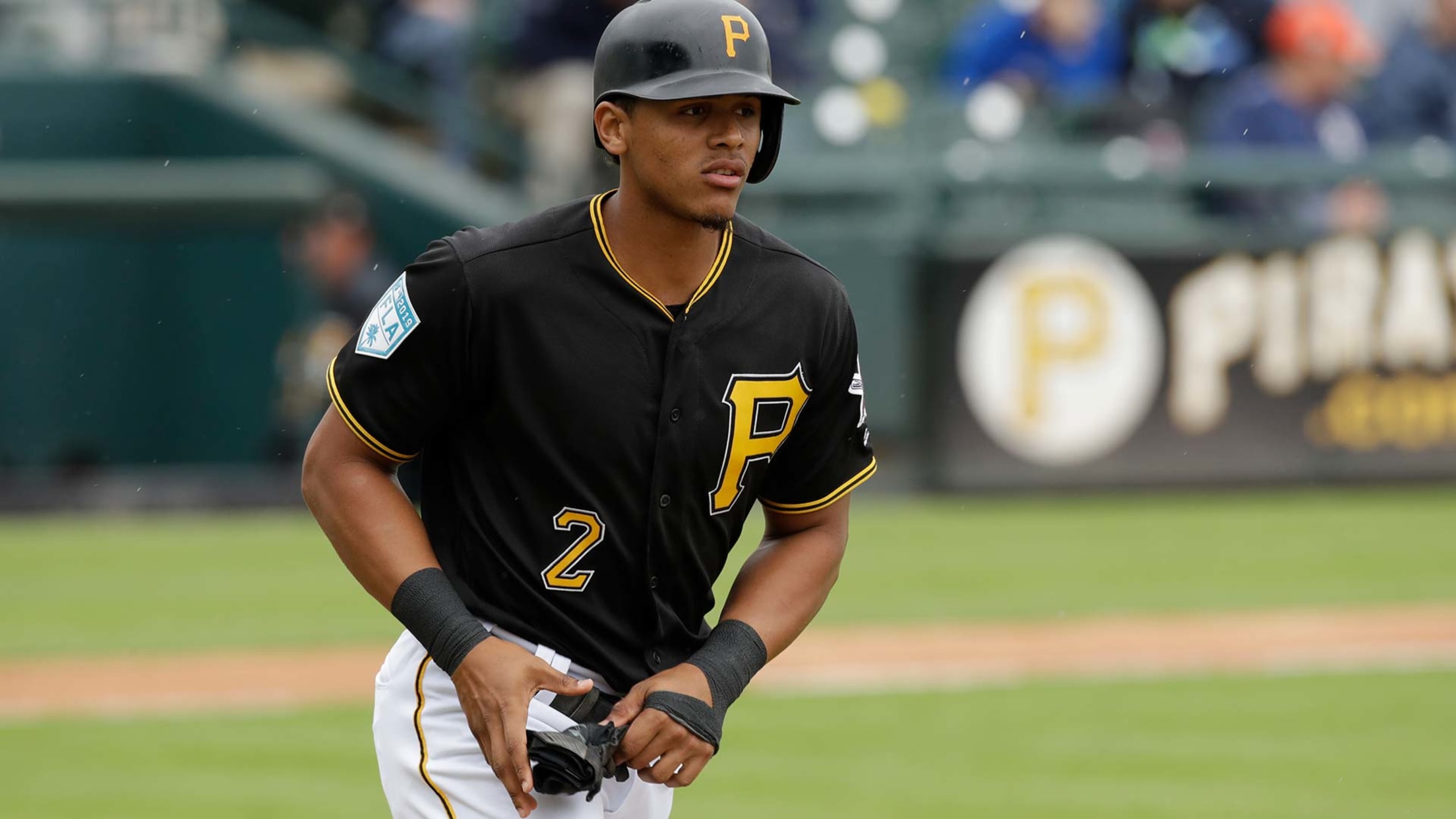 BRADENTON, Fla. -- You probably won't find a player in the Pirates' clubhouse who's more excited for Opening Day than Erik González. On Monday, the Bucs named Gonzalez their starting shortstop, and the honor is not lost on the 27-year-old. Before being acquired by Pittsburgh in November, his path to
BRADENTON, Fla. -- You probably won't find a player in the Pirates' clubhouse who's more excited for Opening Day than Erik González.
On Monday, the Bucs named Gonzalez their starting shortstop, and the honor is not lost on the 27-year-old. Before being acquired by Pittsburgh in November, his path to playing time was blocked in Cleveland by All-Star infielders Francisco Lindor and Jose Ramirez. Now here he is, with a new team and a long-awaited opportunity.
"It feels amazing. This is a dream that I've always had since I was a young kid. It feels great," Gonzalez said Tuesday, through interpreter Mike Gonzalez. "It feels amazing. I feel very excited for the season to get started. I feel very excited to be able to play that position, and take that role with the Pittsburgh Pirates and continue forward."
Make no mistake: The Pirates are taking a chance on Gonzalez. They moved on from Jordy Mercer, a steady presence as their Opening Day shortstop each of the previous five seasons, and got roundly criticized for not replacing him with a more familiar name this offseason. They instead turned to Gonzalez, who is unproven as an everyday player in the Majors.
"At times, we've seen a guy who can make athletic, rangy plays. At times, we've seen a guy with some barrel [as a hitter]," general manager Neal Huntington said. "At times, we've seen a guy who can run the bases and be an effective baserunner. Our belief is that he'll take a deep breath now and we'll see those more than we have so far this spring."
There won't be much pressure on Gonzalez to carry the lineup, as he'll likely bat eighth, but Bucs scouts encouraged management to pursue Gonzalez in part because they believe he's a better hitter than his career line would indicate. In 162 games with the Indians, he batted .263 with a .292 on-base percentage, five home runs and nearly nine times more strikeouts (79) than walks (nine) in 275 plate appearances.
Still, the Pirates like the potential they've seen from their new starting shortstop in Spring Training. Above all, they like his glove.
The Pirates are built around pitching, so to maximize the effectiveness of their staff, they must improve their infield defense. That influenced Pittsburgh's decision to start Gonzalez, who is widely regarded as a dynamic fielder. Huntington noted that reliability -- consistently making the routine play, a topic Gonzalez often discussed with Lindor -- is the next step in his development as a regular shortstop.
"My focus is to continue working hard. I've always been strong defensively, and offensively I'm a huge believer in myself," Gonzalez said. "My goal is to help this team get to the postseason. We have a great pitching staff here. I have great teammates here that continue to challenge me and help me in those areas. I'm just excited to help this team get to the postseason."
Gonzalez was clearly grateful, relieved and energized after learning that he earned the starting job over Kevin Newman. He immediately informed his wife, parents and siblings, he said, "just to share the great news." Gonzalez said in January that his passion for the game was "on fire again" due to the idea of playing more often, and the reality is even better.
"The idea of it's going to excite you, because it's better than what he had," Bucs manager Clint Hurdle said. "Now that it's real, there's going to be part of you that's really happy, then there's a part of you that's going to be able to breathe better than you have in the past. Hopefully some normalcy will come with this."