Cervelli (concussion) catches simulated games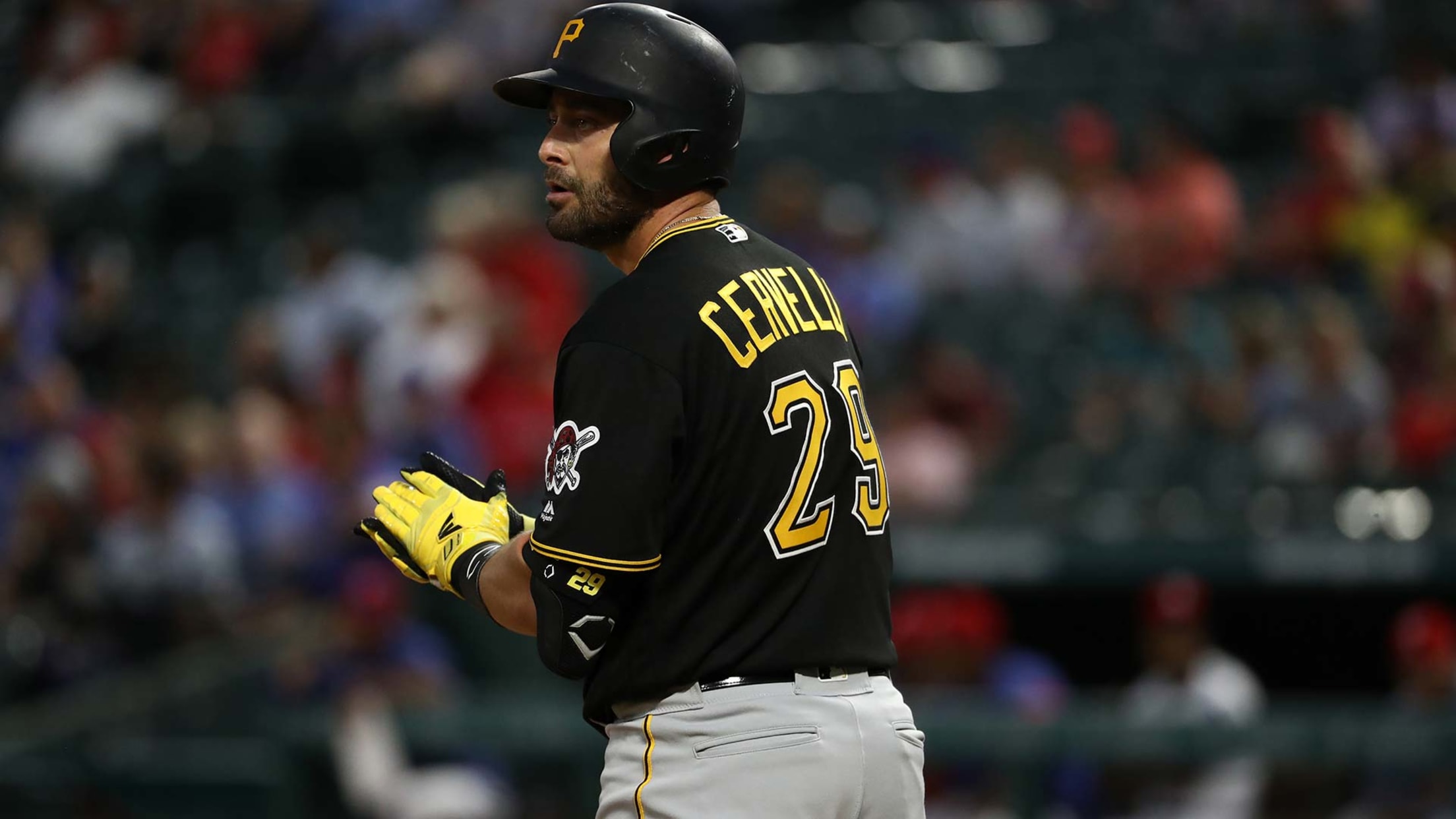 PITTSBURGH -- Throughout his lengthy recovery from the latest of several concussions he's sustained during his career, Francisco Cervelli insisted he was not done catching. After months of rest and rehabilitation and all sorts of physical and cognitive tests, Cervelli is nearly back where he wants to be. The 33-year-old
PITTSBURGH -- Throughout his lengthy recovery from the latest of several concussions he's sustained during his career, Francisco Cervelli insisted he was not done catching.
After months of rest and rehabilitation and all sorts of physical and cognitive tests, Cervelli is nearly back where he wants to be. The 33-year-old got behind the plate on Tuesday and Wednesday, in full catcher's gear, to work with suspended reliever Keone Kela during a pair of simulated games.
Cervelli has not yet been cleared to play in games, director of sports medicine Todd Tomczyk said, but the Pirates are encouraged by the progress he's making.
"Our guidance by the experts has been to continue to advance his catching progression, and as you've seen, he's now being exposed to having a potential foul tip off the mask," Tomczyk said Wednesday, about an hour after Cervelli finished catching Kela's sim game. "That's a step in the right direction."
What comes next, and the timeline for that next step, is a little less clear. Cervelli, who is on the 60-day injured list, must be cleared by the Pirates' doctors, Major League Baseball and the MLB Players Association before he can play in games. Cervelli has not played since May 25.
"There's not a lot from a medical perspective -- an athletic training, physical therapy, strength and conditioning perspective -- that he needs to do," Tomczyk said. "We're waiting for those final clearances from our doctors, from the Commissioner's Office and from the association."
Cervelli is in the final season of his three-year, $31 million contract with the Pirates. During his rehab, he has worked out at other positions in case he needs to play elsewhere. But he hopes to still be a catcher upon his return.
"I don't know how long it's going to take, but when everything goes well, I'm going to do what I like," Cervelli said last month. "I want to play and I'm hoping to catch."
Trainer's room
• Right fielder Gregory Polanco (left shoulder) has resumed all baseball activities in Bradenton, Fla., Tomczyk said. Polanco is hitting, throwing and running -- just not at full, game-like intensity. Tomczyk said the Pirates will build up Polanco's workload and "get him in a position to play in games."
• Opening Day starter Jameson Taillon is being scheduled for season-ending elbow surgery early next week, Tomczyk said. The Pirates will provide more information about the procedure after it takes place.
• Reliever Clay Holmes (right triceps inflammation) will make another Minor League rehab appearance with Double-A Altoona on Thursday.
• Right-handers Nick Burdi, Chad Kuhl and Edgar Santana are rehabbing at the Pirate City complex in Bradenton, Fla. Kuhl and Santana, working their way back from Tommy John surgery, are throwing bullpen sessions. Burdi, who had surgery in June to relieve symptoms of neurogenic thoracic outlet syndrome, has not yet resumed throwing. All three are expected to return in 2020.
• Tomczyk said there was "no change in status" with outfielder Lonnie Chisenhall (strained calves) and pitching prospect J.T. Brubaker (right forearm strain).
Around the horn
• There may soon be an opening in the Pirates' rotation for top prospect Mitch Keller. The Bucs optioned right-hander Dario Agrazal to Triple-A Indianapolis on Tuesday, clearing a spot on their starting staff. They bumped up left-hander Steven Brault to start Sunday's series finale in St. Louis after Chris Archer pitches the opener, while Joe Musgrove gets Saturday's start.
That would line up right-hander Trevor Williams to pitch Monday against the Angels, with Keller -- whose scheduled start for Indianapolis on Wednesday was rained out -- potentially on turn to start Tuesday.
• Adam Frazier was given a scheduled day off on Wednesday, so Pablo Reyes made his third start of the season at second base against Brewers lefty Drew Pomeranz.