Polanco on COVID recovery: 'I feel strong'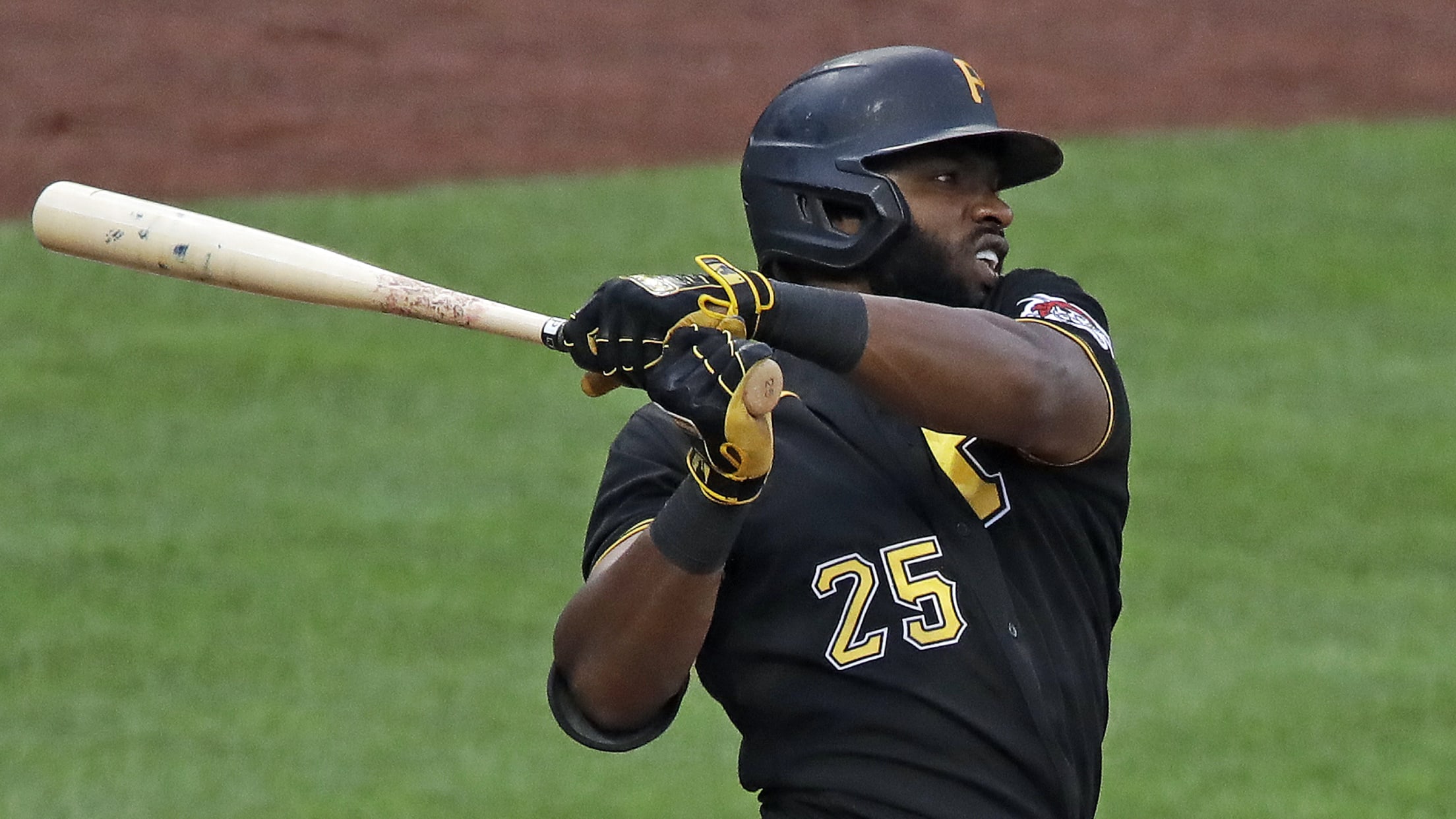 PITTSBURGH -- As Gregory Polanco stood up from his seat in the press conference room/makeshift Zoom studio at PNC Park on Wednesday afternoon, he had one final thought to share. "Wear your mask," he said, smiling. "Please!" Polanco is preaching caution and safety after his own experience with COVID-19. The
PITTSBURGH -- As Gregory Polanco stood up from his seat in the press conference room/makeshift Zoom studio at PNC Park on Wednesday afternoon, he had one final thought to share.
"Wear your mask," he said, smiling. "Please!"
Polanco is preaching caution and safety after his own experience with COVID-19. The 28-year-old started the season on the injured list after testing positive during Summer Camp but tested negative twice last week at least 24 hours apart. He returned to the lineup as Pittsburgh's designated hitter on Monday and made his first start in right field on Wednesday night at PNC Park.
"I love having him around," Pirates manager Derek Shelton said. "He's happy. He's in a good mood. He smiles. He's great in the clubhouse. Having him back makes me smile because every day when he walks in, he smiles."
Polanco said he dealt with mild symptoms of COVID-19 -- sore throat, headache, chills, extreme fatigue -- and his sore throat lasted around four days, longer than his other symptoms. Even while resting at home, though, he said he felt "really, really tired." He considers himself fortunate to return so soon and wants other people to take necessary precautions amid the coronavirus pandemic.
"We've taken it serious, but just a message for the people who are probably not taking it that serious: You have to take this [seriously], because it's real," Polanco said. "You have to take care and be really careful. I'm grateful that I'm healthy, that it didn't affect me like other people. So I'm just grateful that I'm here back playing."
Polanco said he has no idea where he contracted the virus, noting that he spent all of Summer Camp either inside his apartment or at PNC Park. When he woke up one morning feeling sick, he immediately alerted Pirates director of sports medicine Todd Tomczyk.
The Pirates have gone out of their way to praise Polanco for not coming to the ballpark and potentially exposing others to the contagious virus. He said he heard from general manager Ben Cherington, Shelton and teammates throughout the time he was isolated in his apartment.
"Every day. That's what I love about my teammates and my coach," Polanco said. "They stay in contact every single day, checking on me, asking me how I was doing and how I was feeling. They were worried about me."
When he became asymptomatic, Polanco resumed working out in his apartment to the extent that he could. He used resistance bands and did whatever else he could to work up a sweat, trying to reduce the time it would take for him to get back in the lineup after he cleared the league's COVID-19 protocol.
"Every day, I make a little progress, and my body's feeling better and better every day," Polanco said. "So that's all that matters right now, that my body is healthy. I feel healthy. I feel strong."
The Pirates are going to monitor his playing time going forward, Shelton said, and they've already shown that. Polanco eased back into the lineup as the DH on Monday, took Tuesday off (aside from a pinch-hitting appearance) and returned to the field on Wednesday night.
The team's off-day on Thursday "will be a big day in terms of how he feels and if he's going to DH, how we're going to play him in the field and kind of working forward," Shelton said. "But we have to be extremely mindful of it."
The illness came at a particularly frustrating time for Polanco. He looked healthy in Spring Training and even more so at the start of Summer Camp, showing no signs of the shoulder issues that limited him last year. Then he had to spend two weeks away from the field, unable to face live pitching and fine-tune his timing at the plate.
"I feel good. I feel healthy. But the timing is tough," Polanco said. "The only way you get better for your timing is by playing, taking at-bats. That's how you get your timing back. That's tough, because we don't have a Minor League [season]. We don't have nothing. It's just go into the season. But I'm here, and I know it wasn't going to be easy. So I'm ready for the challenge, and I'm happy that I'm in the lineup and they're giving me an opportunity to play."