Notes: Stallings Bucs' MVP; injury updates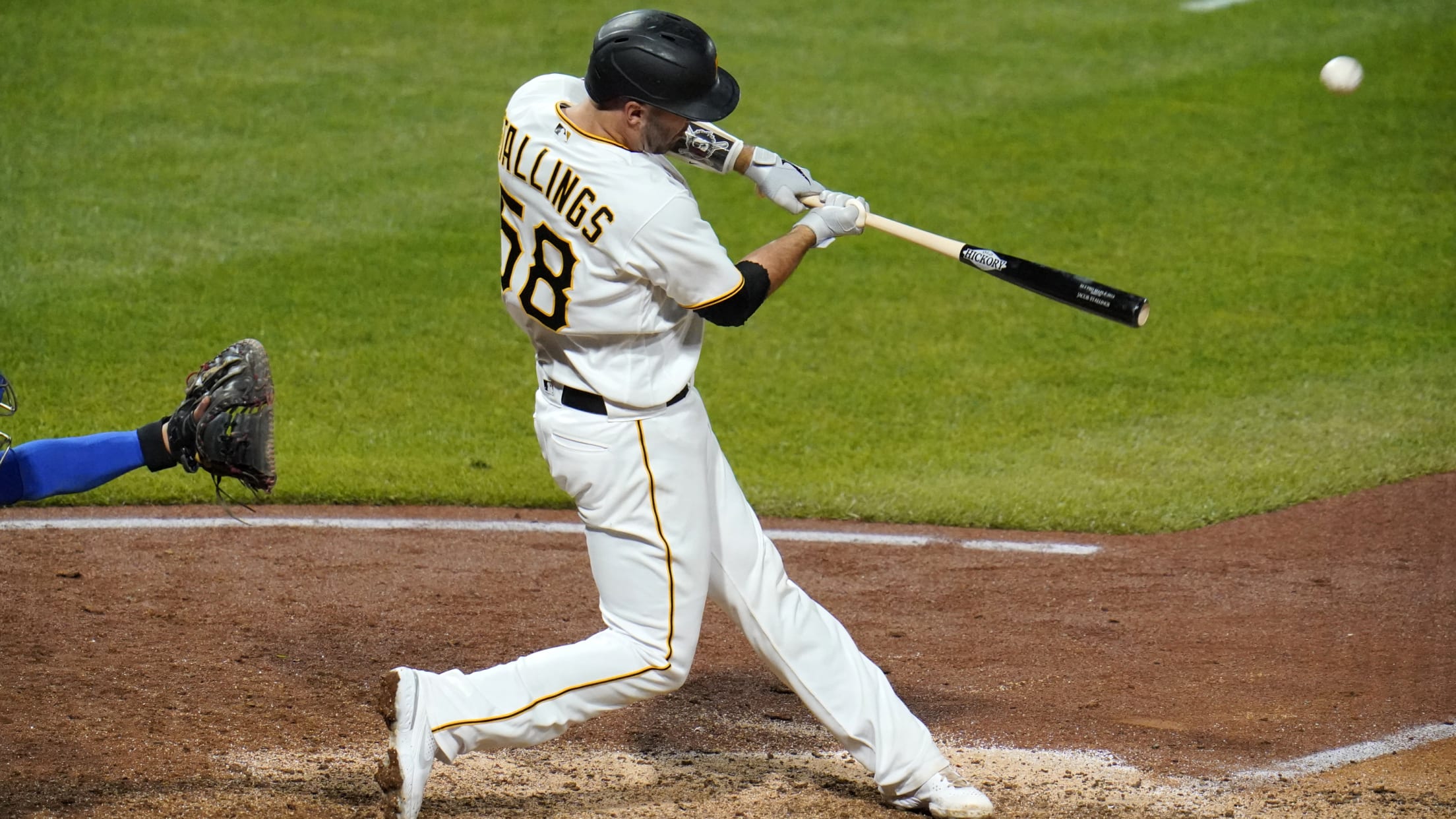 PITTSBURGH -- Four years ago, the Pirates removed Jacob Stallings from their 40-man roster. Every team in the Majors had a chance to claim him, and every team passed. It happened again last May, when Stallings cleared waivers before the Pirates called him back up nine days later. In the
PITTSBURGH -- Four years ago, the Pirates removed Jacob Stallings from their 40-man roster. Every team in the Majors had a chance to claim him, and every team passed. It happened again last May, when Stallings cleared waivers before the Pirates called him back up nine days later.
In the 16 months since, Stallings has established himself as a legitimate Major League starting catcher. Manager Derek Shelton has repeatedly advocated for Stallings' Gold Glove Award candidacy, and his work was recognized on a local level Thursday morning.
Stallings earned the Roberto Clemente Award (team MVP) from the Pittsburgh chapter of the Baseball Writers' Association of America. The catcher received 14 of 15 possible first-place votes, finishing well ahead of runner-up Ke'Bryan Hayes. Colin Moran, Erik González, Steven Brault, Richard Rodríguez and Josh Bell also received votes.
"Each year is so different. It feels good to have a good year," Stallings said Thursday. "I feel like I could have done better, but I also feel good about what I did, that I've been able to stay healthy so far and go out there almost every day and be our catcher.
"It's been a tough year in a lot of regards, obviously, but it feels good to play well. It always feels good. Obviously would have liked for the team to have done better, but you know, at least for me, personally, I feel like I had a pretty good year overall."
The 30-year-old catcher is hitting .254/.331/.390 with a .721 OPS that ranks behind only Moran among qualified Pirates hitters. His .316 wOBA falls in the middle of the pack for backstops with at least 100 plate appearances this season, but Stallings has established himself by improving defensively.
He's third in the Majors among catchers with five Defensive Runs Saved. He's tied for second in the Majors with three runs from extra strikes, according to Statcast, the result of the receiving and pitch-framing work he did last season. He entered Thursday with nine runners caught stealing, tied for second-most in the Majors. He's lauded by Pittsburgh's pitchers and coaches for his leadership and game-calling behind the plate.
"In a lot of ways, getting DFA'd and then not claimed by anyone was kind of eye-opening, and that's part of what got me interested in the receiving aspect," Stallings said. "Because I felt like I was a really good defensive catcher, and yet nobody really wanted me. So that told me that were things that I needed to get better on, and I think the receiving was probably the biggest aspect."
Brault was named the Pirates' 2020 Steve Blass Award winner, given annually to the club's best pitcher. He received 10 of 14 first-place votes, with Rodríguez getting the other four. Chris Stratton, Sam Howard, Chad Kuhl, JT Brubaker and Mitch Keller also received second- and third-place votes.
The Chuck Tanner Award, presented to the player who is most cooperative with media, also went to Stallings. The runner-up was Brault, who won the award last year; Cole Tucker, Derek Holland, Bell and Hayes also received votes.
Trainer's room
Outfielder Tucker, who's on the seven-day concussion injured list, will not return this season, director of sports medicine Todd Tomczyk said. Tucker was eligible to return on Thursday, but Tomczyk said the club's medical team decided it was in Tucker's "best interest to not play for the remainder of the season."
"Long-term, very encouraged by his progress, and he'll be able to have a normal offseason to prepare for the 2021 season," Tomczyk said.
Tomczyk said infielder Kevin Newman, who's on the 10-day injured list with a nerve contusion in his left knee, sustained no structural damage when he was hit on the knee by a pitch. Newman won't play over the final weekend of the season, but if this were earlier in the year, Tomczyk said, Newman likely would have been ready to play before his 10-day stint on the IL ended.
Outfielder Jason Martin's upper back strain is also "nothing serious," Tomczyk said, and won't affect his offseason work. The Pirates were running short on position players -- they have a three-man bench -- so they couldn't afford to play with Martin sidelined for even a few days.
Starter Jameson Taillon (Aug. 2019 Tommy John surgery) began his "ramp-down" process by playing catch on flat ground at PNC Park. Taillon pitched three innings of live batting practice earlier this week and has repeatedly earned the praise of the Pirates' training staff during his rehabilitation.
Ramping down the rehab. Some light catch to end the season. Excited to take everything I've learned from this rehab journey into a healthy and full offseason! Going to keep the momentum going right into next year. pic.twitter.com/fnYxmlsy2w

— Jameson Taillon (@JTaillon19) September 23, 2020
"Can't speak enough about his professionalism and how he went through this rehab this year, and it was a pleasure for our team to work with him here during this pandemic season and really watch him dominate this rehab," Tomczyk said. "It's been a pleasure to watch him, and I'm really excited how the 2021 season's going to be for Jameson."