Newman on IL after pitching machine accident
Pirates recall infielder Kramer from Triple-A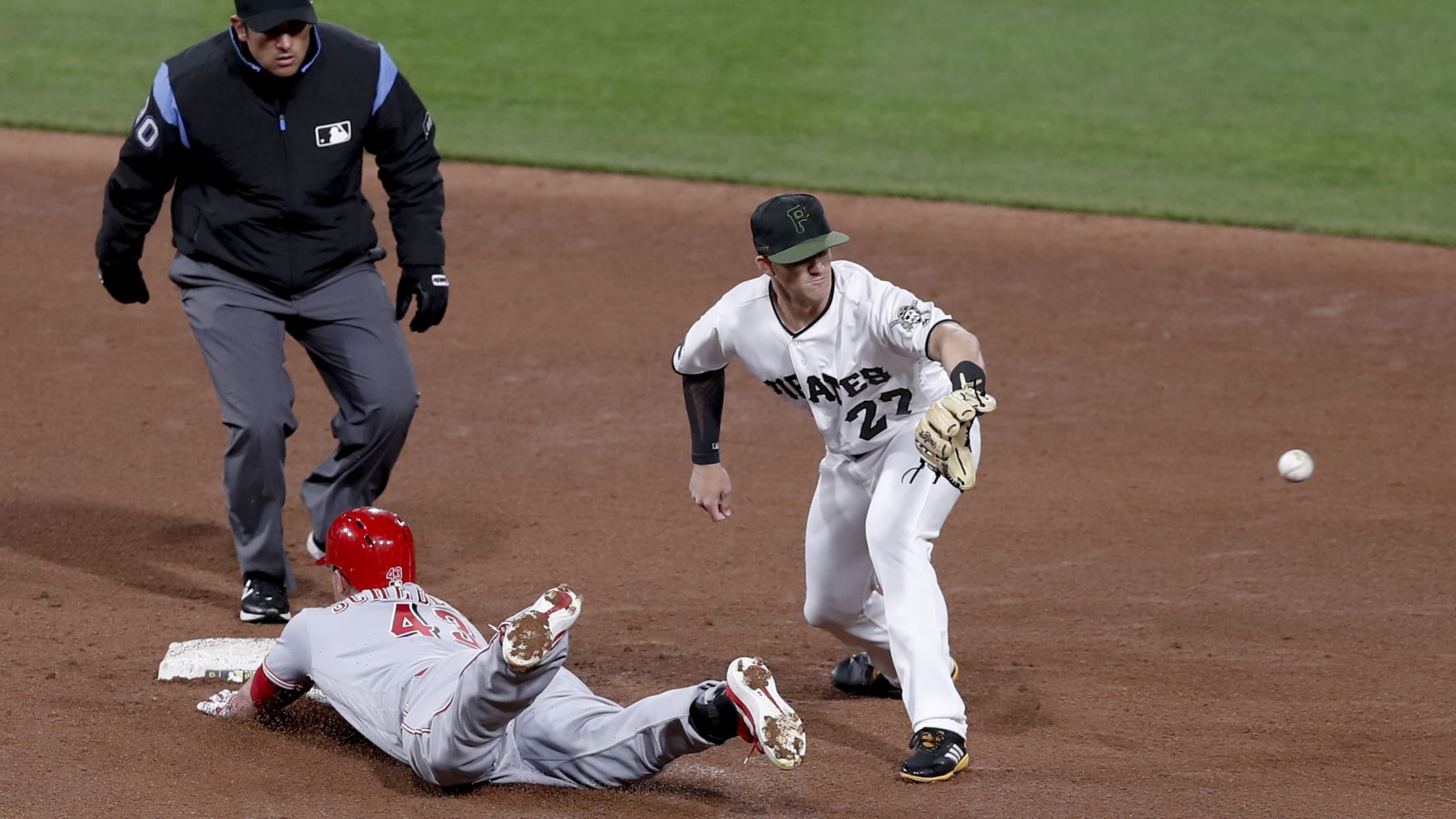 CHICAGO -- Pirates shortstop Kevin Newman was placed on the 10-day injured list, retroactive to Tuesday, after team officials said he sustained a hand injury while helping set up a pitching machine on Wednesday. Newman lacerated the middle finger of his right hand, team trainer Todd Tomczyk said before Thursday's
CHICAGO -- Pirates shortstop Kevin Newman was placed on the 10-day injured list, retroactive to Tuesday, after team officials said he sustained a hand injury while helping set up a pitching machine on Wednesday.
Newman lacerated the middle finger of his right hand, team trainer Todd Tomczyk said before Thursday's game against the Cubs. Tomczyk said the team doesn't anticipate the injury to be a long-term issue but said a hand surgeon recommended that Newman has limited to no activity for 48-72 hours.
Newman said the machine fell in an awkward way and jammed his finger, which he called "unfortunate."
"It's hard to explain because machines are weird," Newman said Thursday.
Newman's injury occurred not long after he collected a walk-off, game-winning hit Saturday against the Reds. On Monday, he committed a critical error during a 10-0 loss to the Cubs. Newman's throwing error came with two outs in the second inning and led to six unearned runs.
"It's tough timing," Newman said. "I certainly would like to be out there and help the team, but it is what is and I'll just try to get back as quickly as I can."
The Pirates recalled infielder Kevin Kramer from Triple-A Indianapolis, where he was hitting .231 with two RBIs. Kramer was sent to Indianapolis at the end of Spring Training with the hope he could see time at multiple positions as a way to get his bat into the lineup.
Kramer said Thursday he has worked at shortstop and third base as well as right and left field. He hopes to make a good impression with the Pirates as long as his opportunity lasts.
"Obviously, this is the goal place to be," Kramer said. "… At this point, it's just about coming up here and helping any way."
Manager Clint Hurdle said the plan is to use Kramer as an infielder and move him around as needed. But Hurdle said Kramer's best approach to contribute for the Pirates in the future is to be prepared to play multiple positions. Kramer hit .207 with a home run and seven RBIs in Spring Training.
"We've had many guys come up, move around initially and then settle into one spot," Hurdle said.