What to know: Pirates 2020 offseason FAQ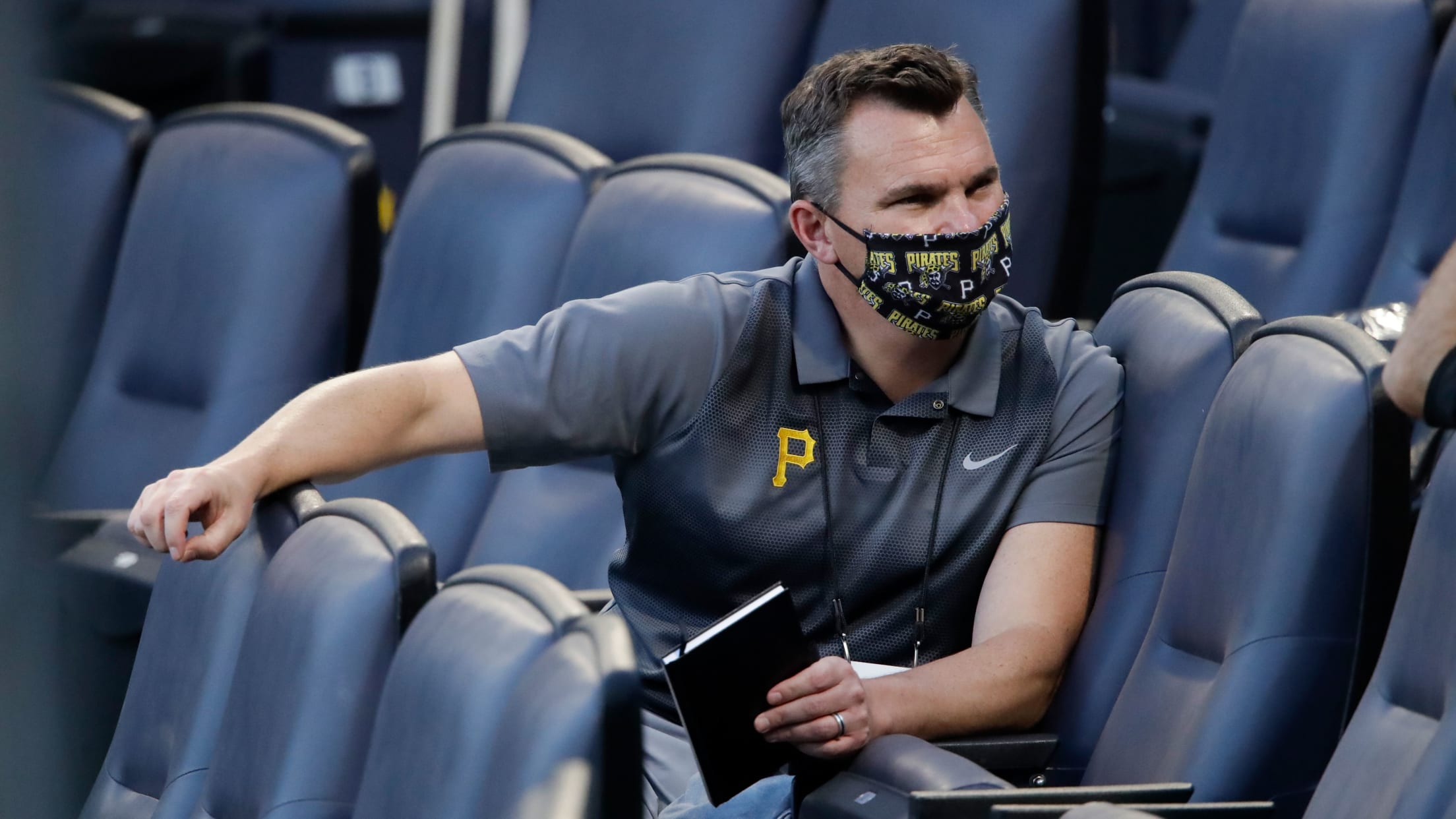 PITTSBURGH -- Ben Cherington did not dramatically change the roster he inherited during his first offseason as the Pirates' general manager. He added a few role players and brought in some interesting Minor League free agents, and his biggest move was the late January deal that sent center fielder Starling
PITTSBURGH -- Ben Cherington did not dramatically change the roster he inherited during his first offseason as the Pirates' general manager. He added a few role players and brought in some interesting Minor League free agents, and his biggest move was the late January deal that sent center fielder Starling Marte to Arizona.
The past year has given Cherington a chance to evaluate the Pirates' roster. With more time on the job and a little more familiarity with the organization, will he be more active this winter in his efforts to add young talent to Pittsburgh's system?
"We'll certainly look for opportunities this offseason to get better, to build a deeper and more talented roster," Cherington said. "Nothing's changed in terms of our focus and commitment to building a winning team. We're going to work hard every day to move toward that."
Here are a few key deadlines and decisions facing the Pirates as their offseason continues.
Which players are free agents?
Two players are guaranteed to reach free agency: closer Keone Kela and veteran left-hander Derek Holland. Starter Chris Archer will also become a free agent if the Pirates buy out his club option for next season.
There are other players who would qualify for free agency if they're non-tendered or removed from the roster via outright assignment. Utility man JT Riddle elected free agency on Oct. 6, for instance, after being designated for assignment and assigned outright to Triple-A.
What about Archer's option?
Archer is the only Pirates player with a looming option decision. Five days after the World Series ends, the club must either exercise his $11 million option for next season or buy it out for $250,000. The Pirates have not given any indication as to whether they'll exercise or decline Archer's option.
Last year, they triggered his option for this past season. It made sense to retain him at the price of $9 million, considering his buyout was $2 million, and they didn't foresee Archer requiring season-ending surgery on June 2 due to thoracic outlet syndrome.
Archer is expected to return to full competition next year, but it's hard to see the cost-conscious Pirates committing $11 million to a 32-year-old pitcher coming off such a significant surgery, especially given Archer's struggles in Pittsburgh before the procedure.
When do the Pirates have to activate players off the 45/60-day injured list?
This might not seem like a big deal, but it is for the Pirates. They finished the season with 11 players on the 45-day injured list. One of them, Kela, won't be back. Another, Archer, likely won't either. But the club will need to create spots on its 40-man roster to make room for the others within five days after the final game of the World Series.
The other players who must be reinstated or cut loose are center fielder Anthony Alford, reliever Nick Burdi, infielder Phillip Evans, reliever Michael Feliz, reliever Clay Holmes, infielder/outfielder Kevin Kramer, catcher Luke Maile, reliever Yacksel Ríos and starter Jameson Taillon.
Which players are eligible for salary arbitration?
This offseason, the better question might be who isn't eligible for arbitration. The Pirates have a class of 19 arbitration-eligible players, a group so large that Cherington said he recently poked fun at the executives who do the "heavy lifting" on arbitration cases. "They're going to be really busy," Cherington said, "and I'll enjoy watching them from a distance."
That group consists of Feliz, catcher John Ryan Murphy, first baseman Josh Bell, starter Trevor Williams, second baseman/outfielder Adam Frazier, starter Joe Musgrove, Taillon, Maile, starter Chad Kuhl, infielder Erik González, right-hander Nick Tropeano, late-inning reliever Richard Rodríguez, first baseman/designated hitter Colin Moran, starter Steven Brault, reliever Kyle Crick, right-hander Chris Stratton, catcher Jacob Stallings, corner infielder/outfielder José Osuna and Burdi.
It is all but certain the Pirates will trim down that list via trades, non-tenders and other moves. They already removed Riddle, who would have been their 20th case.
When is the tender deadline, and who might be a non-tender candidate?
The deadline to give players a contract for next season, often referred to as the "non-tender deadline," is scheduled for Dec. 2. That could be a busy day for the Bucs.
Clubs typically non-tender players because they feel the raises they'd receive in the arbitration process outpace their actual value on the field. They'll also use the non-tender deadline to create space on the 40-man roster. The Pirates could make moves for both purposes this year.
It's possible the Pirates could cut loose at least one of their backup catchers, Murphy or Maile. González returned to his typical level of production after a hot August and may not merit a raise given their options in the middle infield. Osuna has struggled to find a role in the Majors. Some of their arb-eligible relievers -- notably Feliz and Rios -- come with questions about their health or production.
But the most interesting case is probably Williams, who has put together a 5.60 ERA in 37 starts since his extraordinary second-half run in 2018. His full-season salary for this year was set at $2.825 million, and it would only climb heading into next season. Are the Pirates willing to pay that?
Which prospects do they need to protect before the Rule 5 Draft?
By Nov. 20, the Pirates must set their 40-man roster to protect eligible prospects from the Rule 5 Draft, which will take place in December. They already took care of some of that business the last week of the season, when they called up outfielder Jared Oliva, ranked No. 10 on MLB Pipeline's Top 30 Pirates Prospects list.
Among their other notable prospects who will be eligible for this year's Rule 5 Draft, if left unprotected, are infielder Rodolfo Castro (No. 26), outfielder Lolo Sanchez (No. 23; went undrafted when previously eligible) and pitchers Santiago Florez (No. 19), Max Kranick (No. 24), Travis MacGregor (No. 30) and Braeden Ogle. Castro, a switch-hitting infielder who hit 19 homers in 2019, and Kranick, who pitched well at the alternate training site this year, are the most likely to be protected.
Will they be active in trades?
After a quiet Trade Deadline, expect the Pirates to pursue more trades this winter as they look to add more young talent to the organization. Their most realistic trade candidates at this point are Musgrove, Rodríguez, Frazier, Stratton and Kuhl. It's hard to imagine they'll find a taker for right fielder Gregory Polanco, and Bell would be difficult to trade coming off a down year, but no one is off limits.
Will they be active in free agency?
Cherington insists the Pirates will spend when they're ready to contend, but it seems like they're still a few years away from that point. That doesn't mean Pittsburgh will sit out all winter, though.
The Pirates could fill some short-term needs, and potentially turn free agents into long-term value with Deadline trades, if they target and acquire the right players. It wouldn't be a surprise to see Pittsburgh add veteran depth in the rotation, in the bullpen, behind the plate and in the outfield.
Could this be extension season?
Assuming they buy out Archer's option, the Pirates will only have one player on a non-arbitration/pre-arb deal next season: Polanco, who's set to earn $11.6 million in the final guaranteed year of his contract extension. So this seems like the perfect time to lock up some other young players, right?
The Pirates at least began these conversations during Spring Training, focusing on young players like Bryan Reynolds, Kevin Newman, Ke'Bryan Hayes and Musgrove. After the debut he enjoyed in September, Hayes stands out as the most interesting player they could lock up and build their team around.