Pirates FAQ: Details on the upcoming season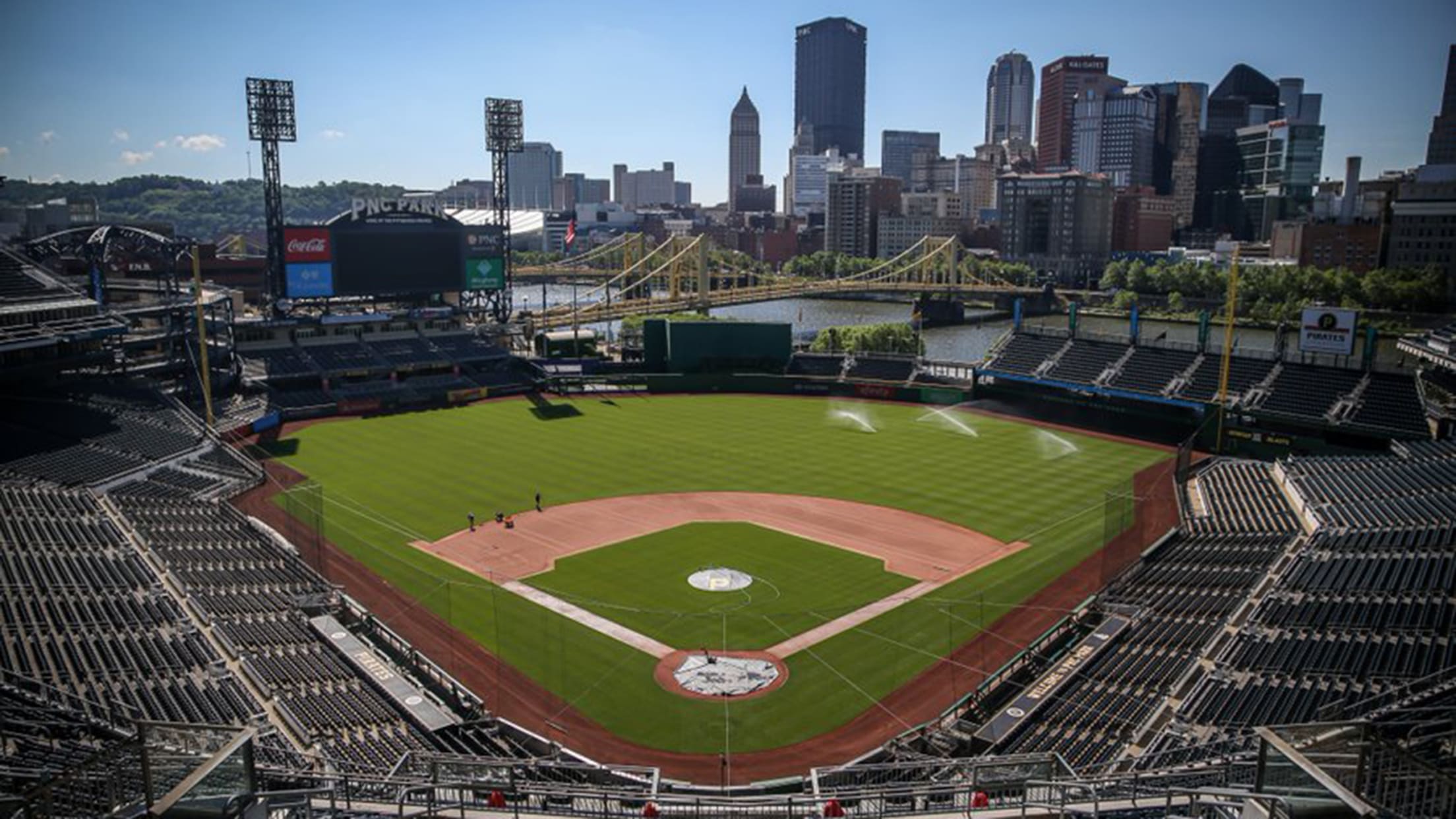 PITTSBURGH -- This wasn't the way the Pirates' new leadership group planned to begin their tenure. But now, after months of waiting and working behind the scenes, they're ready to take the field again. With more than half of the regular season cancelled due to the coronavirus pandemic, team president
PITTSBURGH -- This wasn't the way the Pirates' new leadership group planned to begin their tenure. But now, after months of waiting and working behind the scenes, they're ready to take the field again.
With more than half of the regular season cancelled due to the coronavirus pandemic, team president Travis Williams has been running an organization during a time of unprecedented uncertainty. General manager Ben Cherington lost opportunities to assess and shape his roster. Derek Shelton's long-awaited managerial debut was delayed. And Pittsburgh's players, looking to prove they're better than last year's 69-win season might indicate, could do nothing but train at home.
"Everything I've heard so far is that everyone is going to report," Pirates player representative Jameson Taillon said. "Guys are really fired up and excited to get back together."
So they will all report to PNC Park next week, once again ready to start a new chapter in Pirates history. And with the season shortened to 60 games, frankly, anything is possible.
• Play Ball: MLB announces 2020 regular season
If Josh Bell annihilates baseballs like he did last spring, if Bryan Reynolds and Kevin Newman retain their rookie form, if Gregory Polanco stays healthy, if their arms improve under forward-thinking pitching coach Oscar Marin -- who's to say the Pirates can't get hot and be surprisingly competitive this year?
"I think it's going to be a fun sprint," Shelton said. "I think everybody is going to enjoy it, and I think you're going to see a lot of good, competitive baseball."
Everything's on the table, and no matter what happens, this is an important evaluation year for Pittsburgh. Which prospects are ready for The Show? How will their new pitching plan play out? How will Shelton handle the trials every manager faces? Who fits on the team Cherington wants to build?
• FAQ: All you need to know about 2020 season
After 60 games last year, the Pirates were 29-31. Over their final 60 games, they went 23-37. They never had a 60-game stretch in 2019 in which they played better than .500 baseball. Their best 60-game streaks in franchise history (47 wins) came during their World Series-winning 1909 season.
When will camp start, and where?
The Pirates will hold their summer camp at PNC Park in Pittsburgh. The club made this decision official earlier this month, citing a desire to be closer to their health experts at the Allegheny Health Network as well as their players' previously arranged housing in the Pittsburgh area. They won't have quite as much room as they would at their Spring Training facilities in Bradenton, Fla., but the Bucs believe they can use their empty ballpark in creative ways to maximize their productivity. In addition to being creative, the Pirates will have to be patient while adhering strictly to the league's health and safety protocols.
"It's definitely a lot to ask," Taillon said. "But … guys have made it clear we want to get back on the field, so for three months, we suck it up, do whatever we need to do to get on the field and get it done."
Expect to see the non-active players in their Player Pool train at Peoples Natural Gas Field in Altoona, Pa., home of the Bucs' Double-A affiliate. It's a relatively short drive from Pittsburgh, and the Curve's facilities are considered to be in good shape. Pittsburgh is expected to include several top prospects who aren't ready for the Majors in the Player Pool, and those young players figure to spend most of the season in Altoona.
When is Opening Day?
Either July 23 or 24. The official schedule has not yet been finalized, as MLB submitted a proposed 60-game schedule to the MLBPA to review.
Which teams will be on the schedule?
The Pirates will spend most of the season playing their usual National League Central competition while filling out their schedule with American League Central teams. So expect to see a lot of the Brewers, Cardinals, Cubs and Reds. You'll also see them play the Indians, Royals, Tigers, Twins and White Sox. Interestingly, that gives Shelton a chance to face his former team, Minnesota, in his first season as manager.
Now that's it's official, the countdown begins. #LetsGoBucs pic.twitter.com/uLc3s5ouwR

— Pirates (@Pirates) June 24, 2020
How are the Pirates' injured players doing?
Left-hander Steven Brault and right-hander Clay Holmes are back in action after mid-spring injuries that would have left them unable to make the Opening Day roster. Brault should crack the rotation, assuming Pittsburgh opts for a standard five-man starting staff, while Holmes could factor into the bullpen mix.
The Pirates will be without right-hander Chris Archer, who underwent surgery to relieve symptoms of neurogenic thoracic outlet syndrome (TOS) on June 2. And the delayed start to the season did not change the timeline for Taillon, who will return in 2021 after undergoing his second Tommy John surgery last August. (Taillon's recovery continues to go well, however, an encouraging sign for next year. He threw off the PNC Park bullpen mound on Tuesday, a significant milestone in his recovery.)
Infielder Kevin Kramer, who might have secured a spot on an expanded roster, is out of the mix this year after undergoing right hip surgery last month.
What are some competitions to watch when camp resumes?
There are still several undecided position battles. Will Colin Moran remain the starter at third base, or will this unusual season allow prospect Ke'Bryan Hayes to finish his development in Pittsburgh? The fallout from that position battle should have an impact on the bench, as the Pirates have a lot of utility-infield options in Erik González, JT Riddle and Cole Tucker.
The pitching-staff competition figures to be the most interesting. The Pirates believe the back end of their bullpen -- led by closer Keone Kela -- could be a strength of their team. But how will they work in Kyle Crick, Richard Rodríguez, Michael Feliz, Nick Burdi and Edgar Santana? What will they do with out-of-options righties Holmes, Dovydas Neverauskas and Chris Stratton? Will they make room for a non-roster lefty like Robbie Erlin?
And how will they replace Archer in the rotation? Odds are you'll see Joe Musgrove, Trevor Williams, Mitch Keller, non-roster veteran Derek Holland and Brault. But a shortened season should alleviate any workload concerns they had regarding Chad Kuhl, who's returning from Tommy John surgery, so perhaps he'll play a prominent role as well. Cherington said the Pirates have also considered non-traditional pitching plans, like using an opener or piggybacking starters.
"I think we have a good idea of who at least four of those [starters] are going to be, and that fifth spot, I think we're kind of walking through it in terms of how we're going to do it," Shelton said. "We could be aggressive with that fifth spot. We could be traditional with that fifth spot. We could have an opener. We could do piggyback [starters]. I think that's something we're still kind of talking through in terms of how we're going to do it. The big thing, before we talk about who any of those people are going to be, is getting them into camp and making sure that they're all healthy."
Who will serve as the DH?
Shelton has said the Pirates will probably float different players through the DH spot. It'll depend on the composition of their roster, who's healthy, which pitcher they're facing, who is a better fit in the field and so on. They could choose to rotate and rest regulars, like right fielder Polanco and first baseman Bell; move Moran to DH with Hayes at third base; rotate infielders through the DH spot to make room for Tucker; or give more at-bats to José Osuna.
• How the Pirates could fill the DH spot
How will rosters be different? How will those changes affect the Pirates?
As players ease back into competition, each club will have a 30-man roster for the first two weeks, 28 for the next two weeks and 26 for the remainder of the season. Teams will submit lists of 60 players eligible to play this season, a group that should include most of the Pirates' 40-man roster along with additional non-roster players.
It's unclear how exactly the Pirates will use those extra spots, though they must answer that question by 4 p.m. ET on Sunday. They could provide experienced, emergency depth options with non-roster players like infielder Phillip Evans and pitcher Hector Noesí. But they will also include top prospects who aren't on the 40-man roster, giving them every opportunity to continue their development this year should there be no Minor League games.
• FAQ: Roster and transaction rules for 2020
Hayes, Tucker, outfielder Jason Martin and young reliever Blake Cederlind wouldn't have made the Opening Day roster in March, but they are on the 40-man roster and will certainly be included in the 60-man Player Pool.
"We've been talking about it for a few weeks now, because we had guidelines where we knew it was going to be close to 60," Shelton said. "I would say within one or two guys, we're really close to finalizing that."
It's also worth noting that there will still be a Trade Deadline on Aug. 31. So if the Pirates aren't contending, they'll have an opportunity to add young talent to their organization by dealing pending free agents like Kela. Teams truly vying for a World Series might still be willing to give up quality prospects for even a month of a high-impact player, though there is a rule in place that only players in the Player Pool can be traded.
How can I watch the games?
The Pirates' television broadcast partner is AT&T SportsNet Pittsburgh. With no official schedule in place, AT&T SportsNet has not yet released a broadcast schedule. Stream out-of-market Pirates games LIVE on MLB.TV on your favorite supported devices.
How can I listen?
Pirates games typically air on KDKA-FM (93.7 The Fan) and the Pirates Radio Network. Listen to every Pirates game LIVE online or on the go with MLB Audio.