Inbox: How will Pirates approach 2020 roster?
Beat reporter Adam Berry answers questions from fans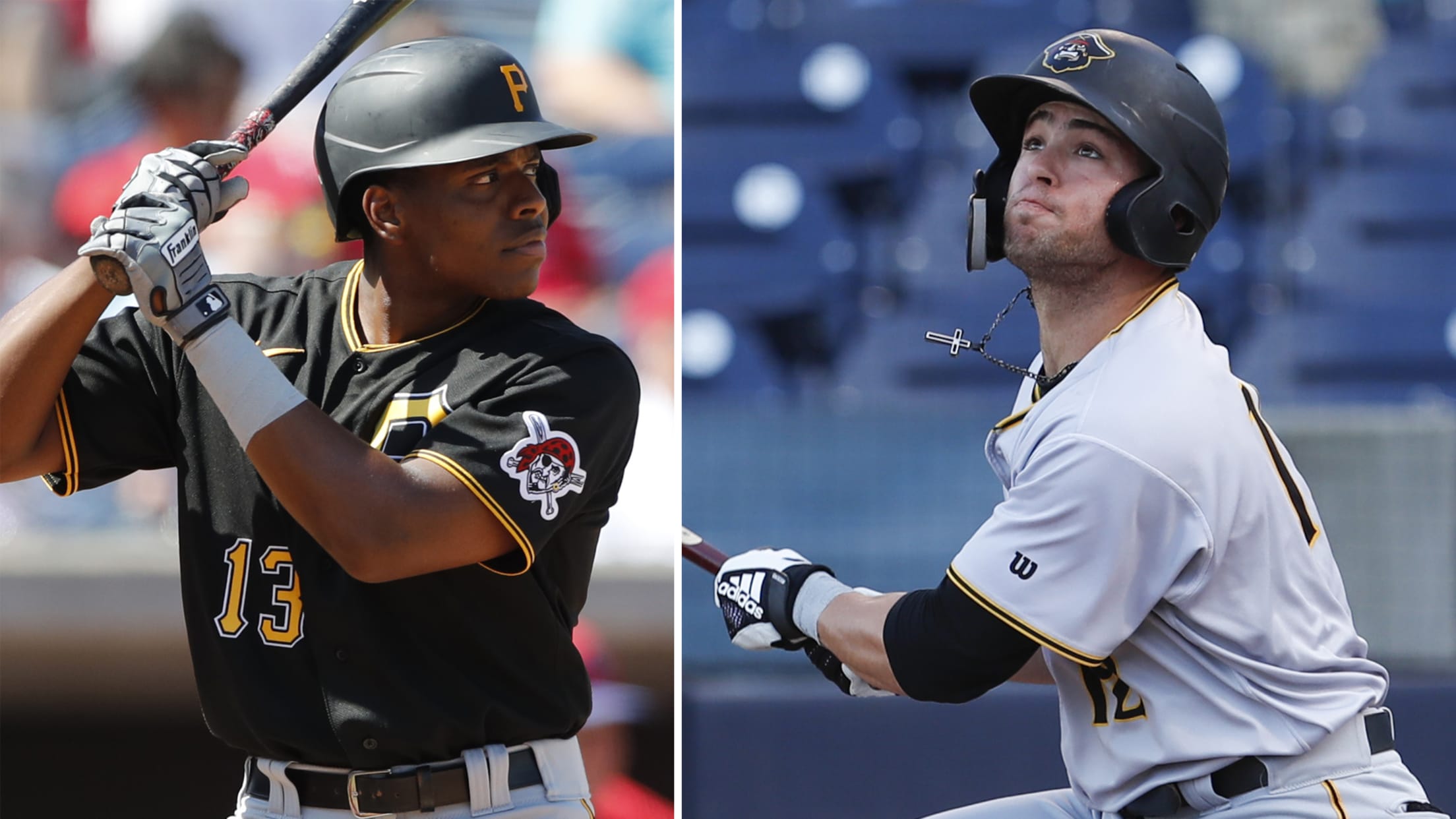 PITTSBURGH -- For the first time in more than three months, the Pirates will take the field as a team this week. It will be different, with all kinds of health and safety protocols in place amid the coronavirus pandemic. Still, baseball is about to be back at PNC Park.
PITTSBURGH -- For the first time in more than three months, the Pirates will take the field as a team this week. It will be different, with all kinds of health and safety protocols in place amid the coronavirus pandemic. Still, baseball is about to be back at PNC Park. So the Pirates Inbox is also back. Let's answer some of your questions leading up to the Pirates' first summer camp workout on Friday.
Why weren't more lower level prospects (Priester, Peguero, Thomas, Gonzales etc.) added to the taxi squad? Could have been huge for their development but now they'll just be staying home.

— Chad Wickham (@CWickham2) June 29, 2020
I wasn't entirely sure what to expect when the Pirates announced their summer camp player pool on Sunday. They could have loaded up on non-roster invitees with Major League experience or at least a lot of Triple-A time. Or they could have plucked 10 or so of their best young prospects -- first-round picks like Quinn Priester and Nick Gonzales -- and sent them off to the Altoona camp.
They found something of a middle ground instead, inviting a lot of young players who are big league-ready or nearly ready (Jason Martin, Will Craig, etc.) along with a handful of well-regarded mid-level prospects like Travis Swaggerty, Cody Bolton and Ji-Hwan Bae. In the most obvious way, their strategy makes sense: Those players are their emergency depth options, so they must be ready (or nearly ready) to play in the Majors if called upon.
• FAQ: Roster and transaction rules for 2020
"We didn't want to include anyone in the group of 60 that we didn't think was either ready to play on our Major League team or certainly ready to take advantage of that environment and opportunity at Altoona," general manager Ben Cherington said on Sunday. "That was part of making sure that anybody we were inviting into that would be ready to fully participate."
But that means young prospects like Priester, Gonzales, Liover Peguero, Brennan Malone and Tahnaj Thomas -- future building blocks of the organization -- could go the rest of this year without organized baseball instruction. That's… well, it's not ideal.
Cherington admitted he was "worried" about the missed development time for all their Minor Leaguers. But he noted that those young players are still training, and the Pirates remain in contact with them while tracking their training programs. More than anything, he seems to be counting on the idea that there will be some sort of opportunity to get their prospects on the field under their supervision later this year.
"We have an important group of young pitchers that haven't been quite at full season yet. We remain hopeful there will be an opportunity to get them development and innings this year," Cherington said Sunday. "And then in Nick's case, and really with all of our Draft picks, we just feel like there's a more effective way for that particular group to get introduced to professional baseball and the Pirates, and we remain hopeful there will be a way to do that in 2020."
Who will be the DH?

— Mark Combs (@markdcombs) June 29, 2020
The Pirates continue to say they won't have one full-time designated hitter. They plan to rotate players through that spot as a way of getting others in the lineup. That might mean JT Riddle starts at third base one day with Colin Moran batting DH, Jose Osuna at first base with Josh Bell batting DH, Guillermo Heredia in right field with Gregory Polanco batting DH, etc.
We recently explored four ways they could use the DH this season, if you want to dive into some of the other possibilities.
The most interesting thing they could do, in my opinion, is bump Moran to designated hitter (or occasionally first base, with Bell at DH) and use the opening at third base to eventually start prospect Ke'Bryan Hayes on a regular basis. It would upgrade their defense, potentially get more out of Moran's bat if he's focused less on his fielding, give Hayes a chance to test himself against high-level pitching and maybe even provide a glimmer of hope for fans looking toward the future.
Which brings us to this…
Will Ke'Bryan Hayes be in the opening day lineup?

— Al (@AlecMcLay) June 29, 2020
Right now, I don't think so. But I reserve the right to change my mind, especially about this!
Early this spring, the Pirates' plan was to send Hayes to Triple-A Indianapolis to get regular playing time at the start of the season. They hoped to call him up at some point this year, whenever he showed that his bat was ready. And let's not forget: We know Hayes' defense is great, but there are still questions about his bat.
Hayes looked good in Spring Training, and he's worked well with hitting coach Rick Eckstein the last two years. But while Triple-A offensive numbers went through the roof last year, he slashed .265/.336/.415 with 10 homers in 110 games. He still needs to prove he can hit Major League-caliber pitching.
There are also potential service time and club control factors at play with Hayes. Players don't accrue service time if they're not on the active roster, so his clock wouldn't start if the Pirates sent him to the Altoona camp to begin the season. That was one of the things that made those long-term extension rumors so interesting; if Hayes was playing under a guaranteed contract, service-time considerations would be less of an issue.
Regardless, I think Hayes will be up at some point this year, probably sooner than later. Maybe he can force the issue again in camp over the next few weeks, when he'll be back in front of the big league coaching staff.
Jeff from Erie. Middle infielders? I like the versatility of Tucker, in that at any time, you can have two lefties or two righties in the line up

— No mo Job (@JeffreyFelice18) June 29, 2020
I think you're still looking at Kevin Newman as the shortstop and Adam Frazier as the second baseman. Newman obviously earned the shortstop job and the leadoff spot last year, and Frazier was a Gold Glove Award finalist at second base who might wind up batting third for this team.
Keep in mind, Cole Tucker probably would have started a normal season in Triple-A so he could play every day; now, it's more likely he'll break camp as an extra utility infielder. Long-term, I think they'll carve out a place for Tucker if he improves at the plate. Maybe that'll happen relatively soon if they can find another team interested in trading for Frazier, thus freeing up second base.
They submitted 60 names, but 30 will be on opening roster. Will the 30 who don't make the roster go to Altoona?

— Fellows Beauregard (@Fellows_Beau) June 29, 2020
Once the season begins, yes, the players who aren't on the active roster will report to the Altoona camp to stay ready in case they're needed. The only exception is the three-man "taxi squad" that can travel with the team during the season to provide emergency depth. That group of three players must include one catcher.
Also worth noting: That group in Altoona will be working with Triple-A manager Brian Esposito, Triple-A pitching coach Joel Hanrahan, Triple-A hitting coach Jon Nunnally and Miguel Perez, who had been slated to manage Class A Advanced Bradenton.
Will the players in Altoona play intra-squad games? Or just long toss and BP?

— Jonathan (@theoljohnnyboy) June 29, 2020
I haven't heard much about the Pirates' plans, other than that they'll start the Altoona camp later than the big league camp at PNC Park. But according to the protocol agreed upon by MLB and the MLBPA, intrasquad games are permitted at all alternate training sites. They just can't play exhibition games against teams working out at different alternate training sites.
It's a pretty small group, with only 19 players to start, but I would imagine they'll make sure to have their hitters face plenty of live pitching and vice versa.
Who is the Pirate that is going to be a breakout star this year?

— Joey Wagner (@TheTruthSwagner) June 29, 2020
I don't know if he'll be a "star," necessarily, but I still believe better days are ahead for Mitch Keller. Way back in February, we explored why Keller is so important to the Pirates and how he expects to improve just by altering his pitch mix.
Here's the other thing: Keller is bound to have better results if only due to better luck -- or less historically bad luck, even. His FIP (3.19) last season is a better indicator of his future potential than his ERA (7.13), and it's worth repeating that Keller's .478 BABIP last season was the highest of all time for a pitcher who threw as many innings in one season as he did.
Another player to keep in mind, because his name came up a lot when I asked who impressed this spring: reliever Nick Burdi. His stuff is great, and his work ethic is off the charts. If he can stay healthy, he could be a future setup man or perhaps even the Pirates' next closer.
would Pirates have used GPS if it was available to them? mark where the treasure was buried&where the quick sand was? Instead of X marks the spot it could have been X-Y marks the spot. Much easier...Wait... Never mind. I've just been informed you're discussing different Pirates.

— Steve Reynolds (@esreysteve) June 29, 2020
You know, if we'd gone much longer without baseball news to talk about, this question might have led the Inbox…