Inbox: Which prospects are turning heads?
Beat reporter Adam Berry answers fans' questions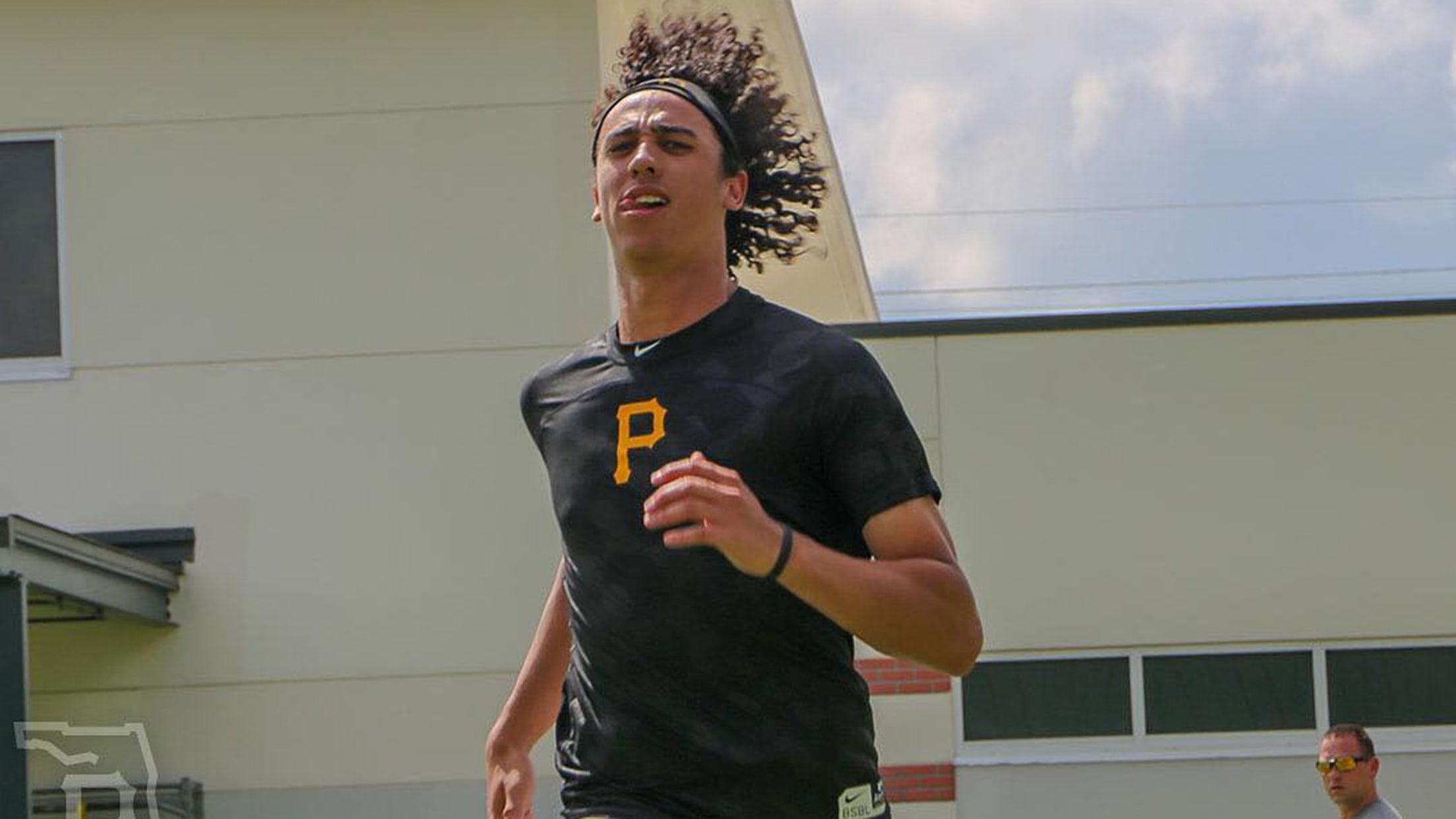 BRADENTON, Fla. -- The Pirates enjoyed a rare off-day in the Florida sun on Wednesday. In two weeks, they'll be getting ready for Opening Day at Great American Ball Park. With the competition about to ramp up, let's answer some of your questions.
BRADENTON, Fla. -- The Pirates enjoyed a rare off-day in the Florida sun on Wednesday. In two weeks, they'll be getting ready for Opening Day at Great American Ball Park. With the competition about to ramp up, let's answer some of your questions.
Which prospects have enhanced their big league chances thus far in Spring?

— James Litton (@thejameslitton) March 12, 2019
First, the usual caveats. No hitter in Pirates camp has more than 28 at-bats this spring; that's a week's worth of playing time during the regular season. Only three pitchers -- the fifth starter candidates -- have thrown more than nine innings. Spring Training is generally a tough time to make comprehensive player evaluations, and that's especially true in a small sample size.
But if we're just talking about prospects, not players who have been in the Majors, you have to start on the left side of the infield. These next two paragraphs might be a little reassuring as the Pirates spend the rest of Spring Training sorting through their immediate options at shortstop and third base.
Cole Tucker reminded us why he's likely the Pirates' shortstop of the future and backed up the argument that his strong second half and Arizona Fall League performances weren't flukes. He still has to grow into his potential and prove himself in Triple-A, but his spring showing had to be encouraging for the Pirates to see. His excellent makeup is no surprise to anyone who's ever dealt with him.
It's also not a surprise to see Ke'Bryan Hayes play well, but some prospects are too overwhelmed to do so in their first big league camp. Hayes has handled it like a pro, and he's shown the extra-base power evaluators wanted to see before last season.
Jason Martin played well before being optioned and seem to be tapping into a pretty interesting blend of power and speed; if he can improve in center field, that's a bonus. Will Craig has hit for average and been on base and looked more comfortable playing first; if he keeps hitting for power like he did last year, he'll be an interesting player soon.
Two pitchers who stand out in this category are JT Brubaker and Geoff Hartlieb. Brubaker wasn't all that highly touted coming through the system, but he should fit somewhere on a Major League pitching staff as soon as this season. And I know it was just one moment in a Spring Training game, but that mid-inning escape Hartlieb pulled off against the Yankees really opened some people's eyes. He's got an interesting backstory, and he seems like someone to watch going forward.
Could KeBryan Hayes be called up in 2019

— Steelers Future is Now (@Pitt4Life00) March 12, 2019
Sure, it's a possibility if he keeps doing what he's always done at third base and continues to get better offensively. I don't think the Pirates will rush Hayes, by any means, and they like both of their MLB-ready options in Jung Ho Kang and Colin Moran. But Hayes will begin the season with Triple-A Indianapolis, so he could be knocking on the door at some point this year. At the very least, I'd imagine he'll be up after rosters expand in September.
Let's say that Liriano and Cabrera make the team. Is there room on the 40 man roster? Also do you anticipate the Pirates making a trade or late spring training signing?

— John Taylor (@wvpirate) March 12, 2019
There are a handful of non-roster invitees who could realistically crack the Opening Day roster at this point, namely lefties Francisco Liriano and Tyler Lyons along with outfielders Melky Cabrera, Patrick Kivlehan and JB Shuck. My initial roster projection included Liriano and Lyons, and since it looks like they'll carry seven relievers instead of eight, I'm inclined to add Cabrera to the list.
The Pirates can move Edgar Santana, who is recovering from Tommy John surgery, to the 60-day injured list, easily clearing one spot. If the Bucs decide to carry more than one of those non-roster players on Opening Day, they'll have to put someone on waivers to make room. That happens all the time, especially at the end of Spring Training, so it wouldn't be a huge undertaking. They'd run the risk of losing some depth, most likely on the pitching side, but they have some non-roster options who might step up soon enough.
A minor trade or waiver move late in the spring wouldn't be surprising. It could be to clear someone off their roster, like when they released Jared Hughes a few years ago, or it could be to pick up a player who gets dropped off someone else's roster. I wouldn't expect anything significant, however.
Are Kuechel or an Opener becoming legimate options for the 5th rotation spot or is it still pretty decided that Lyles or Kingham or Brault will take it?

— Robbie Rockwell (@RRockwell72) March 12, 2019
No, it still looks like that job belongs to Jordan Lyles based on GM Neal Huntington's recent comments.
"[Nick] Kingham and [Steven] Brault, it's typically been really good or not good. Jordan's just been kind of solid and steady," Huntington said of their spring performances. "We talked very openly, [Lyles] came in with the inside track, and he's done nothing to lose that. The other two haven't done anything to take it away from him."
Assuming Mitch Keller gets on track in Minor League camp and pitches well in Triple-A, he could make a push for that job by the middle of the season. They haven't talked publicly about the opener much since introducing the idea at the Winter Meetings.
With Liriano, Brault, and Lyons all potential lefty relievers, what are the chances we break camp with more than 1?

— Nick Drain (@PierreDrain25) March 12, 2019
There's a chance that two of them could crack the roster. Felipe Vazquez, Keone Kela, Kyle Crick and Richard Rodriguez are locks for the Opening Day bullpen. There are probably five pitchers with a leg up on the last three spots based on their experience or other considerations: Liriano, Lyons, Nick Burdi and the two fifth-starter candidates, Brault and Kingham. Three of those guys are lefties. It might depend on how much they want to keep Burdi (Rule 5 Draft status) and/or Kingham (out of options) in their system.
One doesn't need to be fast to be a good baserunner. What have the Pirates done to limit TOOTBLANS and improve the overall baserunning as a team/organization?

— Double Nickel (@JBdouble_nickel) March 12, 2019
Bonus points for including "TOOTBLAN" (Thrown Out On The Basepaths Like A Nincompoop), and your first point is a good one. Pedro Alvarez was regarded as a savvy baserunner, for instance, despite lacking what we'll call elite wheels. You don't have to lead the league in sprint speed to make smart decisions, take the extra base, avoid mistakes and so on.
The Pirates totaled 62 outs on base last season, fifth-most in the Majors, and ranked 28th in FanGraphs' baserunning metric. So they know it's an area in need of improvement. I asked some version of this question to a few people during the Pirate City phase of Spring Training, when manager Clint Hurdle said they were running a situational baserunning drill every day.
First-base coach Kimera Bartee said it's primarily about gathering more information and providing players with what they need to know -- which pitchers they can run on and when to do so, which outfield arms they should test, etc. -- then decisively acting on that information. The more their players know, the better their decision-making on the basepaths should be. We'll see if their work pays off.