'90s kids will LOVE these new Pirates threads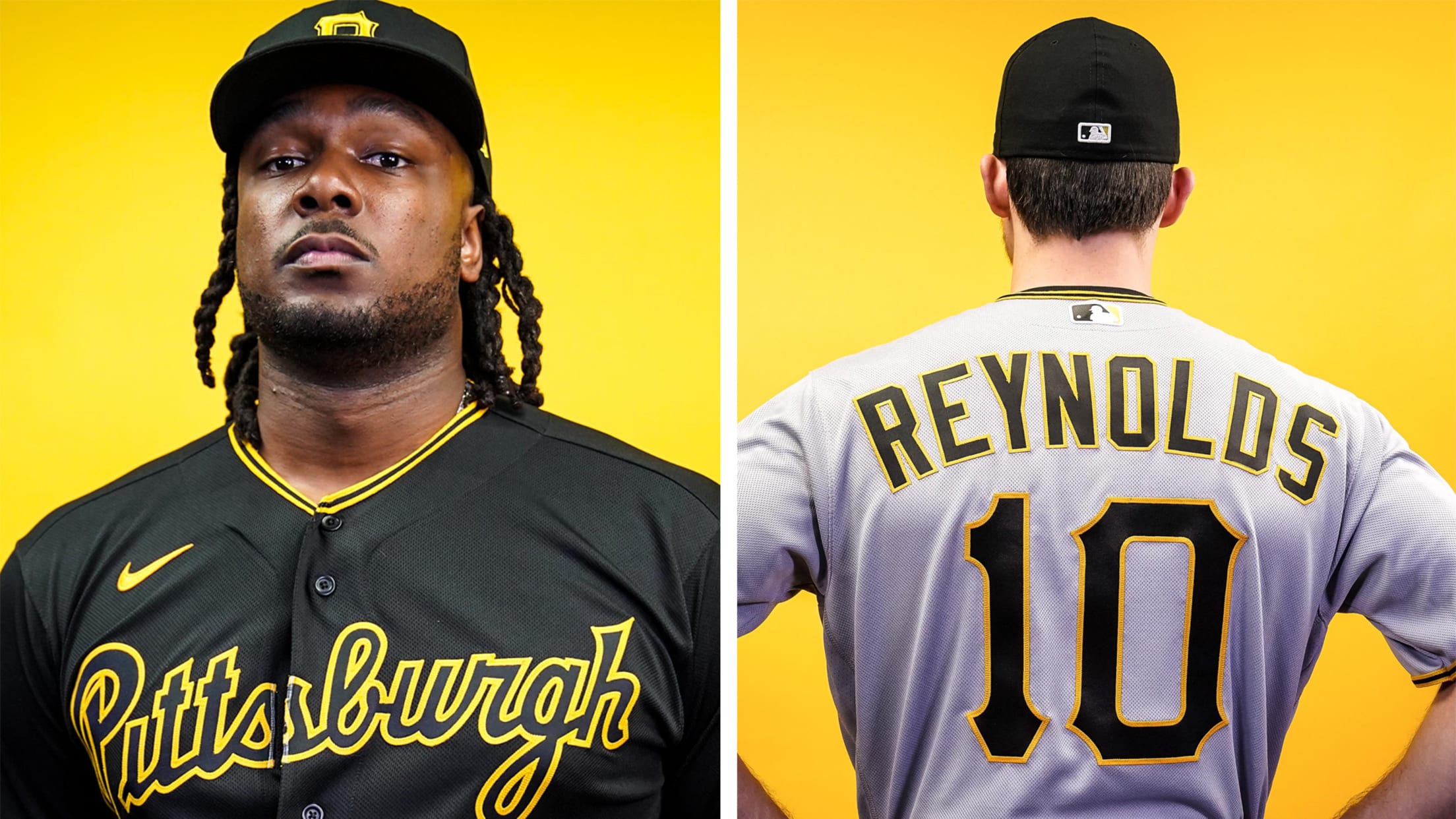 PITTSBURGH -- The script is back. The Pirates unveiled their new jerseys for the 2020 season on Friday afternoon at PNC Park, and the script "Pittsburgh" was front and center on the club's road uniforms. The Bucs will wear a road gray jersey and an alternate black jersey featuring Pittsburgh
PITTSBURGH -- The script is back.
The Pirates unveiled their new jerseys for the 2020 season on Friday afternoon at PNC Park, and the script "Pittsburgh" was front and center on the club's road uniforms. The Bucs will wear a road gray jersey and an alternate black jersey featuring Pittsburgh script lettering across the chest -- a look that brings back memories of the Pirates' early 1990s uniforms.
The Pirates' official Twitter account, with help from the social media accounts of several players, teased the announcement on Thursday night. They finally revealed their new treads produced by Nike -- the official uniform supplier of Major League Baseball -- in their clubhouse during the first day of PiratesFest on Friday with Josh Bell and Joe Musgrove donning the new uniform combinations.
𝓟𝓲𝓽𝓽𝓼𝓫𝓾𝓻𝓰𝓱
Rewrite the Script pic.twitter.com/XgIVm5LKW4

— Pirates (@Pirates) January 24, 2020
"The Pittsburgh script is a classic look that our fans love, and after hearing from them, we decided it was a great time to bring this design back to our uniform mix," Pirates president Travis Williams said in a statement. "This design is a tip of the cap to the past for a team that proudly wears Pittsburgh on our chest."
Bell, in black, and Musgrove, in gray, modeled the new looks, which the club introduced with the saying, "Rewrite the Script."
The Pirates first sported the script lettering in 1938, with "Pirates" in that font for two seasons. The style returned in '47, with "Pirates" and "Pittsburgh" in script. But most people, including new manager Derek Shelton, came to associate that script lettering with the Pirates through the club's road gray uniforms in the '90s.
"I dig the new jerseys," Shelton said. "The thing about it is that's, like, in my sweet spot. … That's when those jerseys were being worn, when I was in college. So, yeah, I'm digging them. Someone told me they like the gray ones. I like the black a lot. I think the black ones look sweet."
Ok. These are sweet.

𝓟𝓲𝓽𝓽𝓼𝓫𝓾𝓻𝓰𝓱
Rewrite the Script pic.twitter.com/H3bJdd3Sci

— Derek Shelton (@derekshelton) January 24, 2020
The last four years, the Pirates' regular uniform combinations included traditional home whites with "Pirates" written across the front, traditional road grays with "Pittsburgh" in block letters, as well as the alternate black jerseys, military-themed Thursday jerseys and the gold 1977-84 throwback Sunday home uniforms, complete with gold stripes and pillbox caps.
The Pirates on Friday also unveiled a new alternate cap, black with the classic Pirates "P" and gold trim. The club will wear those caps with their new road alternate black uniforms.
We have new road lids too for 2020. pic.twitter.com/Uy2XlSrVDo

— Pirates (@Pirates) January 24, 2020
Starting pitchers typically pick which uniforms the team wears on a given day, and you can expect to see those alternate black uniforms when Musgrove takes the mound this year.
"I think everyone's really happy with them so far," Musgrove said. "Having a new look to go with our new mentality and our new edge, the new culture of this clubhouse, is cool."