Who might make Bucs' Opening Day roster?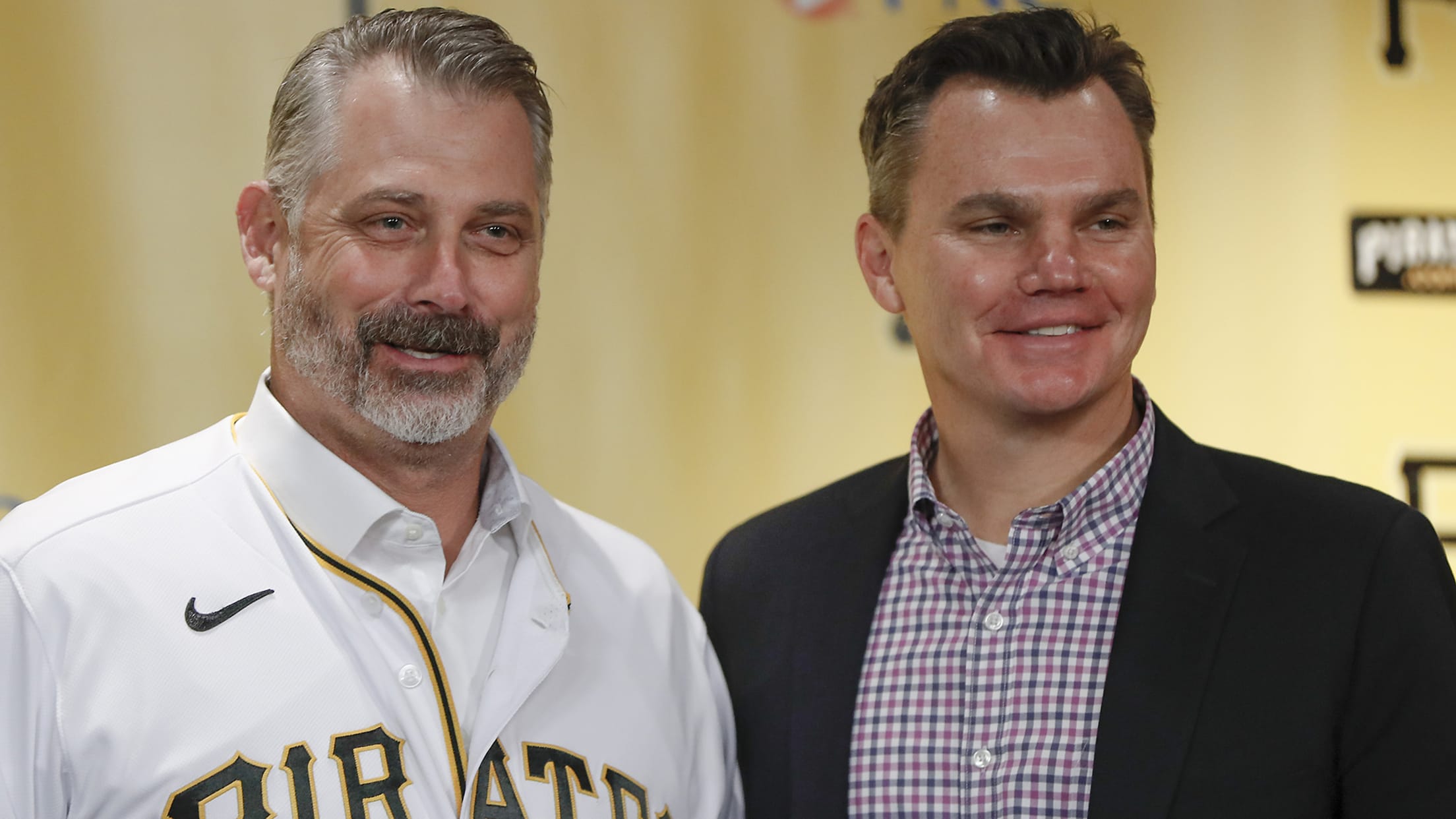 BRADENTON, Fla. -- The Pirates took the field as a group for the first time Monday morning, with new manager Derek Shelton overseeing a full-squad workout across the back fields of the Pirate City training complex. Over the next 5 1/2 weeks, it will fall on Shelton and new general
BRADENTON, Fla. -- The Pirates took the field as a group for the first time Monday morning, with new manager Derek Shelton overseeing a full-squad workout across the back fields of the Pirate City training complex.
Over the next 5 1/2 weeks, it will fall on Shelton and new general manager Ben Cherington to pare down their Spring Training roster to the group of 26 players who will line up at Tropicana Field against the Rays on Opening Day.
• Forecasting all 30 teams: Lineups, rotations, closers
Plenty is bound to change between now and March 26, with more roster moves to be made and position battles yet to play out during the Grapefruit League season. It's impossible to say with any confidence how the team will look when it's over, much less a month into the season.
But for now, here is a position-by-position prediction of how the Pirates' roster could shake out.
Catcher: Jacob Stallings, Luke Maile
Possibilities: John Ryan Murphy, Andrew Susac
Stallings and Maile are the only two catchers on the 40-man roster, so we'll give them the edge over non-roster invitees Murphy and Susac for now. Don't be surprised if Murphy works his way into the conversation, though.
First base: Josh Bell
This one is such a safe bet that Shelton, who hasn't tipped his hand on anything about the roster, even joked back in January about how obvious it is that Bell will be the first baseman.
Second base: Adam Frazier
Spring Training trades are always a possibility, and given the interest Frazier drew around the Winter Meetings, perhaps something could come to fruition before Opening Day. But Cherington clearly doesn't feel obligated to move Frazier for the sake of doing so, so we'll say he is starting at second for the Pirates to begin the year.
Shortstop: Kevin Newman
Maybe Cole Tucker and Erik González will work their way into this conversation, but you can't pick against Newman after what he did last season.
Third base: Colin Moran
This might be the most interesting position battle heading into Spring Training. Considering the Pirates' focus on improving their overall defense, it wouldn't be a shock to see González get a lot of playing time here. But for now, we'll play it safe with the incumbent Moran.
Outfield: Bryan Reynolds, Jarrod Dyson, Gregory Polanco, Guillermo Heredia
Possibilities: Jason Martin
Reynolds, Dyson and Polanco seem set as the starting trio, if healthy. The right-handed-hitting Heredia is a natural backup for the lefty-hitting Dyson and Polanco. The only question is whether they carry a true fifth outfielder, but it just seems more likely they'll use that spot on a utility player who is capable of manning the outfield. Plus, Martin -- the team's No. 18 prospect, per MLBPipeline -- might stand to benefit from regular playing time in Triple-A to start the season.
Utility: González, JT Riddle, José Osuna
Possibilities: Tucker, Kevin Kramer, Phillip Evans, Jake Elmore
González provides versatility all over the infield, and Riddle fits well as a backup middle infielder who can also handle center field and, presumably, the outfield corners -- essentially that fifth outfield option mentioned previously. The last spot will present an interesting choice.
Would they prefer a bat-first corner option like Osuna? A lefty-hitting utility type like Kramer? A versatile non-roster invitee like Evans or Elmore? It's harder to find a spot for a shortstop like Tucker when there would already be three (Newman, González and Riddle) on the roster, and he might be better off testing out his revamped swing in Triple-A for a few weeks anyway.
Keep in mind: Tucker's chances of cracking the roster go up if Frazier is traded, and it would make more sense to carry him as a third shortstop option/backup second baseman in the event that González winds up spending a lot of his time at third base. But Osuna provides insurance at the corners, and he's a rare power threat off the bench for the Pirates. With the three-batter-minimum rule in place, it will also be harder for teams to negate his impressive numbers against lefties.
Starting pitchers: Joe Musgrove, Chris Archer, Trevor Williams, Mitch Keller, Derek Holland
Possibilities: Chad Kuhl
Injured list options: Steven Brault, Jameson Taillon (out for season)
The first four seem like fairly safe bets, and Brault's recent diagnosis of a shoulder strain likely will prevent him from cracking the Opening Day roster. Brault would have probably held the inside track based on his performance after joining the rotation last summer, something he could build on in a more stable role. Now, it's hard to bet against Holland, the veteran left-hander who pitched well for the Giants two years ago.
It's hard to know what to expect from Kuhl, who has gradually worked his way into game action this spring after sitting out last year following Tommy John surgery. He's bound to play a part for their pitching staff at some point this season, but with the Pirates apparently monitoring his workload, we'll say they find a way to ease him back at the start of the season -- just not in the Opening Day rotation.
Relief pitchers: Keone Kela, Kyle Crick, Richard Rodríguez, Michael Feliz, Edgar Santana, Nick Burdi, Chris Stratton, Robbie Erlin
Possibilities: Geoff Hartlieb, Yacksel Ríos, Sam Howard, Dovydas Neverauskas, Williams Jerez, Hector Noesi, Miguel Del Pozo, external acquisition
Injured list options: Clay Holmes, Brault
Look, this could go about a million different ways. It seems safe to bet on Kela, Crick, Rodríguez and Feliz claiming four of the eight spots.
Santana and Burdi are question marks because they didn't pitch much (or at all, in Santana's case) last season. But they have late-inning arms, so let's pencil them in. Stratton is out of options, and his high-spin stuff played well out of the bullpen last season. That's seven out of eight spots filled.
There are a staggering number of options for the last spot in our projection. Erlin is a lefty with experience. Holmes' raw stuff and belief from within the organization would have given him a chance if not for his fractured foot, which likely will keep him out into April. Neverauskas has untapped upside, but the out-of-options righty is running out of time to prove it. Hartlieb has a brighter future than his rookie results would indicate, too.
The Pirates liked Ríos enough to claim him and keep him on the roster all winter; same for Howard, another lefty option. The list goes on, and don't forget: A number of relievers will become available at the end of Spring Training as players are released or opt out of their deals, so the Pirates could still add to their collection of options.