Sizing up Pirates' bullpen finalists
Eight pitchers vying for three spots in crowded Pittsburgh relief picture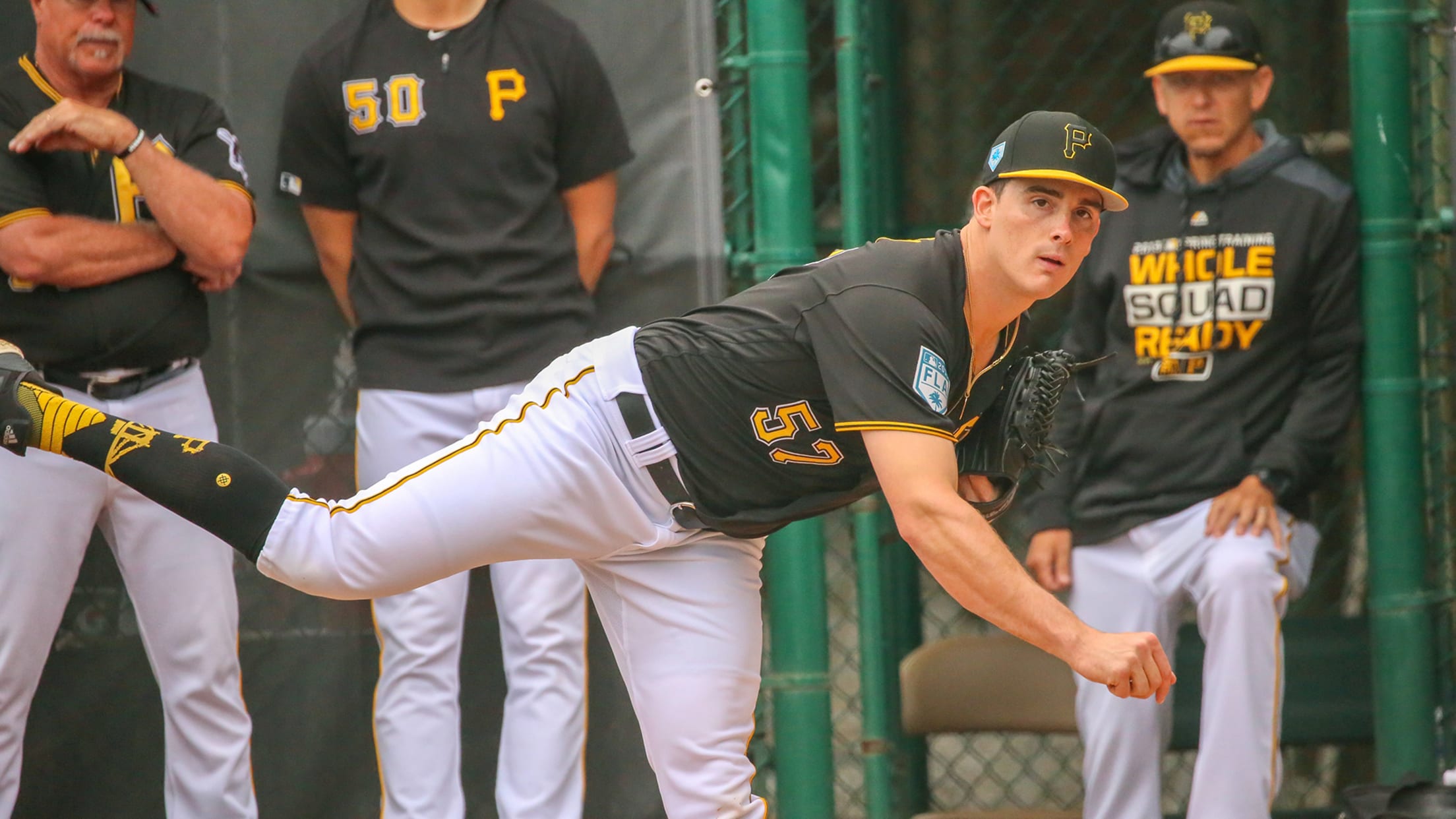 BRADENTON, Fla. -- The Pirates optioned right-handers Clay Holmes and Michael Feliz to Triple-A Indianapolis on Thursday morning, removing two more pitchers from their bullpen competition with a week to go before Opening Day. So what might the Bucs' relief corps look like when they walk out to the visitors'
BRADENTON, Fla. -- The Pirates optioned right-handers Clay Holmes and Michael Feliz to Triple-A Indianapolis on Thursday morning, removing two more pitchers from their bullpen competition with a week to go before Opening Day.
So what might the Bucs' relief corps look like when they walk out to the visitors' bullpen at Great American Ball Park on March 28?
The four relievers who established themselves last year as Pittsburgh's late-inning quartet aren't going anywhere. Felipe Vázquez is the closer. Keone Kela is the top setup man, followed by right-handers Kyle Crick and Richard Rodríguez.
After that? The Pirates most likely have three spots to fill, with eight potential candidates still in camp. Their options include Nick Burdi, Rookie Davis, Francisco Liriano, Tyler Lyons, Brandon Maurer, Dovydas Neverauskas and two of the three fifth-starter candidates (Jordan Lyles, Nick Kingham and Steven Brault).
Burdi seems to have a good shot to crack the roster -- and not just because of the Rule 5 Draft restrictions that mandate the Bucs must keep him on their active roster for the first 60 days of the season or offer him back to the Twins. Nearly two years removed from Tommy John surgery, the 26-year-old right-hander's power is back. Burdi has enjoyed an excellent spring, racking up 13 strikeouts while posting a 1.93 ERA in eight appearances.
Burdi pitched in a Minor League game at Pirate City on Thursday after working one inning on Wednesday in Fort Myers. The Pirates typically want their relievers to pitch on back-to-back days before breaking camp.
Lyles is the presumptive favorite to round out the rotation; if he doesn't, he'll have a spot in the bullpen. Kingham is out of Minor League options, increasing his odds of being a long reliever if he's not the fifth starter. Brault has an option remaining, which makes him a candidate for the Major League rotation and bullpen as well as Triple-A Indianapolis' rotation.
That likely leaves one spot for Davis, Liriano, Lyons, Maurer or Neverauskas. The Bucs must soon make a decision regarding Liriano, Lyons and Maurer, a trio of experienced relievers in camp on Minor League non-roster contracts. Liriano and Lyons may be the front-runners as lefties who have had recent success in the Majors.
Aside from a four-walk, no-out appearance in Tampa on March 10, Liriano has had a fine spring. Lyons gave up eight runs over two outings from March 9-12, but he has strung together three consecutive scoreless appearances, including Thursday's two-strikeout performance in 1 1/3 innings at LECOM Park.
"He continues to make small adjustments through Spring Training," manager Clint Hurdle said. "There was some turbulence at the start and in the middle, and now he's getting more efficient with his pitches."
Injury update
• Center fielder Starling Marte was scratched from Thursday's lineup due to lower back tightness. The Pirates said that Marte's removal was precautionary and have listed his status as day to day.
• Catcher Jacob Stallings, who exited Wednesday's game early due to neck tightness, is scheduled to be back behind the plate on Friday.
Game report
• Chris Archer cruised through three innings against the Orioles on Thursday before running into trouble in the fourth, during a sequence that went home run, strikeout, double, double, walk, sacrifice fly, walk, walk. Archer appeared to have the last two hitters struck out, but he didn't get the calls. Overall, he allowed three runs on four hits and three walks while striking out six in 3 2/3 innings.
"The fourth inning obviously didn't end ideally. I think I got a little fatigued there because my pitch count got a little high," Archer said. "But the first three innings were right where I want to be. All my stuff's there. Definitely encouraging for those reasons."
• After being scored on in each of his last three outings, Crick rebounded by striking out two in a perfect sixth inning. Crick threw only eight pitches, including seven strikes.
• Jung Ho Kang entered the game with five hits on the spring, all of them home runs. He snapped that homers-only streak in the second inning, knocking a double down the left-field line. But he went deep again in the ninth, bashing a walk-off grand slam to right-center field to give the Bucs a 7-5 win.
"It's kind of funny how the spring's played out for him," Hurdle said. "He's got intent every time he goes out there."
Four days after being named the Pirates' starting third baseman, Kang will start at shortstop against the Rays on Friday. Hurdle said the Bucs want to evaluate their "emergency" options at a number of positions, and Kang has plenty of previous experience at shortstop.
"He was open and receptive to it, and we wanted to get it done before we got out of here," Hurdle said.
Up next
Left-hander Brandon Waddell, who was reassigned to Minor League camp on Monday, will start for the Pirates on Friday as they take on the Rays at Charlotte Sports Park in Port Charlotte. Also scheduled to pitch are Liriano, Maurer and Minor League right-hander Geoff Hartlieb. The game will air exclusively as an audio webcast on Pirates.com.