Pirates take pitcher Priester with No. 18 pick
PITTSBURGH – Right-hander Quinn Priester possesses just about every trait the Pirates look for in a young player. Pittsburgh selected Priester, a starting pitcher from Cary-Grove (Ill.) High School, with the 18th overall pick in the MLB Draft on Monday night. The 18-year-old is an athletic pitcher with a big
PITTSBURGH – Right-hander Quinn Priester possesses just about every trait the Pirates look for in a young player.
Pittsburgh selected Priester, a starting pitcher from Cary-Grove (Ill.) High School, with the 18th overall pick in the MLB Draft on Monday night. The 18-year-old is an athletic pitcher with a big fastball, a multi-sport background and an apparent desire for any bit of information that will help him improve on the mound.
"Last night, I could barely sleep," Priester said during a conference call with reporters. "Once I finally got the call and heard my name, it was just pure joy and pure excitement. Pure happiness. I'm so fortunate to be in this situation with such a great organization."
• Draft Tracker: Complete pick-by-pick coverage
The Pirates have a bonus pool of $9,944,000, the 11th-highest total in this year's Draft. Their first-round pick comes with an assigned slot value of $3,481,300. Priester was the first of the Bucs' four picks on Day 1.
With their second selection of the night (No. 37), the Pirates took center fielder Sammy Siani from William Penn Charter School. They picked another outfielder in the second round, selecting Indiana University center fielder Matt Gorski with the 57th pick. The Bucs wrapped up Day 1 by selecting University of Houston third baseman Jared Triolo 72nd overall.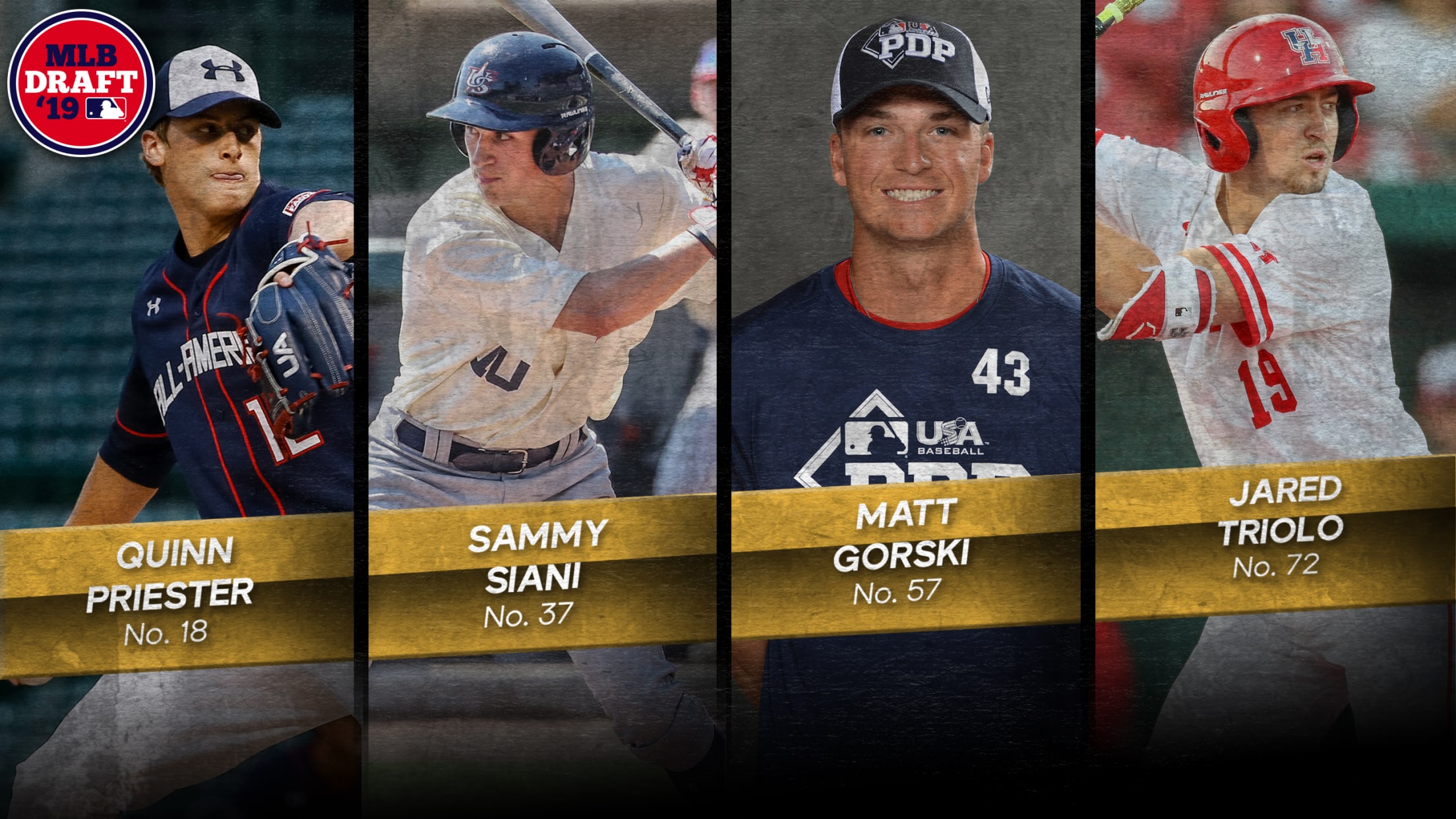 Priester is listed at 6-foot-3 and 198 pounds, and he was a star wide receiver and defensive back for Cary Grove High's state championship football team. He was also named Gatorade's 2019 Illinois high school baseball player of the year.
"I think being a multiple-sport athlete has helped me become much more dynamic on the mound," Priester said. "There are so many benefits of playing multiple sports. I wish more guys did it."
The Pirates have a history of drafting tall, projectable right-handed pitchers -- think Jameson Taillon, Nick Kingham, Clay Holmes and Tyler Glasnow -- and general manager Neal Huntington has often espoused the virtue of playing different sports even in this era of specialization.
"It factored from the standpoint of he had body movements, baseball athleticism that translated with his pure athleticism. You could see that watching him pitch," senior director of amateur scouting Joe DelliCarri said. "There's athleticism in how he does things on the mound."
Priester said he had an opportunity to be a two-sport athlete at Northwestern University, but he committed to Texas Christian University. He emphasized his excitement about joining the Pirates organization, but stopped short when asked if he's made a firm decision to sign.
"We're really optimistic right now, but nothing is set in stone," he said.
Priester throws a four-seam fastball that can touch 97 mph, a heavy two-seamer in the low 90s, a tight curveball around 80 mph and a changeup. He called the curveball his best pitch and noted that his changeup is a work in progress, though he's grown more comfortable with it.
Priester said he has never had a pitching coach, so he is essentially self-taught. He watches YouTube clips of pitchers like Kyle Hendricks, Jake Arrieta and Noah Syndergaard to learn from them. He follows the @PitchingNinja on Twitter and breaks down slow-motion video of other pitchers.
"If I could pick up one little thing to get me better, then it was absolutely worth it," Priester said. "I'm just really excited to get more formal pitching coaching in such a fantastic organization that develops pitchers extremely well."
According to The Athletic, Priester recently developed an interest in pitching technology -- tools like Rapsodo and the K-Vest that are also used by the Pirates. He underwent a biomechanical analysis while pitching at the Elite Baseball Training facility, located two miles away from Wrigley Field.
Yes, Priester grew up in Cubs territory. But Pittsburgh shouldn't worry about where his loyalties lie.
"I'm a Pirates fan now," he said.
Siani, a lefty-hitting outfielder ranked by MLB Pipeline as the No. 43 Draft prospect, is known for his good approach and contact ability at the plate. The 18-year-old, listed at 5-foot-11 and 175 pounds, is committed to play for Duke University.
Last year, the Reds signed Siani's brother, Mike, to an over-slot deal after taking him in the fourth round. Siani's pick, the Pirates' compensation for not signing 2018 selection Gunnar Hoglund, is valued at $1,999,300.
"We like his athleticism, the way he runs around the outfield defensively," DelliCarri said. "But equally or more so, we feel strongly about his offensive potential."
Gorski, MLB Pipeline's No. 112 Draft prospect, hit .271/.374/.498 with 12 homers last season for Indiana. The 6-foot-4, 195-pounder's raw power and speed give him 20-homer/20-steal potential as a center fielder, but some scouts were concerned about his uptick in strikeouts (62 in 55 games) because he sold out for more pull power.
"We see a young man that has terrific aptitude and athleticism to put it together," DelliCarri said. "There's a lot of good things to work with in Matt Gorski in putting this together. We believe he will."
Pittsburgh's second-round pick came with a slot value of $1,243,600. The 72nd pick, a Competitive Balance Round B selection, is valued at $870,700.
Triolo, MLB Pipeline's No. 146 Draft prospect, slashed .332/.420/.512 with seven homers and 18 doubles in 56 games for Houston this spring. Scouts like his right-handed swing and ability to control the strike zone, and some believe he will find more power in his 6-foot-3 frame. He is regarded as a high-floor player with good makeup and no glaring flaws.
"Just the overall look to Jared is hitter-ish in all counts, early and late, and there's definitely some stuff we believe we can help him get to -- upside in his approach a little bit more, then his impact as well," DelliCarri said. "There's more there."
The Draft continues on Tuesday with Rounds 3-10. The MLB.com preview show begins at 12:30 p.m. ET, with exclusive coverage beginning at 1 p.m. ET. Go to MLB.com/Draft for complete coverage, including every pick on Draft Tracker, coverage and analysis from MLB Pipeline's Jim Callis and Jonathan Mayo, the complete order of selection and more. And follow @MLBDraft and @MLBDraftTracker on Twitter.