They didn't win awards -- but they deserved 'em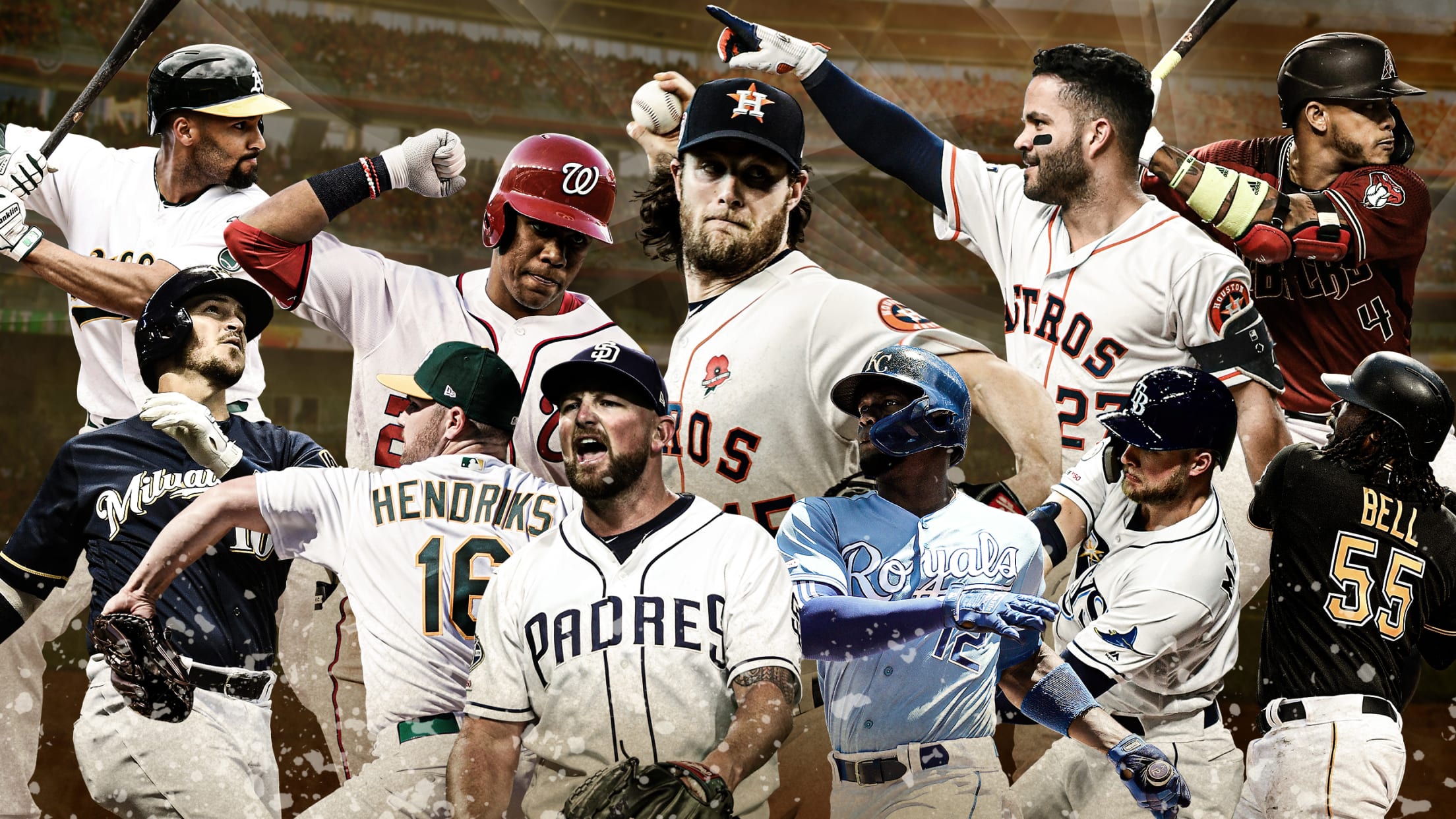 The Major League awards season is in the books, and it has once again satiated our innate desire to parse and prioritize and put people on a pedestal while presenting them with plaques. But as is always the case, not even an array of awards as wide as what is
The Major League awards season is in the books, and it has once again satiated our innate desire to parse and prioritize and put people on a pedestal while presenting them with plaques.
But as is always the case, not even an array of awards as wide as what is given out in October and November can cover all the impressive performances the regular season revealed. And that's why we like to do one last post-awards tip of the cap here to a team's worth of guys whose excellent outputs unfortunately went awardless.
While there are local honors that have or will salute some of these seasons, the focus here is on guys who did not win a Silver Slugger, Gold Glove, MVP, Cy Young, Reliever of the Year, Hank Aaron Award, Players Choice Award or Defensive Player of the Year Award.
• Complete MLB awards coverage
Yes, that's a lot of awards covering a lot of guys. But the following players still slipped through:
C: Yasmani Grandal, Brewers
After settling for a one-year, $18.25 million contract with the Brewers for 2019, Grandal had arguably the best offensive season of any catcher. It didn't earn him the National League Silver Slugger honor -- that went to the Phillies' J.T. Realmuto, who also won the Gold Glove -- but Grandal's 121 weighted runs created plus (or 21 percent better than league average) was the best of any qualified catcher by 13 points. He had a .380 on-base percentage with 28 homers and 26 doubles and could fare better in free agency this time.
1B: Josh Bell, Pirates
With the NL Silver Slugger at first base having gone to Freddie Freeman, this would also be a good spot to throw a little love to Max Muncy (.889 OPS, 35 homers) or Howie Kendrick (.966 OPS, 17 homers), but at least they went to the playoffs (and we all know how that turned out for Kendrick). Poor Bell's year was buried on a Pirates team that had a disastrous 2019 and is now undergoing an organizational upheaval. So he earned this awardless award the hard way, with a breakout year in which he slashed .277/.367/.569 with 37 homers and 37 doubles.
2B: José Altuve, Astros
OK, so he did win the American League Championship Series MVP honor, but that was just for a week's work. As far as the regular season is concerned, for the first time since 2013, Altuve was not the AL Silver Slugger winner at second base. (That went to DJ LeMahieu.) He wasn't an All-Star, either, and that was understandable considering his relatively pedestrian .781 OPS in the first half. But Altuve went off after the break, with a .325/.372/.622 slash to get his overall OPS (.903) and OPS+ (131) more in line with his absurdly good -- perhaps one day Cooperstown-worthy -- norms.
SS: Marcus Semien, A's
A third-place finisher in the MVP voting, Semien didn't win the Silver Slugger (which went to Boston's Xander Bogaerts) or the Gold Glove (which went to the Indians' Francisco Lindor). But Semien was outstanding both offensively and defensively in 2019. At the plate, he had a .285/.369/.522 slash, 138 OPS+, 33 homers, 43 doubles and seven triples. In the field, he led AL shortstops in Ultimate Zone Rating (6.7). It added up to the fourth-highest WAR (8.1) in the Majors.
The Twins' Jorge Polanco (5.7 WAR) also merits a mention here.
3B: Rafael Devers, Red Sox
Though the Red Sox fell well short in their bid to repeat as World Series champions, both Devers and Bogaerts had a strong argument to be an AL MVP finalist. Bogaerts got the Silver Slugger, at least, but Devers had no chance of edging Alex Bregman there. Still, Devers' .311/.361/.555 slash with 32 homers and a league-high 54 doubles and a Major League-high 359 total bases was sensational -- and confirmation that the Red Sox might have a monster on their hands. He's just 23 years old.
Yoán Moncada of the White Sox also merits a mention here for his 141 OPS+ in a breakout year in which he became the kind of hitter Chicago envisioned when it made the Chris Sale swap.
OF: Ketel Marte, D-backs; Austin Meadows, Rays; Juan Soto, Nationals
As tends to be the case, there were a ton of strong seasons to consider here, and apologies to the likes of the Mets' Jeff McNeil, the A's Mark Canha, the Orioles' Trey Mancini and others.
But these three were the best of the "best of the rest" in the outfield.
The national audience should now have a much greater understanding and appreciation for Soto, whose output through his age-20 season is historic and whose awareness at the plate is supernatural. He had a .949 OPS, 34 homers, 32 doubles and 110 RBIs.
Marte was one of the most improved players in the Majors. He made the transition from second base to center field and had a .329/.389/.592 slash with 32 homers, 36 doubles, nine triples and a 6.9 WAR tally.
And Meadows, acquired in the Chris Archer trade last year, was a key in the Rays nabbing a Wild Card spot, as he delivered a .291/.364/.558 slash with 33 homers, 29 doubles, seven triples and a 143 OPS+ in his first full season in the bigs.
DH: Jorge Soler, Royals
Yordan Alvarez won the AL Rookie of the Year and Nelson Cruz won the Silver Slugger on playoff teams. So in the DH department, it might be easy to overlook Soler's 2019. But you can't overlook him on the home run leaderboards, because there he is at the top in the AL, with 48. That made him the first Royals player to lead the league in dingers. He also had a .265/.354/.569 slash with 33 doubles and 117 RBIs.
Starting pitcher: Gerrit Cole, Astros
Well, this was the obvious choice after Cole was edged out by teammate Justin Verlander in both the Cy Young and Players Choice voting for the AL's superior pitcher. But in most years, Cole would have won, by virtue of leading the league in ERA (2.50) and FIP (2.64) and leading the Majors in strikeouts (326) and ERA+ (185).
It goes without saying that the other Cy Young finalists in the AL (the Rays' Charlie Morton and NL (Hyun-Jin Ryu and Max Scherzer) had exceptional seasons. The Rangers' Mike Minor and Lance Lynn, the Indians' Shane Bieber, the White Sox's Lucas Giolito, the Braves' Mike Soroka (an NL Rookie of the Year finalist), the Dodgers' Walker Buehler and the Nats' Stephen Strasburg (who did win the World Series MVP) all had standout seasons, as well. But Cole's was one of the great silver-medal seasons of all time.
Relief pitcher: Kirby Yates, Padres; Liam Hendriks, A's
I'm going to go ahead and list two guys here, because, barring something out of the ordinary, there's basically just one chance for a reliever to win anything of note in a given season, and that's the Mariano Rivera AL and Trevor Hoffman NL Reliever of the Year honors, which went to the Yankees' Aroldis Chapman and the Brewers' Josh Hader, respectively.
With all due respect, the voting body got it wrong. These guys had better arguments to win.
Yates had fewer runs allowed (14) than Hader had home runs allowed (15). He had a 1.19 ERA to Hader's 2.62 mark. He also saved a Major League-best 41 games.
Hendriks had a 1.63 ERA with the league's best strikeout minus walk rate (36.2%). Or if you prefer to go with the Astros' Will Harris (1.50 ERA, 0.93 WHIP), I won't fight you.