Mondesi out Wednesday with groin tightness
Shortstop considered day to day after aggravating injury Tuesday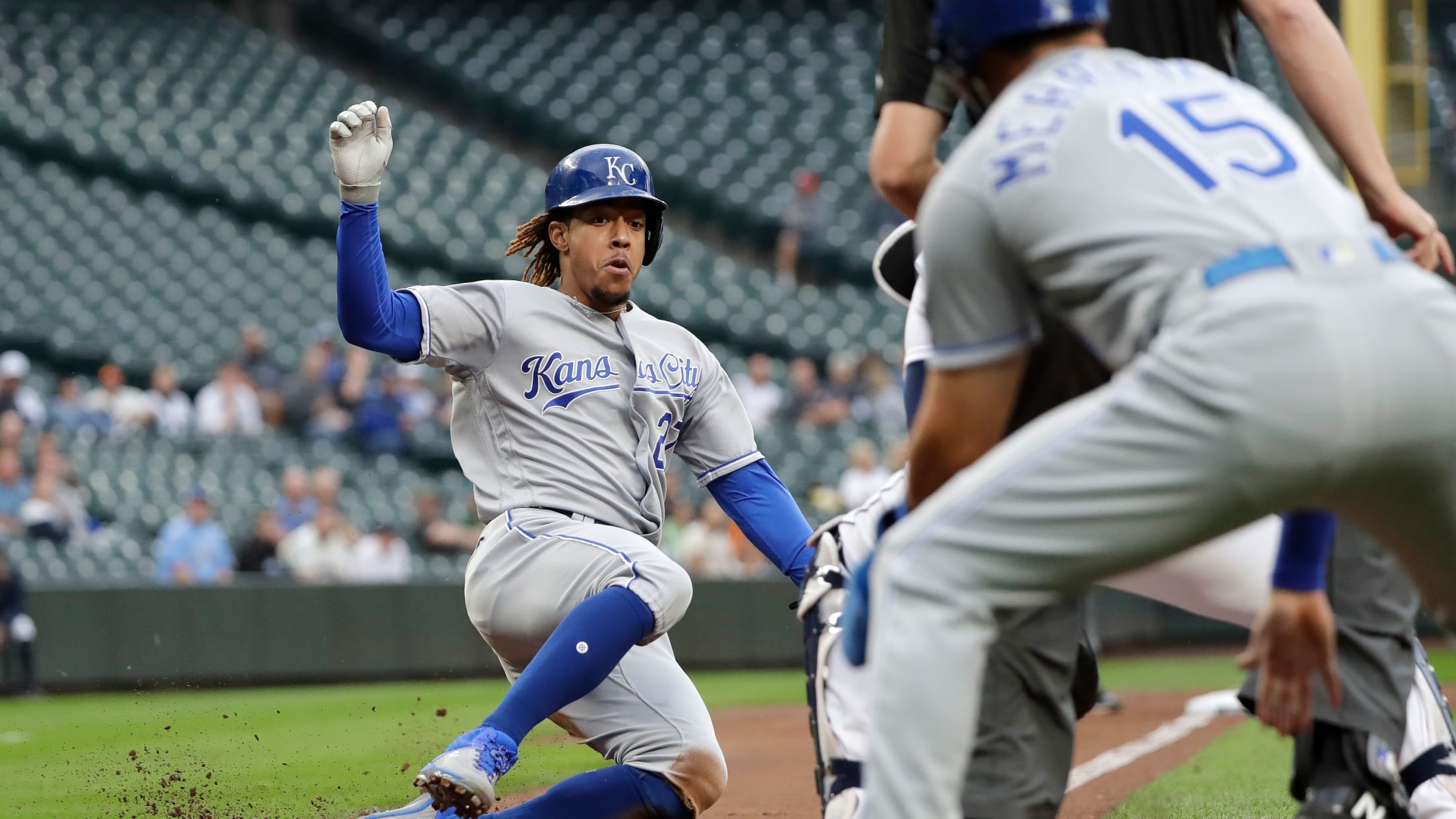 SEATTLE -- Royals shortstop Adalberto Mondesi left Tuesday's 9-0 win over the Mariners with right groin tightness, aggravating what had been an injury that he was dealing with late last week. He is considered day to day, though he was held out of Wednesday's series finale and did not take
SEATTLE -- Royals shortstop Adalberto Mondesi left Tuesday's 9-0 win over the Mariners with right groin tightness, aggravating what had been an injury that he was dealing with late last week. He is considered day to day, though he was held out of Wednesday's series finale and did not take part in any pregame workouts.
Mondesi received treatment and will be re-evaluated when the club returns to Kansas City, where the Royals begin a four-game series against the Twins at Kaufmann Stadium on Thursday.
Mondesi said that his groin and hamstring area tightened up when returning to the bench after an awkward slide into Mariners catcher Omar Narvaez during the first inning, when he scored from second on a two-run single to center by Alex Gordon. Mondesi arose gingerly and favored his right leg, which collided with Narvaez's shin protector and moved Narvaez off the plate before he could corral the ball.
Mondesi remained in the game until the bottom of the fifth, when Lucas Duda entered to play first base, Whit Merrifield moved from first to second and Nicky Lopez moved from second to short.
"After I scored, it was getting tighter and tighter, so I just decided I didn't want it to get worse," Mondesi said. "It was when I was sitting down in the dugout. We'll just do the treatment and see how I feel tomorrow."
Mondesi finished the night 1-for-3, with a first-inning single and an MLB-high 27th stolen base, which positioned him to score on the bang-bang play at the plate.
"I stole. I was feeling good," Mondesi said. "The next pitch, basically, I scored and I was feeling good, but when I was sitting down, I started feeling it. Then I gave it a couple innings to see if it would go away, but that didn't work."
Mondesi missed Friday's game in Minnesota, but he returned to the lineup on Saturday and went 1-for-13 over the next three games, including an 0-for-4 night in Monday's series opener.
Mondesi has been one of the Royals' best hitters in his first full season in the Majors. He's hitting .269 with 16 doubles, an MLB-high eight triples, six homers and 44 RBIs, while giving Kansas City above-average defense at short. His six Defensive Runs Saved are tied for the most among American League shortstops, with Oakland's Marcus Semien.
The Royals are already without third baseman Hunter Dozier (right side thorax tightness), who is on a rehab assignment with Double-A Northwest Arkansas, meaning that Mondesi missing time could be a sting for an offense that has ranked near the bottom of the league in most categories.
On Wednesday, Nicky Lopez moved to short, as he did on Friday in Minnesota when Mondesi was first held out for tweaking his hamstring, Merrifield moved back to second and Duda -- who'd been held out of the starting lineup as the Royals faced three lefty starters in a row -- started at first base, as Kansas City faced left-hander Marco Gonzales. Lopez was primarily a shortstop in the Minors, but he's started at second in all but two of his 31 games since making his MLB debut on May 14.