Salvy hits another Bench-mark with 45th HR 
All-Star catcher matches Reds legend for homers in a season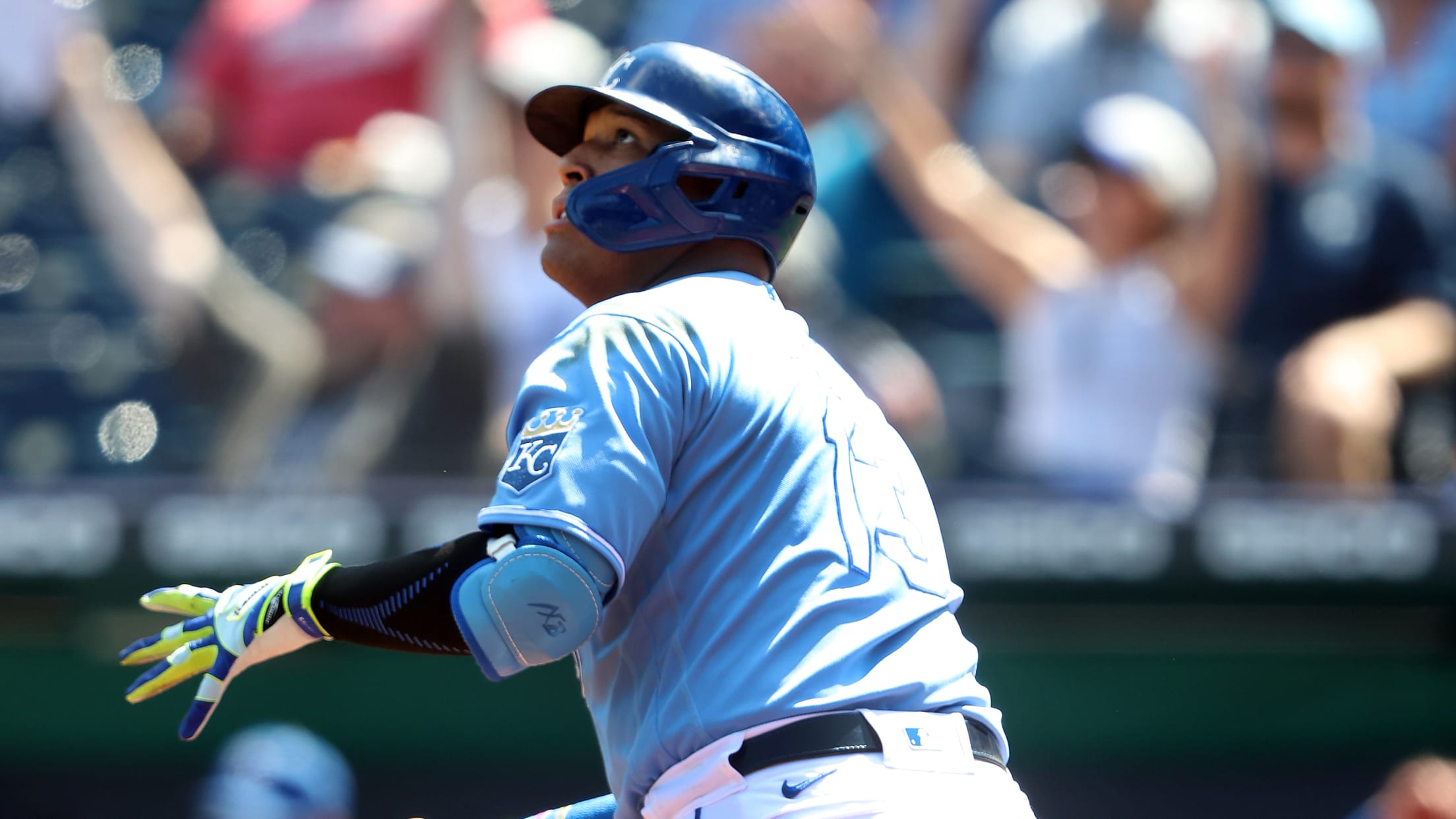 KANSAS CITY -- Salvador Perez's goal this season was to hit 30 home runs. He had never gotten above 27 in a season in his career and thought, with all the offseason work he went through, 30 was a reasonable goal. That mark was passed way back in August. Now,
Lynch can't shake calf cramp, exits finale
Royals rookie lefty lifted as precaution, goes just 2-plus innings against A's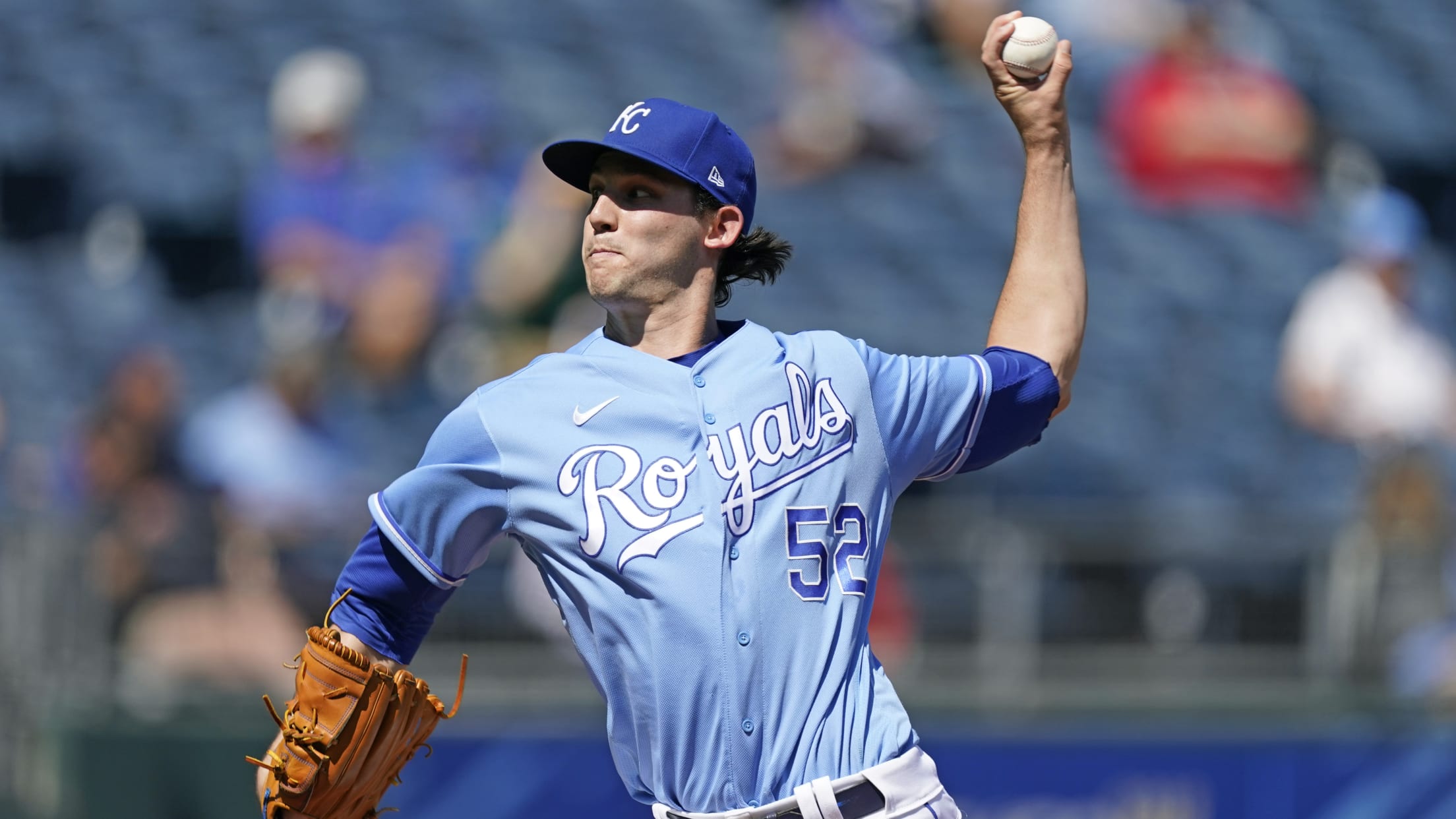 KANSAS CITY -- Daniel Lynch exited Thursday's 7-2 loss to the A's with left calf tightness in the third inning, but early returns on imaging and how he felt after the rubber match have the Royals lefty feeling optimistic that he'll get back on track with his next start. Lynch
Most home runs by a catcher in a season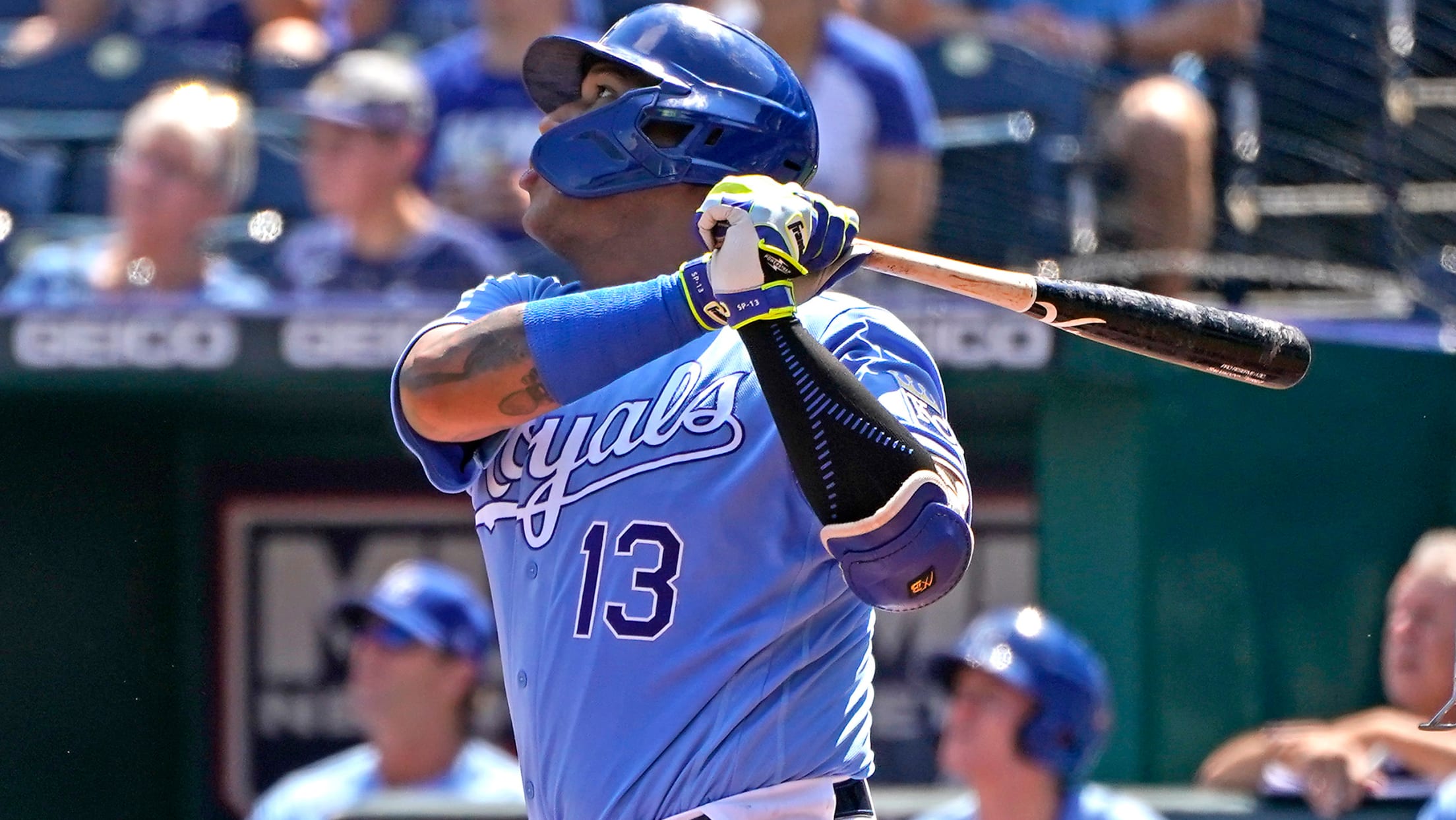 Throughout baseball history, catcher has been an offensively challenged position. It's not hard to understand why. First, catcher defense is so important that backstops are selected in large part based on their ability to block, receive, throw and work with pitchers. Second, the physical demands of the position are such
Speier lives out 'craziest baseball experience'
Royals reliever rushed into game action after promotion, journey from Triple-A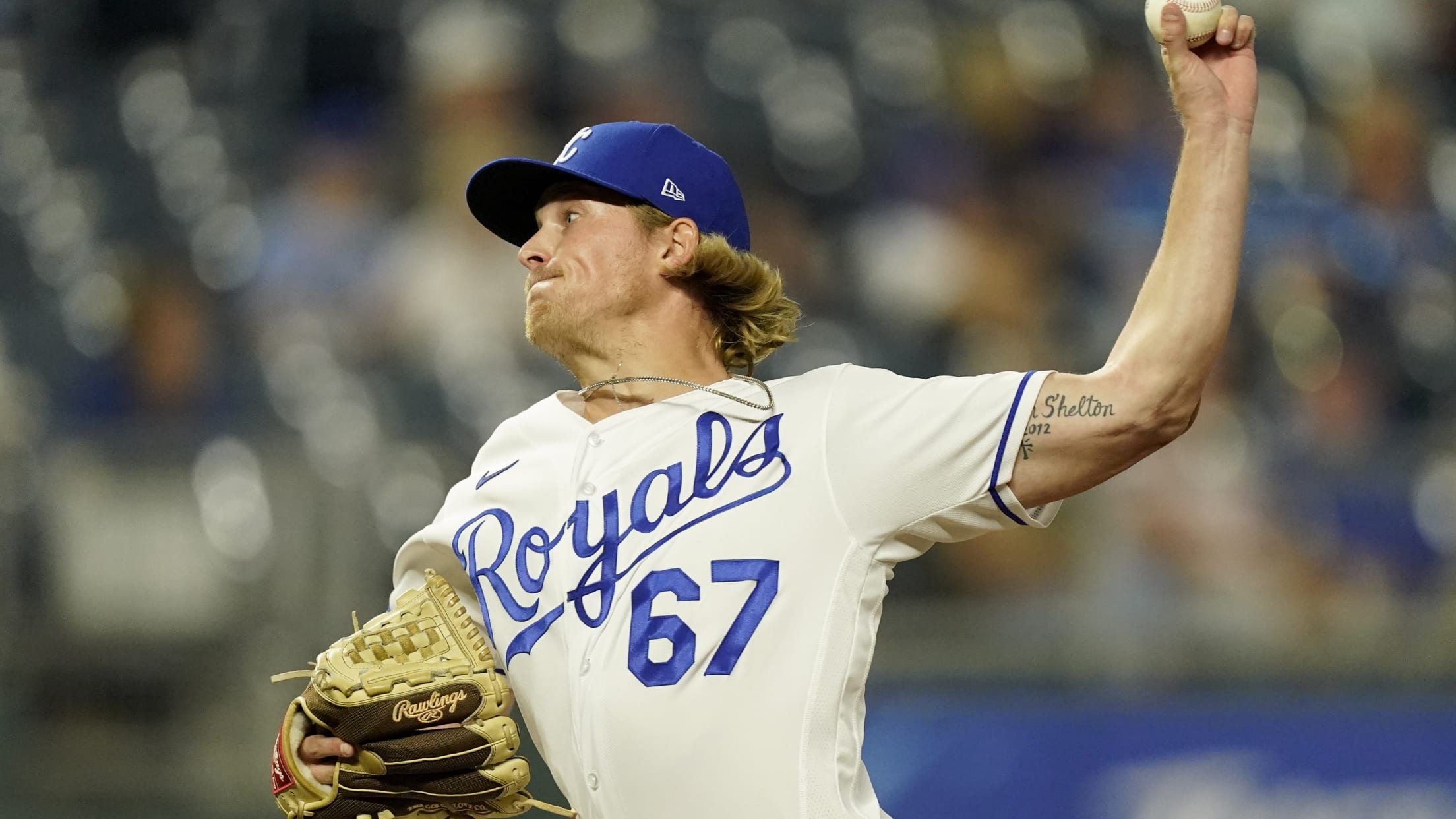 KANSAS CITY -- Gabe Speier's calmness on the mound when he came in to face Matt Olson and the middle of the A's order in the seventh inning on Wednesday night did not encapsulate the full story of the Royals reliever's evening. In a span of 30 minutes, Speier arrived
Stat of the Day: Isbel quite the catch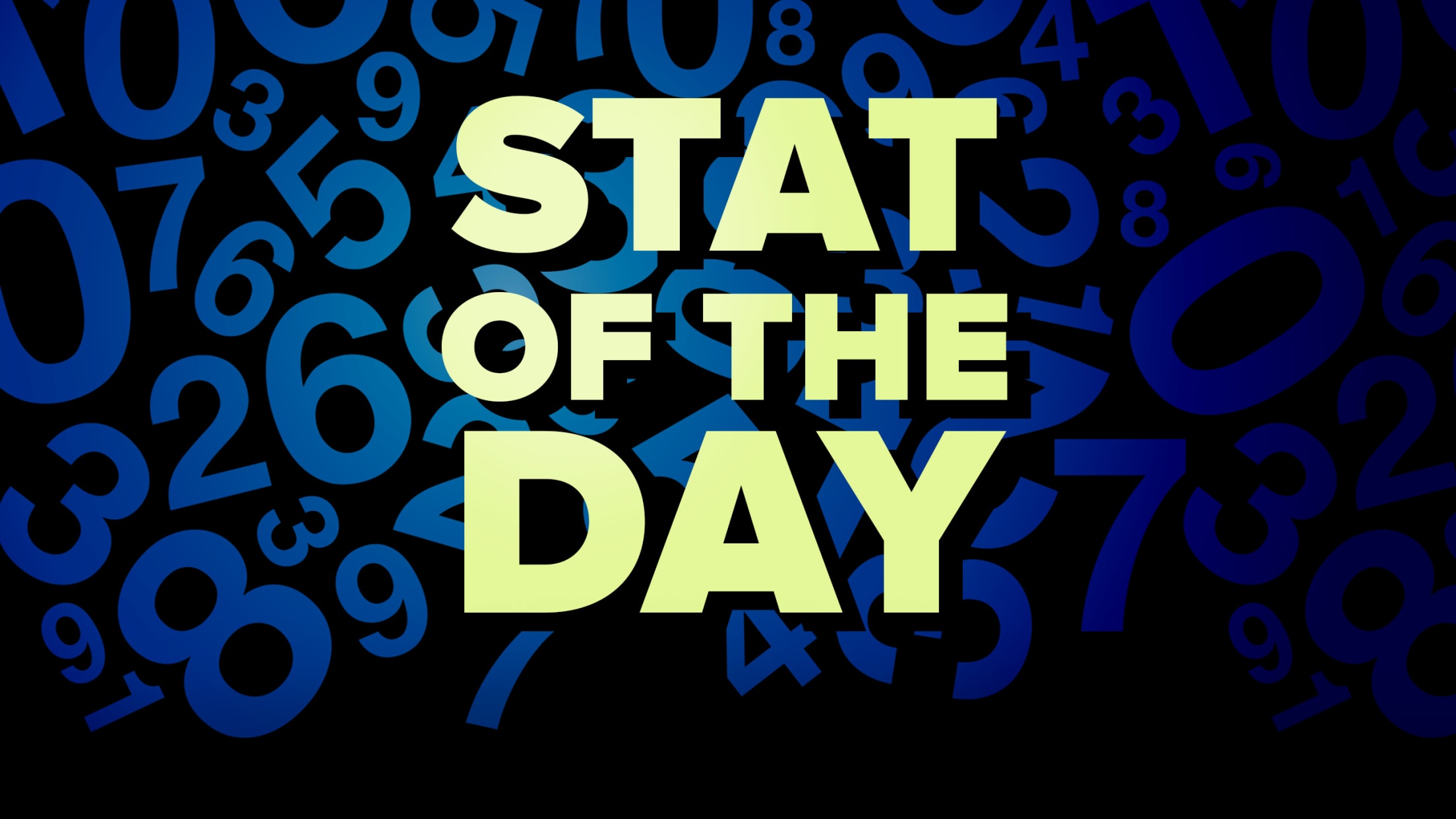 MLB.com is keeping track of a Stat of the Day for the Royals this season, highlighting a unique, interesting or fun nugget from each game. • Royals Stat of the Day, August 2021
Injuries & Roster Moves: Minor, Davis to IL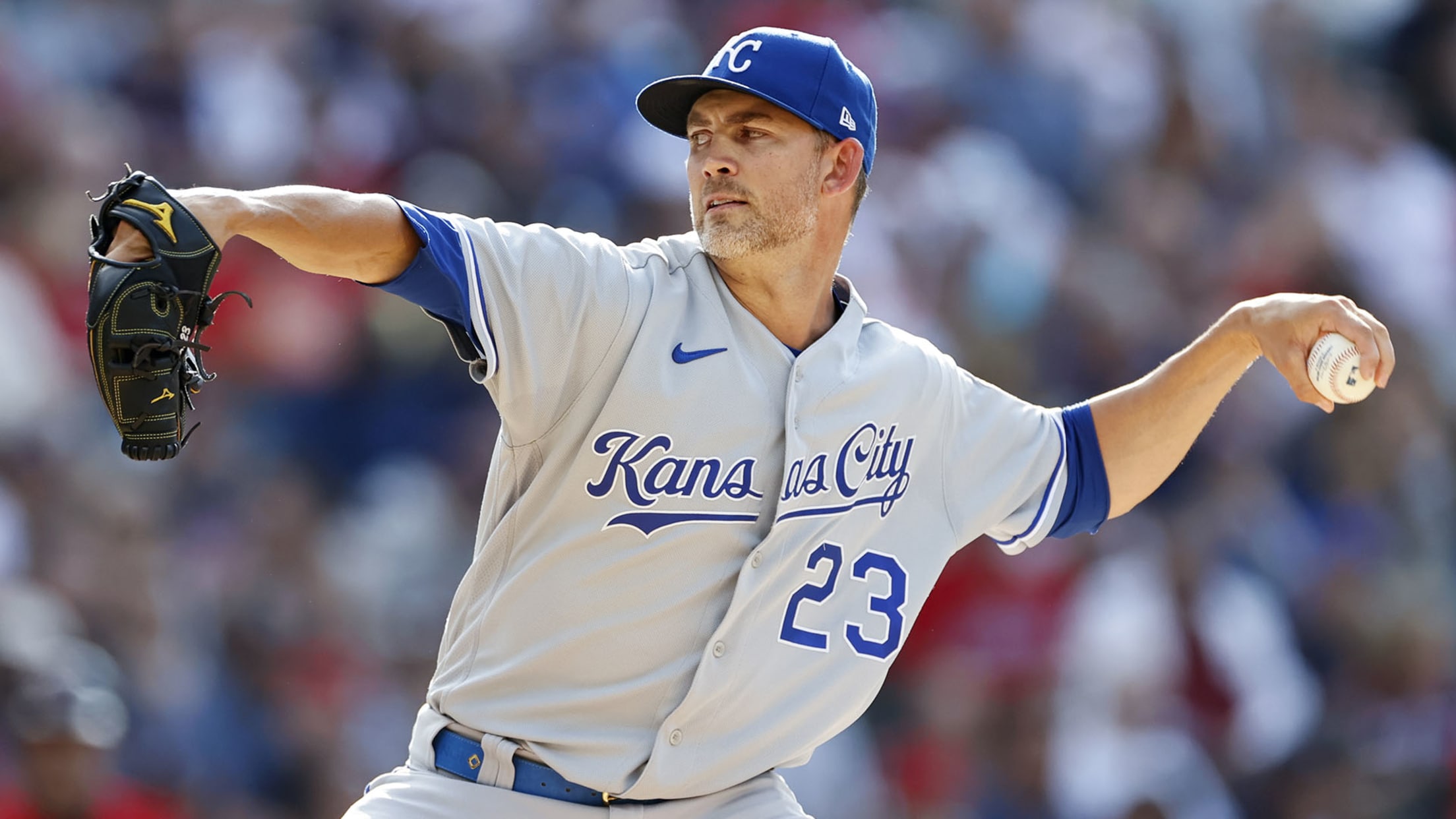 Keep track of the Royals' recent transactions and injury updates throughout the season.
1 late-blooming prospect for each org.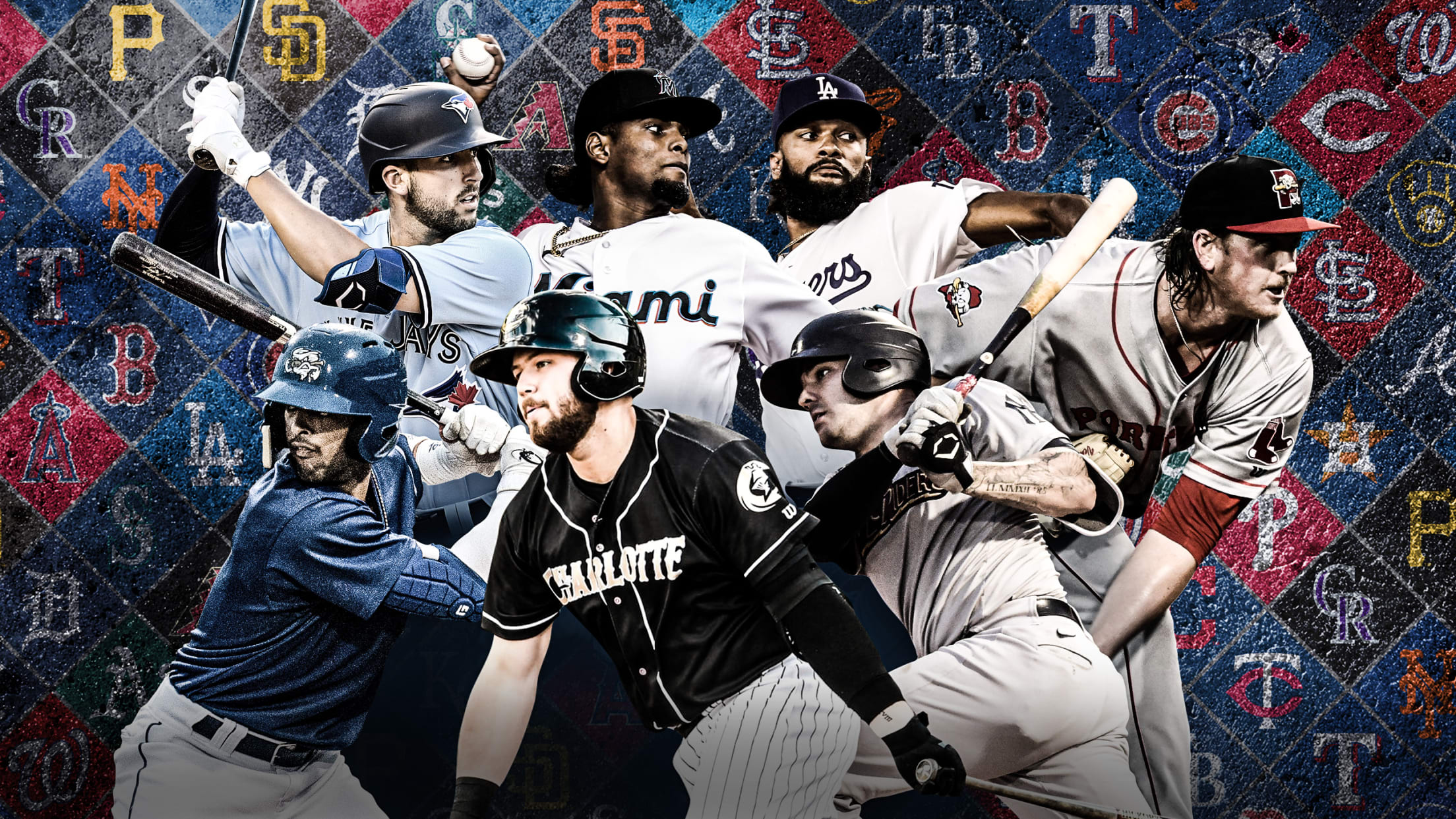 It's a phrase worth repeating often in these parts. Player development is not always linear. While we tend to get excited about prospects who climb quickly through the Minor League ranks, many talents need more time to hone their skills and build the foundations for future Major League careers. Those
Witt Jr. mashes homer No. 32
Keeping tabs on the Royals' No. 1 prospect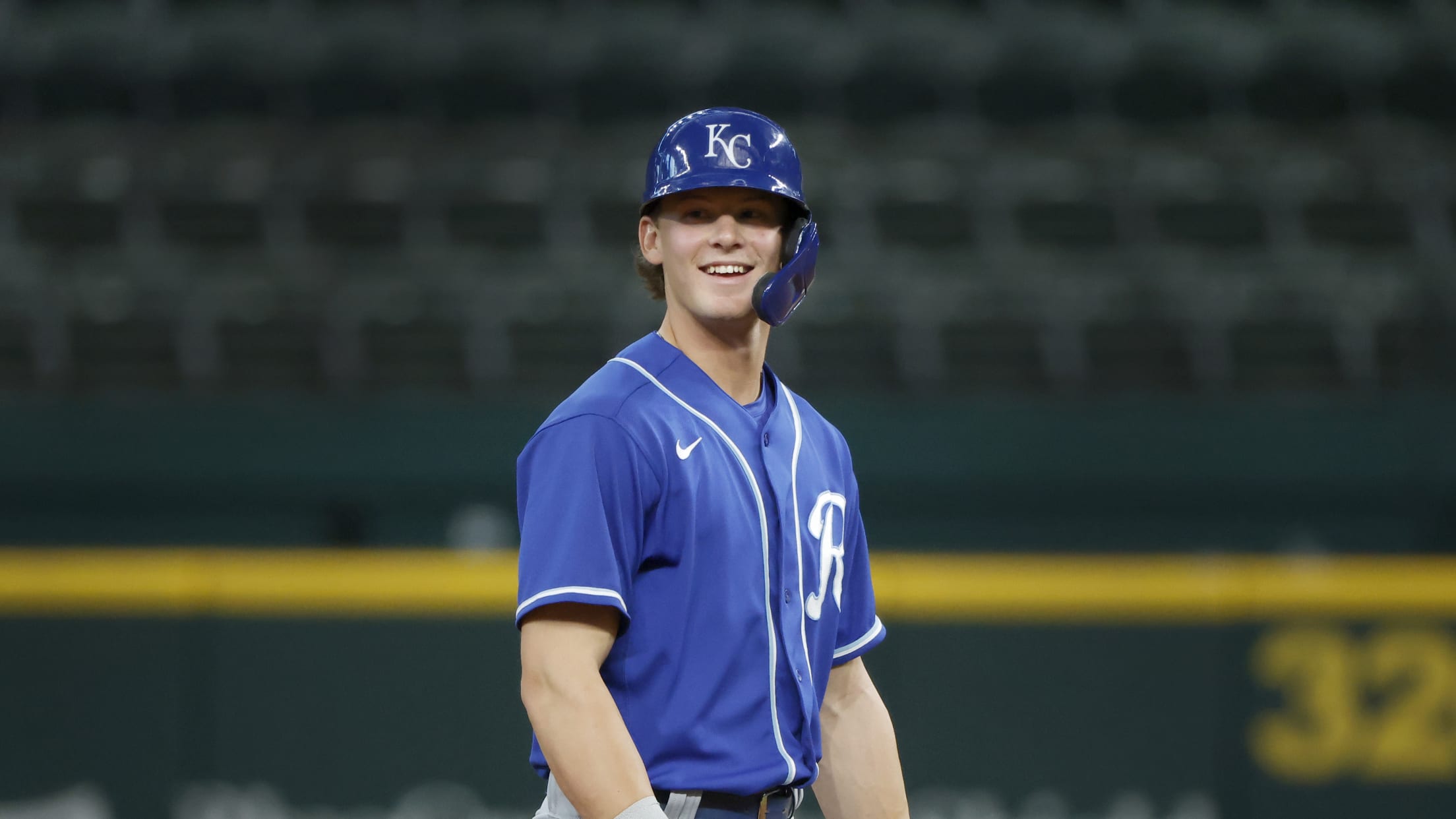 Sept. 16: Swats his 32 homer of the year Bobby Witt Jr. was one at-bat from going hitless for the second time in three games on Thursday, but he denied that from happening and led off the ninth with a solo shot for his 32nd homer of the year. Exactly
Classic Royals card: Saberhagen in '86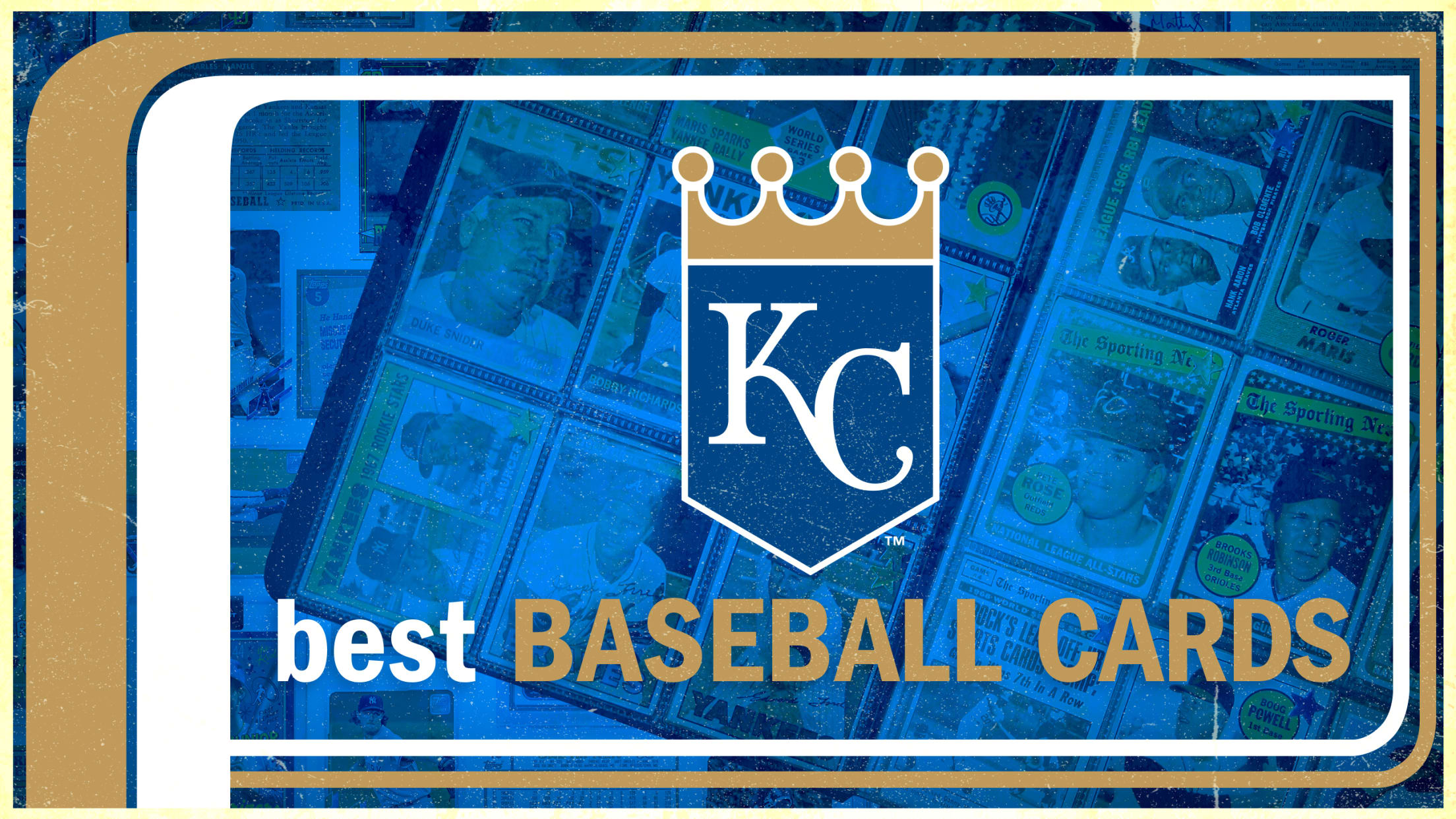 As part of the celebration of the 70th anniversary of Topps baseball cards, we've asked fans (as well as our staff) to submit their all-time favorite baseball cards, and we've broken them down by team. We'll be revealing submissions regularly throughout the season, ranging from the famous to the weird,
Royals exploring downtown ballpark options
CEO/chairman Sherman: 'It's got to do great things for Kansas City'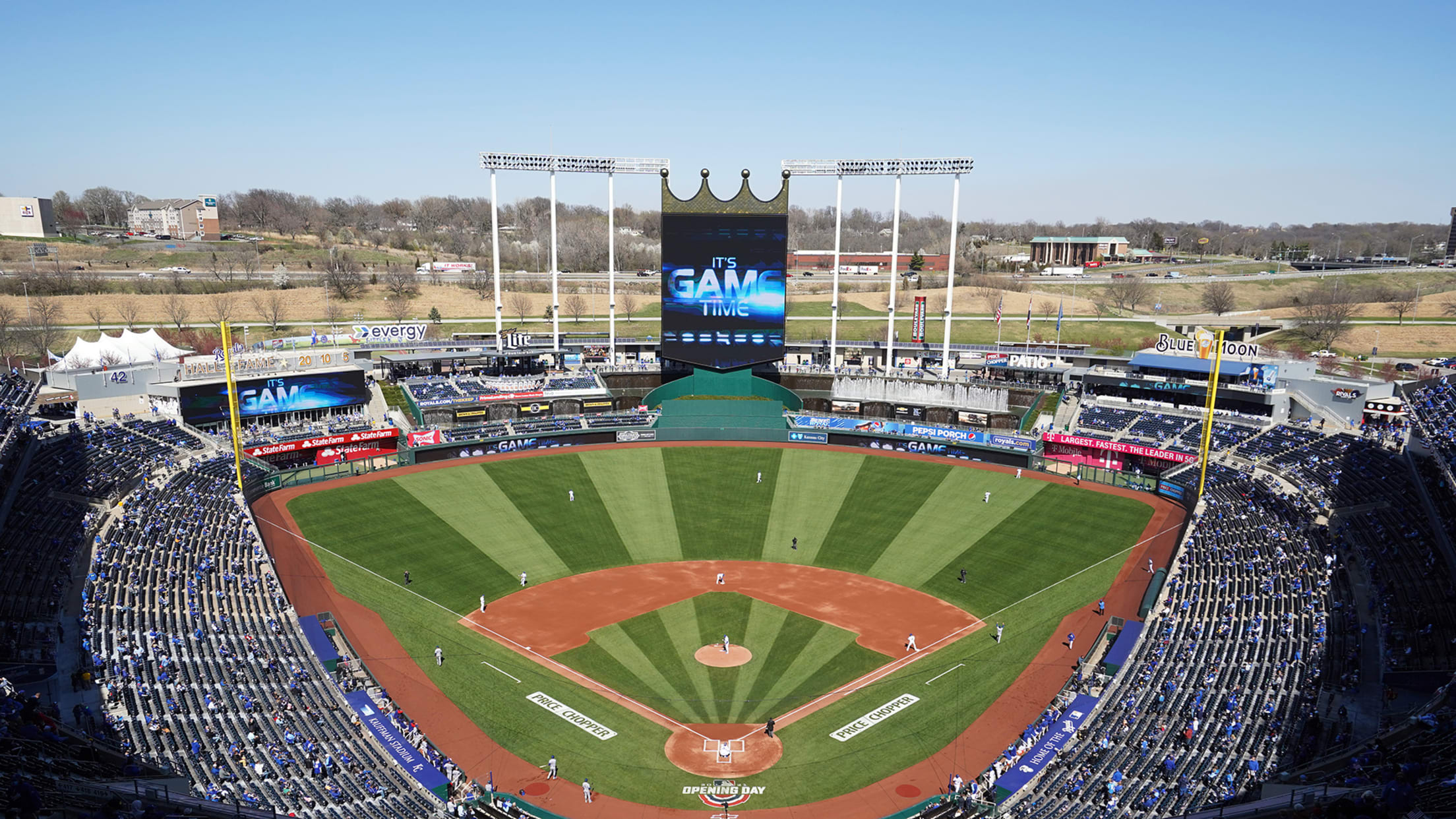 KANSAS CITY -- The Royals have begun to explore options of a downtown ballpark in Kansas City, CEO/chairman John Sherman revealed Tuesday. At the end of a press conference to announce the promotions of Dayton Moore and J.J. Picollo, Sherman acknowledged that the Royals "need to start thinking about our
Salvy hits No. 44, KC drops wild one to A's
Royals collect 17 hits, score 10, come up just short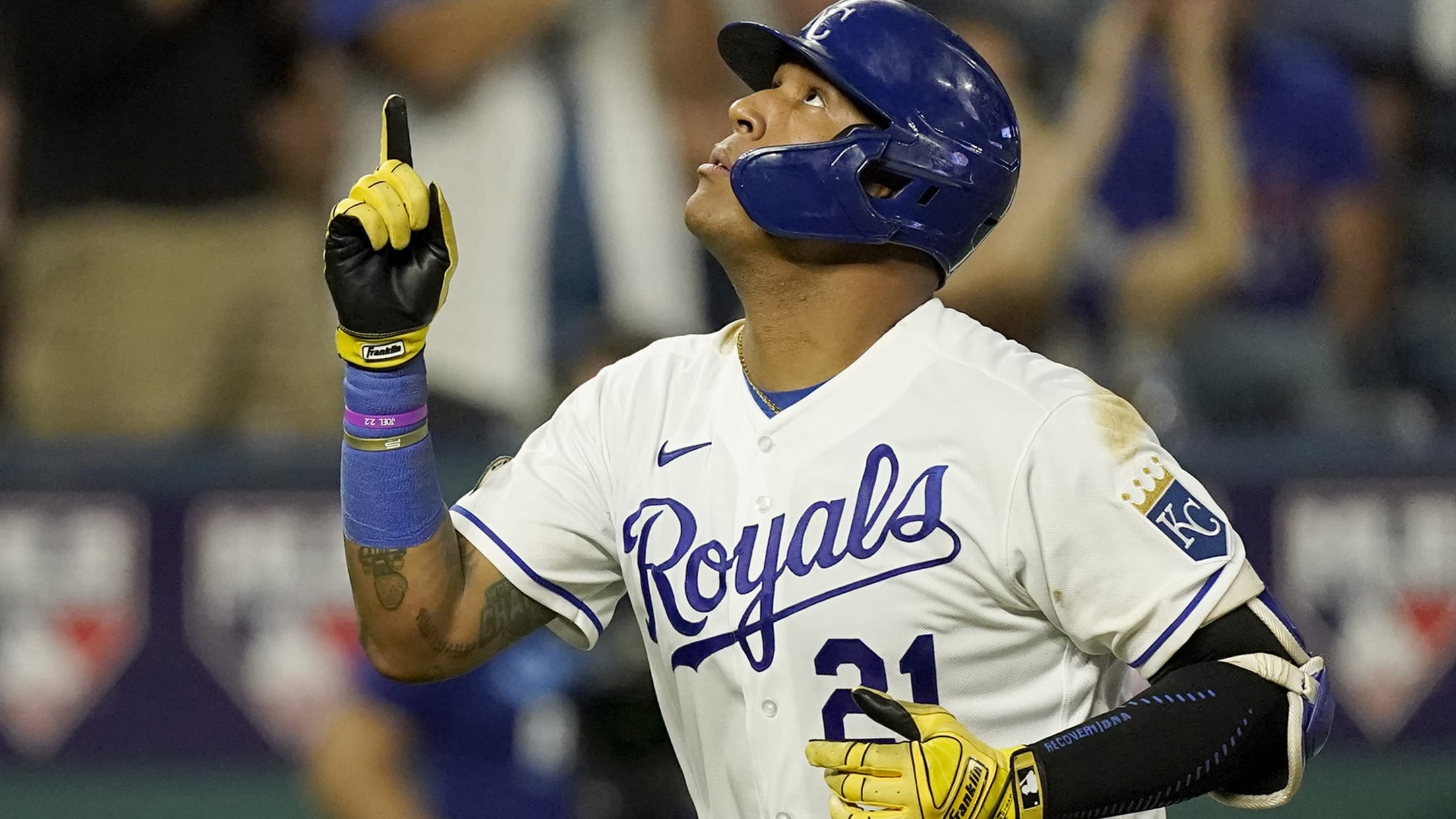 KANSAS CITY -- The comeback the Royals offense staged on Wednesday night wasn't near enough to counter a collapse from the pitching staff -- but it sure came close. Kansas City scored five runs in the final three innings to close a seven-run deficit into a two-run gap, but the
Isbel making a fast impression on Royals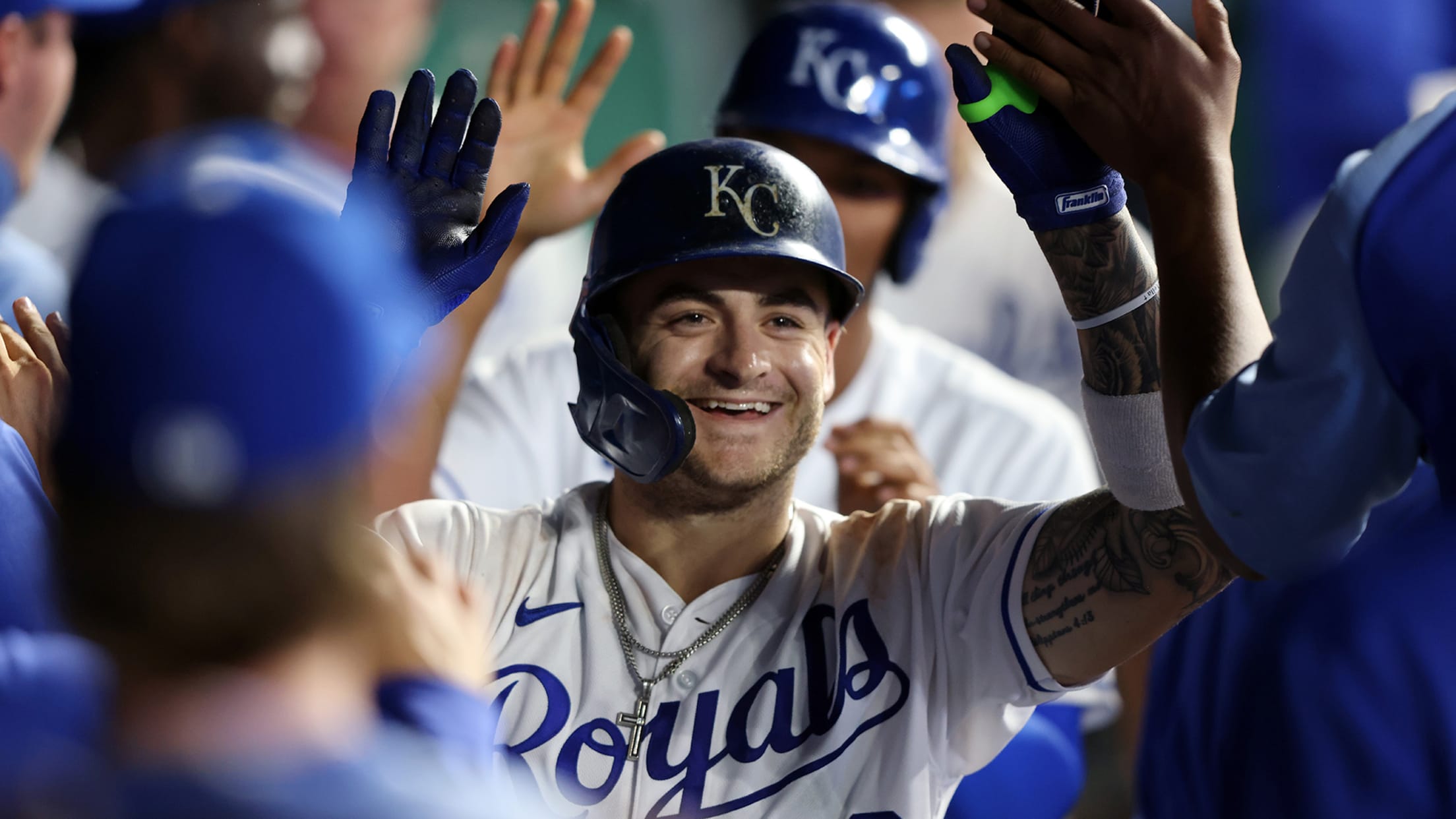 KANSAS CITY -- Kyle Isbel received one of the biggest Salvy splashes of the season after Tuesday night's win over the A's, when Salvador Perez and Whit Merrifield ambushed the Royals outfielder with a big cooler of ice water as he was doing his on-field interview. The celebration that greeted
Perez nominated for Clemente Award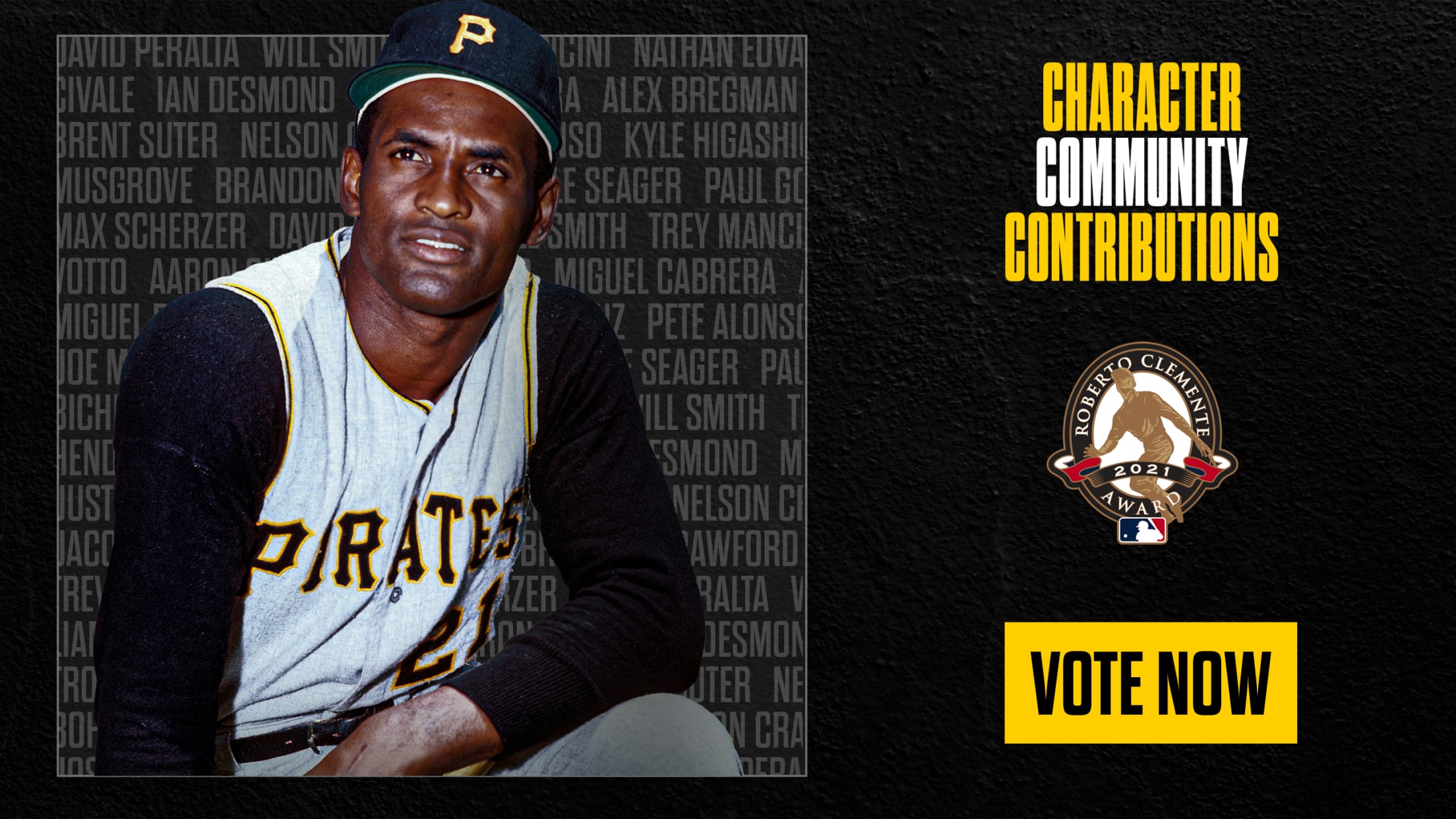 All 30 nominees for the 2021 Roberto Clemente Award -- one per club, including 18 first-timers -- were announced by Major League Baseball on Tuesday. Considered baseball's most prestigious individual honor for Major Leaguers, the Clemente Award annually recognizes the MLB player who best represents the game through extraordinary character,
No. 10 prospect stays hot in High-A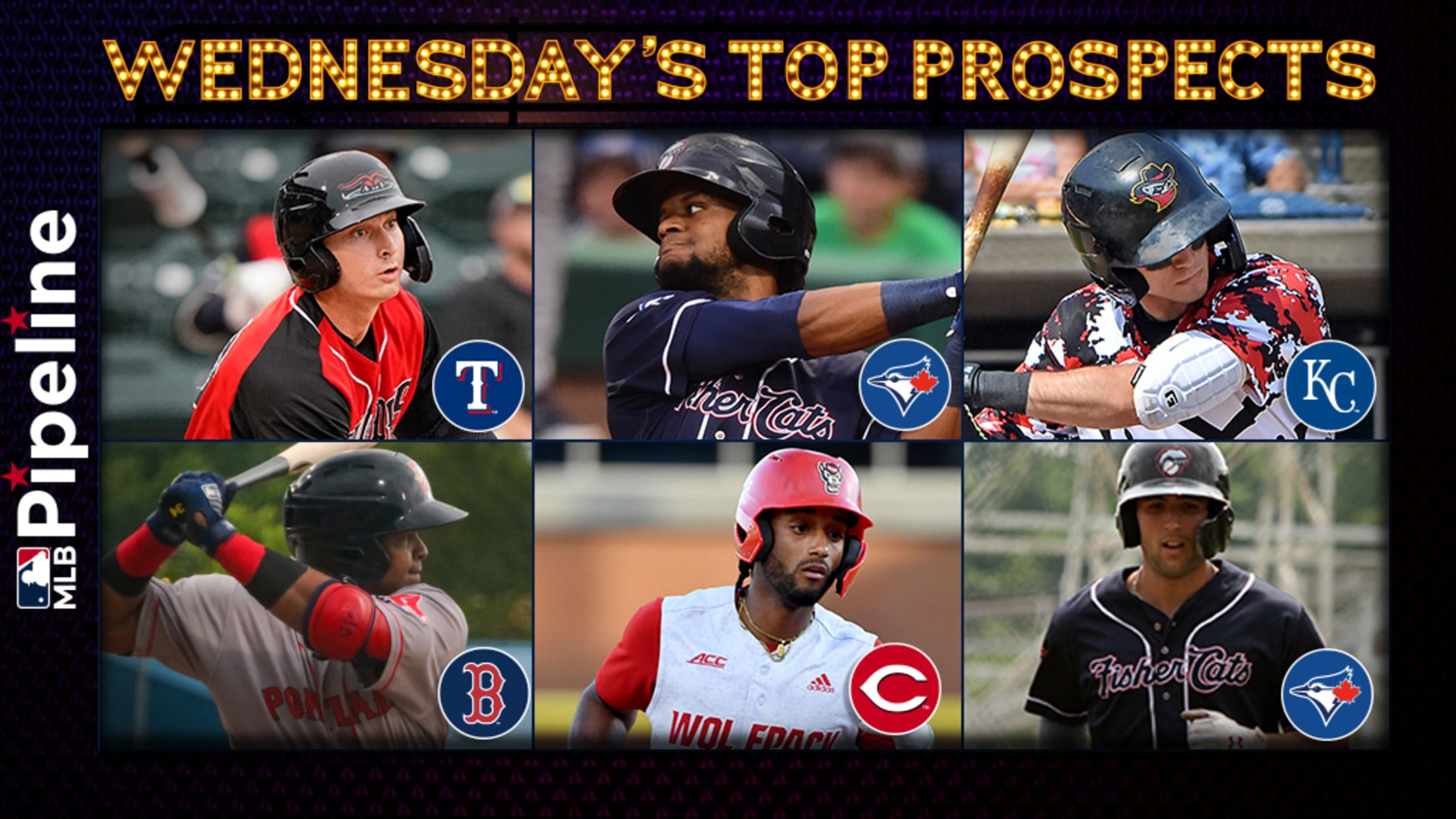 Here's a look at Wednesday's top Minor League performers from each team's Top 30 Prospects list:
Watch Witt, Omaha for free on MiLB.TV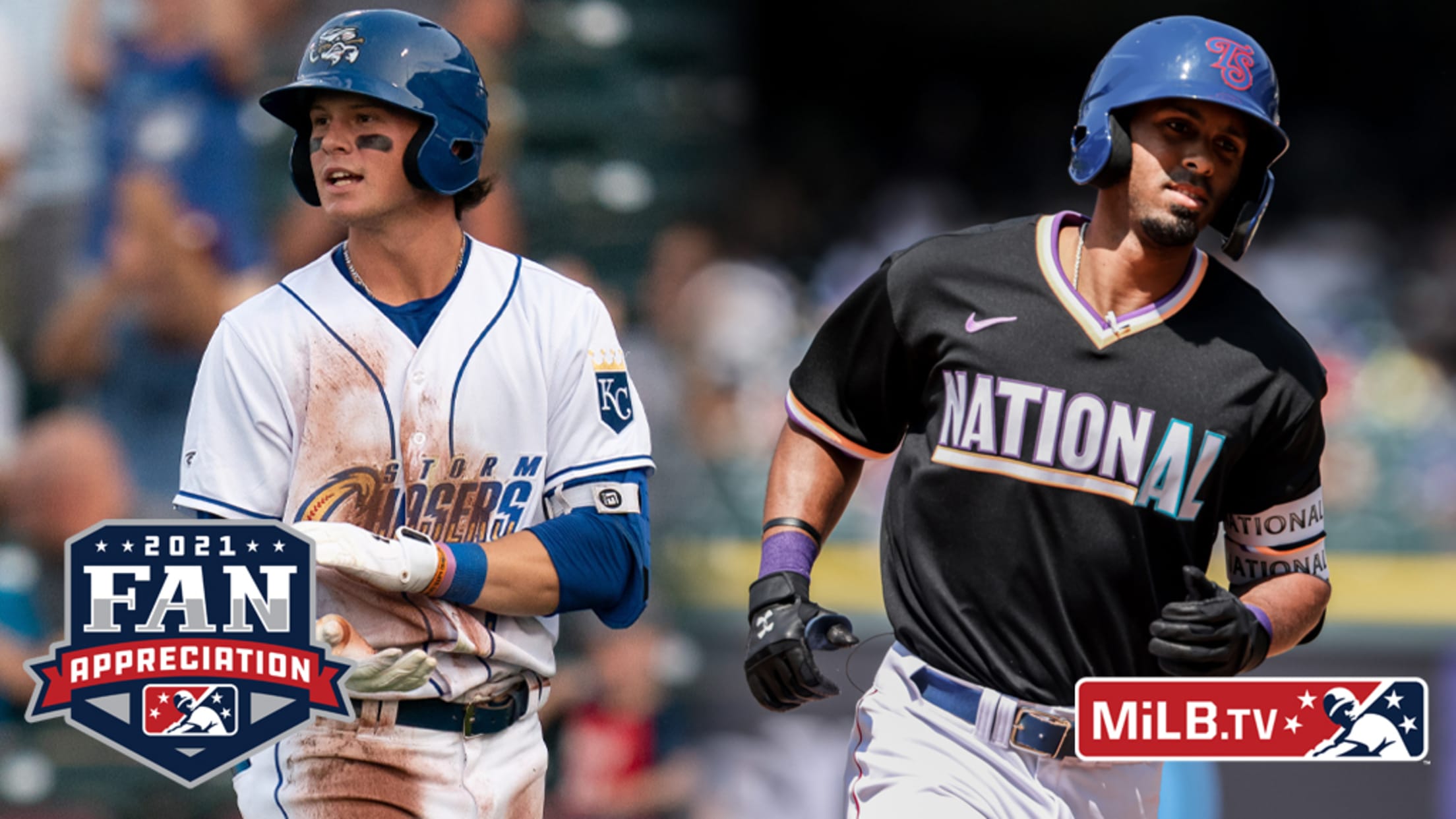 It's been a long and enjoyable return to play. Minor League fans deserve one final treat. MiLB.TV will be free for the rest of the 2021 regular season and playoffs as part of Fan Appreciation, beginning Tuesday. Now, anyone can watch the game's top prospects make one final push for
Salvy HR caps comeback: 'You just expect it'
Royals erase early 6-0 deficit, upend A's as Isbel cracks first MLB HR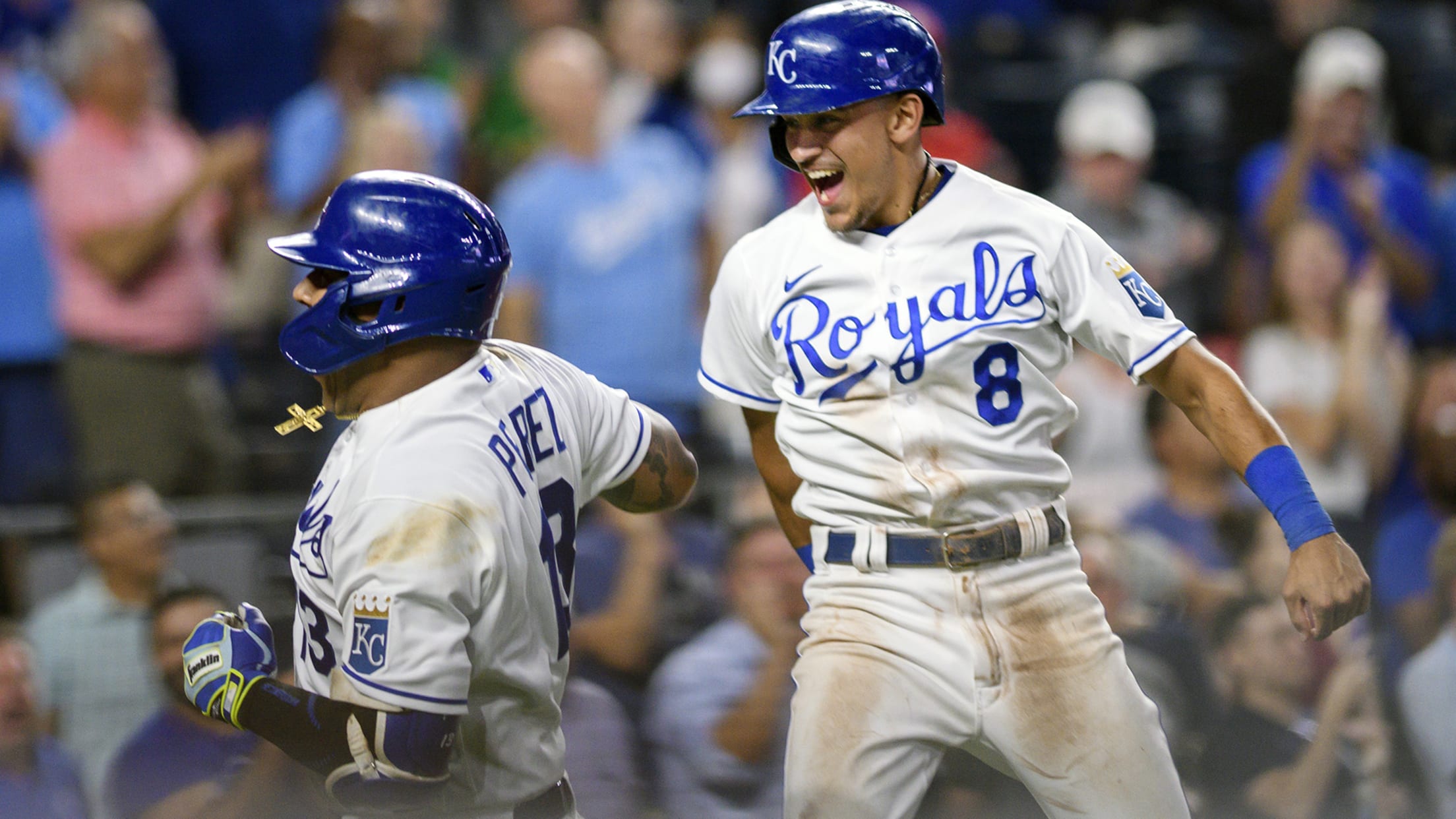 KANSAS CITY -- Nicky Lopez ended up stealing his 20th base of the season in the sixth inning Tuesday night because he got a good read and a strong jump off A's reliever Yusmeiro Petit, landing on second base to put another runner in scoring position for Salvador Perez. Of
Moore, Picollo given promotions by Royals
Moore becomes president of baseball operations; Picollo general manager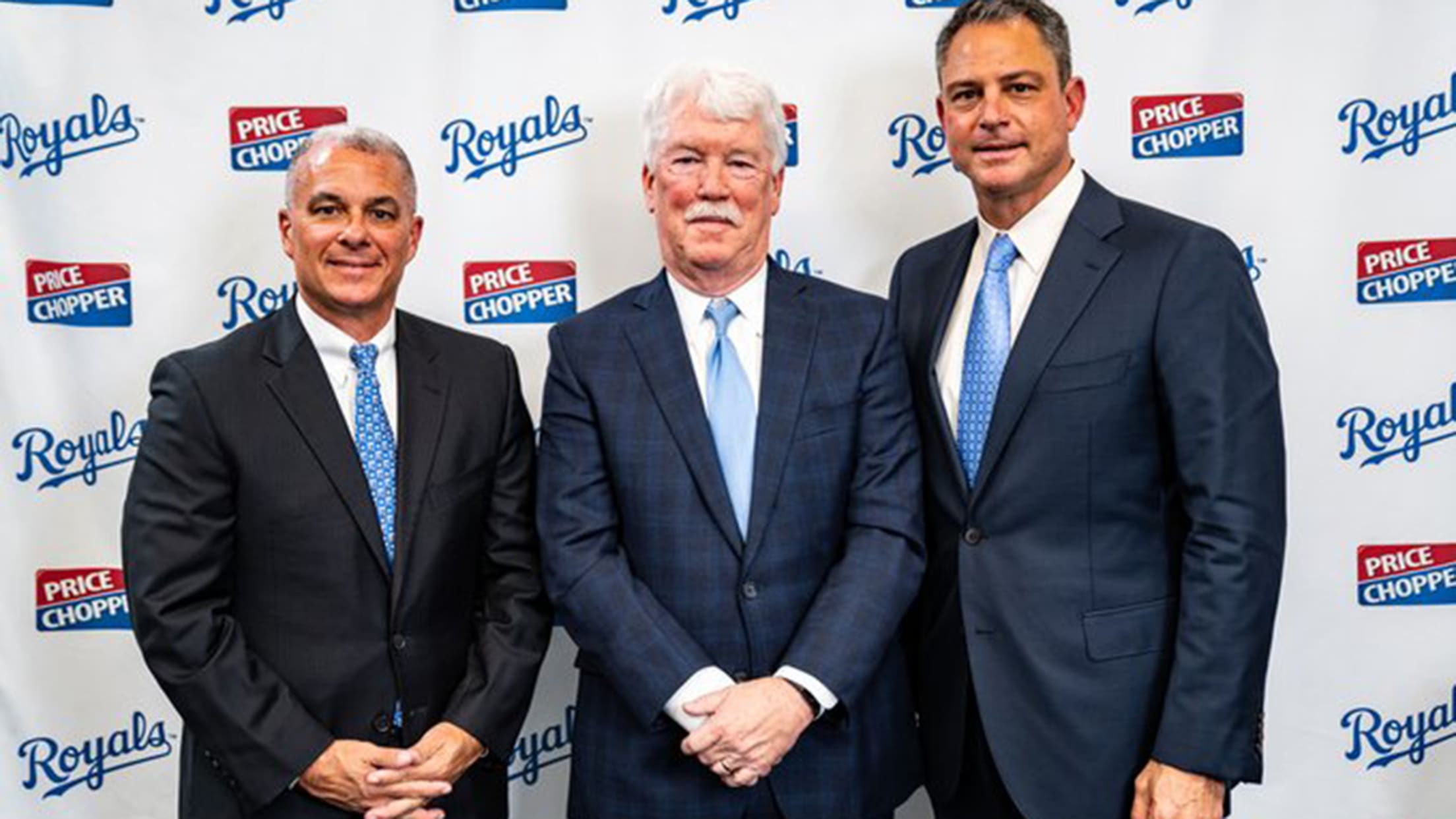 KANSAS CITY -- A leadership structure that has become one of baseball's front office trends found its way to Kansas City on Tuesday afternoon. During a press conference, Royals chairman/CEO John Sherman announced that general manager Dayton Moore will serve as the team's president of baseball operations, a new role
Benintendi named AL Player of the Week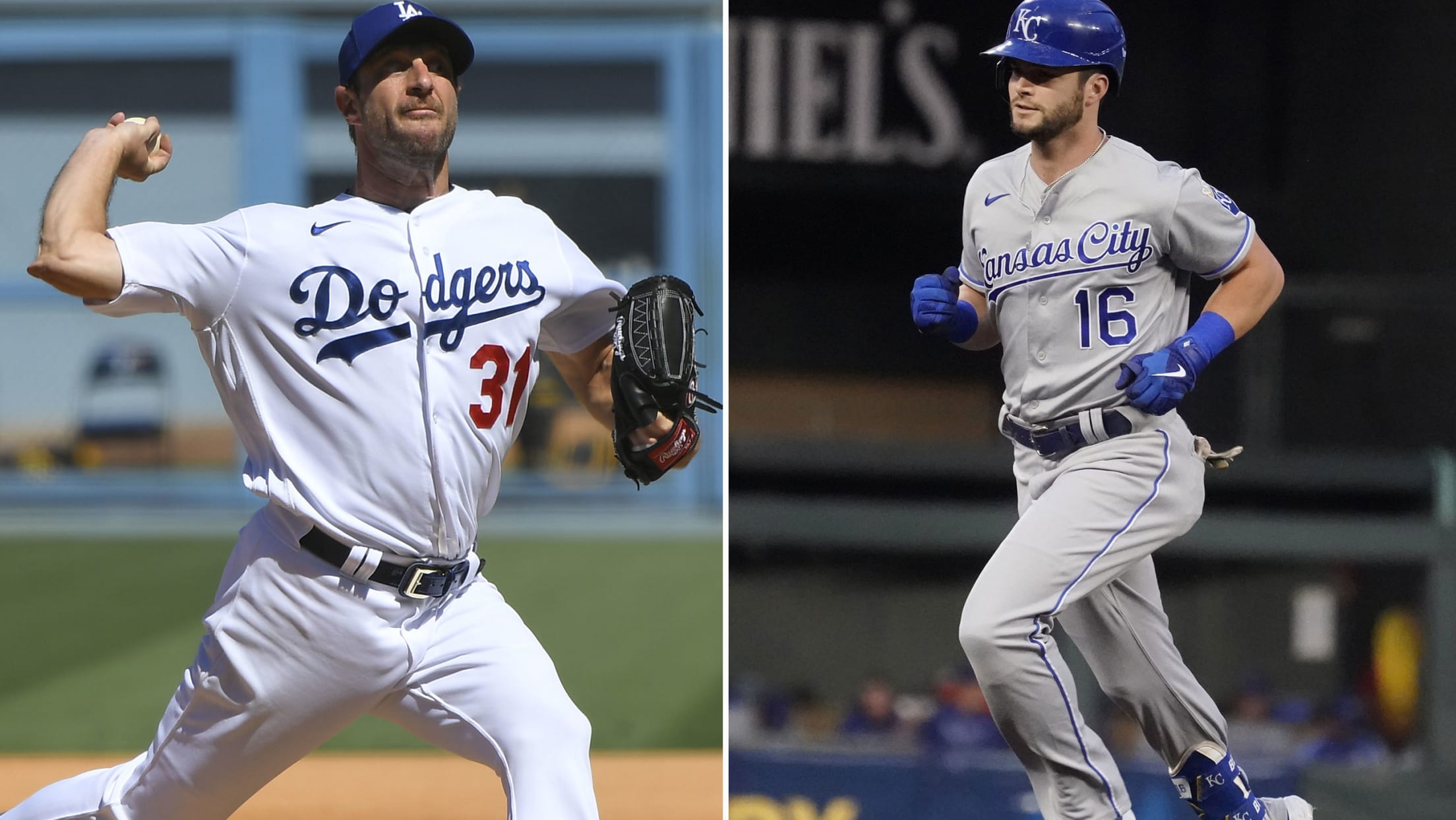 Royals outfielder Andrew Benintendi was nearly unstoppable at the plate, while Dodgers ace Max Scherzer was nearly perfect on the mound. For their outstanding efforts, they were selected as the American and National League Player of the Week Award winners presented by Chevrolet on Monday.
Isbel makes most of callup, fuels victory
OF scrambles to join team at Target Field, hits go-ahead RBI single in 8th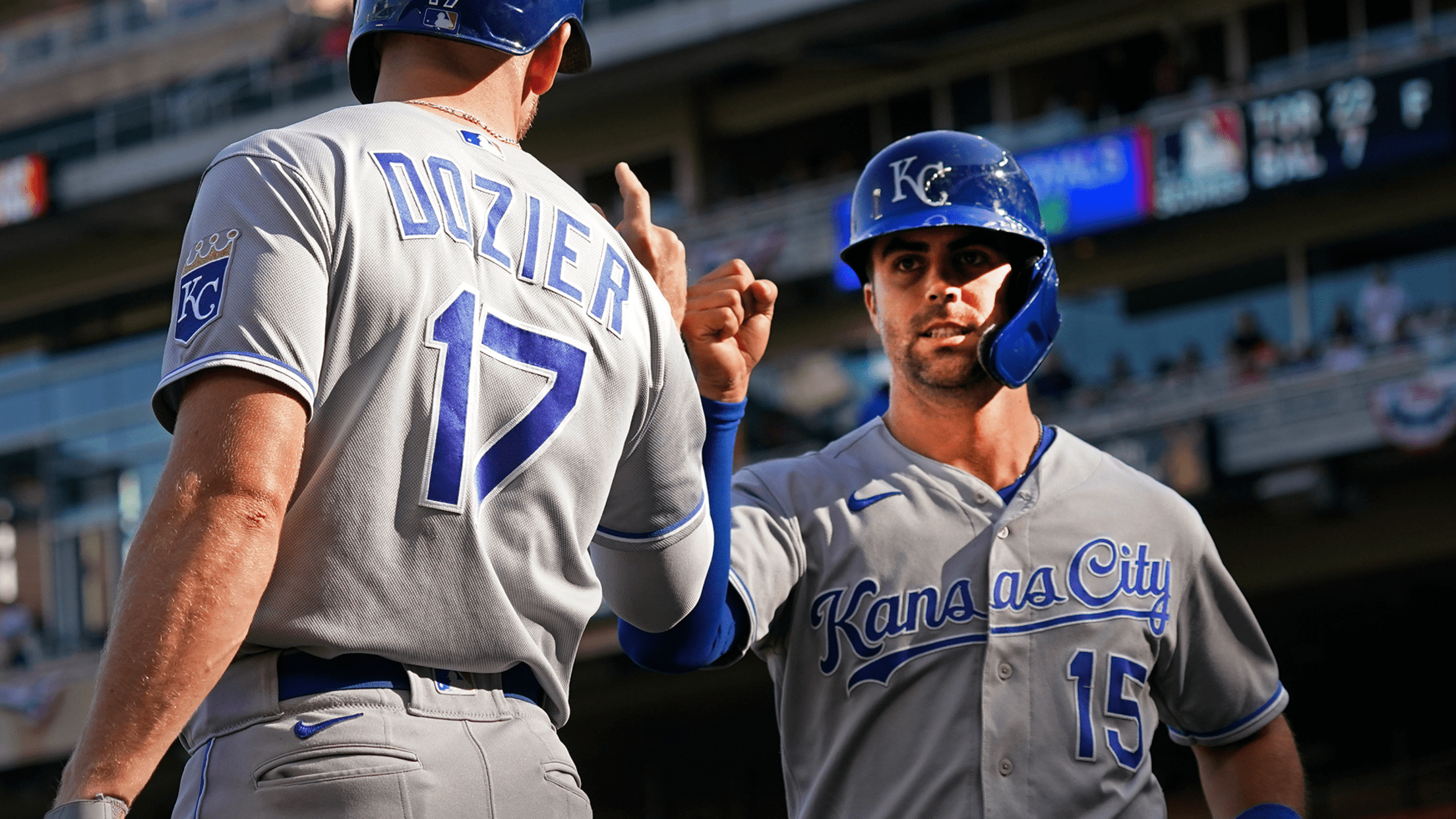 MINNEAPOLIS -- It might have taken Kyle Isbel longer to find the correct entrance to Target Field than it did to take the 25-minute Uber ride from where Triple-A Omaha was staying in St. Paul, Minn., on Sunday. When the 24-year-old outfielder did find where he was supposed to be,
Coleman makes Prospect Team of the Week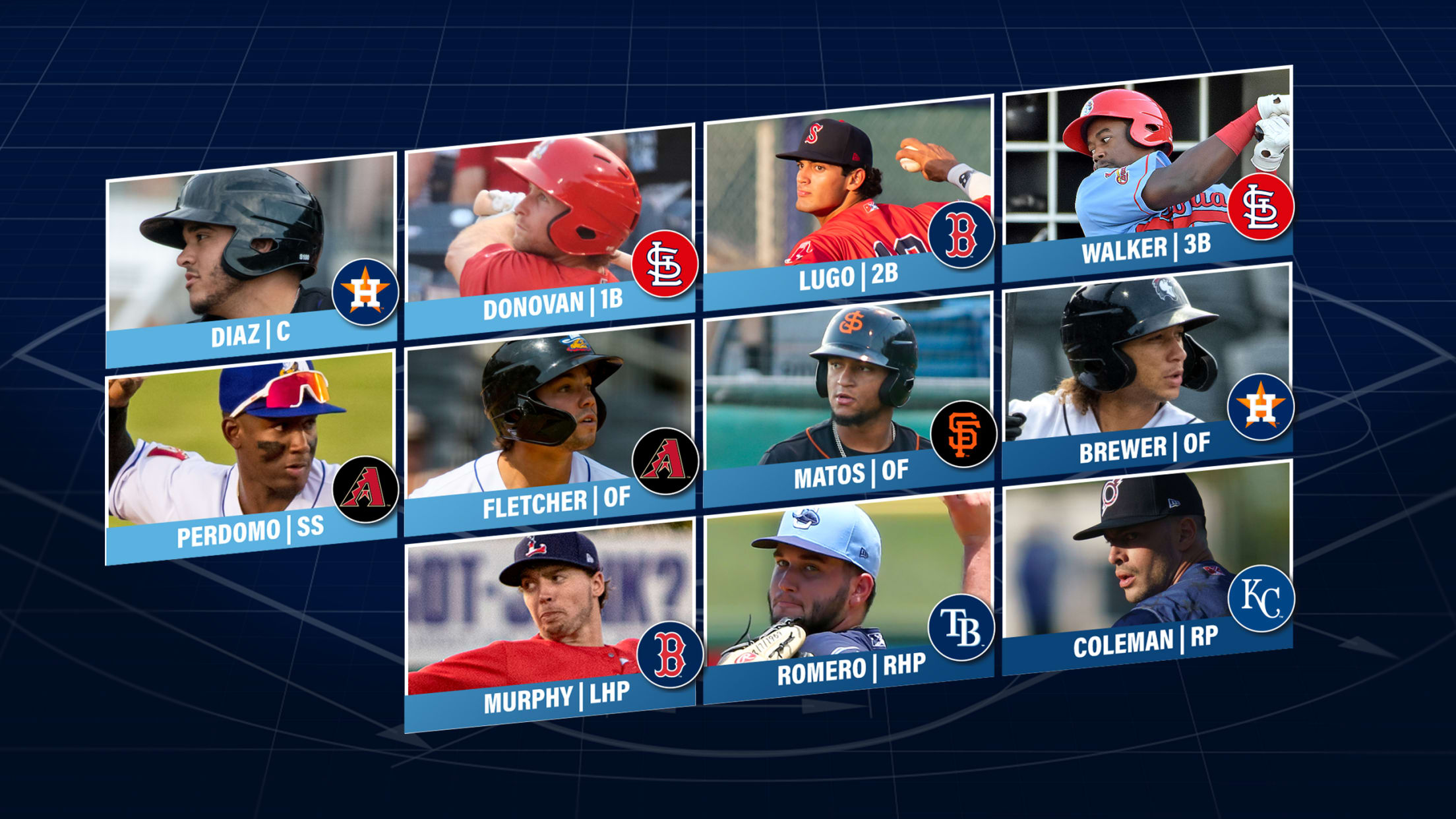 MLB Pipeline's Prospect Team of the Week honors the best performances from the previous seven days. Any Minor Leaguer currently on an organization Top 30 Prospects list in our Prospect Rankings is eligible. No player has been named to our Prospect Team of the Week more than three times so