Notes: Odorizzi, Astudillo ramping up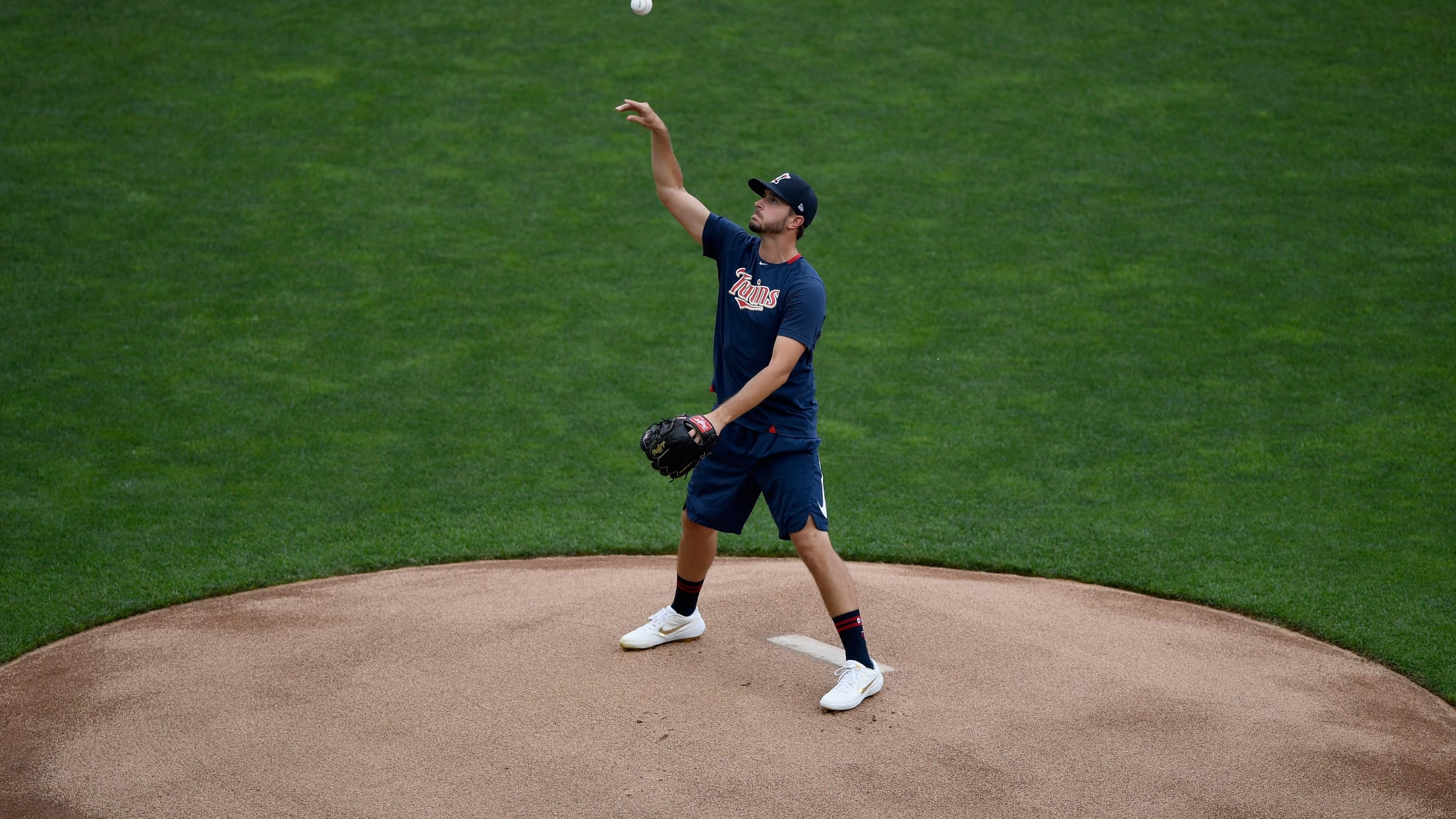 MINNEAPOLIS -- Jake Odorizzi feels fine. All that remains is building him up for the regular season. Odorizzi threw a bullpen session at Target Field on Thursday and reported feeling pain-free as he continues to recover from a right intercostal strain that has sidelined him for the start of the
MINNEAPOLIS -- Jake Odorizzi feels fine. All that remains is building him up for the regular season.
Odorizzi threw a bullpen session at Target Field on Thursday and reported feeling pain-free as he continues to recover from a right intercostal strain that has sidelined him for the start of the regular season. He is expected to throw three or four innings against hitters at the Twins' alternate training site in St. Paul around Monday before he and the club evaluate his condition for a possible return to the active roster.
At this point, the injury appears to be less of an issue than making up for lost time in his ramp-up as a starter.
"There haven't been any setbacks at all," Twins manager Rocco Baldelli said. "He's been doing great. We wanted to make sure he was 100 percent before we get him out there, and we're going to have him face those hitters. We wanted to make sure that was the case, and he should be good to go."
"It's just going to depend on how Monday goes, how I feel, and how I probably feel the next day as well after that," Odorizzi said. "We'll play it by ear. Hopefully, everything goes nice and smooth. I feel great now, so yeah, we'll play it by ear."
Even if everything goes perfectly with that simulated start on Monday, that would mean Odorizzi could be in line to return next Saturday at the earliest, which would carve more than two weeks out of an already shortened season for the right-hander. He's back with Minnesota after accepting the one-year, $17.8 million qualifying offer and will be a free agent following the season.
"I'm not disappointed," Odorizzi said. "In a regular season, this is a minor speed bump at most. It just so happens it's a 60-game [season]. I can't change that. I can't do anything just because it's a shorter season. As I alluded to earlier, I can't rush getting back from something when it just takes time to heal and rest."
Odorizzi said he first felt tightness in the intercostal area during his five-inning intrasquad start on July 14 and initially pitched through it before deciding to take some recovery time. He was scratched from his planned final tune-up on July 19 and was placed on the 10-day injured list.
He was expected to be the Twins' No. 2 starter to open the season. Rookie right-hander Randy Dobnak started in his place last Saturday against the White Sox and is again penciled for Friday's game against Cleveland. Odorizzi wants a quick return, but Dobnak's success and the Twins' overall depth have Odorizzi feeling that the Twins remain in good hands while he recovers.
"I'd rather [the absence] be on the front end than the back end when the playoffs roll around later on in the season," Odorizzi said.
Astudillo to have catcher's ramp-up
Health-wise, Willians Astudillo is doing well as he acclimates back to baseball at the alternate training site. Still, there are physical consequences to missing all of Summer Camp, as Astudillo did after he tested positive for COVID-19, so the Twins aren't expecting to see La Tortuga in Major League action anytime soon.
Astudillo's buildup time will be lengthened by the fact that he needs to prepare for the rigor of catching duties in addition to the normal conditioning and timing considerations in play for an athlete ramping back up to game speed.
"The catching part is important," Baldelli said. "If you have not been squatting, if you have not been catching bullpens, if you have not been out there for seven to nine innings behind the plate, when you do it the first time, you are really going to feel it the next day. You probably do it the second time, you're still going to feel it the next day. We need him to be physically not just feeling good, but able to recover as well. He's been through a lot."
Astudillo hit .268/.299/.379 with four homers in 58 games last season, but his defensive versatility at catcher, corner infield and corner outfield will become all the more important when rosters contract from 30 to 28, and eventually to 26. The presence of a third catcher could also free up Mitch Garver to serve as a pinch-hitter when Alex Avila earns starts behind the plate.
Twins tidbits
• It took a while for Taylor Rogers to make his season debut, due in large part to the series of blowouts the Twins played against the White Sox to open the season at Guaranteed Rate Field. Any talk of potential rust for the Twins closer was quickly silenced Wednesday night, when Rogers needed only 11 pitches to strike out a pair in an easy 1-2-3 inning to earn his first save.
"To go out there and be that sharp was very, very impressive," Baldelli said. "He looked like a guy who was as sharp as he could possibly be. You don't just snap your fingers and show up not having pitched in a game in a while and just simply get it done. I think it could have been an issue with a lot of pitchers in the game, but not with Taylor."
• Across the Twin Cities, the St. Paul Saints of the independent American Association expect to return home for games with fans in the stands starting on Tuesday. The Twins have been using CHS Field, the Saints' home park, as their alternate training site since the start of camp. Baldelli doesn't anticipate any scheduling issues as a result of the Saints' home games.
"It's been a very, very good relationship and setup for us," Baldelli said. "With the Saints coming home, I don't think that changes. We're still able to get done everything that we need to get done. If we have to stay on that schedule the entire year, that's great. That's more than possible, and we're happy to do it."