Wrist strain lands Nelson Cruz on injured list
Twins slugger eligible to be activated on May 24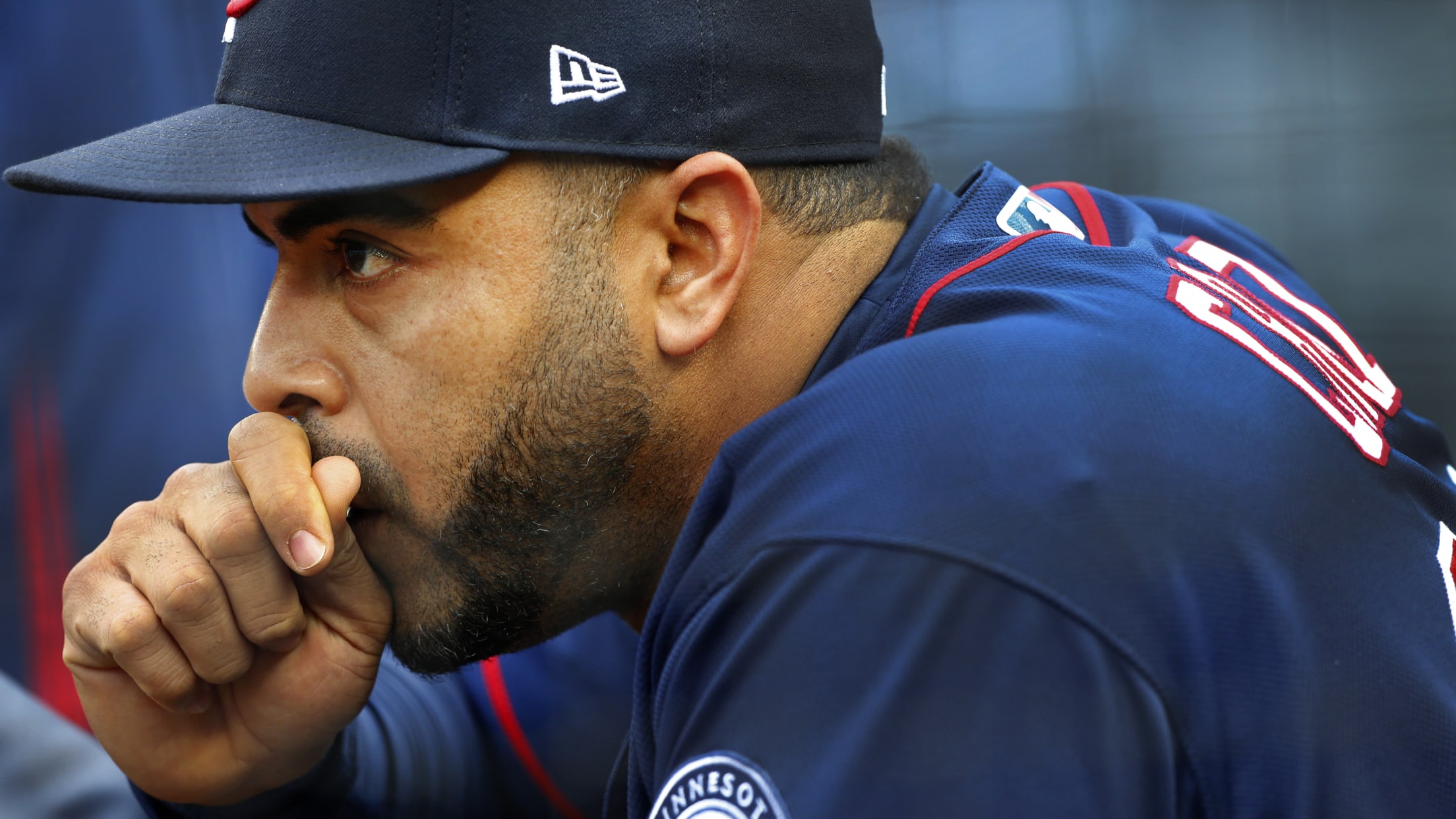 SEATTLE -- Nelson Cruz's lingering left wrist injury landed the All-Star designated hitter on the 10-day injured list on Friday. Infielder Luis Arraez, ranked by MLB Pipeline as the club's No. 17 prospect, was recalled from Triple-A Rochester to take Cruz's roster spot, and Cruz joins breakout catcher Mitch Garver
SEATTLE -- Nelson Cruz's lingering left wrist injury landed the All-Star designated hitter on the 10-day injured list on Friday.
Infielder Luis Arraez, ranked by MLB Pipeline as the club's No. 17 prospect, was recalled from Triple-A Rochester to take Cruz's roster spot, and Cruz joins breakout catcher Mitch Garver on the injured list after Garver suffered a high left ankle sprain during a collision with Shohei Ohtani in Tuesday's loss to the Angels.
Cruz has missed the past four games, though his injured-list stint will be retroactive to Tuesday because injury transactions can not be backdated more than three days. He will be eligible to be activated when the Twins host the White Sox on May 24.
Cruz received a cortisone shot earlier this week after an MRI exam showed he had no significant damage, but after the pain persisted, he and the Twins looked big picture.
"You know how many games you're going to play and how much pain you can handle," the 15-year veteran said. "We're in the race, so the adrenaline will kick in and you don't feel the pain much. But it is early. It's hard to stay through the year with the pain."
Cruz, who turns 39 on July 1, also dealt with a left wrist injury at the end of the 2016 season with the Mariners. He's been a critical cog in the Twins' offense this season, slashing .270/.354/.508 with seven homers, 22 RBIs, 14 walks and 40 strikeouts over 144 plate appearances.
He admitted that he'd hoped to play during a homecoming of sorts this weekend in Seattle, where he spent the past four seasons. The Mariners paid Cruz a tribute by recognizing him on the scoreboard on Thursday. On Friday, Cruz visited nearby Chief Sealth International High School, a program he'd been involved with during his career in Seattle, to award scholarships to five student-athletes.
"It was pretty cool. I was expecting love, you know? But it's definitely totally different when you see it," Cruz said. "It was something that touched me."
Cruz's move to the injured list comes one day after All-Star third baseman Miguel Sano returned from a laceration to his right heel sustained in late January.
When Arraez, 22, sees game action, he will be making his Major League debut. Signed out of Venezuela as an international free agent in 2013, Arraez slashed .342/.415/.397 with Double-A Pensacola, then went 5-for-14 after being promoted to Triple-A. He was added to the 40-man roster last offseason to protect him from the Rule 5 Draft and was with the Twins during Spring Training.
Arraez won the Class A batting title in 2016, then had his '17 season cut short after tearing his ACL. He has just six homers in 354 career games, but he's shown plus contact at every level, with a career .798 OPS.
"Some guys just are very comfortable with the bat in their hand, no matter what comes at them," Twins manager Rocco Baldelli said. "They find ways to find the barrel. They find ways to compete. You could say this guy could very well be one of those guys."
The Twins' other infield option could have conceivably been Nick Gordon, the club's No. 10 prospect and the brother of Mariners second baseman Dee Gordon, but he is on the Triple-A injured list with a left adductor strain.