Baldelli on righty Harper: 'He earned it'
After eight years in Minors, reliever breaks through with stellar spring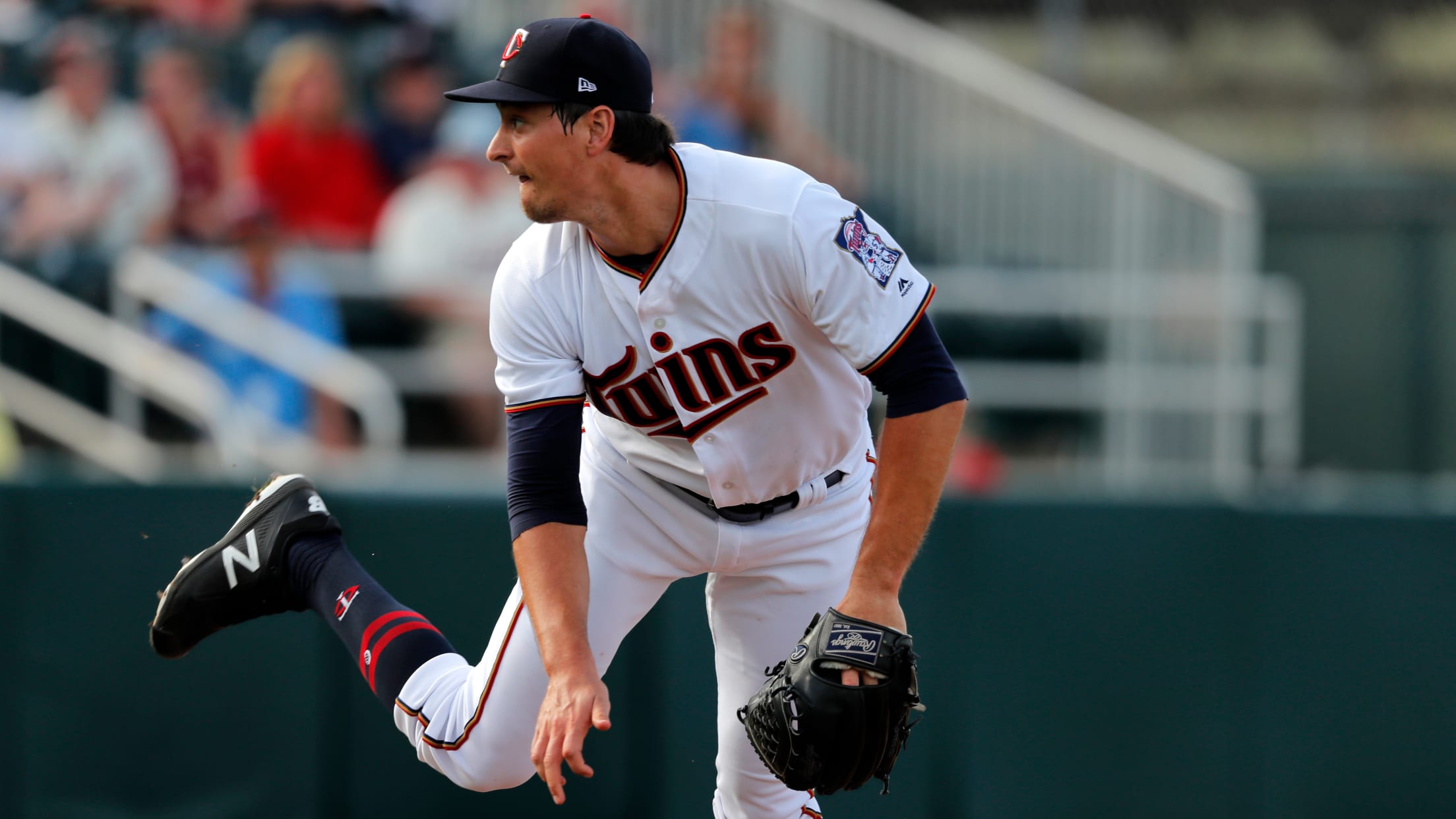 FORT MYERS, Fla. -- In another life, if his name hadn't been called in the 37th round of the 2011 MLB Draft, Ryne Harper thinks he might have ended up as an accountant. "I'm super glad that's not the case," Harper said. "No offense to any accountants, but one of
FORT MYERS, Fla. -- In another life, if his name hadn't been called in the 37th round of the 2011 MLB Draft, Ryne Harper thinks he might have ended up as an accountant.
"I'm super glad that's not the case," Harper said. "No offense to any accountants, but one of my buddies is an accountant, and it doesn't seem like it's for me."
Harper, who turns 30 on Wednesday, said that as he flew to the Gulf Coast League for his first professional assignment, he entered his professional career with no real expectations of staying in the game. But he just kept getting hitters out -- and eight long years later, he sat across the desk from a beaming Rocco Baldelli, who informed Harper that he would be on his first career Opening Day roster after a successful spring as a non-roster invitee.
"It's everything I've worked for my career," Harper said. "That's why I'm still playing. As you guys asked earlier, I turn 30 [soon], and I wouldn't still be playing if I didn't think I still had more in the tank to keep going. I feel as good as I've always felt, so hopefully I play as long as I can and keep enjoying it."
"He earned it," Baldelli said. "He's earned it his entire baseball career. He's earned it this spring. I couldn't be happier for him and for us."
Harper's fiancee had actually been in Fort Myers on Monday at the end of a four-day visit, but she left a matter of hours before Harper got the good news. She had just landed at home in Tennessee when Harper was able to reach her after learning he made the team.
"Now she's got to turn back around again and go up to Minnesota," Harper said.
This won't be Harper's first trip to the Majors. But this time, he might actually get to pitch.
Harper joined the Mariners at Fenway Park on May 28, 2017 -- after his coaches in Triple-A Tacoma had originally led him to think he was getting demoted to Double-A -- but he never got the opportunity to take the field before he was optioned back down three days later, when James Paxton was reinstated from the injured list. Harper hoped to return to the Mariners, but on June 17, he was outrighted off the 40-man roster.
"They were in a division race, understandable, and I was the new guy rookie that just came up, and they were in some big ballgames, and they just wanted to go with the guys they were comfortable with that had been there," Harper said. "I understand that."
The right-hander's repertoire is as unique as the circumstances surrounding his rise to the Major Leagues. During an era in which many young relief pitchers are throwing harder than ever, Harper just spins the ball. A lot.
"The only approach I have is change speeds and make the ball move," Harper said. "I don't have overpowering velocity on a fastball, so I've had to work with making the ball move."
Harper attacks hitters with curveball after curveball -- one with big 12-6 break, another that he throws more like a slurve -- and he modulates the velocity anywhere from 68-80 mph, trying not to throw the same curve two times in a row. He even used to throw it from different arm slots, but he has stabilized his release point in an effort to keep hitters guessing between his curveballs and his fastball at the knees.
"I've always felt like I've had just as good of curveball command as fastball command," Harper said. "I think it's just kind of a mental state. You've just got to attack it, and I've been able to throw it where I want. I've been lucky to have that, and hopefully I keep it going."
Harper has always gotten results with that unique mix, with 553 strikeouts in 453 2/3 innings and a 2.56 career ERA in the Minor Leagues. The stars just never aligned for him to break through to the highest level.
But this spring, Addison Reed, Matt Magill and Gabriel Moya are all expected to begin the season on the Twins' injured list, and Fernando Romero was optioned to the Minors after a rough spring. That opened the door for Harper, who struck out 14 without a walk or earned run allowed.
"I thought I'd get a shot to get back up [with Seattle], but I'm here in this position now, and everything that's happened along the way has happened for a reason," Harper said. "Hopefully, I get better from everything, and like I said, I'm just excited for this opportunity to be with this group of guys and have fun."
Up next
The Twins take on the AL Central rival Indians on Thursday for Opening Day, with Jose Berrios on the bump against veteran Corey Kluber. First pitch from Target Field is slated for 3:10 p.m. CT.