Treinen dealing with right elbow soreness
A's closer "feeling better" and will be re-evaluated on Monday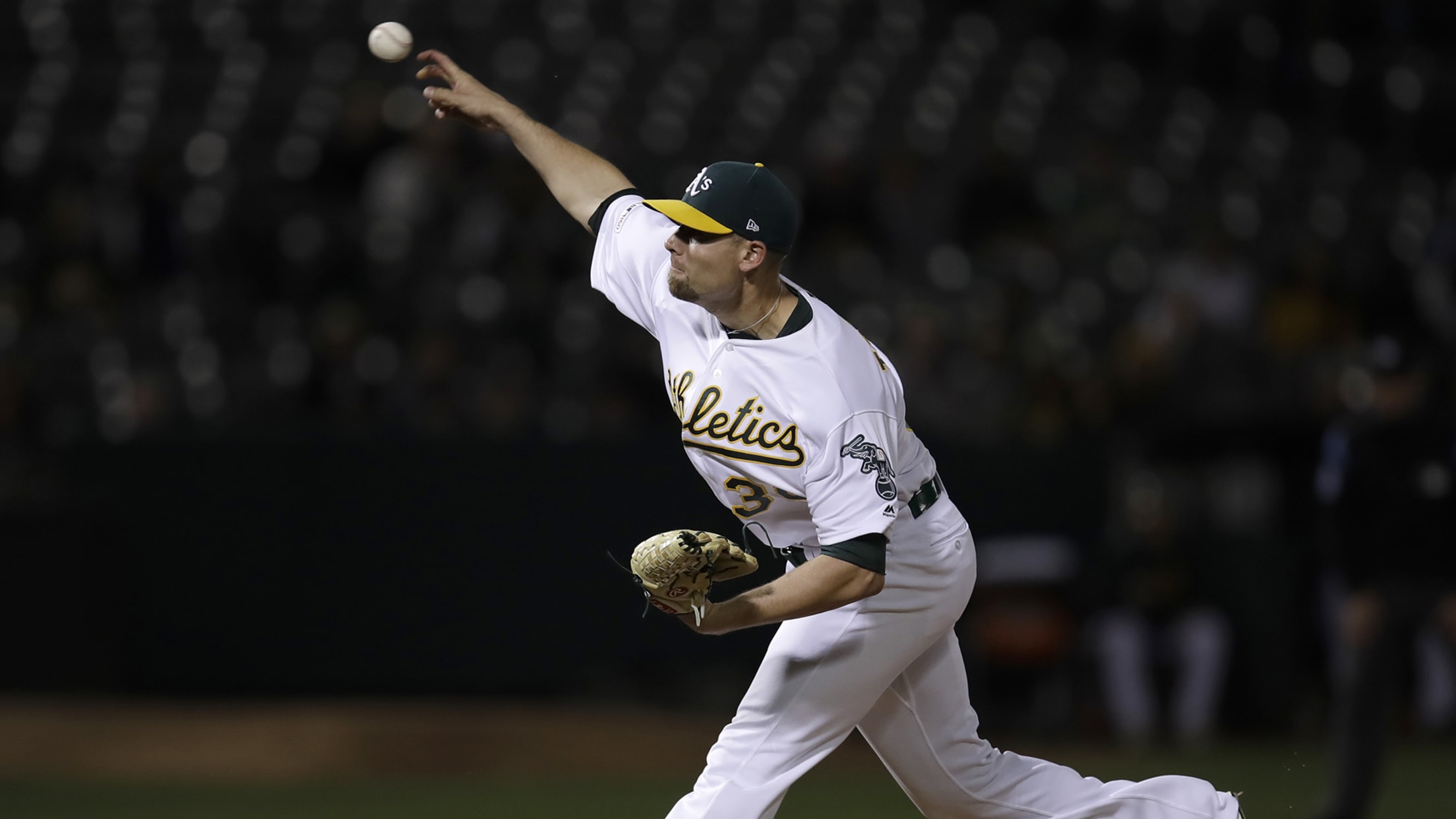 PITTSBURGH -- The A's won't have their go-to closer in the short term. Blake Treinen, who was unavailable in Oakland's 6-4 loss to Pittsburgh on Saturday due to right elbow soreness, will be evaluated when the club returns to Oakland on Monday, manager Bob Melvin said Sunday. The good news
PITTSBURGH -- The A's won't have their go-to closer in the short term. Blake Treinen, who was unavailable in Oakland's 6-4 loss to Pittsburgh on Saturday due to right elbow soreness, will be evaluated when the club returns to Oakland on Monday, manager Bob Melvin said Sunday.
The good news is that Treinen felt the injury was more similar to tendinitis than something more serious and he felt "a lot better" on Sunday, according to Melvin. But the All-Star closer wasn't available for Sunday's series finale with the Pirates, making setup man Lou Trivino the closer for now.
"I know he took some anti-inflammatories and came in feeling quite a bit better today," Melvin said. "We'll still get him checked out tomorrow before we pitch him, but it's encouraging news."
If Treinen's elbow issues were to become a long-term issue, it would be a huge blow to the A's. He was a large part of the 2018 team's run to the postseason last year, ranking fourth in the Majors with 38 saves.
Treinen has maintained good health in his six-year Major League career, as he has yet to be placed on the injured list, though he had a few seven-day stints in the Minor Leagues.
Outside of a four-run extra-innings outing against the Blue Jays on April 28, Treinen has largely kept his elite form he showed in 2018. In his prior 11 outings this year, the 30-year-old posted a 0.68 ERA with 17 strikeouts in 13 1/3 innings, racking up six saves and a win.
Treinen holds a 1.42 ERA in 133 1/3 innings in his three years with Oakland.