Expectations rising for these A's prospects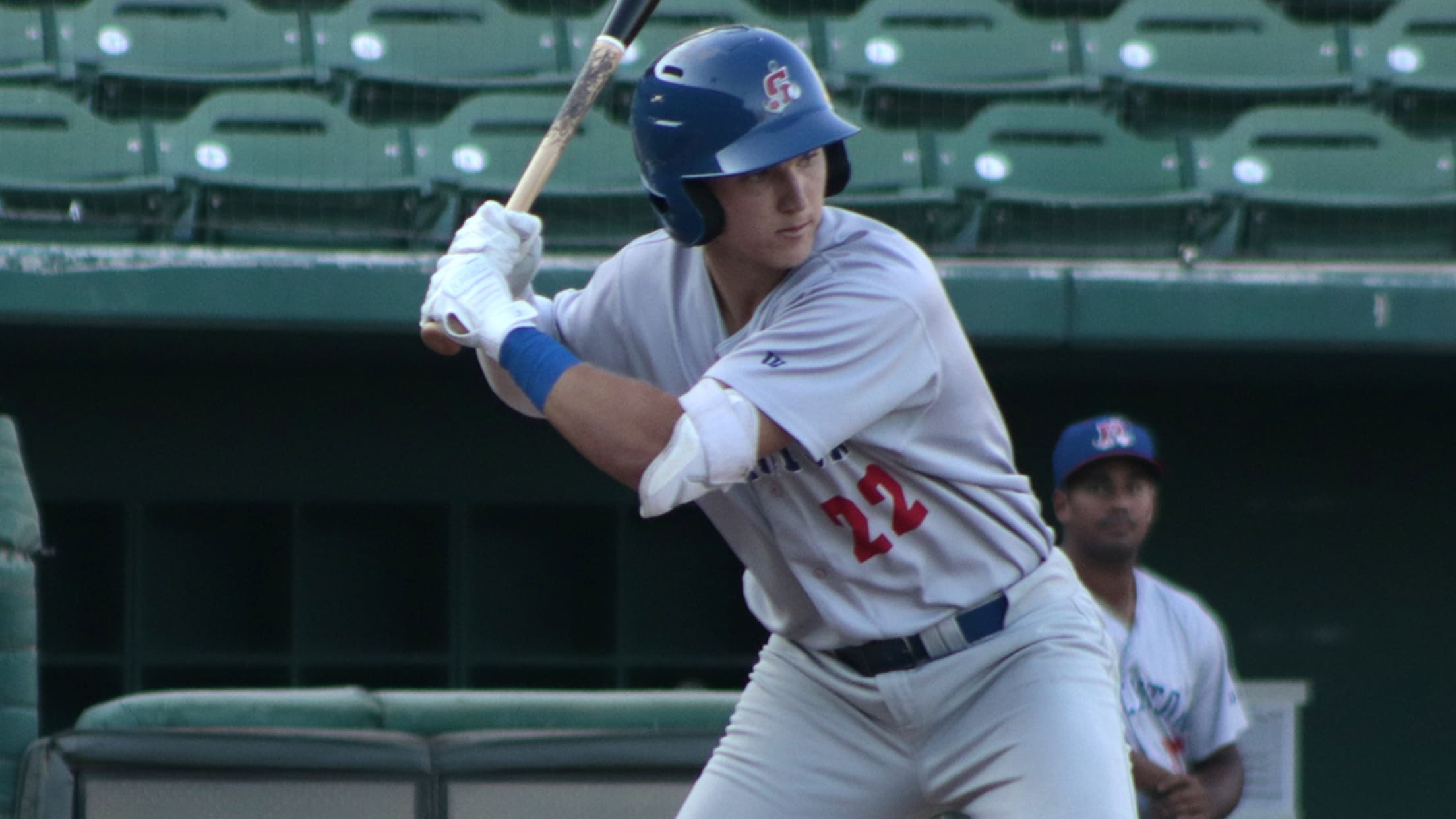 After going through what most outsiders viewed as a down period, the A's farm system is forming a notable crop of young prospects who should make an impact at the big league level in the near future. Though the overall system still ranks in the lower third of the league,
2-time champ, A's broadcaster Fosse dies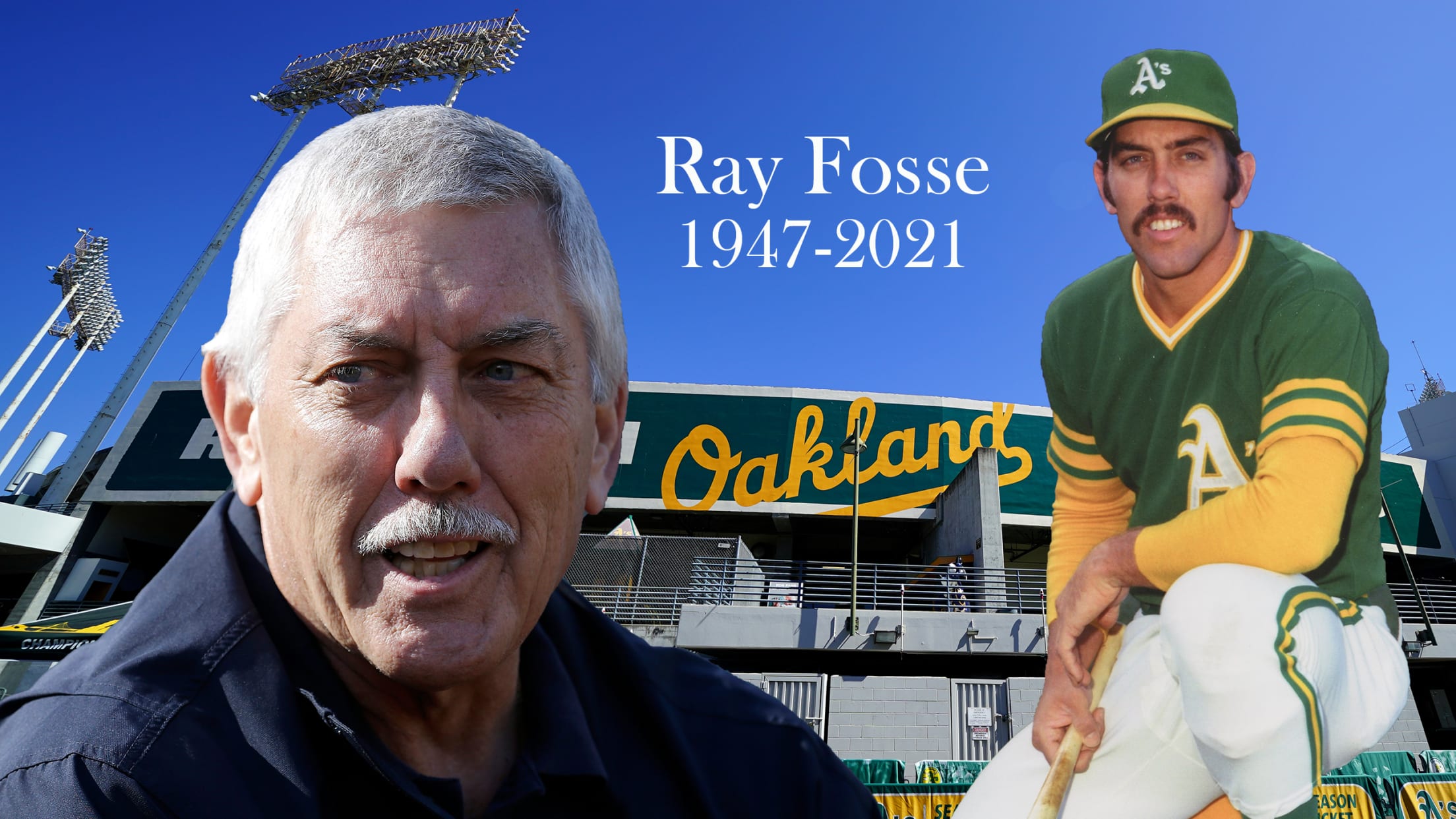 All-Star catcher, two-time World Series champion and longtime broadcaster Ray Fosse has passed away, the A's announced on Wednesday. Fosse was 74. Fosse announced in August that he was stepping away from the A's broadcast booth to fully devote his efforts toward a 16-year battle with cancer. His medical condition
Davidson making most of Fall League chance
Logan Davidson would like a mulligan, of sorts. The A's first-round pick in 2019 certainly learned a great deal in his first full season of pro ball, up in Double-A. After all, adversity is a fantastic teacher. But when he was told he was going to play for the Mesa
Five key questions for A's entering offseason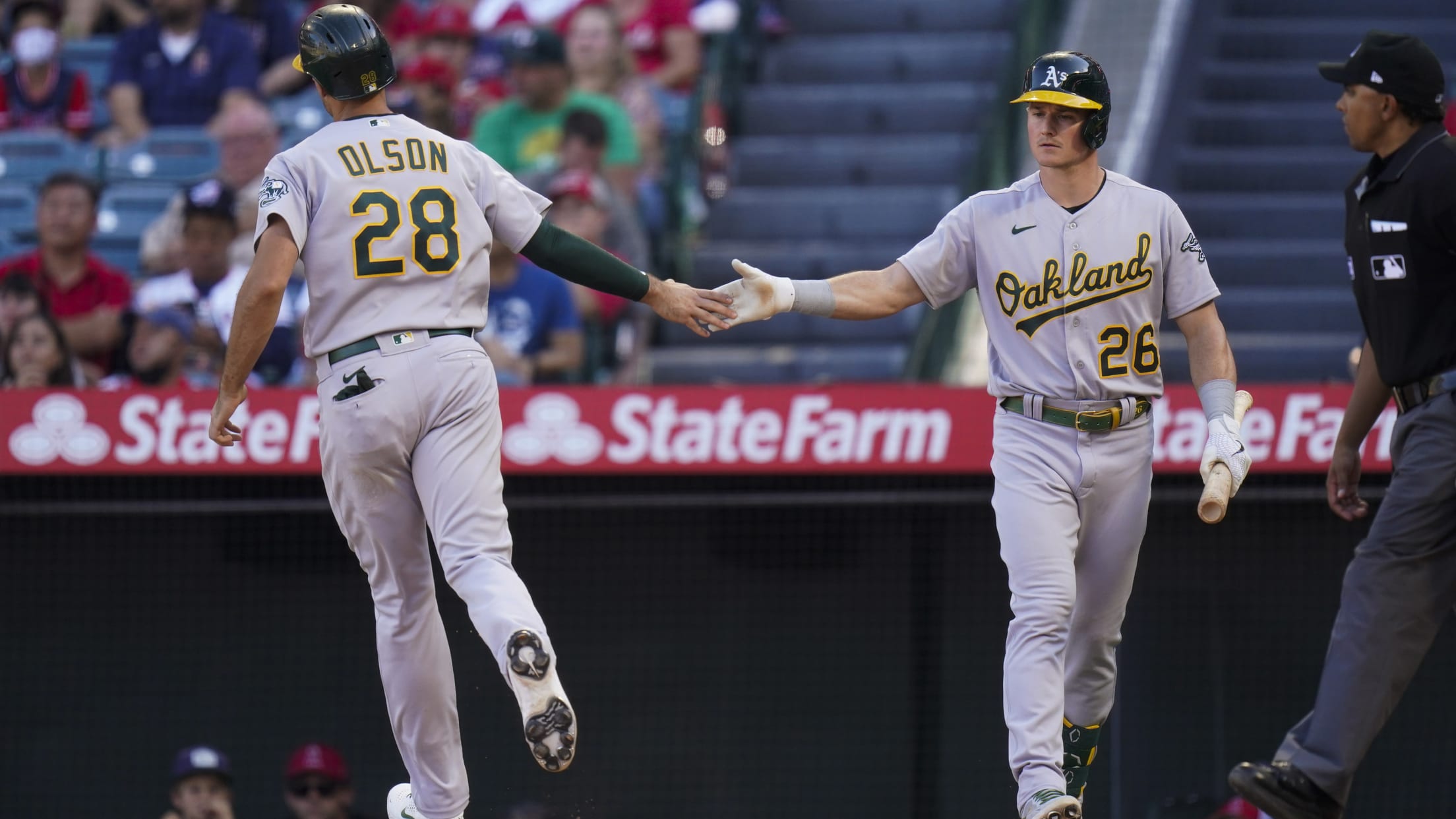 OAKLAND -- Despite their absence from postseason play for the first time since 2017, the A's do not believe their window of World Series aspirations has closed just yet. It is reasonable to feel like these A's are not too far off from a postseason run. Though they ended up
No. 12 prospect reaches base 4 times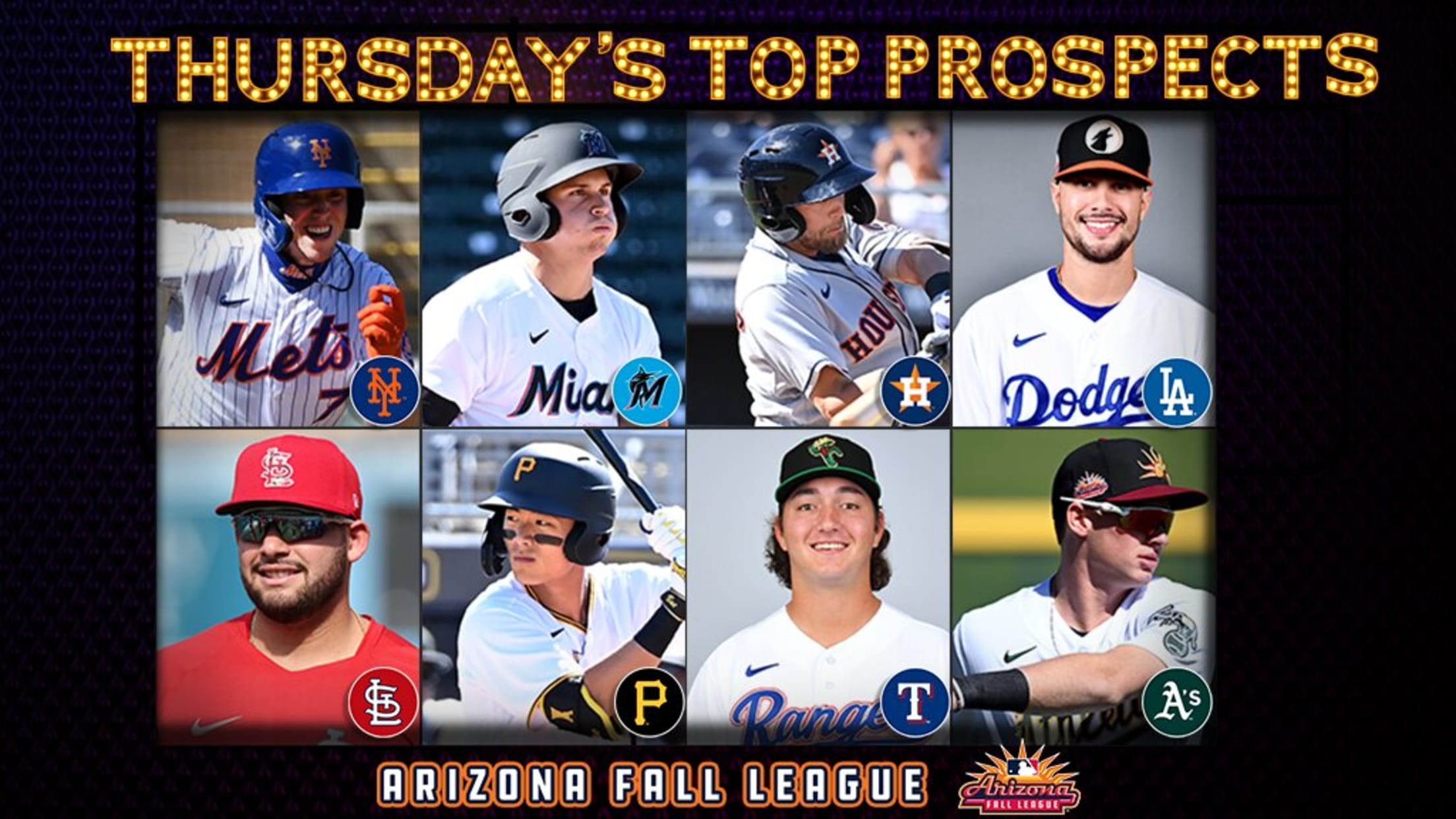 Here's a look at Thursday's top performers in the Arizona Fall League from each team's Top 30 Prospects list.
Beane ignores rumors, focuses on A's future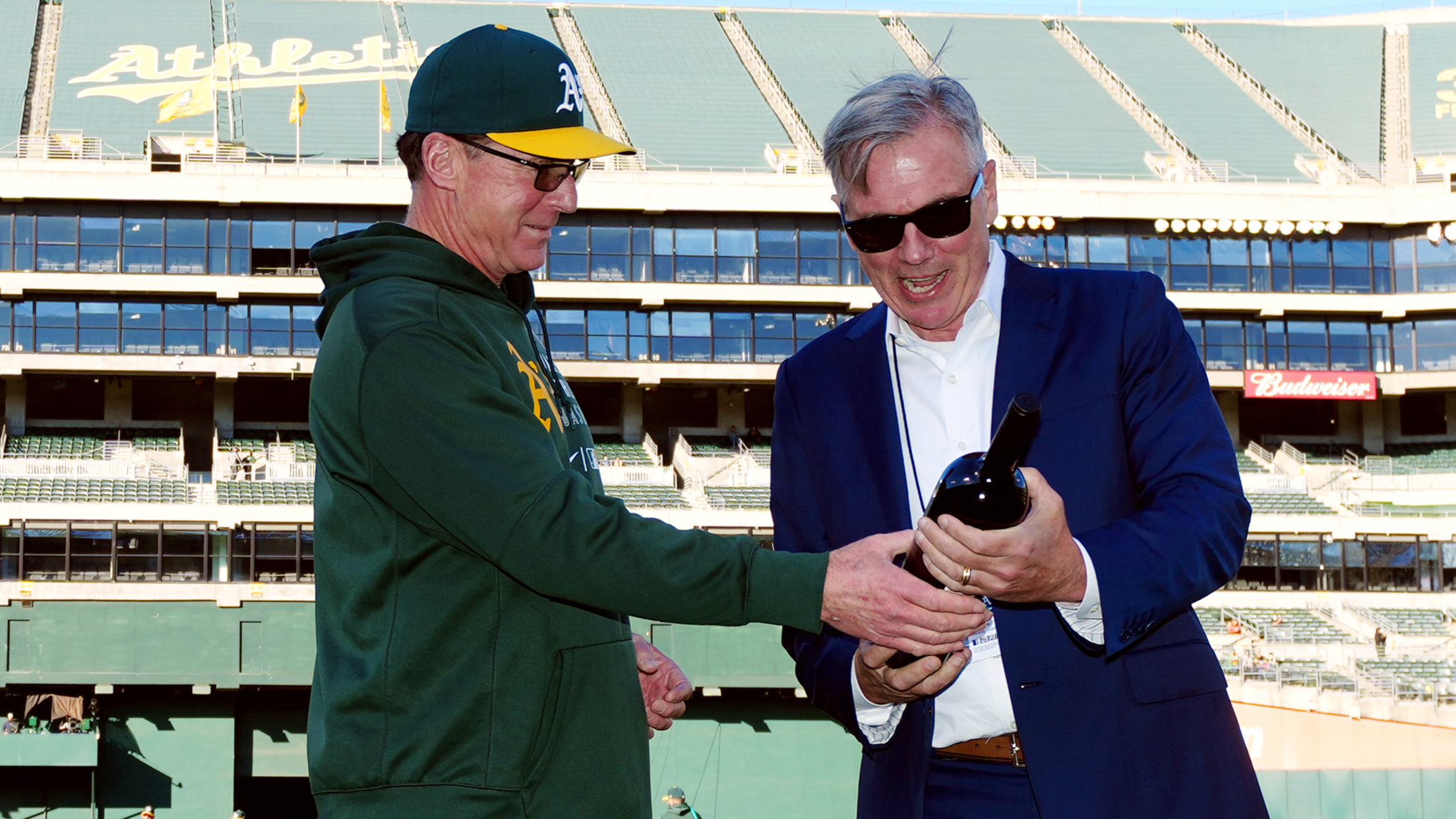 OAKLAND -- Throughout his long tenure with the A's, Billy Beane has grown accustomed to seeing his name thrown in the mix whenever a high-profile front-office job around baseball opens up. This offseason will be no different. The Mets are set to revamp their front office, and reports in recent
30 AFL sleeper prospects -- 1 for each org.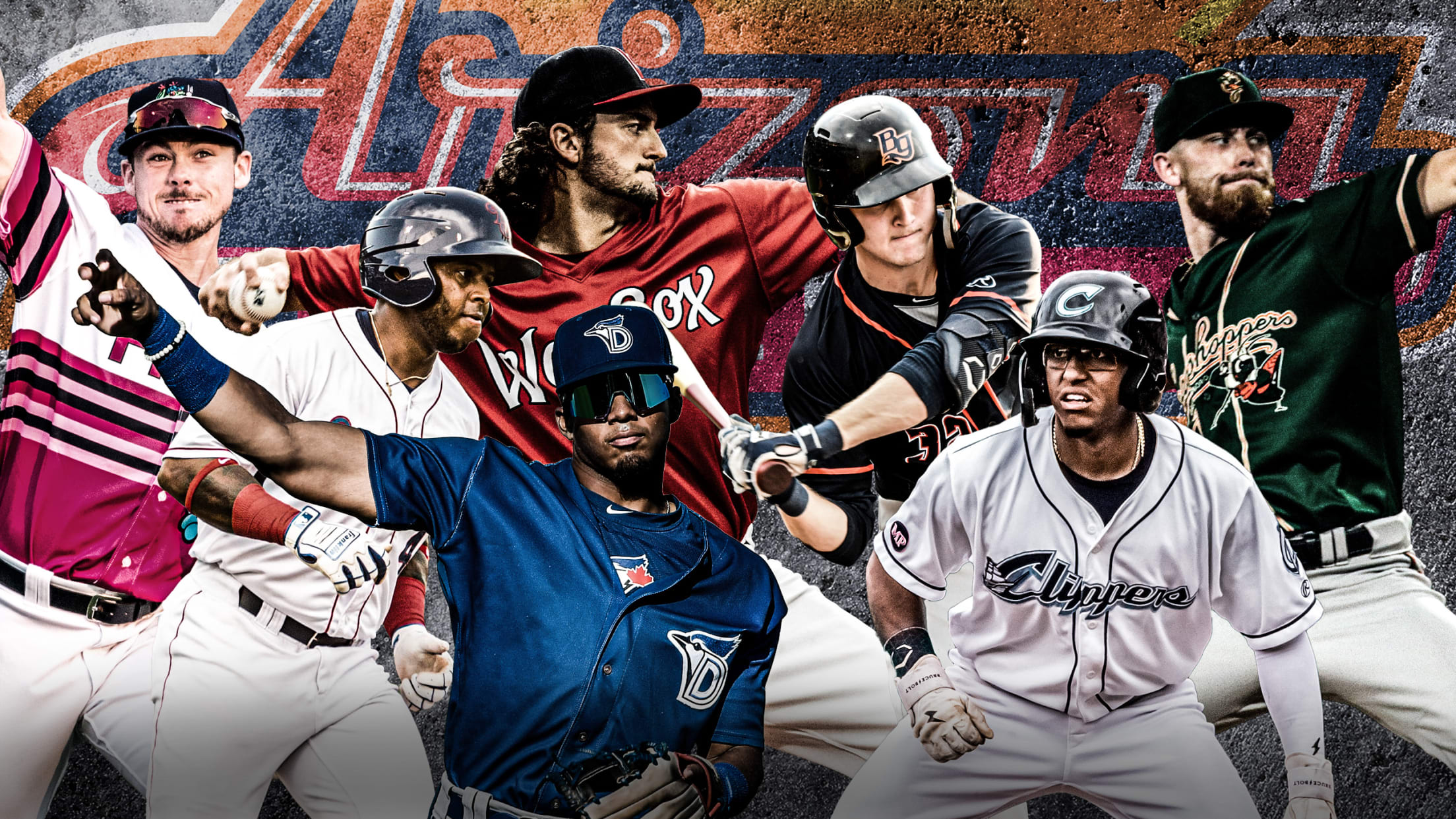 Last week, we took a look at the top prospect each organization sent to the Arizona Fall League this year. This week, we figured we should dig a bit deeper. Over the years, not every AFL standout has been one of those top prospects, but rather has come from a
Classic A's card: Zito in '03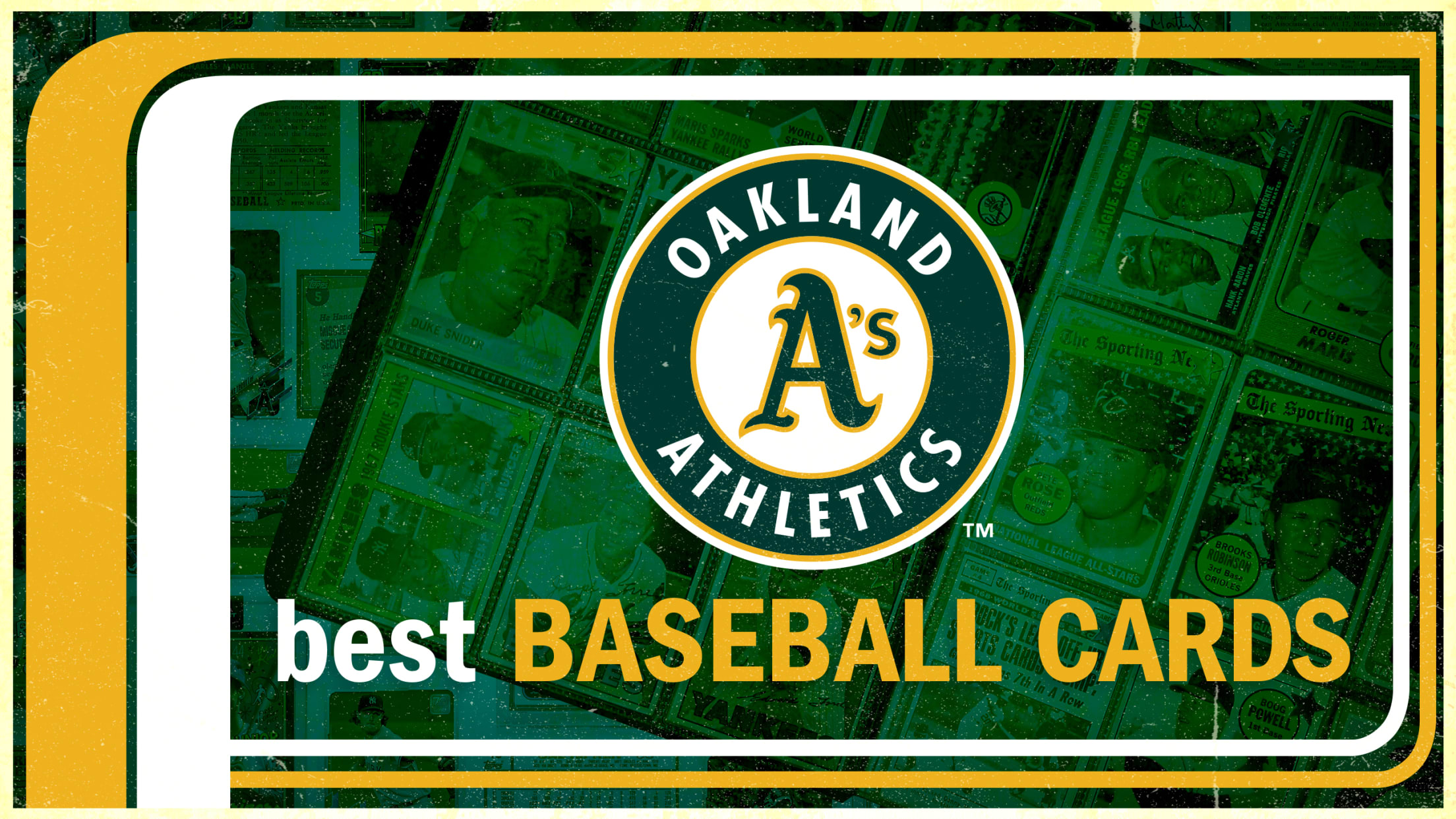 As part of the celebration of the 70th anniversary of Topps baseball cards, we've asked fans (as well as our staff) to submit their all-time favorite baseball cards, and we've broken them down by team. We'll be revealing submissions regularly throughout the season, ranging from the famous to the weird,
A's Criswell takes big step in Fall League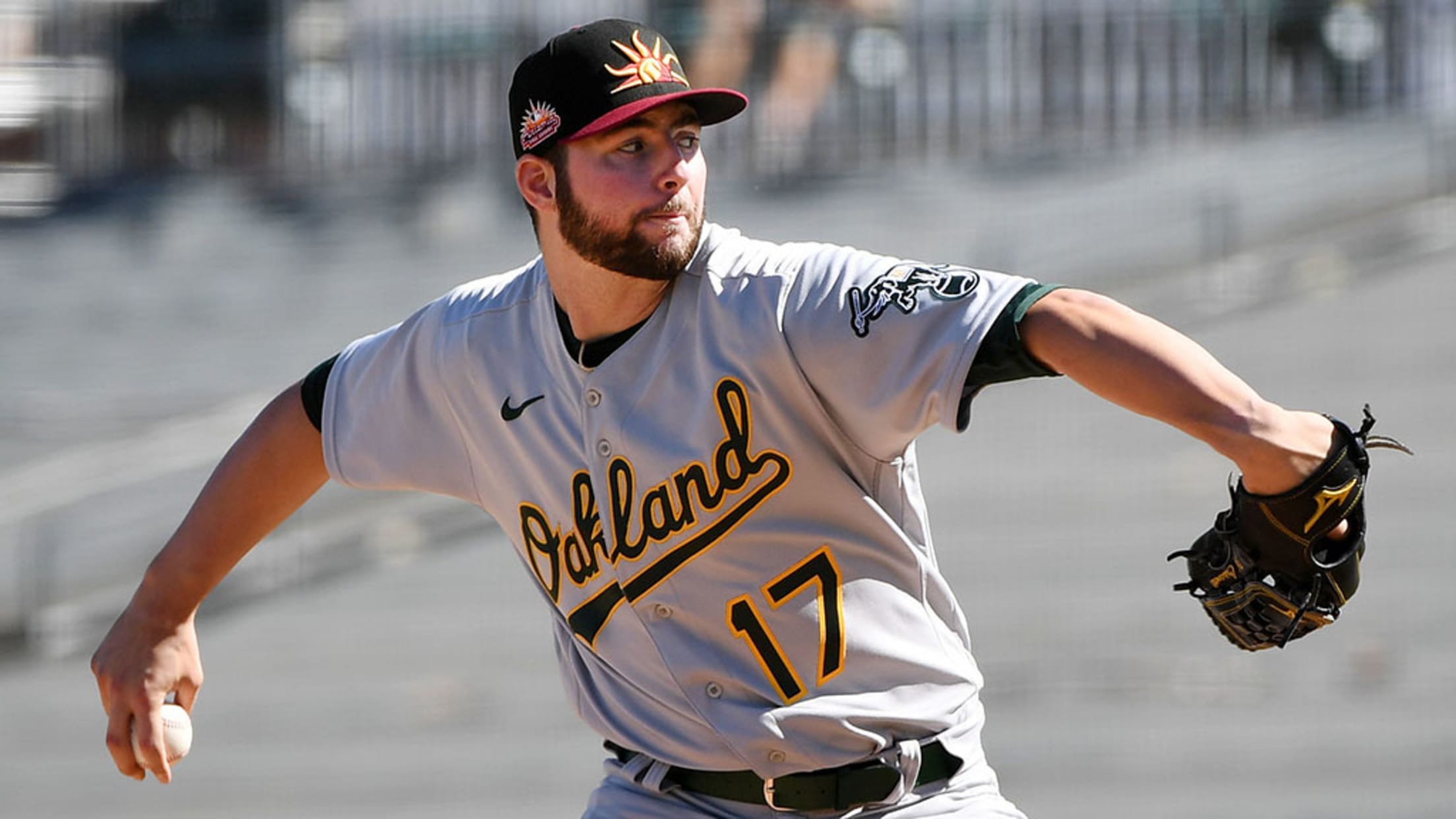 SURPRISE, Ariz. -- Viewed as one of the more exciting pitching prospects in Oakland's system, Jeff Criswell looked the part Friday in his Arizona Fall League debut. The Athletics' No. 14 prospect gave up two runs over 3 2/3 innings, but pitched better than his line score indicated as Mesa
A's Stat of the Day: September/October 2021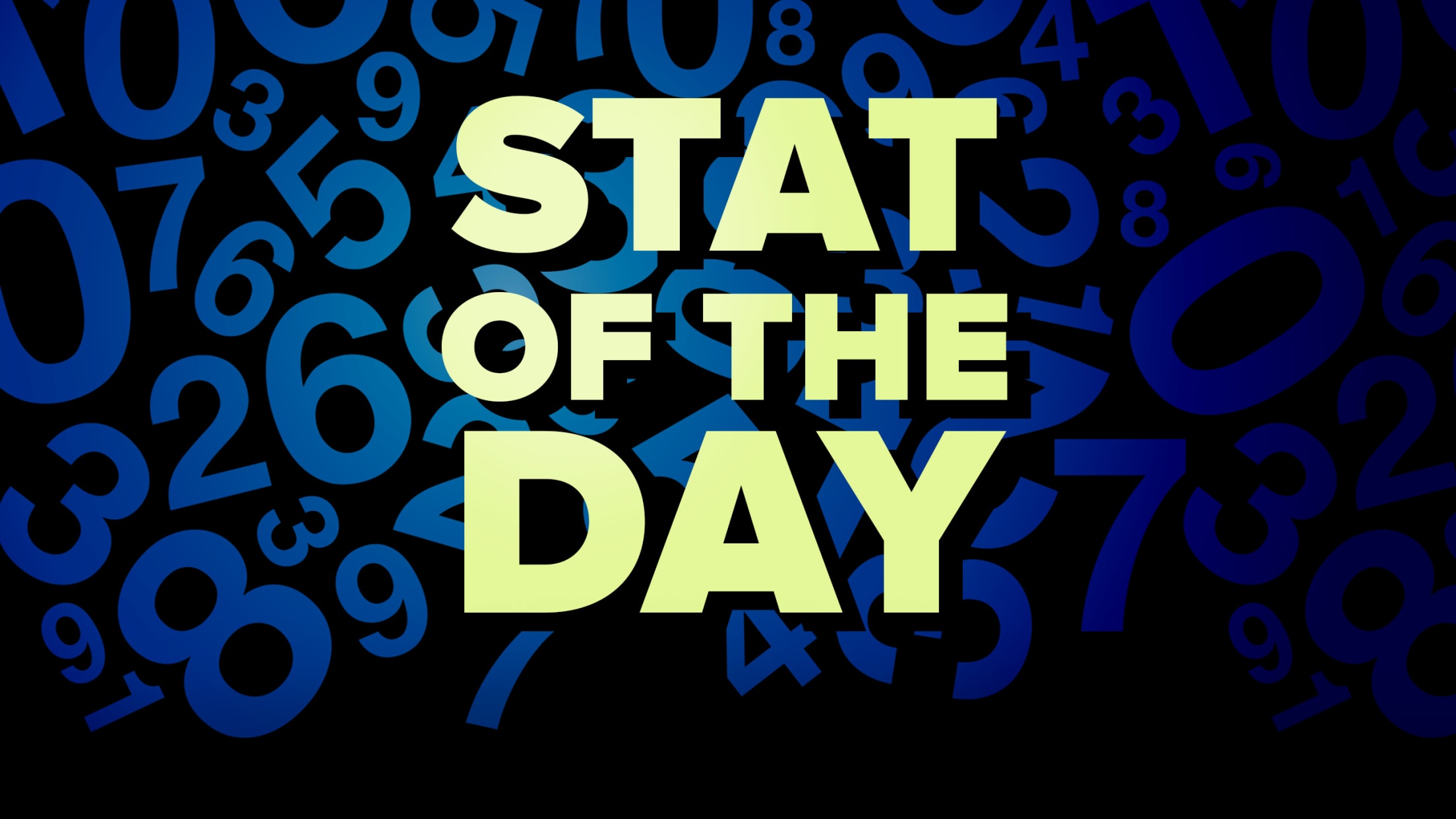 MLB.com is keeping track of a Stat of the Day for the Athletics this season, highlighting a unique, interesting or fun nugget from each game. • A's Stat of the Day, August 2021
Each team's top prospect going to AFL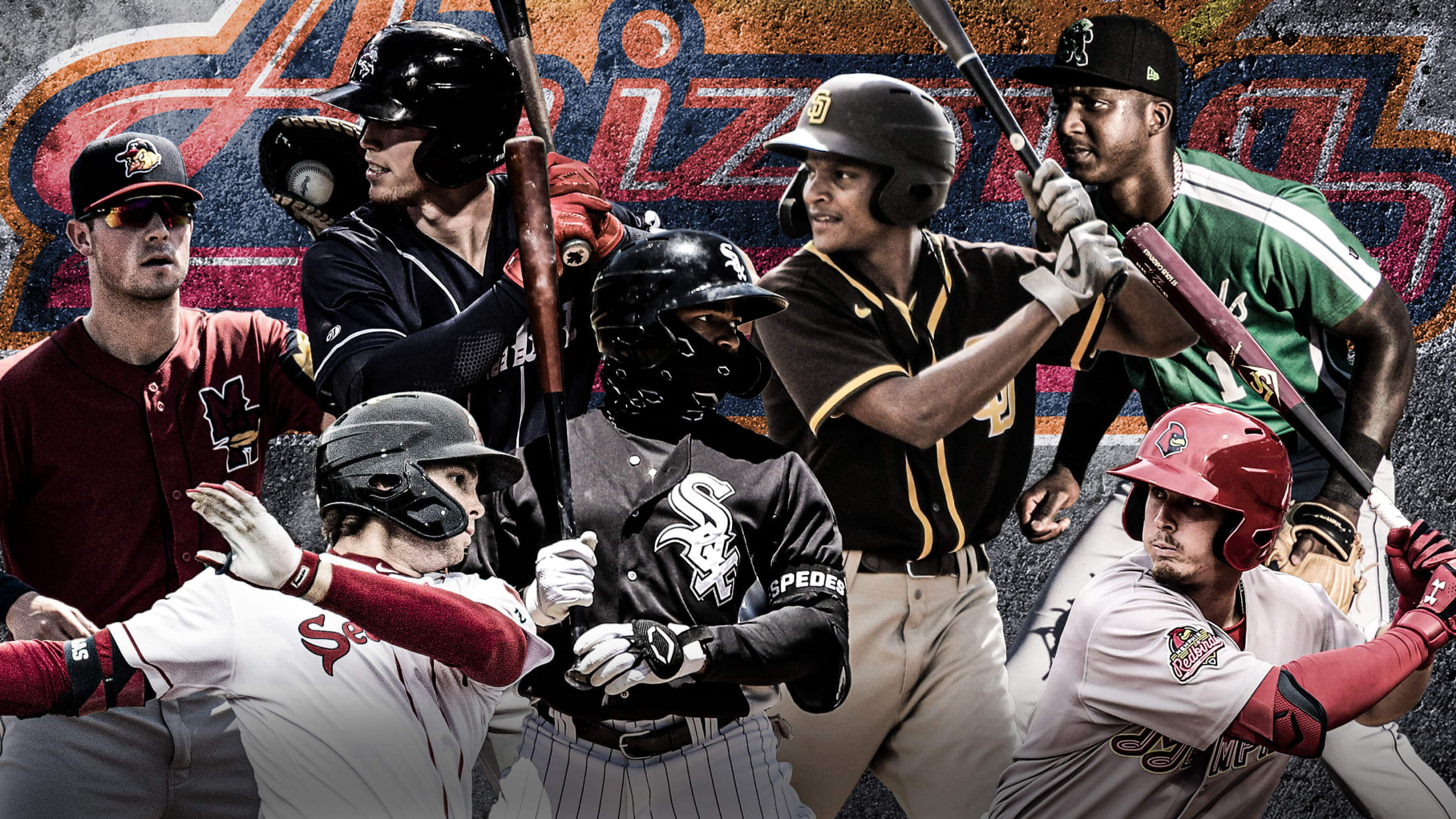 After a one-year hiatus, the Arizona Fall League returns in 2021 with its traditional October/November schedule. Since its inception, baseball's finishing school has sent more than 3,000 players to the big leagues, including Hall of Famers Roy Halladay, Derek Jeter and Mike Piazza as well as current stars such as
A's final game of '21 a microcosm of season
Oakland bashes four homers and rallies in ninth but falls just short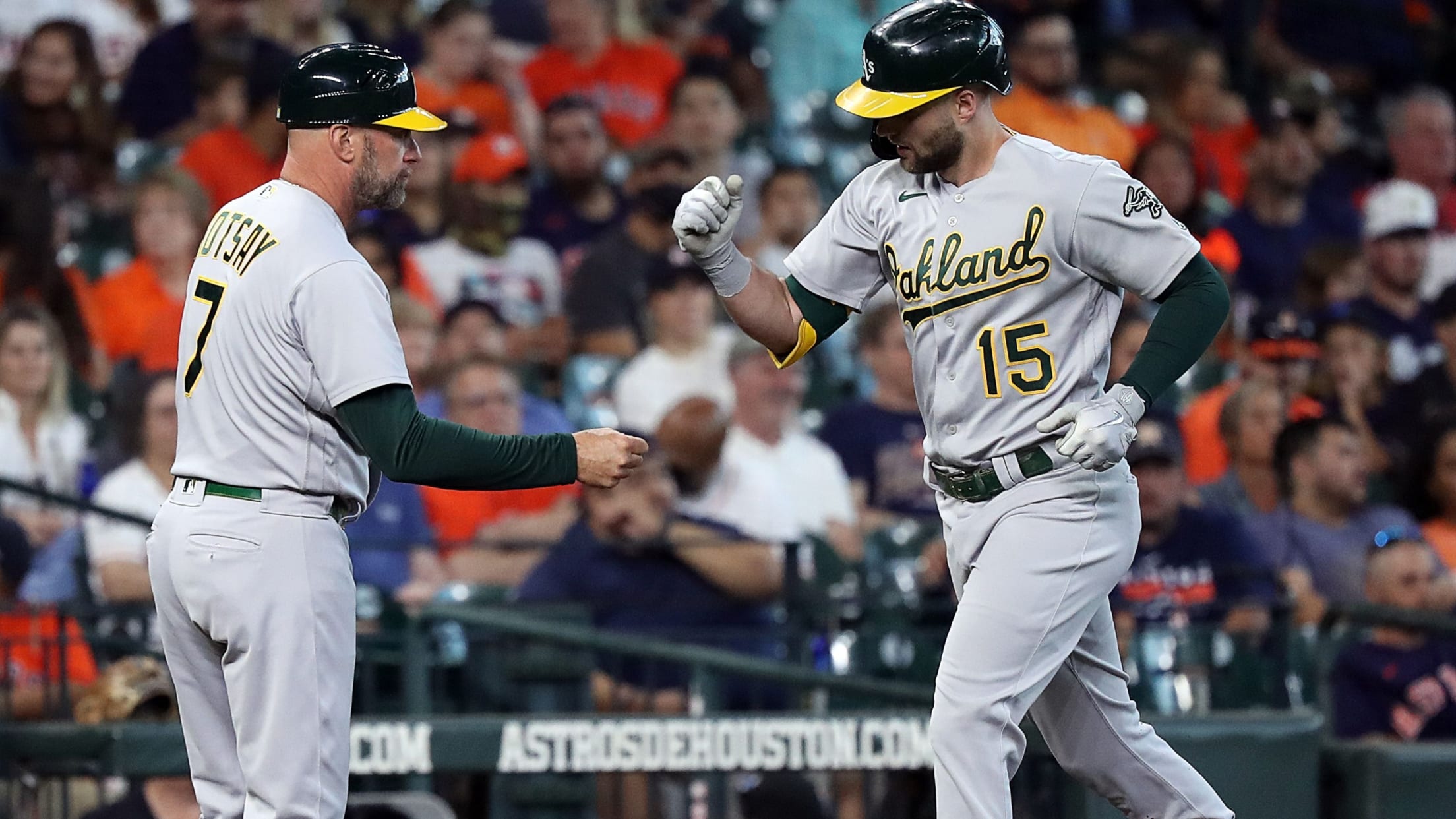 HOUSTON -- For what was considered by all accounts to be a meaningless final game of the regular season against the Astros, the A's took it as one last opportunity to provide some late-inning dramatics. Entering Sunday, Seth Brown had a goal of reaching the 20-homer mark this season. Khris
Here are the Arizona Fall League rosters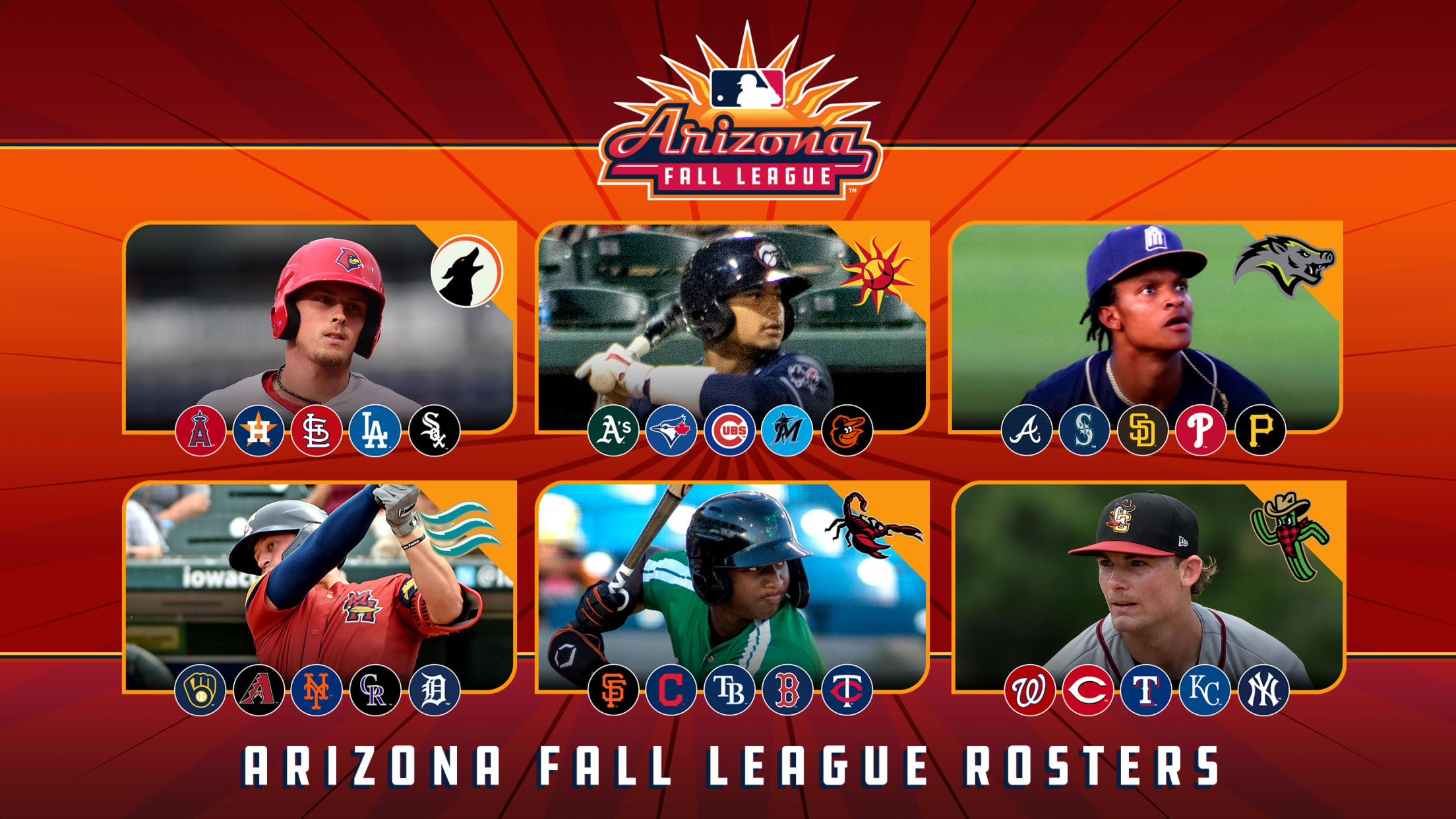 The Arizona Fall League is back and ready to be better than ever. The global pandemic kept the AFL from taking place in 2020, but Major League Baseball's finishing school for the game's top prospects will be back in action starting on Oct. 13. And the rosters of the six
Here's the 2022 Draft order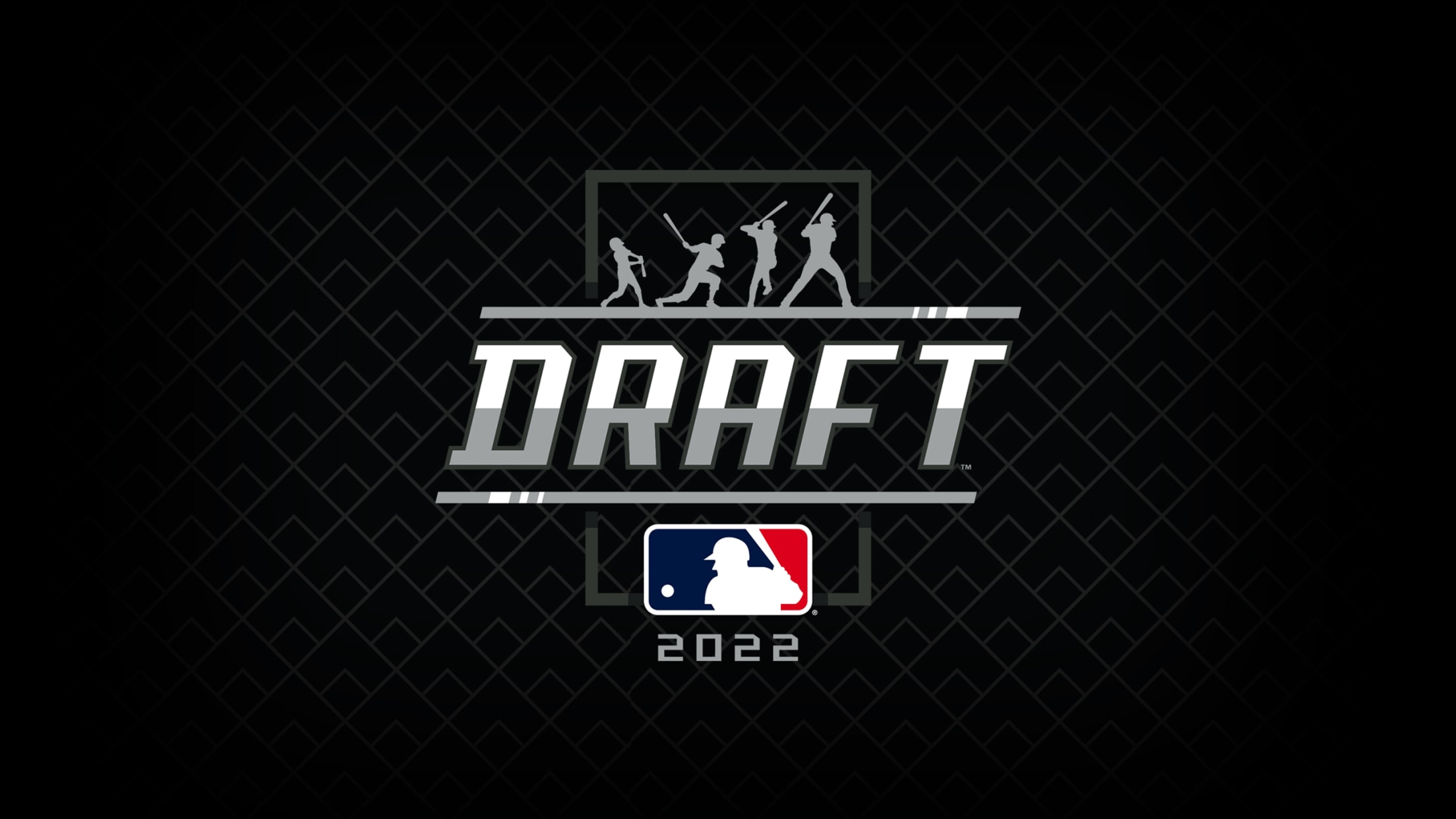 There wasn't just final day drama surrounding the playoff race in Major League Baseball. It trickled all the way down to the bottom end of the standings, where Sunday's games determined who will have the No. 1 pick in the 2022 Draft. With the D-backs winning their final contest of
Injuries & Moves: Lowrie (wrist) update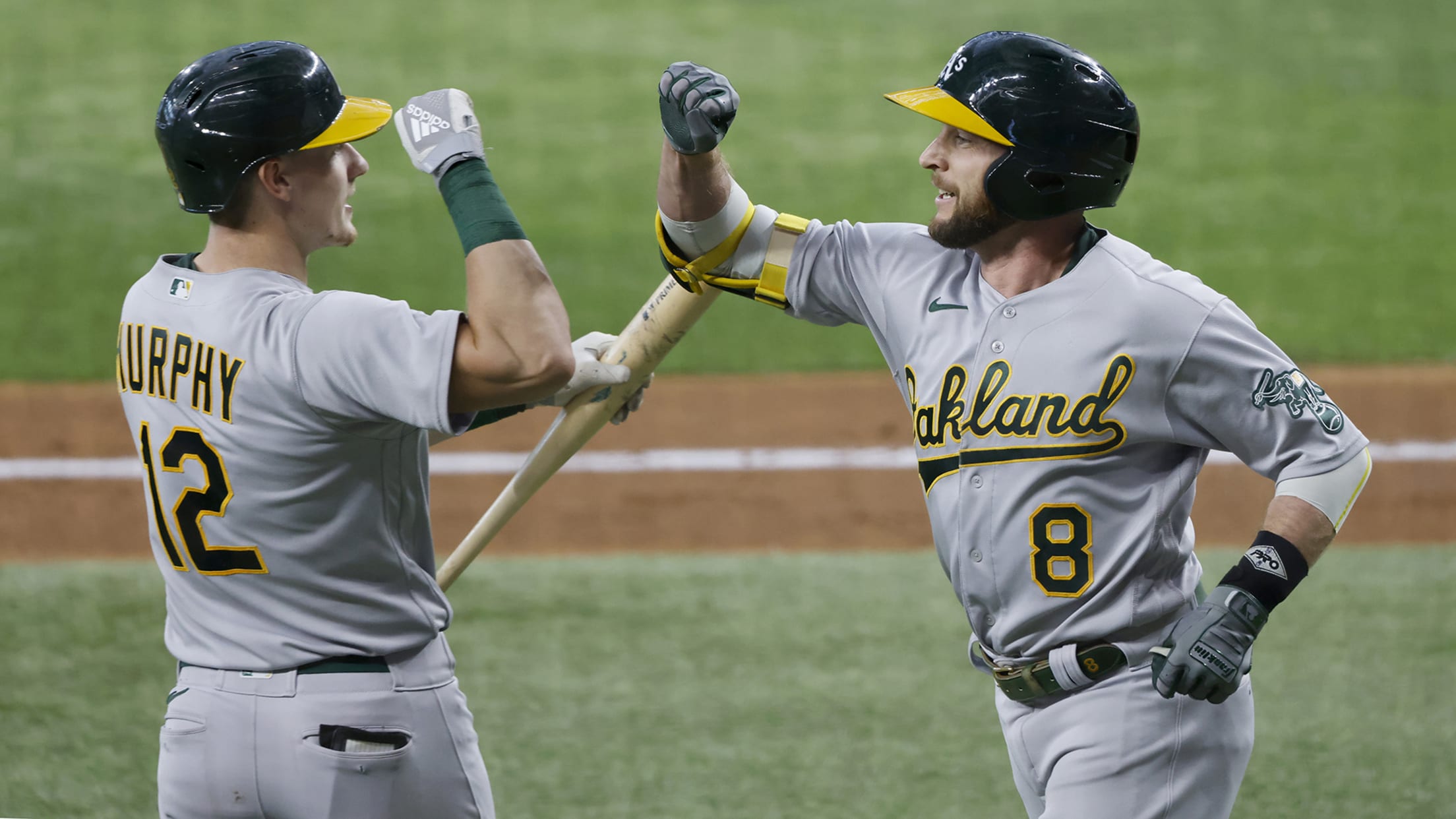 The A's begin their offseason on Oct. 4, and there are still a handful of players rehabbing and recovering from season-ending injuries. Keep track of their progress, plus team transactions, here throughout the offseason. Players on the 60-day injured list must be removed from the IL and placed back on
Pitchers of the Month: Fried, Montas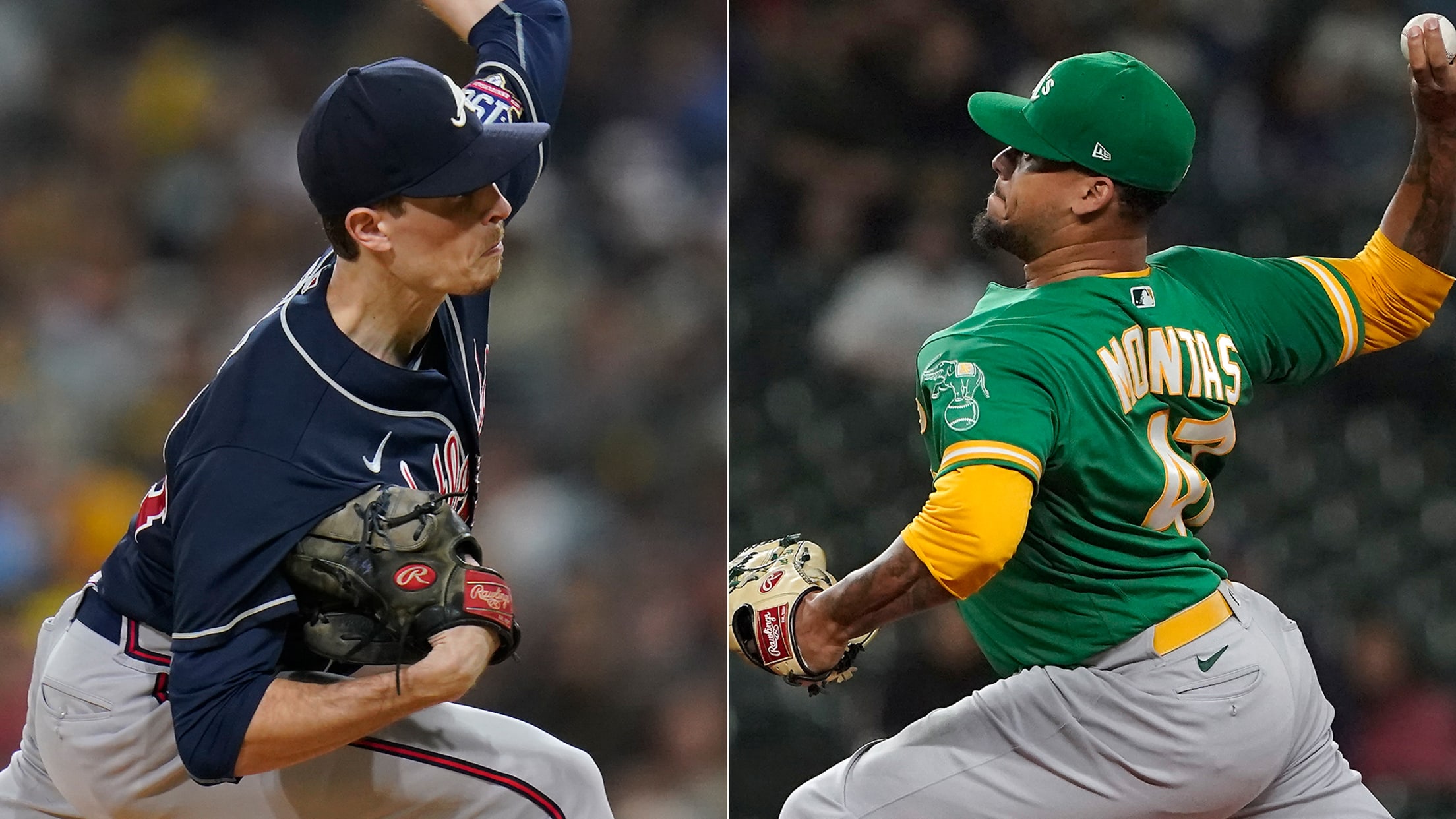 The Braves' Max Fried and the Athletics' Frankie Montas have been on a roll since the All-Star break and finished up the regular season with a strong September. On Monday, they were named the National League and the American League Pitchers of the Month, respectively. • Past winners: AL |
Kemp makes '22 case with first 4-hit game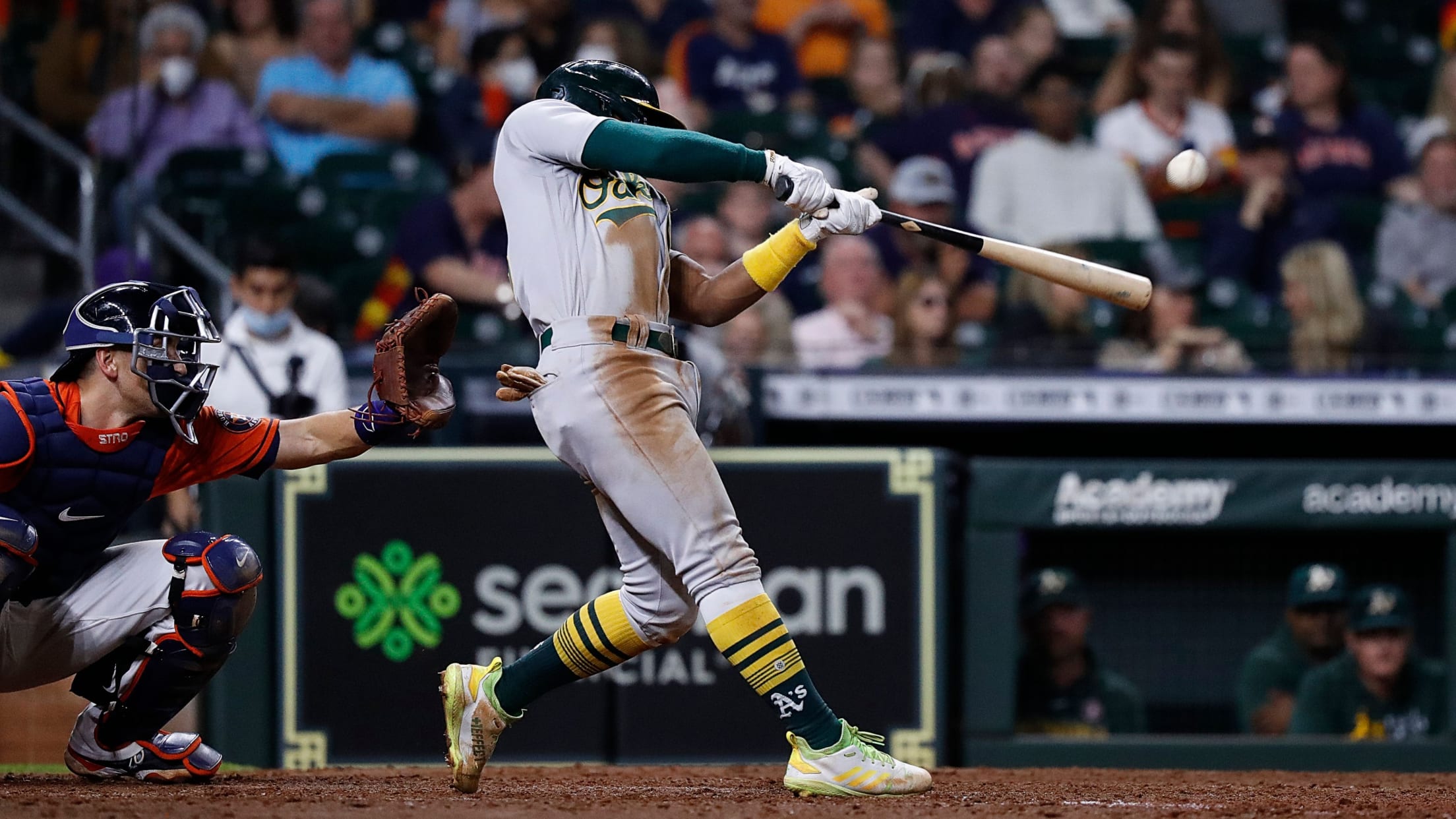 HOUSTON -- Tony Kemp has received more playing time this year with the A's than in any of his previous five seasons in the Major Leagues. In turn, he's responded as one of the club's most productive players offensively. Over the past two months, Kemp's ability to provide a spark
Olson passes legends with this achievement
Lefty hitter tops record with 22nd home run vs. LHP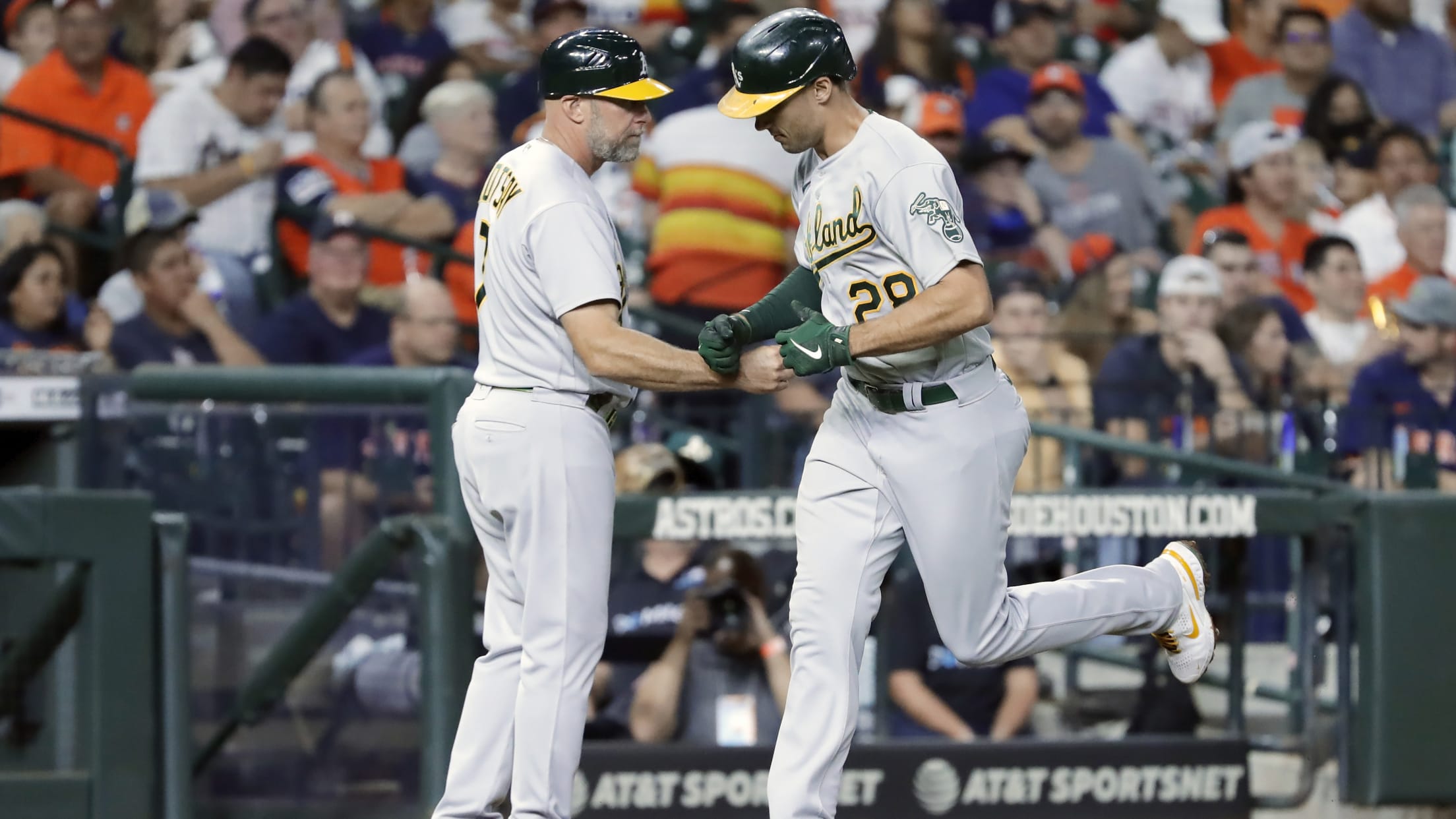 HOUSTON -- Just because the A's are no longer in the running for a playoff spot does not mean they don't still have something to play for. In the case of Matt Olson, these final few days of the season provide an opportunity to put the finishing touches on a
Kozma back in bigs for the first time since '18
Laureano undergoes surgery for core injury, expected to be ready for '22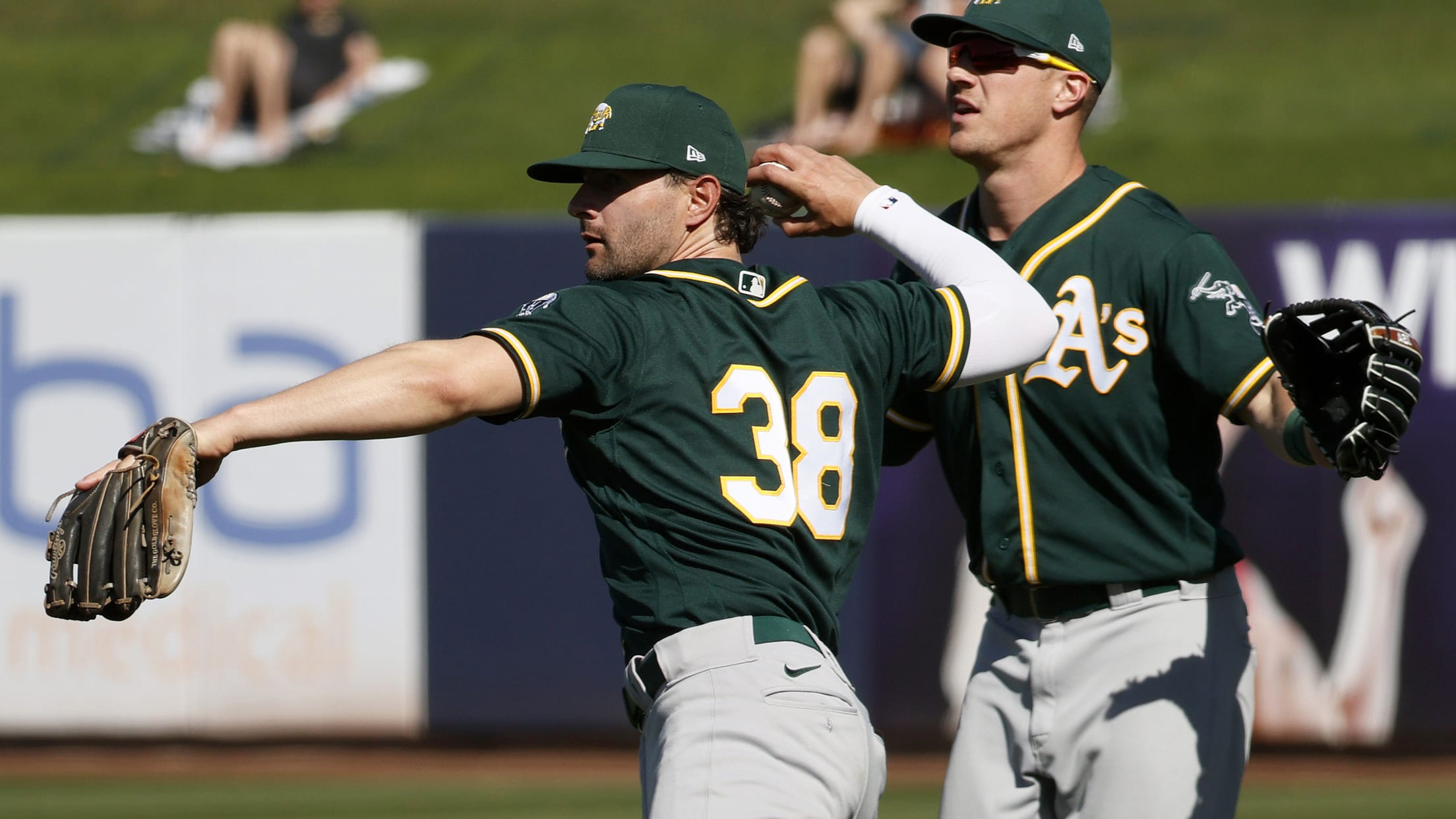 HOUSTON -- Pete Kozma had already been resigned to the fact that a callup to the A's big league roster was probably not in the cards for 2021. So when Las Vegas Aviators manager Fran Riordan broke the news, Kozma assumed he was part of some cruel prank that was
A's officially eliminated from playoff race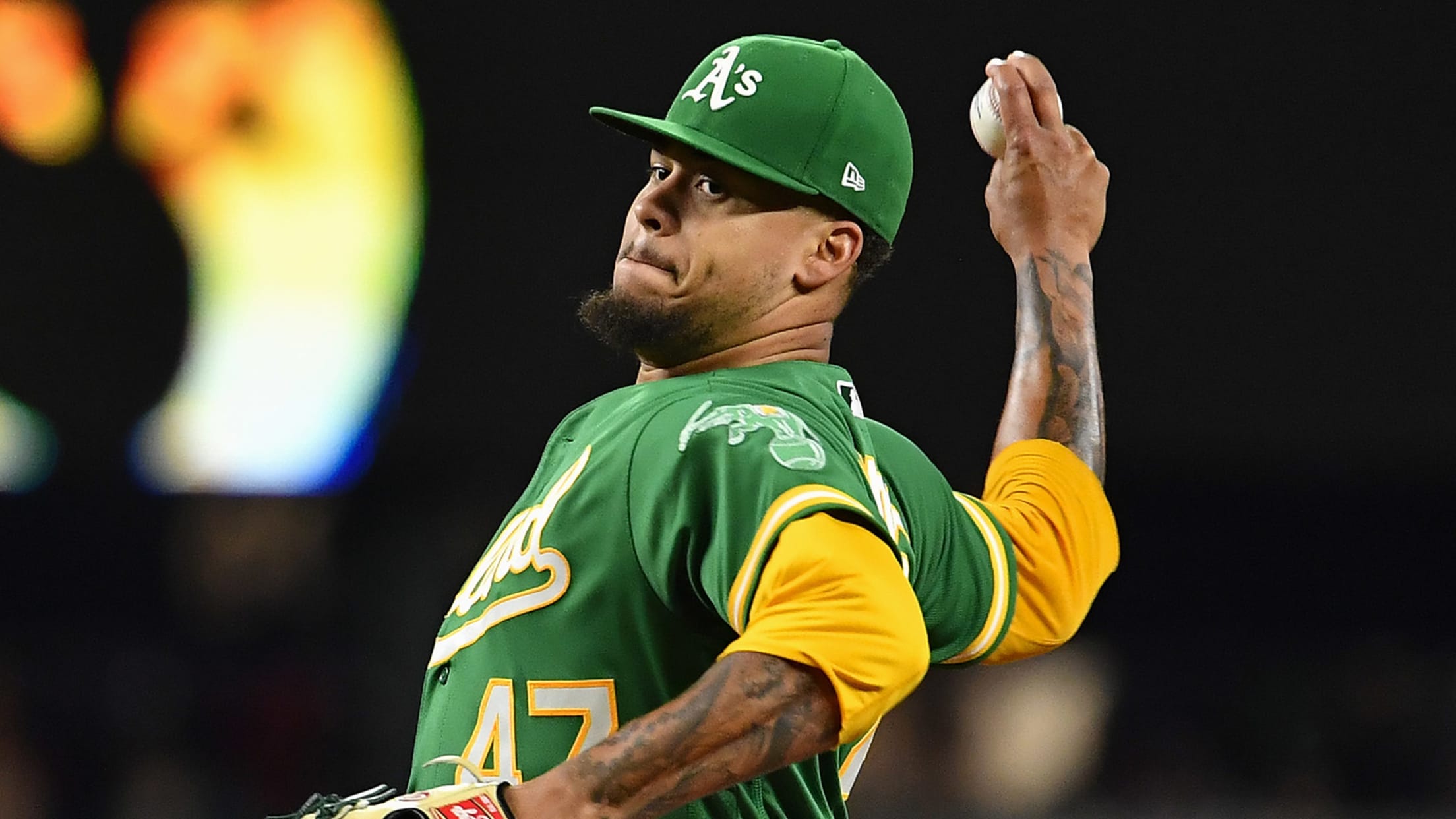 SEATTLE -- When the A's arrived to Mesa, Arizona back in February for Spring Training, they envisioned their forthcoming season as one in which they would finally break through for a deep playoff run. It only seemed like a logical next step. After all, these A's had already reached the
Prospects of the Year for every org.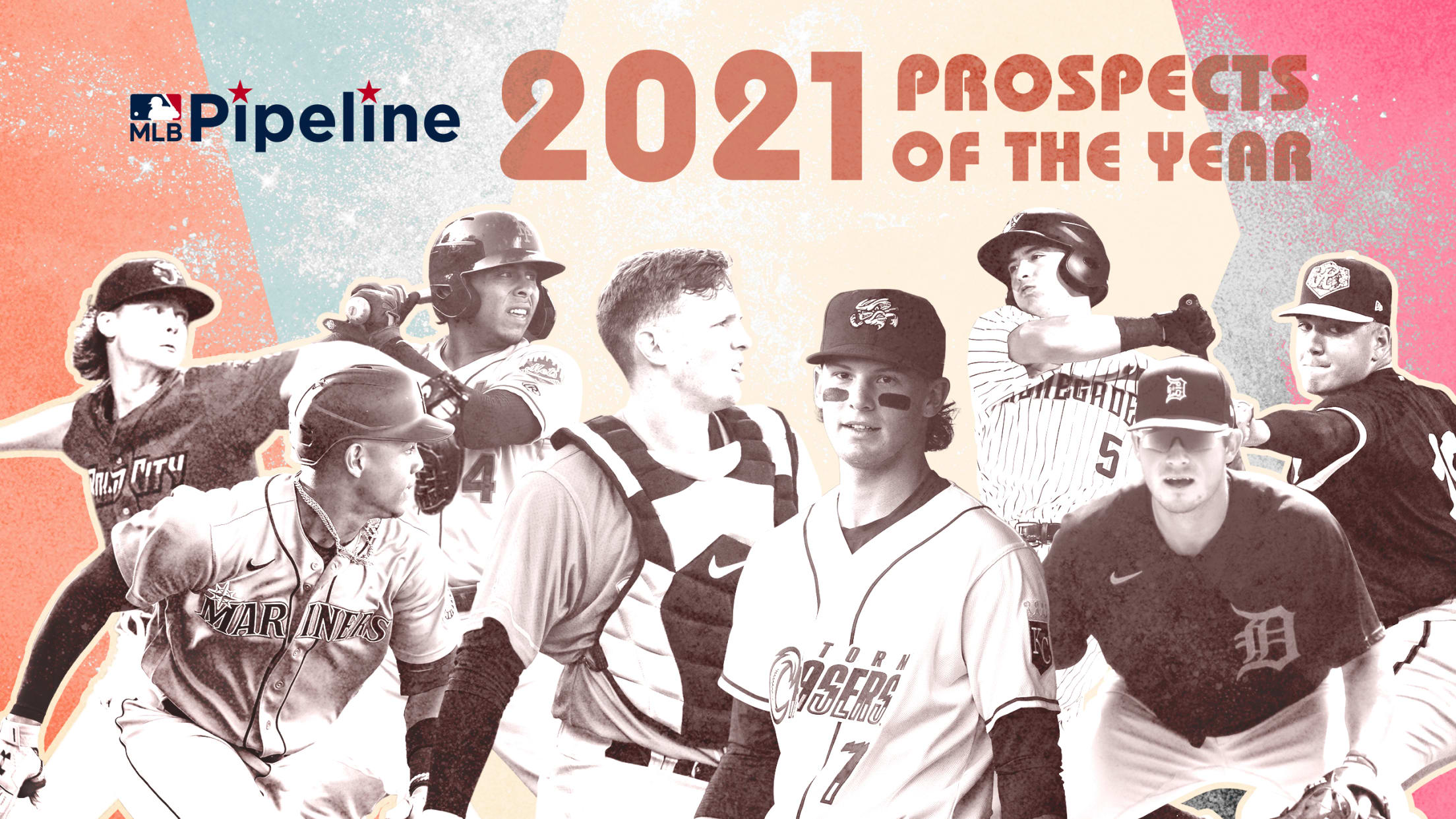 MLB Pipeline has selected position and pitching prospects of the year for each of the 30 organizations below, based on their performance this season in the Minor Leagues. Players must have spent at least half of the year in the Minors and appeared on their team's Top 30 Prospects list