Hendriks has career year in unlikely role for A's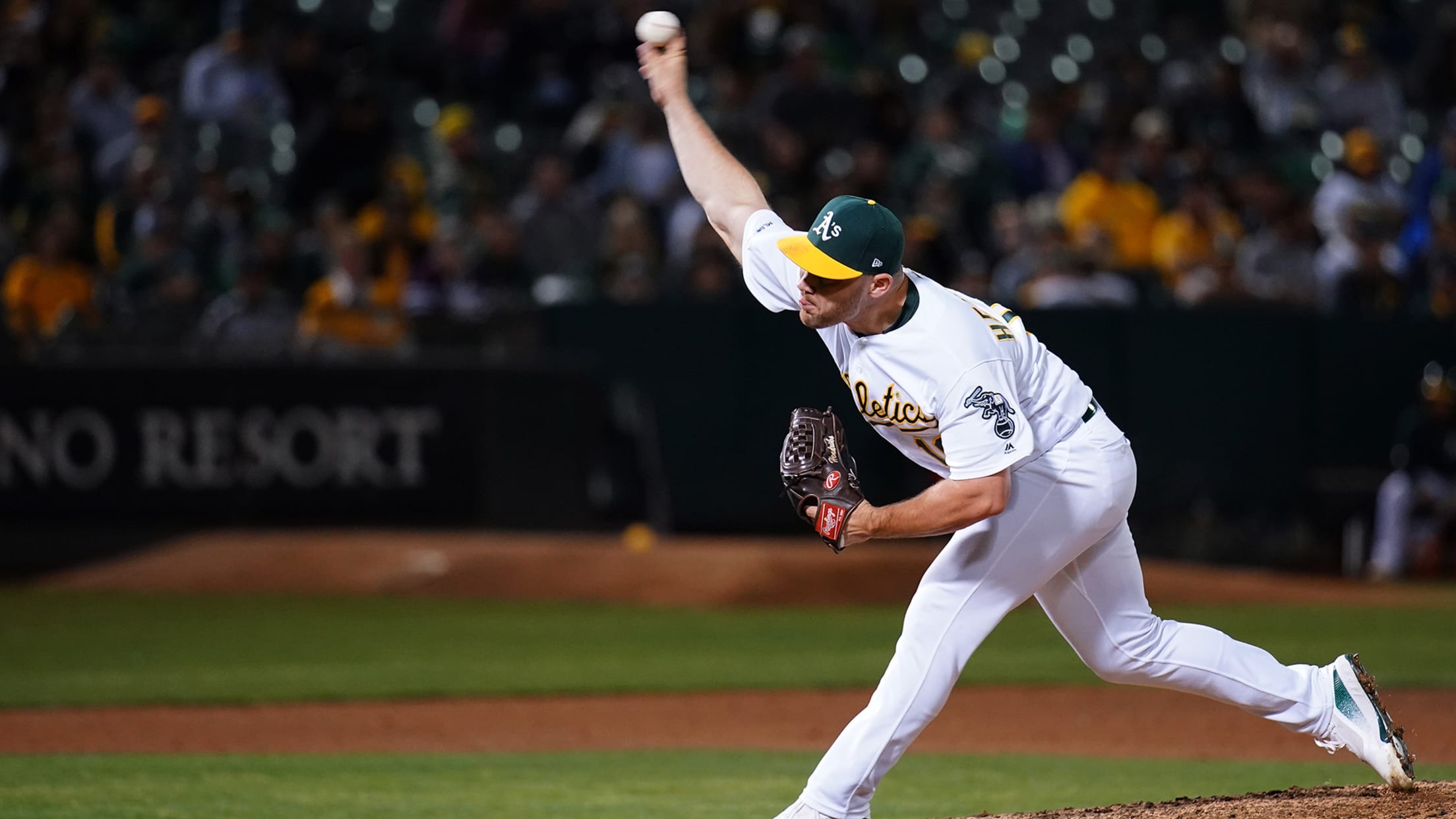 OAKLAND -- There were many different roles A's manager Bob Melvin envisioned for Liam Hendriks entering the season. It was the role nobody expected where he ultimately thrived. In a year where the A's bullpen led the Majors with 30 blown saves as it struggled to hold late leads, Hendriks
Each team's best player who never won a title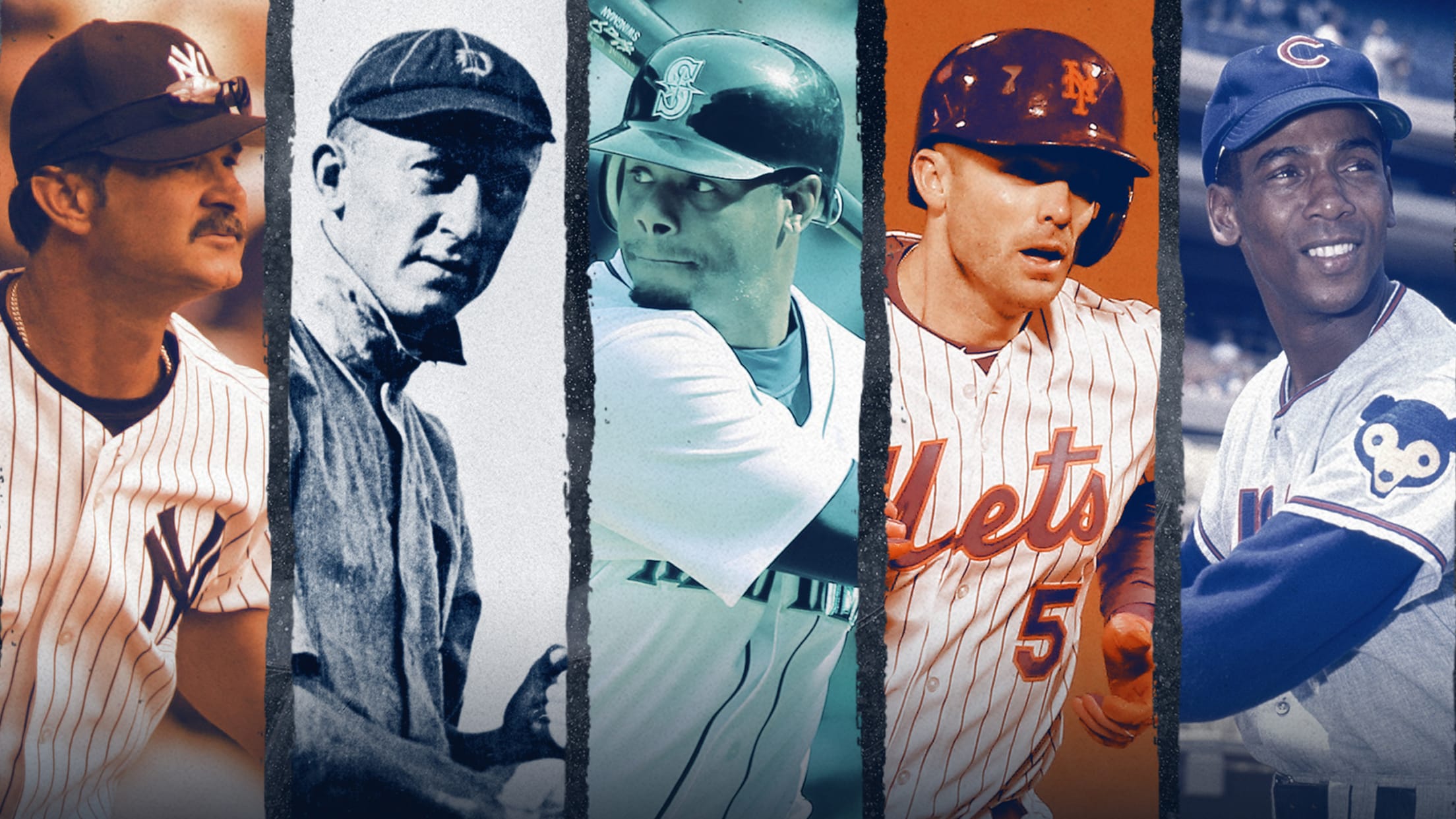 The World Series begins Tuesday, and this World Series is full of great players, including potential Hall of Fame players, who have never won a championship before. That's the goal of any player, to win a title, which is why the truly great players always try to make sure they
AL, NL Reliever of the Year finalists revealed
Chapman, Hendriks, Osuna, Hader, Yates, Smith make the cut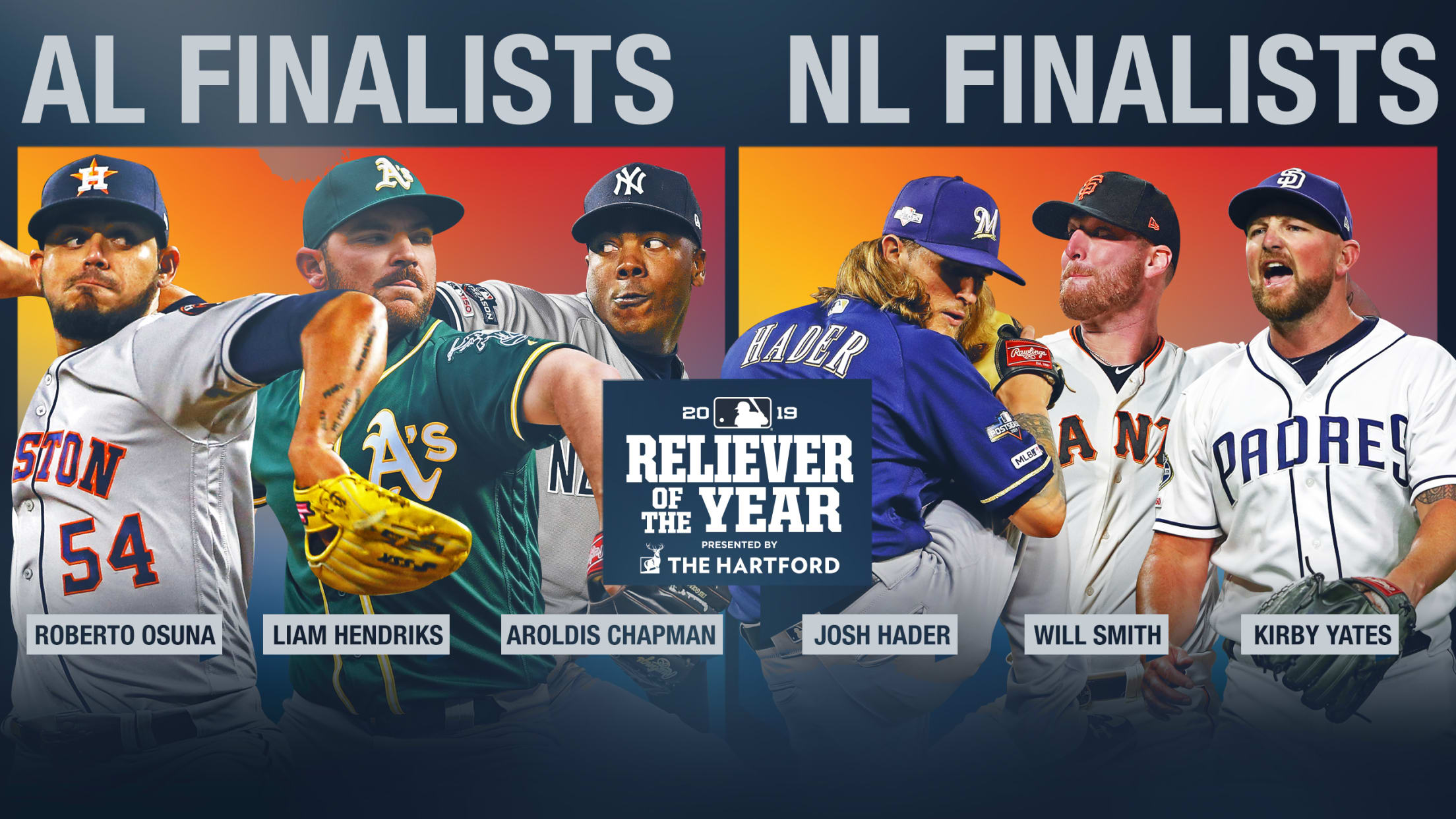 The finalists for this year's Mariano Rivera American League Reliever of the Year Award and Trevor Hoffman National League Reliever of the Year Award, both presented by The Hartford, have been unveiled. The Yankees' Aroldis Chapman, the Athletics' Liam Hendriks and the Astros' Roberto Osuna are vying for AL honors,
Every club's best individual playoff performance
From MadBum to Mr. October, these runs went down in franchise lore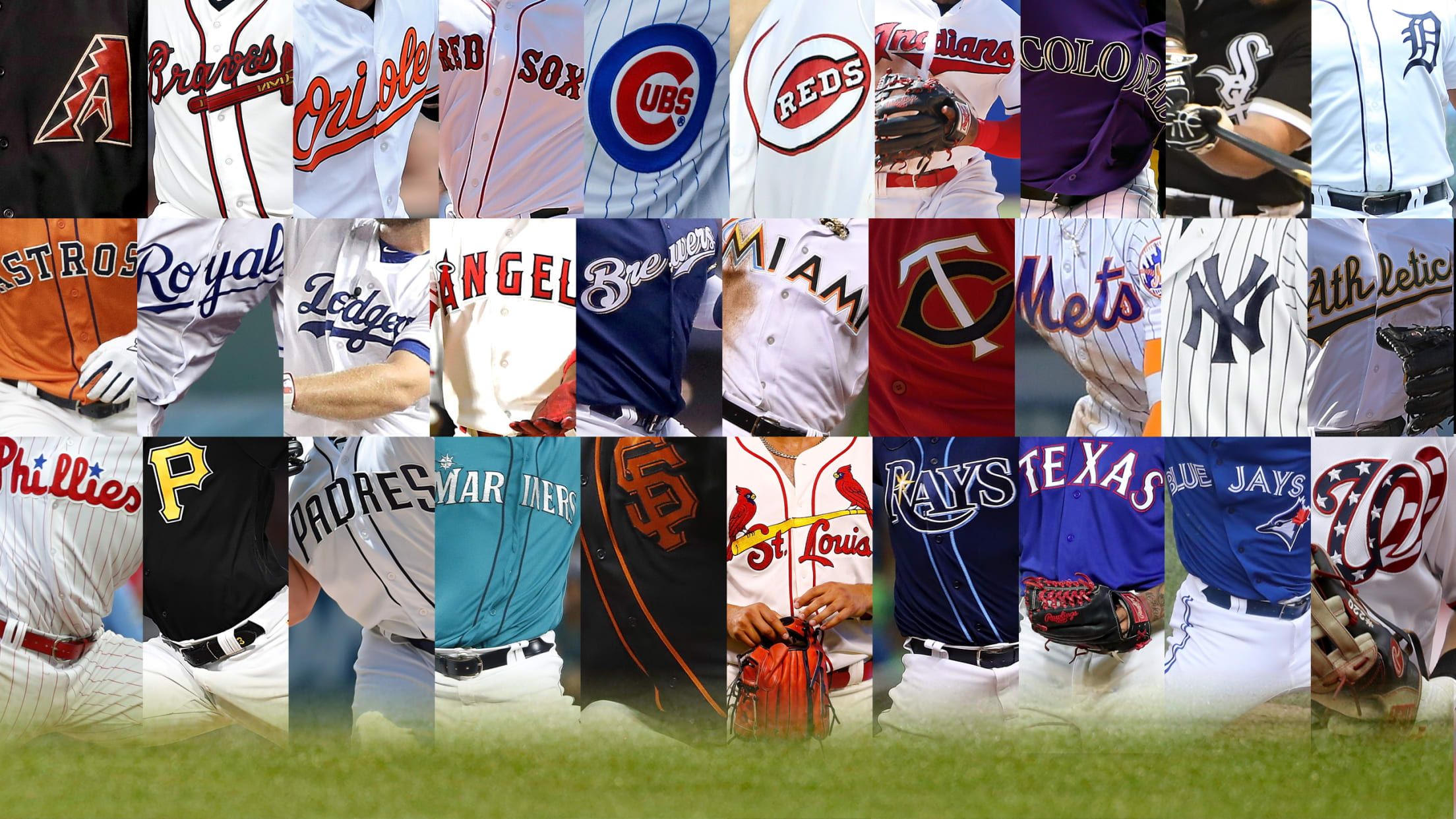 One of the many joys of baseball's postseason is how one player can make such an outsized difference. There's no better time for a player to go on a hot streak than in the playoffs, when he's able to carry his team for a whole series -- maybe even to
Williams leaving A's to manage in Korea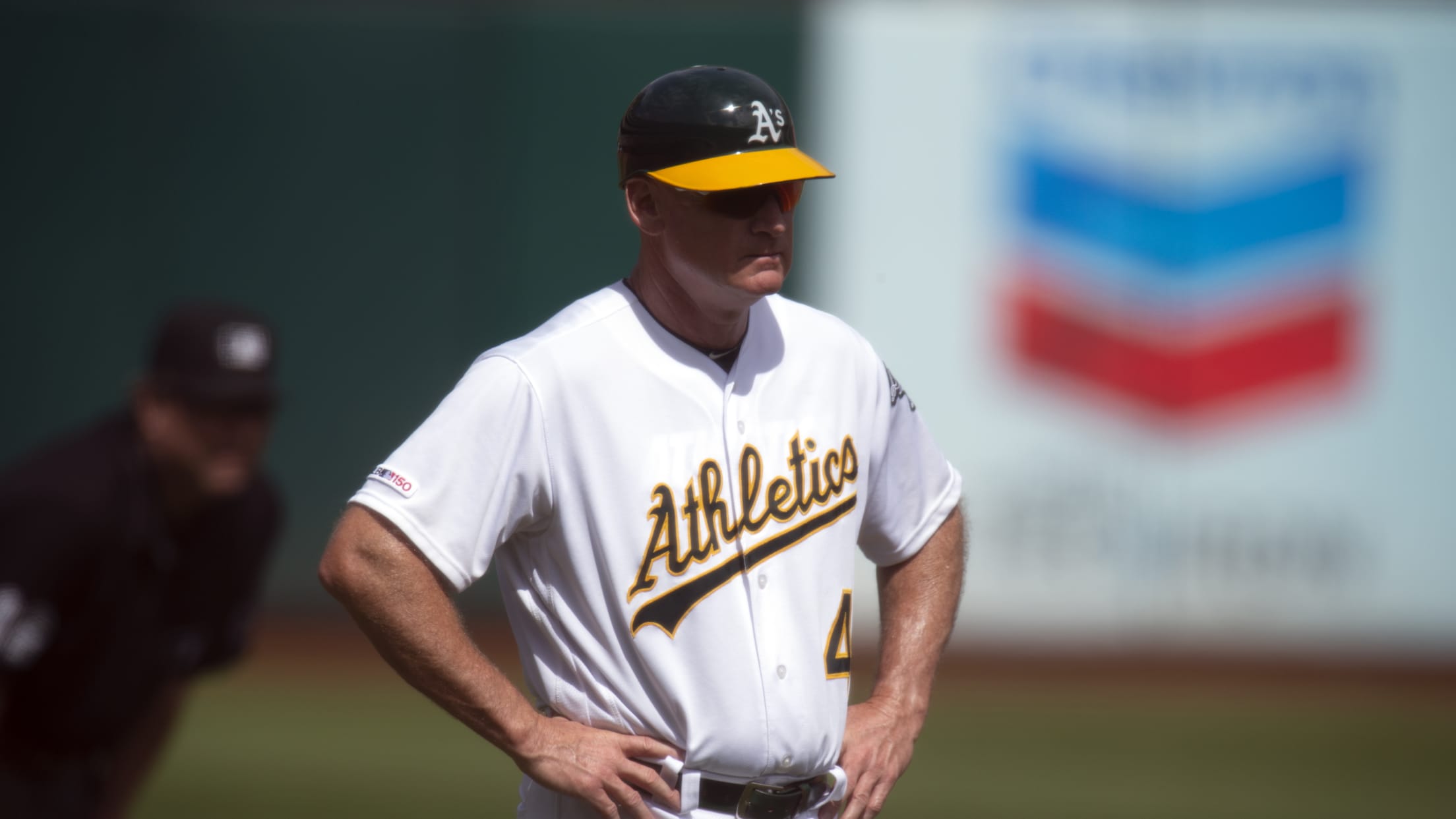 OAKLAND -- The A's will have to find a new third-base coach for the upcoming season. Matt Williams has accepted a job in Korea to manage the Kia Tigers of the KBO League. Oakland's former third-base coach will receive a three-year deal, according to MLB Network's Jon Heyman. Williams, 53,
Inbox: Which free agents will be on A's radar?
Beat reporter Martin Gallegos answers questions from fans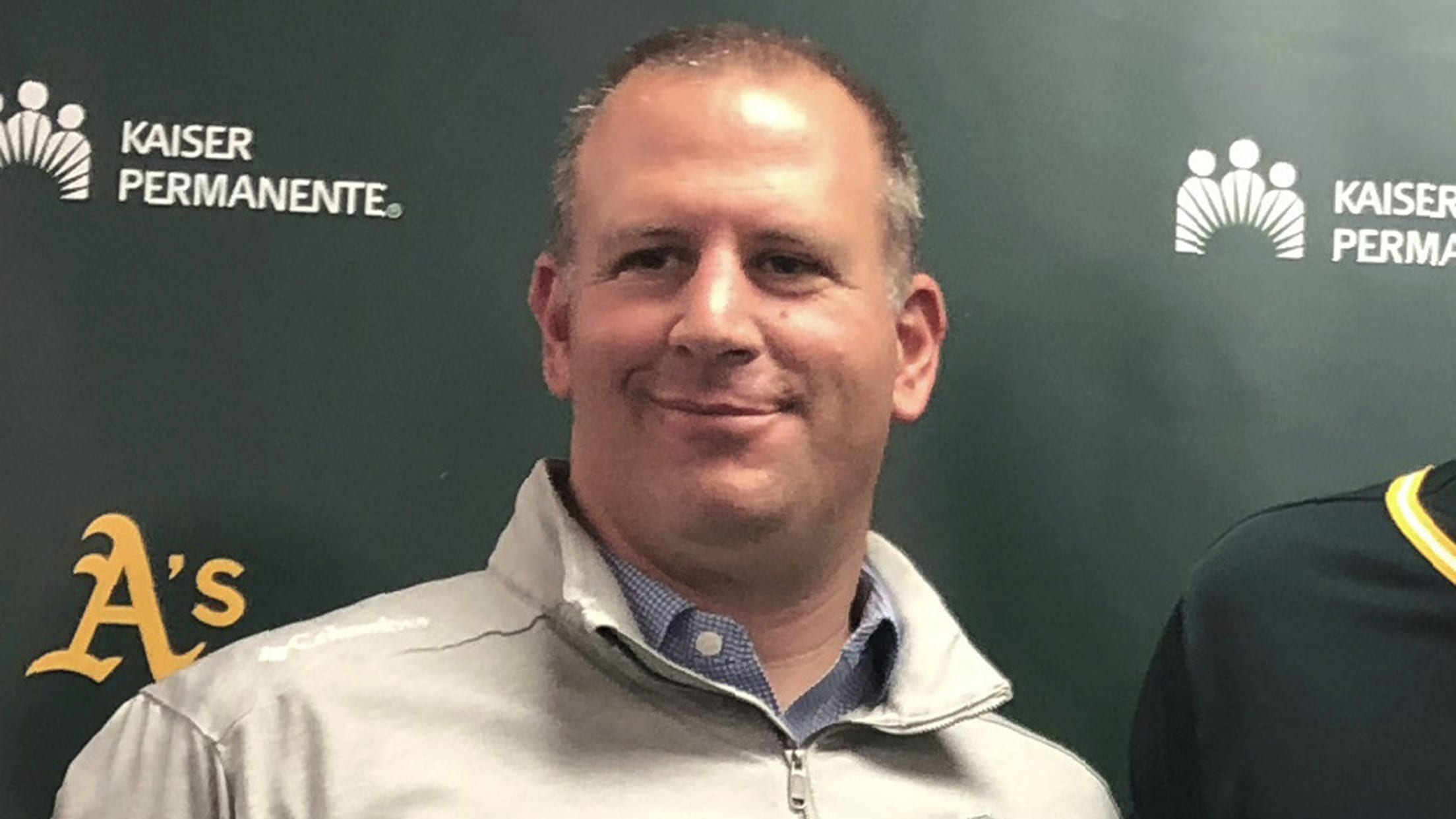 What are some good free-agent options you could see the A's going after? -- @RobbSilverstein With so many young players who impressed in their 2019 big league cameos expected to contribute over a full season next year, like Jesus Luzardo, A.J. Puk, Sean Murphy and Sheldon Neuse, don't expect the
No. 17 prospect launches 9th AFL homer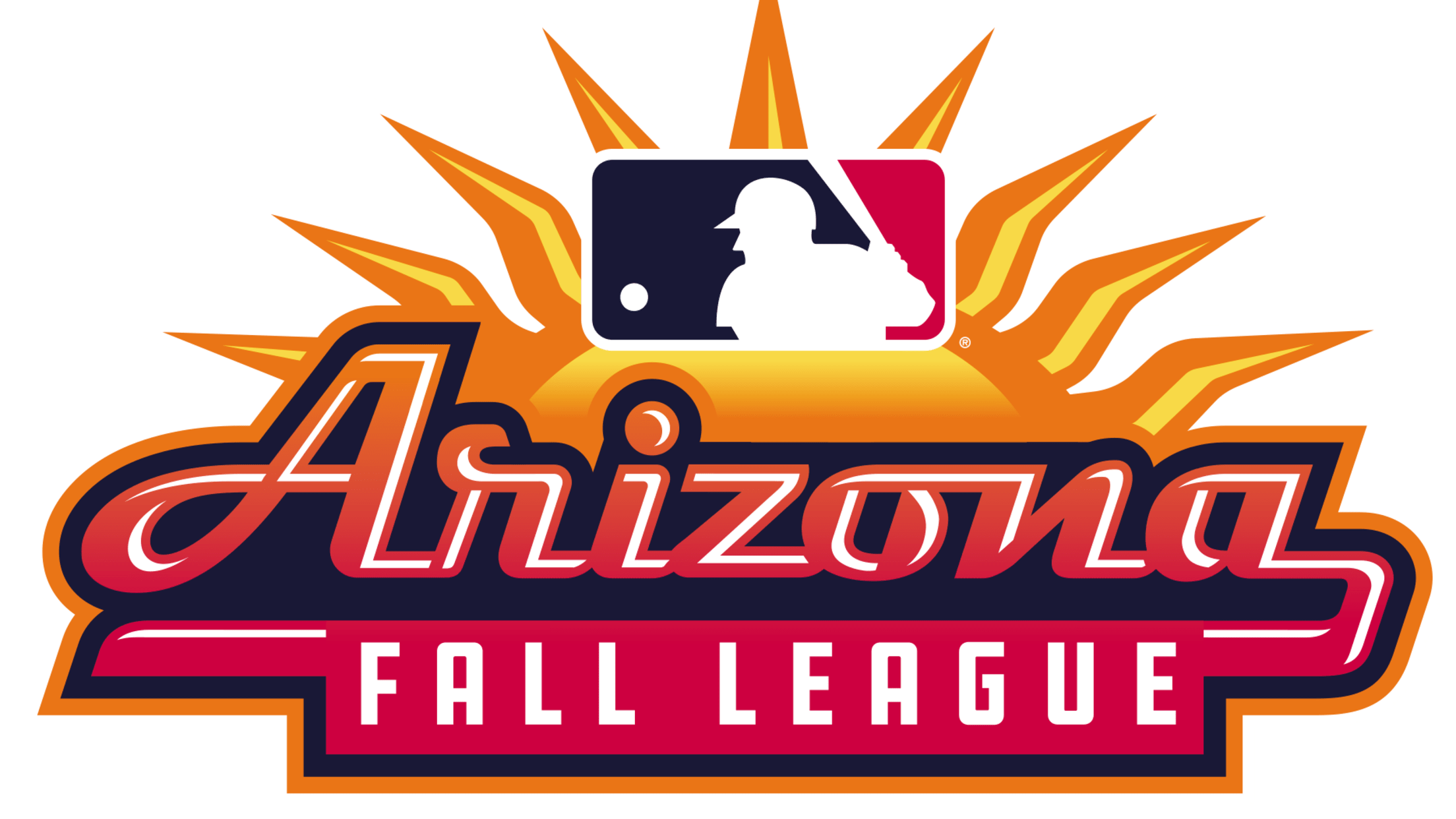 Seven A's prospects are playing for the Mesa Solar Sox in the 2019 Arizona Fall League: Shortstop Nick Allen (No. 6), outfielder Greg Deichmann (No. 17), first baseman Alfonso Rivas (No. 25), right-hander Brady Feigl (No. 28), right-hander Daniel Gossett, right-hander Jhenderson Hurtado, and right-hander Jesus Zambrano.
A's Murphy (knee surgery) likely ready for spring
OAKLAND -- Sean Murphy took a big step in trying to put his knee issues fully in the rearview mirror. The A's announced Thursday afternoon that Murphy underwent surgery on his left knee. The procedure involved a lateral meniscal debridement and was performed by Dr. Thomas Carter in Phoenix, Ariz.
How each player did in the Fall Stars Game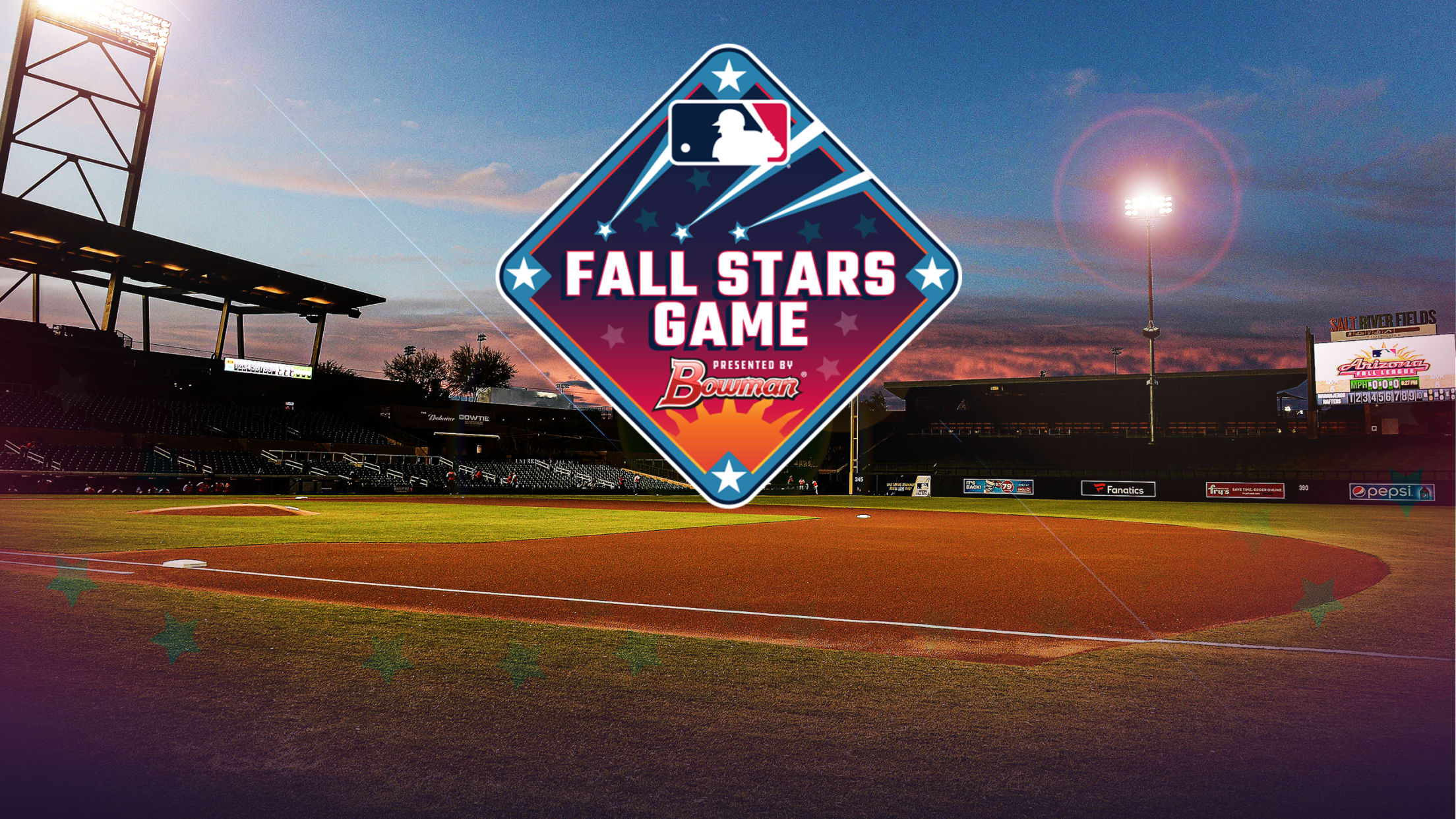 The 14th edition of the Arizona Fall League's Fall Stars Game was held Saturday night at Salt River Fields at Talking Stick, with a number of the game's top prospects on display, including the Twin's No. 1 prospect -- and No. 9 on the Top 100 -- Royce Lewis, who
Here's every team's biggest offseason priority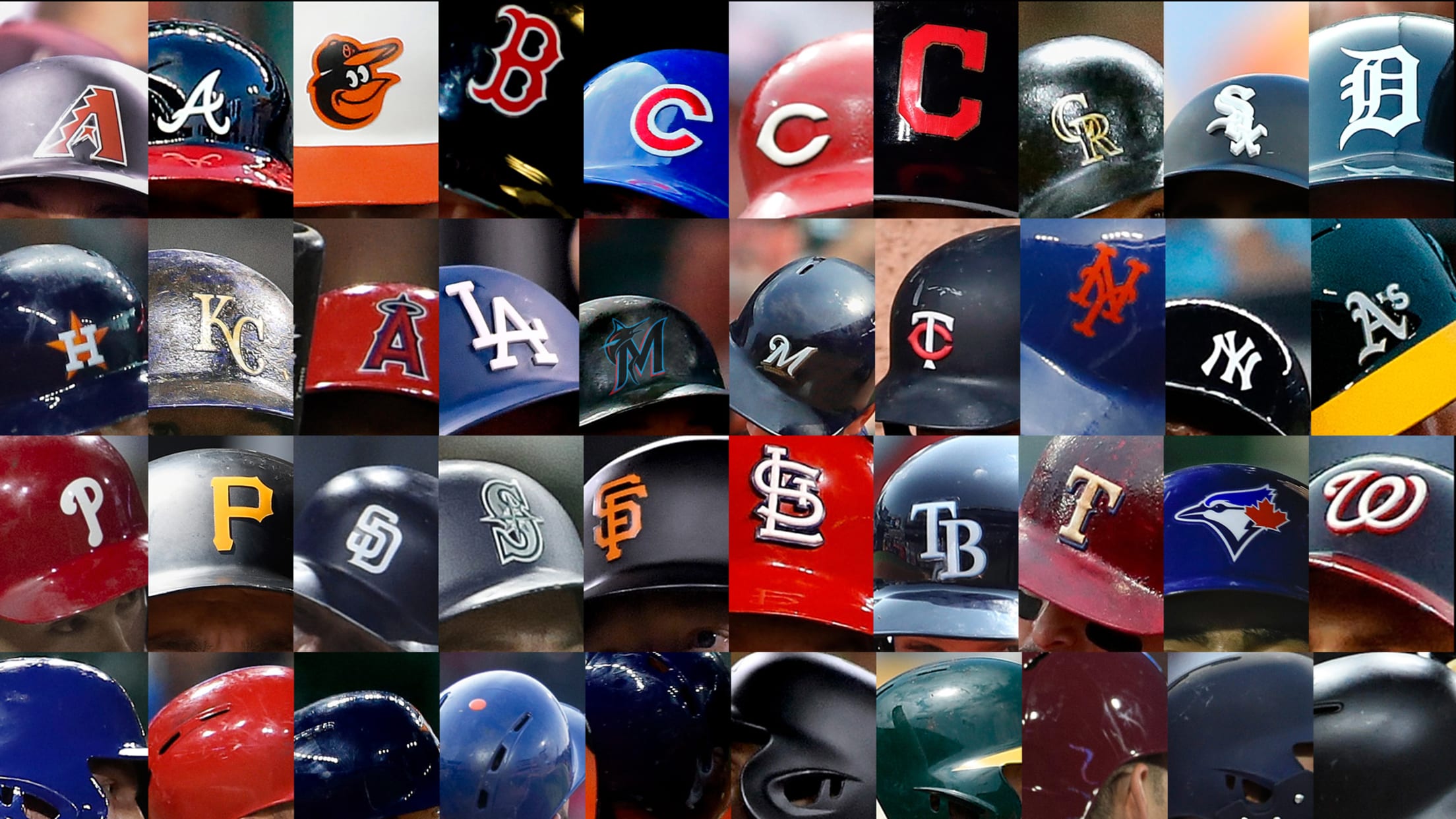 This postseason is just getting exciting, but let's not kid ourselves: If you're not a fan of the four teams that remain, you're likely already making plans for your own team in 2020. There's always next year … and for 26 teams, it's already next year. So today we look
Davis' frustrating 2019 season an outlier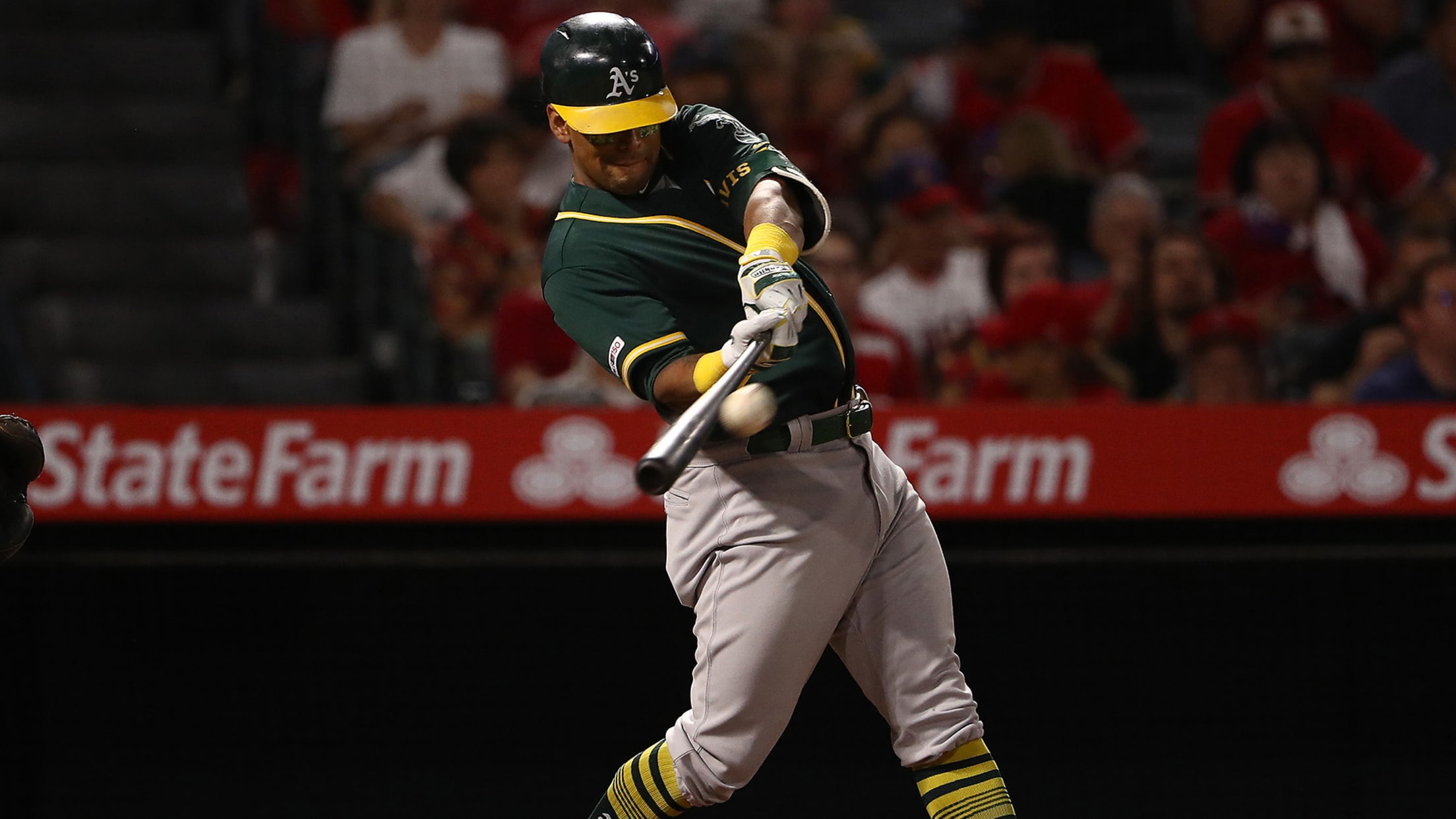 There are certain events in baseball that are impossible to explain no matter how hard you try to wrap your head around them. The 2019 season of Khris Davis certainly qualifies. From 2016-18, Davis reigned as Major League Baseball's home run king. Following a 2018 campaign that saw him lead
Inbox: What changes might come to A's in 2020?
Beat reporter Martin Gallegos answers questions from fans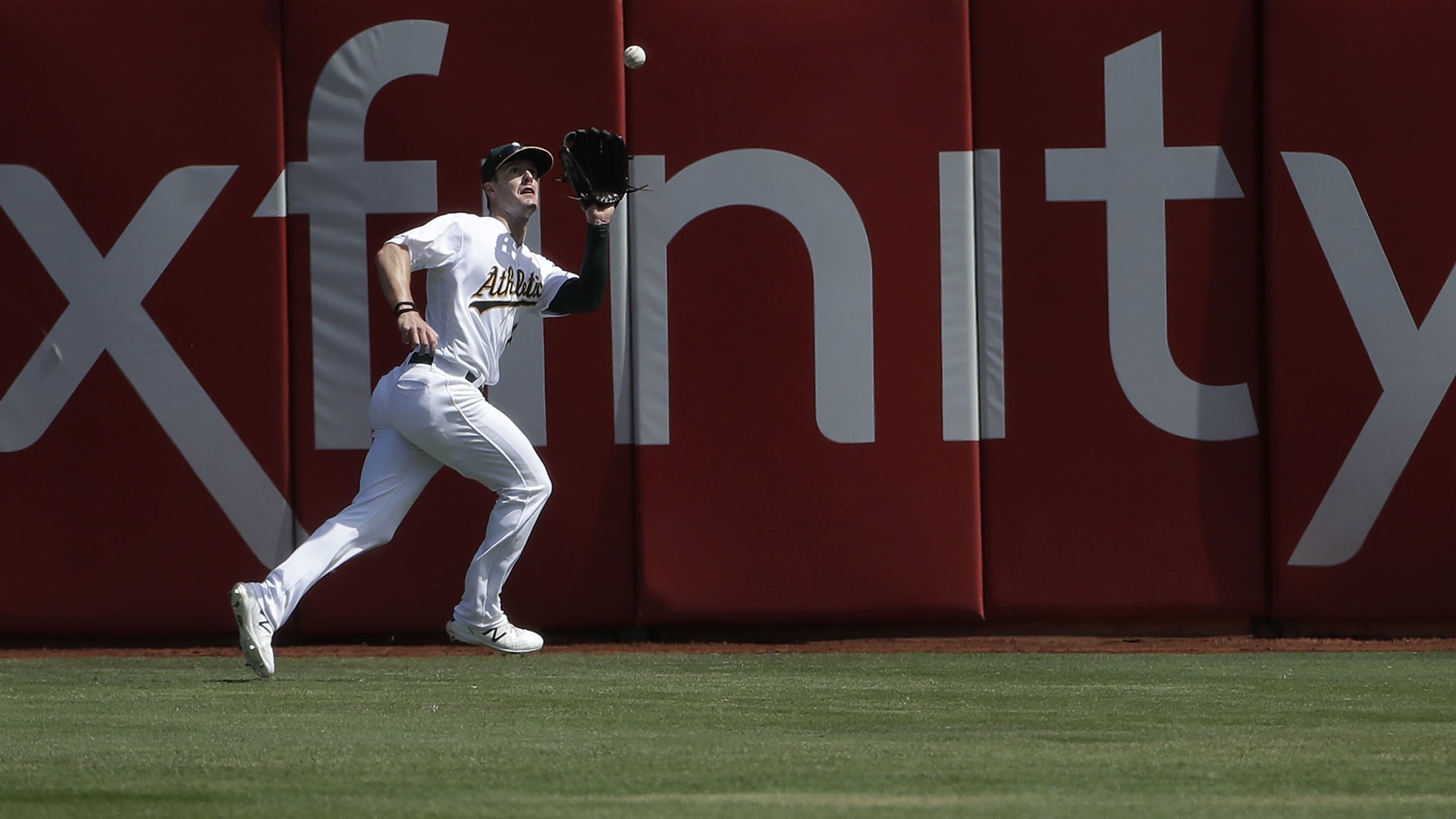 Do the A's continue with Mark Canha in center field and Ramón Laureano in right in 2020? -- @CallieTsai As remarkable as Canha's breakout season at the plate was, his emergence as an above-average outfielder may have been his most impressive development. In all conversations I had with scouts throughout
A's run comes to an end in AL Wild Card Game
Manaea struggles as club loses 9th straight winner-take-all contest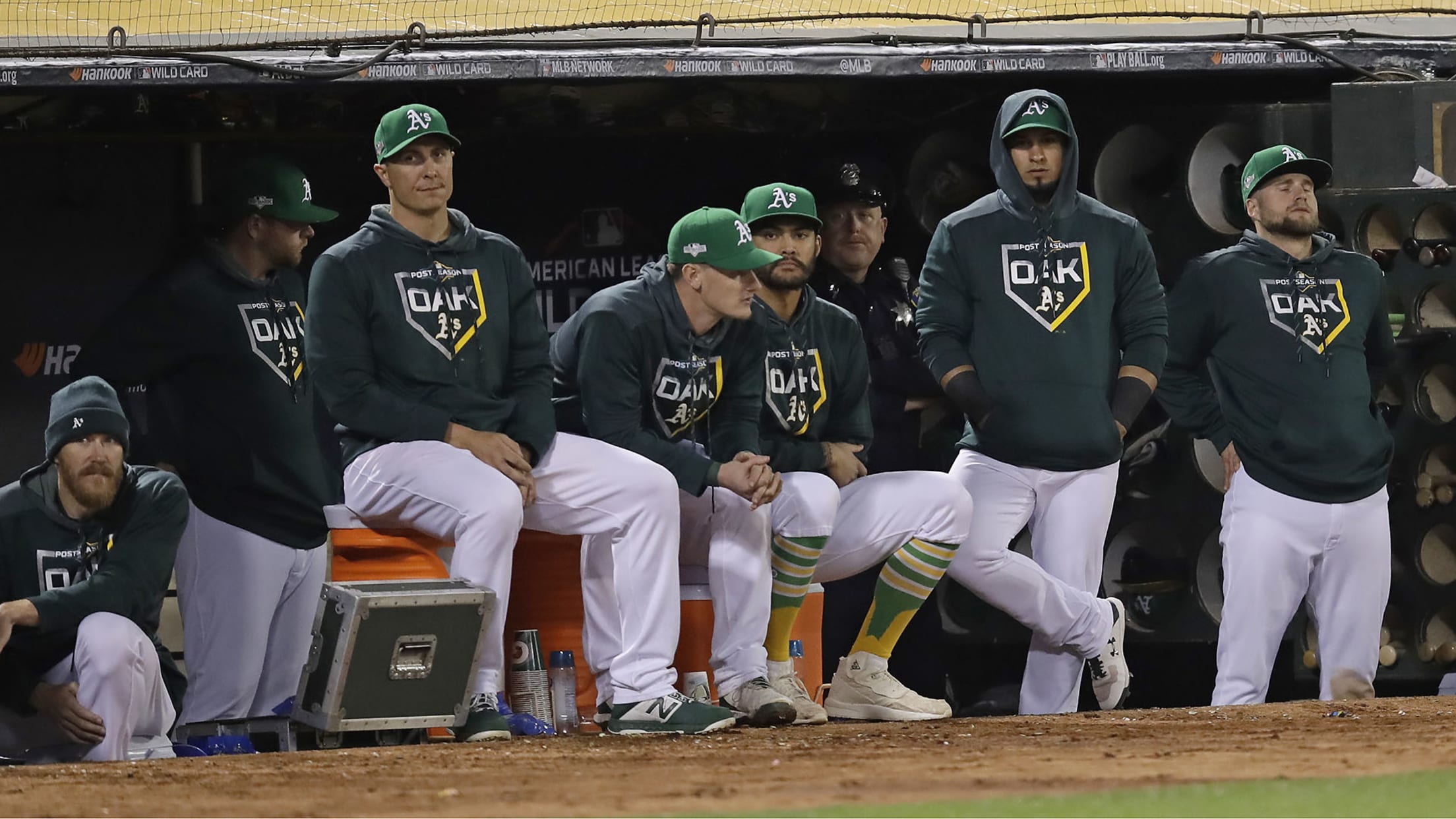 OAKLAND -- Having gone through the heartbreak of an early exit in last year's American League Wild Card Game, the A's had plenty of reason to believe things would be different this time around. Not only did the A's have the year of experience to learn from, but they also
A's reflect on 'bittersweet end to the story'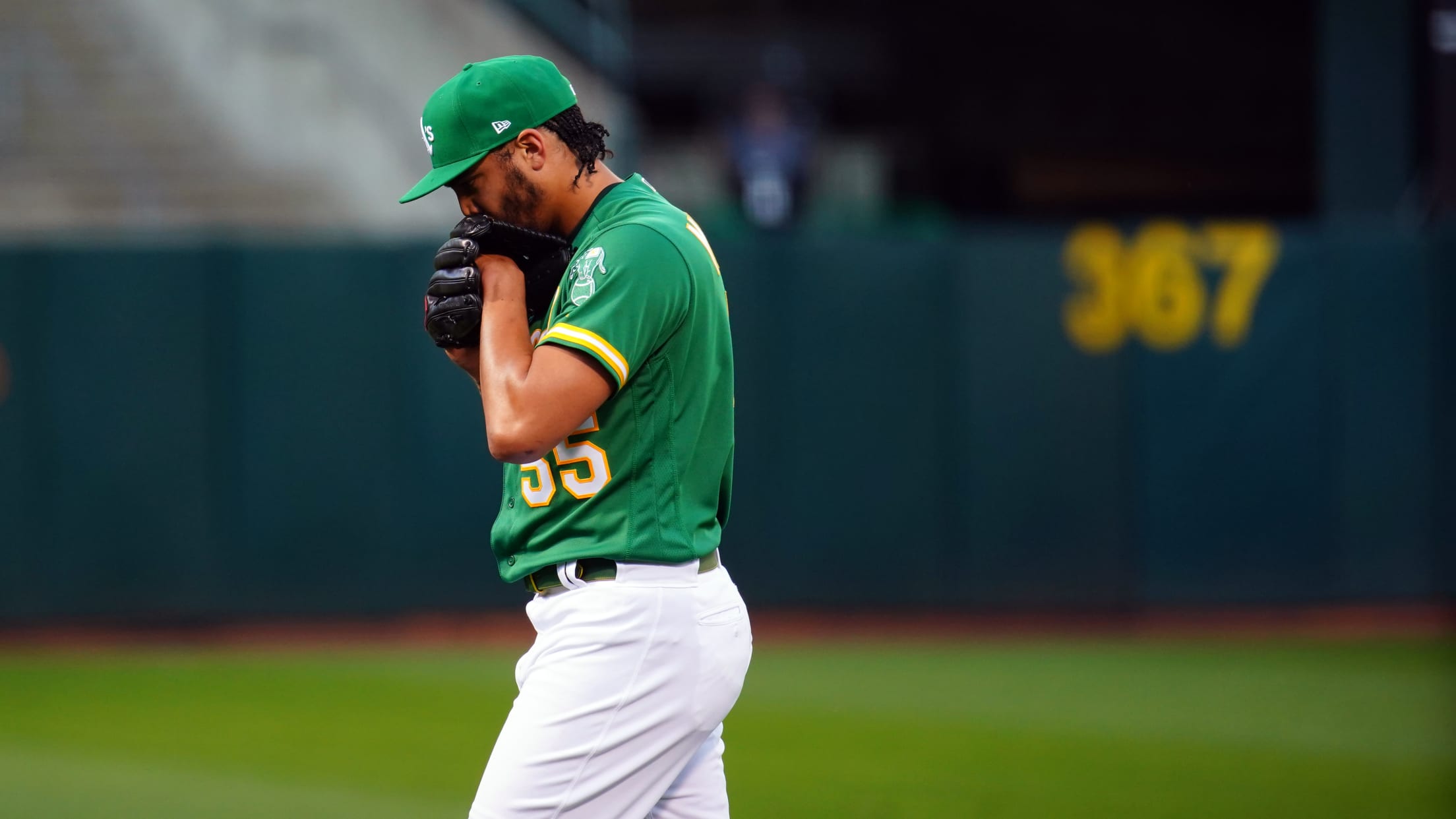 OAKLAND -- There's no formula to prepare for the heartbreak that comes with the grind of a 162-game season coming to a sudden end in the Wild Card Game. Even for the A's, who met the same fate in 2018, the feeling was no less painful going through it for
Manaea takes blame for loss: 'It's solely on me'
A's left-hander allows career-high 3 HRs to Rays in AL Wild Card Game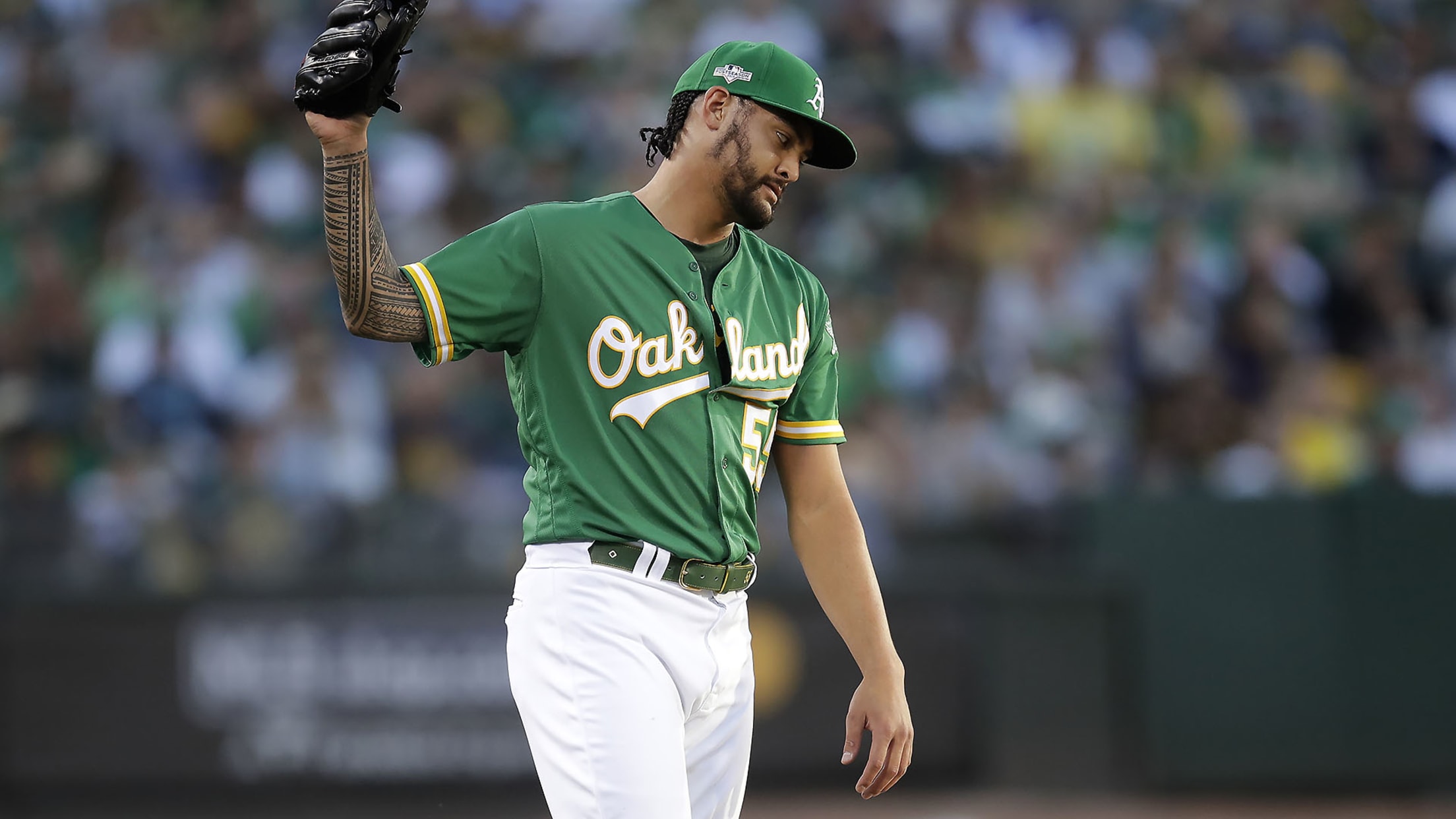 OAKLAND -- Sean Manaea's run of dominance over the past month that helped the A's extend their season into October came to a screeching halt in Wednesday night's 5-1 loss to the Rays in the American League Wild Card Game at the Coliseum. After allowing a total of four runs
Deichmann, fully healthy, teeing off in AFL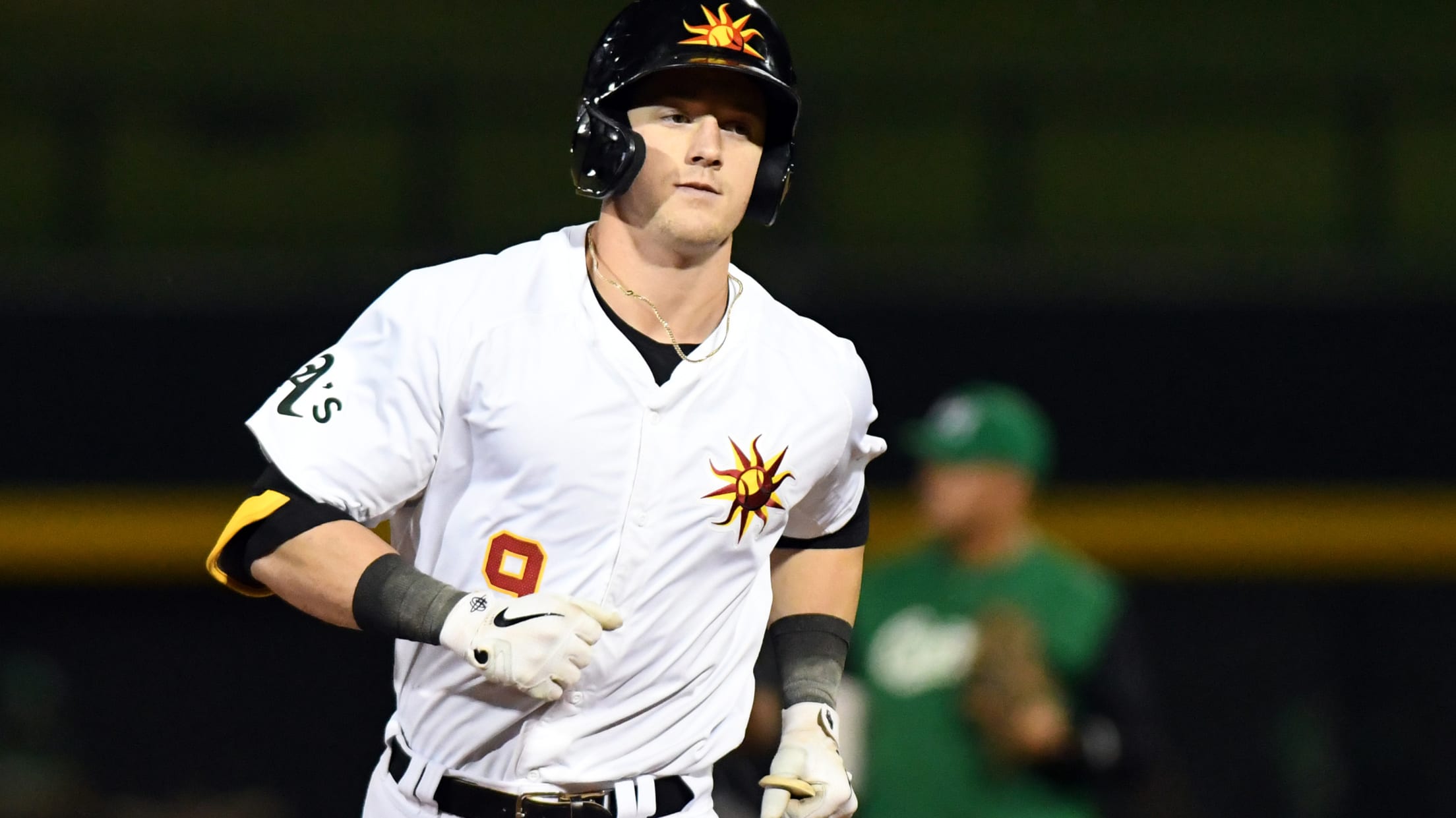 PEORIA, Ariz. -- Few if any Arizona Fall Leaguers needed to make up for lost at-bats more than Greg Deichmann. Few if any are taking better advantage of the developmental circuit. The 43rd overall pick (second round) in the 2017 Draft after hitting 19 homers to help Louisiana State reach
WC loss extends A's elimination-game futility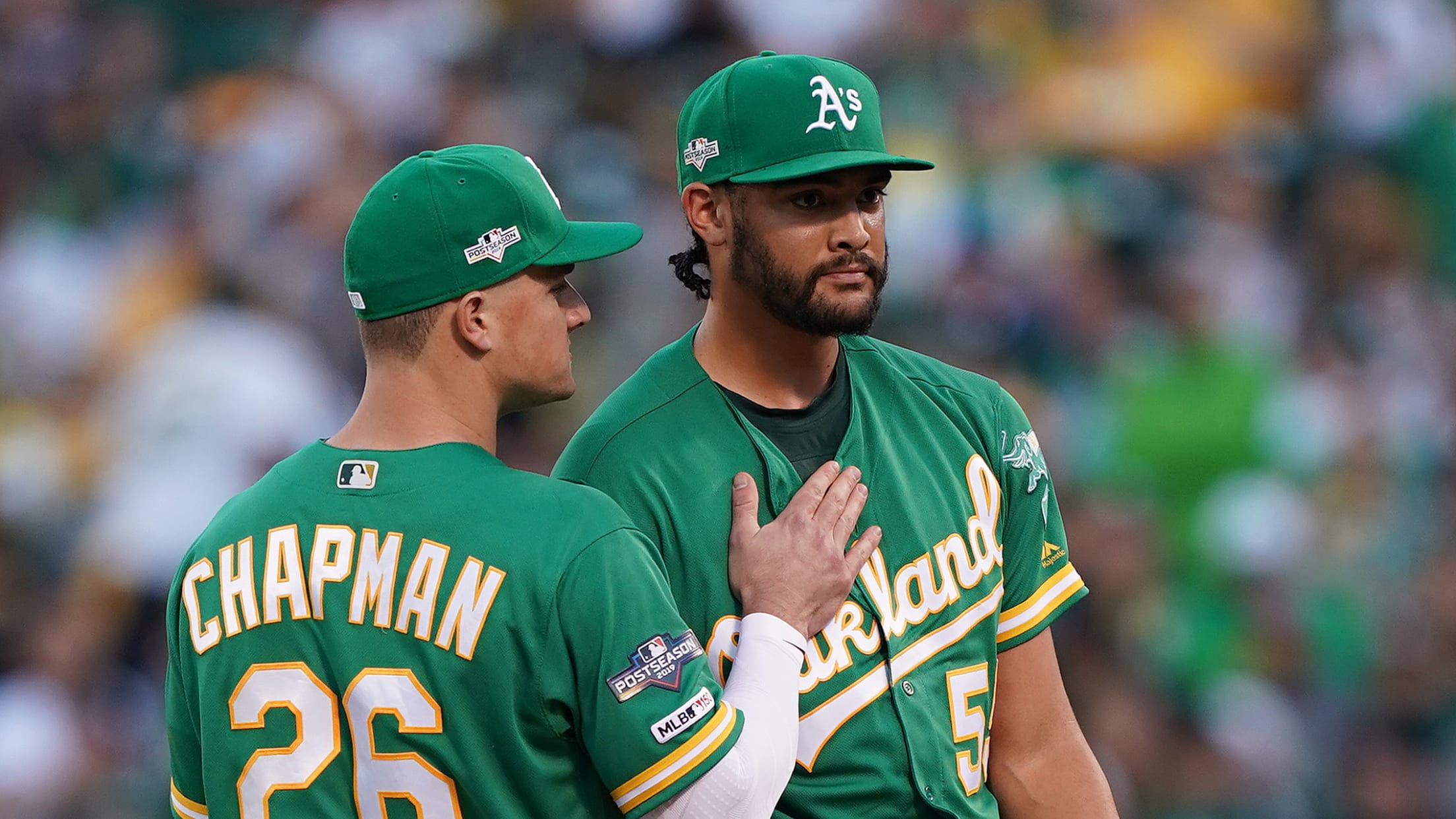 OAKLAND -- The A's astonishing futility in winner-take-all postseason contests continued with their 5-1 loss to the Tampa Bay Rays in Wednesday's American League Wild Card Game. The A's have lost nine consecutive games in which a victory would have advanced them to a more prestigious postseason series. Home-field advantage
Top 10 moments of A's magical 2019 season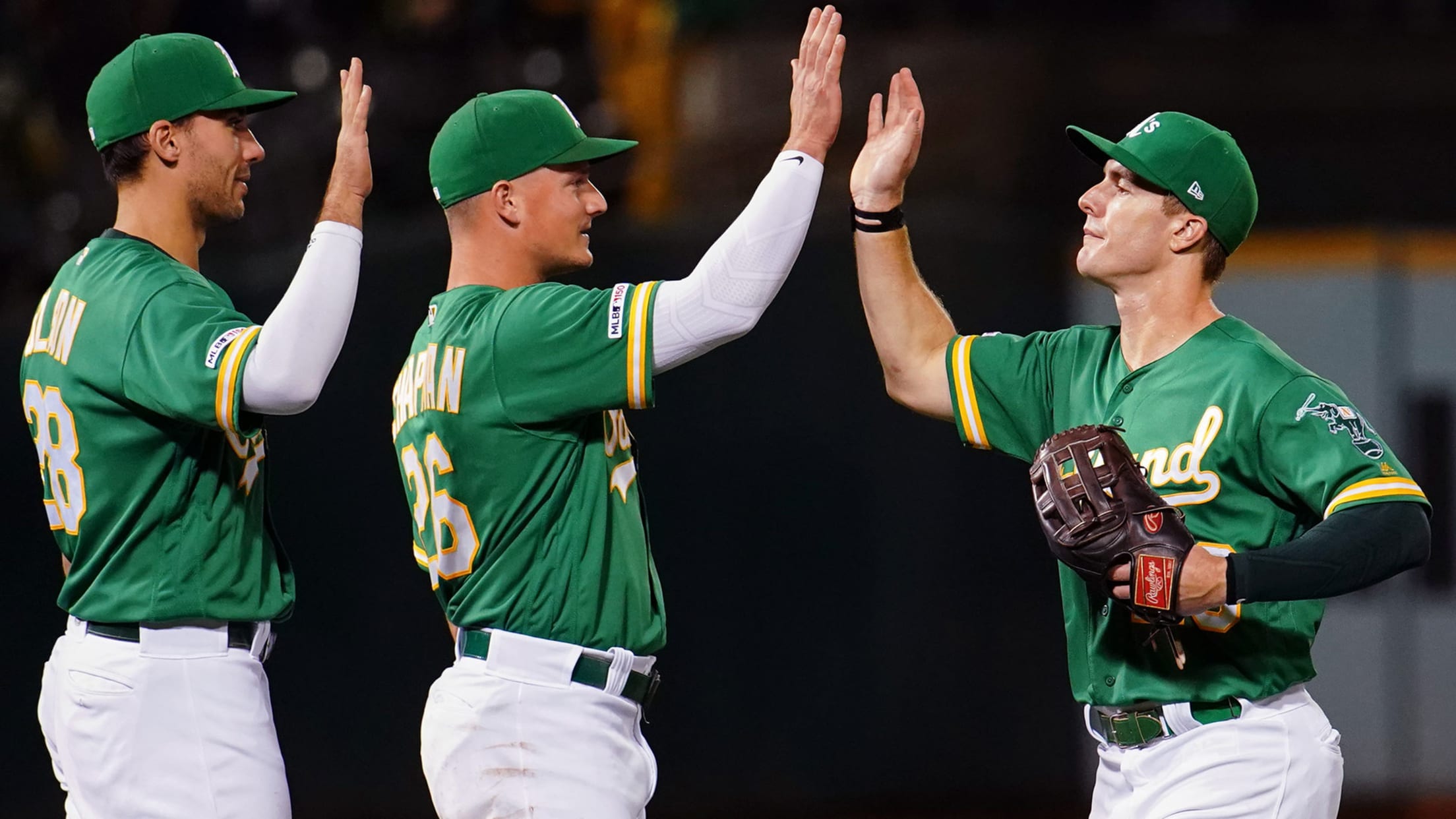 SEATTLE -- Every year that the A's have reached the postseason over the past decade, it seems to come off regular seasons filled with magic and late-inning drama. Their 2019 campaign was no different. From historic pitching performances to clutch hitting, the A's found a multitude of ways to defy
Nominees named for 2019 Aaron Award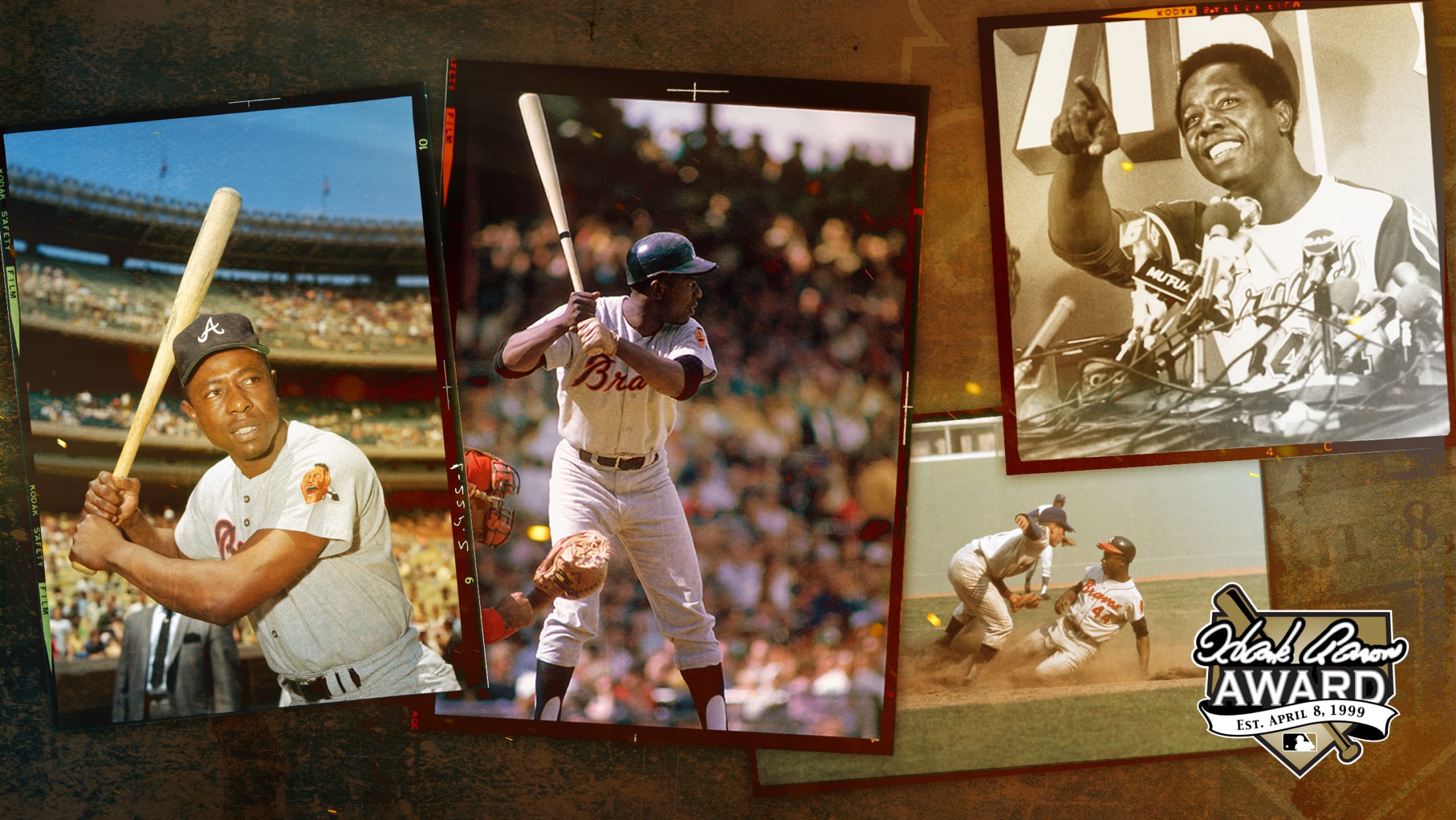 Major League Baseball announced last Thursday the finalists for the 2019 Hank Aaron Award, which is given annually to the most outstanding offensive player in each league. The award began in 1999 -- the 25th anniversary of Aaron's 715th home run, which broke Babe Ruth's career record. This year's finalists
11 arms for A's in WC Game, but no Piscotty
Melvin opts for utility man Barreto; Profar to start at second base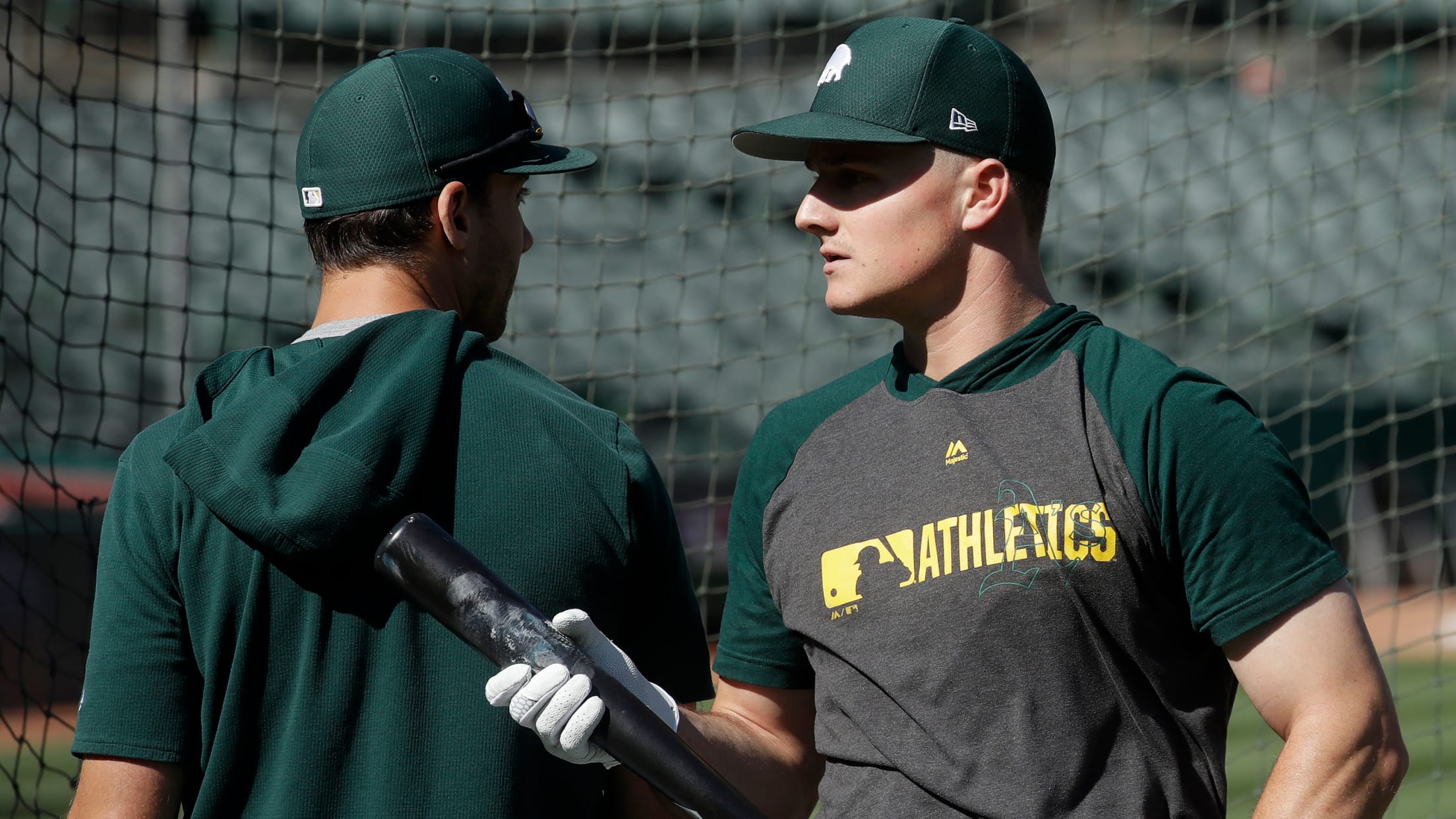 OAKLAND -- The A's know the different looks the Rays might throw at them in Wednesday's American League Wild Card Game, so they've constructed their roster in a way to help combat the many possibilities. For the second year in a row, Oakland's Wild Card Game roster features 11 pitchers
Here's how the 10 postseason teams were built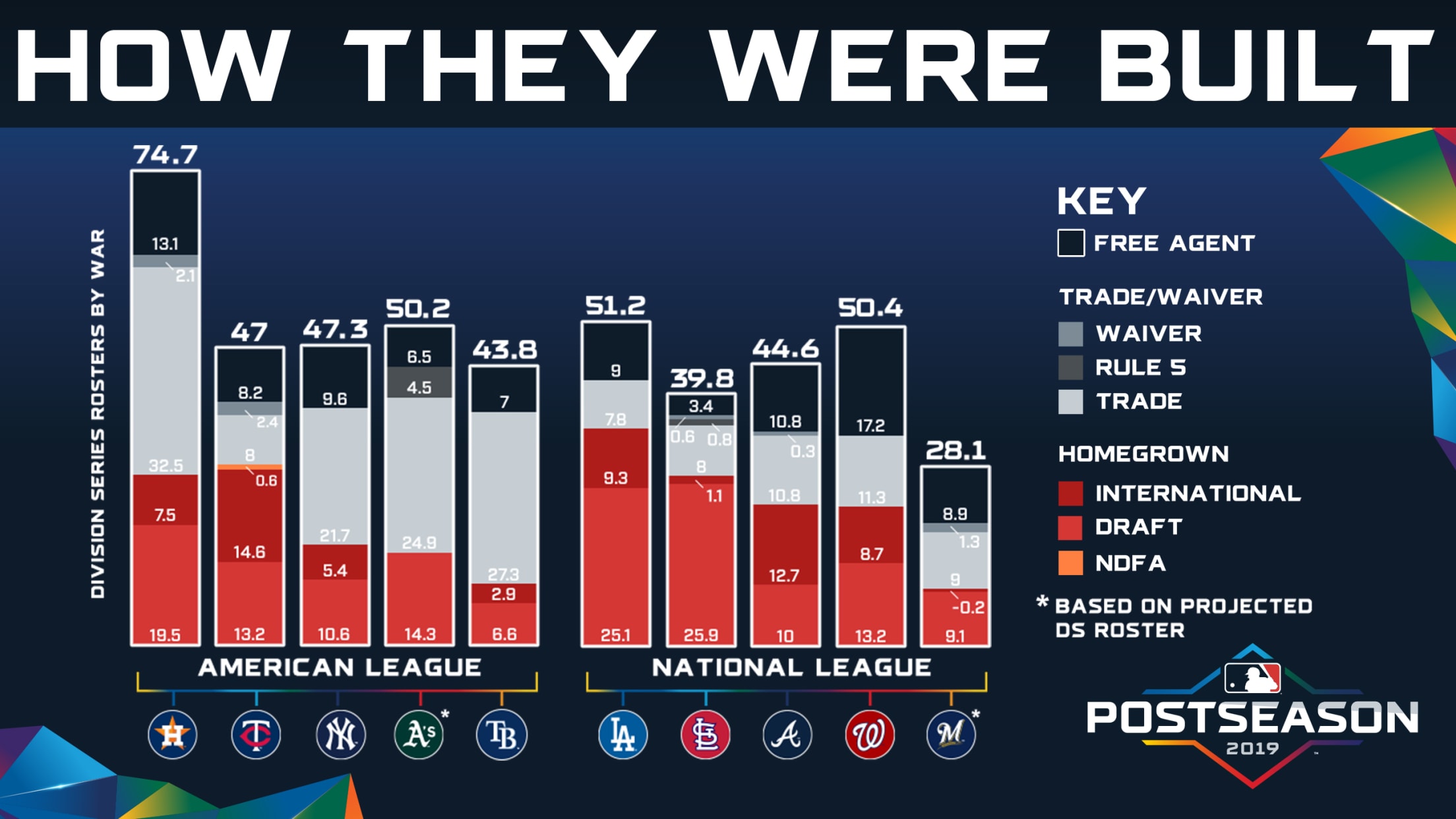 There's more than one blueprint to assemble a playoff team. Just look at the Astros and Dodgers, who finished with the best record in American League and National League, respectively. Los Angeles has the most homegrown talent of any postseason club, having signed and developed 15 of the 25 players
Next hero up: Each postseason team's X-factor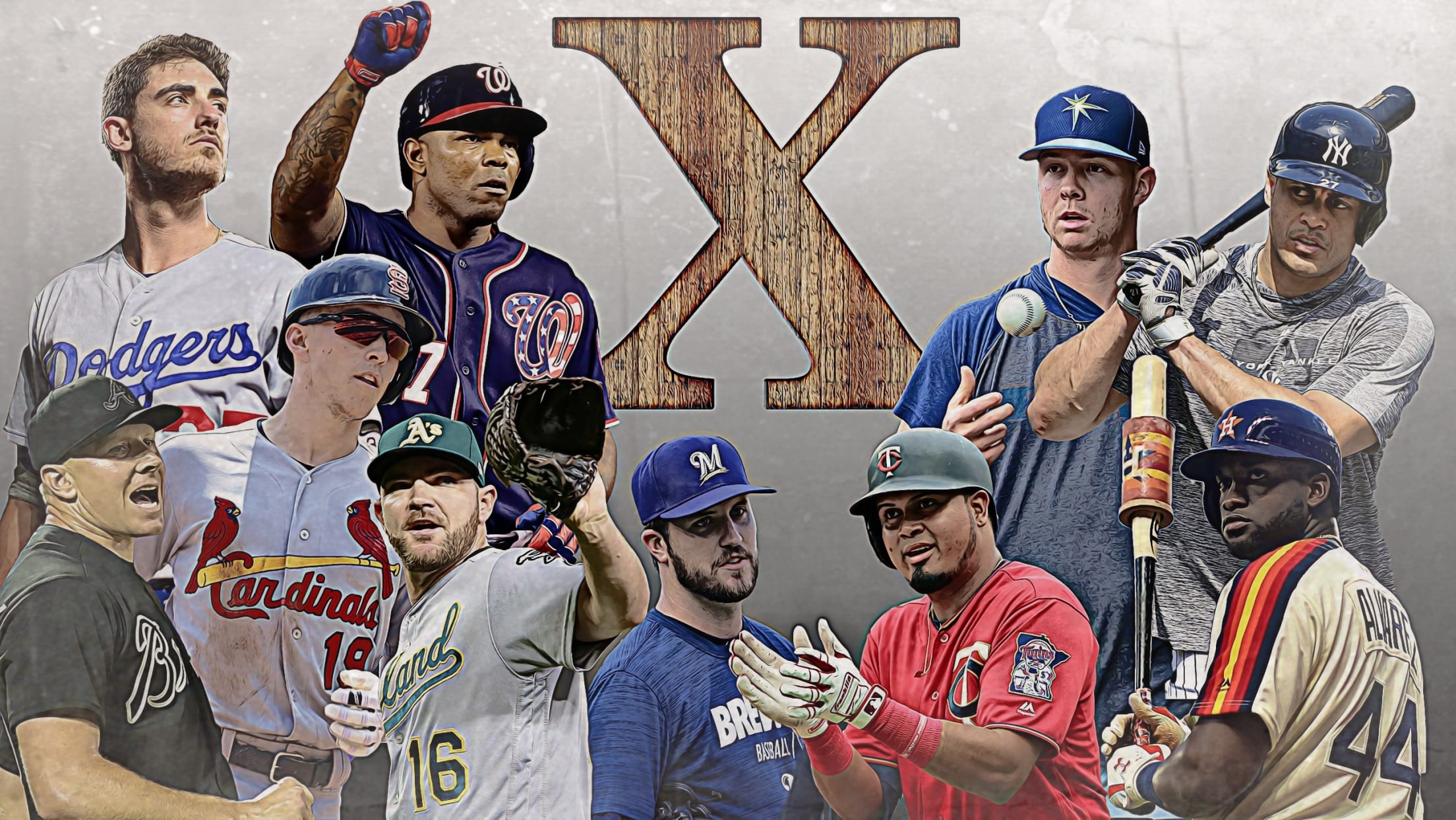 We love baseball's postseason, in part, because we do not know where the heroes will come from. Remember Charlie Morton? You probably know him as this season's ace of the Rays' pitching staff. Two years ago, he was a lot less well known. That is, until he took the baseball
A's bring 'quiet confidence' to Wild Card Game
Oakland learns from last year's loss; Piscotty to be left off WC roster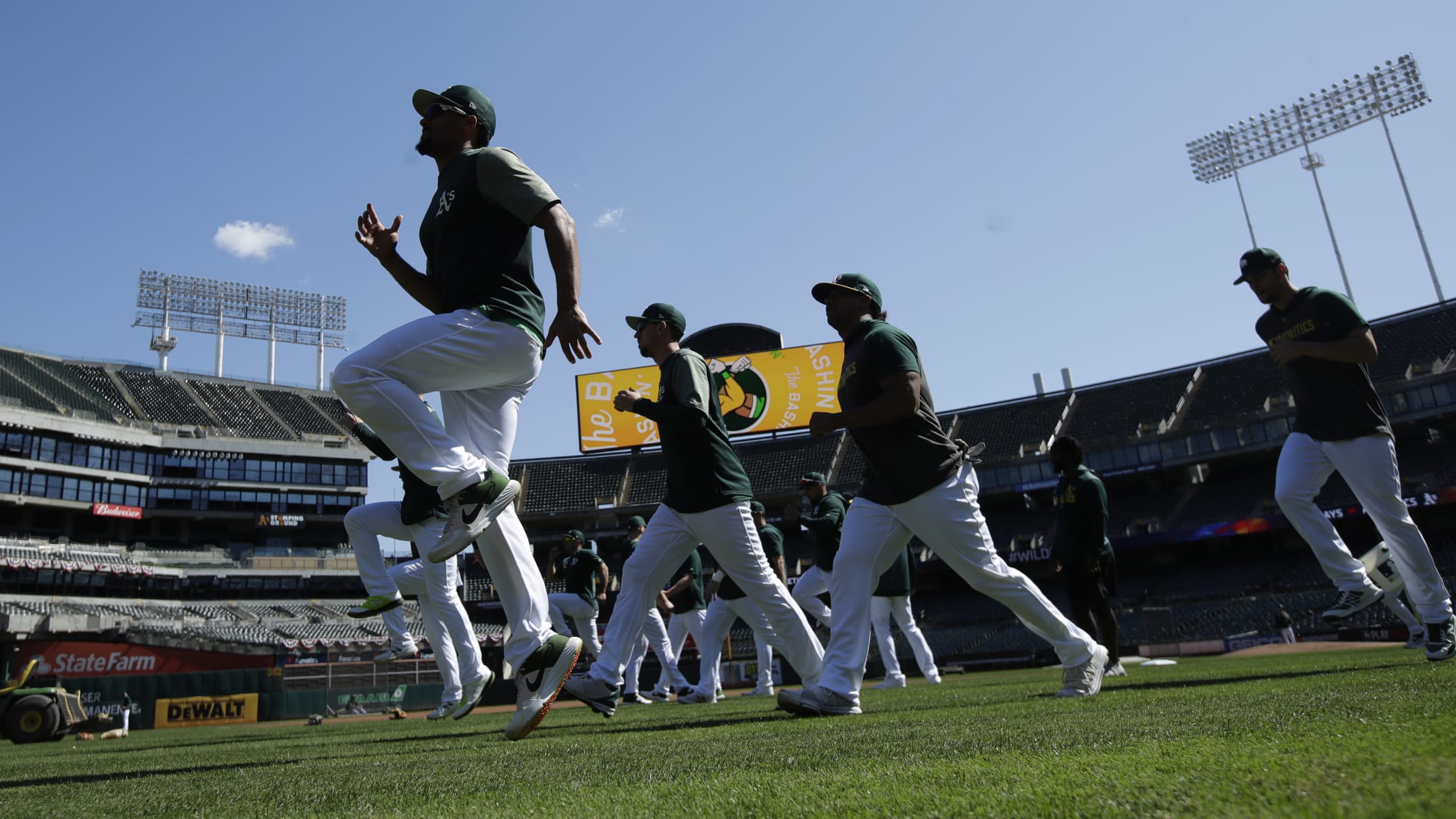 OAKLAND -- As the A's quickly found out last season, the first time is always difficult. Around this time last year, many of the young A's players who comprised the 97-win squad of 2018 were getting their feet wet with their first taste of the postseason. It didn't help that
Ranking the top 50 players in October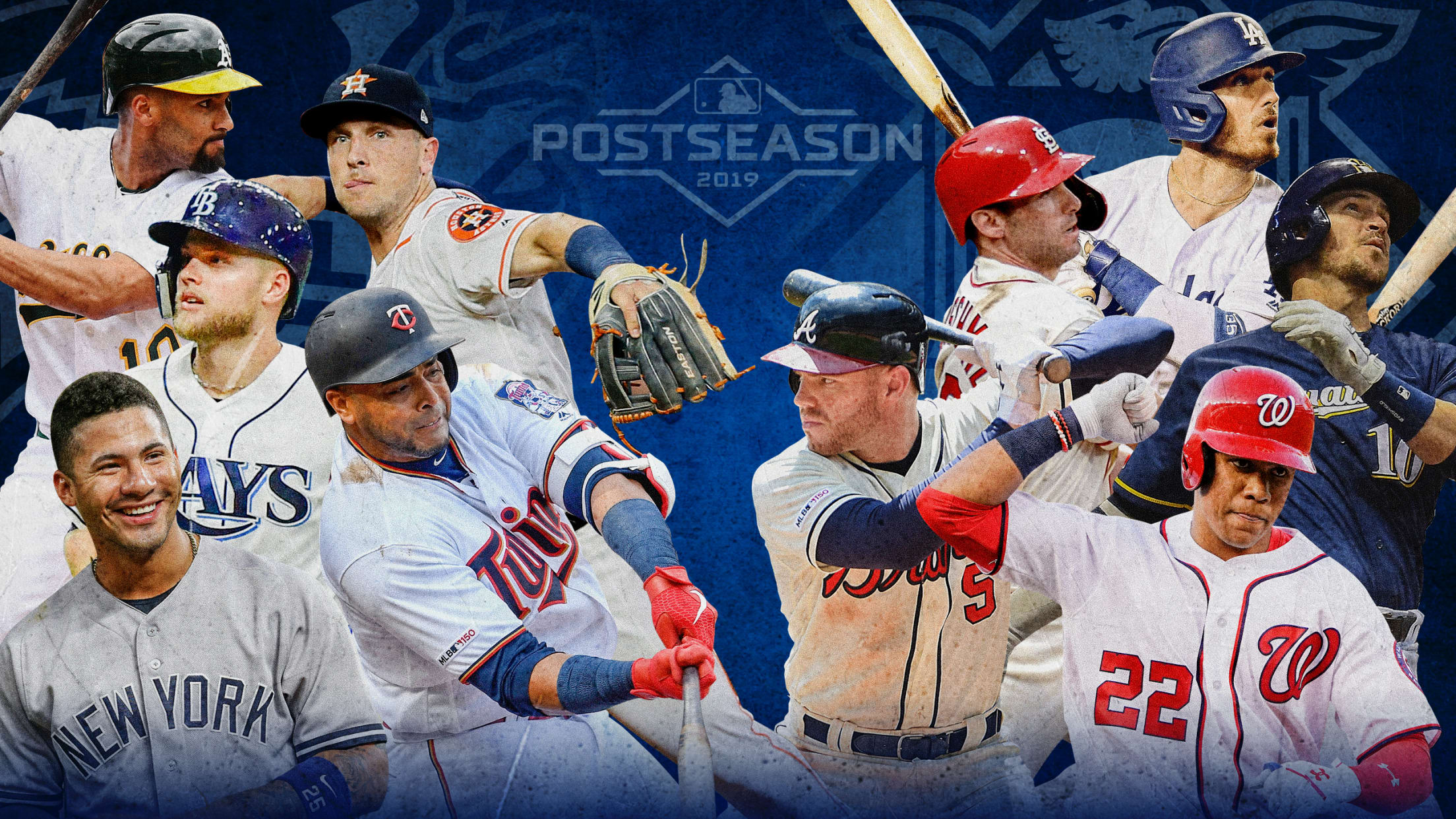 October is always the most thrilling month for Major League Baseball. The drama, the intensity of every pitch, the late nights that leave you giddily staggered the whole next day. This is baseball's month to strut its stuff. The game is at its absolute best. It's a chance for stars