A slide, leap & robbery: Laureano hits trifecta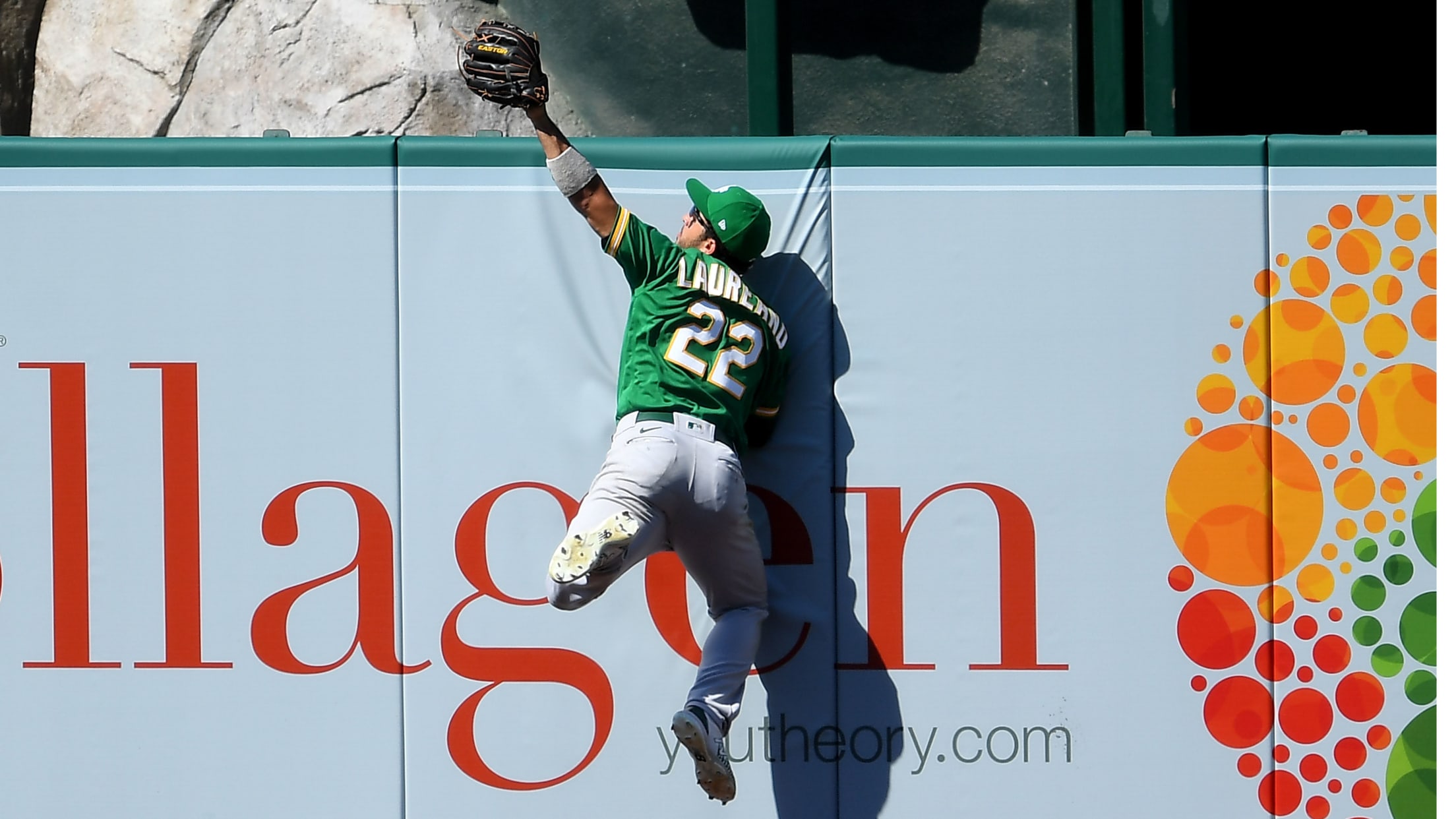 Anticipating a decision on the appeal of Ramón Laureano's six-game suspension, A's manager Bob Melvin wrote out a backup lineup card without the outfielder on Wednesday morning just in case. But Laureano was able to play, and he provided perhaps his best all-around performance of the season. Laureano's defensive prowess
Fiers struggles without full arsenal vs. Angels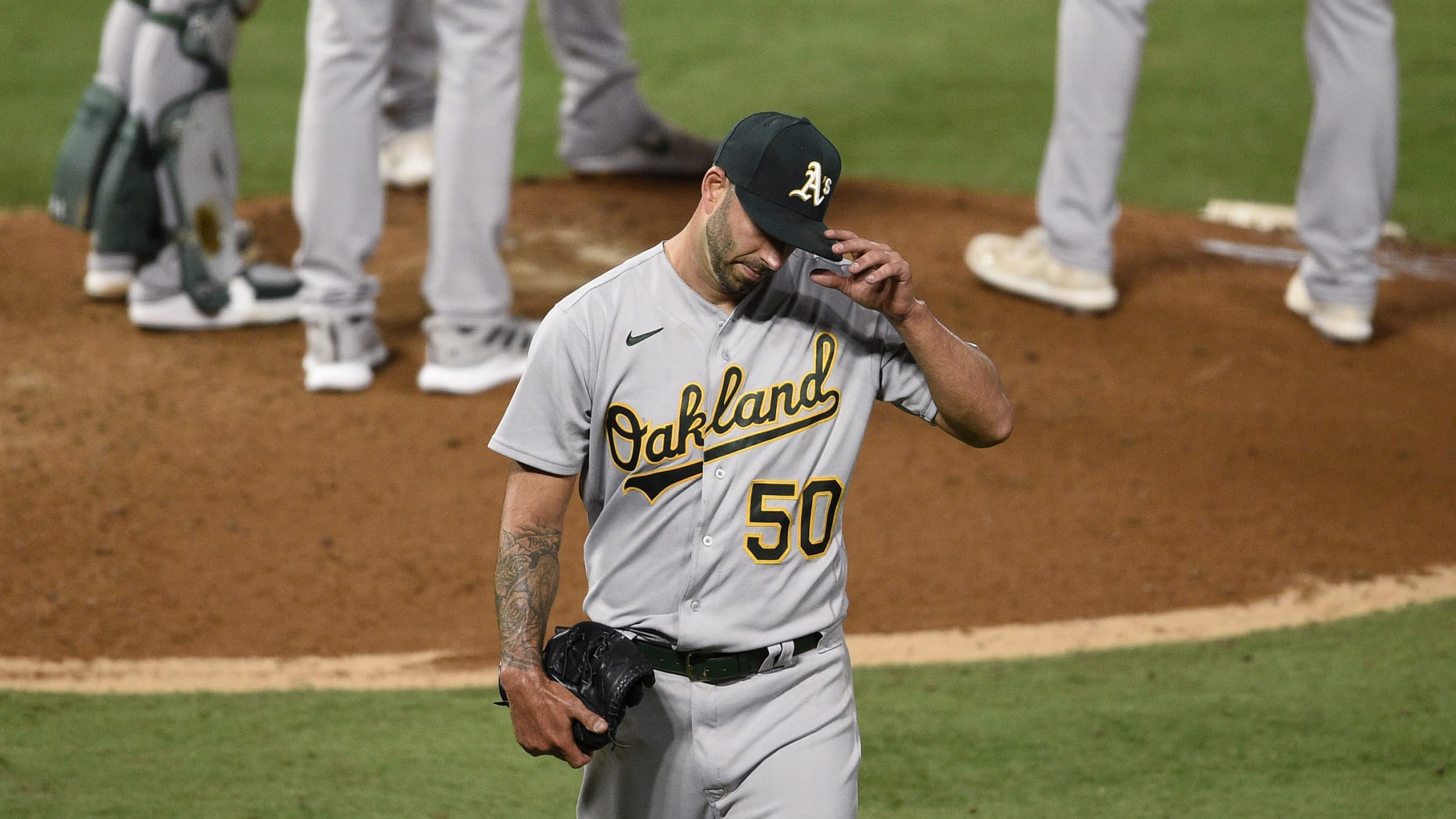 Mike Fiers has been able to offset his decreased fastball velocity over the past few years by developing a curveball with tremendous vertical movement. The pitch is essential to his success and helped him to a career-high 15 wins in 2019. That curveball had trouble finding the strike zone on
Laureano appeals 6-game suspension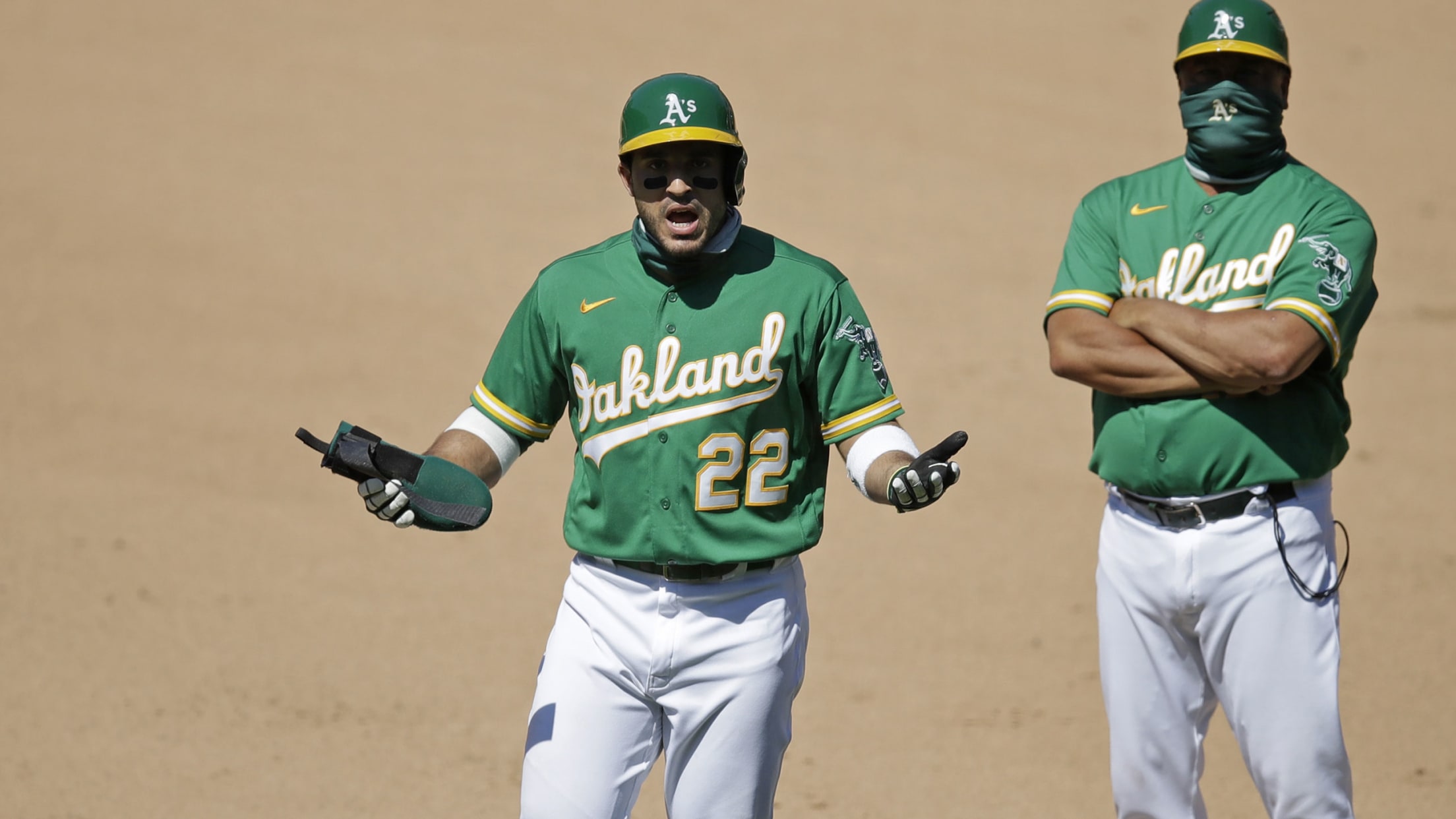 A's outfielder Ramón Laureano was suspended on Tuesday by Major League Baseball for six games for his actions in the bottom of the seventh inning of Sunday's 7-2 win A's win over the Astros. Laureano has appealed and will be available to play in Tuesday night's game against the Angels
This is MLB's most underappreciated star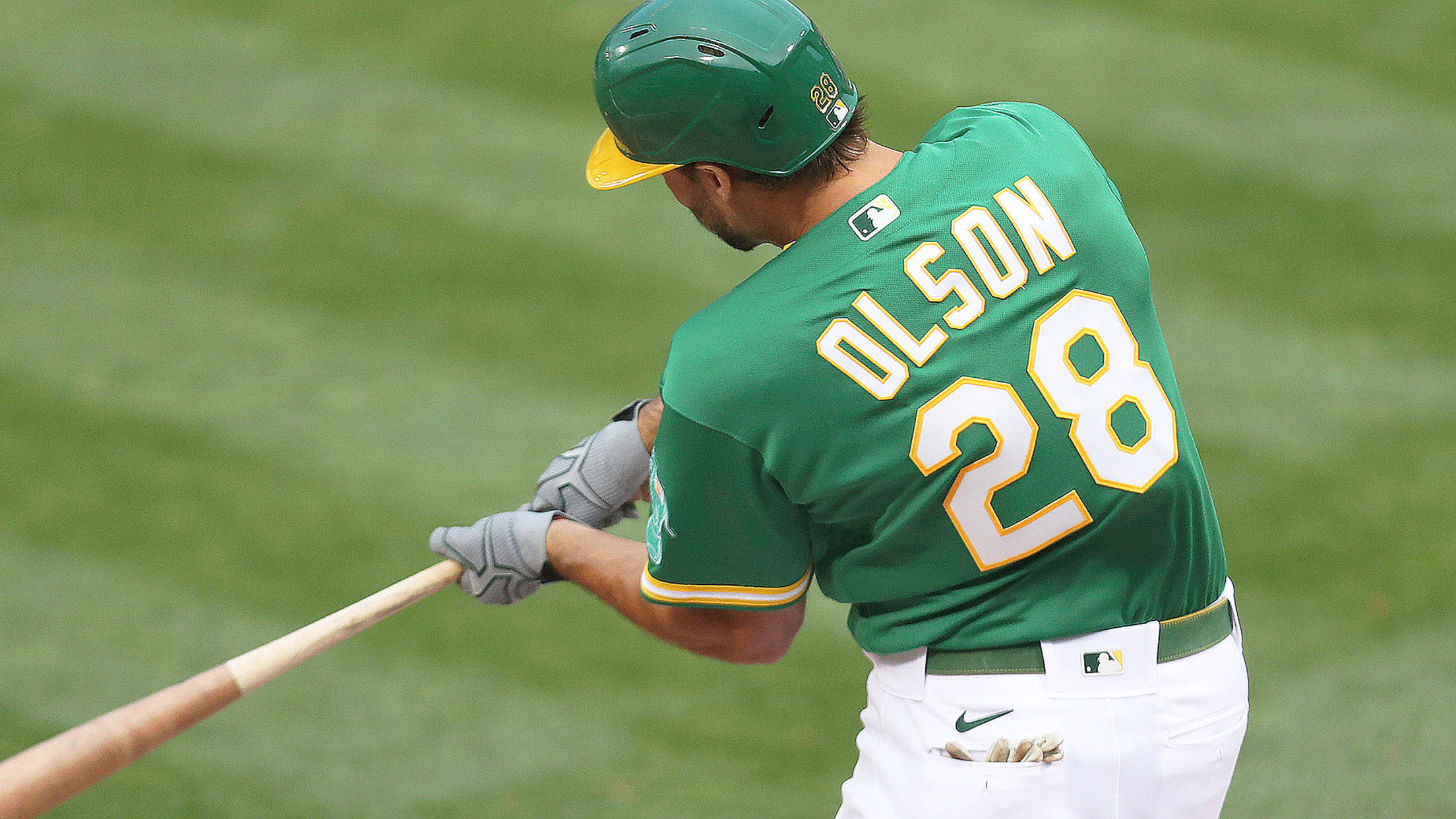 If A's first baseman Matt Olson isn't the least appreciated and least known of all the elite players in Major League Baseball, he's certainly on the short list. "That's kind of how I like it," he told reporters recently. This may be the one thing he fails at in 2020
5 slow starts not to panic about
These hard-hitting batters' fortunes are due to improve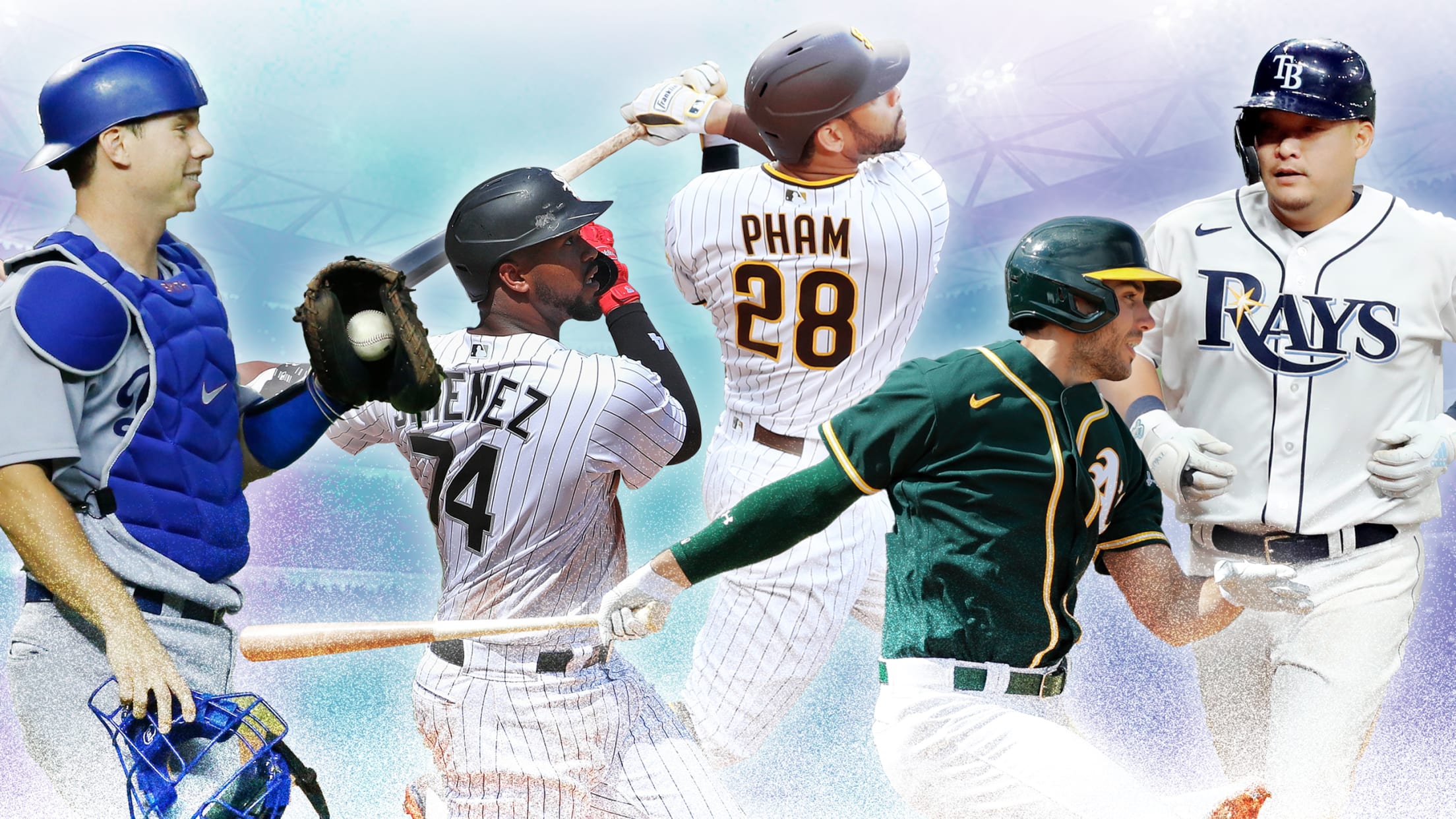 In a 60-game season that magnifies every plate appearance, a slow start now feels like a bigger deal than ever. But not every season-opening slump is created equal. Some hitters may be working through serious issues, with their approaches, swing mechanics or both. Others may simply be dealing with some
Chapman (2 HRs) erupts, but A's streak ends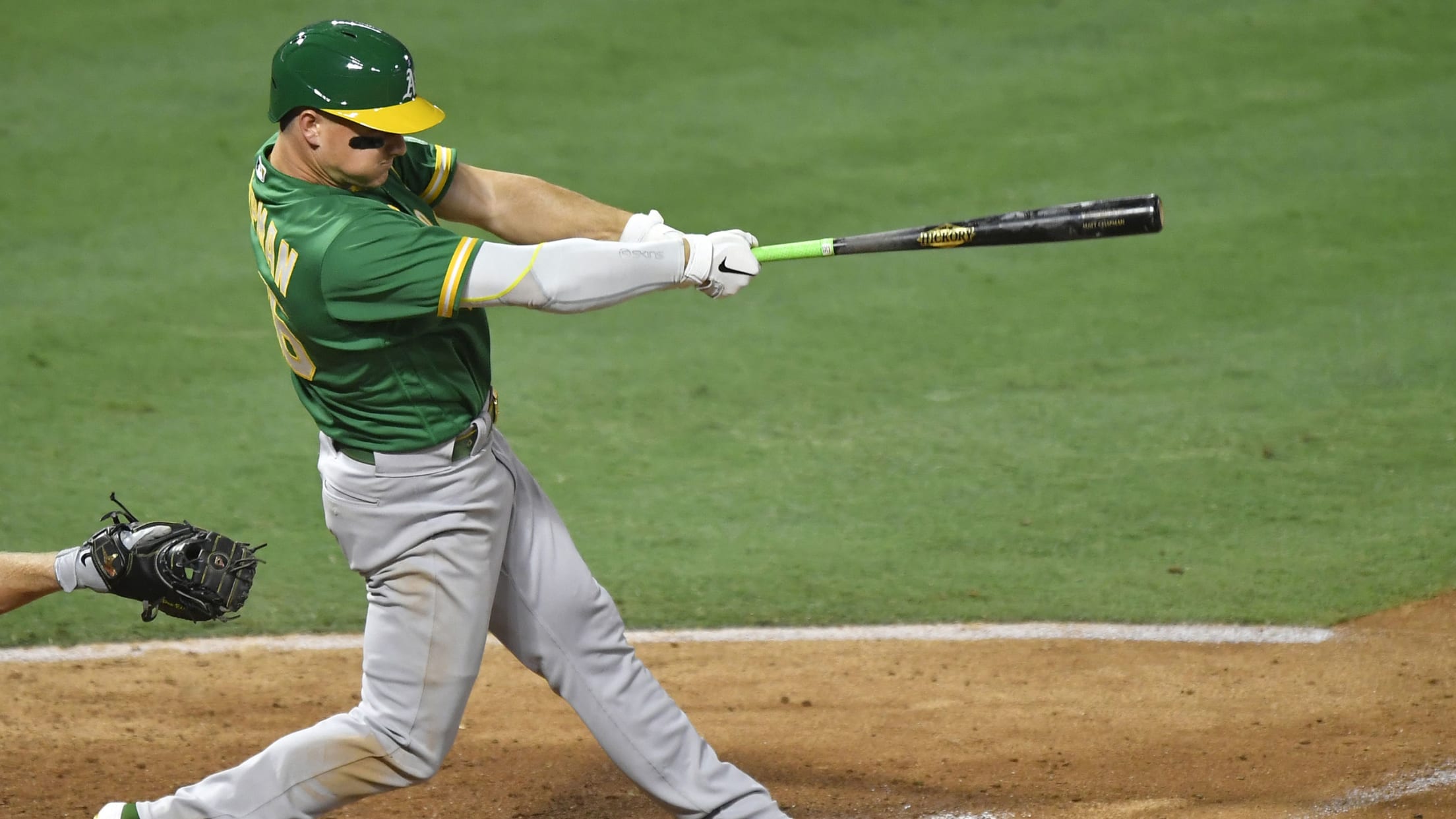 Matt Chapman nearly willed the A's to victory on his own with a career night on offense. Then, Mike Trout happened. Chapman's 3-for-5 effort with a pair of home runs and a career-high six RBIs went for naught as Trout's go-ahead solo shot in the eighth sunk the A's in
Players of the Week: Tatis, Montas
First weekly honors for Padres, A's stars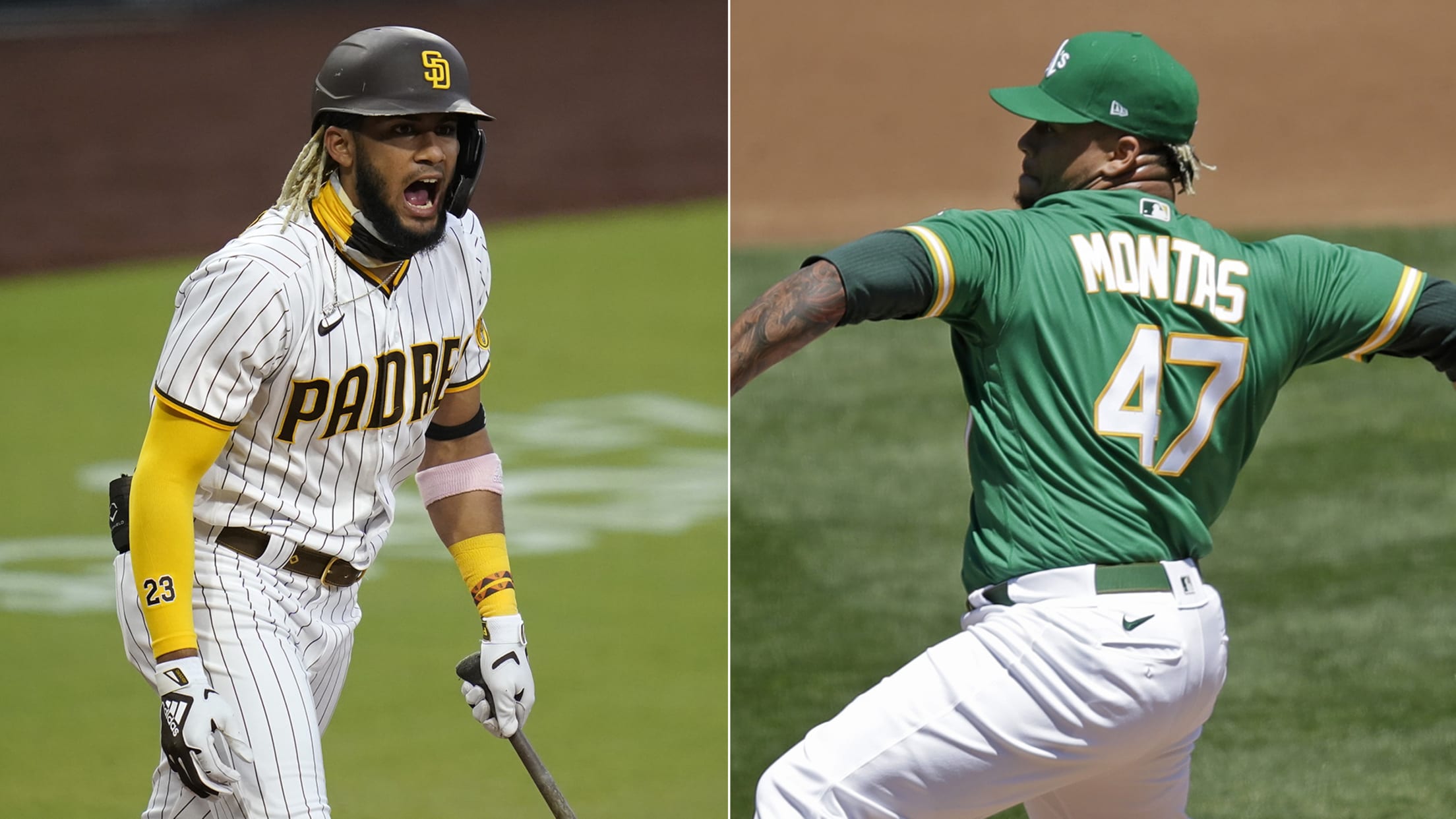 Padres shortstop Fernando Tatis Jr. and A's right-hander Frankie Montas have been named the MLB Players of the Week presented by Chevrolet on Monday. Tatis homered six times across the six games he played last week, including dingers in each of his past four contests, to give him eight round-trippers
Laureano regrets role in scuffle with Astros
OF grateful for intervention from former A's teammate Garneau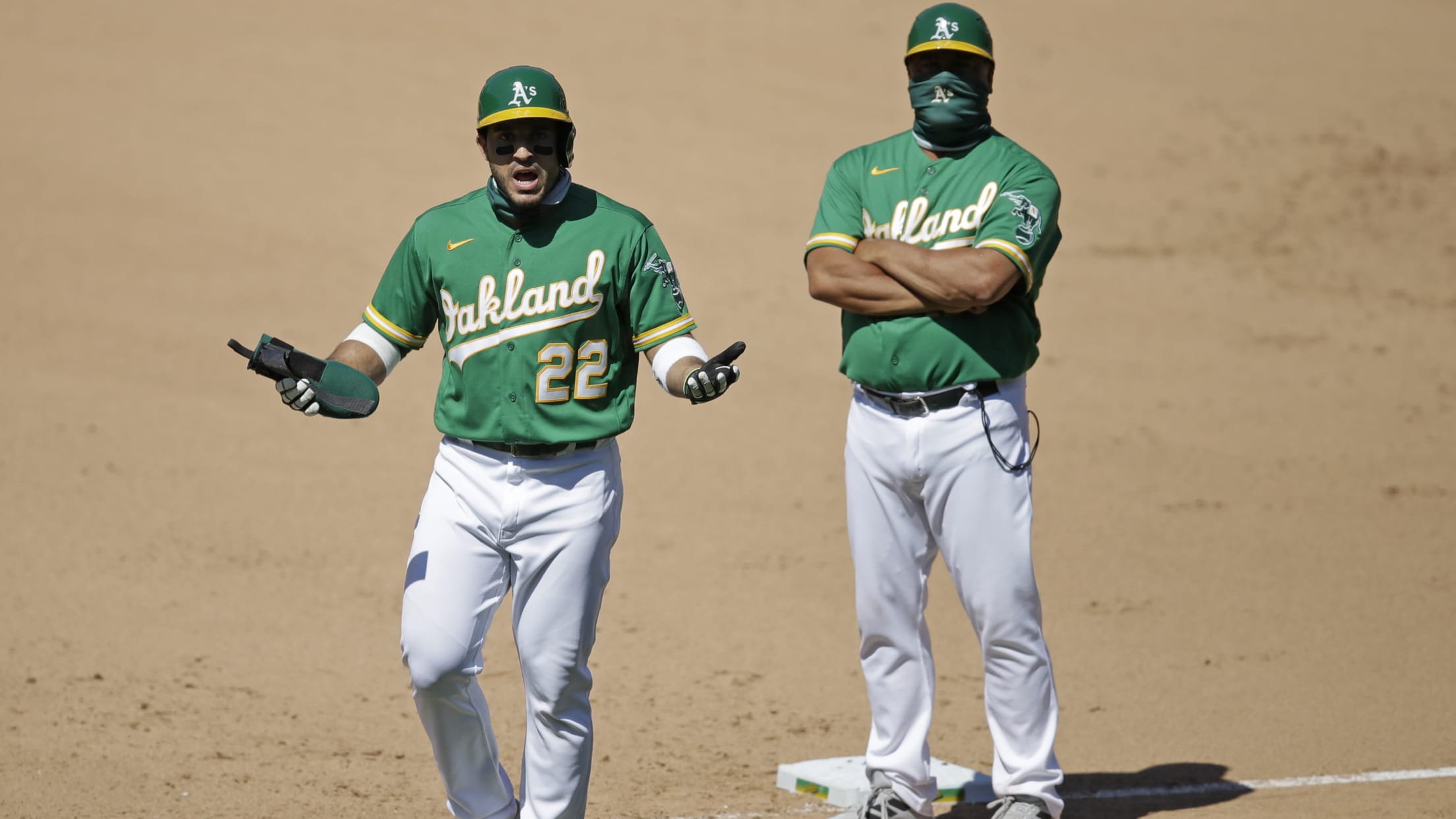 With a day to reflect on his actions that started a benches-clearing scuffle in Sunday's game against the Astros, A's outfielder Ramón Laureano expressed regret. While Laureano maintains that he only charged toward Astros hitting coach Alex Cintron as a result of the coach yelling offensive remarks about his mother,
Notes: Montas on honor; Smith turns heads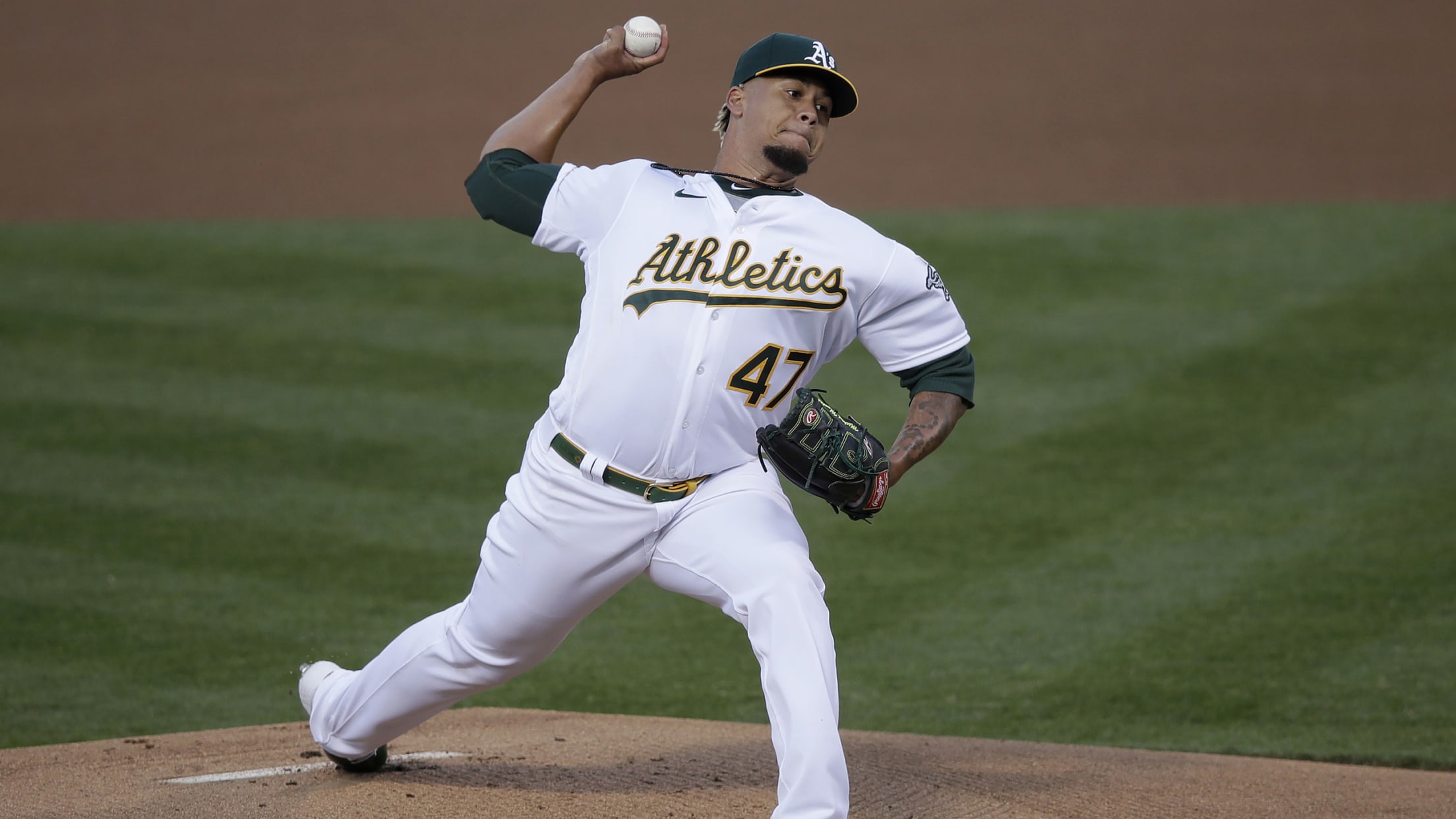 Frankie Montas is known to carry an infectious smile throughout the A's clubhouse. After learning of the first American League Player of the Week Award of his career on Monday morning, that smile grew a bit larger. A week of domination was rewarded as Montas went 2-0 in starts against
Benches clear during Astros-A's showdown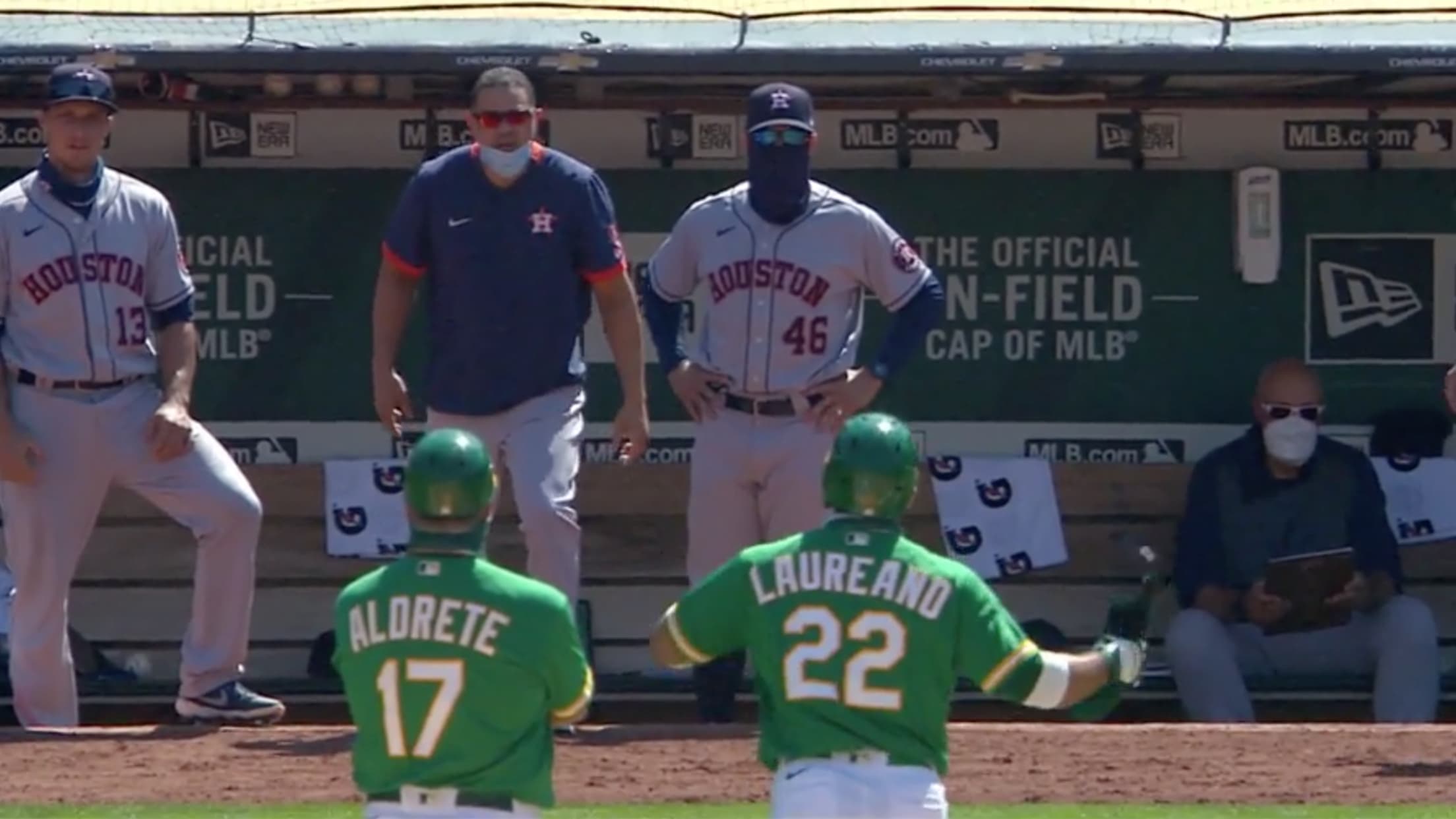 OAKLAND -- Benches emptied and tempers flared in the seventh inning of Sunday's 7-2 A's win over the Astros at the Coliseum after A's outfielder Ramón Laureano took exception to being hit by a pitch for the second time in the game and charged the Astros' dugout following a shouting
Luzardo's first MLB win is A's 9th straight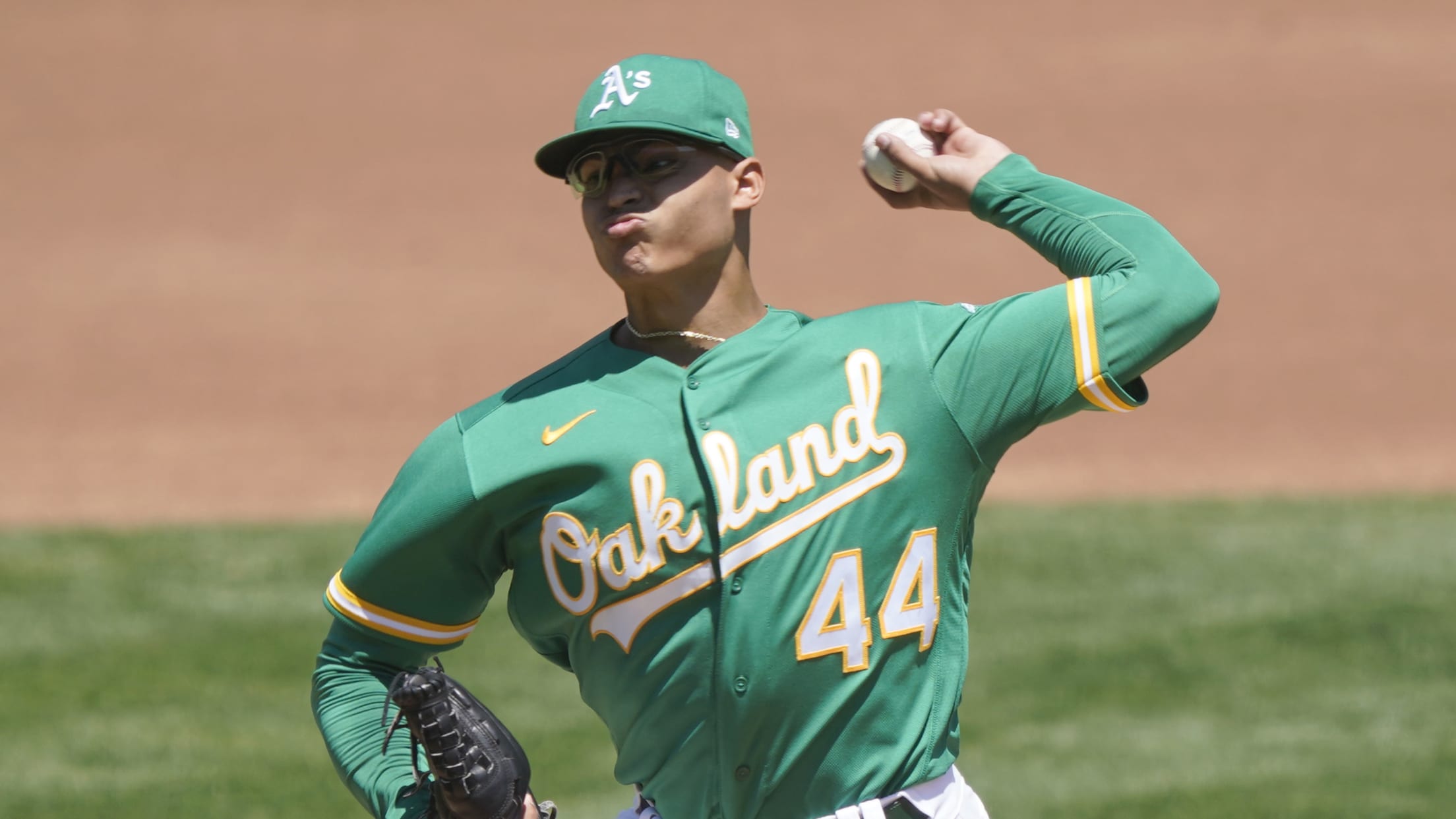 OAKLAND -- The A's entered 2020 with their sights set on dethroning the Astros for American League West supremacy. In their first series of the season against the division kingpins, they made a statement. The A's jumped on Cristian Javier early to provide a nice cushion for Jesús Luzardo, who
Luzardo ranks No. 6 on list of hottest rookies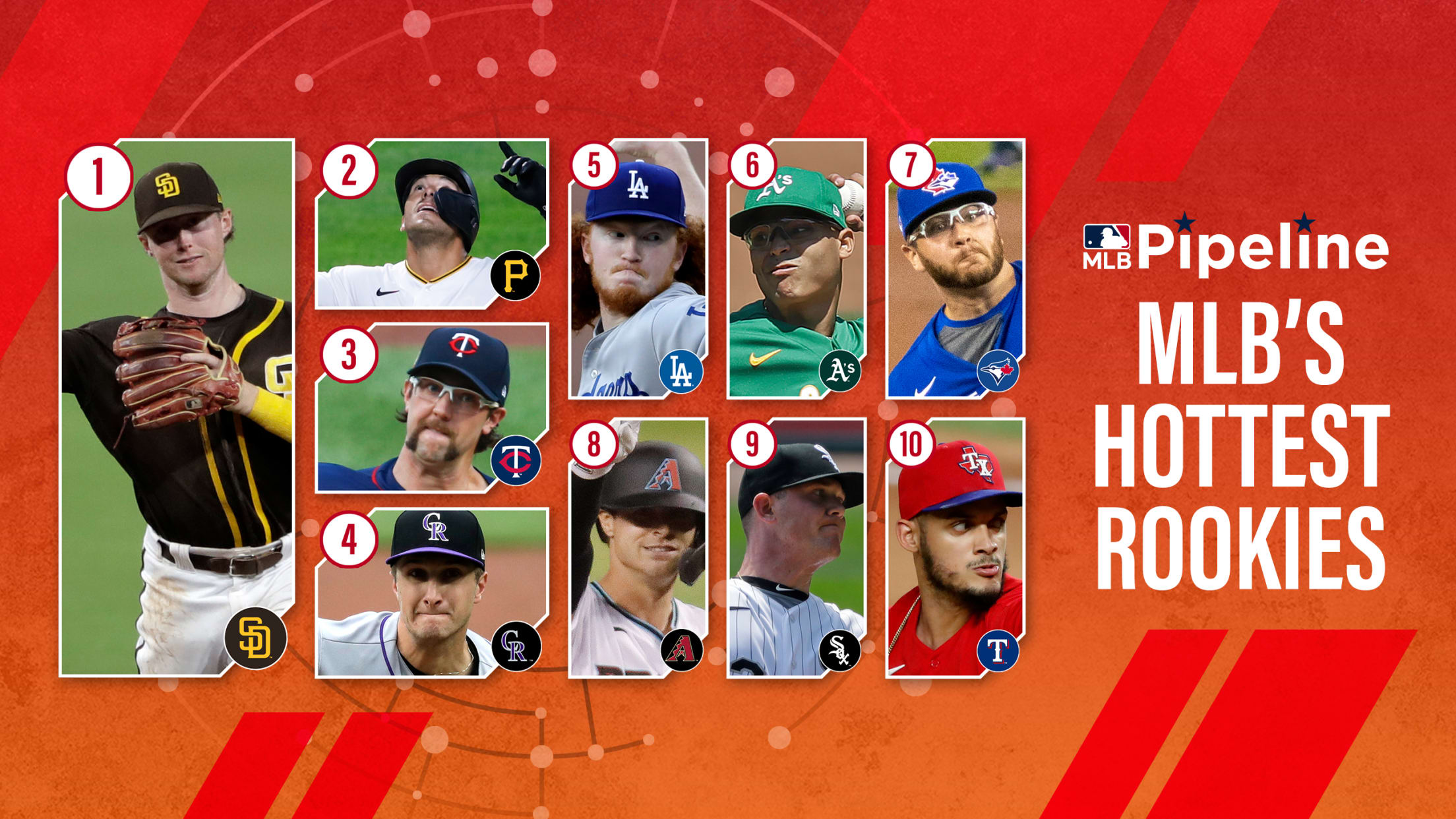 Jake Cronenworth offers intrigue as a legitimate two-way player with solid hitting ability and speed, not to mention a fastball that climbs into the mid-90s. Yet he was the most anonymous and featured the least upside of the four players involved in a December trade that sent him and Tommy
We have a new No. 1 atop Power Rankings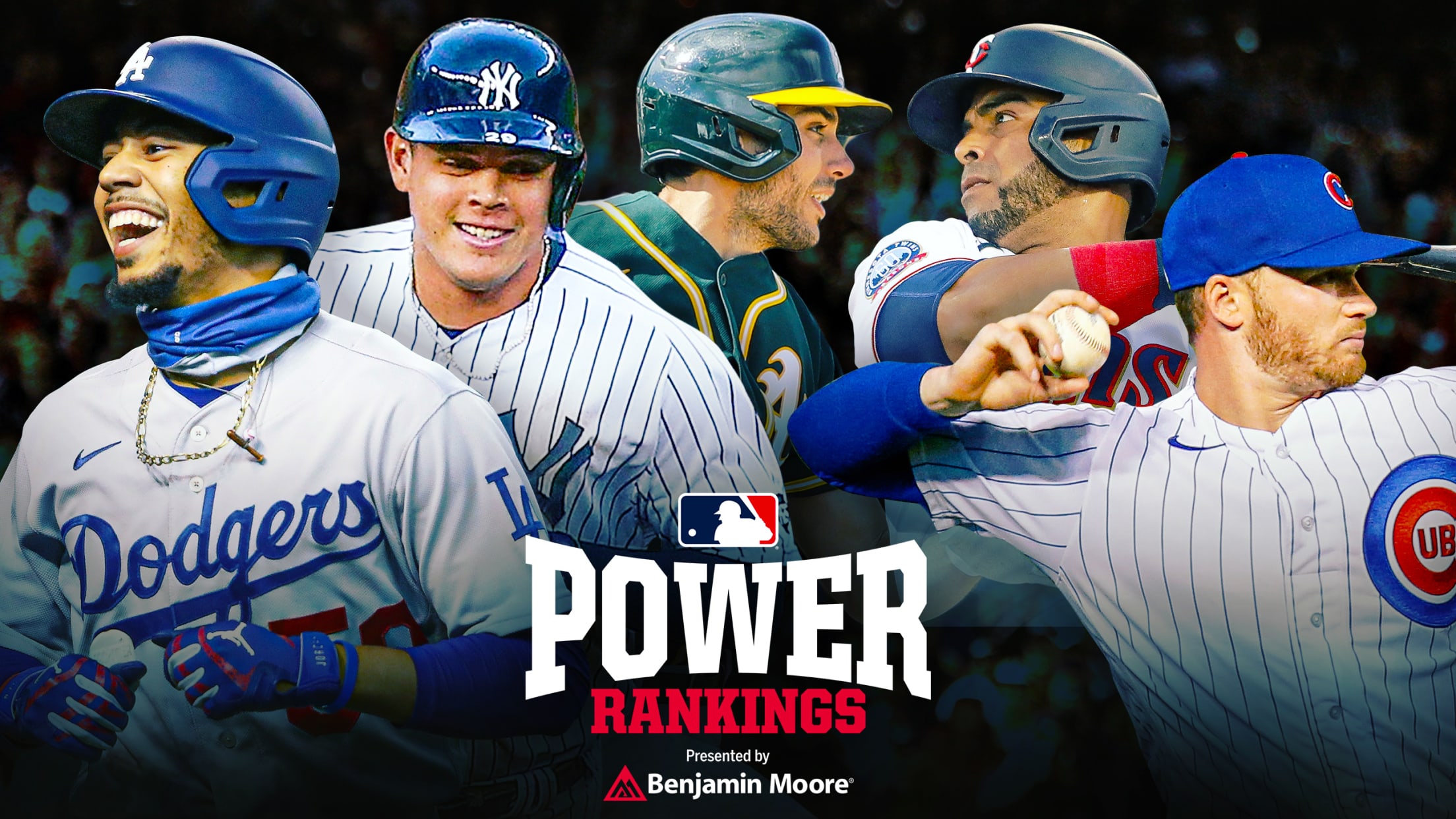 Each week, we've opened up our Power Rankings discussion with a rundown of what's unusual, unexpected or downright strange in this odd season. So this time, let's instead examine what about the season so far hasn't been surprising. That list isn't as long. We knew the Dodgers and Yankees had
Here is each team's top MVP candidate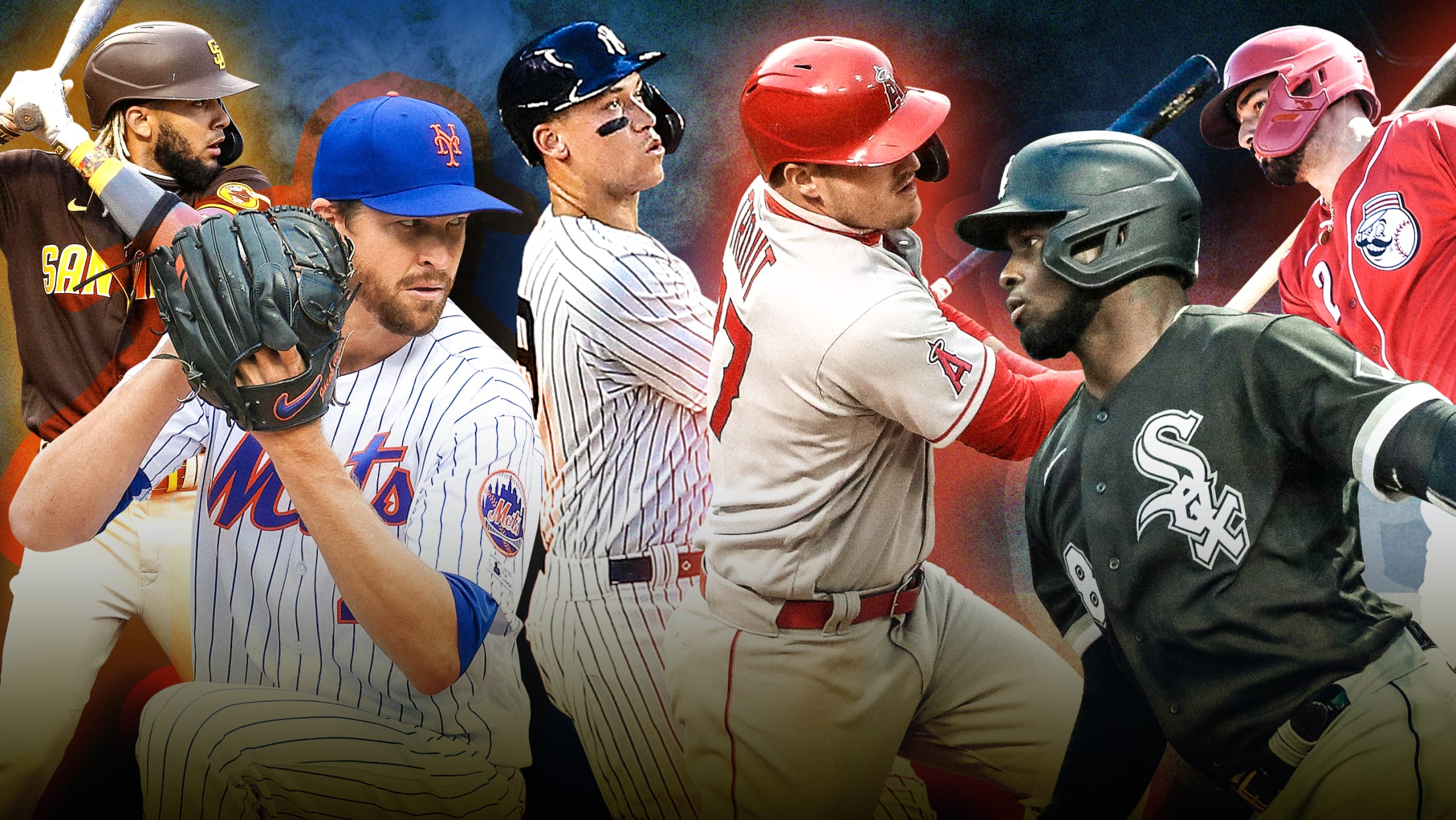 For some teams, we are 25 percent of the way through this season. Amazing, right? That means anyone who is on a hot streak now, and can maintain it, has a legitimate chance to win a Most Valuable Player Award, an honor that lasts forever … no matter how unusual
Montas 'feeling it' in A's 8th straight win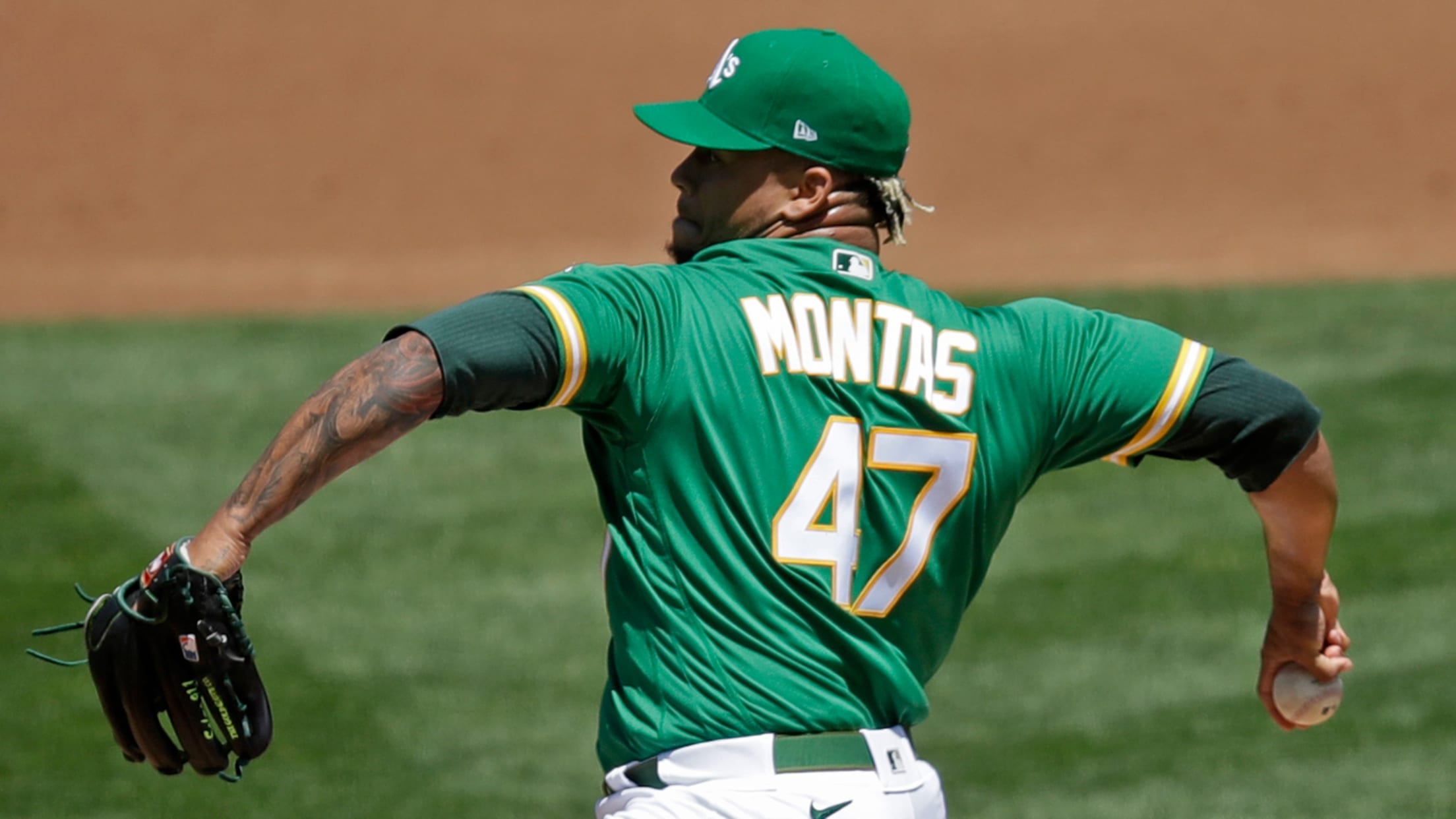 OAKLAND -- Frankie Montas embraced the first Opening Day assignment of his career this season as an opportunity to prove that he can be a No. 1 pitcher in this league. Four starts in, he's looked every bit of the ace the A's were hoping for. The A's rode another
A's walk off in 13th for 7th straight win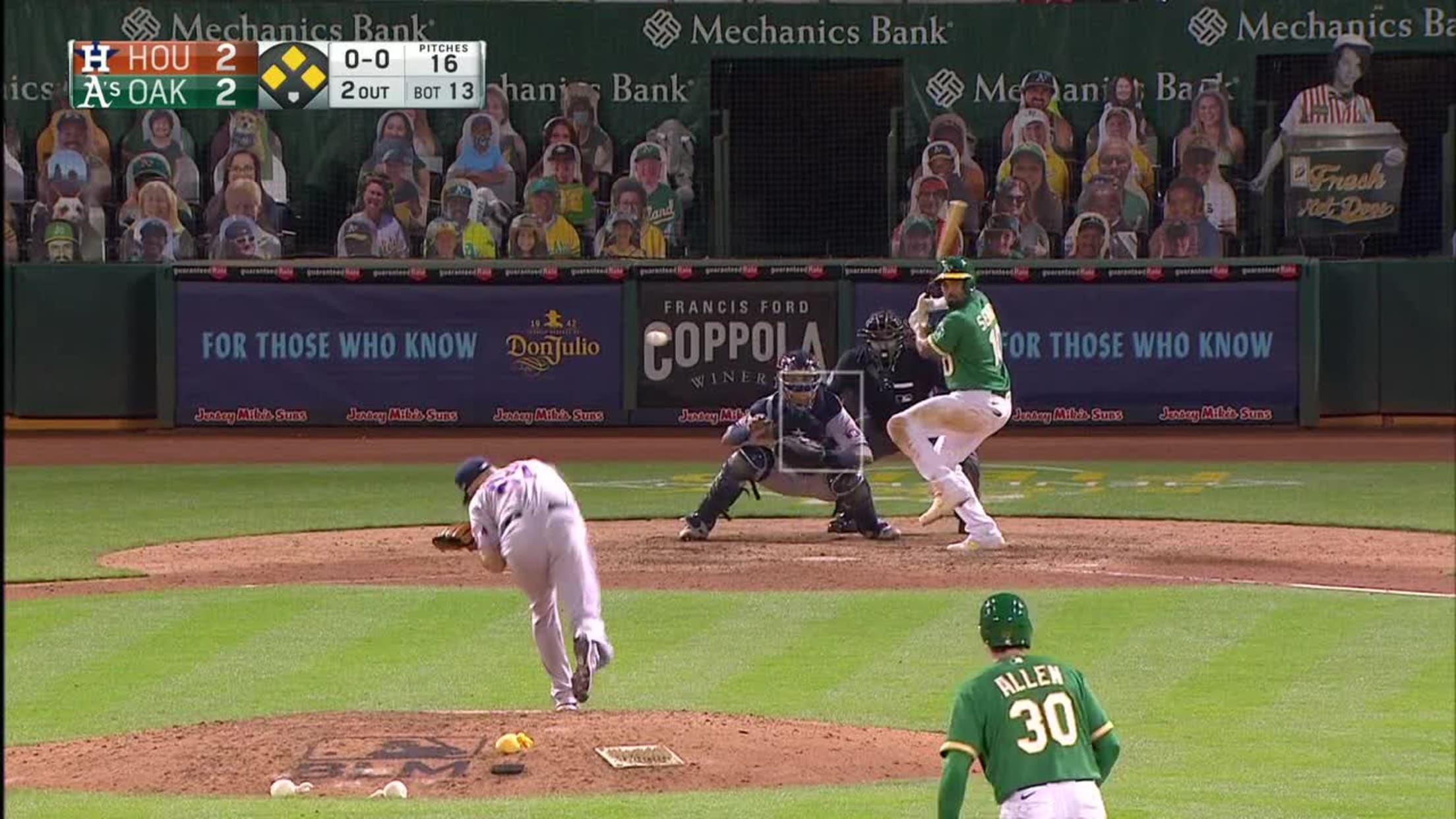 OAKLAND -- It took the game going to extra innings for the A's to come up with that elusive clutch hit. After the A's tallied just one hit with runners in scoring position through the first 12 innings Friday night at the Coliseum, Austin Allen had a two-out, two-strike game-tying
Prospect projection: Who'll be tops in 2022?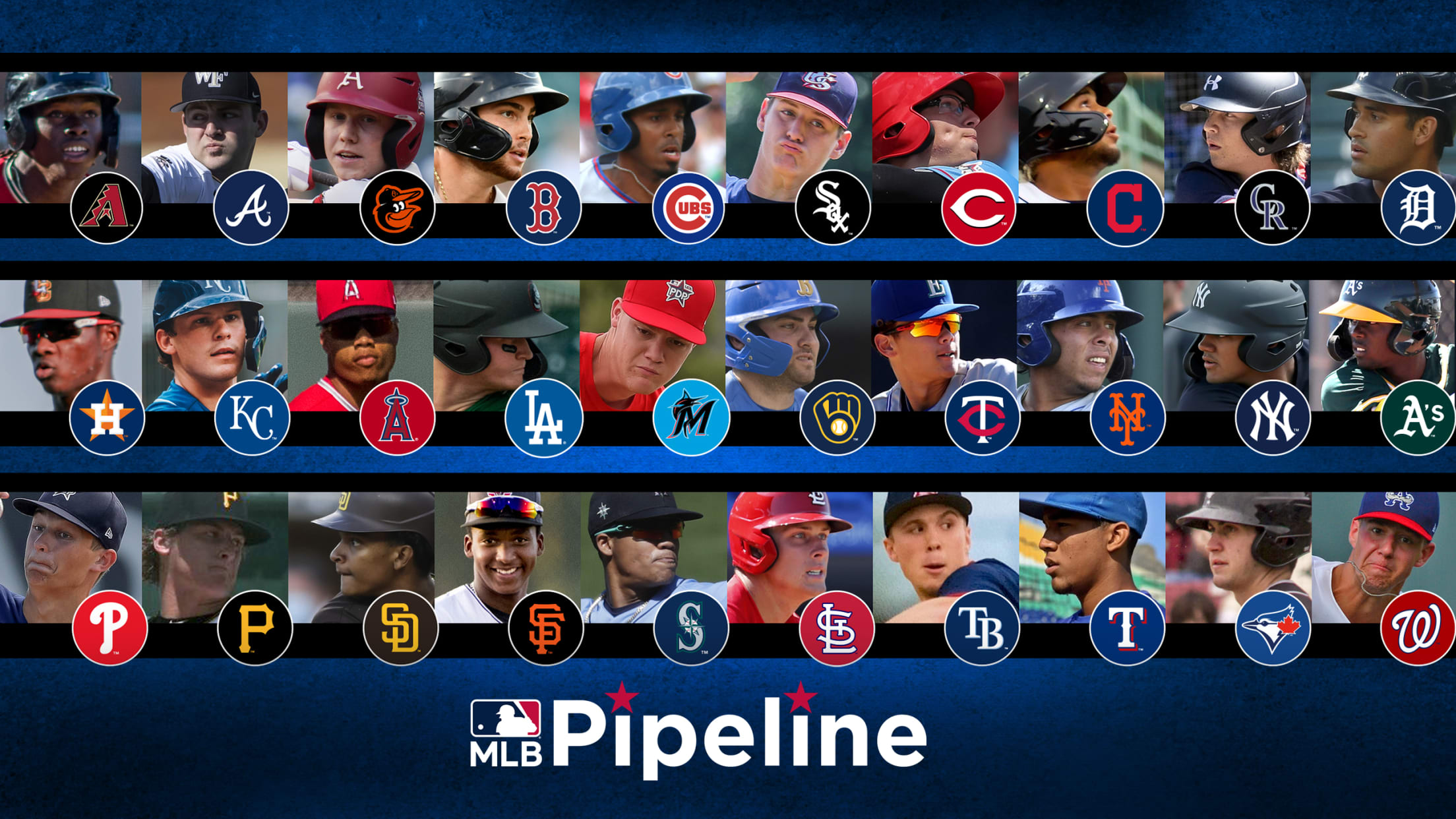 This week marked the arrival of MLB Pipeline's midseason update of our Top 100 Prospects list, as well as every team's Top 30 list. But unlike previous years, in which we exercised free range in adjusting our midseason lists, this year's re-rank focused solely on adding 2020 Draft picks. We
Notes: Davis adjusts; A's back bench coach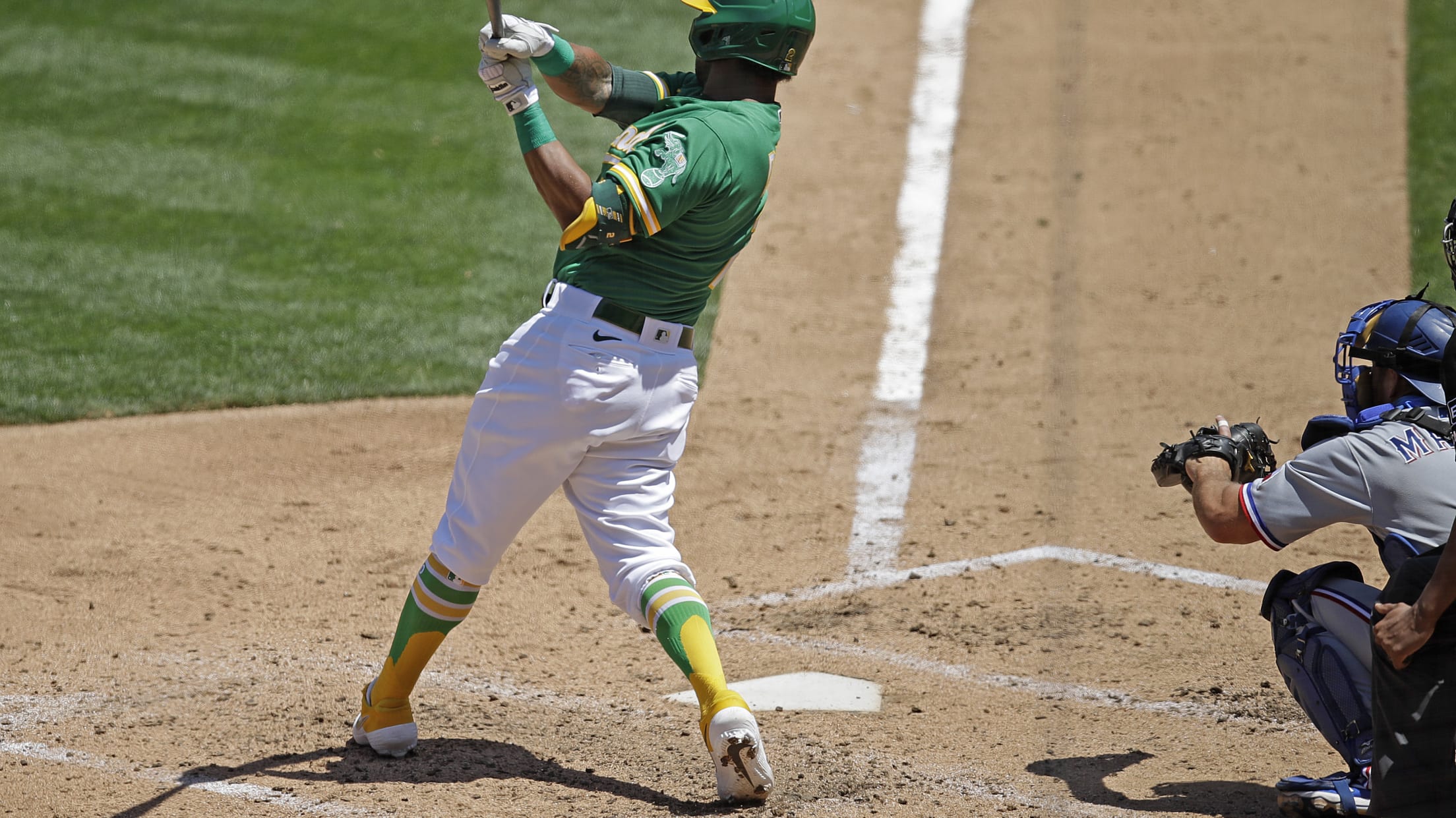 OAKLAND -- From 2016-18, Khris Davis was baseball's most prolific power hitter. That trend was continuing in '19 until May 5, when he sustained a left hip contusion after running into a railing along the left-field line at PNC Park. With 10 home runs through 35 games at the point
Powerful A's sweep series with small ball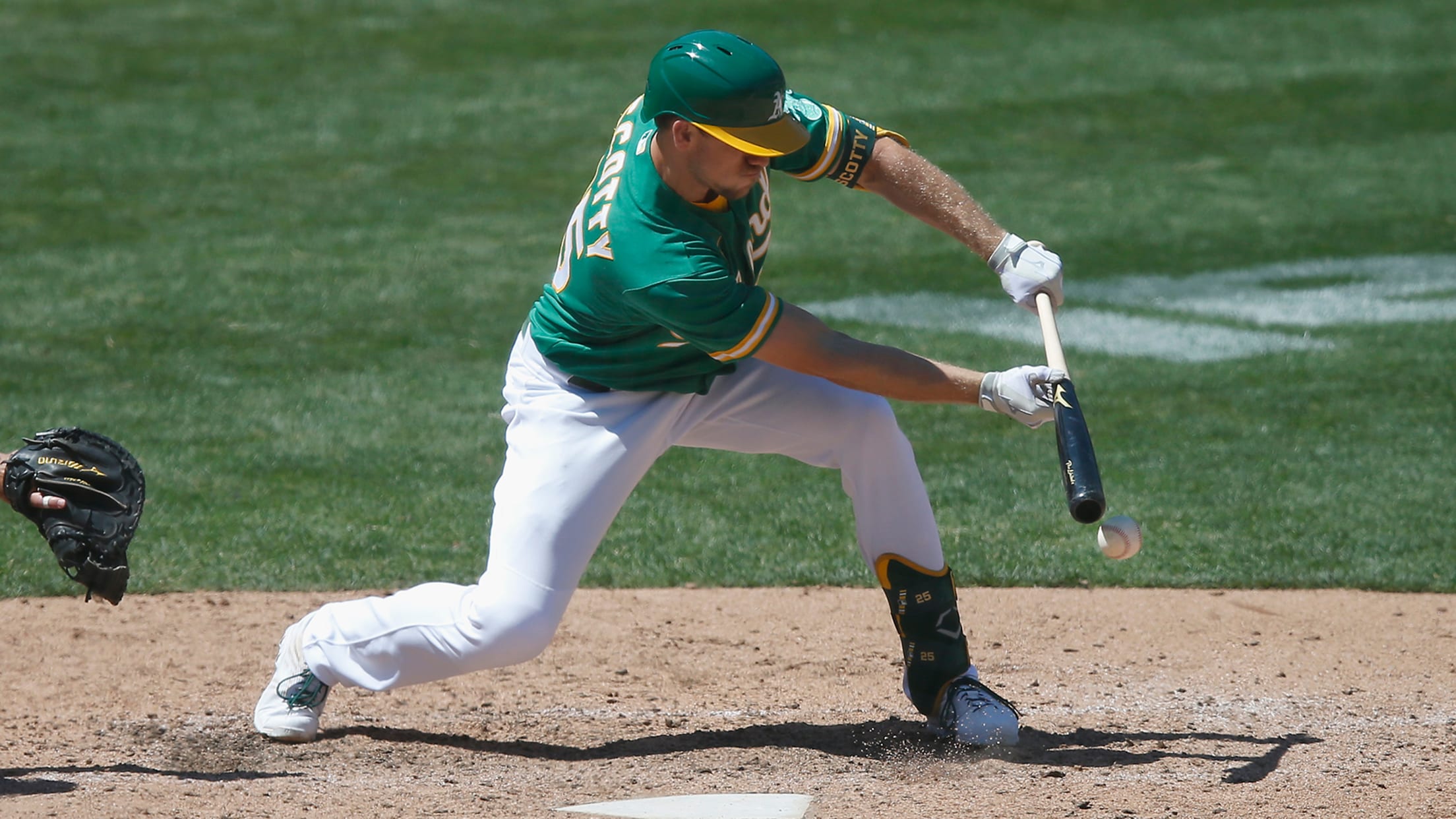 OAKLAND -- Home runs have fueled much of the A's early-season success. But it was a rare showing of small ball that provided a key run in Thursday's 6-4 win over the Rangers.
Olson's new 'stache leading to power surge?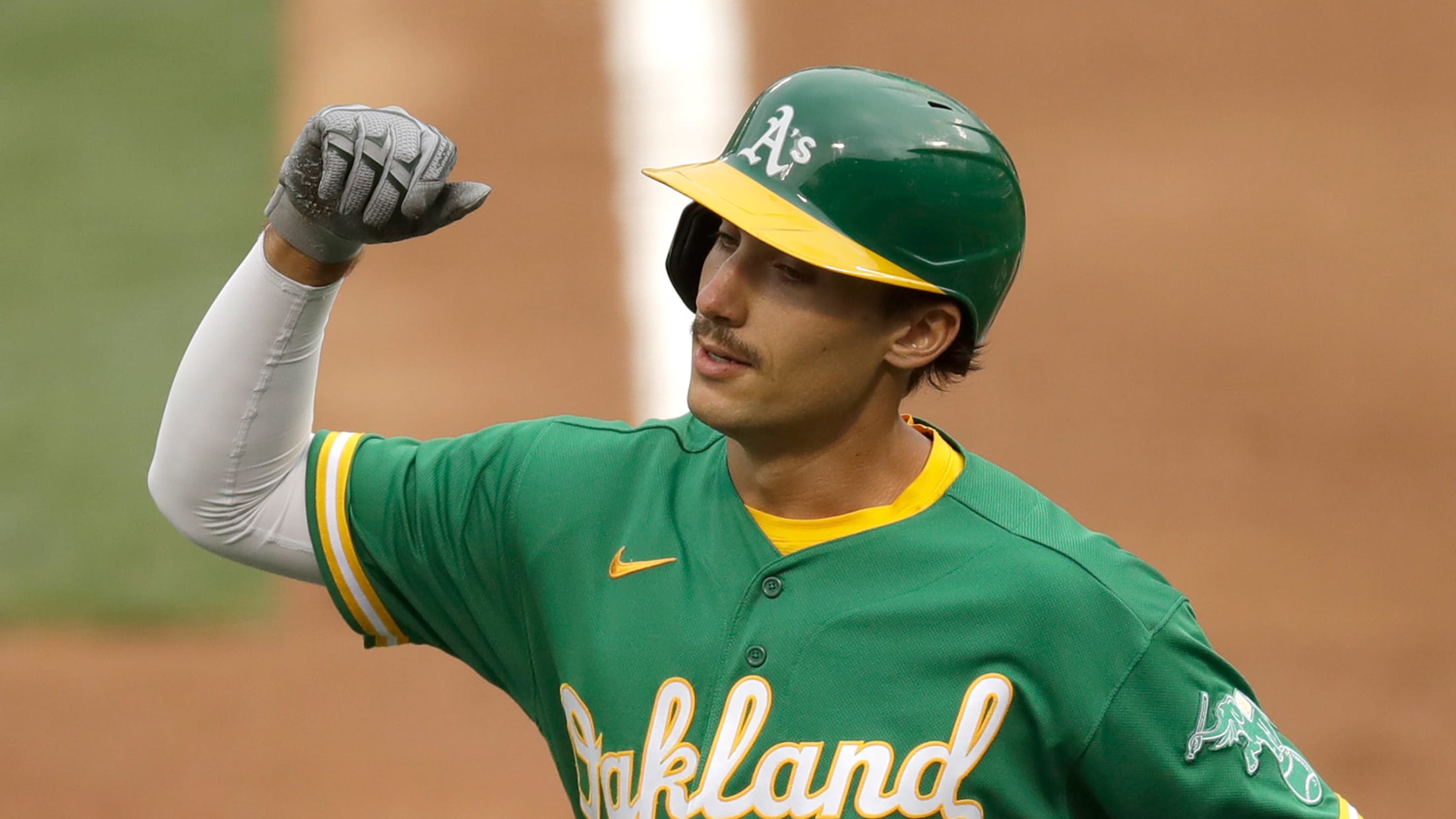 OAKLAND -- Matt Olson is once again proving that baseball is a game filled with superstitions. Entering Wednesday night's 6-4 win over the Rangers in a 1-for-20 slump over his previous six games, Olson decided it was time for a change. He ditched his usual clean-shaven look in favor of
Allen's 1st career HR lifts A's to 5th straight W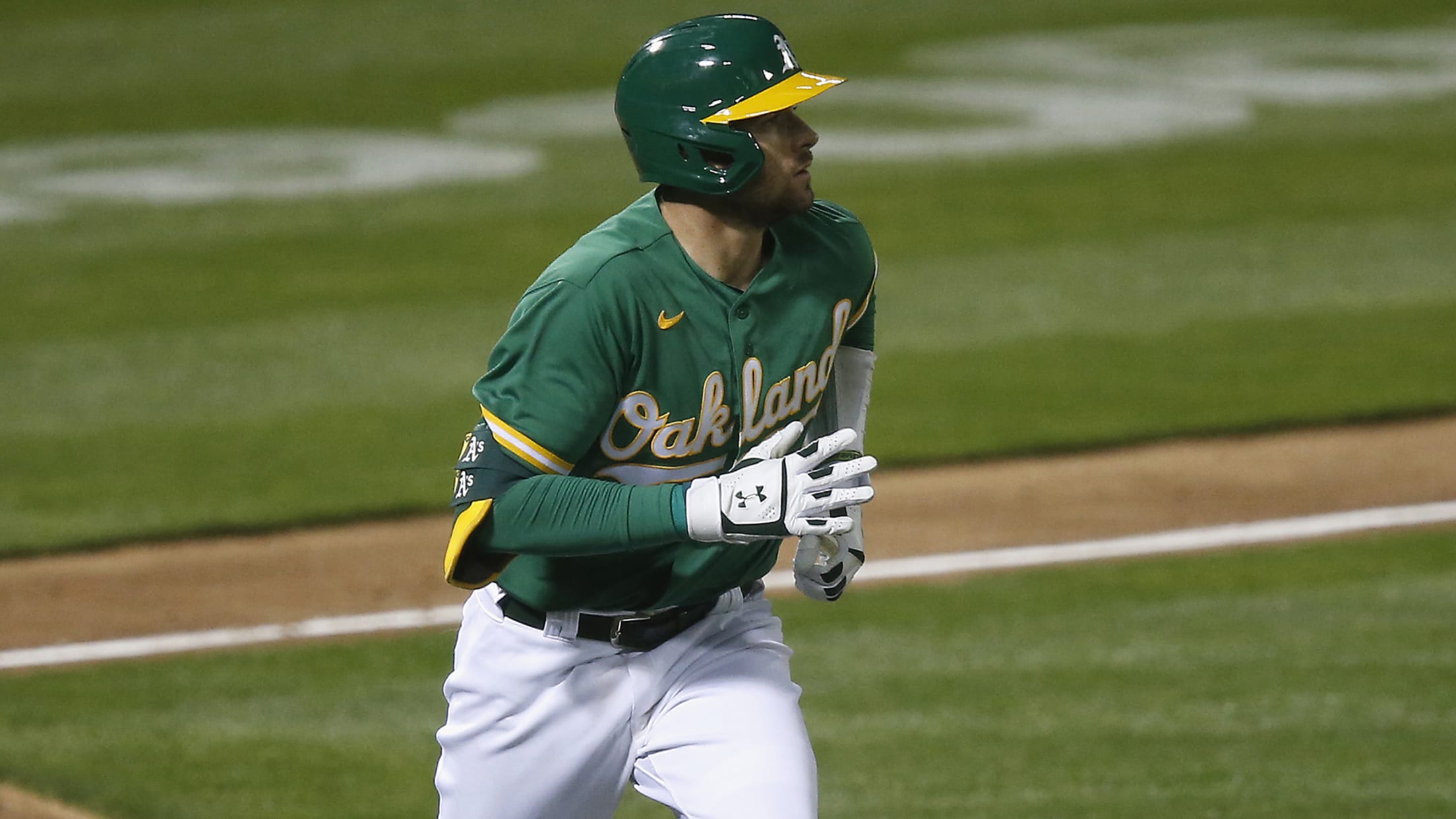 OAKLAND -- Every newcomer is in search of that first big moment to make them feel like they are truly a part of the team. That moment finally came for Austin Allen. After a quiet start to his first season with the A's, Allen was at the forefront of Wednesday