5 AL West prospects to watch early in 2019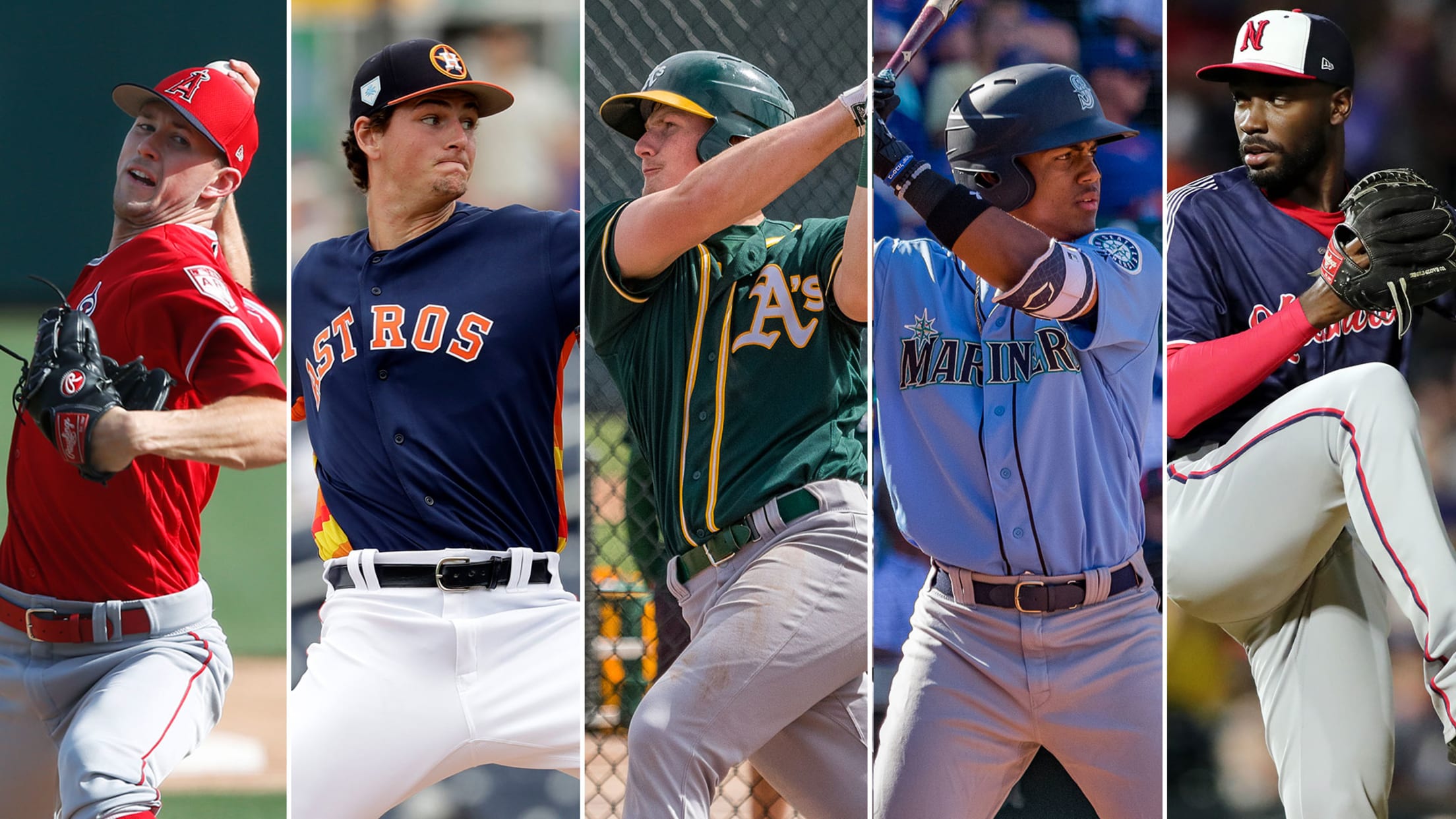 The Minor League baseball season is under way and now is the time to start monitoring prospects, as many could have an impact this season in the American League West. Of MLB Pipeline's Top 100 prospects, 17 are with organizations in the division, but even those not ranked among the
Starting spots for Athletics' Top 30 prospects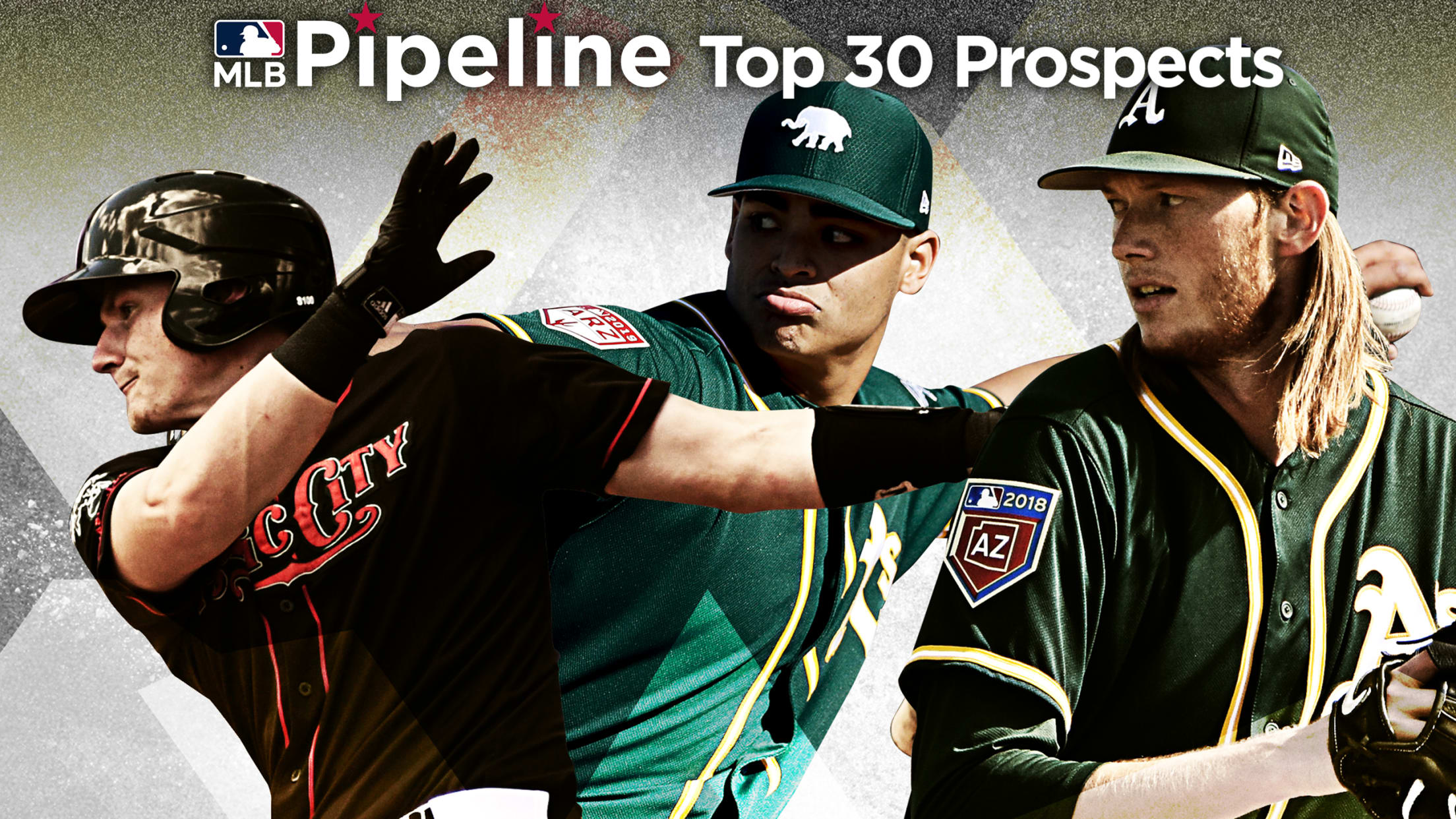 With the 2019 Minor League Baseball season getting underway, here's a look at where the A's Top 30 prospects are starting the year. We also identify the prospect who just missed the Top 30 list, a player who didn't make the big league Opening Day roster but should make an
A's shut down Luzardo (shoulder) 4-6 weeks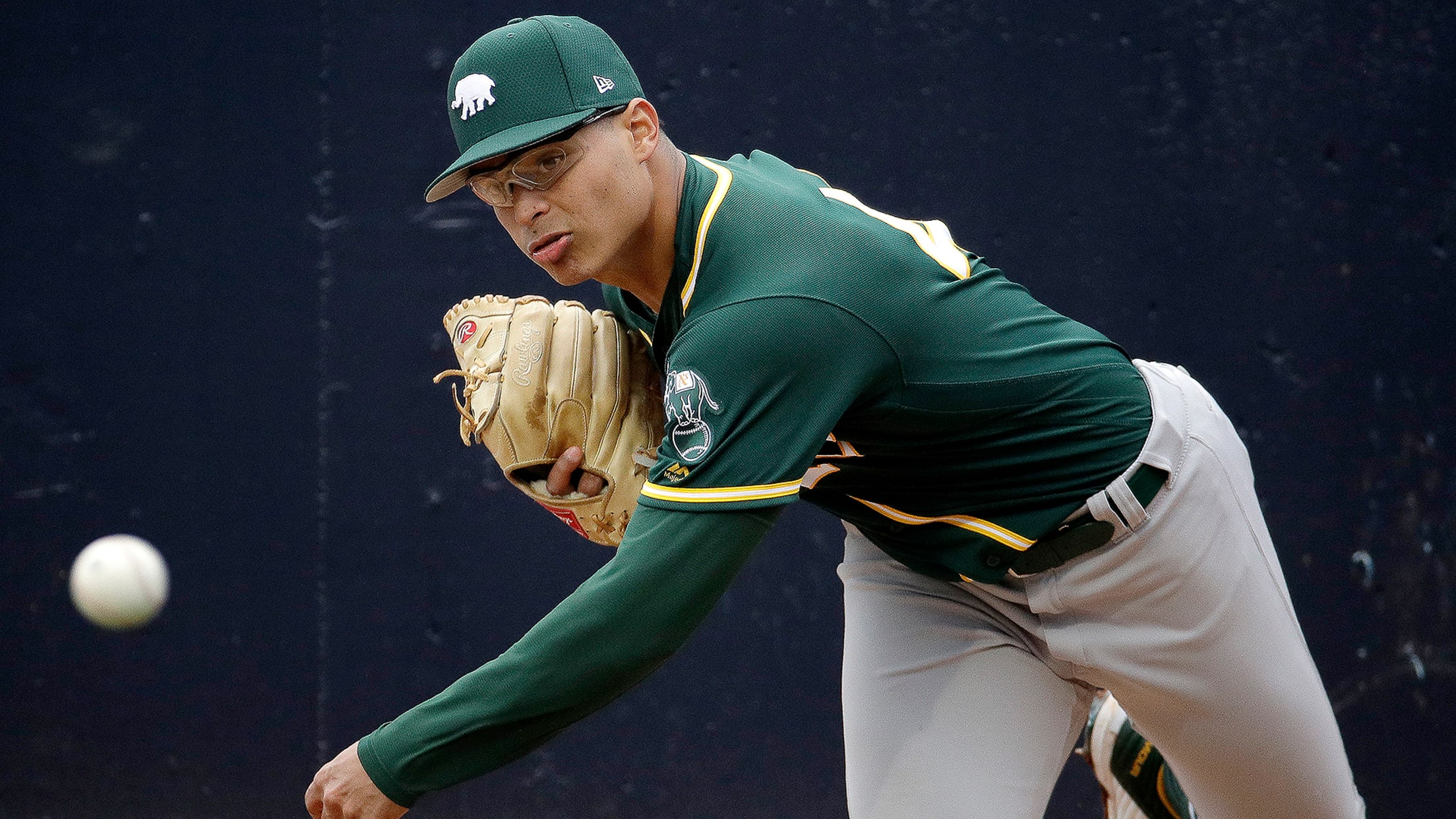 TOKYO -- A's top prospect Jesus Luzardo is no longer an Opening Day rotation option. The much-hyped lefty has been shut down with a muscle strain in his left shoulder for four to six weeks, A's general manager David Forst announced prior to Thursday's Opening Series finale with the Mariners
A's farm still strong in OF despite loss of Murray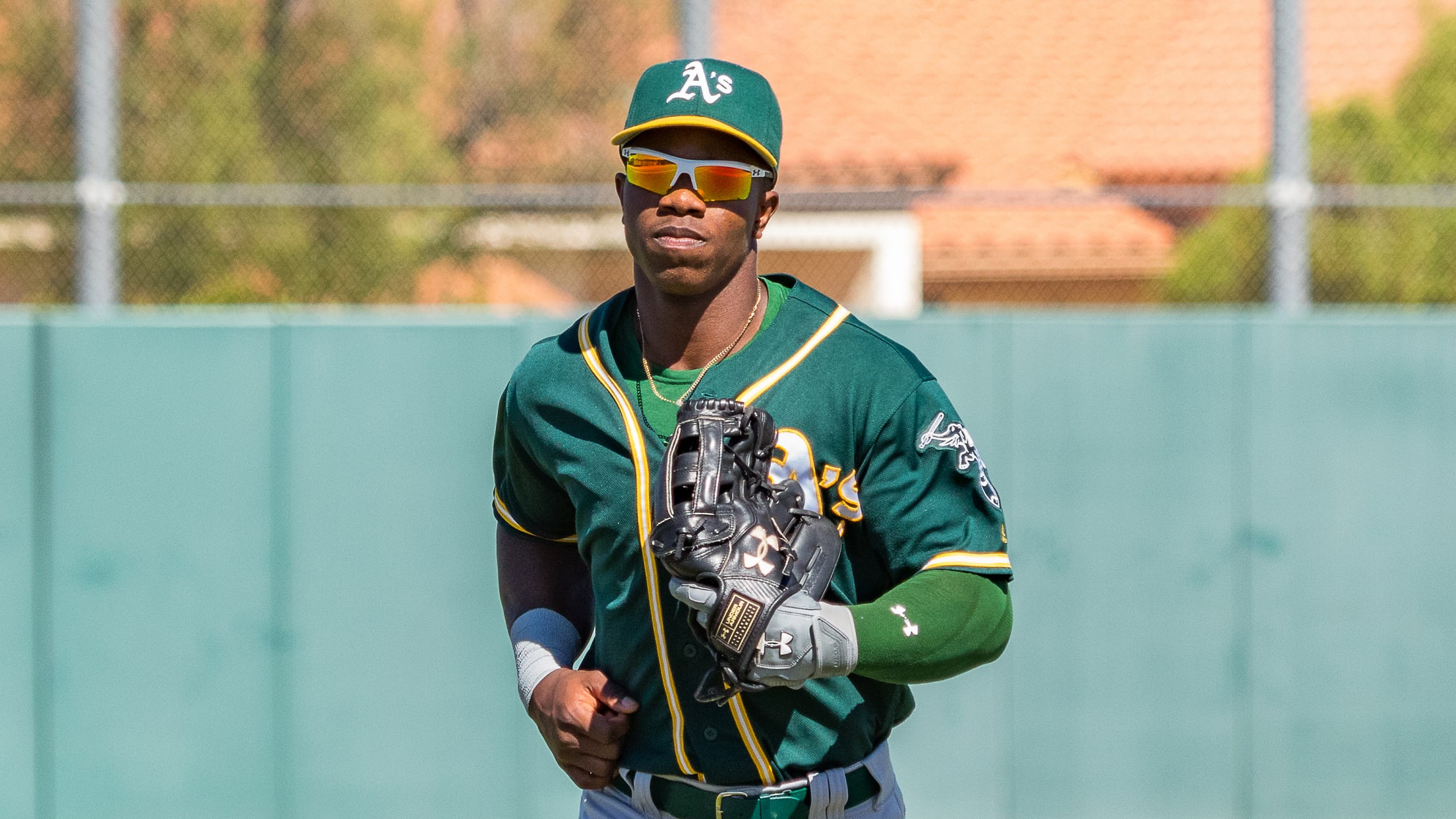 MESA, Ariz. -- No question, losing Kyler Murray to the NFL was a blow to the Athletics, who spent the No. 9 overall selection in the 2018 Draft and a $4.66 million bonus on him last June. They got most of their money back but lost the pick and an
After adjustments, A's Beck focused on power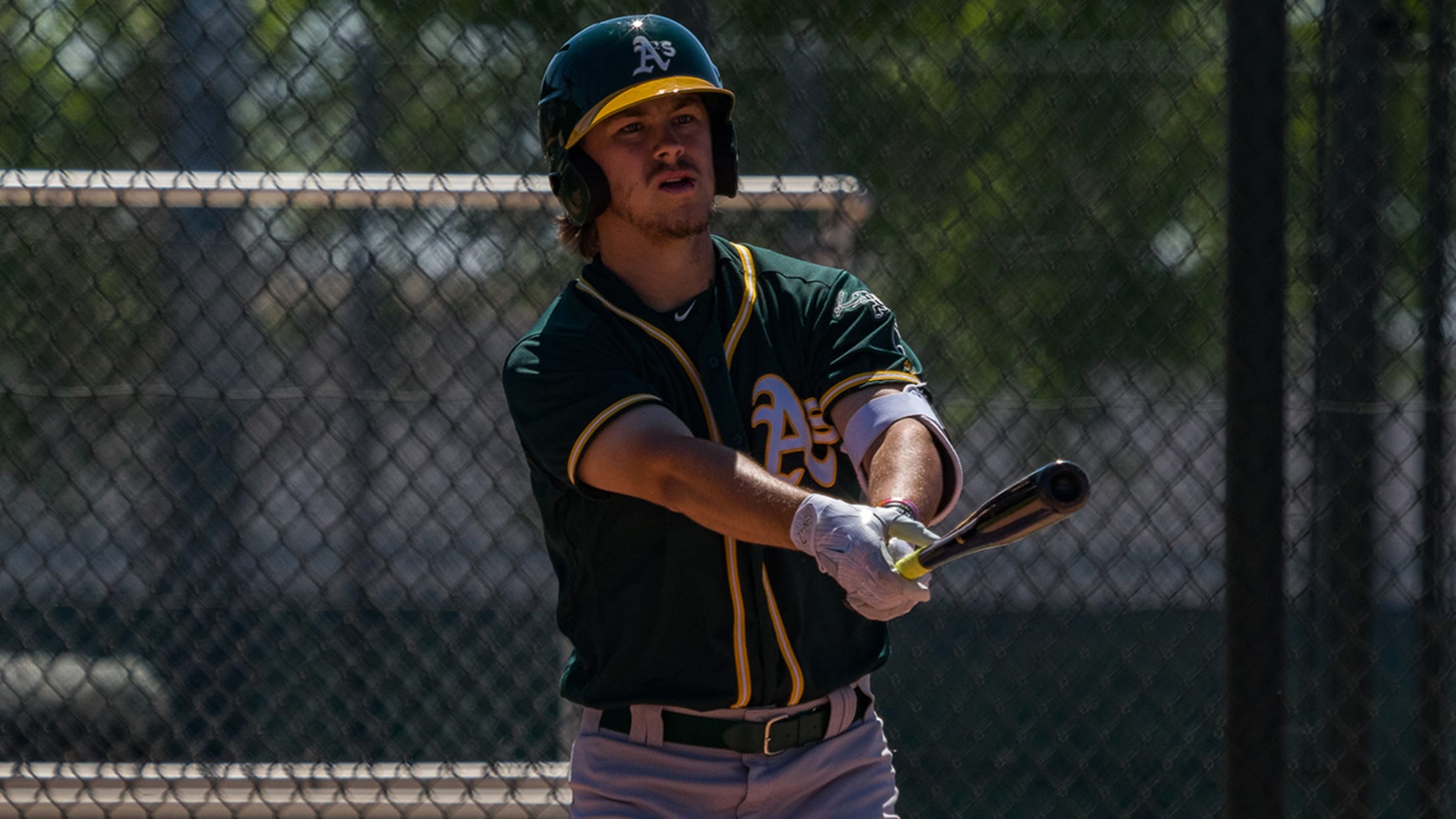 MESA, Ariz. -- Professional baseball has required a series of adjustments from Austin Beck. The No. 6 overall pick in the 2017 Draft by the Athletics, Beck earned a $5,303,000 bonus on the basis of his five-tool promise. But he had a rude introduction to pro pitching that summer, going
Luzardo makes his case for final rotation spot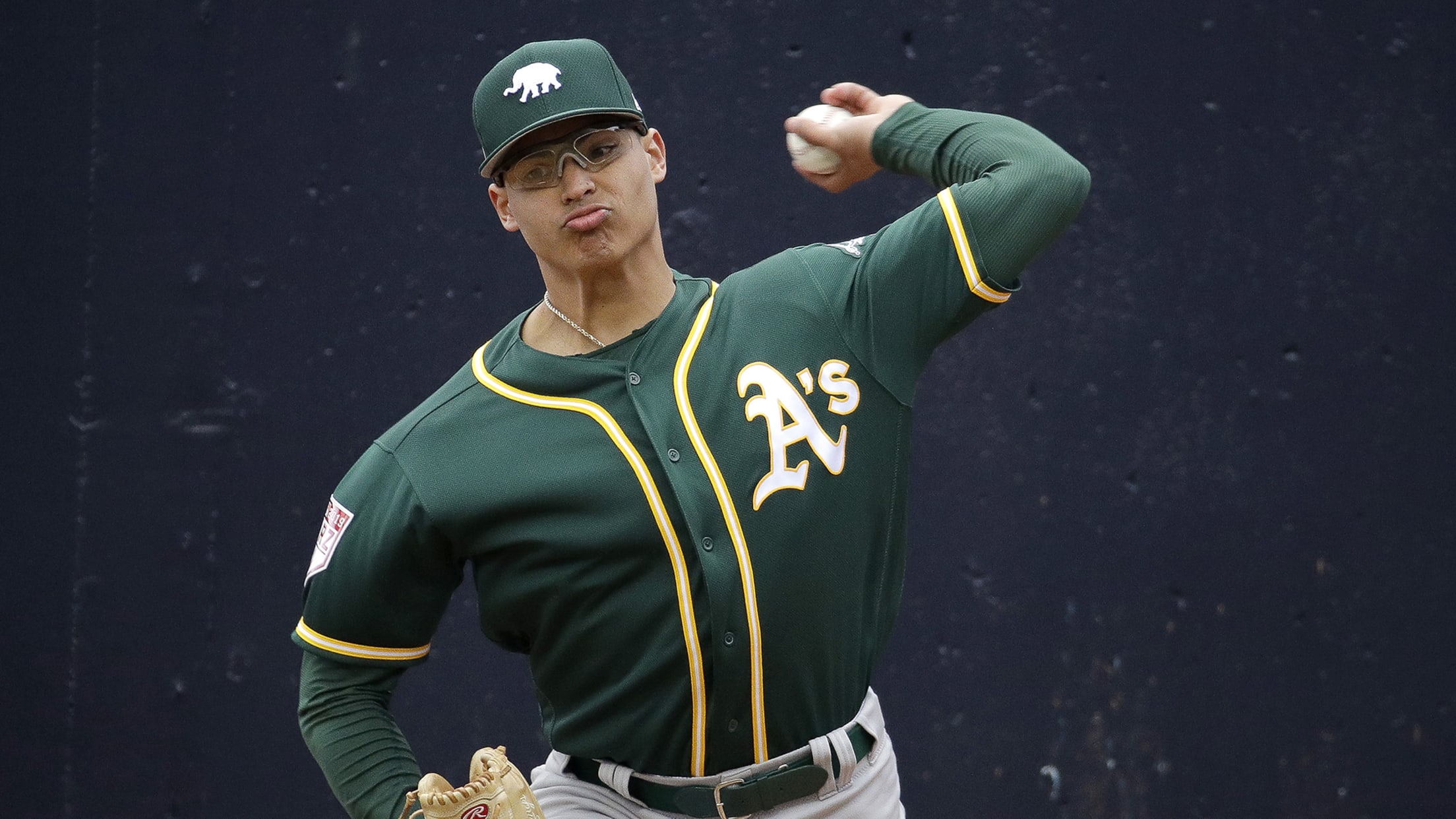 MESA, Ariz. -- Jesus Luzardo won't be accompanying the A's to Tokyo this week, but there's a good reason for it. Oakland still considers him in play for the final rotation spot, so Luzardo will remain in the desert to stay on his regular throwing schedule. Upon the club's return,
Prospect Luzardo fans 6, continues strong camp
A's left-hander hasn't allowed an earned run in 5 2/3 spring innings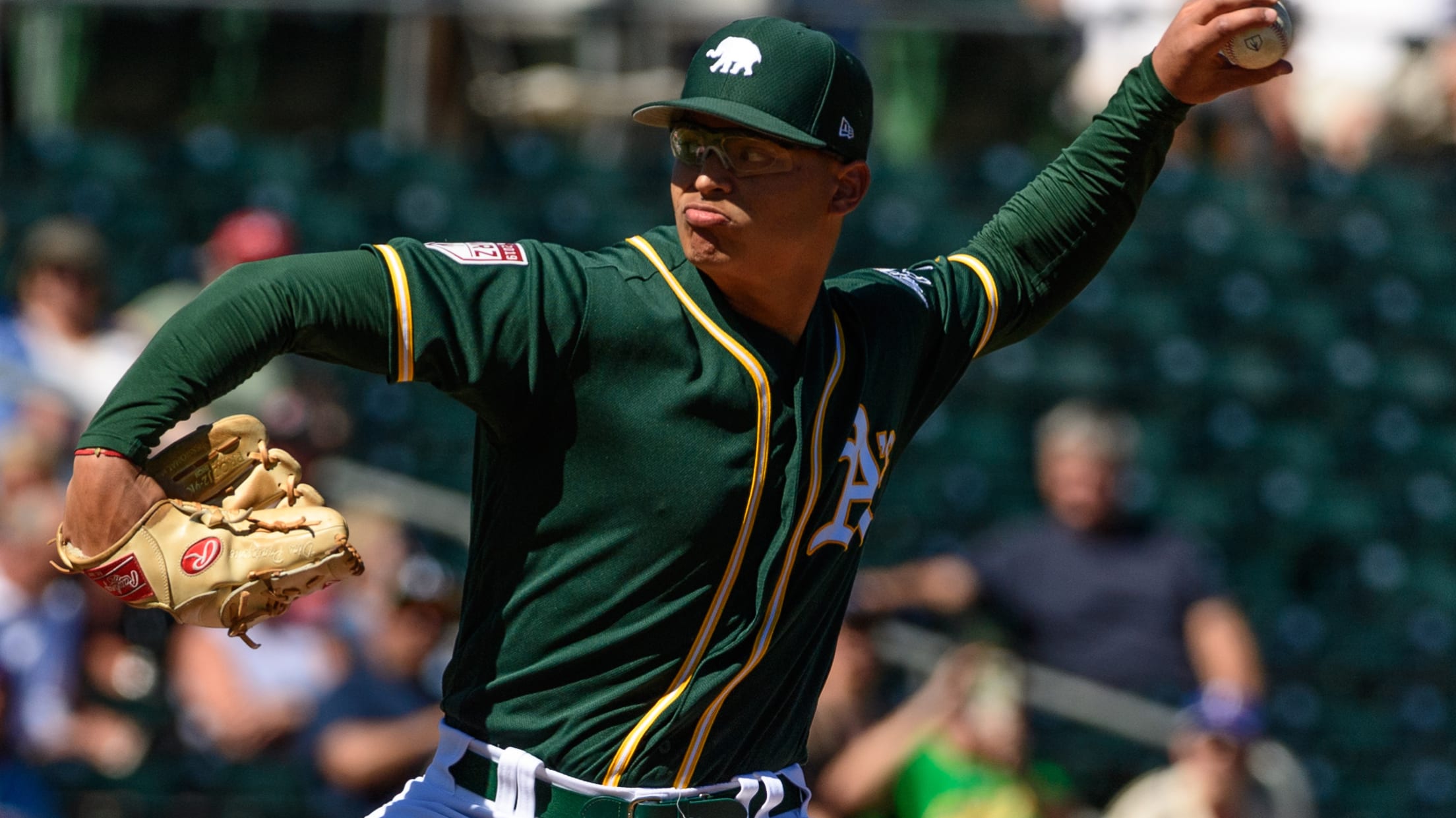 MESA, Ariz. -- A's top prospect Jesus Luzardo continues to impress, as he struck out six of the 10 batters he faced in 2 2/3 scoreless innings in a 4-1 win over the Rangers at Hohokam Stadium on Tuesday afternoon. The wondrous lefty worked around baserunners with ease -- including
Here are the Athletics' 2019 Top 30 Prospects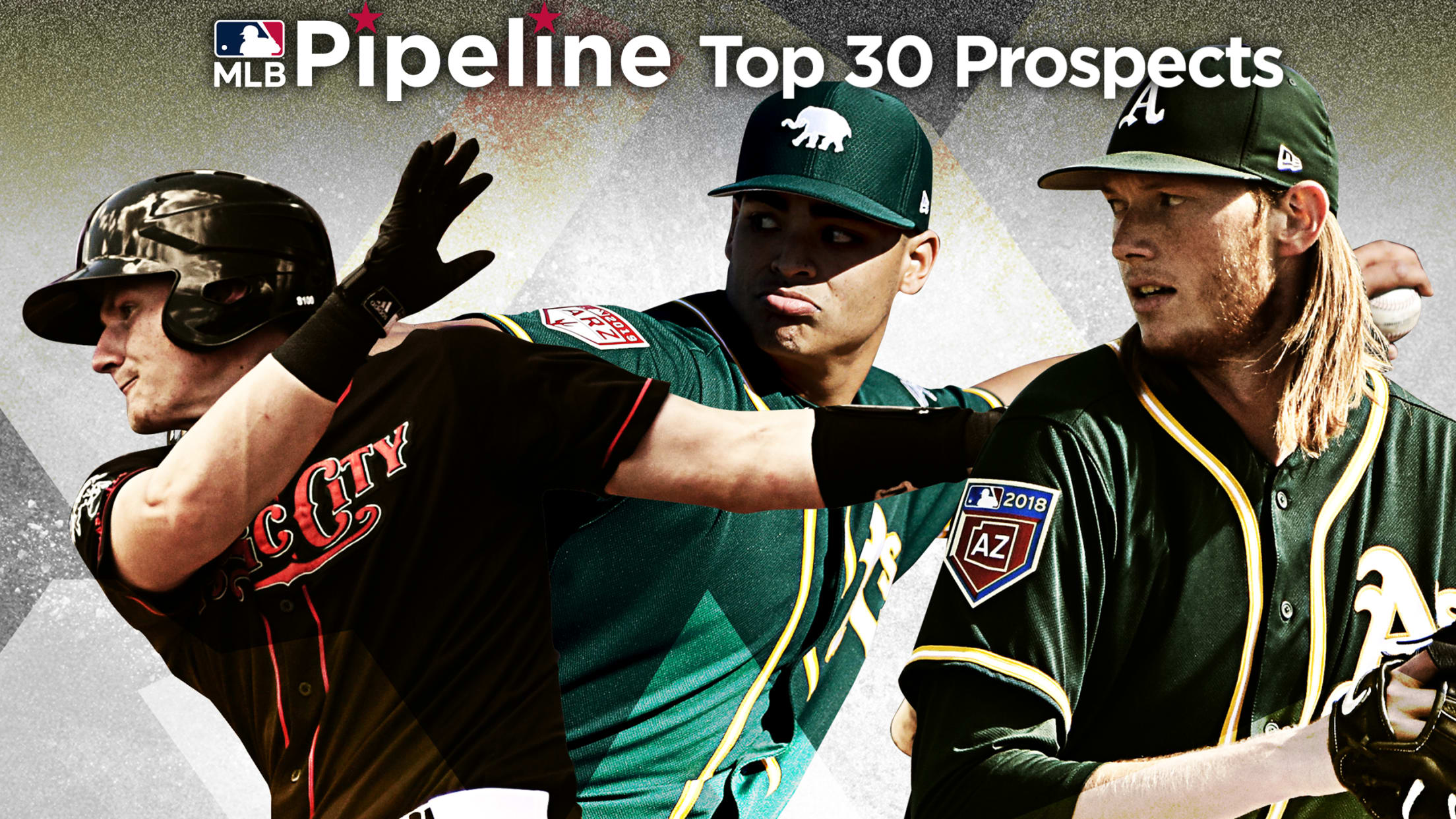 A lot of things went right for the A's in 2018. After three straight last-place finishes in the AL West, the A's won 97 games and returned to the postseason for the first time since 2014. Most of the playoff roster came via trades (though Matt Chapman and Matt Olson
Luzardo not feeling heat to win A's starting spot
Cotton, Puk progress in Tommy John recoveries; Chapman takes swings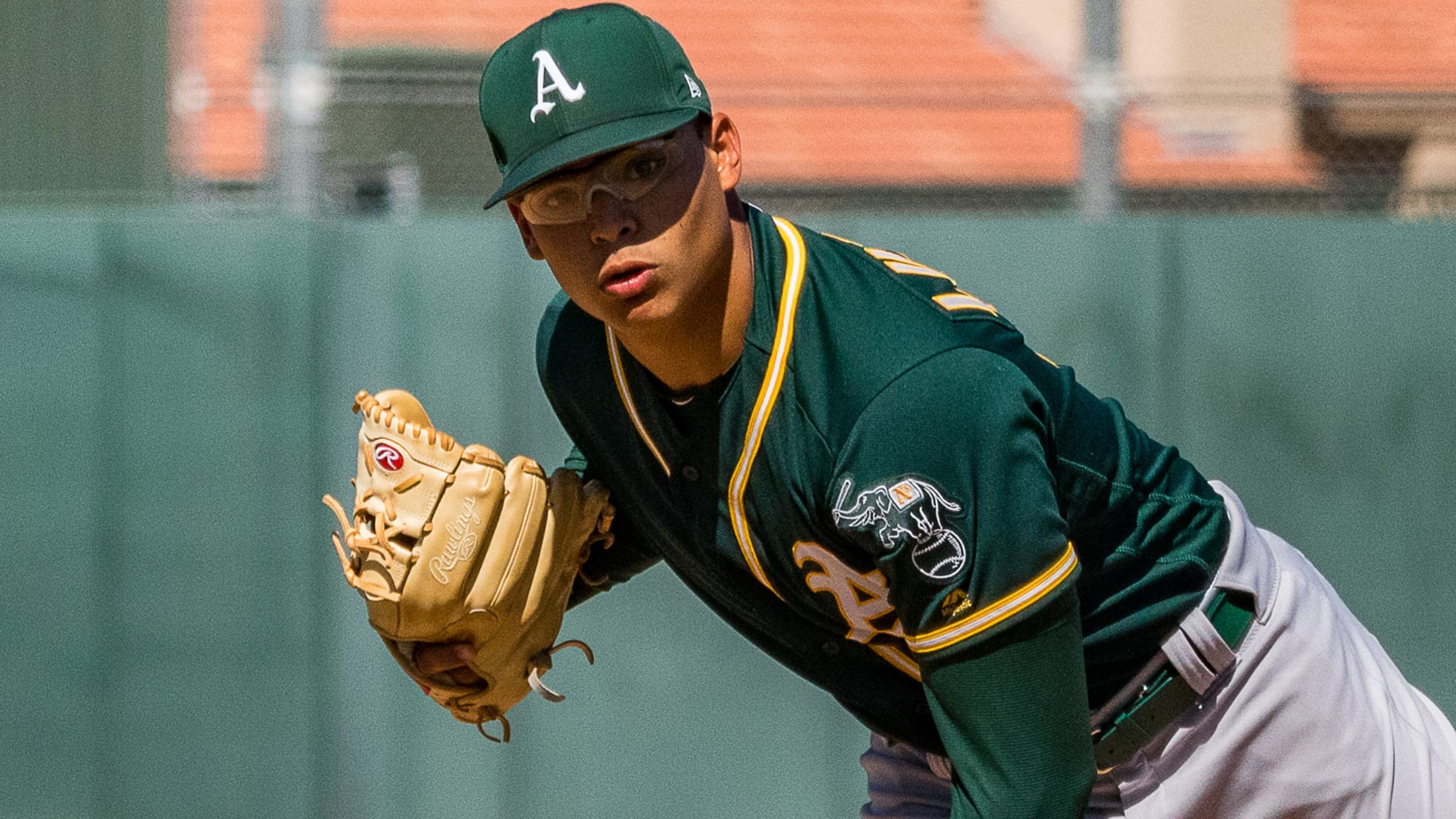 MESA, Ariz. -- The A's most-talked-about prospect toed the rubber Tuesday for his first bullpen session of the spring, yet again prompting the big question:Will Jesus Luzardo be in the A's Opening Day rotation? :: Spring Training coverage presented by Camping World ::Oakland, which had a strong showing watching Luzardo
Kyler Murray commits to becoming NFL QB
A's reportedly not giving up on convincing QB to come back to baseball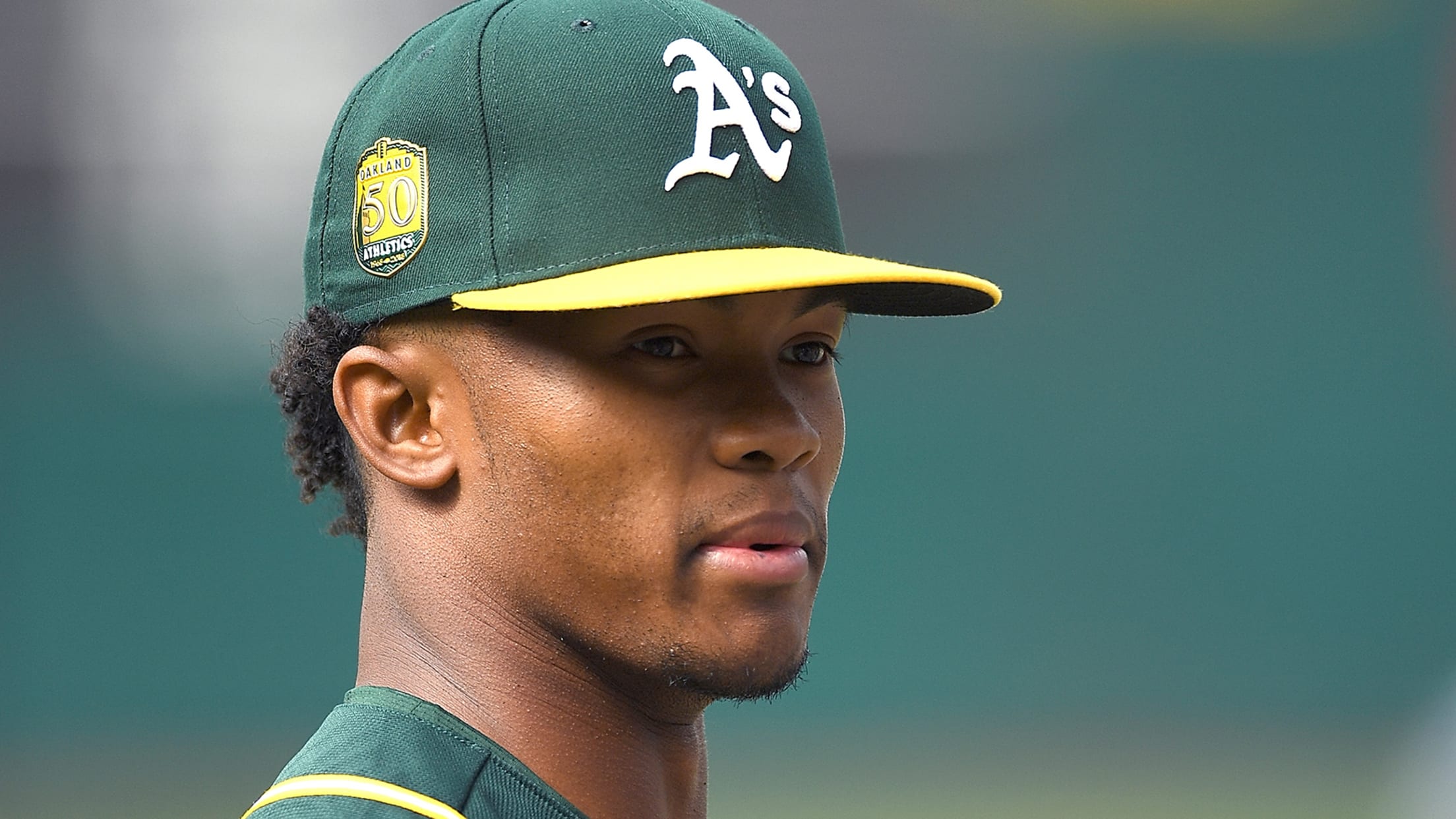 MESA, Ariz. -- The A's won't be seeing Kyler Murray in camp on Friday, or anytime soon for that matter.Murray has opted to forgo a future with the A's in favor of one with the NFL, voicing his decision to pursue a career as a quarterback in a tweet Monday
Prospect Kaprielian experiences lat discomfort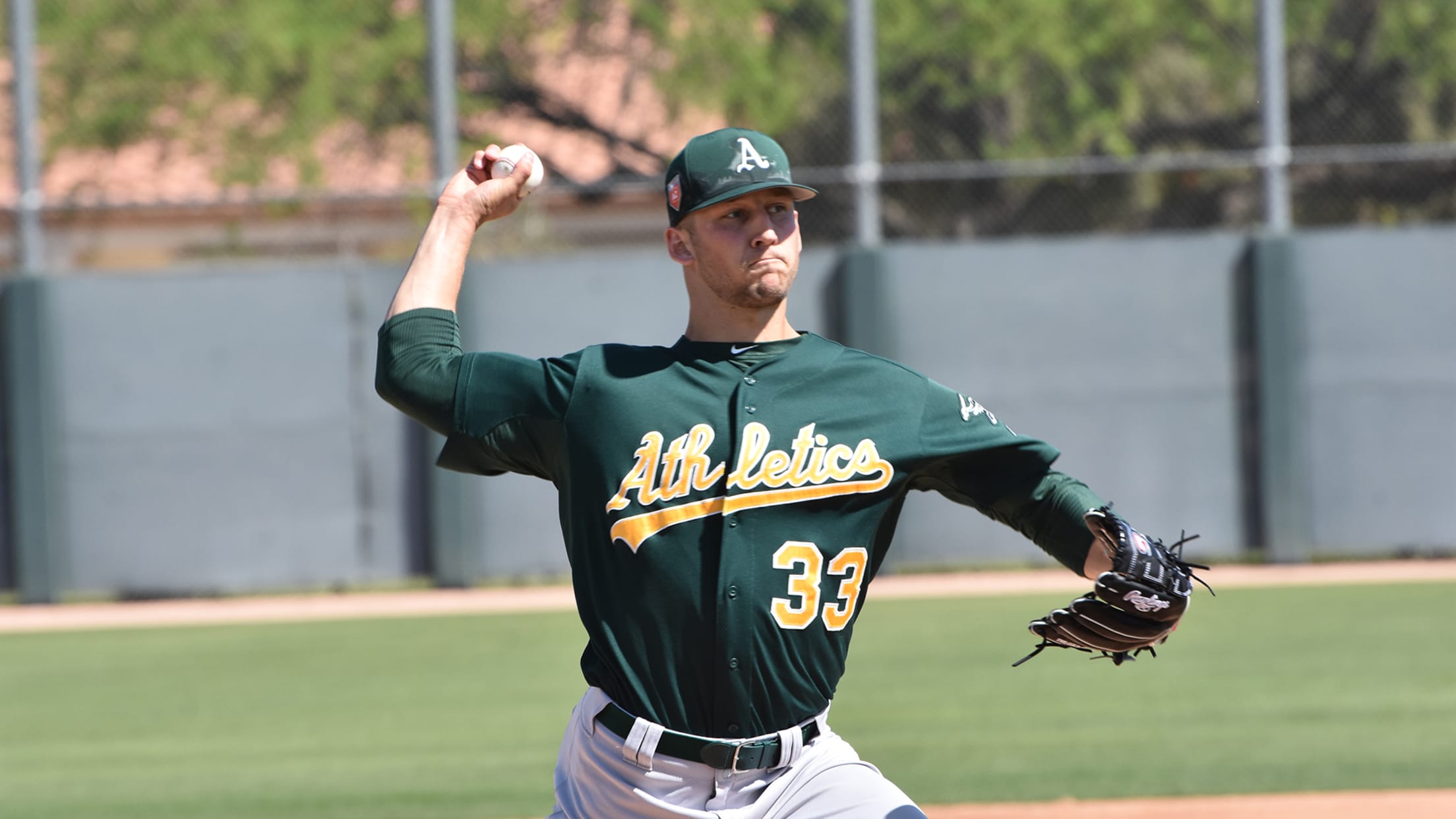 MESA, Ariz. -- Long-hyped pitching prospect James Kaprielian continues to be stymied by injury.A's manager Bob Melvin said the right-hander will be behind schedule this spring after experiencing lat discomfort during a bullpen session Friday."It looked like he was throwing good before that, but just a little something came up,
Luzardo out to earn A's starting spot this spring
Oakland prepared to start southpaw in Majors if deemed ready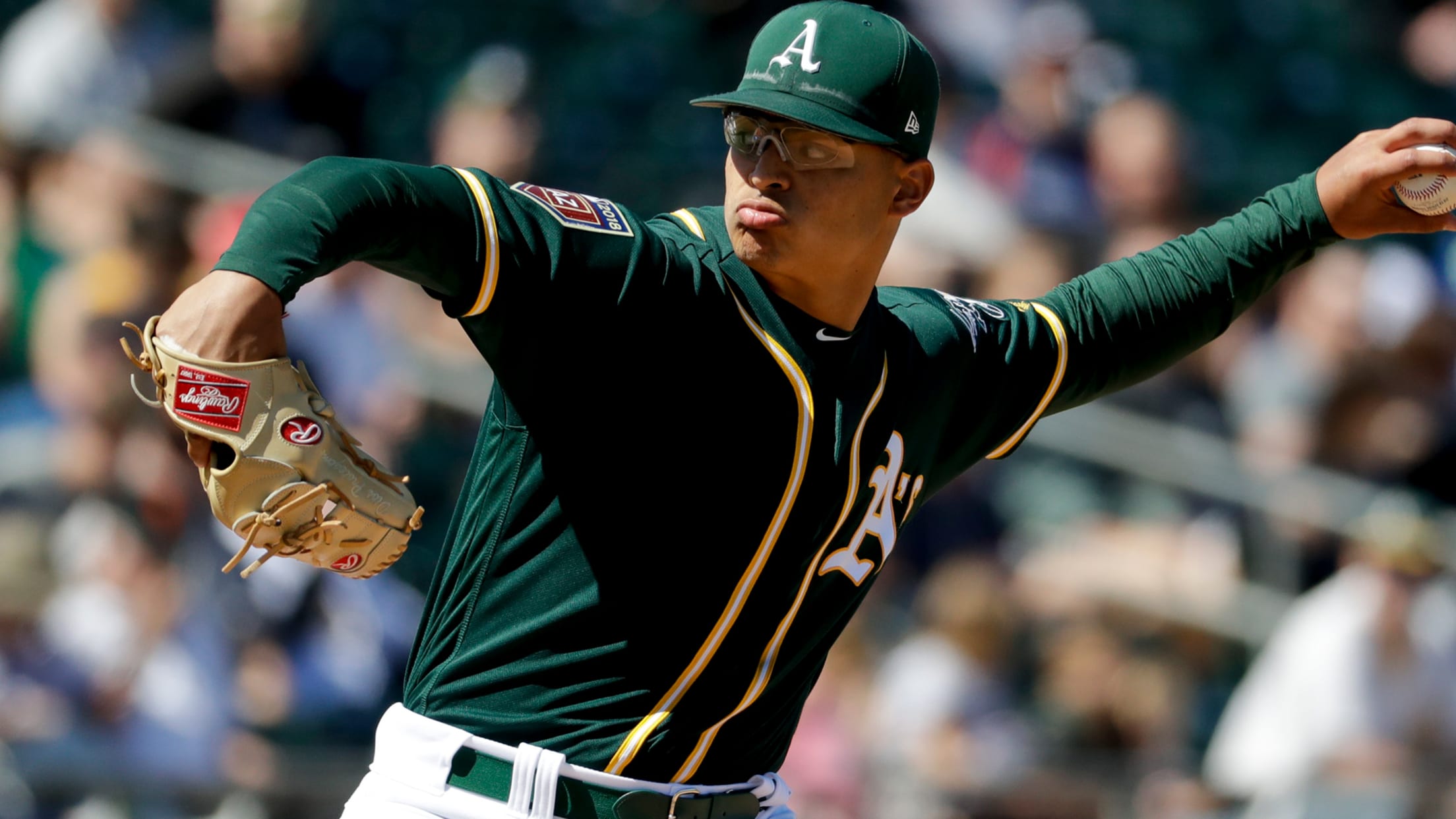 OAKLAND -- One of baseball's top pitching prospects will soon descend upon the A's spring complex in Mesa, Ariz., and he'll warrant a stream of attention for weeks to come.Lefty Jesus Luzardo hopes to prove the hype is real. It just might land him a spot in Oakland's Opening Day
Murray to officially attend NFL combine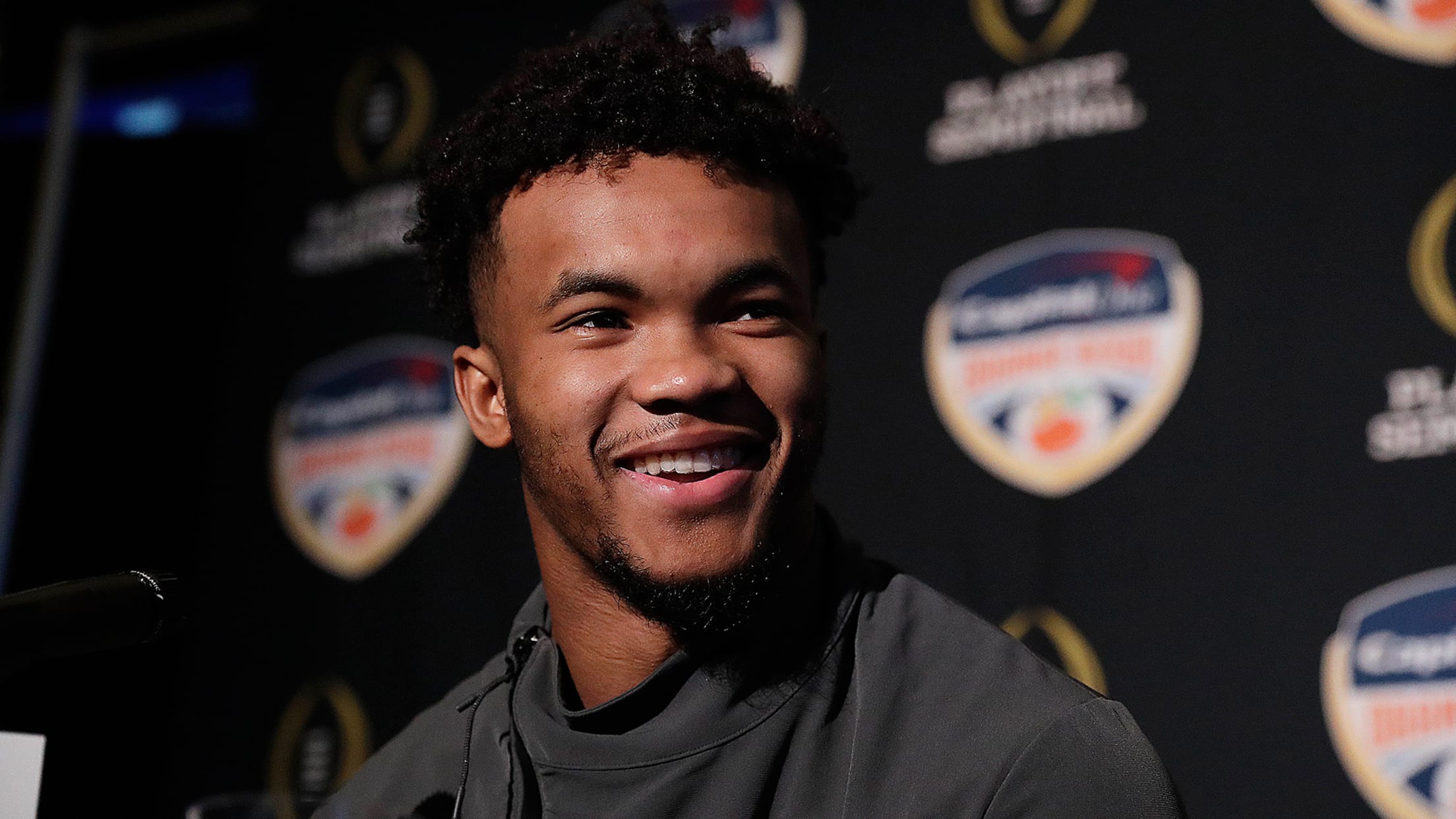 OAKLAND -- Kyler Murray is due in big league camp with the A's next week. Oakland's 2018 ninth-round Draft pick is also now due to leave camp -- assuming he shows up at all -- for a week-long stay in Indianapolis that could provide this two-sport standout clarity on his
Murray mum on baseball or football decision
A's prospect doesn't commit to attending Spring Training on press tour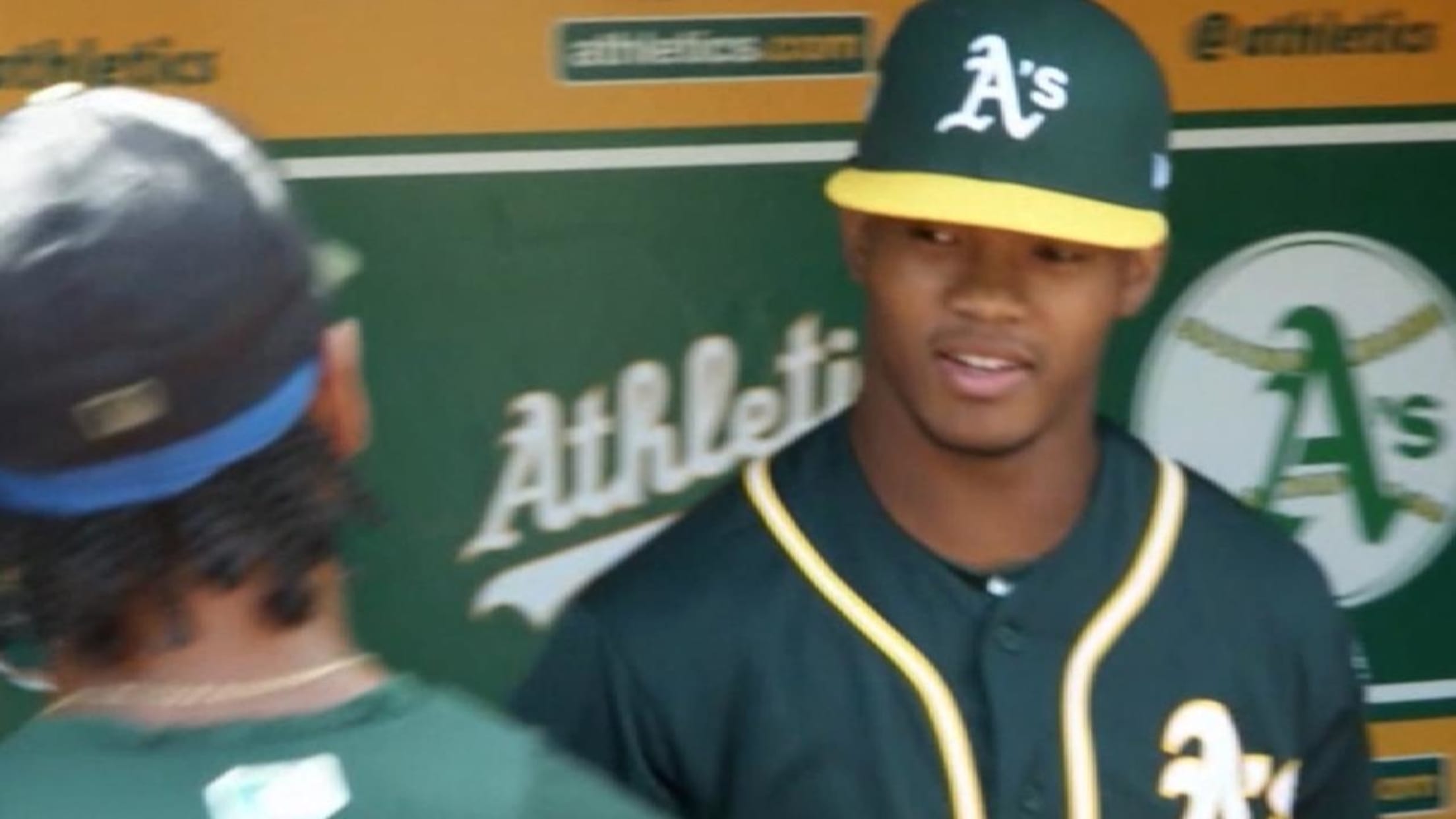 As sports fans wait to see what kind of uniform Kyler Murray dons in the coming months, the two-sport phenom kept the intrigue high during a press tour on Friday.Murray appeared on several studio shows from Atlanta as part of a Super Bowl week press tour. That included a lengthy
Luzardo eyed as potential member of rotation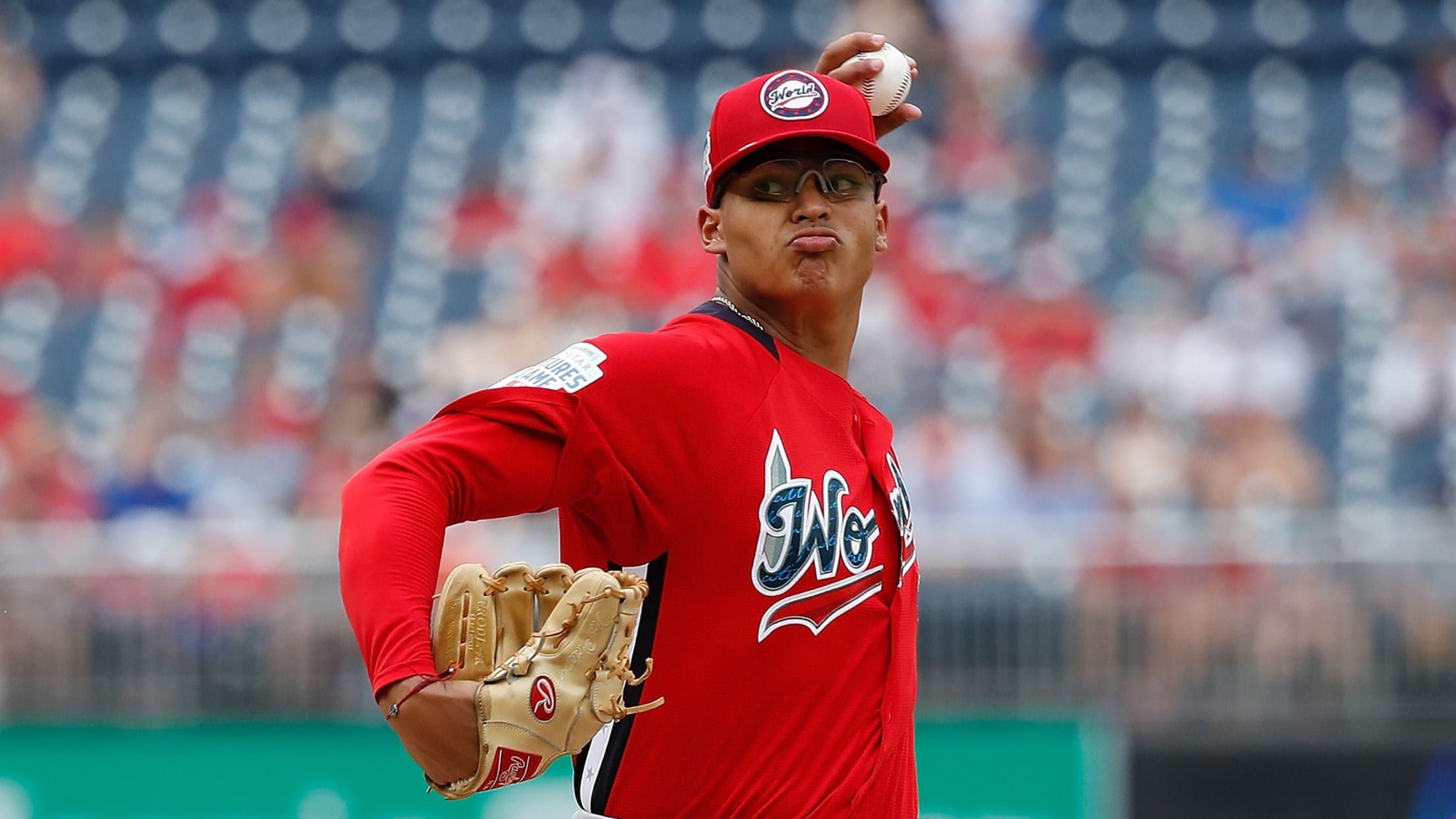 OAKLAND -- A's general manager David Forst mentioned five candidates Friday for the season-opening starting rotation before he named Jesus Luzardo as part of the competition.Forst obviously wasn't listing the pitchers in order of ability.The path to success seems astonishingly clear for Luzardo, who's widely acknowledged as one of the
Inbox: Will Kaprielian, Jefferies return this year?
Beat reporter Jane Lee answers Athletics fans' questions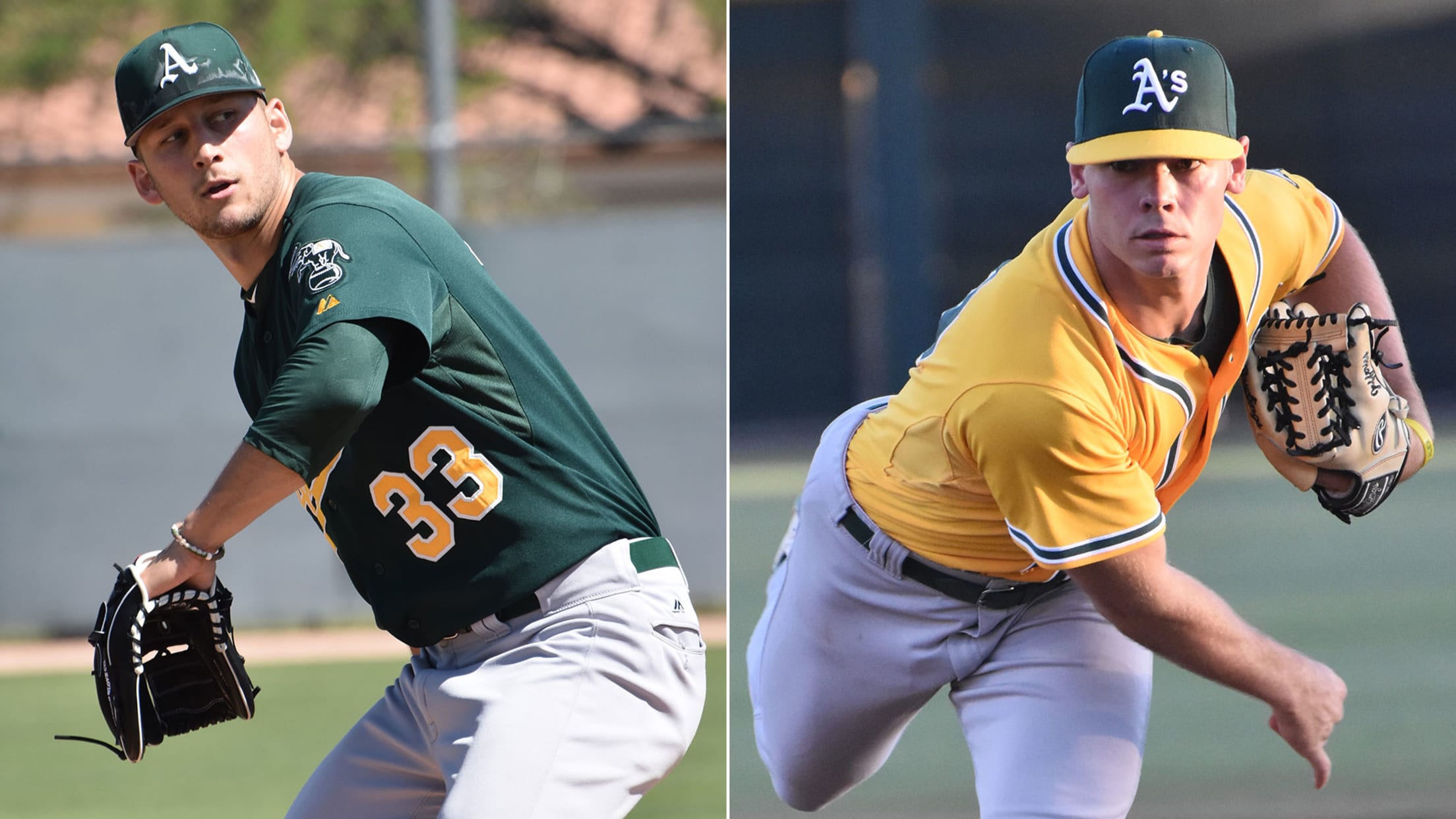 We've heard very little about James Kaprielian and Daulton Jefferies. Will they ever play baseball again? --Steve L., Newport, Ore.That's the plan. Kaprielian actually returned to the mound for instructional league action in October and will enter camp fully healthy and raring to go. The A's expect the same of
Murray declares for NFL draft; MLB still possible
Time remains for A's prospect to change mind and pursue baseball career
OAKLAND -- Two-sport standout Kyler Murray, who is under contract with the A's, declared for the NFL Draft ahead of Monday's midnight ET deadline, further magnifying a most momentous decision.By opting in to the NFL Draft, a move that is essentially procedural, Murray remains within the confines of his deal
A's prospect Murray's OU career ends in defeat
No. 9 pick in 2018 MLB Draft finishes Heisman season vs. Alabama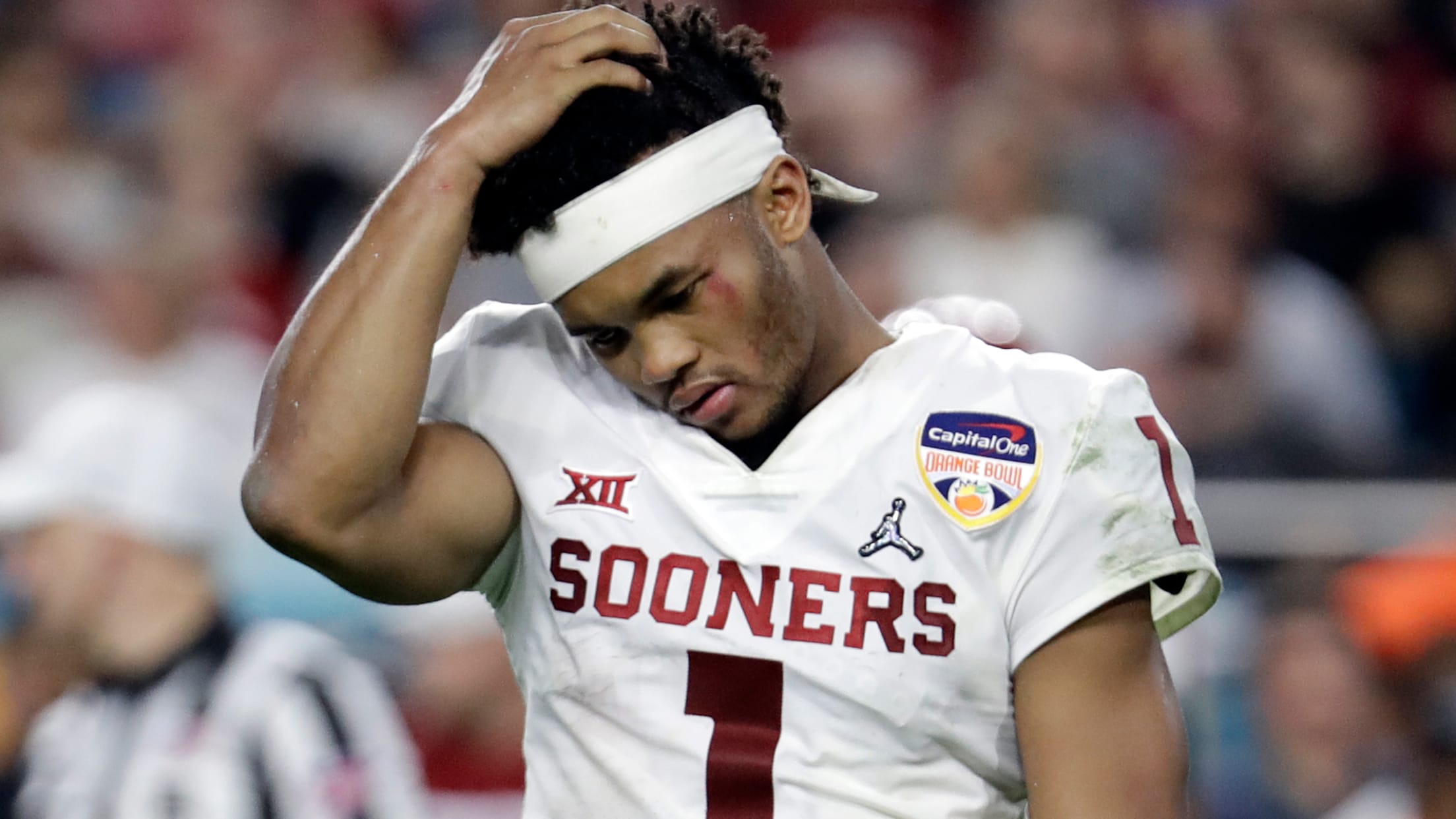 A's prospect Kyler Murray and the Oklahoma Sooners fell short in their pursuit of a national championship, losing, 45-34, to No. 1 Alabama in Saturday's College Football Playoff semifinal matchup in Miami.Murray, who was named this year's Heisman Trophy winner earlier in December, turned in a stellar individual performance in
Murray: I'd play baseball and football 'if possible'
A's first-round Draft pick named finalist for Heisman Trophy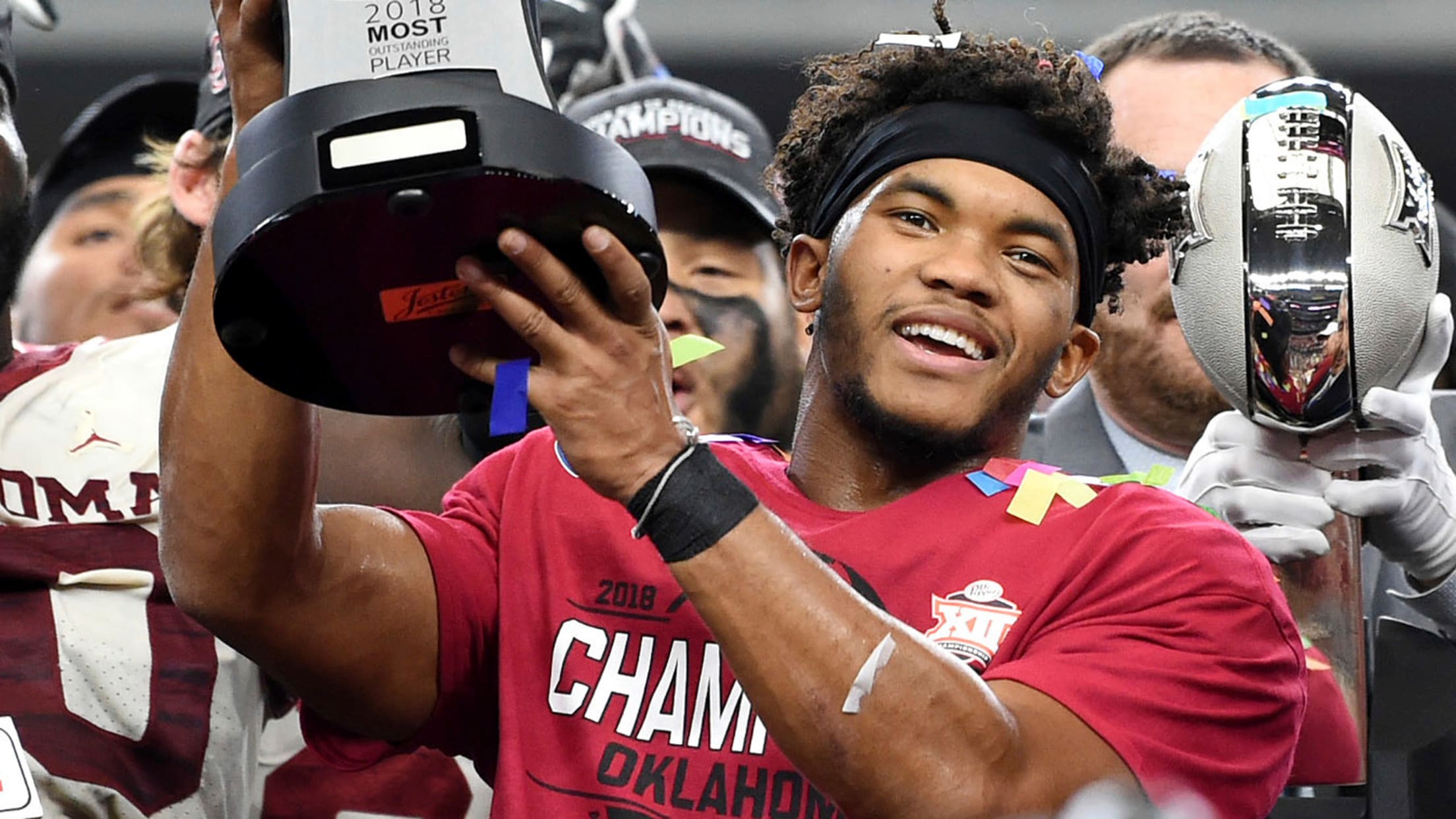 Ever since the A's drafted and signed Kyler Murray in June, the two-sport star has maintained that he's going to play professional baseball, even as he's continued to excel on the football field.But what about baseball and football, instead of baseball over football?At his media availability the day before Saturday's
A's top pick is AP college football Player of the Year
Heisman finalist Murray reiterates plans to pursue baseball after playoff with Sooners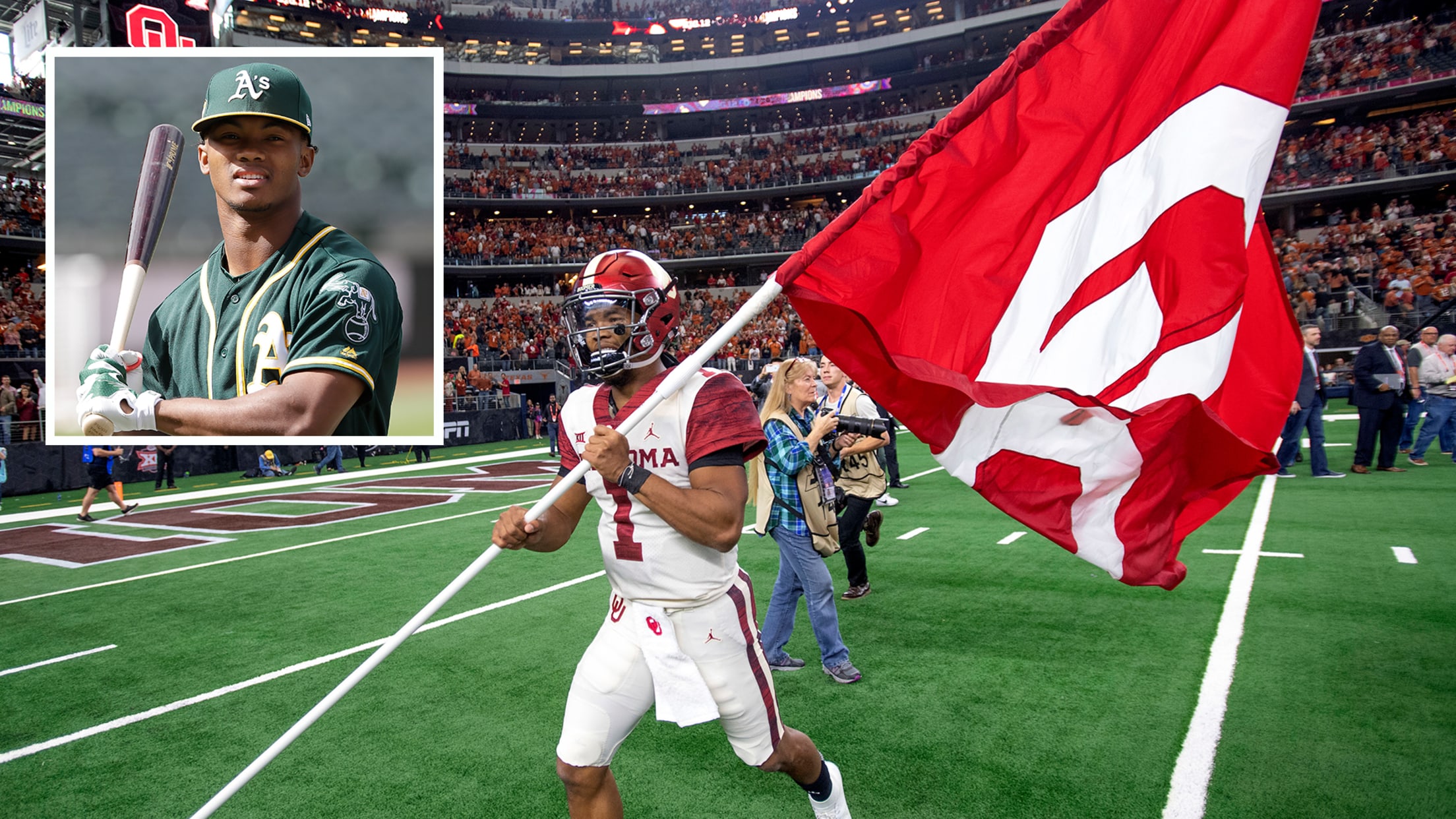 Kyler Murray, the A's top selection in the 2018 MLB Draft who helped Oklahoma reach this season's College Football Playoff, was named The Associated Press college football Player of the Year on Thursday.Murray won the award over Alabama quarterback Tua Tagovailoa -- his upcoming opponent in the College Football Playoff
Finding MLB comparisons for Murray's QB feats
A's prospect putting up huge numbers as Oklahoma signal-caller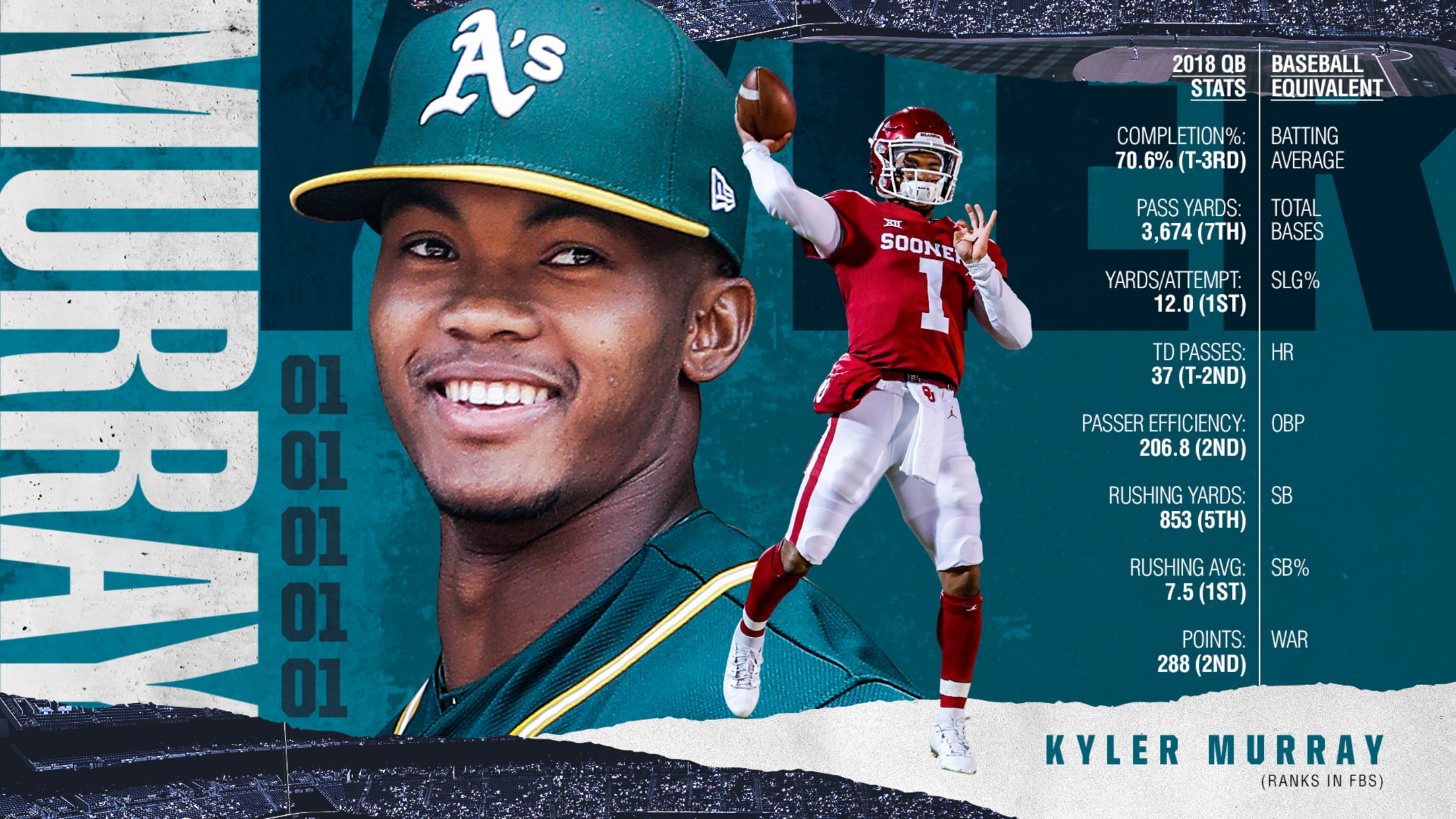 Kyler Murray is dominating on the gridiron, but it won't be long before he focuses his prodigious talents on the baseball field.The dual-threat University of Oklahoma quarterback has used his arm and his legs to lead the 11-1 Sooners to Saturday's Big 12 championship game against Texas. Murray also has
Heisman contender still picking A's over NFL
Murray reaffirms commitment ahead of Big 12 title game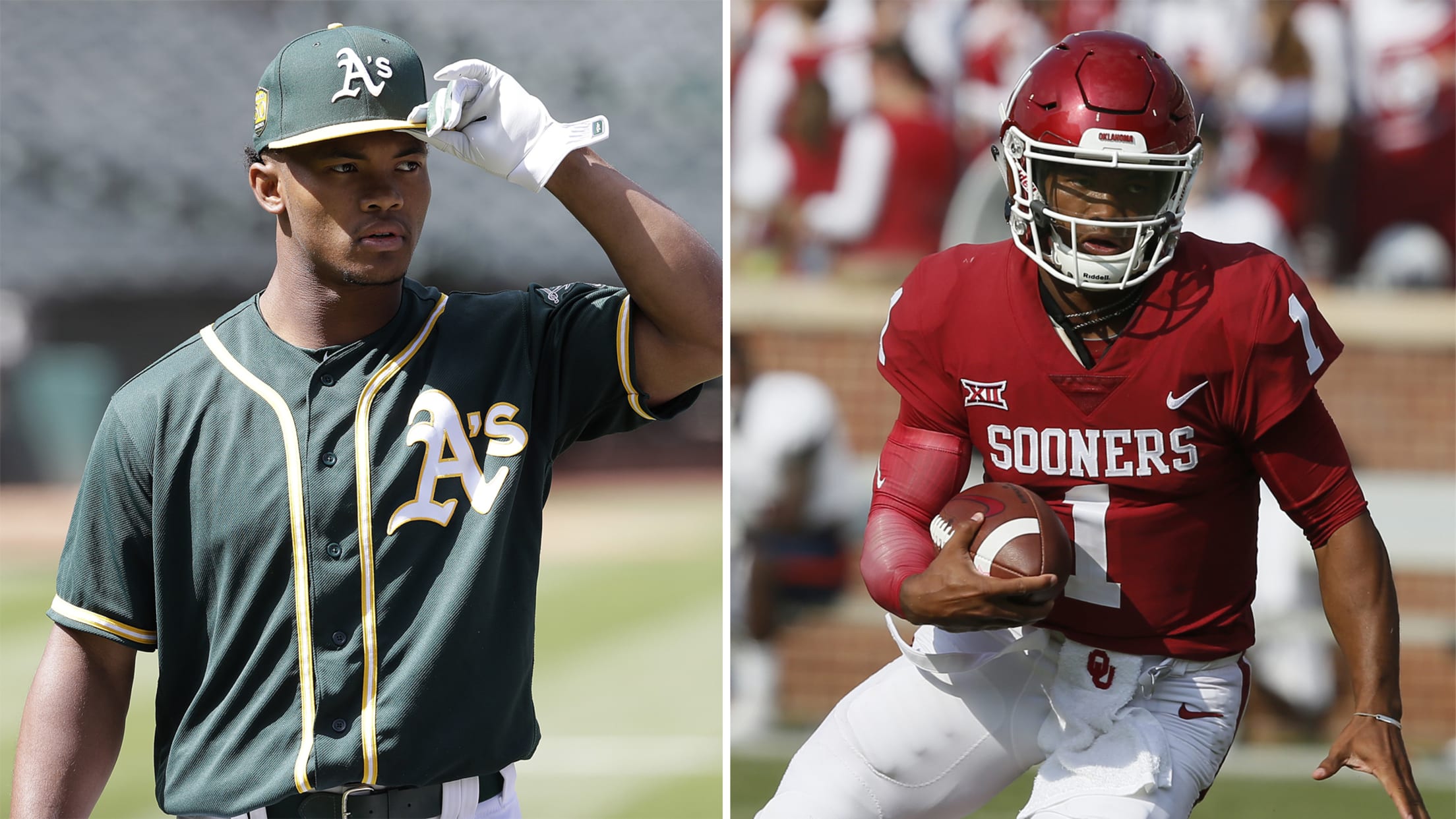 Kyler Murray, the college football sensation who just months ago agreed to a deal with the A's that included a signing bonus worth nearly $5 million, still plans to leave the gridiron for baseball at season's end.The A's first-round Draft pick in June -- coming in at No. 9 overall
A's acquire Bucs righty, add 4 to 40-man roster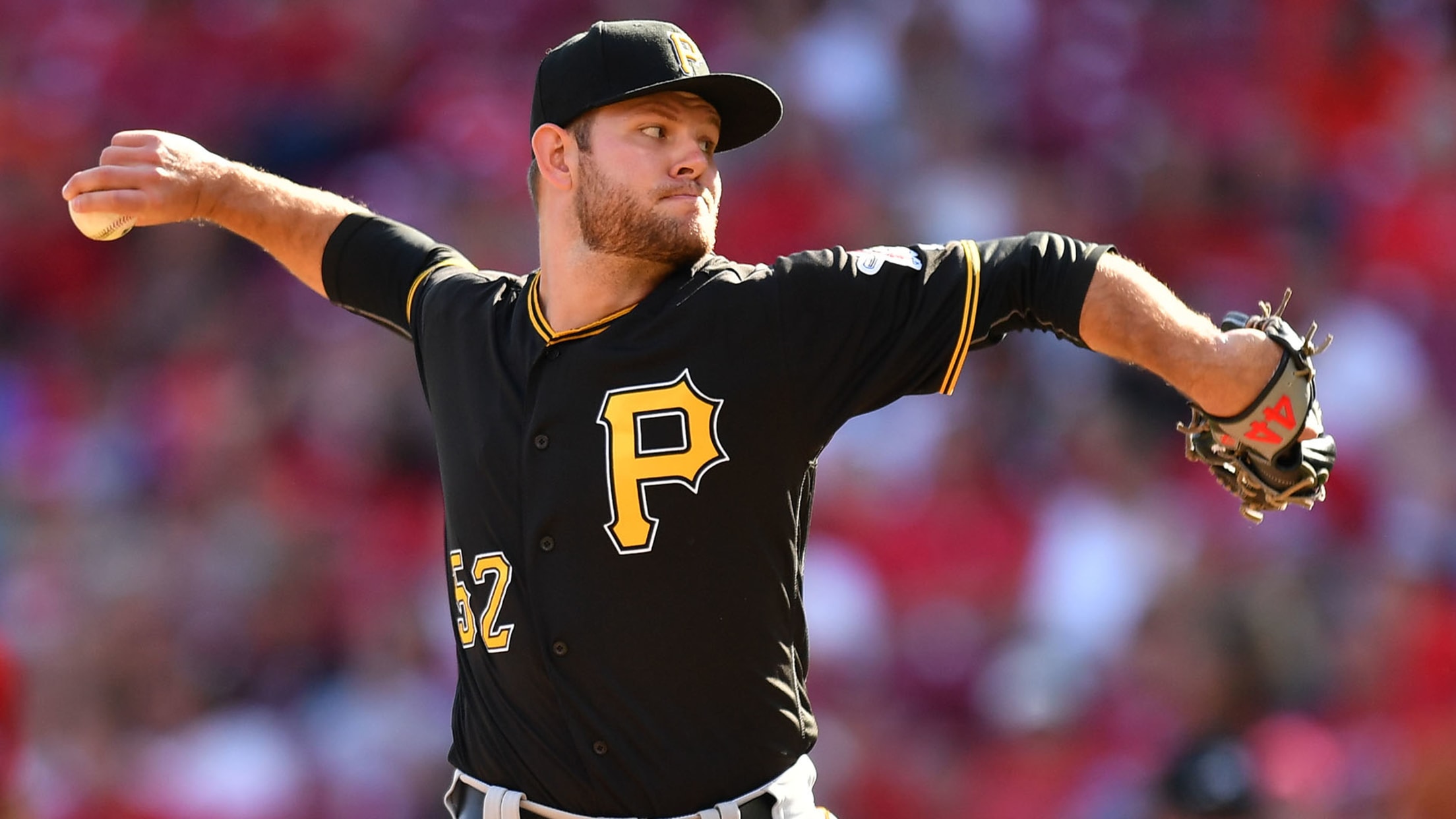 The A's made a series of moves on Tuesday, acquiring right-hander Tanner Anderson from the Pirates and adding outfielders Skye Bolt and Luis Barrera and right-handers Grant Holmes and James Kaprielian to their 40-man roster, effectively shielding them from the Rule 5 Draft.Oakland will send either a player to be
Laureano's 1st hit, huge assist lift A's in 13th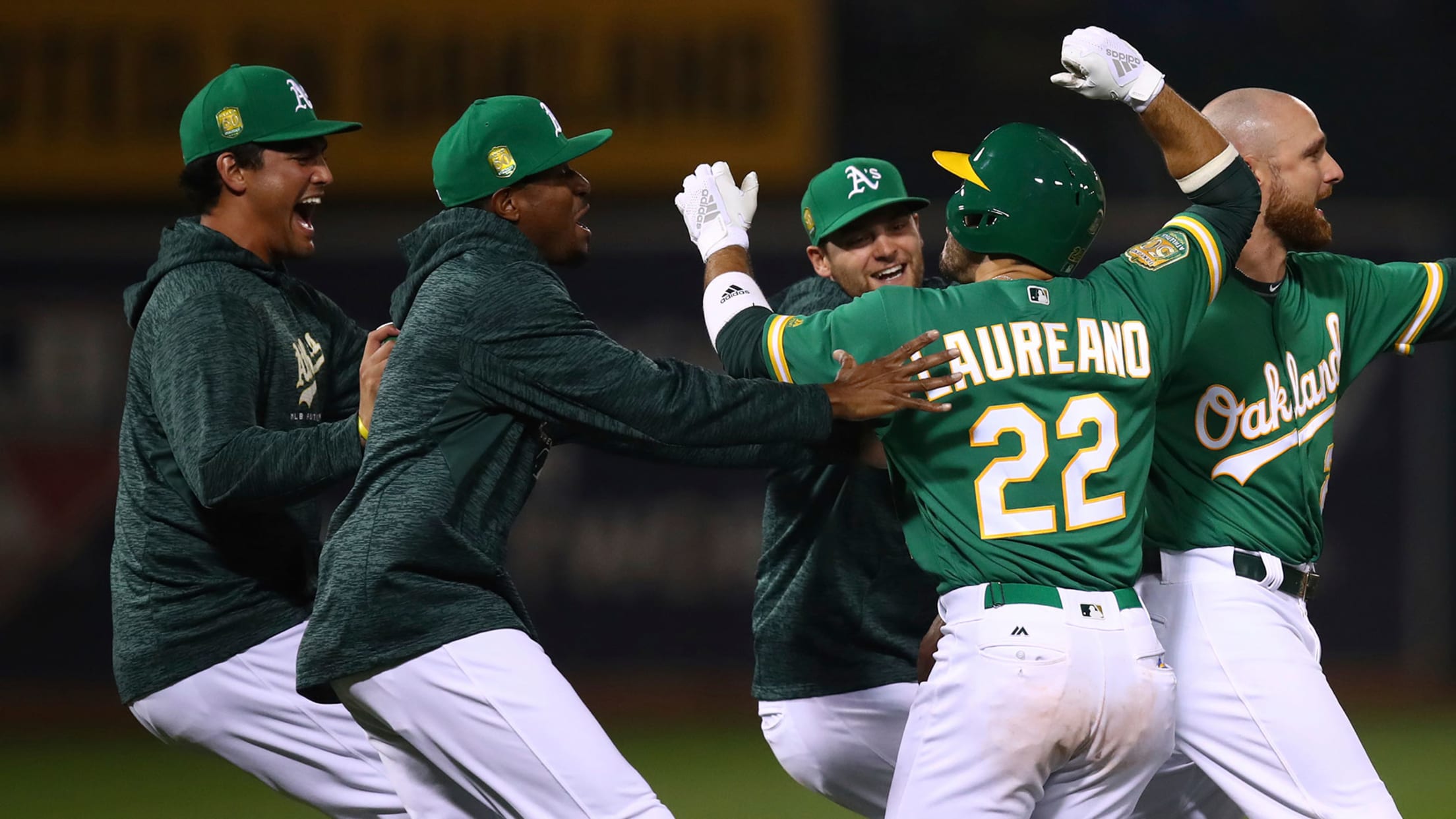 OAKLAND -- Ramon Laureano's Major League debut began with an 0-for-4. He was chasing pitches, swinging at changeups and sliders out of the zone."I don't usually chase like that," he said. "I wasn't myself. I make adjustments."He did just that in the 13th inning on Friday night, delivering a walk-off
Laureano joins A's, debuts in CF vs. Tigers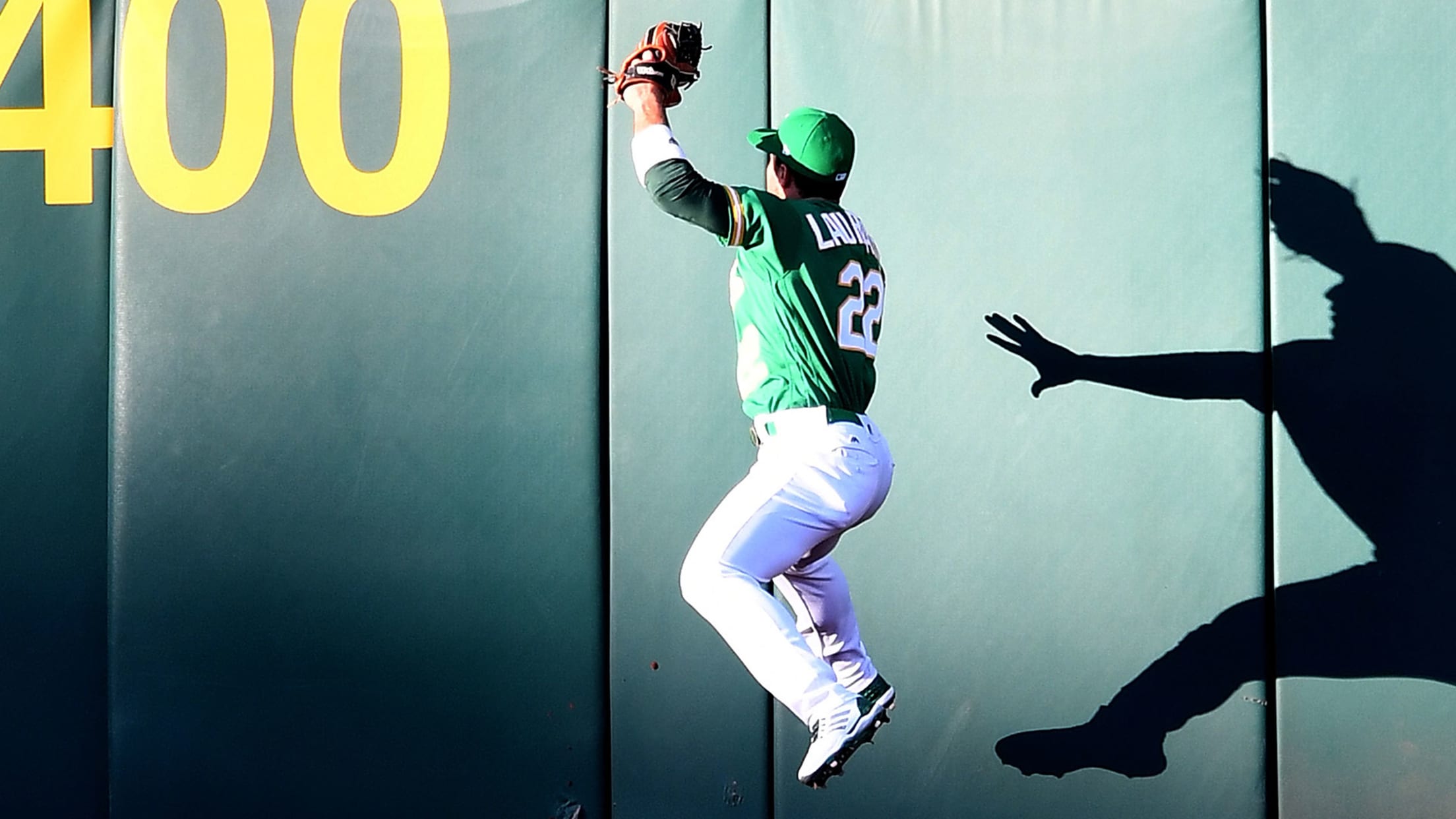 OAKLAND -- Dustin Fowler is the A's center fielder of the future. But with Nick Martini impressing in the outfield, Fowler struggling, and the team in the thick of a playoff race, now is not the time for development.On Wednesday, the A's sent Fowler down to Triple-A Nashville and on