A's all-time top 5 international signings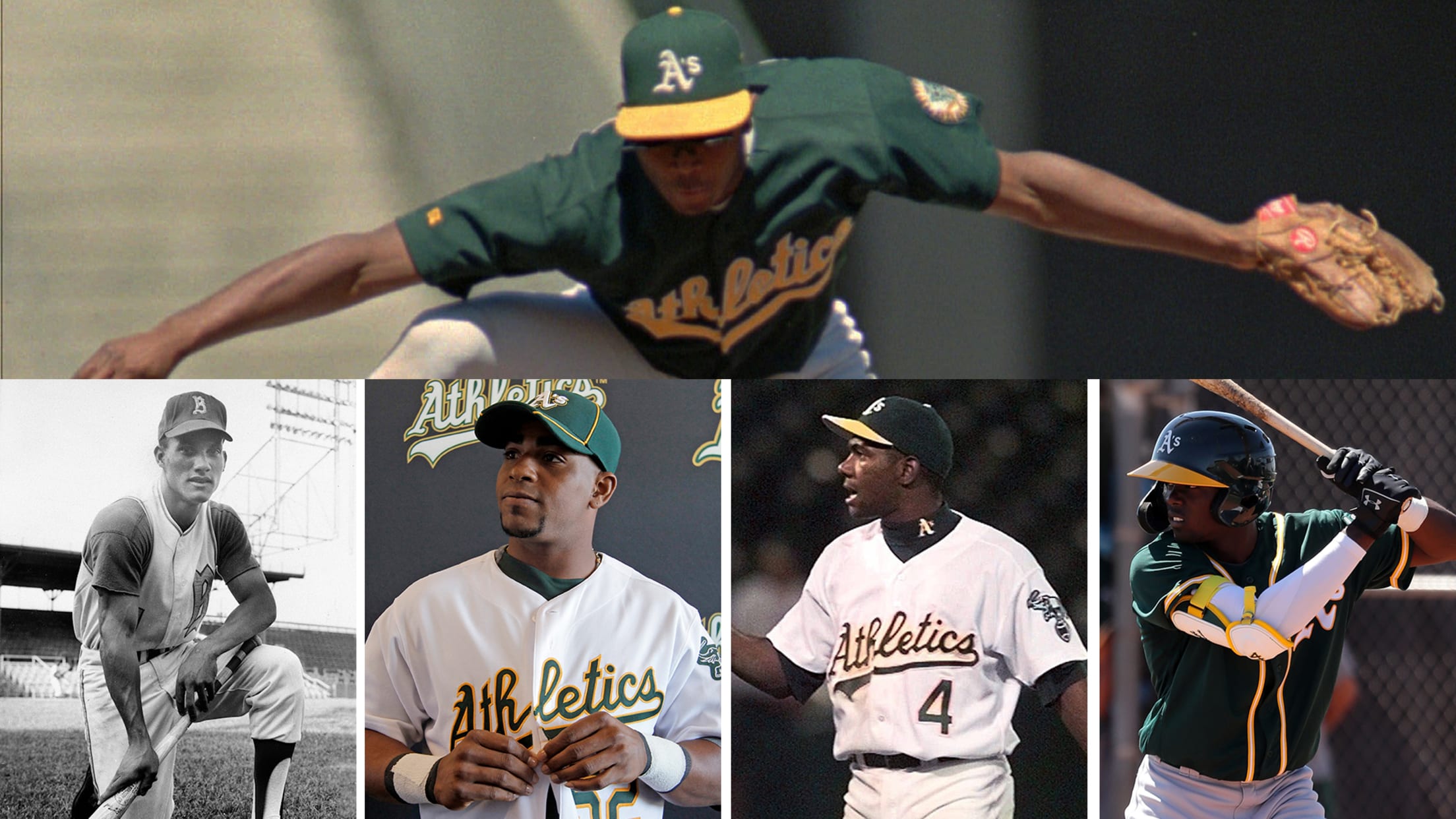 OAKLAND -- When looking at the successful A's clubs throughout the Oakland era, most of those teams have benefited from an international signing. MLB Pipeline recently released its annual Top 30 international prospects list for players eligible to sign in the 2020-21 signing period. These young players are the game's
30 prospects we'll be talking about in 2022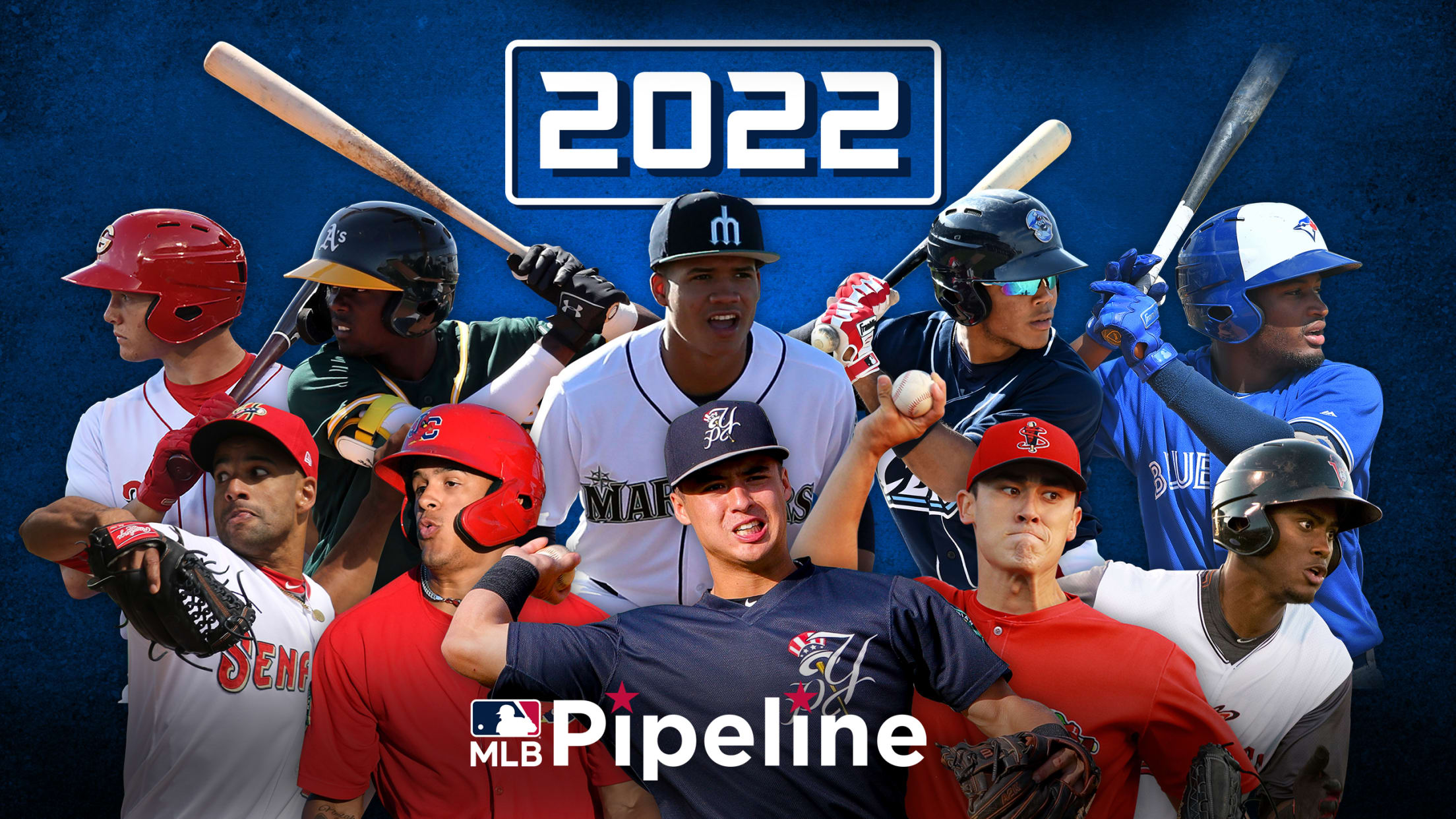 Right now, all baseball fans can do is look ahead to the future. We decided to take that to the extreme by looking two years down the road at which prospects we expect to be big names in 2022. The fact that 14 of the Top 20 players on MLB
Here's a preseason look at the A's farm system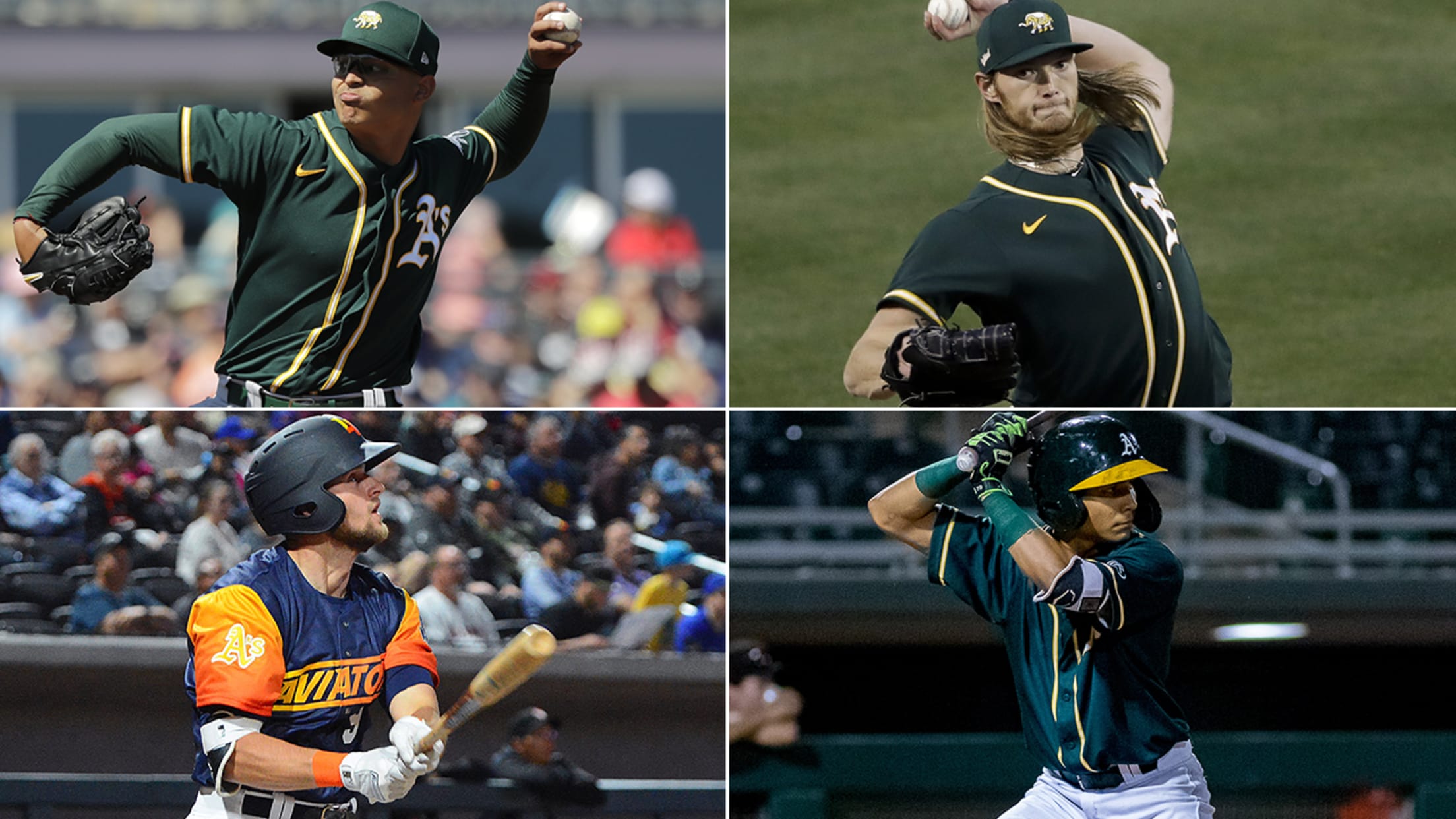 The Athletics are coming off consecutive 97-win seasons, their best back-to-back years since 2002-03, and could get even stronger in 2020. Their system has three legitimate American League Rookie of the Year candidates, all of whom gave a glimpse of their talents as late-season callups a year ago.
Pitching, prospects, OF among A's takeaways
Three reasons for optimism about Oakland's team after Spring Training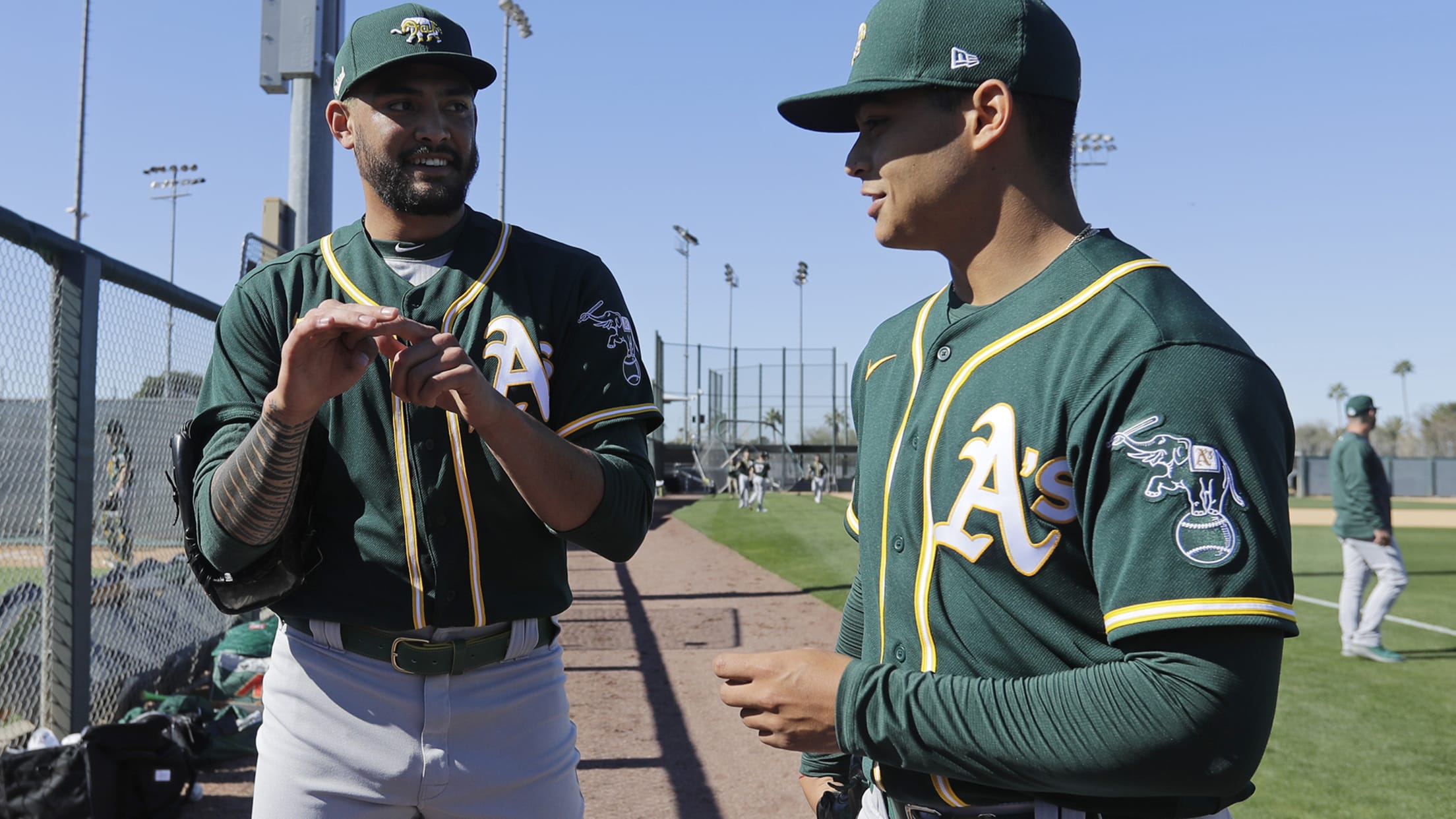 OAKLAND -- Spring Training came to an abrupt end for the A's last week following Major League Baseball's decision to suspend camp for all 30 clubs due to the national emergency created by the coronavirus pandemic. At the time play was halted, the A's were on a hot streak in
Notes: Rainout; progress for Mengden, Puk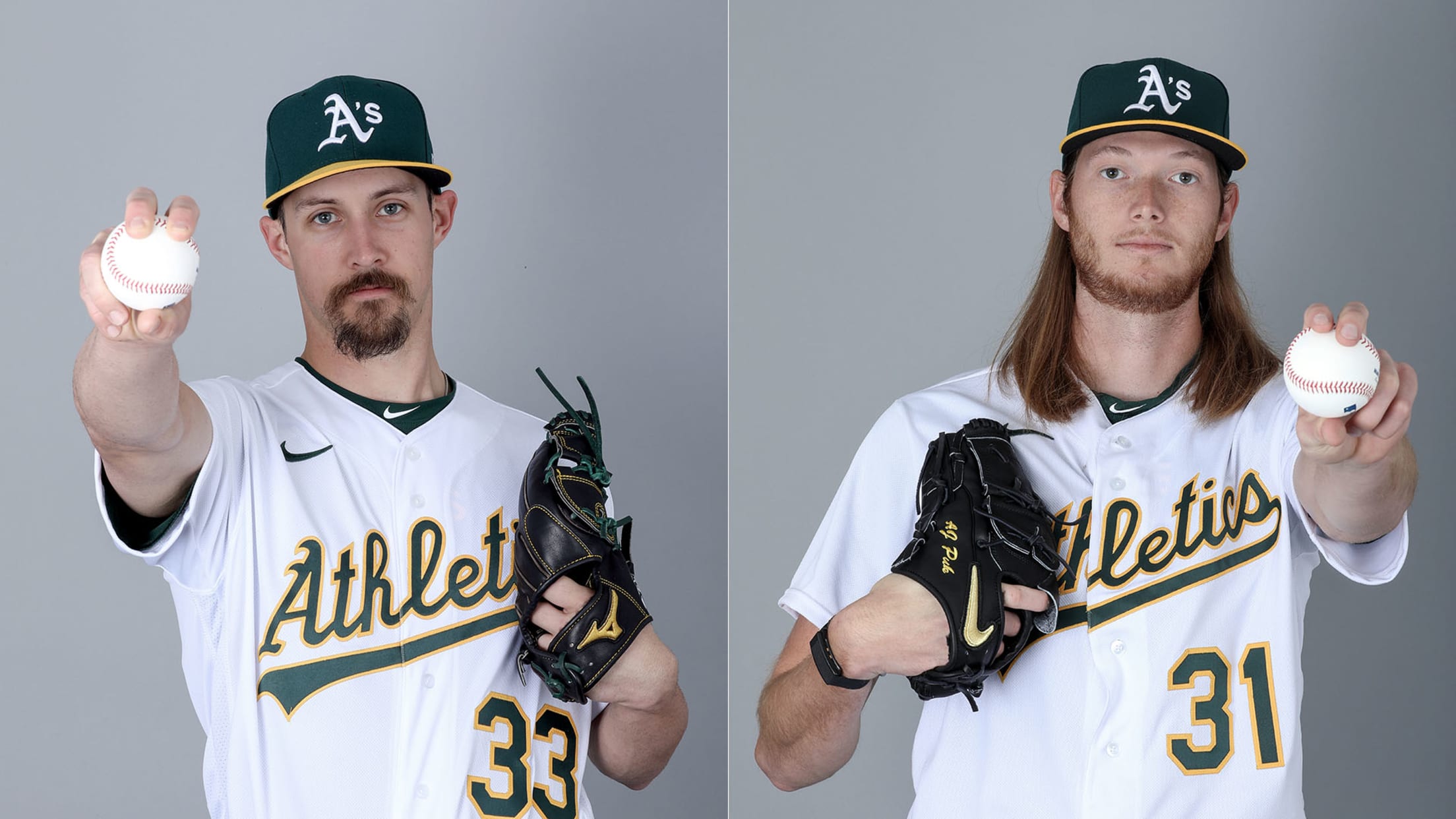 TEMPE, Ariz. -- The A's and Angels held out hope to get Wednesday's Cactus League game at Tempe Diablo Stadium in, even postponing the scheduled 1 p.m. PT start by one hour, but a downpour of rain in the Phoenix area led to the official cancellation of the contest. Sean
Inbox: Machin's status; 2B plans; Puk, Luzardo
Beat reporter Martin Gallegos answers questions from A's nation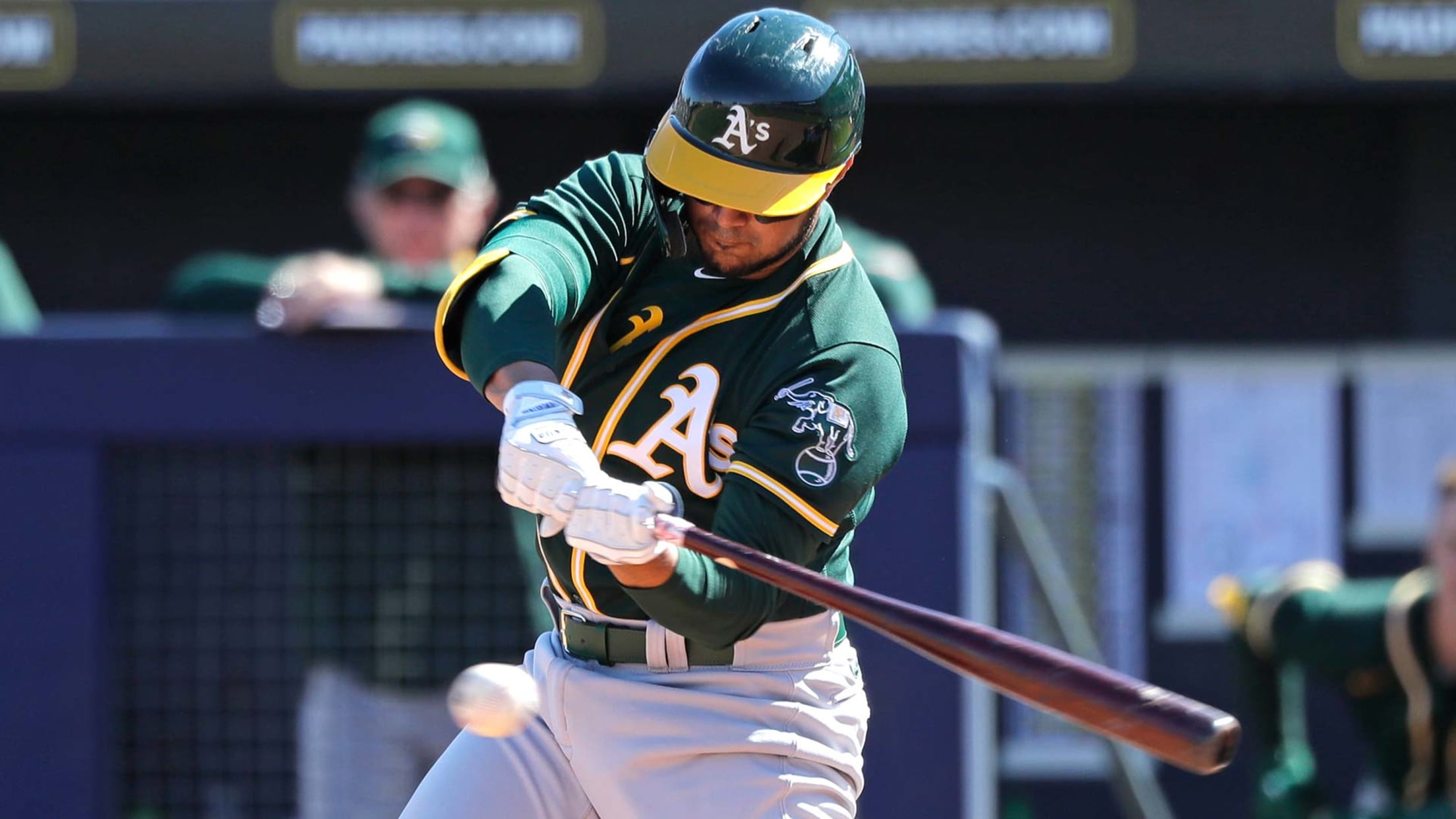 MESA, Ariz. -- A lot has changed in A's camp over the past week. Since our last A's Inbox, the club has trimmed its active roster in big league camp from 57 players to 41. Among those cuts was Sheldon Neuse, Oakland's No. 6 prospect per MLB Pipeline, which gives
Luzardo, Pinder, Kemp impress 'mates in camp
Grossman, Deichmann also get clubhouse compliments for efforts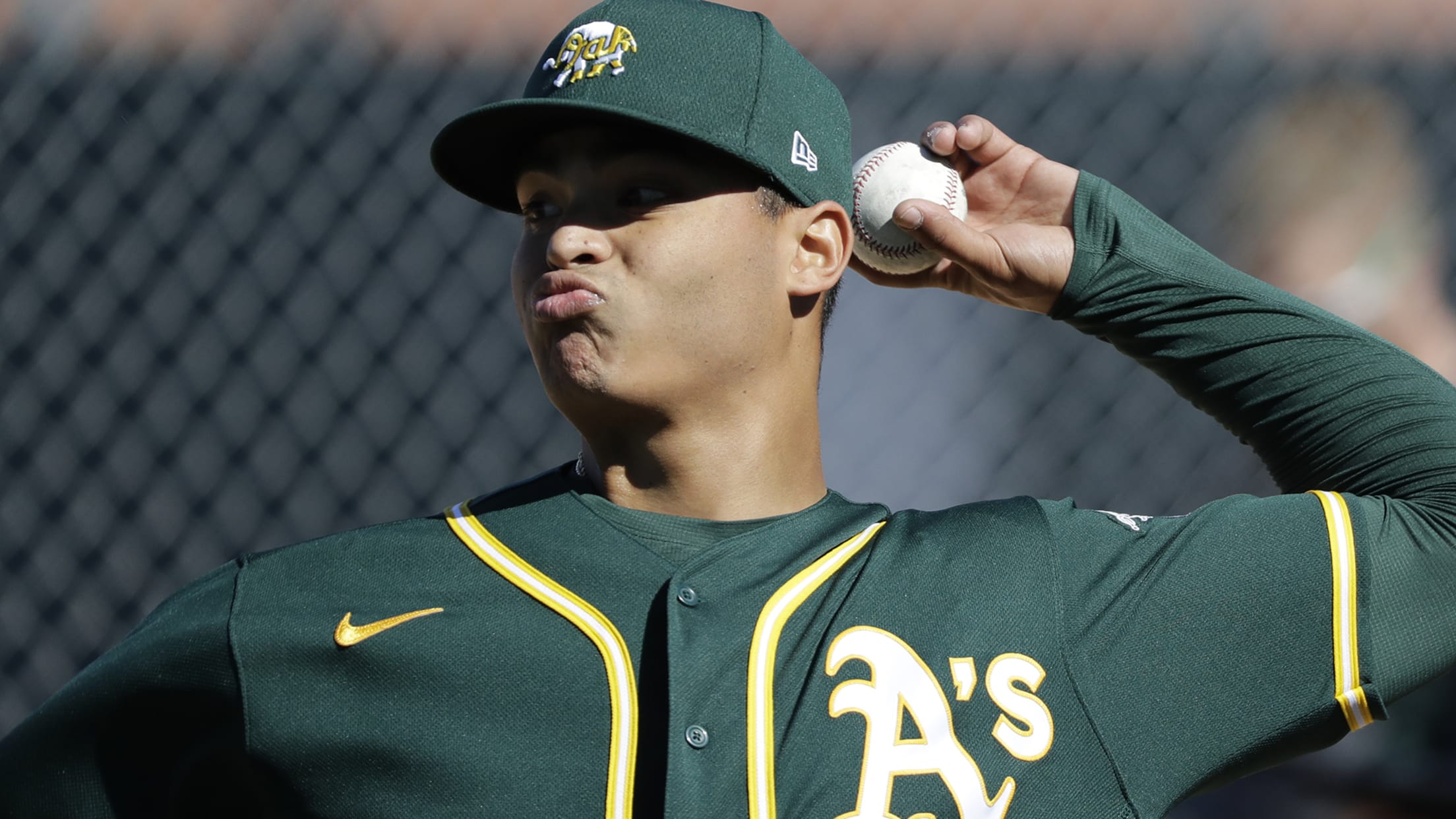 MESA, Ariz. -- As we reach the midway point of Spring Training, the A's have had certain players surprise teammates with their strong play. Others who had high expectations are just living up to the hype, but that doesn't make them any less impressive.
Here are the A's 2020 Top 30 Prospects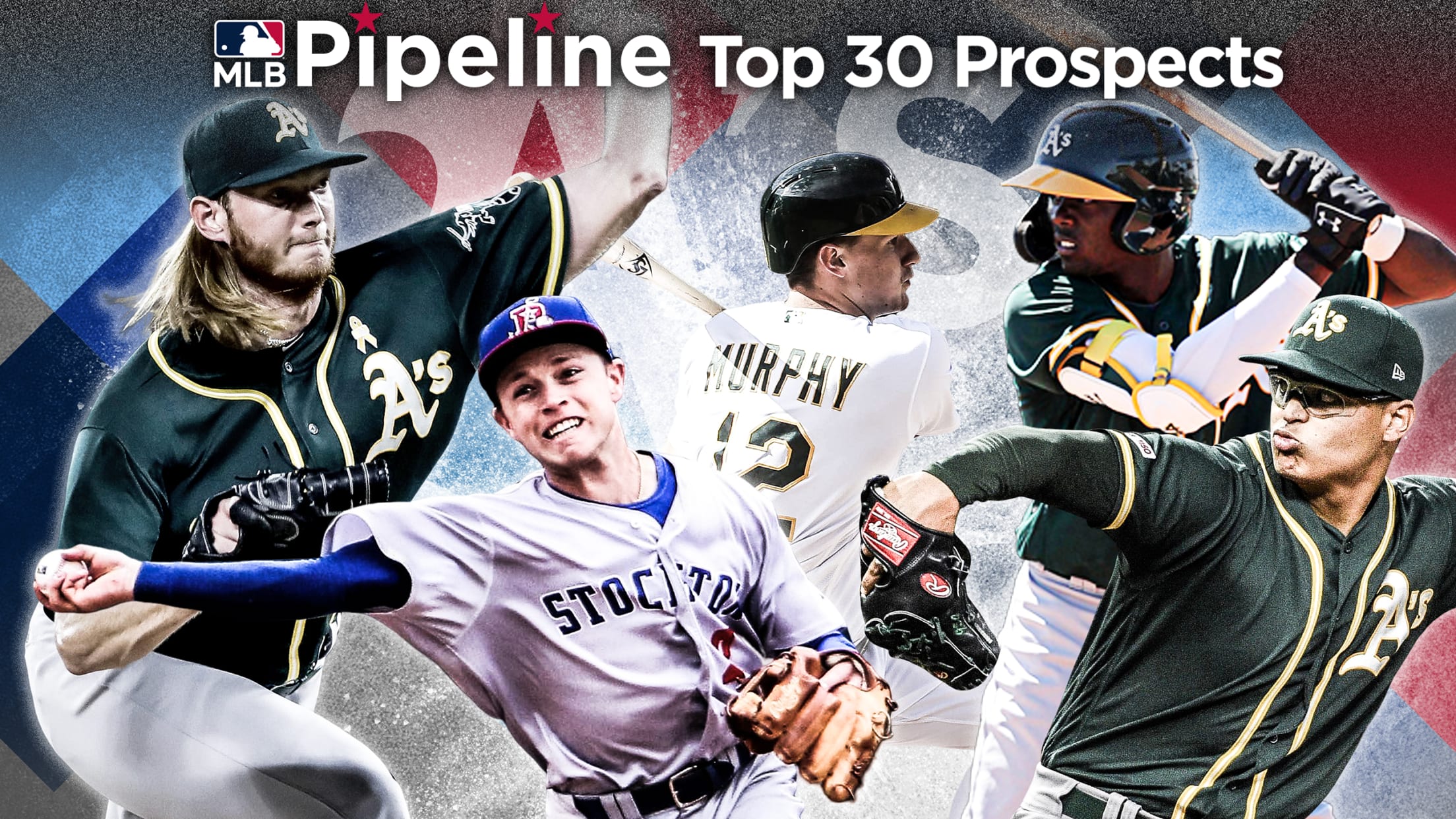 The A's don't have the best farm system in baseball -- most would probably put them in the middle of the pack. But most of the top prospects they do have are ready to impact the Major League roster in a big way.
Injury update: No elbow damage for Jefferies
A's right-handed pitching prospect has strained biceps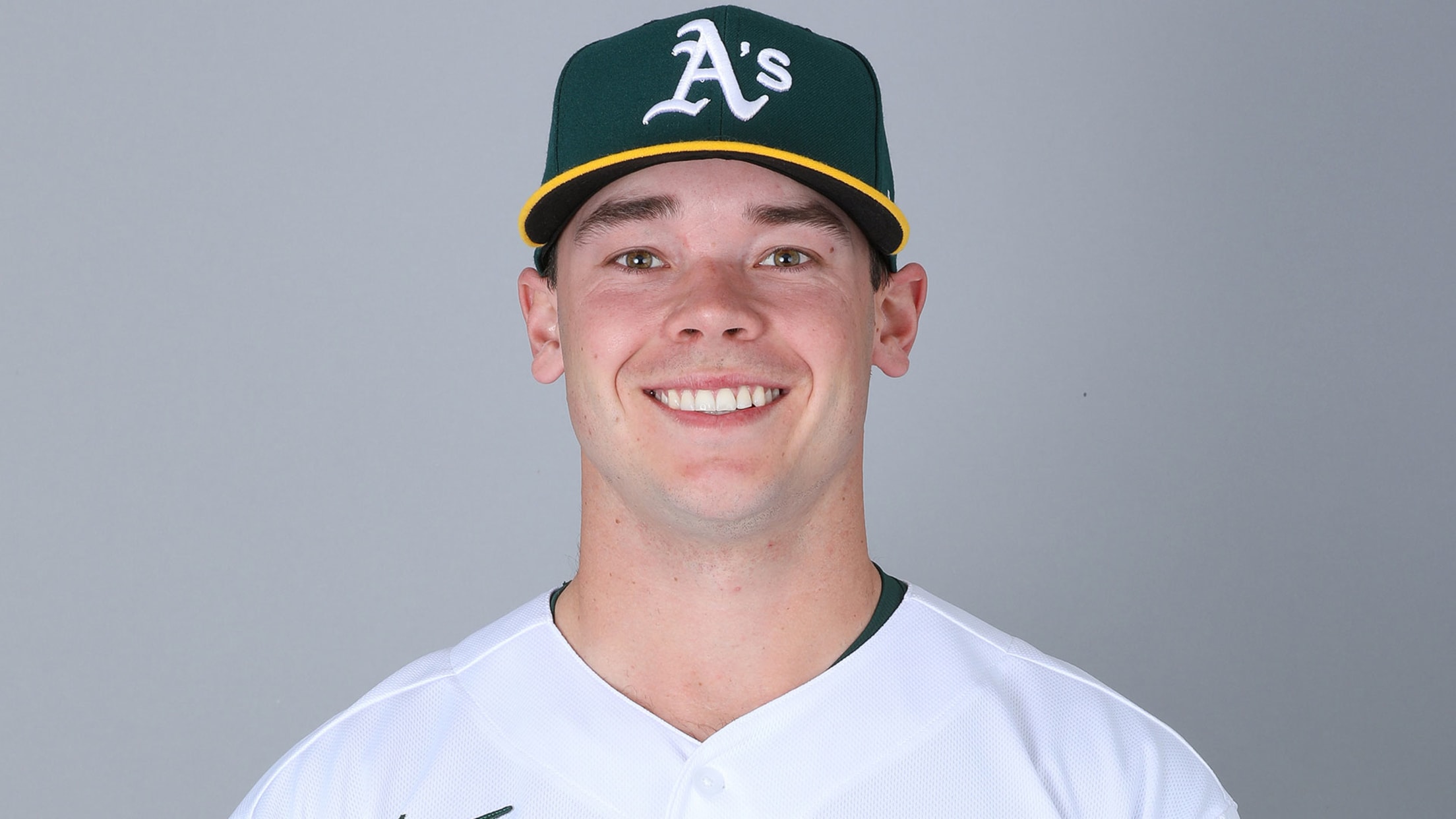 LAS VEGAS -- The A's can breathe a sigh of relief after learning the MRI results for pitching prospect Daulton Jefferies showed no damage to his elbow. Jefferies, the A's No. 12 prospect and top right-hander, per MLB Pipeline, departed a Cactus League appearance against the Brewers on Feb. 24
Notes: Puk's challenge; Bassitt's baffling curve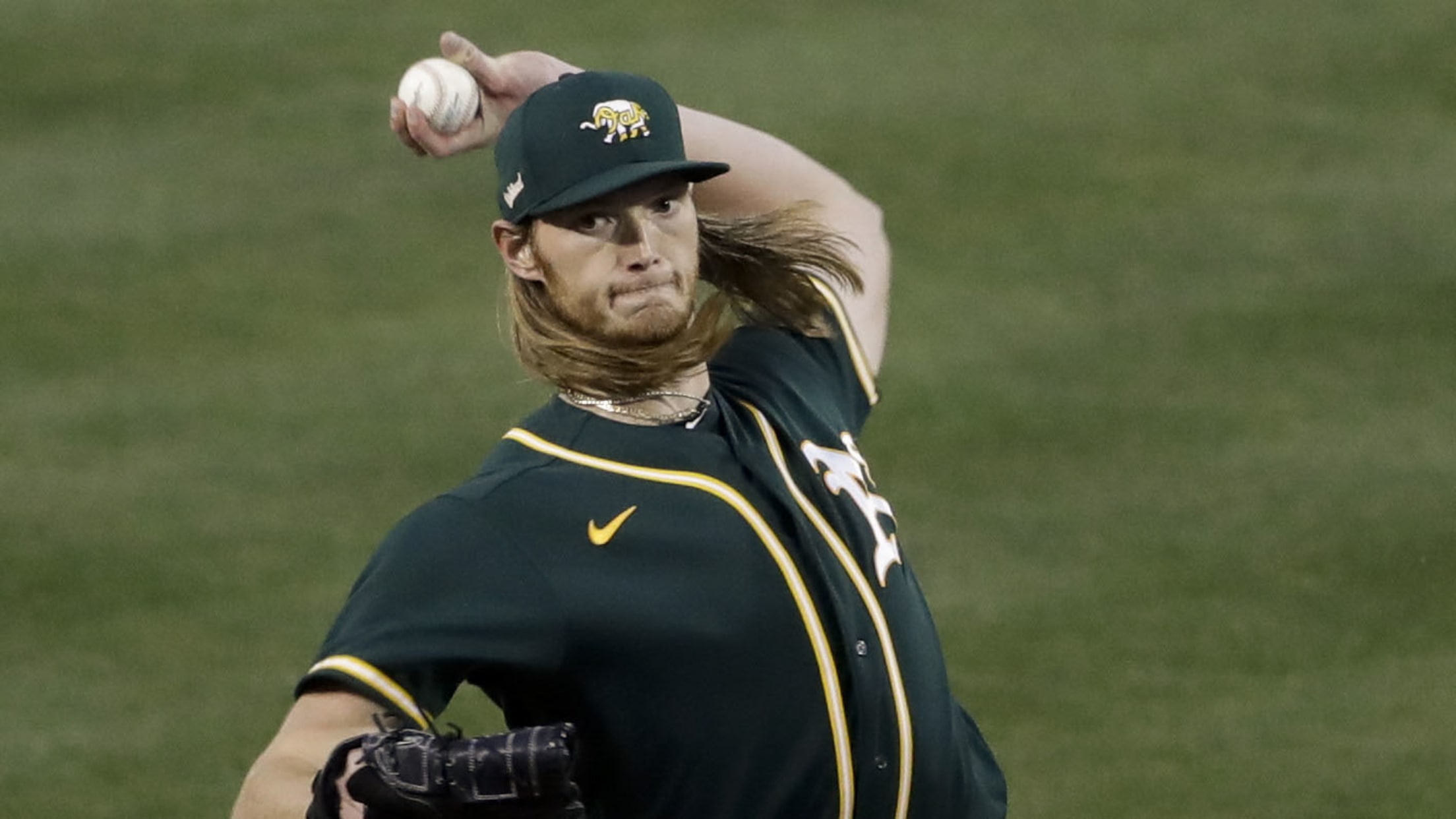 MESA, Ariz. -- A pitcher's first couple of Spring Training appearances can get monotonous at times, save when a game breaks out within a game. A.J. Puk engaged in one on Thursday against the Rockies. Making his second Cactus League start in what ended as a 5-2 victory for the
Luzardo peppers zone in sizzling spring debut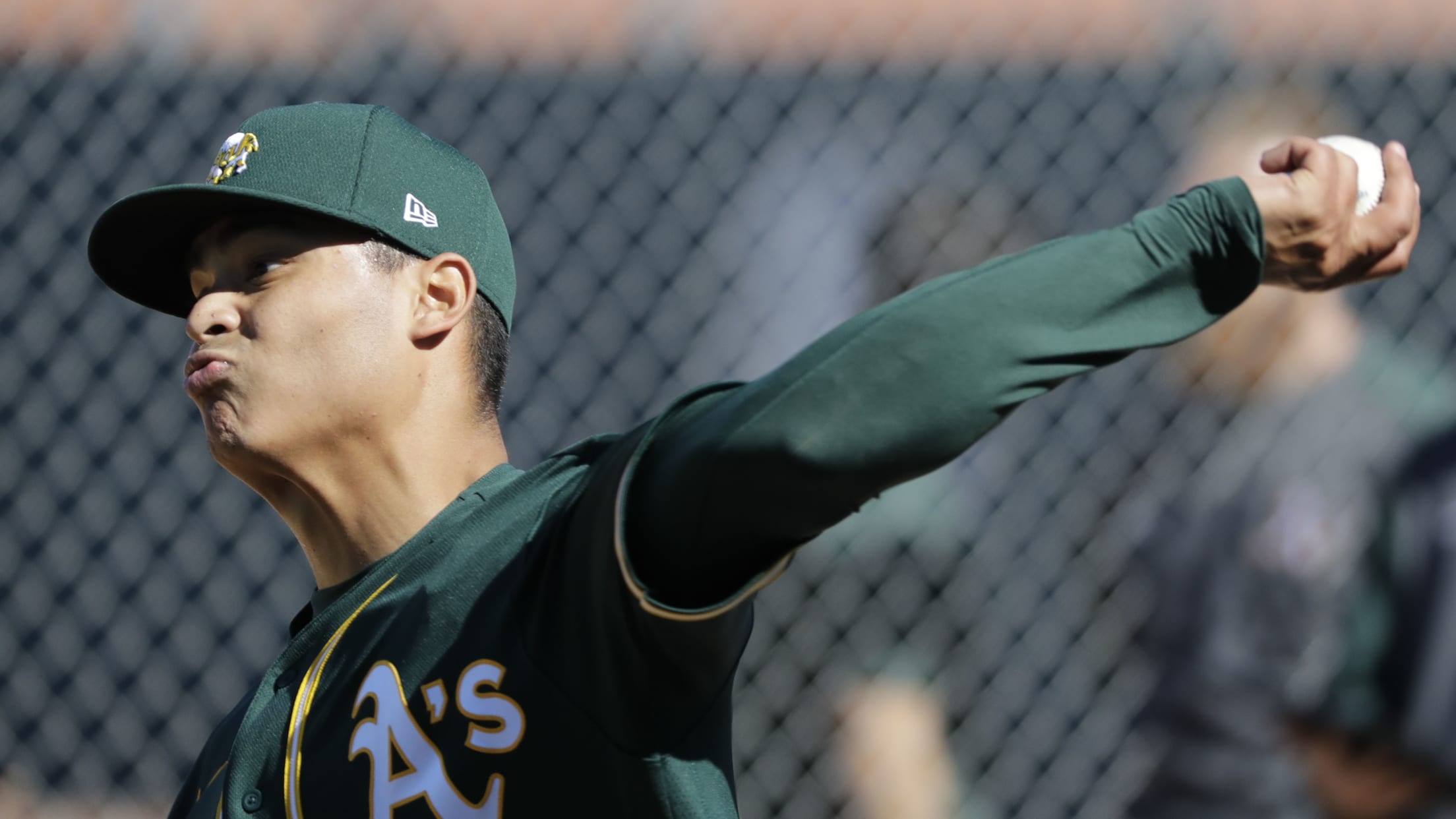 PEORIA, Ariz. -- Jesus Luzardo arrived with the A's last September and he showcased a brief glimpse of the tantalizing potential that rocketed the left-hander up the Minor League ranks, culminating in him entering the 2020 season ranked as the club's top prospect and No. 12 overall by MLB Pipeline.
Machin eager to seize opportunity at A's camp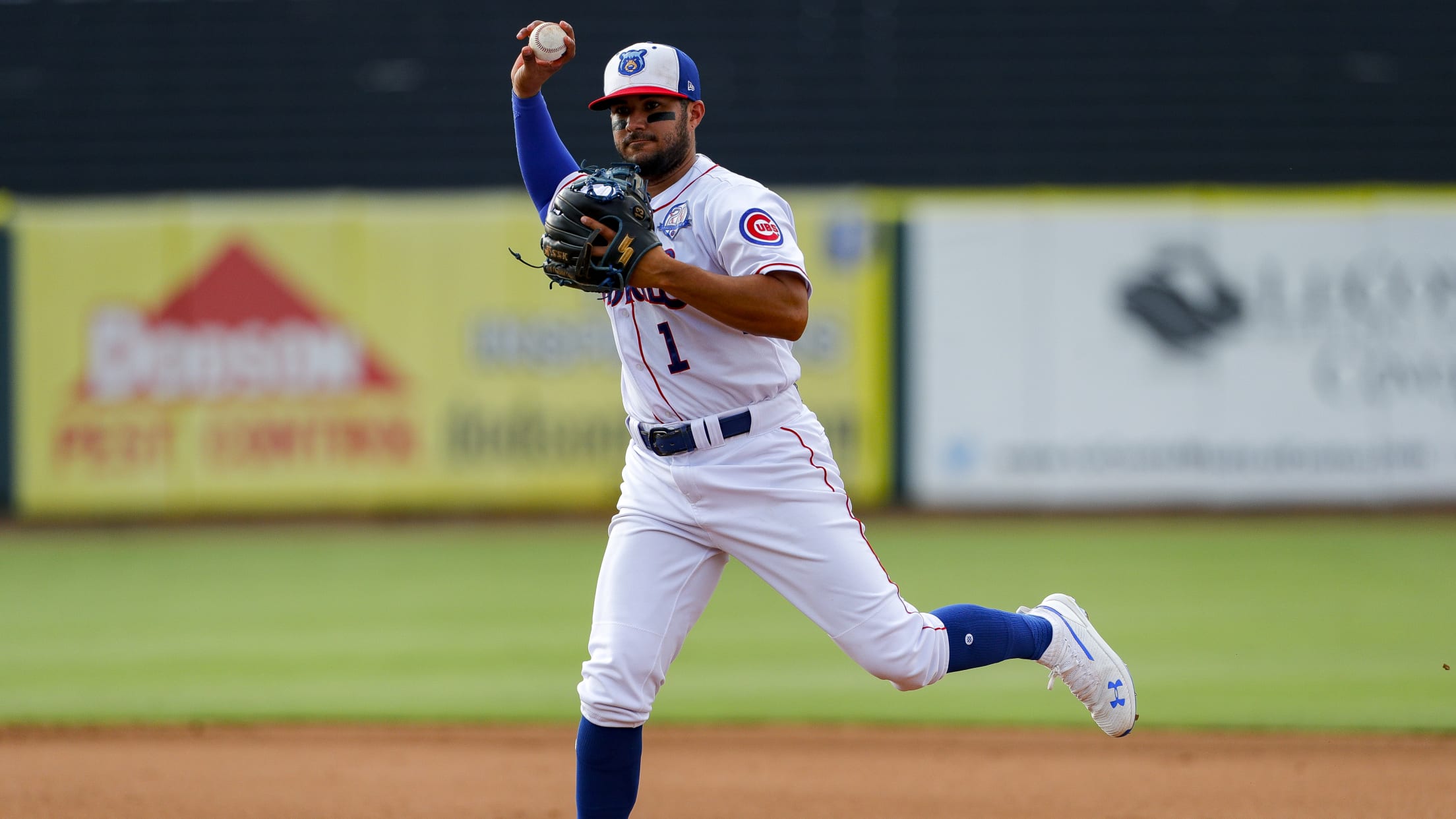 MESA, Ariz. -- Vimael Machin was expecting to compete for a second-base job this Spring Training. What he did not anticipate was that the opportunity would come with the A's. Drafted by the Cubs in 2015, Machin spent five seasons in the club's Minor League system, working his way up
Jefferies headlines A's next wave of young arms
Club's No. 12 prospect aims to continue development in spring camp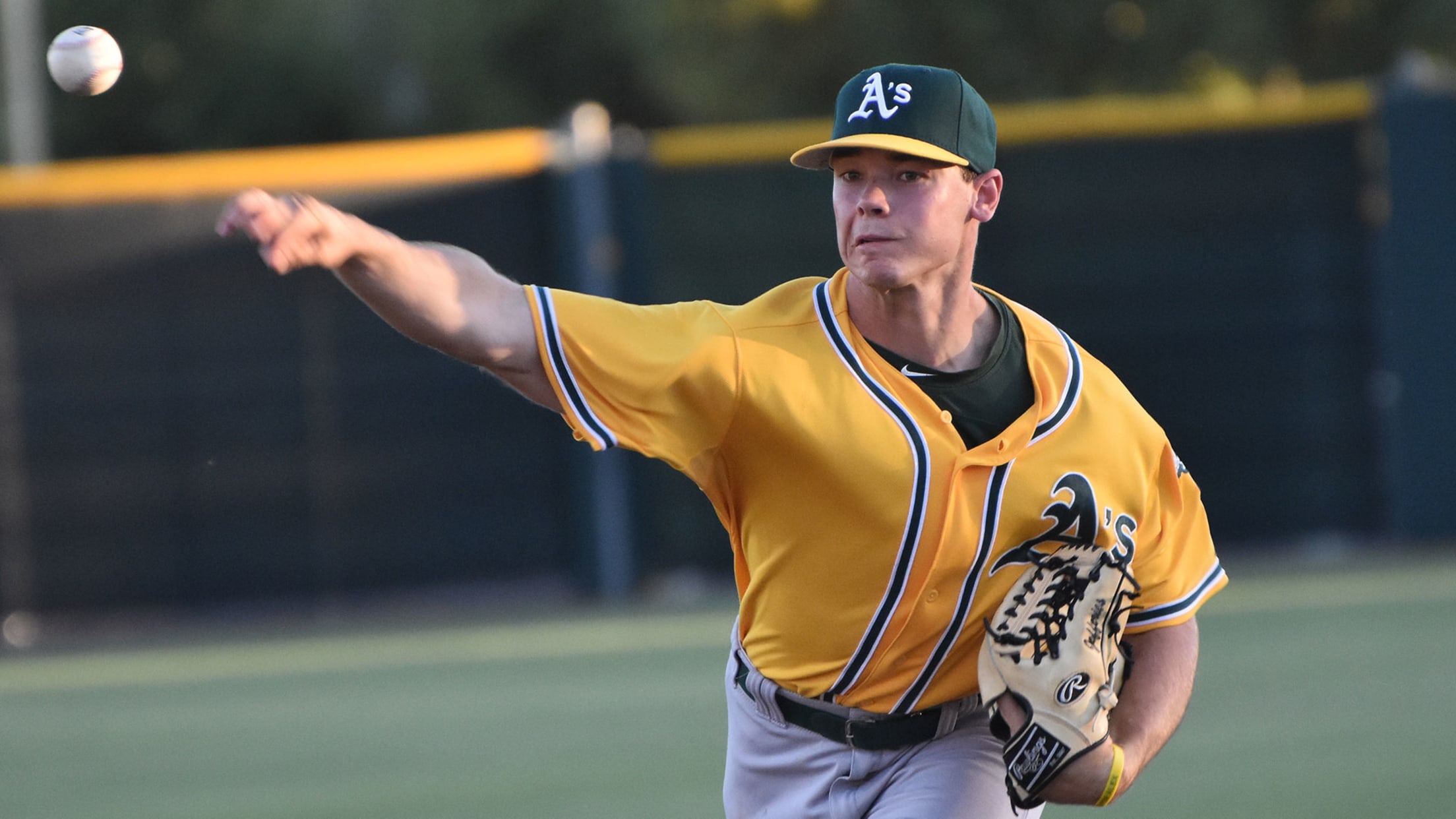 MESA, Ariz. -- The A's only began to scratch the surface on their immense depth of pitching with the callups of Jesus Luzardo and A.J. Puk last season. In addition to those southpaws, there are a few young arms in camp this Spring Training who could make an impact in
One prospect to watch on each team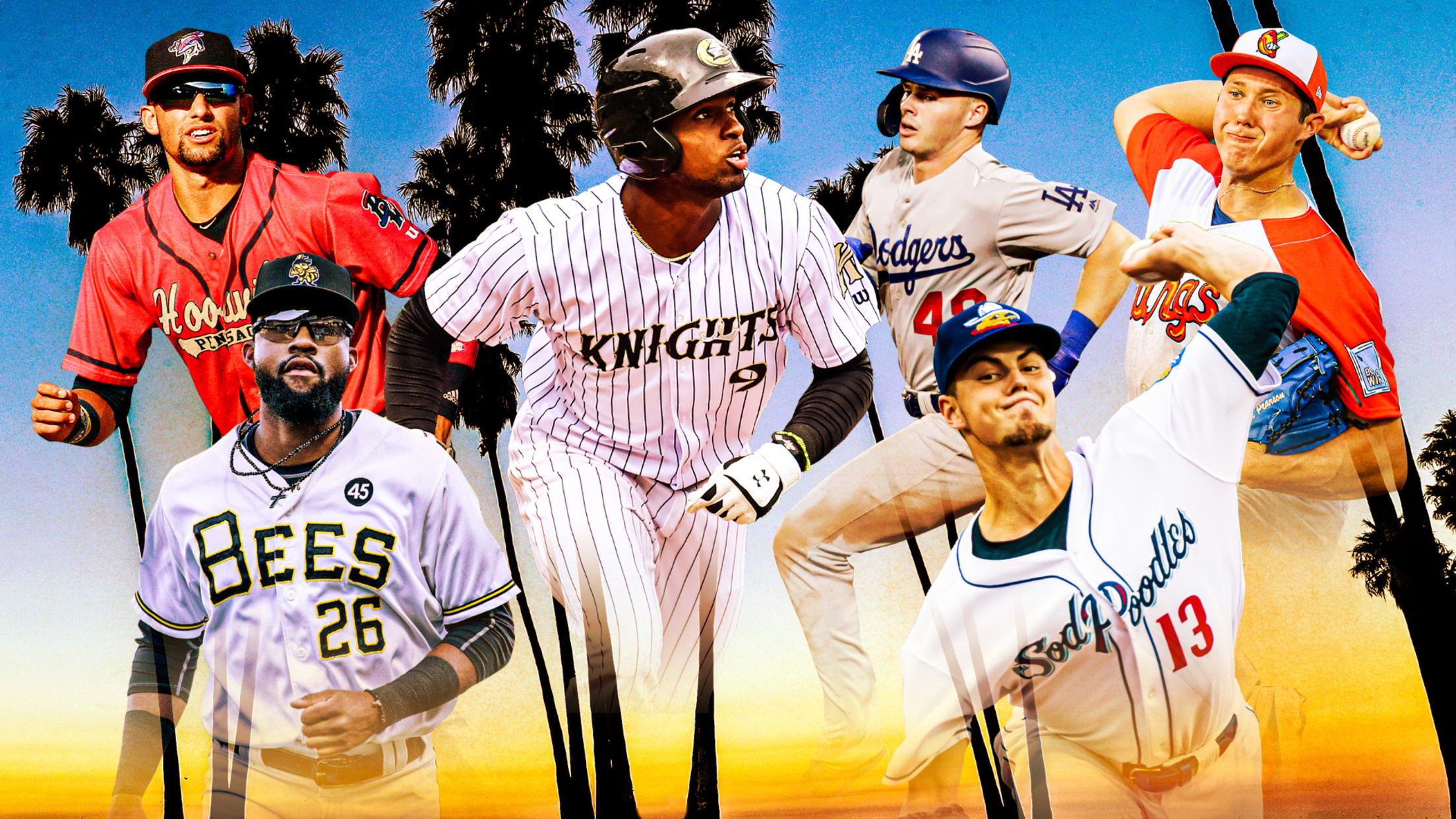 The future is now. As Spring Training gets underway, there will be position battles and players with much to prove. But there will also be highly touted prospects who will be putting their talents on display against Major Leaguers during Cactus League and Grapefruit League action. Here's a guide to
Cotton designated; Jefferies added to A's roster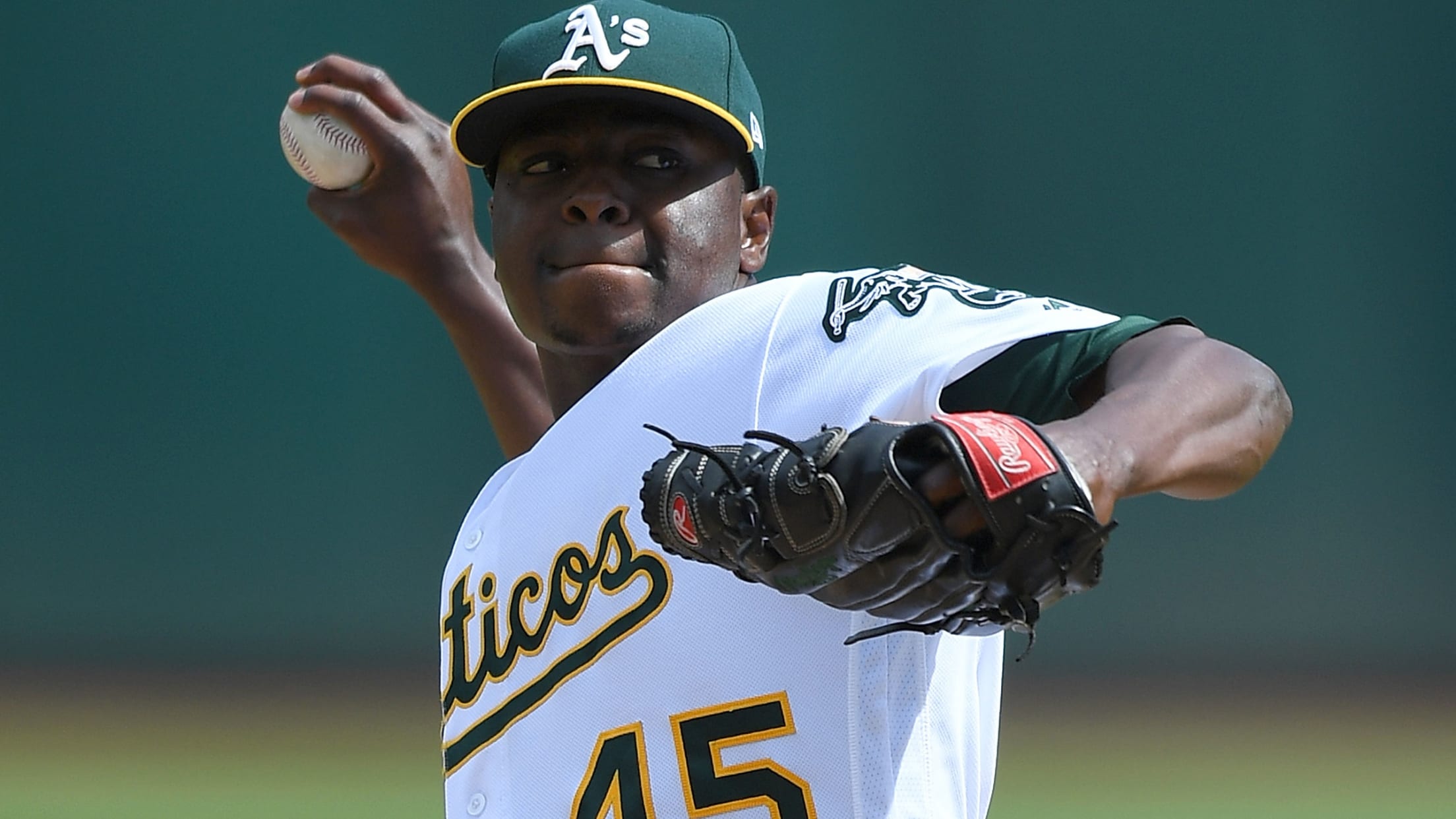 OAKLAND -- With their 40-man roster filled up and needing to find a spot for one of their promising young pitchers, the A's had to make a tough decision. Oakland added Daulton Jefferies to its 40-man roster just hours before the deadline to set rosters in order to protect eligible
This is the state of the A's farm system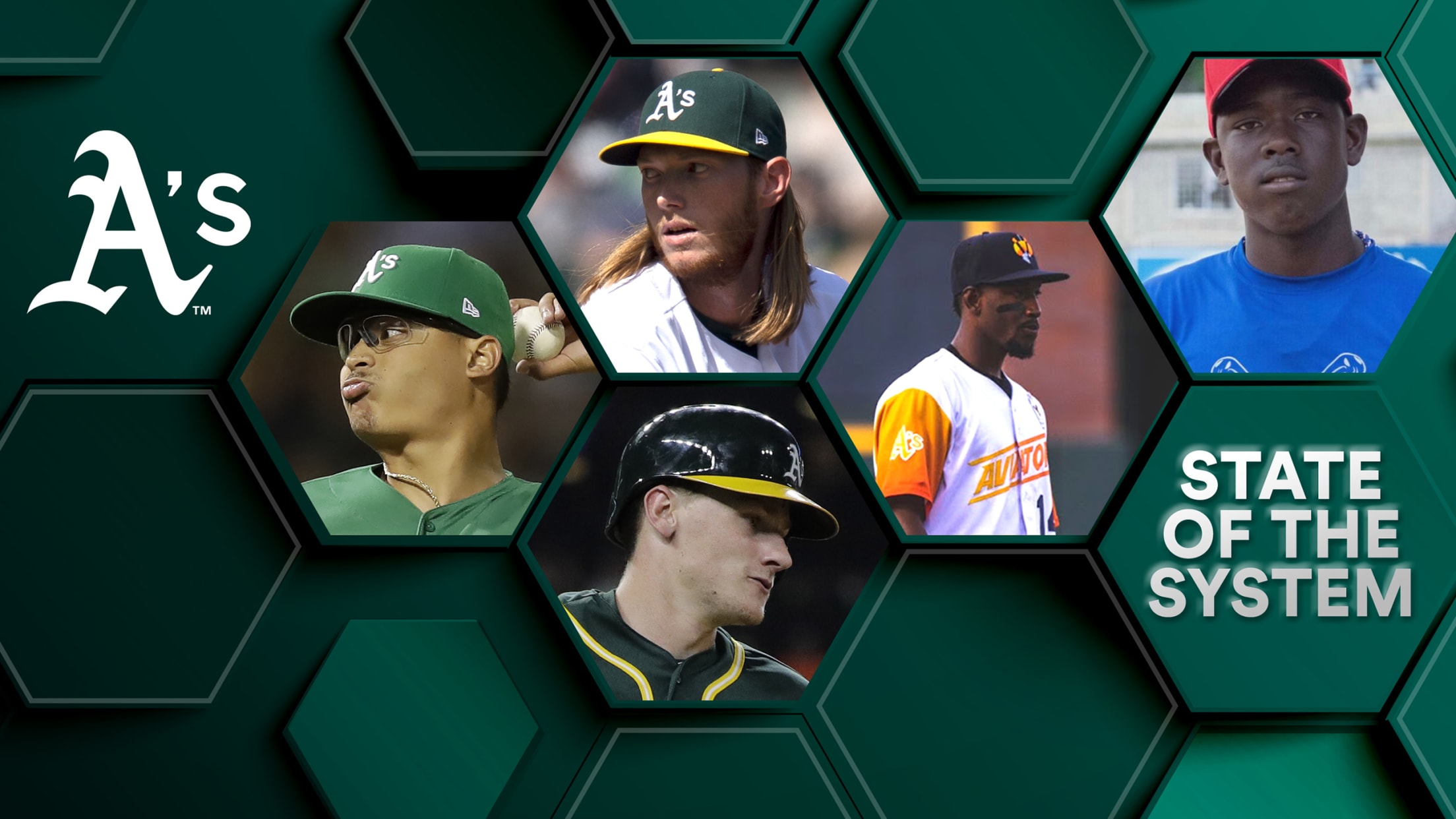 The A's are coming off back-to-back 97-win seasons that resulted in Wild Card Game appearances. Both rosters were largely built via trades, which should give you an idea of what the current farm system will be used for in the future if the A's continue to be competitive in the
Athletics Arizona Fall League updates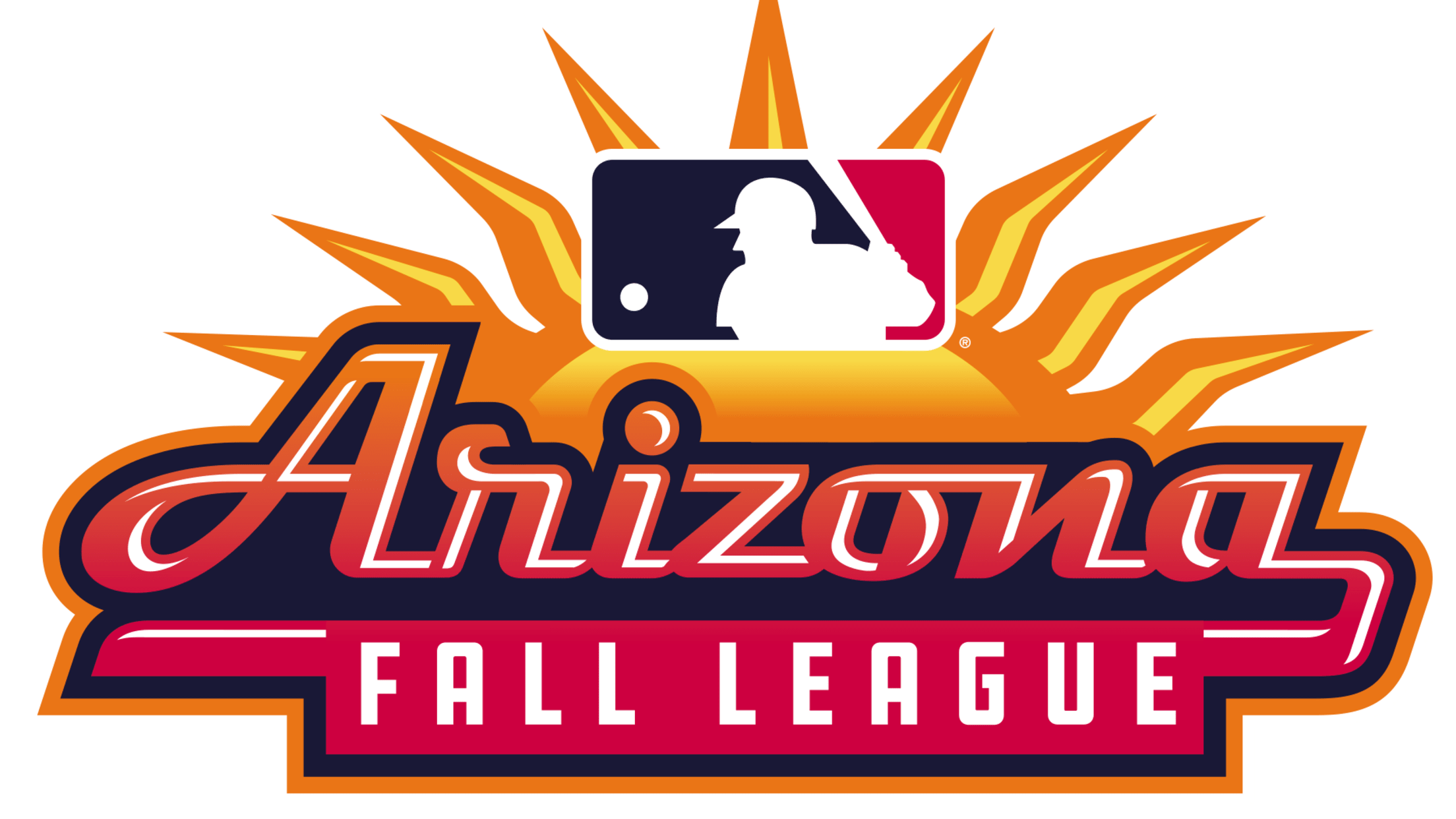 Seven A's prospects are playing for the Mesa Solar Sox in the 2019 Arizona Fall League: Shortstop Nick Allen (No. 6), outfielder Greg Deichmann (No. 17), first baseman Alfonso Rivas (No. 25), right-hander Brady Feigl (No. 28), right-hander Daniel Gossett, right-hander Jhenderson Hurtado, and right-hander Jesus Zambrano.
Luzardo enters '20 looking like an ace
With 12 stellar innings in relief under his belt, lefty set to start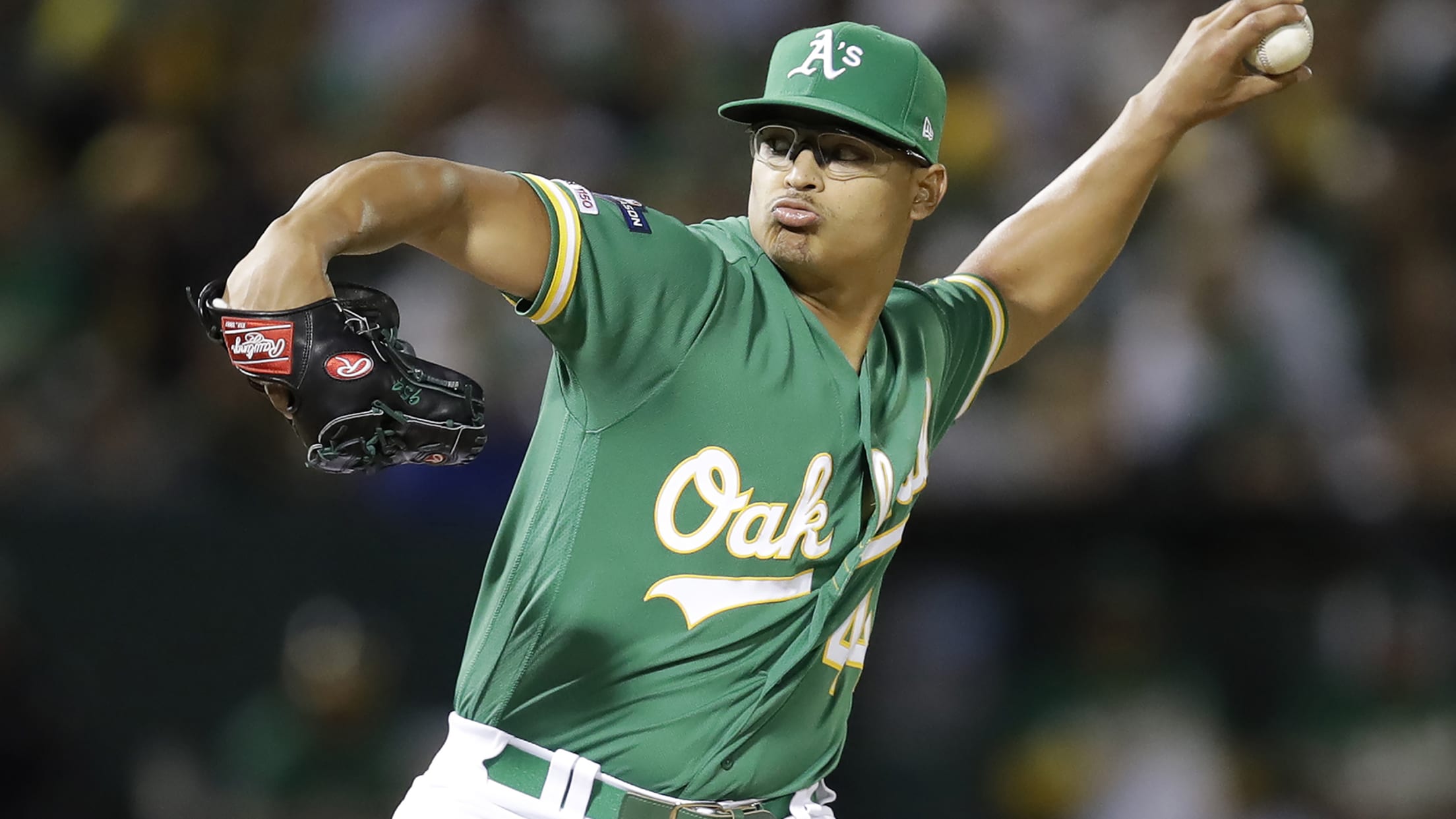 OAKLAND -- Jesus Luzardo embraced the high expectations as MLB Pipeline's top-rated left-handed pitching prospect that accompanied him to Spring Training. And once Luzardo's call to the Majors finally came in September, the 21-year-old certainly did not shy away from the spotlight. Luzardo looked more like a poised veteran than
Here are the 7 A's in the Arizona Fall League
No. 6 prospect Allen excited to make up for lost time in AFL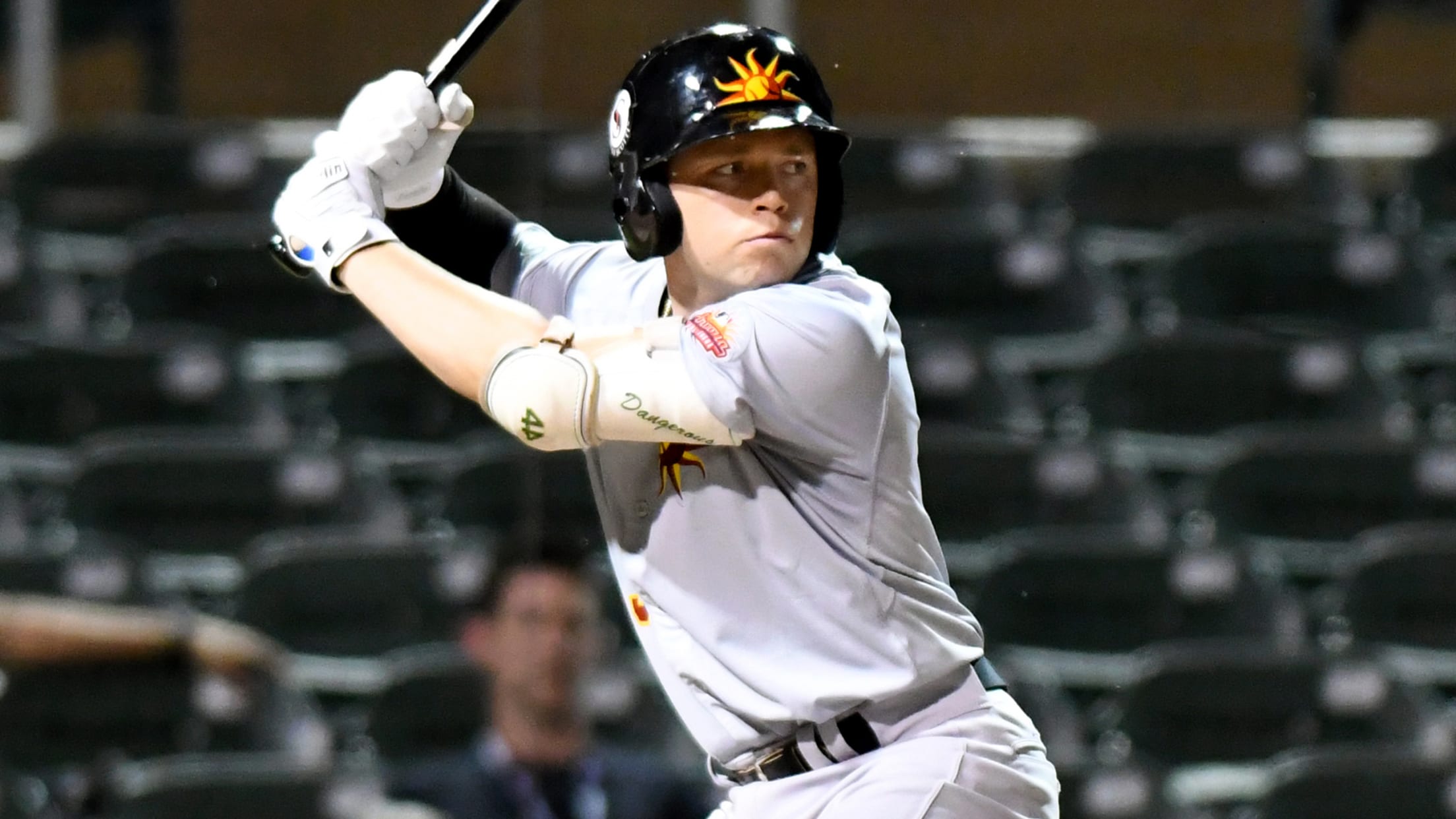 It looked like Nick Allen was having a breakout season at the plate with Stockton in the Class A Advanced California League in 2019. The A's No. 6 prospect, known more for his defensive prowess than his bat, had brushed off a first full season where he hit just .239/.301/.302
A's prospects deliver in walk-off AFL victory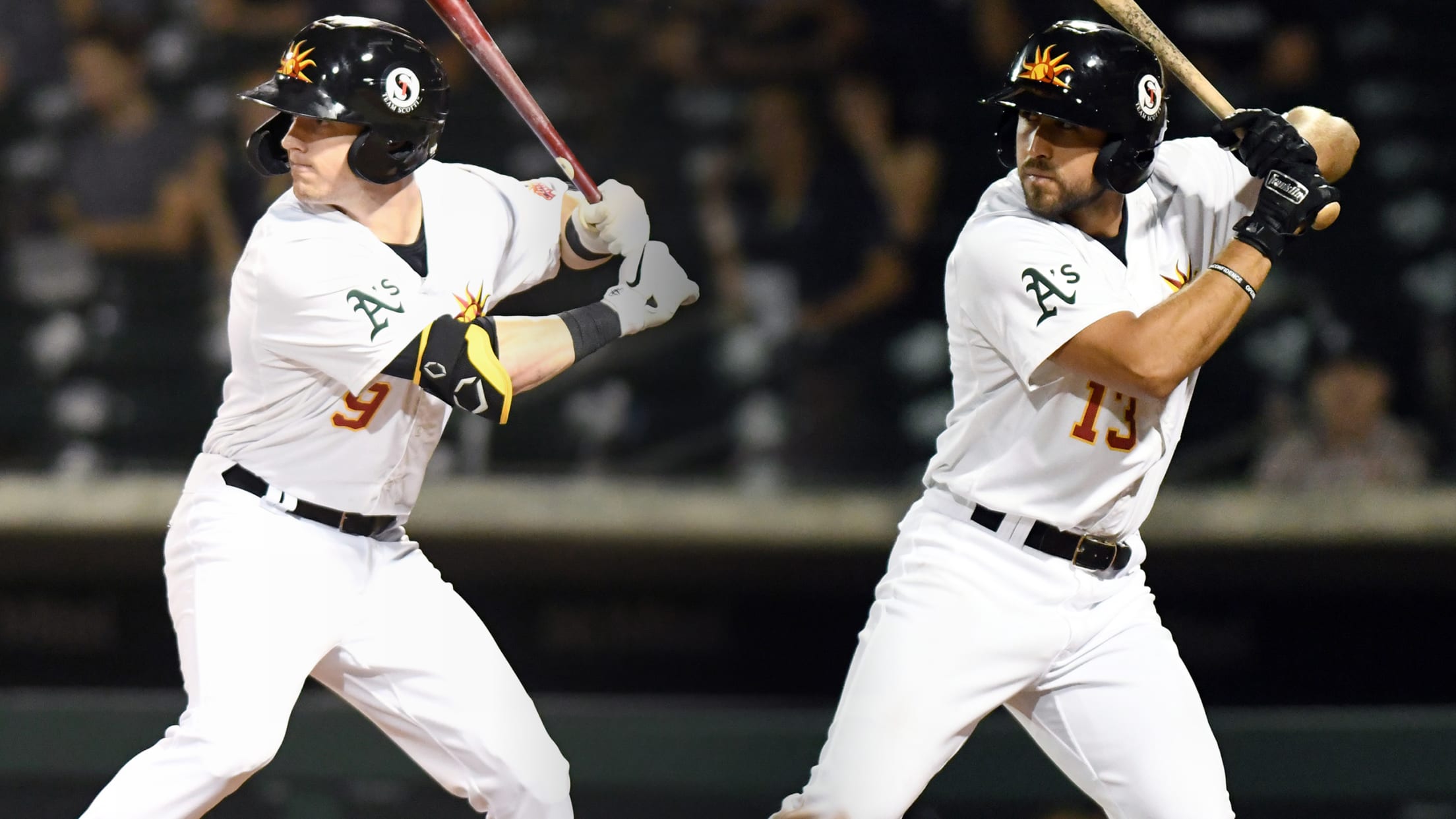 MESA, Ariz. – The chants in the home dugout started with one out in the ninth inning and the Mesa Solar Sox trailing by two runs in Arizona Fall League action. Mesa second baseman Nick Allen, Oakland's No. 6 prospect, could certainly hear it growing louder as he strolled to
Pipeline names A's Prospects of the Year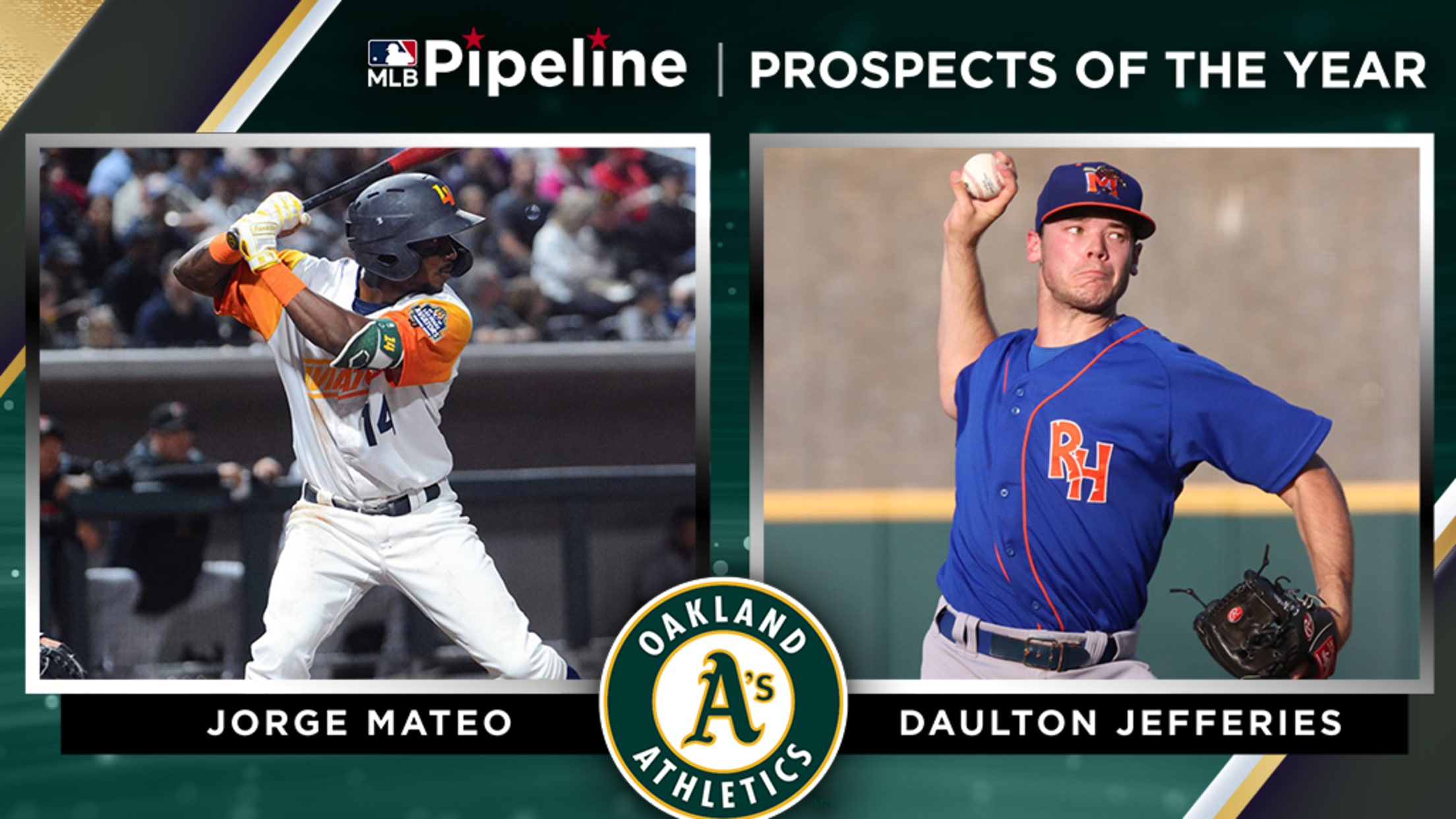 OAKLAND -- A tough-luck injury prevented Jorge Mateo from reaching the Majors in 2019, but his overall body of work has positioned him nicely as one of the A's top hitting prospects. Mateo has been named Oakland's Minor League Hitter of the Year by MLB Pipeline, while right-hander Daulton Jefferies
A's break out the brooms behind Manaea's gem
Luzardo fires 3 innings of 1-run ball to earn first career save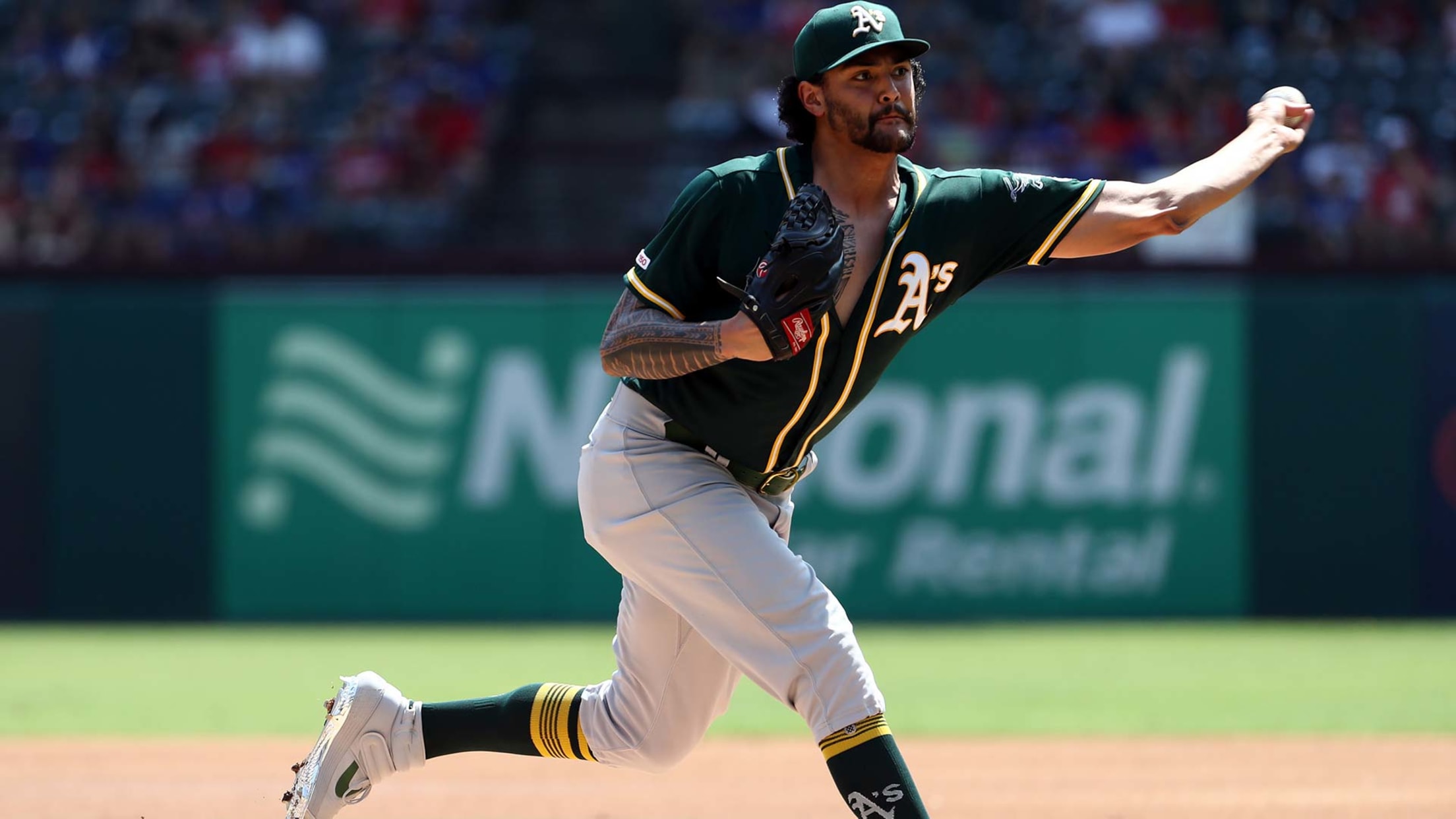 ARLINGTON -- Given the A's just won their 90th game of the season, it's fair to say they managed pretty well without Sean Manaea while the lefty was rehabbing from last year's shoulder surgery. But if Manaea pitches as well as he has through his first three outings since being
Luzardo debuts with 3 IP of high-stakes relief
A's top prospect clocked at 98 mph, allows one hit (solo HR)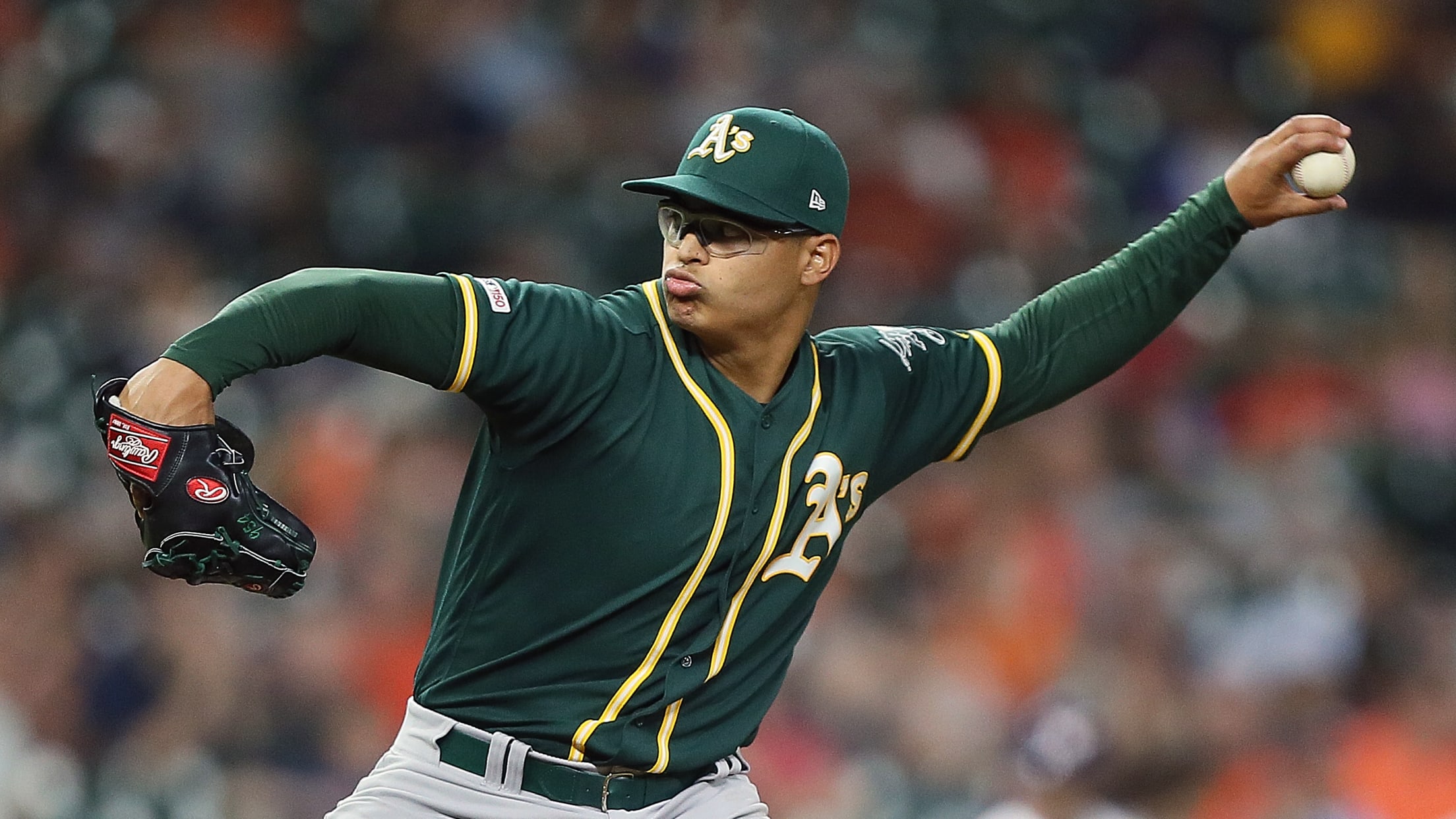 HOUSTON -- Few debuts in A's history have come with as much anticipation as the fanfare surrounding the one for young phenom Jesus Luzardo. After getting the call to the Majors on Monday, the left-hander finally took a big league mound for the first time on Wednesday night, and he
A's call up No. 1 prospect Luzardo
Peruvian-born lefty likely to come out of bullpen; Mengden recalled, Barrera to 60-day IL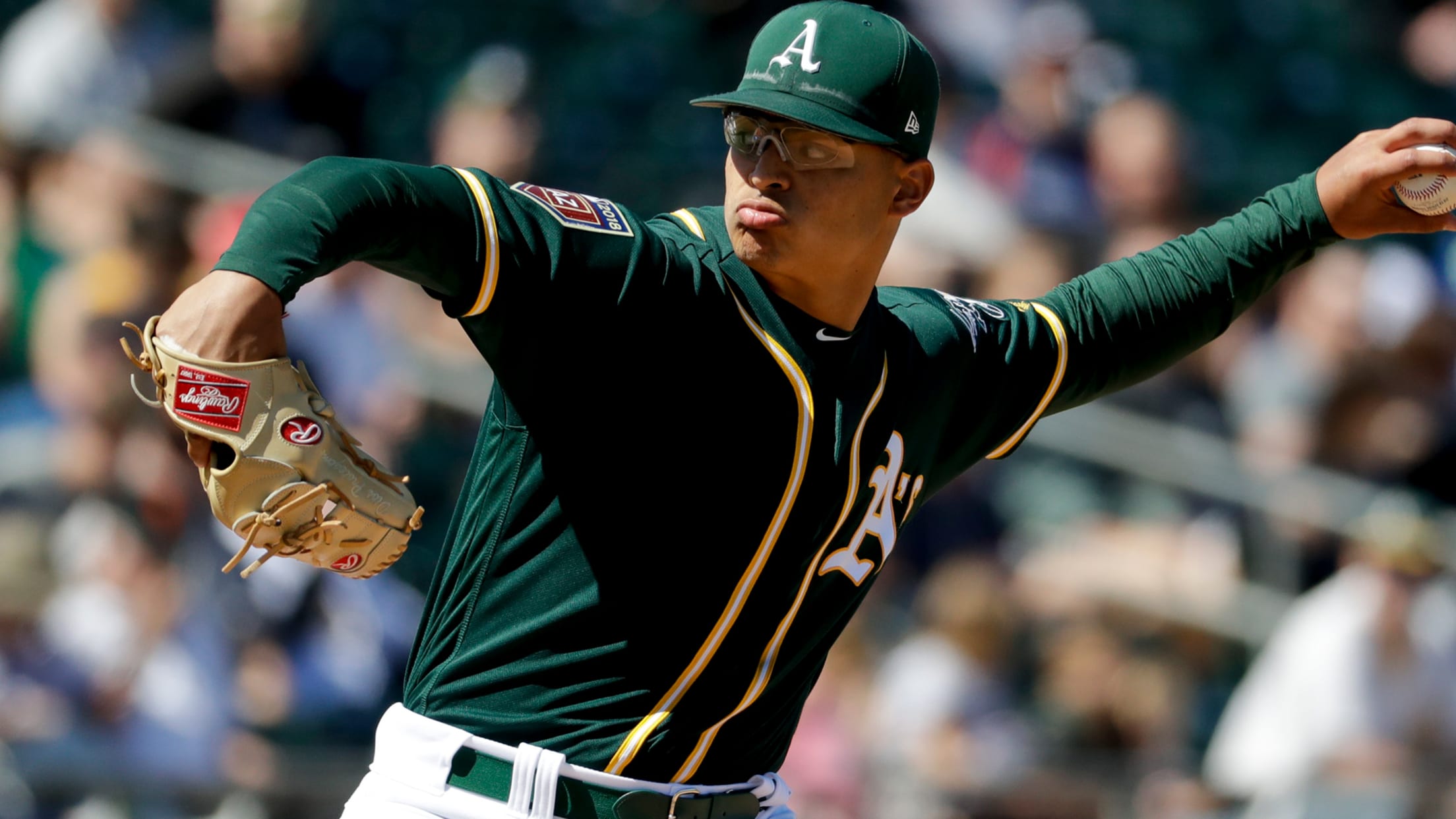 HOUSTON -- It's the dawn of a new era: The Jesus Luzardo Era. The A's selected Luzardo, their No. 1 prospect and No. 18 prospect in baseball per MLB Pipeline, and also recalled right-hander Daniel Mengden from Triple-A Las Vegas on Monday. The left-hander joined the club at Minute Maid
Here's what to expect from Luzardo in the bigs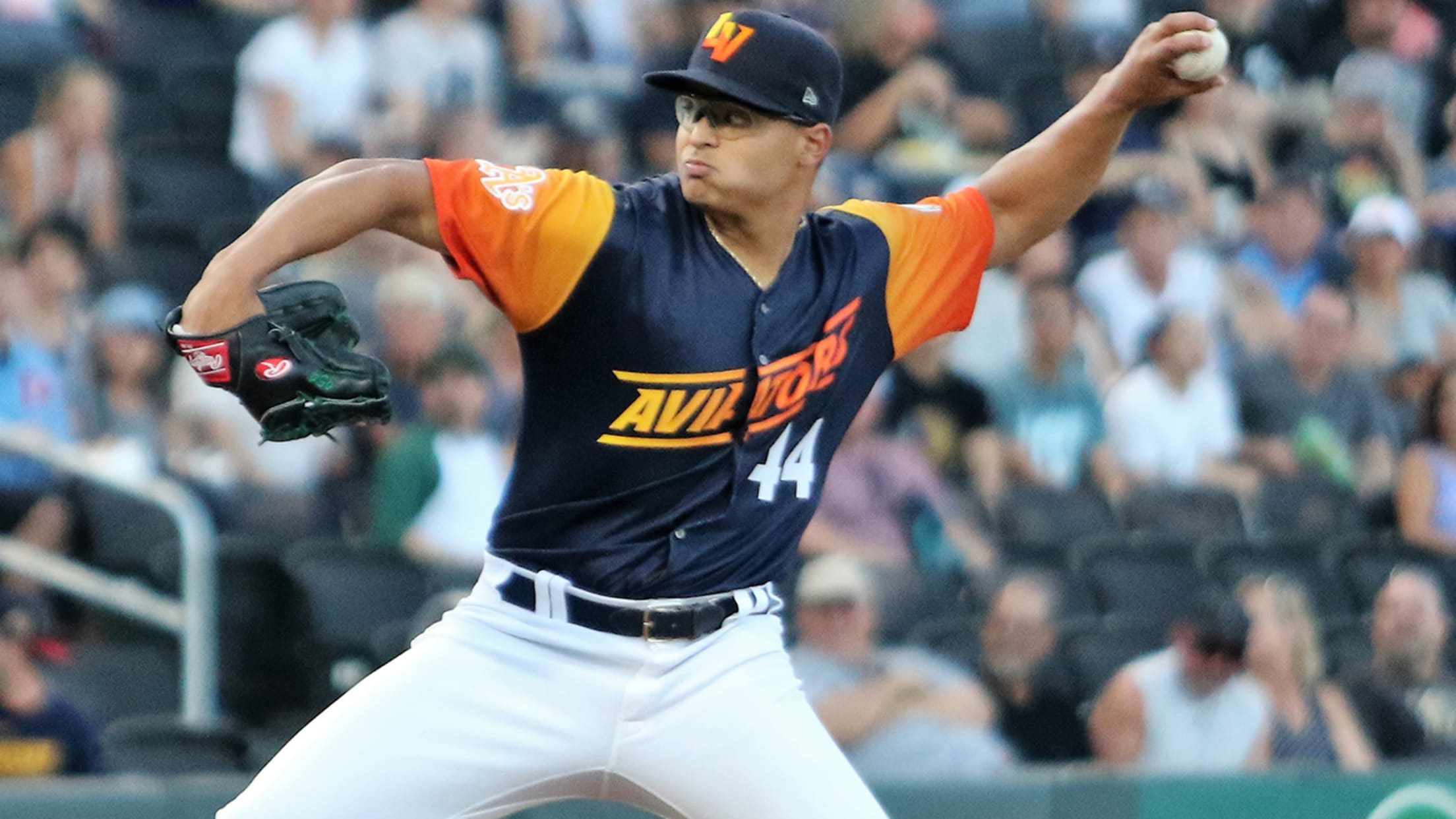 If you had asked anyone within the A's organization in February about top prospect Jesus Luzardo pitching in the big leagues in 2019, the answer would have been some kind of "when, not if" reply. And most would have put the over/under at some point in the first month or