Underground Parking
There is a limited amount of public parking available underground at Rogers Centre with elevator access to the building. Public access and rates vary depending on the concert or event. On game days, there is no public parking underground. All parking is reserved either for Season Ticket Members, accessible parking, or staff.
The lot is divided into four zones:
Star Zone (Green) – Northeast section of the building/closest elevator is at Gate 3.
Cloud Zone (Blue) – Southeast/Gate 7
Sun Zone (Red) – Southwest/Gate 9
Moon Zone (Yellow) – Northwest/Gate 13
Hotel Zone (Purple) – North (no public parking)
A limited number of parking spaces for guests with mobility issues are available in our underground lot. In addition, we have accessible spots for overheight vehicles available by reservation in our loading bay. On game days, accessible spots are only available by reservation. For more information and to make reservations, call 416-341-1234. Please have your disability permit number handy for bookings.
Accessible Parking
A limited number of accessible parking spaces are available by reservation by calling Rogers Centre parking at 416-341-1540. Callers should have their accessible parking permit number ready when making a reservation.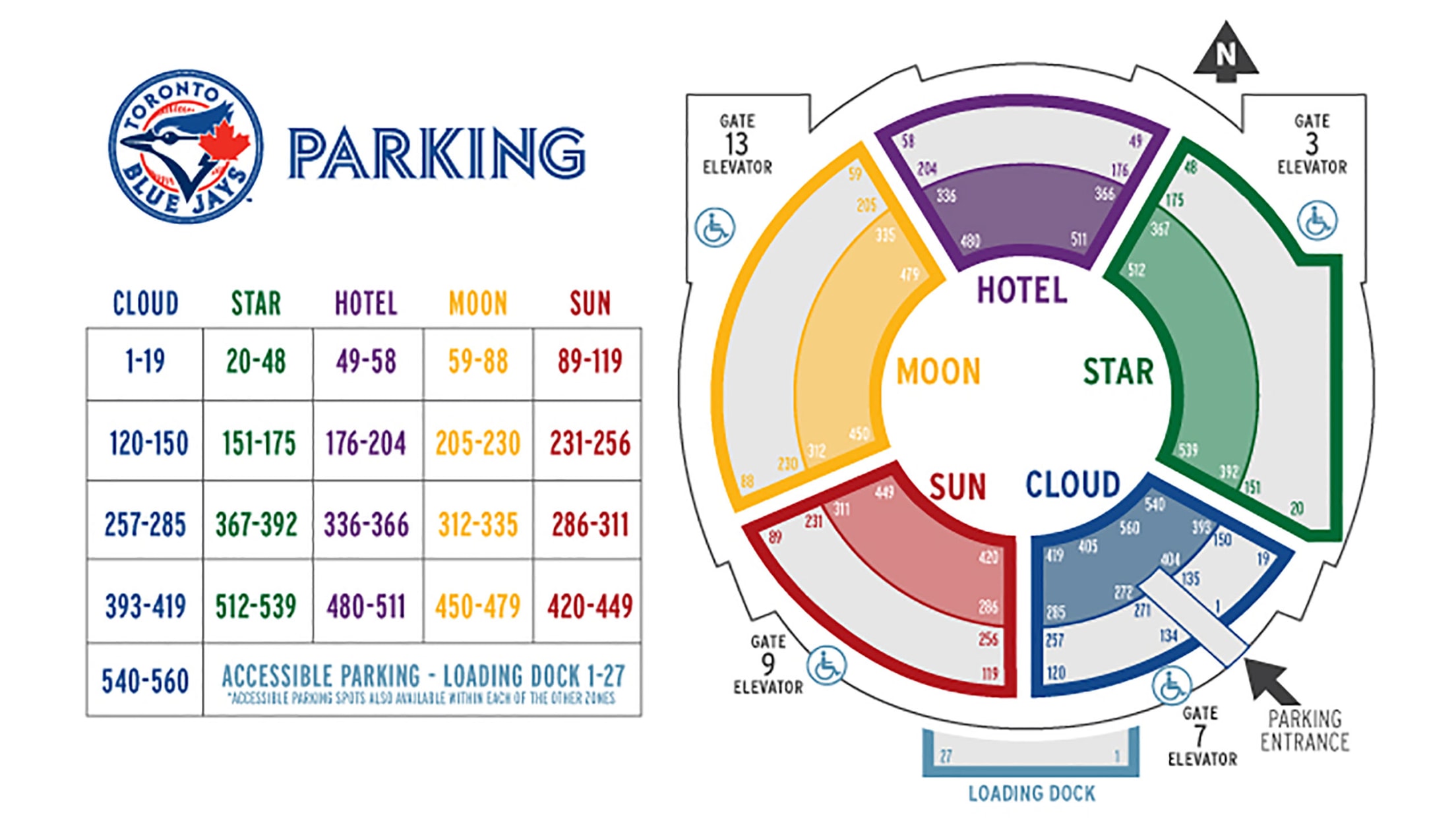 Outdoor Parking
There are a number of parking lots within walking distance of Rogers Centre at various prices. Lots within walking distance include:
Rees & Queens Quay
Convention Centre (Simcoe/Station St., south of Front St.)
Underground Parking (Lower Simcoe St., south of Bremner Blvd)
York St. & Bremner Blvd.
Front & Blue Jays Way
Blue Jays Way & Navy Warf Ct.
Reserve Parking with ParkWhiz
The Blue Jays are excited to provide our fans with an easy way to pre-book a parking spot before driving to the game. Click here to view the closest parking options to Rogers Centre and reserve your space today.