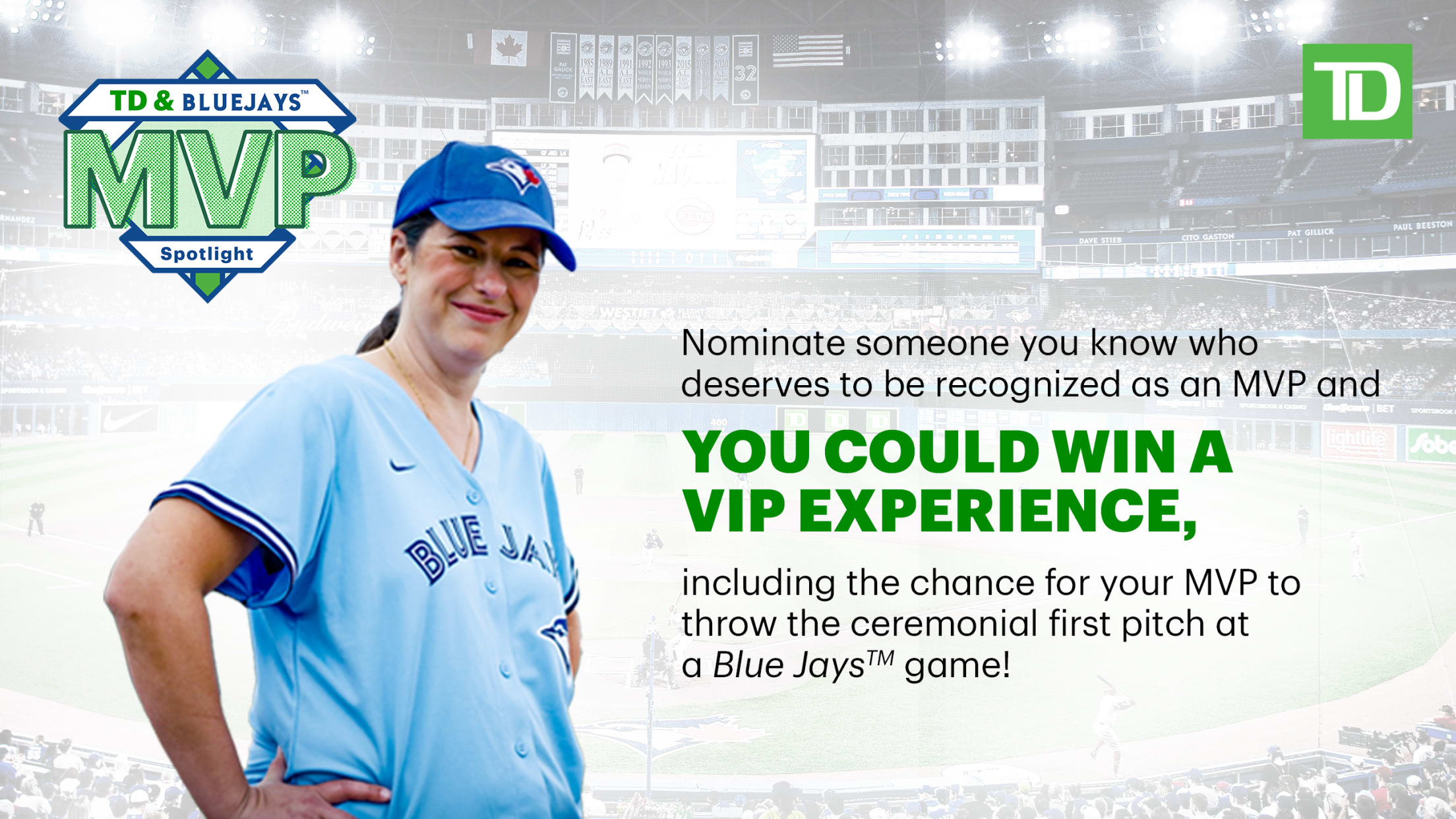 How to Enter
To enter the TD & Blue Jays™ MVP Spotlight Contest, complete and submit the entry below found at the bottom of this page by:
providing the full name of the person you are nominating to be recognized as an "MVP" because they bring the joy of the game of baseball to life ("Nominee");
writing an original submission that explains why your Nominee should be recognized as an "MVP" in the TD & Blue Jays MVP Spotlight Contest ("Submission"); and
completing all other required information on the entry form.
Each Submission must be: (i) in English or French, (ii) original and unique, (iii) at least fifty (50) words in length, and (iv) must not exceed three hundred (300) words in length. Click here for full Contest Rules.
The contest closes at 4:59 p.m. ET on September 22, 2022. Limit of one entry per person/email address with the opportunity to receive five additional entries. See full Contest Rules.
Judging Criteria
All eligible entries will be judged to determine the one (1) most compelling Submission based on the following criteria: Relevance to the game of baseball and/or the Blue Jays (70%) and Quality of Submission (30%). For a complete description of the judging criteria see full Contest Rules.
The Grand Prize
One lucky winner will receive:
Opportunity for your Nominee to throw out the Ceremonial First Pitch on October 1, 2022
4 tickets to attend the Blue Jays™ game on October 1, 2022 in the TD Zone Seats
VIP tour experience at Rogers Centre™ for the winner, the Nominee and 2 guests
Hotel accommodation for 3 nights in Toronto
Round-trip economy airfare to Toronto for the Winner, the Nominee and 2 guests*
4 Blue Jays jerseys
4 Blue Jays hats
CDN $500 in spending money
4 CDN $50 Jays Shop gift cards
* Airfare not included if winner resides within 300 km of
Rogers Centre
Additional Fans Information