Brewers' Top 5 lefty starters: McCalvy's take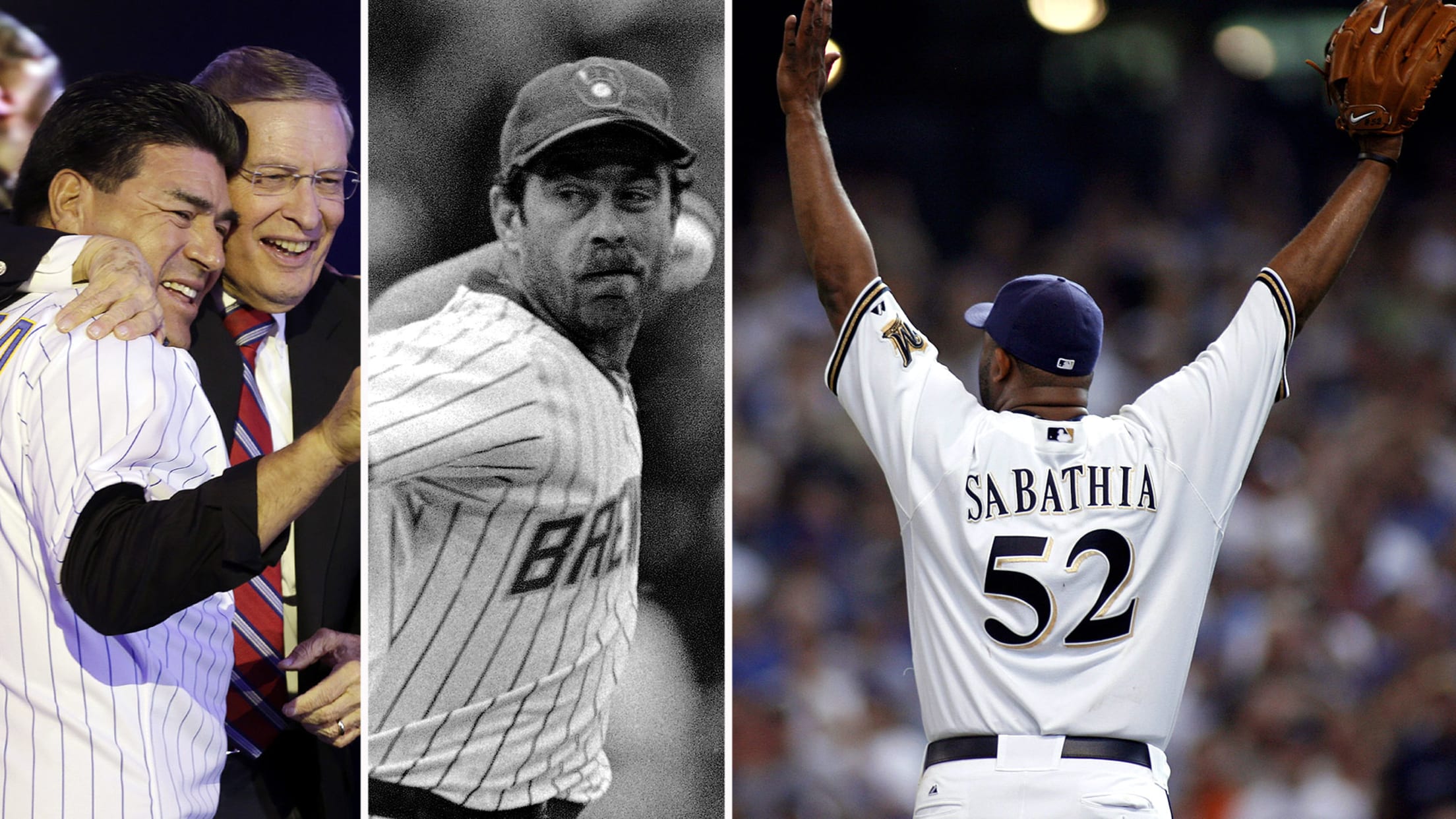 No one loves a good debate quite like baseball fans, and with that in mind, we asked each of our beat reporters to rank the top five players by position in the history of their franchise, based on their career while playing for that club. These rankings are for fun
No one loves a good debate quite like baseball fans, and with that in mind, we asked each of our beat reporters to rank the top five players by position in the history of their franchise, based on their career while playing for that club. These rankings are for fun and debates purposes only… if you don't agree with the order, feel free to let the reporter know in the Twitter poll.
Next up on our all-time Brewers team: Left-handed pitcher. It's up to you to decide whether to favor peak performance or durability. Let me know your reasoning.

— Adam McCalvy (@AdamMcCalvy) June 1, 2020
Here is Adam McCalvy's ranking of the top 5 left-handed starters in Brewers history.
• Brewers' All-Time Team: C | 1B | 2B | 3B | SS | LF | CF | RF | DH | RHP
1. Teddy Higuera, 1985-94
Key fact: 3.61 ERA is best in Brewers history for a starter who logged at least 500 innings.
"There aren't many guys who I could say, 'Give the ball to him when you need to win a game,'" said Cecil Cooper, a teammate of Higuera's during the lefty's dominant seasons with the Brewers. "Teddy was one of them. Like Mike Caldwell, you would say, 'Give him the ball.' Caldwell knew how to win. Difference was, Higuera had the stuff to go with it until injuries took it away from him."
Higuera and Caldwell are the top two left-handed starters in Brewers history by virtually every measure, and while Caldwell delivered more volume, leading Higuera in innings and complete games, Higuera has the edge in ERA (3.61 to 3.74), FIP (3.49 to 4.03), adjusted ERA (117 to 103), strikeout rate (18.8 percent to 8.1 percent) and holds a wide margin in every version of wins above replacement.
At his height, before back and arm injuries derailed him, Higuera -- all 5-foot-10 of him -- was as dominant a pitcher as ever wore a Brewers uniform. Signed out of the Mexican League, he burst onto the MLB scene as a rookie in 1985, going 15-8 with a 3.90 ERA and running second to the White Sox's Ozzie Guillen in American League Rookie of the Year balloting. The next year, Higuera became only the third 20-game winner in Brewers history, going 20-11 with a 2.79 ERA and 207 strikeouts for a second-place finish in AL Cy Young Award balloting to Roger Clemens (who was also the league's MVP). In 1987, Higuera won 18 more games and struck out 240, a club record that stood until Ben Sheets broke it in 2004. In 1988, Higuera's 0.999 WHIP led the AL.
"If I had to pick a guy of all of them I caught in my whole career, at his best, he was the best I ever caught," said catcher Bill Schroeder. "Not just pure stuff. He knew how to pitch."
"Higuera was dominant," said former Brewers closer Dan Plesac, a fellow lefty. "Teddy Higuera was one of the hardest-working pitchers I ever worked with. There's no rhyme or reason why guys get hurt. Teddy Higuera had phenomenal mechanics, and shoulder issues ended up derailing his career. … He did everything you were supposed to do."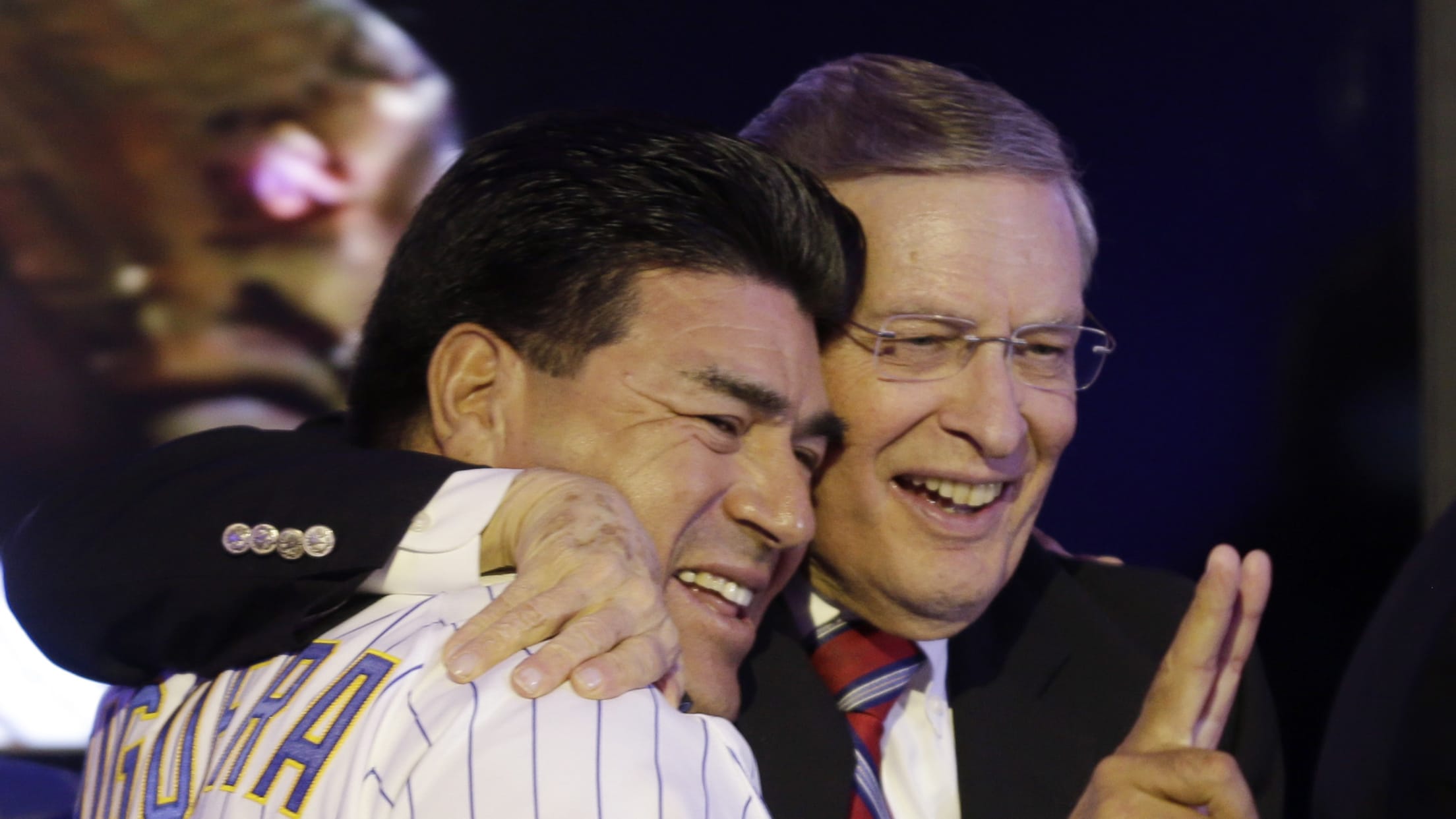 2. Mike Caldwell, 1977-84
Key fact: Finished second in 1978 AL Cy Young Award balloting, the best finish for a Brewers pitcher until Rollie Fingers won the honor in 1981.
"Battery acid," said Ted Simmons. "That's what I used to call him. People would ask, 'Well, why do you call him that?' Well, in the coal country, they used to put two pennies on top of a battery, and the corrosion would collect on those pennies. The stuff that collects on those pennies is precisely the stuff that Caldwell is made of."
Caldwell, acquired in a lopsided 1977 trade with the Reds for prospects Rick O'Keeffe and Garry Pyka, holds the Brewers' all-time record with 81 complete games and ranks second in club history in victories (102), innings (1,604 2/3) and shutouts (18). In 1978, he went 22-9 with a 2.36 ERA and set all-time single-season franchise records for victories, ERA, complete games (23) and shutouts (six) for the Brewers team that improved by 26 wins over the season before and made Milwaukee a contender.
When the Brewers made it to the World Series in '82, Caldwell shined, pitching a three-hit shutout in Game 1 and working into the ninth inning of Game 5, winning both games before finally yielding in relief on two days' rest in Game 7.
He was known for carrying a briefcase containing one item: A bottle of ketchup. Simmons tells another story about Caldwell's dining habits from the year they stayed in the same apartment complex during Spring Training, and Simmons would give Caldwell a ride to the field.
"It's seven, eight o'clock in the morning," said Simmons. "He would open a can of asparagus right there in the car and eat it at eight o'clock in the morning, right out of the can. And not just once. I finally said, 'Hey man, you have to stop with this.' But he was the happiest man in the world. Who in the world wouldn't do this?
"I'm telling you: Battery acid. That's what he was."
3. CC Sabathia, 2008
Key fact: Garnered one first-place vote in 2008 NL CY Young Award balloting despite spending more than half of that season in the AL.
No player in franchise history made a per-game impact as oversized as Sabathia, the 6-foot-6 left-hander whose stunning acquisition from the Indians in July 2008 ranks among not only the best trades in Brewers history, but in the history of Trade Deadline deals across baseball.
He went 11-2 with a 1.65 ERA in 17 Brewers starts, including seven complete games, three shutouts and a near no-hitter, lifting the '08 Brewers to their first postseason appearance in 26 years. Sabathia spent less than three months in a Brewers uniform and managed to lead the NL in complete games and tie Sheets for the lead league in shutouts.
"That dude was unbelievable," said Sheets. "Unbelievable run. Remarkable. He's one of the best ever."
Said shortstop J.J. Hardy: "We jumped on his back, and he carried us."
The Brewers slumped that September, costing manager Ned Yost his job in favor of interim manager Dale Sveum, but Sabathia did not. He logged a 2.11 ERA and pitched at least seven innings in five of six starts, the final three on three days' rest. Never mind that Sabathia was weeks away from hitting free agency. The decision, Sabathia says, was his.
He saved his finest performance of September for last, delivering a complete game against the Cubs in the regular-season finale to clinch the NL Wild Card. It was almost another shutout, but Ronny Cedeno beat out a double-play ball in the second inning as Chicago's only run scored. After inducing a game-ending double play, Sabathia let out a roar. He wasn't as dominant against the Phillies in the NL Division Series, but nonetheless, he had left his mark on the franchise.
"I'll always remember my time in Milwaukee," Sabathia said. "Hopefully the fans feel the same way. That was a special part of my career."
4. Doug Davis, 2003-06, 2010
Key fact: Second stint with the Brewers in '10 was cut short by a heart condition.
Davis was, shall we say, deliberate when he was on the mound. But he was sneaky-effective for a Brewers team that was just emerging from a decade-plus of losing seasons, delivering at least 34 starts and 200-plus innings in all three of his full seasons in Milwaukee while holding his ERA under 4.00 in the first two of those years.
In 2005, Davis set a career high with 208 strikeouts, the third-best single-season total in franchise history behind Sheets' club-record 264 in in 2004 and Higuera's 240 in 1987. Davis went 11-11 with a 3.84 ERA that year while the Brewers finished 81-81 for their first non-losing season in 13 years.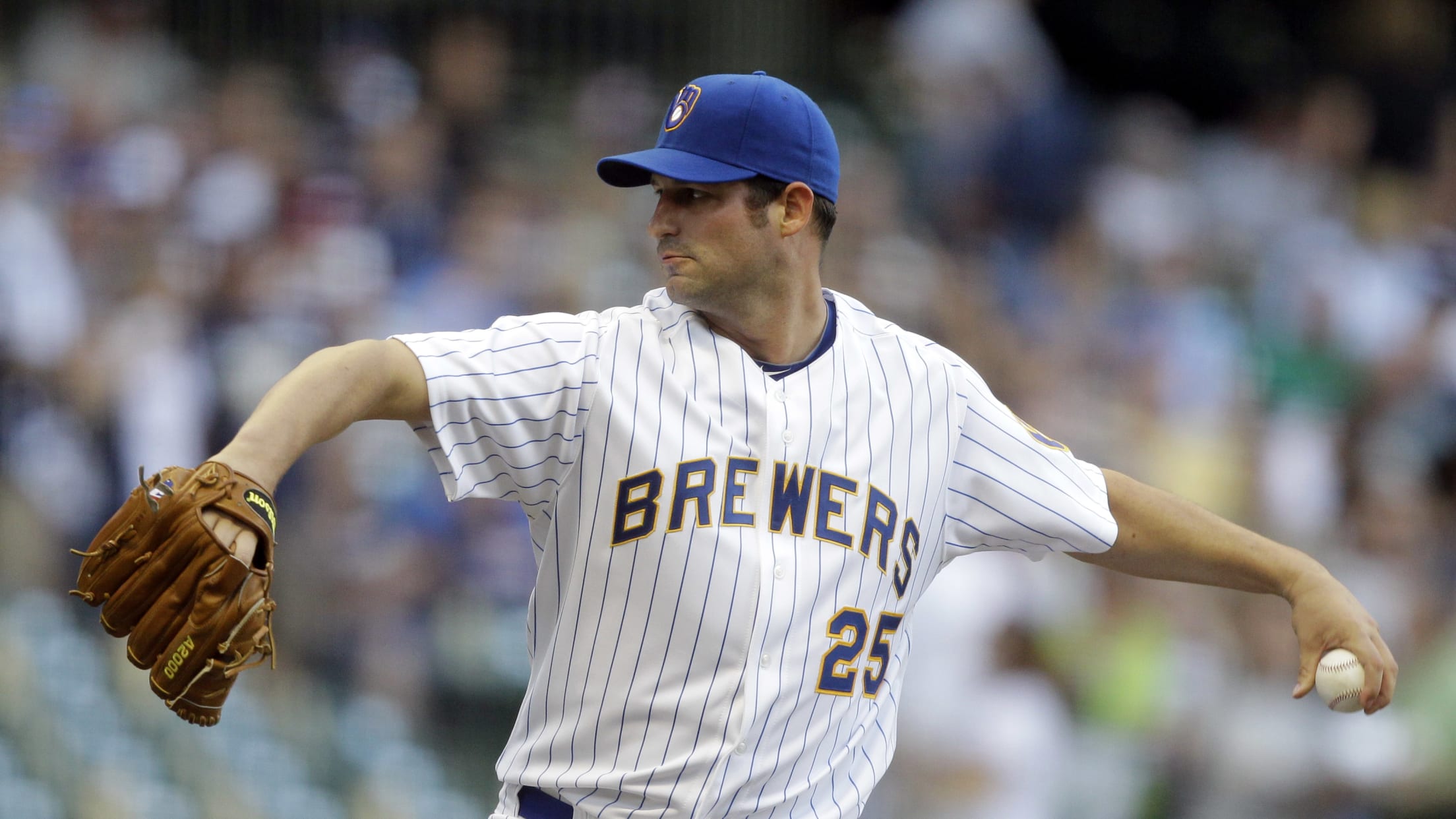 5. Scott Karl, 1995-99
Key fact: Last Brewers player to wear uniform No. 42 before Major League Baseball retired it across MLB to honor Jackie Robinson.
Karl posted the same adjusted ERA as Caldwell (103) while wearing a Brewers uniform and made at least 32 starts in all four of his full seasons in Milwaukee. His best season was 1996, when he went 13-9 with a 4.86 ERA and set career bests for innings (207 1/3) and strikeouts (121).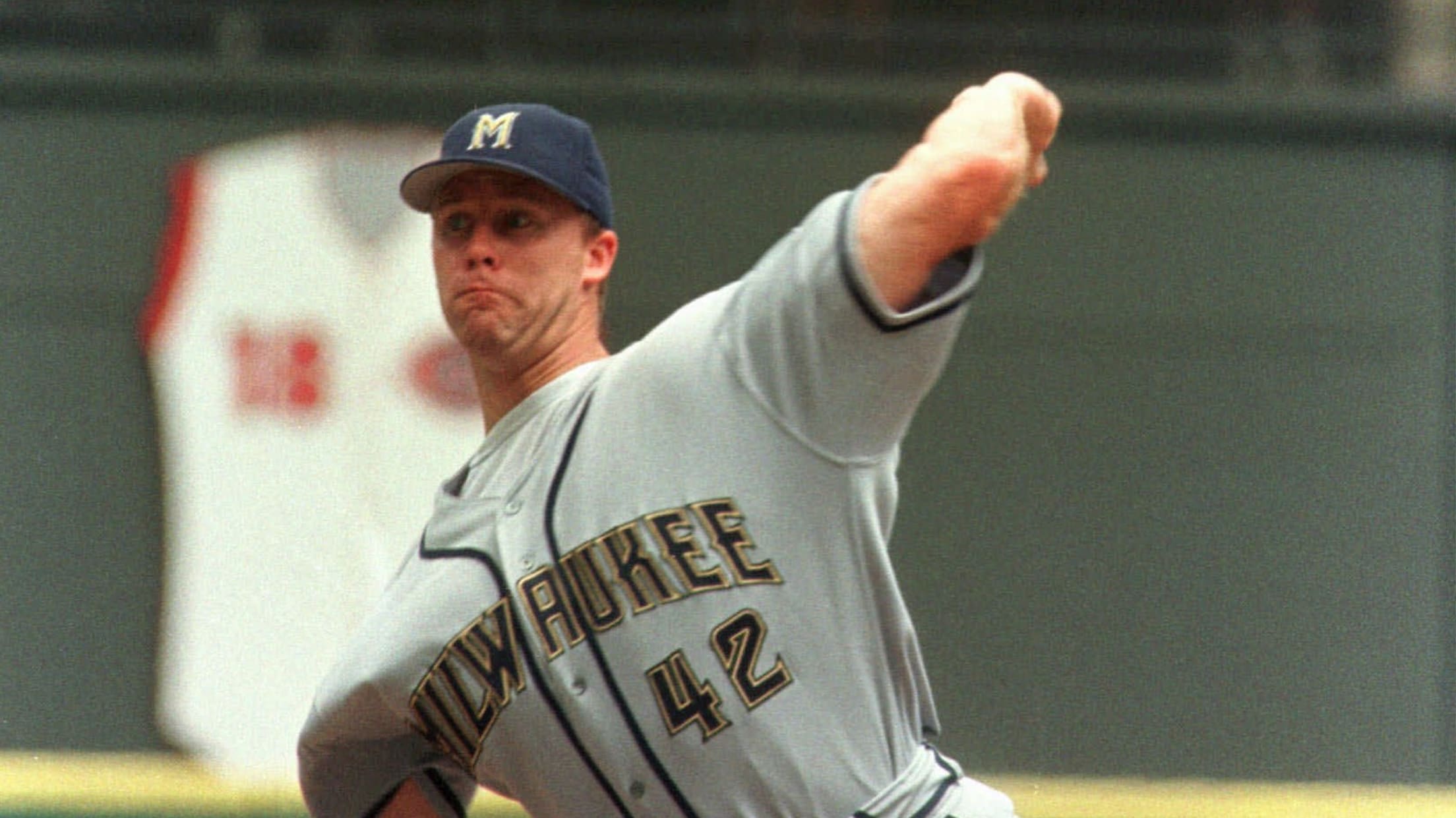 Honorable mentions
Bill Travers is one of only three left-handers, with Caldwell and Higuera, to pitch at least 1,000 innings for the Brewers, and worked a pair of Opening Day games.
Jerry Augustine shifted between the starting rotation and the bullpen during a 10-year Brewers tenure, making 104 starts during that time.
Juan Nieves pitched the only no-hitter in Brewers history on April 15, 1987, in Baltimore, but arm injuries cut short his career.
Chris Capuano pitched parts of six seasons for the Brewers and won 18 games with a 3.99 ERA in 2005. In '06, he made the NL All-Star team.
Randy Wolf's Brewers tenure didn't end well in 2012, but in '11 he was a mainstay of one of the best starting rotations in franchise history, working alongside righties Yovani Gallardo, Zack Greinke and Shaun Marcum. Wolf was 13-10 with a 3.69 ERA during the regular season that year.