Brewers 2-hit Arizona behind hitless 'J Lyles'
Right-hander walks two; Williams allows first hit on bloop single in 7th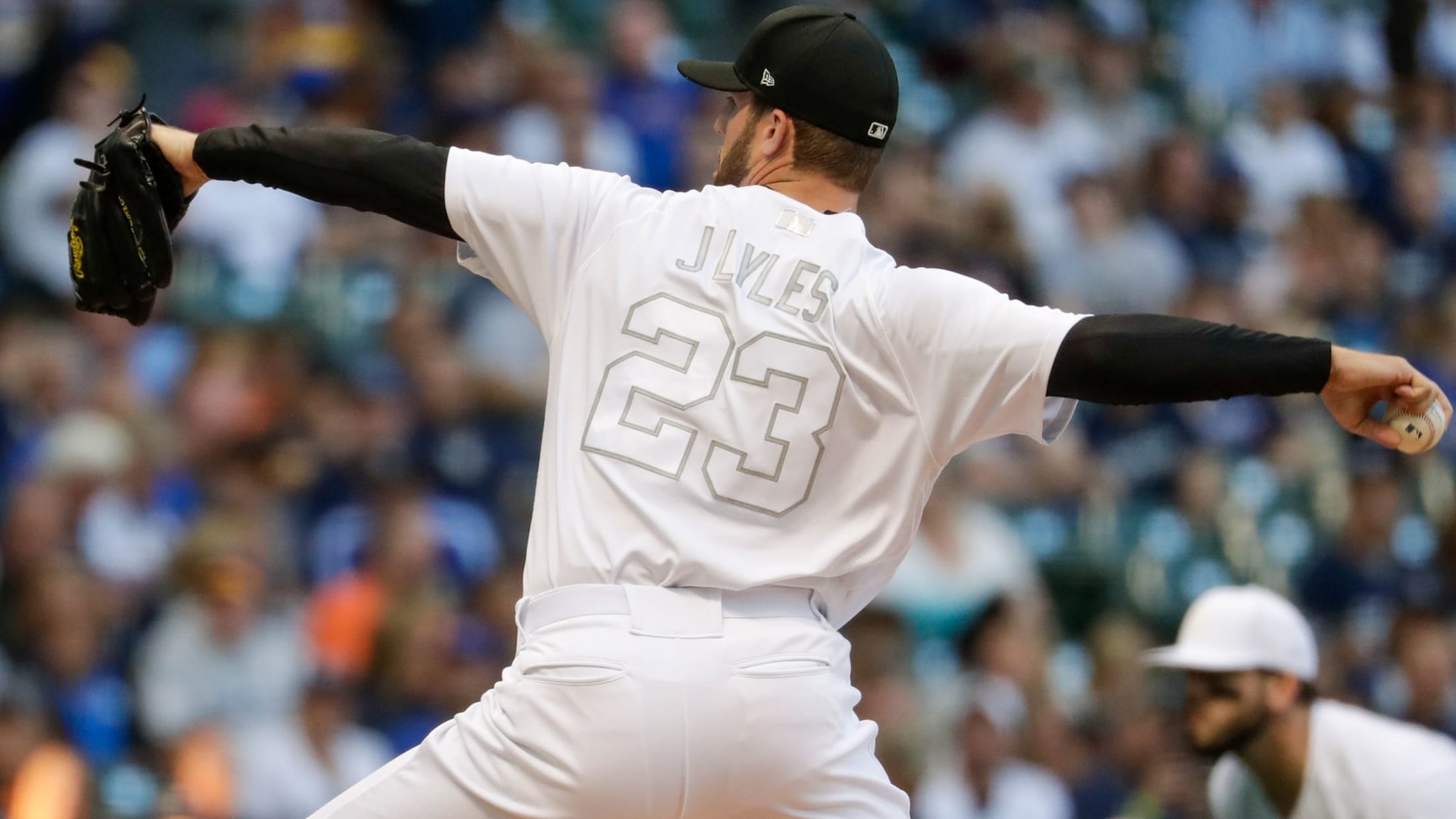 MILWAUKEE -- The way Craig Counsell managed the Brewers' 6-1 win over the D-backs on Friday, it was obvious that victories matter to him more than history at the moment. And Jordan Lyles thought that was the right call. Counsell lifted Lyles at the 99-pitch mark even though the right-hander
Crew's trio honors Skaggs for Players' Weekend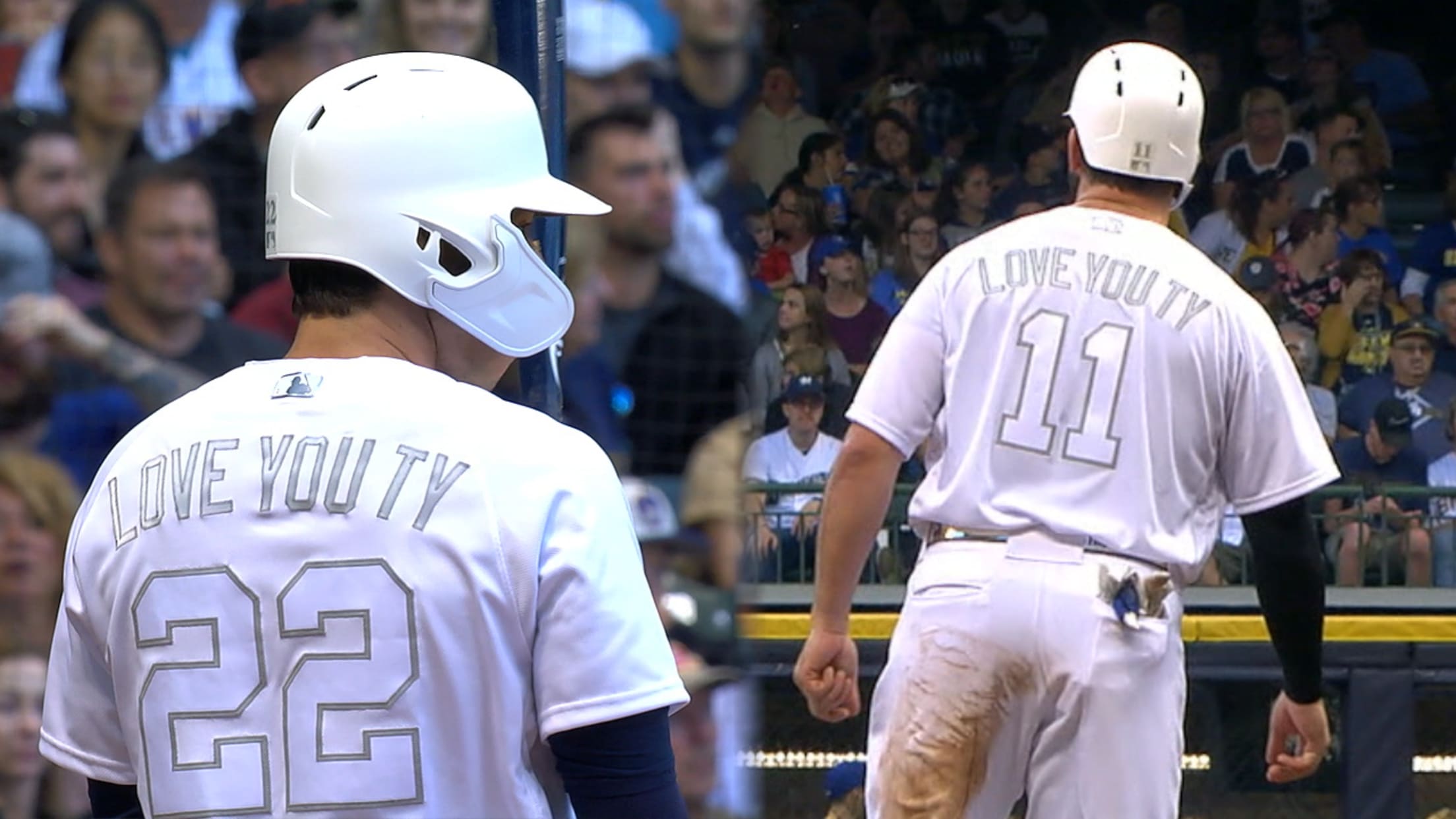 MILWAUKEE -- The idea, Ryan Braun said, came from a text chain of friends and offseason workout partners of Tyler Skaggs, the Angels pitcher who died suddenly in early July. How could they honor their friend? Players' Weekend offered one way. So it was that three Brewers players -- Braun,
5 NL Central players with something to prove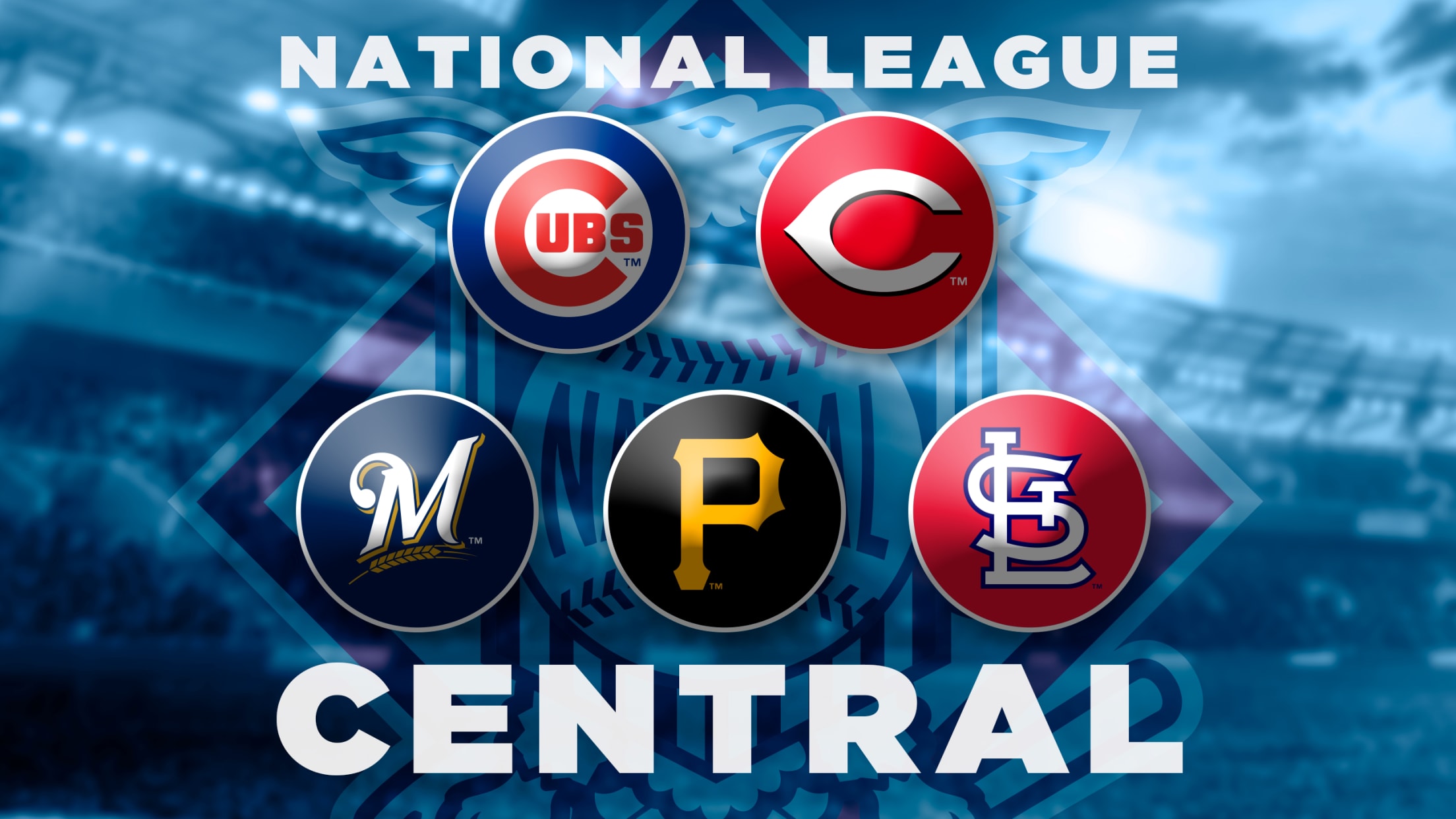 It's getting late for players like Brewers outfielder Lorenzo Cain, who has been fighting a slump and the frustration associated with it all season. Now he finds himself running out of regular season to do something about it. "I've just been struggling," Cain said last week. "It doesn't even feel
Each club's best Players' Weekend nickname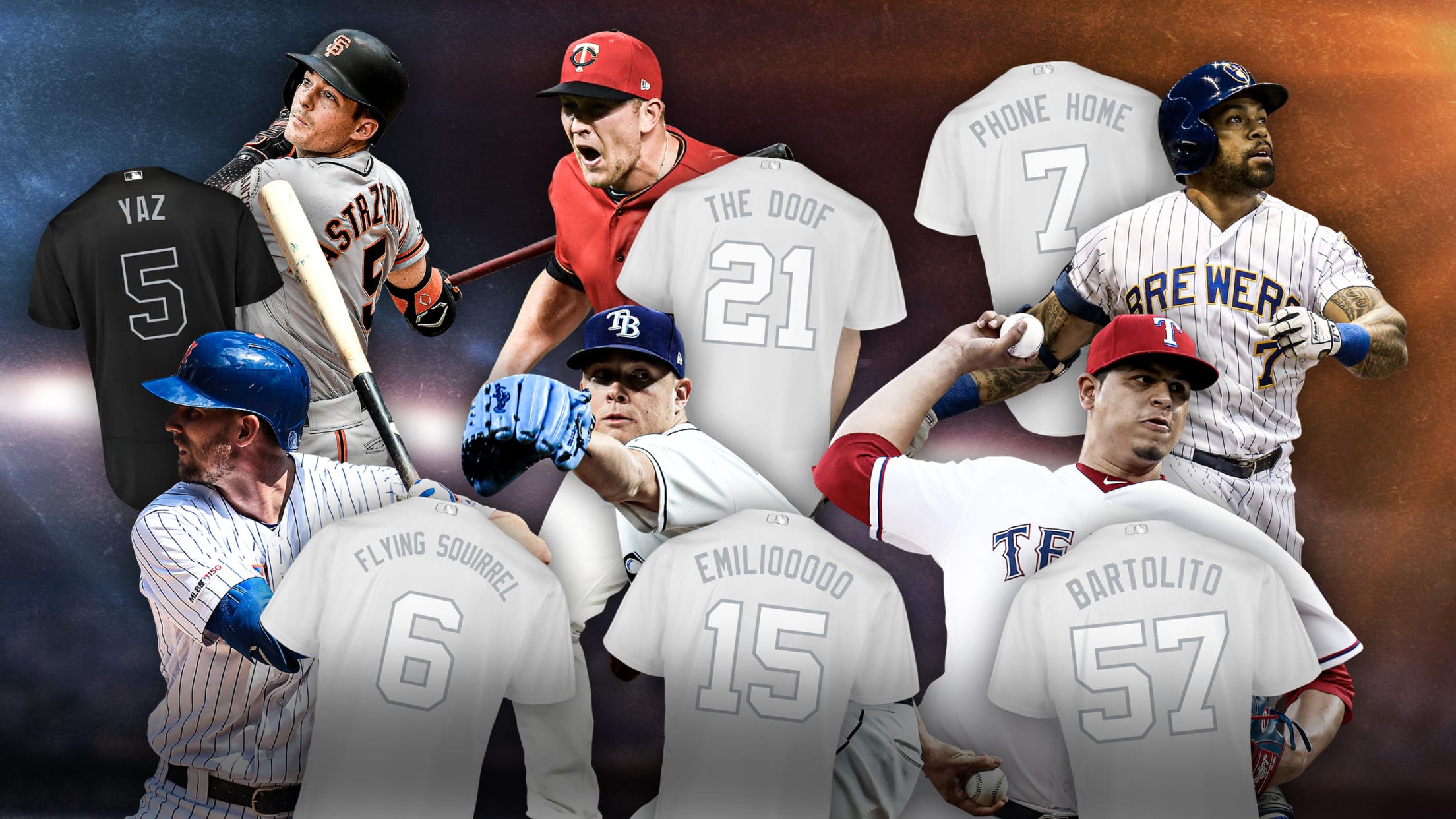 It's Players' Weekend! And for many, the true fun of this annual event is in the names on the back of the uniforms. Baseball player culture has often discouraged (arguably to the game's detriment) players from showing their true personalities, so this weekend gives them that opportunity. It lets you
The Brewers' Players' Weekend nicknames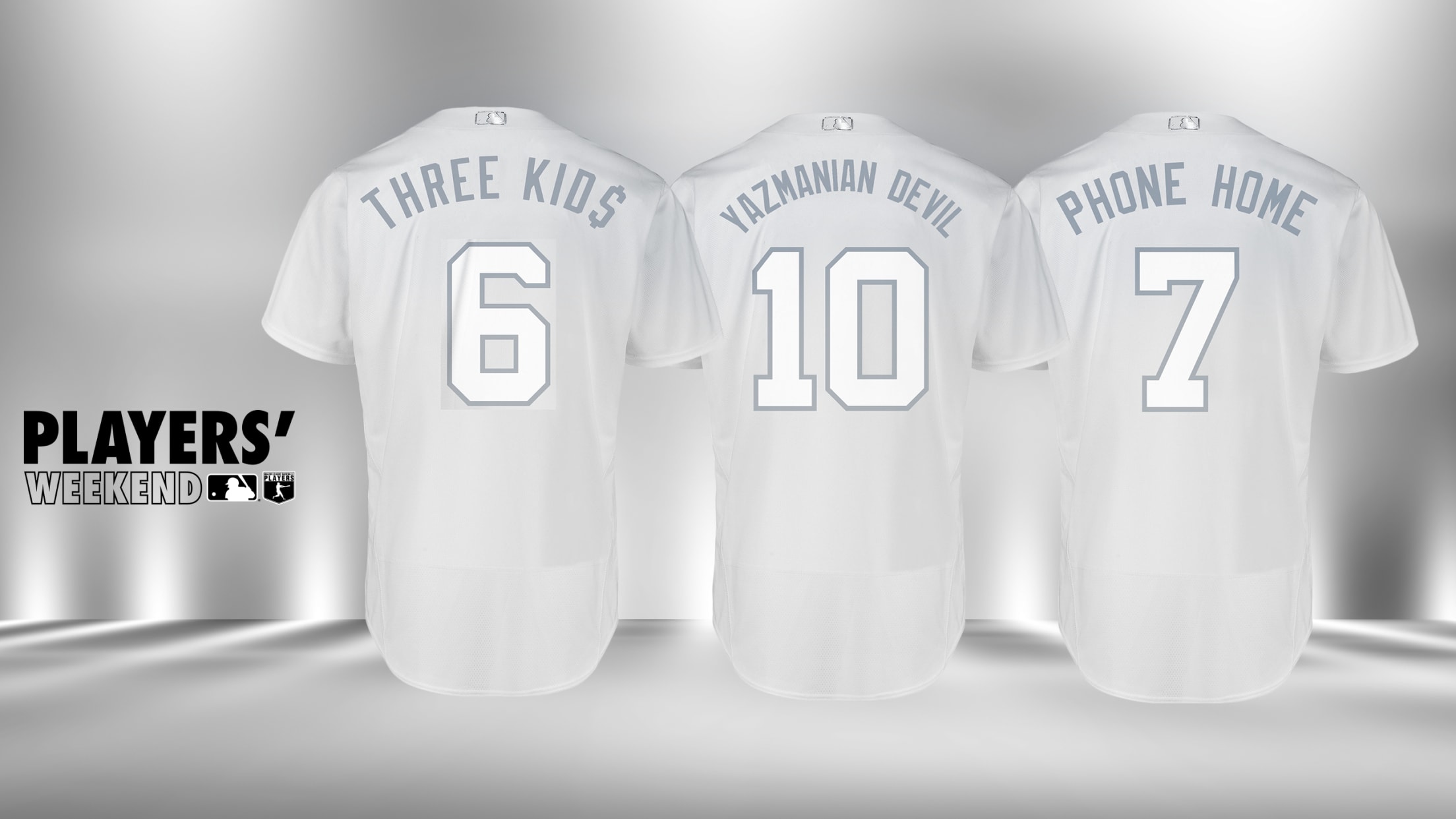 The Brewers will happily don nicknames on the back of their jerseys for the third annual Players' Weekend when they host the D-backs from Aug. 23-25. Some names are obvious, others make you think and a few you have to ask about to have any semblance of a clue where
2019 first-round pick fans seven on Friday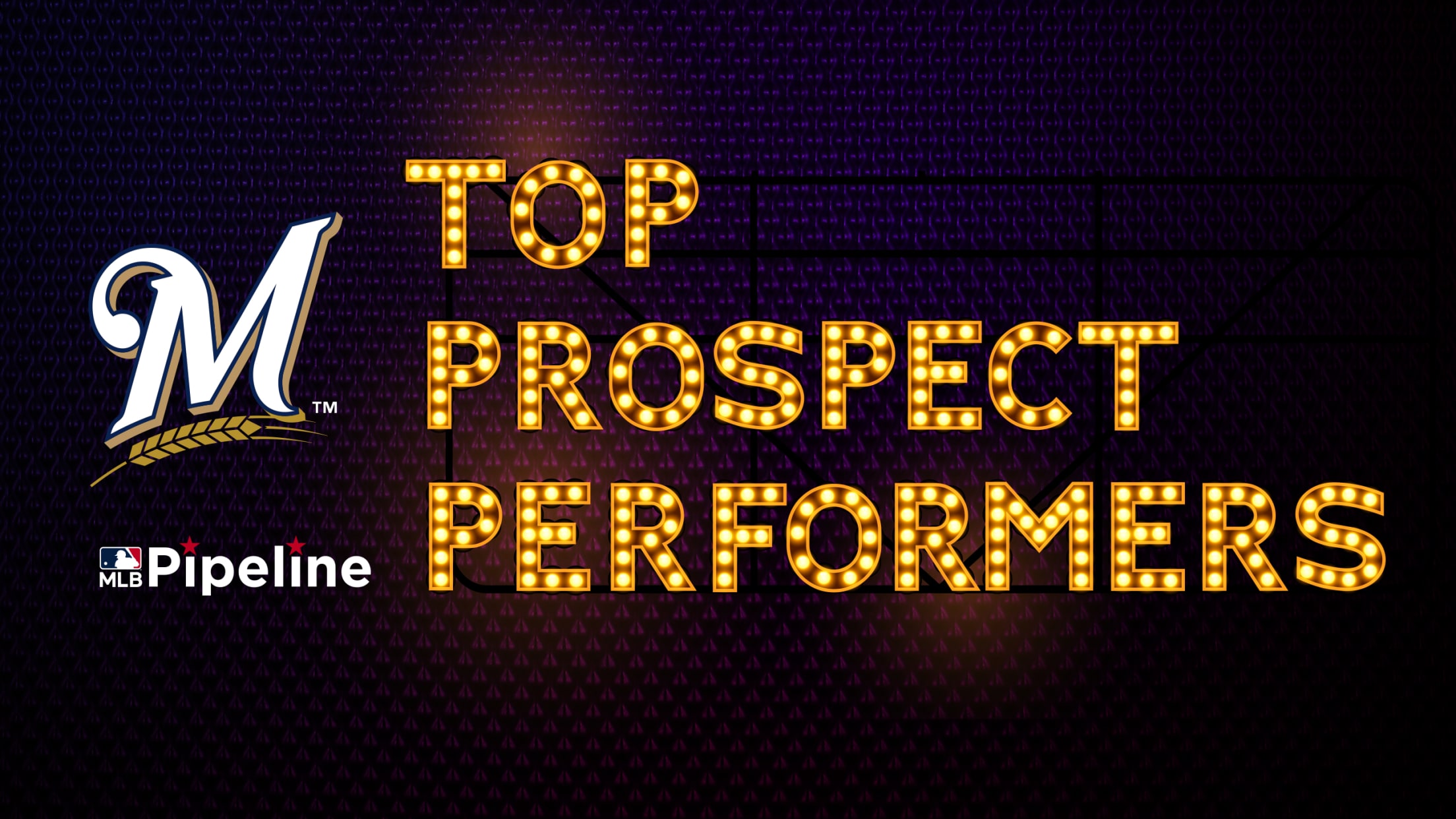 Here's a look at the top performances of the past week by Brewers prospects in the Minor Leagues:
Moose gets loose as Crew gains on Cards
Brewers get to Waino early, save Hader in rain-shortened win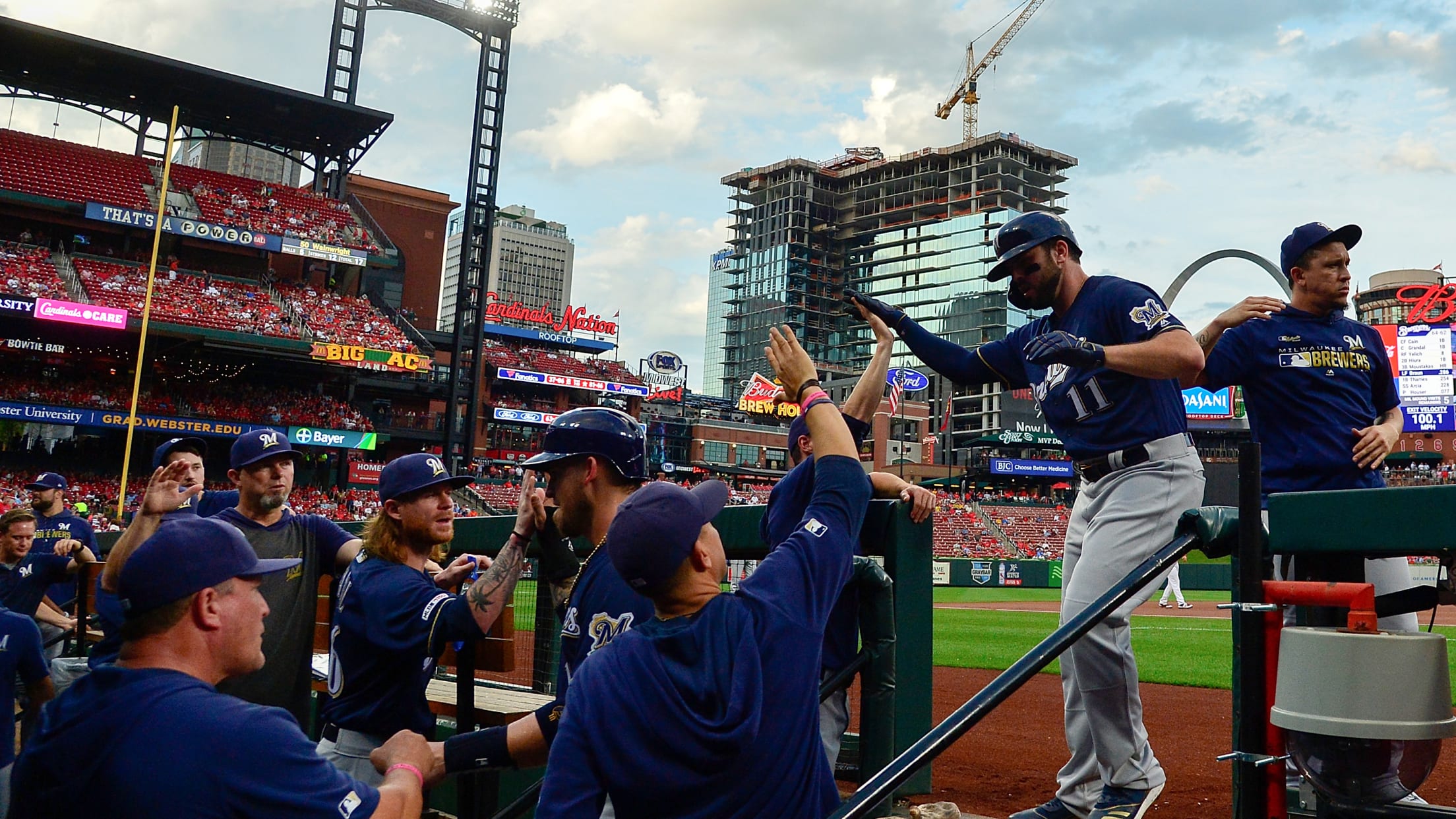 ST. LOUIS -- So much for the path to 27 outs. This particular Brewers victory required only 21. Mike Moustakas teed off for a three-run home run in a four-run first inning and the Brewers held on long enough for a rain-shortened, 5-3 win over the Cardinals to finish a
Suter surging in Minor League rehab
Lefty could return in September, but in limited role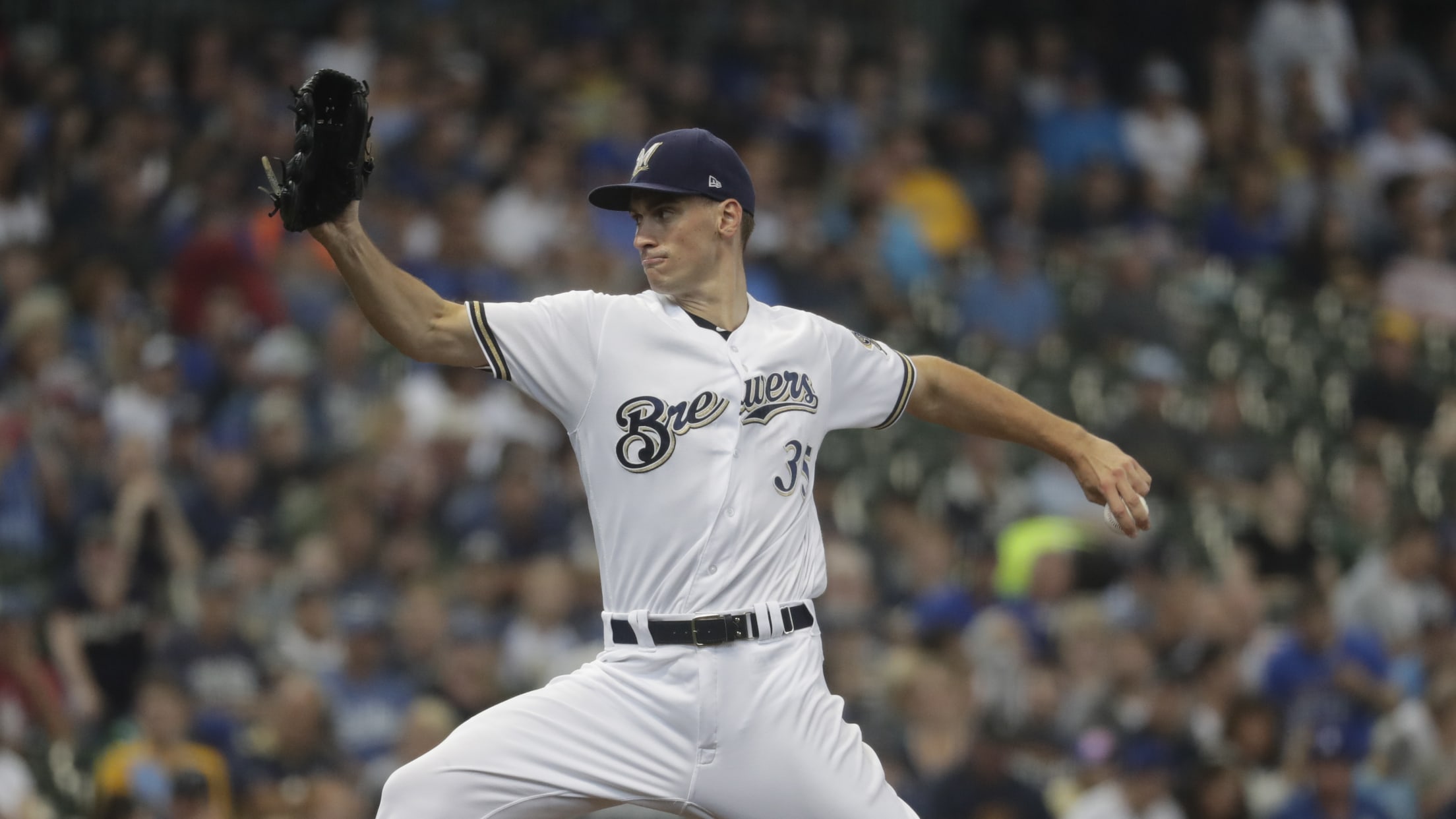 ST. LOUIS -- Brent Suter logged his seventh consecutive scoreless outing in the Minor Leagues on Tuesday, as he continues his return from Tommy John surgery. The Brewers need every healthy and effective pitcher they can get. They also could use a jolt of Suter's infectious optimism at the moment,
Could all-debut team beat the best? Let's see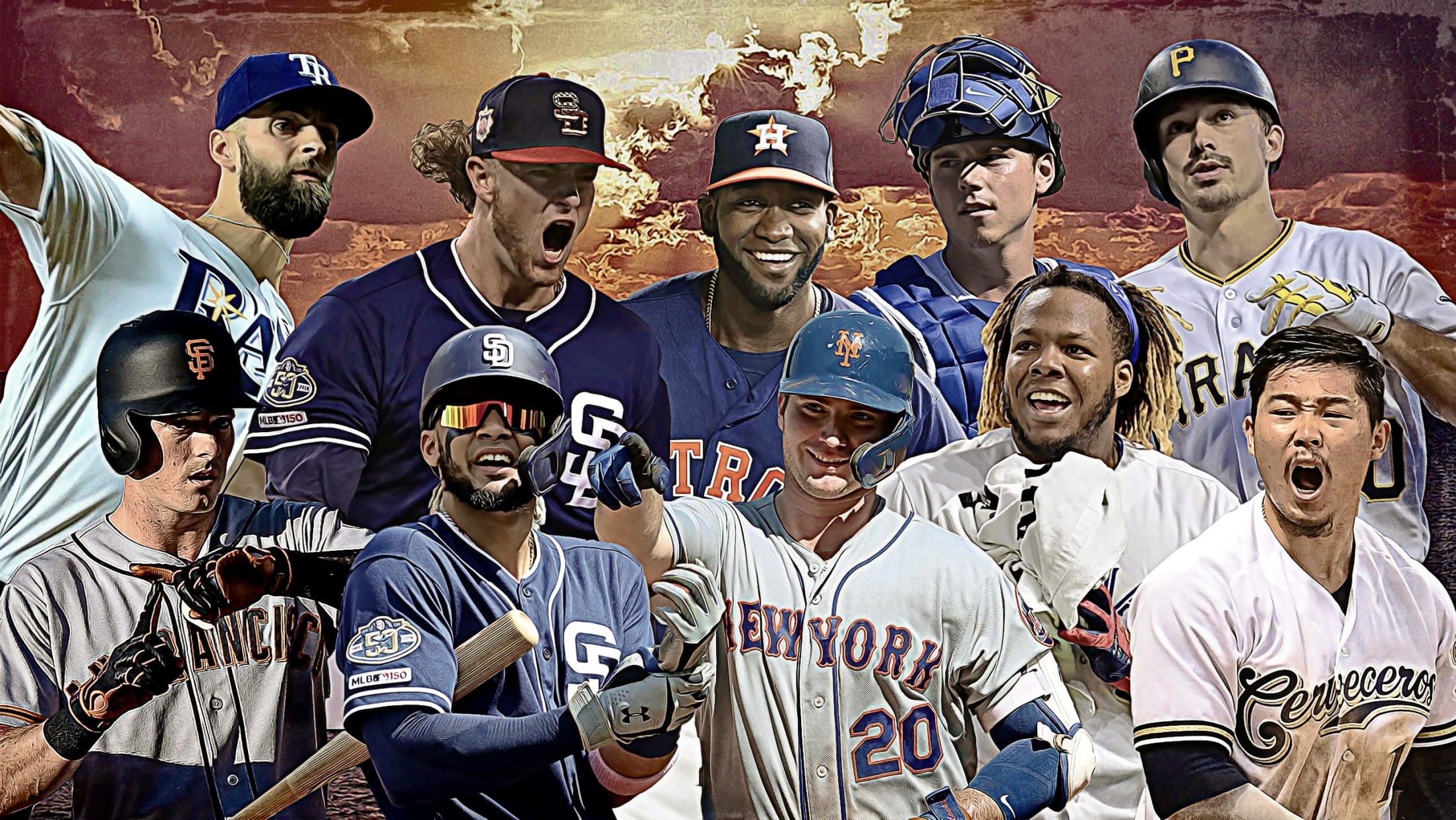 The player assembly line is always churning. And in recent years, as teams have more frequently given opportunities to young and unproven players, the player plant has been pumping out impact talent at a rate we've never really seen before. This brings up an interesting thought exercise: What if you
Players' Weekend 2019: What you need to know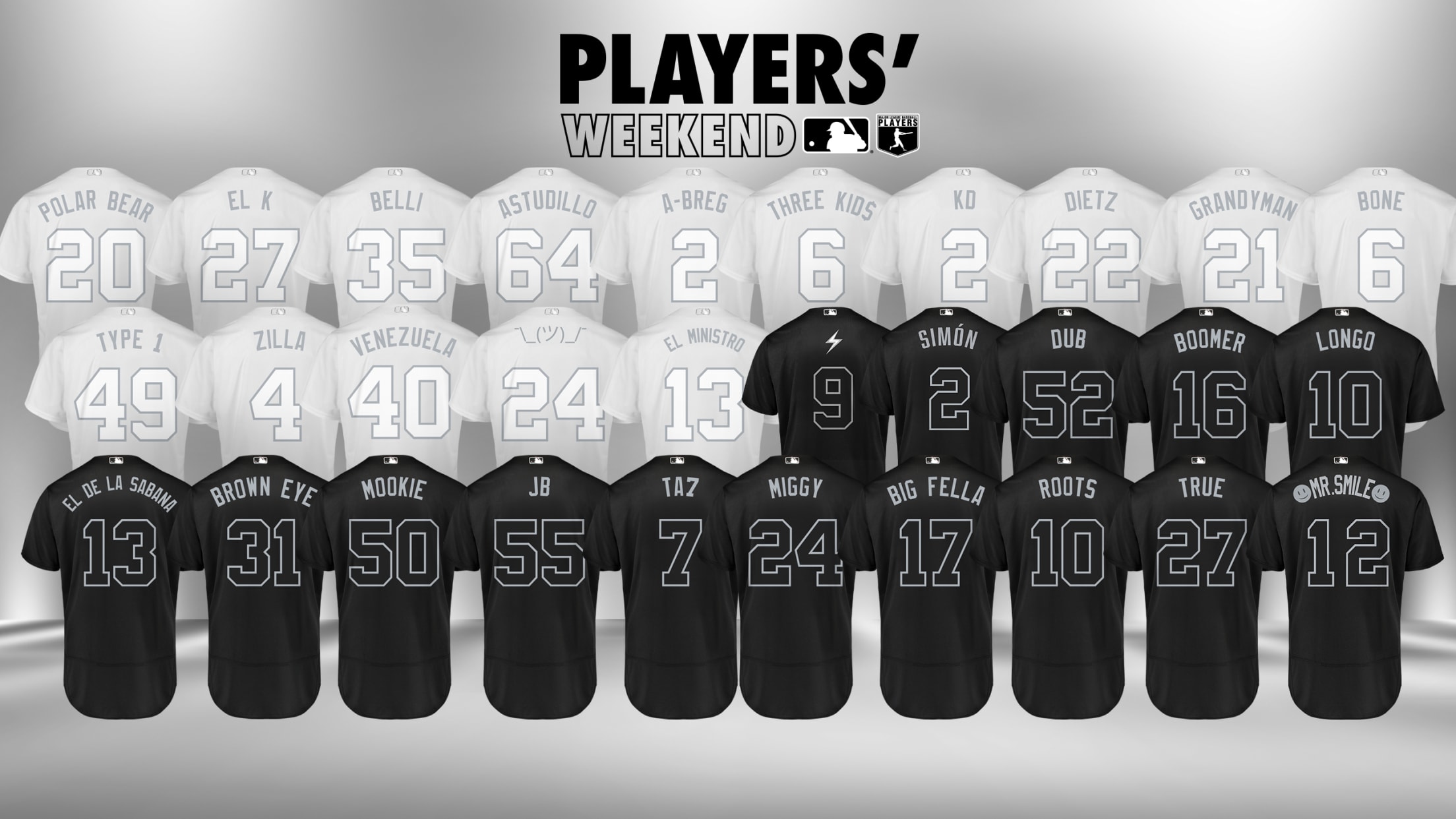 Players' Weekend -- a time when charisma, color and creativity are celebrated with looser uniform rules -- returns this weekend across MLB. Here's everything you need to know about the festivities in a handy FAQ format.
Crew's defensive misplay proves costly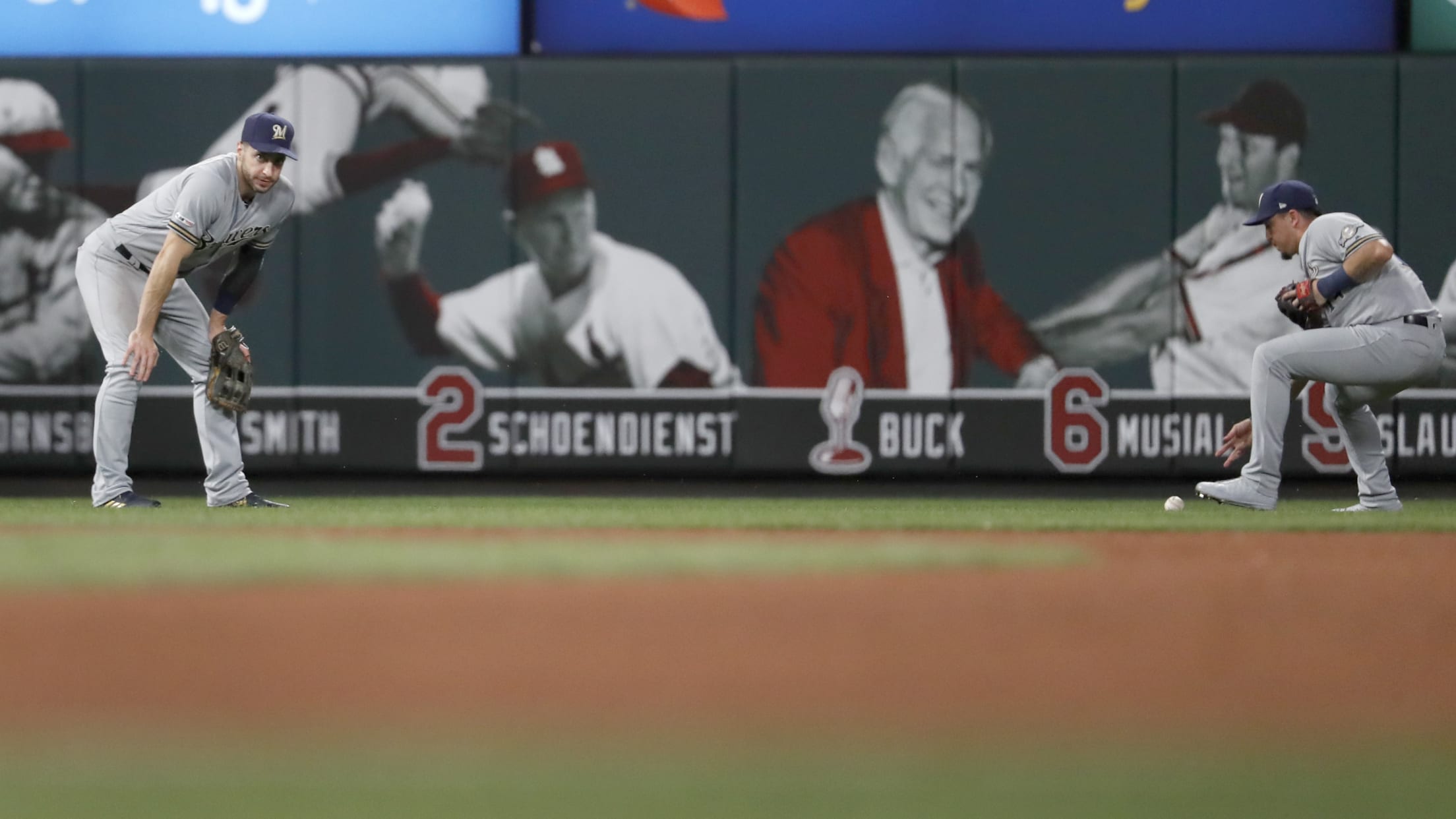 ST. LOUIS -- Left fielder Ryan Braun, third baseman Hernan Perez and shortstop Orlando Arcia all converged on Dexter Fowler's broken-bat blooper. There were two outs and the bases were loaded and the Brewers and Cardinals were tied in the sixth inning of a late-August game between clubs in MLB's
DeJong's big smack off Williams nets Big Macs
Milwaukee pitcher's homecoming memorable for more than highlight-reel HR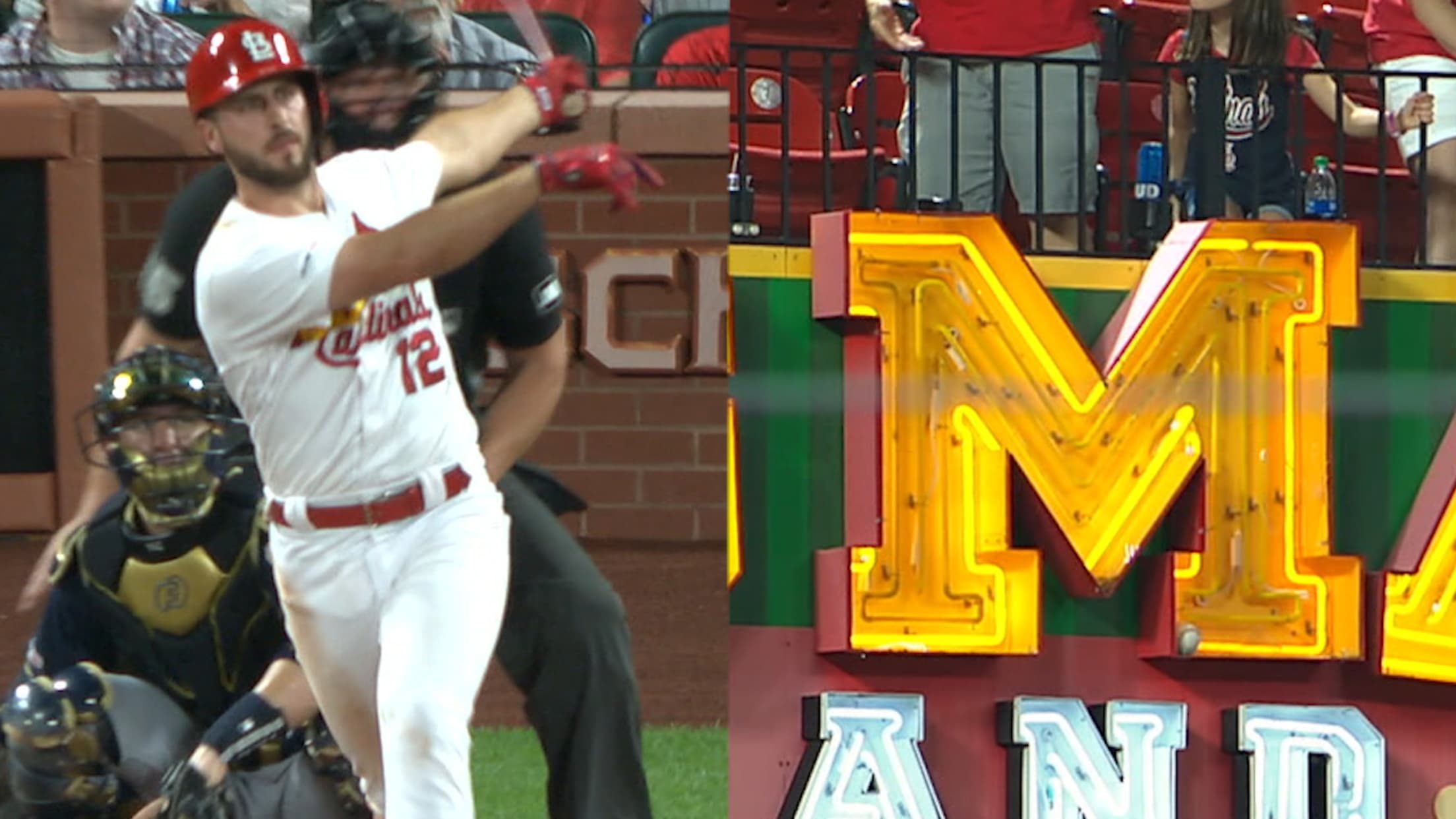 ST. LOUIS -- The "M" was missing Tuesday from the big neon "BIG MAC LAND" sign in left field at Busch Stadium, and all things considered, Brewers rookie right-hander Devin Williams had a good sense of humor about that. Williams, making his first career appearance against the team he cheered
15 players who will decide playoff berths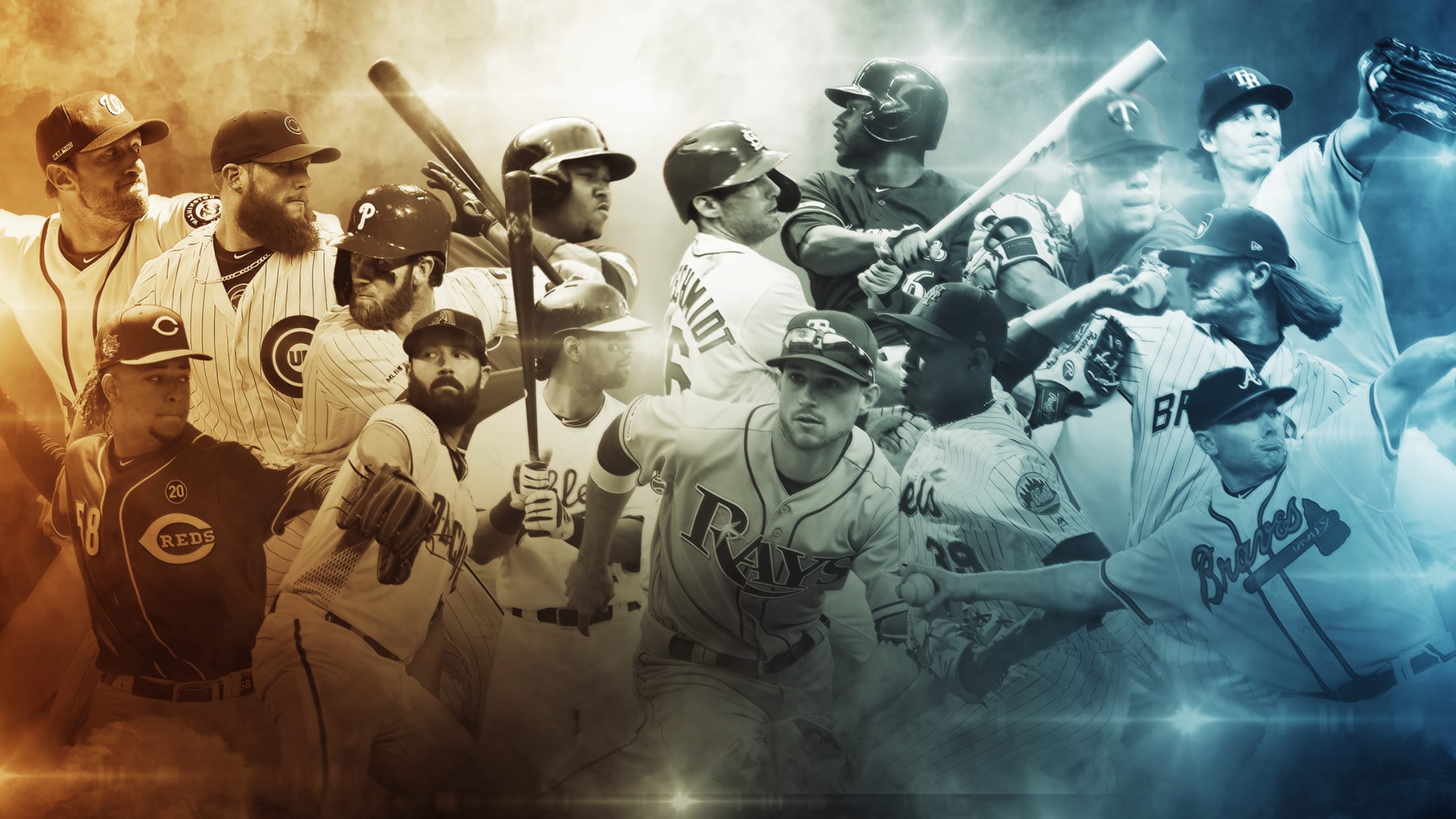 Reputations can be made -- and unmade -- over these next six weeks. Madison Bumgarner was at his dominating best -- 8-3, 2.29 ERA in 13 starts -- at the end of 2014 as the Giants captured the National League's second Wild Card berth, and then a World Series title,
Burnes goes 'offline' at Crew's pitching lab
In tough season, righty reports to technology-packed facility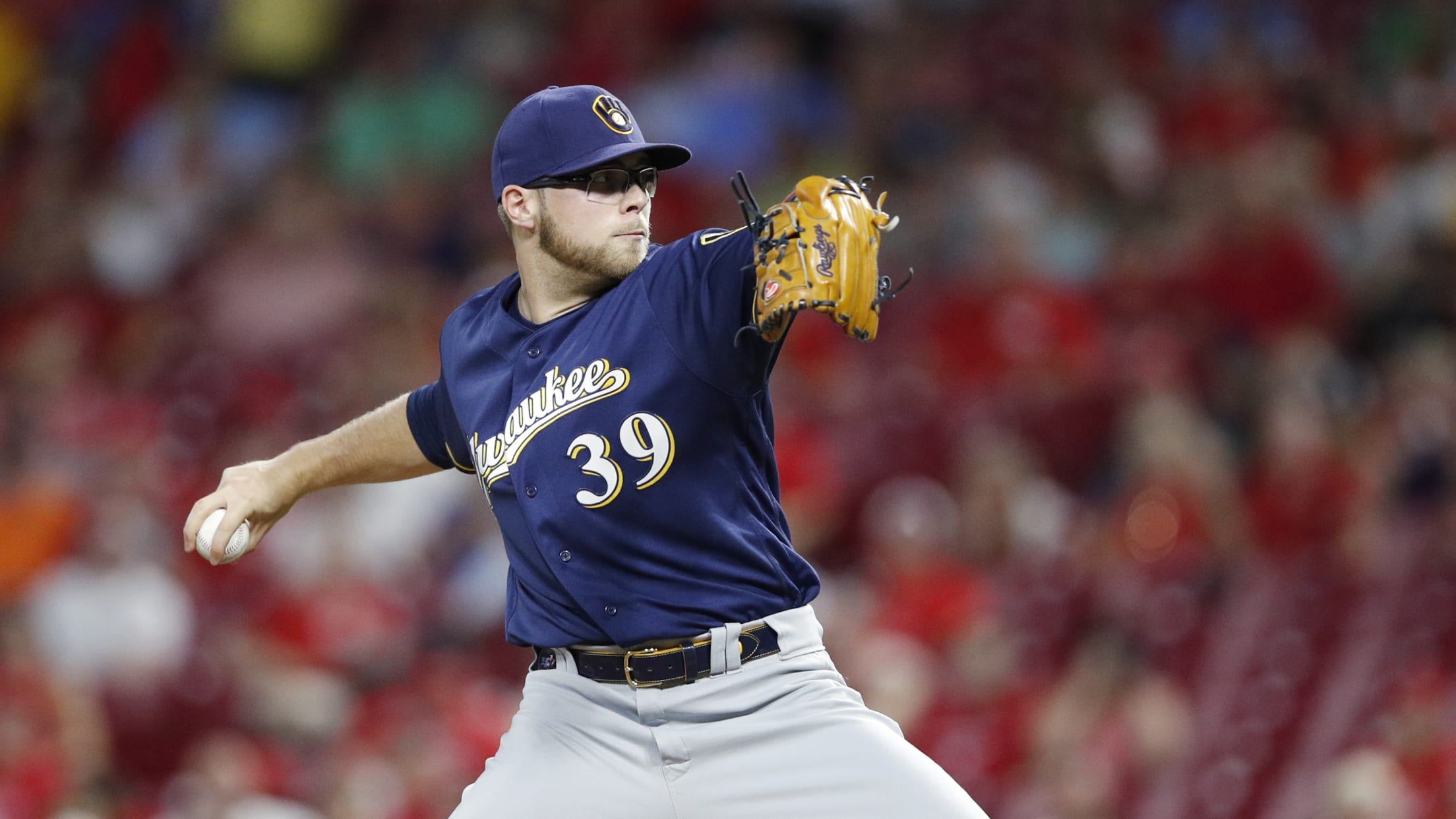 ST. LOUIS -- The Brewers have temporarily taken right-hander Corbin Burnes "offline" in the Minor Leagues in an effort to find new answers for his season-long struggles. Burnes was transferred from Triple-A San Antonio to Double-A Biloxi last Tuesday, but he actually traveled to American Family Fields of Phoenix to
'No excuses' says Moose after near no-hitter
Grandal's two-out double in eighth lone hit as Crew drops third game of taxing road trip
ST. LOUIS -- Zach Davies appeared refreshed Monday in his return from the 10-day injured list. The rest of the Brewers, not so much. Cardinals right-handers Dakota Hudson and Giovanny Gallegos pitched within four outs of a combined no-hitter before Yasmani Grandal doubled down the right-field line with two outs
Here's the Crew's 2020 Spring Training slate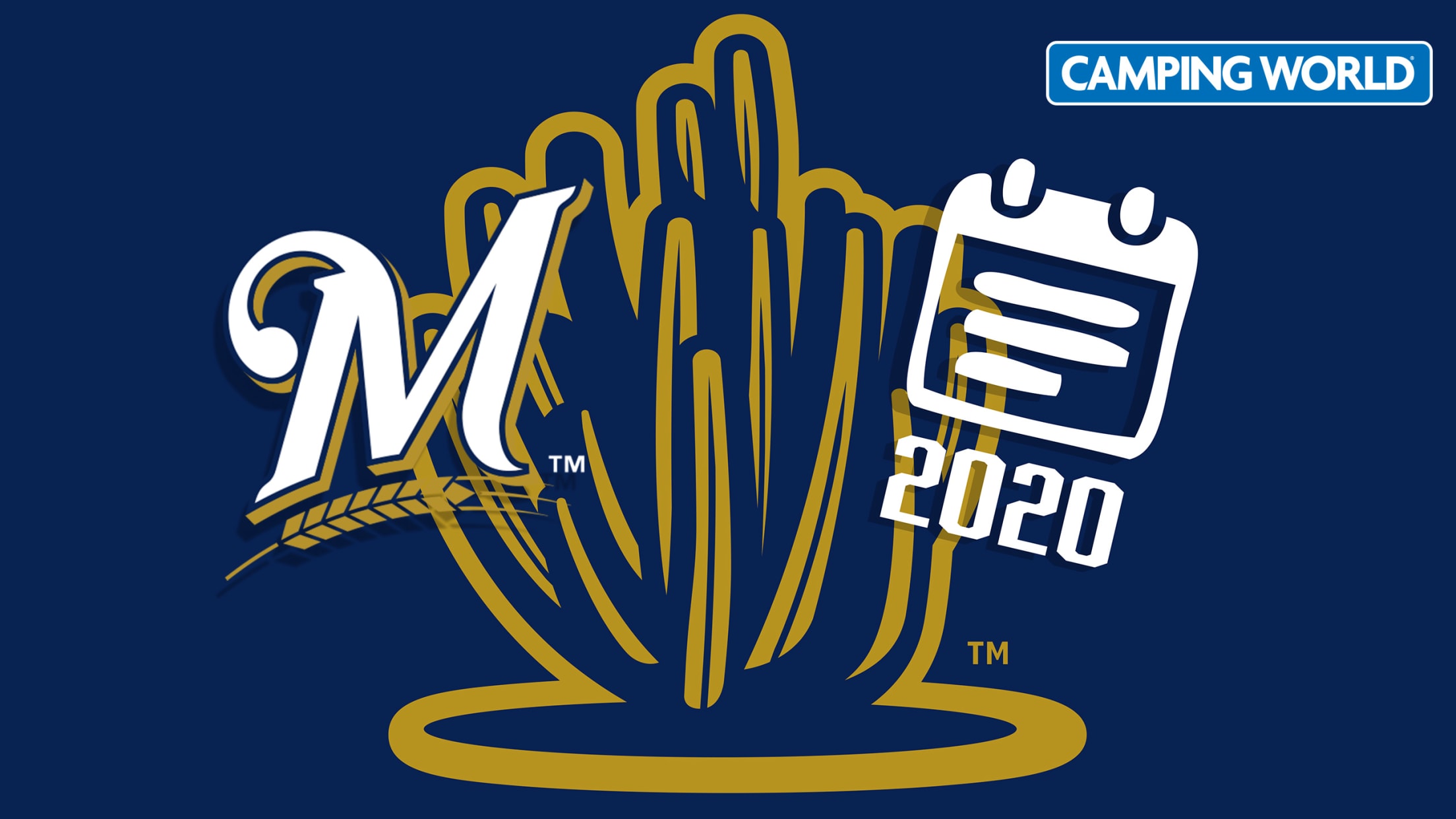 MILWAUKEE -- Attention Spring Training travelers: The Brewers' exhibition slate is set. The team unveiled a 34-game spring schedule on Monday that includes 32 games in sunny Arizona beginning on Feb. 22 and ending with two against the Royals at Miller Park on March 23-24 before the Brewers host the
Anderson struggles; Crew ties unfortunate mark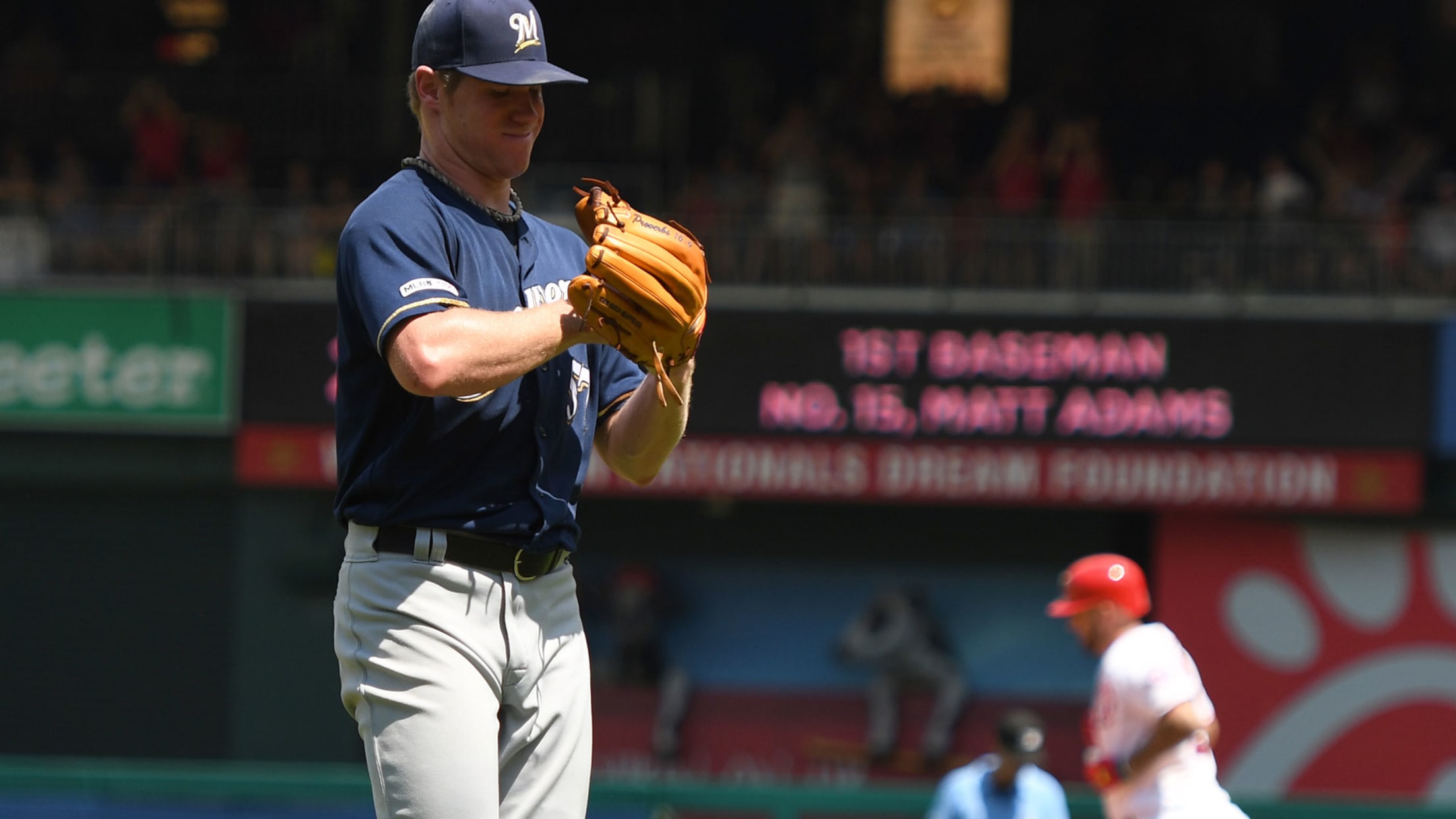 WASHINGTON -- The Brewers didn't get the Chase Anderson they've come to expect at the moment they needed him most. It wasn't the Anderson that has lit up the scene since the All-Star break. It wasn't the Anderson anyone has ever seen in his career. A day after the Brewers
Cain out with oblique tweak: 'We'll be careful'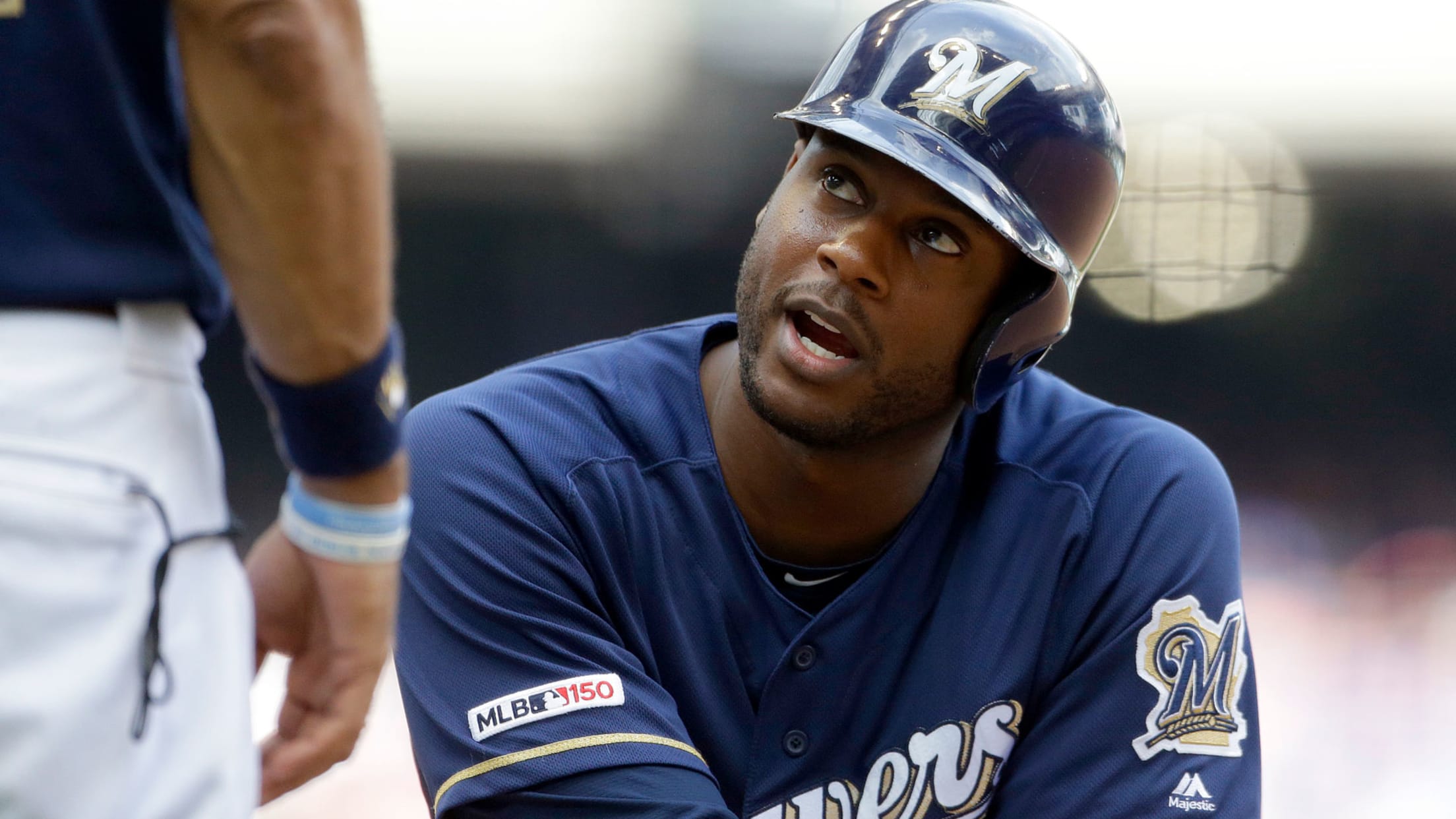 WASHINGTON -- Manager Crag Counsell said before Saturday's game against the Nationals that it was a scheduled off-day for Lorenzo Cain, who is scuffling at the plate as of late. But upon further review, it's been made clear the now two-game absence has been due to an ailment. Cain was
Which jersey number will each team retire next?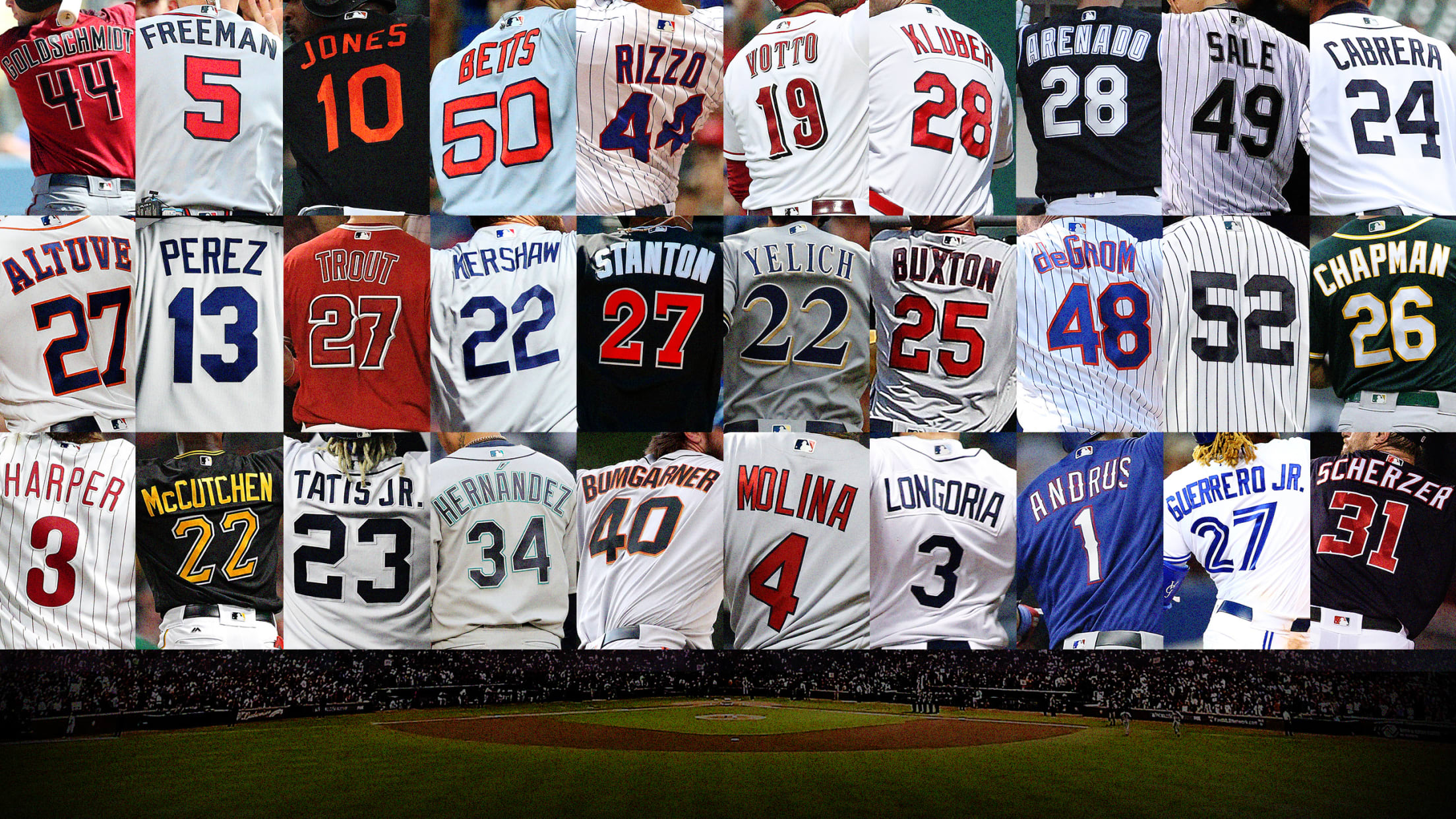 There is something special, something immortal, about having your number retired. No matter what happens with your team, or the rest of your life really, no one will ever wear the number on their back that you did. It's an almost indescribable honor. So, today, we take a look at
Instant classic: Thames' HR in 14th downs Nats
Yelich homers in 9th and 13th for 41 on the season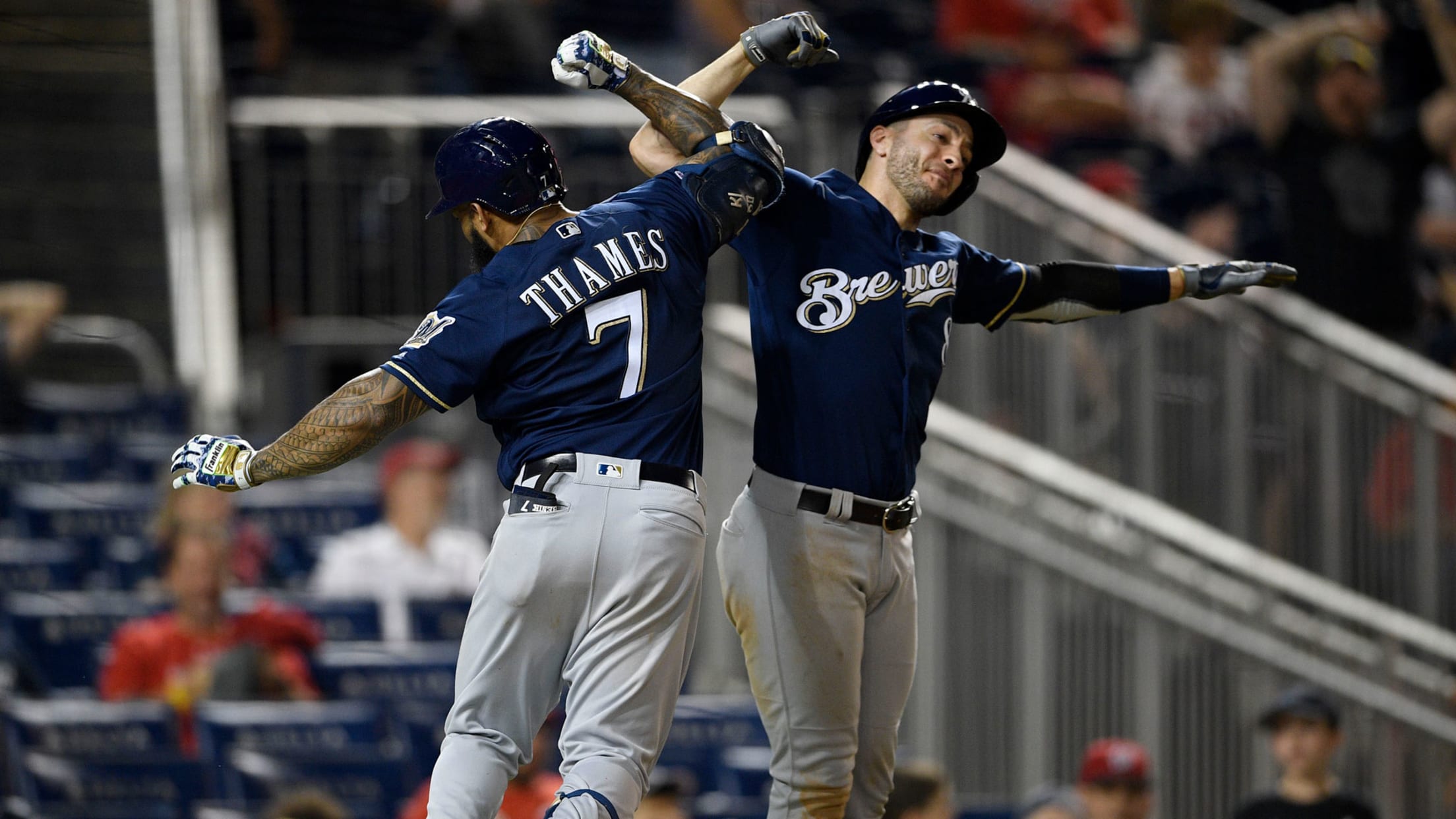 WASHINGTON -- Eric Thames was struggling to simply change out of his game clothes. Christian Yelich was exasperated, at a loss for words. Craig Counsell was at peace that the cost of the game resulted in a win. The most energetic source in the Brewers clubhouse after a 15-14 win
Longest home runs for every MLB team
Statcast measures farthest blast since 2015 for all 30 clubs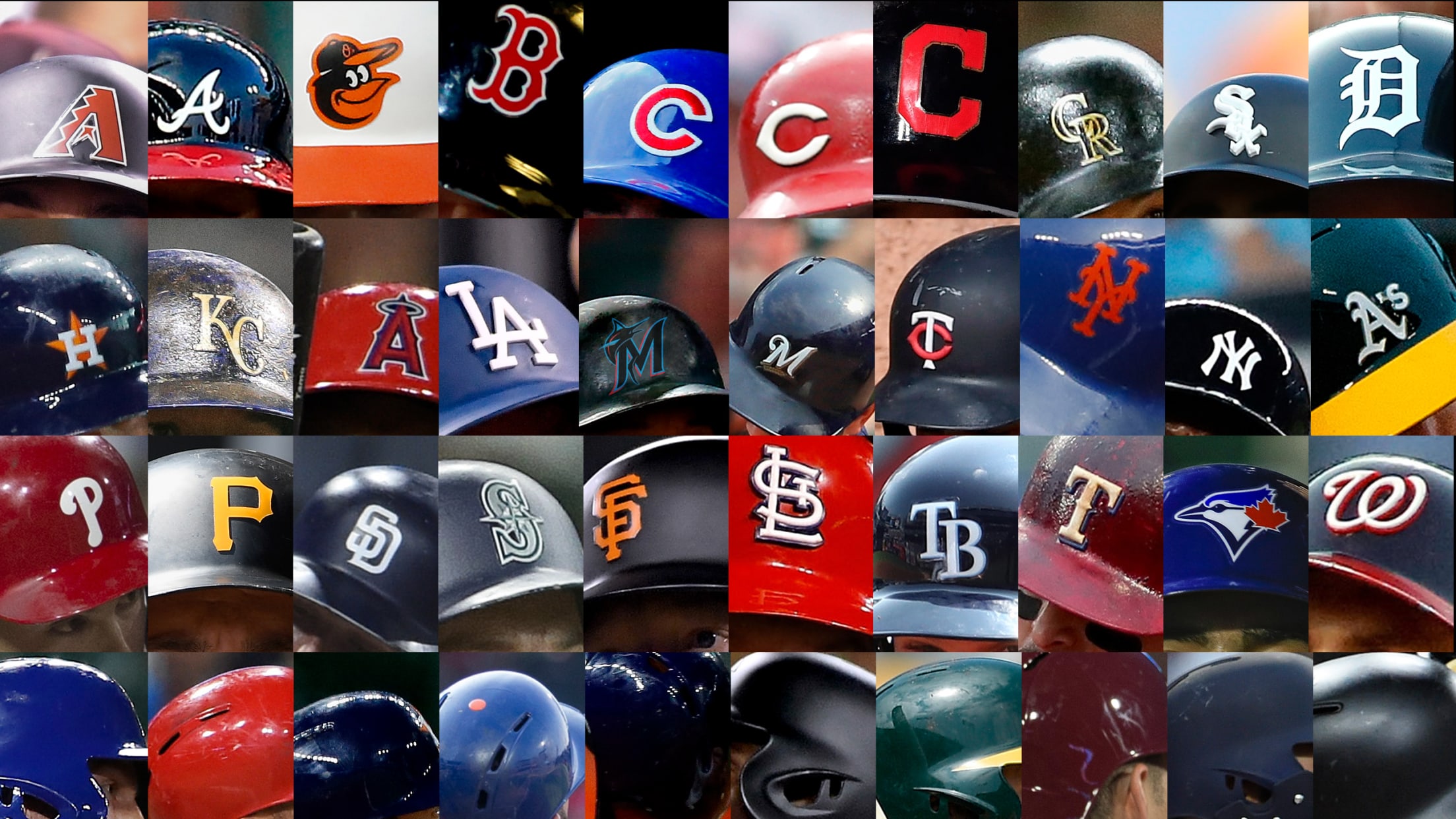 Ever since Babe Ruth launched Major League Baseball into the live-ball era with his awe-inspiring home runs, wowed fans have been asking: "How far did that ball go?" Teams had their own methods for estimating home run distance for nearly a century. But now, the launch of Statcast™ has given
Crew's struggles in scoring position continue
Houser stays hot, allows one run in seven innings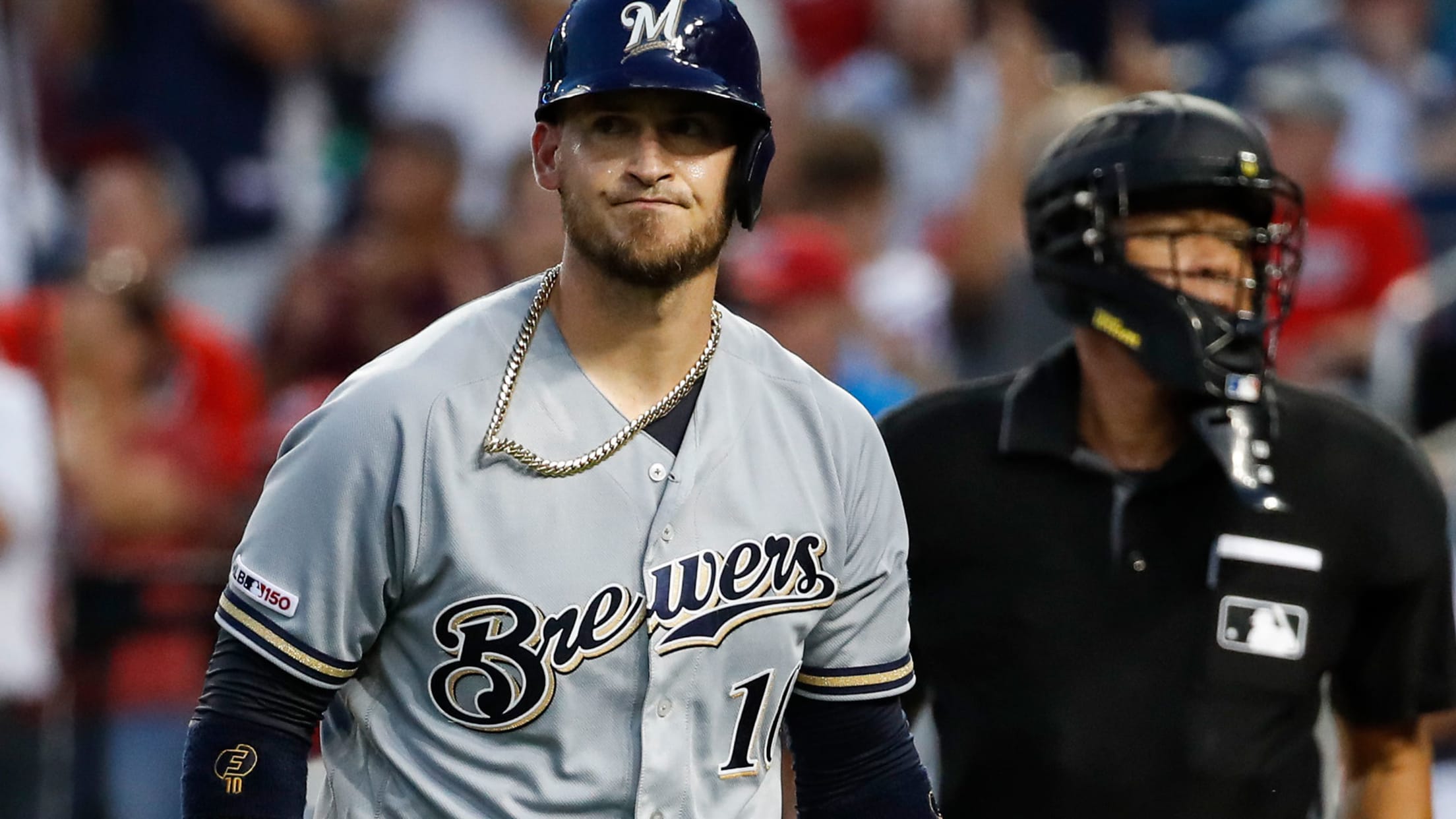 WASHINGTON -- By almost every measure, the Brewers should have beaten the Nationals on Friday night. They got the longer and more efficient pitching performance of the two clubs from Adrian Houser. They won the hits battle by six and allowed just eight Washington batters to reach base. They came
Counsell: Crew needs Cain down the stretch
Davies' return set; Brewers sign Austin; Kang working out in San Antonio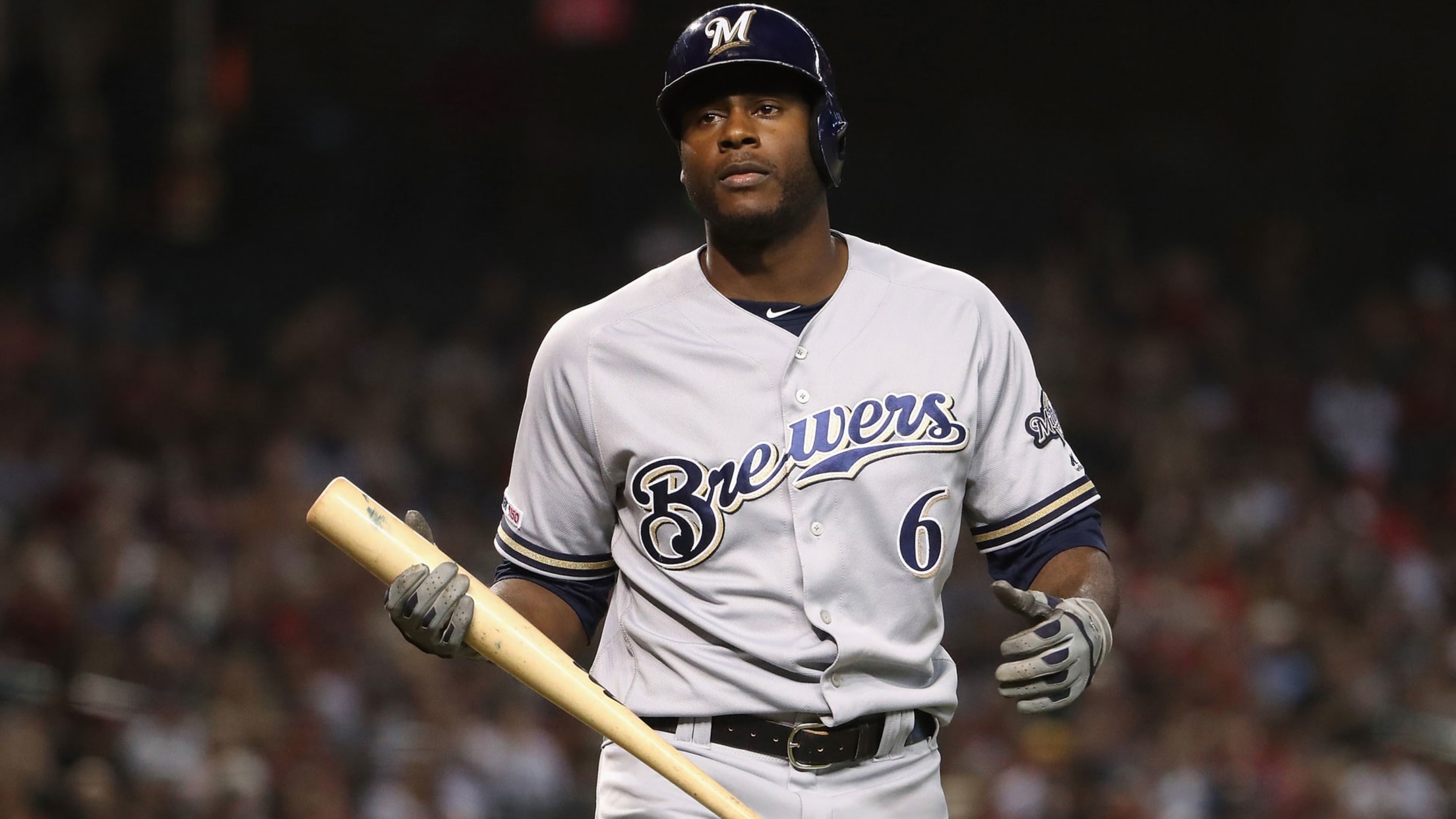 WASHINGTON -- Craig Counsell didn't mince words: The Brewers are going to need the Lorenzo Cain that thrived atop their lineup last season in order to replicate a fraction of success they had in 2018. "Look, Lorenzo is a vitally important player for us," Counsell said before the Brewers' 2-1