Wahl tears ACL, could miss all of 2019
Righty to seek second opinion for rare pitcher injury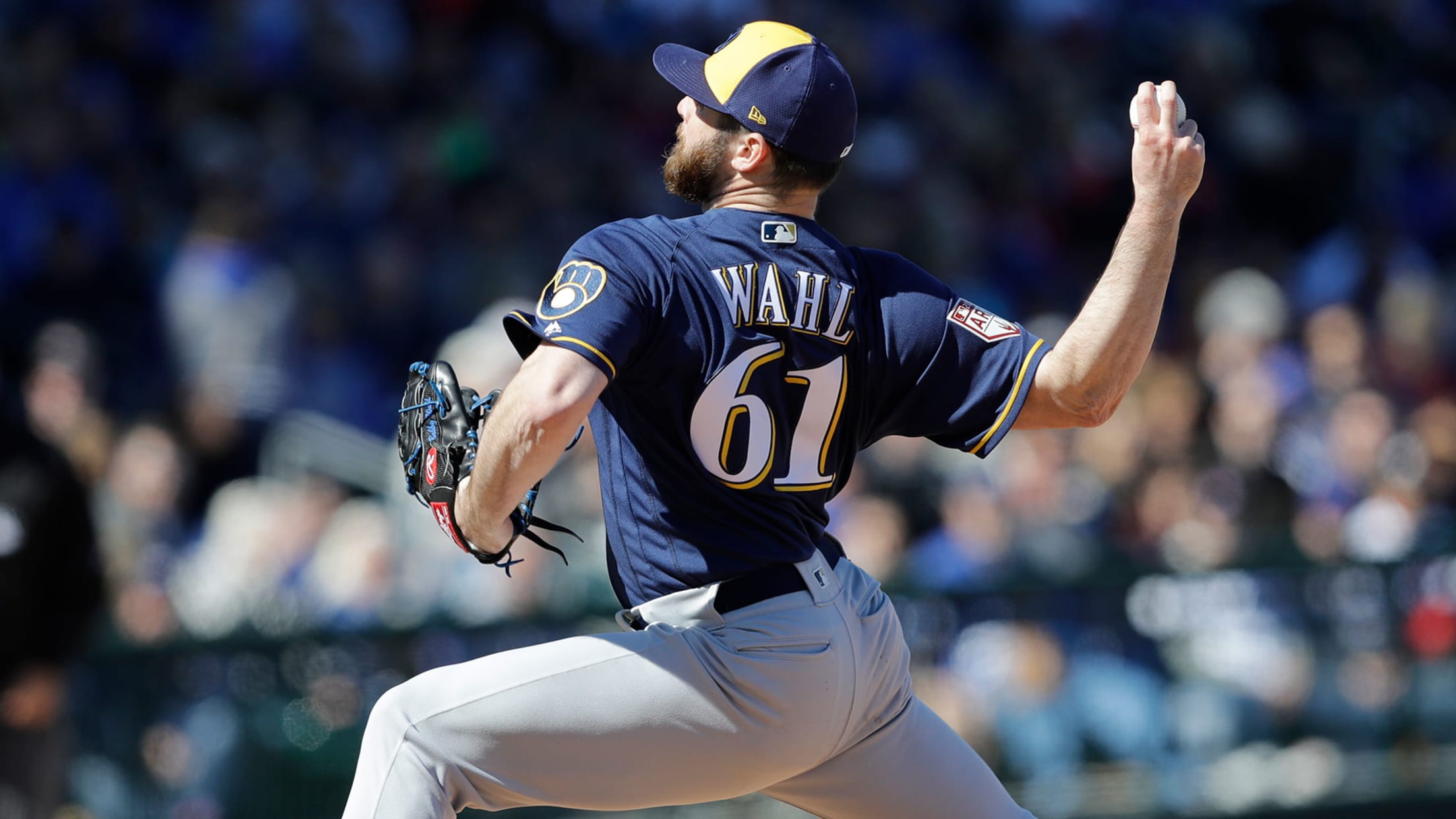 PHOENIX -- The Brewers will probably have to wait until 2020 to see what they have in hard-throwing reliever Bobby Wahl. Two days after Wahl injured his right knee throwing a pitch against the Mariners, the diagnosis has come back dire: A torn ACL. It's an exceedingly rare injury for
PHOENIX -- The Brewers will probably have to wait until 2020 to see what they have in hard-throwing reliever Bobby Wahl.
Two days after Wahl injured his right knee throwing a pitch against the Mariners, the diagnosis has come back dire: A torn ACL. It's an exceedingly rare injury for a pitcher, one likely to require surgery that would sideline Wahl for most or all of the 2019 season. Wahl will exercise his right to a second opinion before proceeding.
The Brewers acquired the right-hander in the Jan. 5 trade that sent Keon Broxton to the Mets.
"I knew something was wrong when I felt what I felt," Wahl said. "I didn't know it was going to be something as serious as that, especially throwing a baseball, which is something I've done my whole life. Then, all of a sudden, I tear my ACL on one pitch."
"Look, we got a piece of our depth chipped away," said Milwaukee manager Craig Counsell. "There's no question. Bobby was going to pitch in the big leagues this year. So we've taken away one of our answers. We're built to have more answers, but we've taken the first chip down already."
Wahl, who turns 27 on March 21, might not have made Milwaukee's Opening Day roster, but was one of several optionable relievers expected to play a role for a team that considers its bullpen one of its best assets. Wahl's ability is evidenced by big strikeout numbers (14.5 whiffs per nine innings in parts of three Triple-A seasons), but he has been dogged by injuries in recent years with the A's and Mets, including thoracic outlet surgery in 2017 and a season-ending right hamstring injury in '18.
The severity of the diagnosis surprised club officials, said Brewers president of baseball operations David Stearns. Major League Baseball keeps blind data on injuries throughout the game and Wahl's was only the third known instance of a player tearing the ACL in his drive leg while throwing a pitch.
Wahl said he didn't feel anything particularly unusual on that pitch against the Mariners. Perhaps a cleat stuck in the ground longer than usual, and when he rotated through his delivery, he felt a pop in his knee.
"This is very unusual and it's a really terrible misfortune for Bobby, a guy who has already come back from so much in his career," Stearns said. "He felt great this spring and was throwing the ball very well. I think everyone is excited by what they were seeing. He's a resilient guy and he'll battle back."
Said Counsell: "I don't think we should rule out the end of the season, but that's a pretty tight timeframe. ... These are monotonous, challenging rehabs that these guys go through. They challenge you mentally more than physically, really."
As of Monday, Wahl and his representatives were working on scheduling the second opinion. If surgery is required, he hopes to have it soon so he can mount an effort to make it back by September. That will be his goal as he begins rehab, Wahl said.
"It's definitely been the strangest and most frustrating thing I've had to deal with as far as baseball," he said. "I had a super productive offseason, and this is the best I've belt coming in. I was really starting to feel out my delivery and getting to know all the teammates we have, the staff. It felt like such a good opportunity. … For something like this to happen, it's definitely unfortunate. But it's been great because everyone has really rallied around me."
One of those teammates is infield prospect Mauricio Dubon, who tore the ACL in his left knee trying to escape a rundown last May and underwent surgery. Dubon was cleared for baseball activity at the start of Spring Training but was slowed last week by a severe intestinal ailment.
Dubon returned to camp on Saturday and spoke to Wahl.
"I know how he feels," Dubon said. "He asked me a couple things. I told him what I did, how the recovery went, how slow the process is, but it seems like it goes by quick. He'll be OK. He's a strong character guy.
"I feel bad for him. I faced him in live BP and he's pretty good. He'll come back stronger and better. The worst part is when they tell you that you have a blown-out knee. It's sad for him. But he'll get through it. Guys have experience recovering from it. Now, it's get the surgery and get better from there."