How might Crew's Opening Day roster look?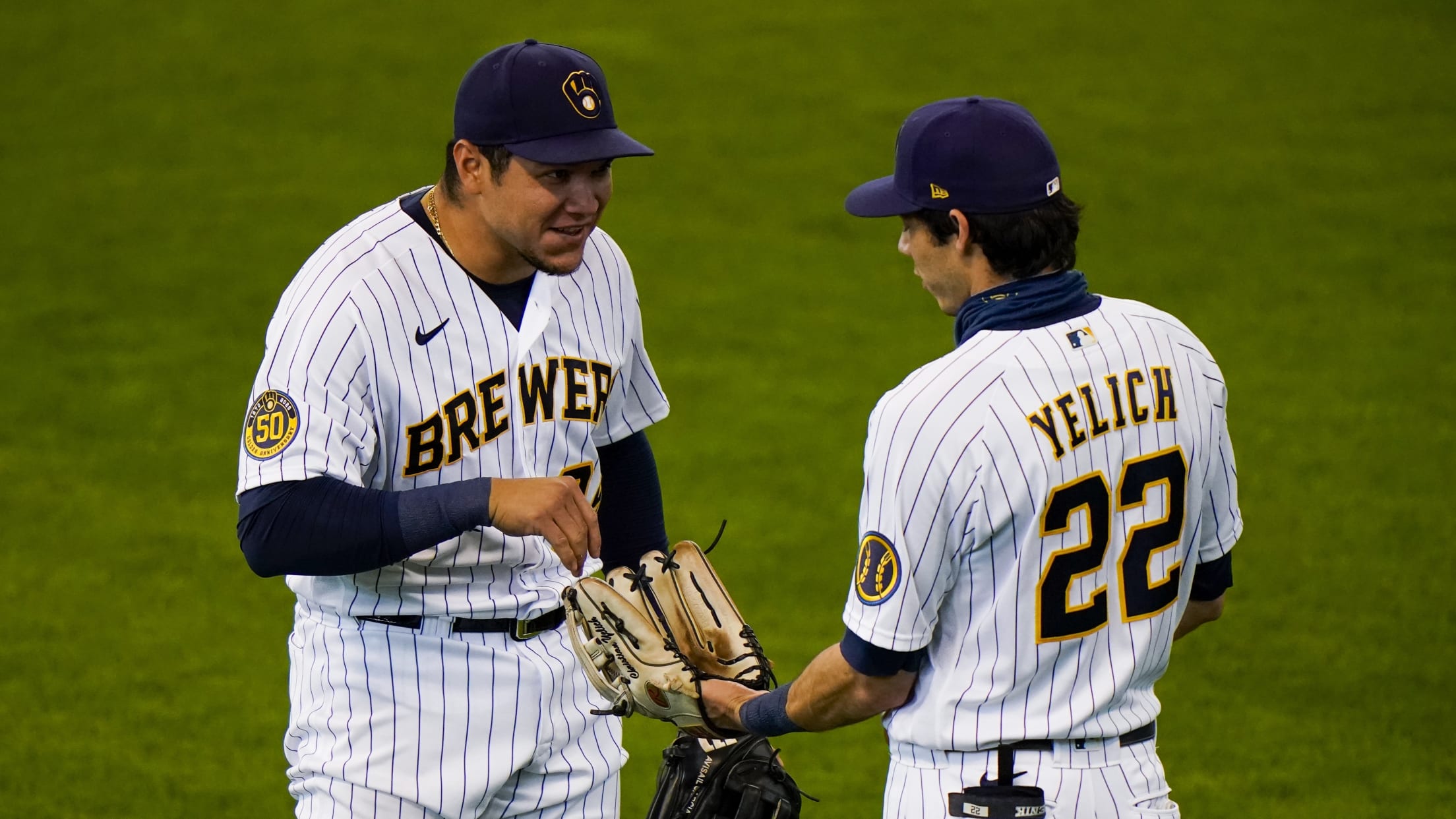 MILWAUKEE -- Never before have the Brewers navigated an offseason with more uncertainty, not only because of the usual needs and wants of every winter, but because so much about the state of the game was in limbo when the final pitch was thrown in 2020. So consider the following
MILWAUKEE -- Never before have the Brewers navigated an offseason with more uncertainty, not only because of the usual needs and wants of every winter, but because so much about the state of the game was in limbo when the final pitch was thrown in 2020.
So consider the following projection a living document that will change as next season nears, as rules are set and as roster moves are made. Keep checking back to see where it evolves.
• MLB Free Agent and Hot Stove Tracker
Some ground rules: For now, we are working with the concept that Opening Day rosters will consist of 26 players. And until Major League Baseball says otherwise, we're going with no designated hitter in the National League, since that rule was initially instituted for 2020 alone. And while you will see references to potential additions from outside the organization, we will err on the side of building a roster from the existing 40-man roster, which will evolve in the coming weeks with the Nov. 20 deadline to protect prospects from the Rule 5 Draft and the Dec. 2 deadline to tender contracts, which particularly applies to players eligible for salary arbitration.
Catcher (2): Omar Narváez, Manny Piña
Narváez, eligible for arbitration, is a non-tender candidate after a terrible debut season with the Brewers in which he had a .176/.294/.269 slash line with a wRC+ of 59, one of the worst marks on the team. He came to Milwaukee with a reputation as an offense-first player, so perhaps his poor showing at the plate in 2020 can be chalked up to the strange circumstances that dragged down so many hitters. Piña is a solid backup, and the Brewers still have Jacob Nottingham and David Freitas on the 40-man roster.
First base (1): Daniel Vogelbach
Don't mark this one in ink just yet. When the Brewers plucked Vogelbach off the waiver wire in the middle of the shortened season, it was a gamble on his bat. And Vogelbach not only delivered an offensive jolt against right-handed pitching (164 wRC+ in 67 plate appearances during the regular season), he even got some reps at first base and held his own there. There are two questions, however: Are the Brewers planning to go into arbitration with him? (Vogelbach is eligible as a Super Two player.) And if they do, are they confident enough in his defense to make him the first baseman? If the DH rule remains in the NL in 2021, it's a lot easier to see Vogelbach back on the team.
Second base (2): Keston Hiura, Jace Peterson
The Brewers flirted with the idea of playing Hiura at first base after parting with Logan Morrison and Justin Smoak, but that never materialized. While Hiura has his defensive shortcomings at second, we're leaving him there until the Brewers say that's changing. Hiura was among the many hitters who disappointed in 2020, with an 87 wRC+ and an NL-worst 34.6 percent strikeout rate. Peterson is a decent veteran backup who can play all over the infield.
Third base (1): Luis Urías
After a miserable offseason in which he was traded by the Padres, suffered a broken hand in winter ball in Mexico and then missed the start of his debut season with the Brewers because he contracted COVID-19, Urías got off to an extremely productive start for Milwaukee. Then he faded to a .602 OPS and 120 plate appearances with zero home runs. That doesn't exactly sound like third-base production, but he's the best the Brewers have at the moment. With first base and third base so unsettled, the Brewers probably will have to target corner infielders via free agency or trade to beef up their options.
Shortstop (1): Orlando Arcia
Arcia's job security was seriously threatened when the Brewers traded for Urías, but when the newcomer couldn't get on the field because of injury and then illness, Arcia made the most of the opportunity and turned in a solid season at the plate and in the field. He's also arbitration eligible. With Urías in the fold, there's a chance the Brewers could non-tender Arcia to save money. (Arcia's base salary heading into 2020 was $2.2 million.) Former first-round Draft pick Brice Turang, ranked by MLB Pipeline as the organization's No. 2 prospect, is inching closer to the Majors, as well.
Outfield (5): Christian Yelich, Lorenzo Cain, Avisaíl García, Ben Gamel, Tyrone Taylor
With so much uncertainty on the field, the Brewers are more solid in the outfield. Yelich's 2020 troubles were well-documented, but he was on his way to more normal production when he simply ran out of season. The importance of Cain's return after he elected not to play last season cannot be overstated. Corey Ray and late-season addition Billy McKinney are also options here if the Brewers elect to non-tender Gamel.
Utility (1): Mark Mathias
Mathias moved between the big leagues and the alternate training site in 2020 but impressed everywhere he went with an ability to deliver quality at-bats and solid defense all over the diamond, including in the outfield.
Starting pitchers (5): Brandon Woodruff, Corbin Burnes, Adrian Houser, Josh Lindblom, Eric Lauer
Homegrown right-handers Woodruff and Burnes were excellent in 2020 and will look to again lead the rotation. The other three are all coming off disappointing seasons, with Houser (1-6, 5.30 ERA) arguably best positioned to bounce back. The Brewers think he has the tools to make year-to-year improvement the likes of Burnes' from '19 to '20. Lindblom should be steadier considering he has a year back in the Majors under his belt following a stint in South Korea. Lauer may have been the most disappointing pitcher on the entire team in '20, considering what he cost the Brewers in a trade with the Padres. He'll get a shot to make the cut as a left-handed starter.
Relievers (8): Josh Hader, Devin Williams, Corey Knebel, Freddy Peralta, Eric Yardley, Brent Suter, Drew Rasmussen, Justin Topa
Knebel is a question mark here until the tender deadline, since he's arbitration eligible one final time and carries significant risk following an uneven return from Tommy John surgery in 2020. Knebel was impacted as much as any player by the COVID-19 pandemic, since the cancellation of the Minor League season meant he had to complete his rehab in real, live, Major League games. After a rough start, Knebel finished strong to give the Brewers something to think about. If he is non-tendered, the spot could go to someone from the group of Ray Black, J.P. Feyereisen, Angel Perdomo or Bobby Wahl. The Brewers have done a good job of finding relievers in recent years, and they like their depth here.