Brewers prospect report from alternate site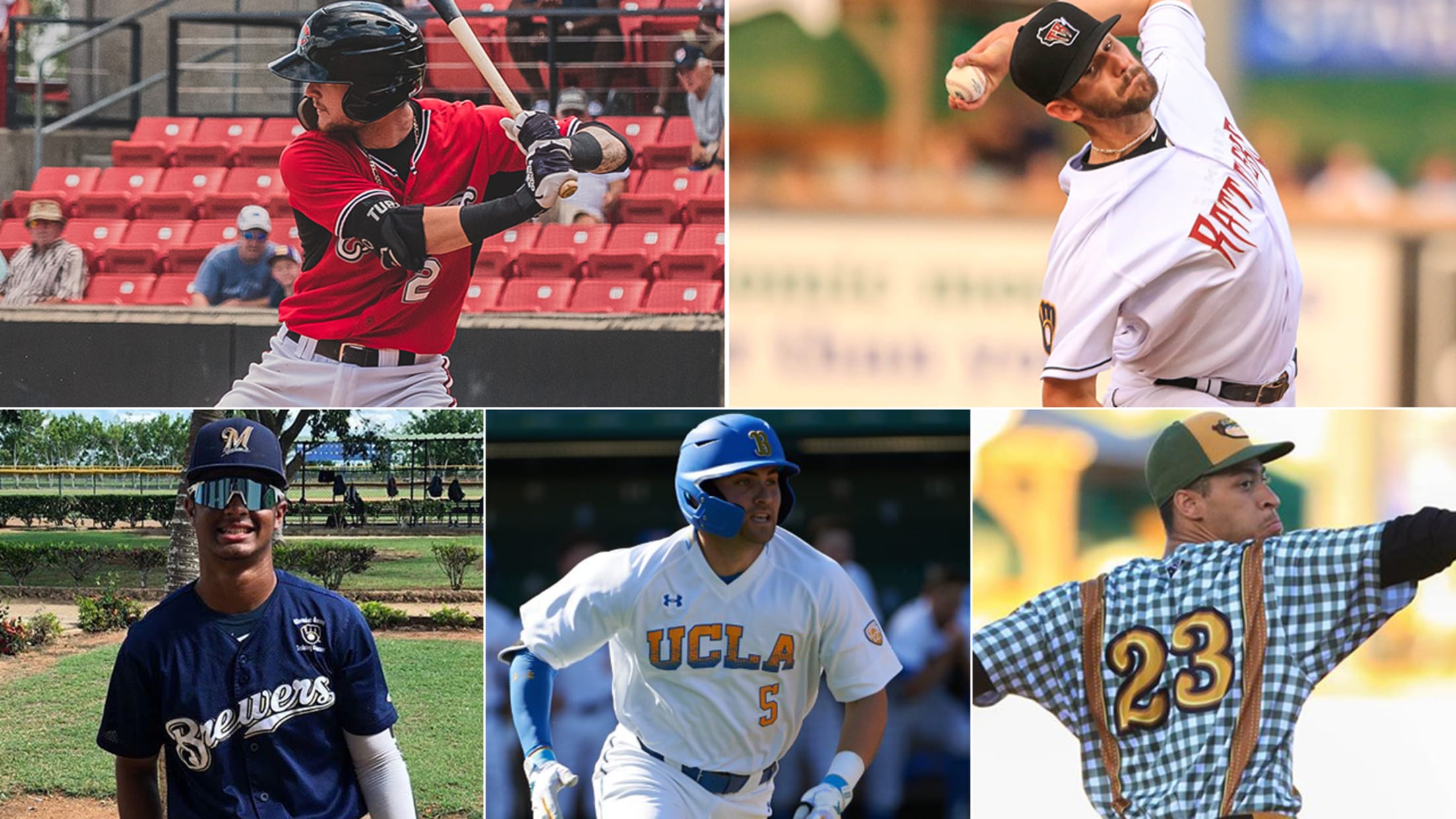 With alternate camps coming to an end, MLB Pipeline is recapping the development highlights for the prospects involved for each organization. Top position prospect: Brice Turang, SS (No. 2 on Brewers Top 30) The Brewers felt as though they got a steal in Turang when he fell to the No.
With alternate camps coming to an end, MLB Pipeline is recapping the development highlights for the prospects involved for each organization.
Top position prospect: Brice Turang, SS (No. 2 on Brewers Top 30)
The Brewers felt as though they got a steal in Turang when he fell to the No. 21 overall pick in the 2018 Draft. One of the more advanced high school position players in his class, Turang lived up to his reputation by reaching Class A Advanced Carolina in his first full season, ultimately slashing .256/.367/.340 across two levels at age 19.
The only thing Turang didn't do is hit for power, tallying three home runs -- as well as 19 doubles and six triples -- in 564 trips to the plate. But that's exactly why the Brewers liked what they saw from their young shortstop over the summer at the team's alternate training site in Appleton, Wisc.
"Brice put together some impressive at-bats against some really good pitching, and he appeared to show some improved pop," said Brewers farm director Tom Flanagan. "In general, we felt guys really benefited from the quality of at-bats they received at the alternate training site -- every night they were facing quality arms and plus stuff."
Turang's present bat-to-ball skills and remaining physical projection suggest that he might grow into some sneaky, double-digit home run power. Even if he doesn't, Turang's other tools and underlying baseball skills -- he stole 30 bases and walked a system-high 83 times in '19 -- could allow him to develop into a valuable big league middle infielder.
Top pitching prospect: Ethan Small, LHP (No. 3)
The Brewers felt the same way about getting Turang as they did Small, an advanced left-handed pitcher whom the club selected out of Mississippi State with the No. 28 overall pick in the 2019 Draft. Small led the Bulldogs to a College World Series appearance that year, taking home Southeastern Conference pitcher of the year honors after leading all NCAA Division I pitchers in strikeouts (176) and finishing second in strikeouts per nine (14.8). The southpaw continued to excel in his first taste of pro ball, posting a 2.50 ERA and 0.83 WHIP with 31 strikeouts and four walks over 18 innings with Class A Wisconsin.
The caveat to Small's pro debut was that the 23-year-old lefty, widely considered one of the more polished college hurlers in his Draft class, dominated younger, less-experienced hitters while relying heavily on his low-90s fastball, a pitch he commands well to all quadrants of the strike zone. While that well-located heater was a strength for Small again at Milwaukee's alternate training site this summer, his primary focus was on improving his curveball and changeup.
"Ethan really worked on his off-speed offerings while in Appleton," Flanagan said. "He made some strides and left in a really good place."
Youngest prospect: Hedbert Perez, OF (No. 9)
The Brewers gave Perez the second-highest bonus ($700,000) of any player they signed during the 2019-20 international period and subsequently invited him to Miller Park for batting practice. The Venezuelan outfielder, just 16 at the time, made an indelible impression, hitting Major League-type home runs in front of many club officials who were seeing him for the first time. Perez continued to open eyes with his performance during fall instructional league, showing more of that left-handed raw power as part of an overall exciting five-tool profile.
It's certainly possible Perez might have reached full-season ball this year had there been a normal regular season. At the very least, he would have seen time at the Brewers' rookie and/or short-season affiliates. But as a member of Milwaukee's 60-man player pool, the 17-year-old got spent much of the summer taking at-bats against Major League-caliber pitching.
"He was competing against guys so much older and more experienced," said Flanagan about Perez, who hit several impressive home runs to right field in Appleton.
"He's so young that many matchups were probably unfair from hitter vs. pitcher perspective. But he's a very mature kid emotionally, so this was a big positive in his development."
2020 Draft picks
None of Milwaukee's five 2020 Draft picks, including first-rounder Garrett Mitchell, were active at the team's alternate training site this summer. Instead, Mitchell, whom the Brewers landed with the No. 20 pick after he was ranked as the No. 6 prospect in his Draft class, used the summer to acclimate himself to the organization through virtual conversations with Brewers instructors, nutritionists and performance staff. The club's top prospect (MLB No. 56) also worked on improving his hitting routine in advance of joining the Brewers in Arizona for the team's annual fall instructional program.
Catcher Zavier Warren and outfielder Joey Wiemer, the Brewers' respective third- and fourth-round picks, both played in the United Shore Professional Baseball League, while fifth-rounder Hayden Cantrelle took part in the City of Champions cup, a temporary league in Joliet, Ill.
Pleasant developments
Though he opened eyes last summer by posting a 1.26 ERA with 41 strikeouts and five walks over 28 2/3 innings in the Rookie Arizona League, No. 7 prospect Antoine Kelly was, by the Brewers' own admission, very raw on the mound. The 2019 second-round pick excelled against younger hitters, pitching almost exclusively with his mid-90s fastball, while mixing in an occasional slider. All other parts of Kelly's game, however, were lacking. But Kelly proved a vastly improved pitcher this summer in Appleton, so much so that Flanagan pegged the 6-foot-6 left-hander as Milwaukee's alternate site Most Valuable Player.
"He really made progress across the board, from his individual pitch repertoire to progress holding runners," said Flanagan. "Holding runners was a foreign concept before, but he's working well in this area and knows its something he has to get better at. His changeup is really coming along, too. The fastball is still big and the slider has been solid, but the changeup is a legit new option and will become a weapon."
A year removed from signing for $1.1 million as one of the 2018-19 international class's youngest players, Eduardo Garcia (No. 8) logged 10 games in the Dominican Summer League before he suffered a season-ending broken ankle sliding into second base. He was added to the Brewers' 60-man player pool in mid-August and spent the final weeks of the regular season at the club's alternate training site, impressing club officials with his across-the-board tools while also making up for lost time from the previous year.
"He stepped in and played well," said Flanagan about the 18-year-old Venezuelan. "He logged lots of innings at shortstop and has started to fill out a bit physically, adding some good size to his lanky frame."
The Brewers selected Thomas Dillard (No. 24) in the fifth round of the 2019 Draft with the intention of developing him as a catcher -- a position he played sparing at Mississippi after serving as his high school program's regular backstop -- to go along with some work at both corner positions in the infield and outfield. The decision to audition Dillard behind the plate was made in part due to his solid track record of hitting at Mississippi, where he slashed .286/.419/.505 with 31 home runs in three seasons. By including Dillard on their Appleton roster, the Brewers were able to offer him work defensively that the 23-year-old might not have received in a normal Minor League season.
"He got a lot of time behind the plate and looked very playable back there," said Flanagan. "It was a great opportunity for him to catch in that setting and spend a ton of time working on his receiving, which was his goal for the site."