Offseason checklist: Brewers' needs and moves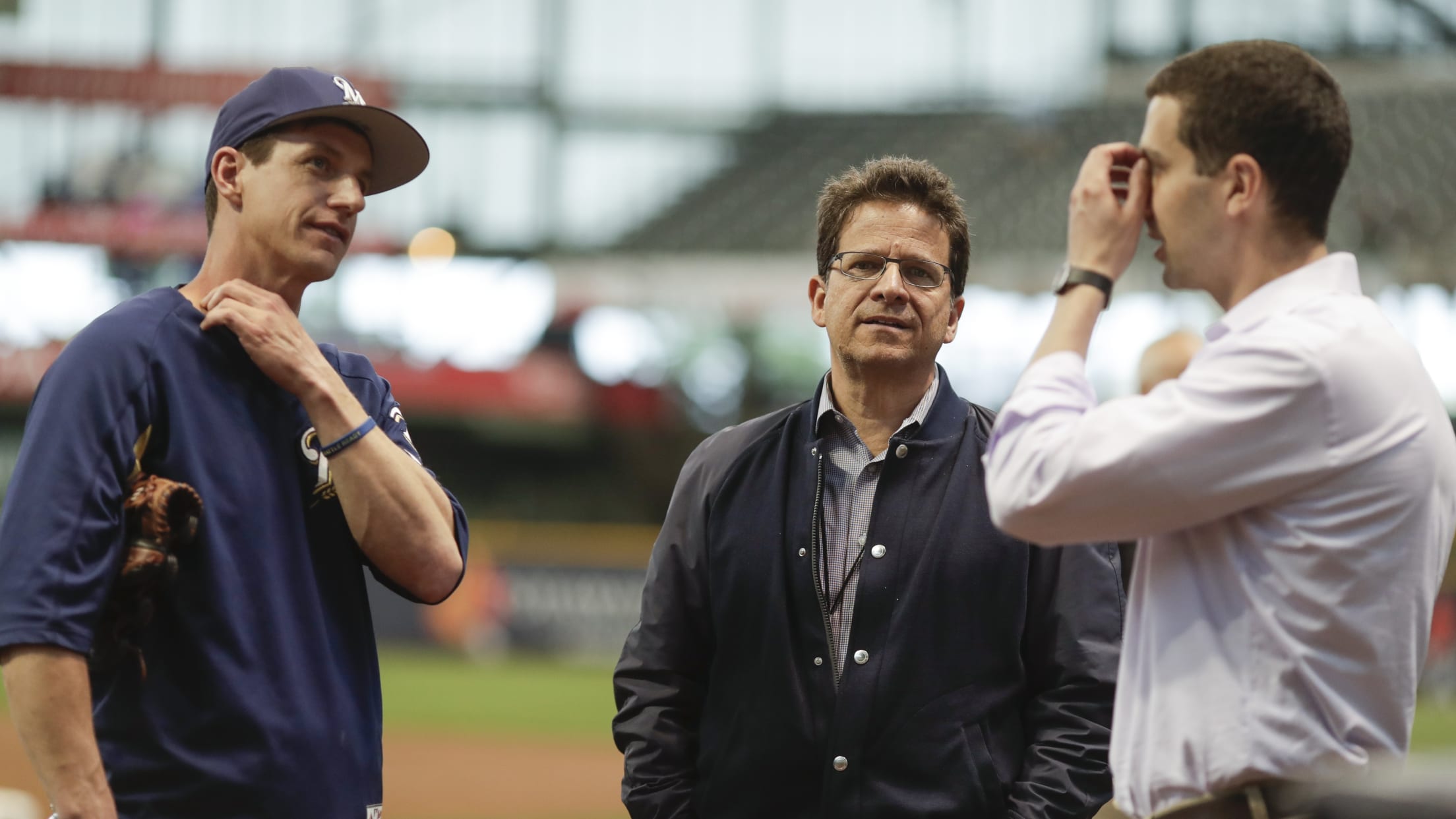 MILWAUKEE -- A second straight September surge put the Brewers in the National League Wild Card Game, where the Nationals scored the first of their late-inning comebacks on the way to winning the World Series. For the Brewers, it was a sudden start to what is looking like a busy
MILWAUKEE -- A second straight September surge put the Brewers in the National League Wild Card Game, where the Nationals scored the first of their late-inning comebacks on the way to winning the World Series. For the Brewers, it was a sudden start to what is looking like a busy offseason.
So what are the Brewers' biggest needs entering 2020, and what moves have they made to address them? MLB.com is keeping track here. As the offseason continues, be sure to check back for updates.
NEEDS ADDRESSED
Catcher
The Brewers had a big hole after the departure of All-Star catcher Yasmani Grandal, who landed a four-year contract from the White Sox. It was precisely two weeks later that Milwaukee traded with the Mariners for left-handed-hitting backstop Omar Narváez to form a platoon with right-handed-hitting and defensively savvy Manny Piña.
NEEDS LEFT TO FILL
Starting pitching
The Brewers acquired a young, controllable starter from the Padres on Nov. 27 in Eric Lauer, but it cost steady Zach Davies in the deal, so there is still work to do. Right-hander Brandon Woodruff emerged in 2019 as a bona fide big league starter. Beyond that are some question marks. Is Adrian Houser ready to start on a full-time basis? What role is best for Brent Suter, Corbin Burnes and Freddy Peralta? However the Brewers solve those internal matters, it appears with the trade of Chase Anderson, the departure to free agency of Jordan Lyles and Gio Gonzalez and the earlier jettison of Jhoulys Chacín, there is room on the roster for some veteran pitching.
Infielders
Acquiring Luis Urías from the Padres was a significant start. Before that, the Brewers had needs everywhere on the infield except second base, where Keston Hiura is entrenched. The club opted to decline first baseman Eric Thames' club option and non-tendered third baseman Travis Shaw after a down year. Mike Moustakas is gone after signing a four-year deal with the rival Reds. President of baseball operations David Stearns and manager Craig Counsell have shown a willingness to be quite creative in terms of prioritizing offensive potential over defensive experience, so expect the club to continue casting a wide net.
Bullpen
Good luck finding the team that is not in the market for relief pitching during the offseason. The Brewers have one of the best closers in the game in Josh Hader and are optimistic about Corey Knebel's return from Tommy John surgery, but like every other team in baseball, they will sign some relief help this winter.
MOVES MADE
Dec. 5: Traded for Narváez
Milwaukee parted with Minor League right-hander Adam Hill – MLB Pipeline's No. 24 Brewers prospect – and a compensatory Draft pick for 27-year-old Narváez, who swings a potent bat but has work to do on defense. His .373 on-base percentage and .516 slugging percentage as a catcher led the American League and ranked second in the Major Leagues in 2019. His 22 home runs as a catcher ranked fourth in the AL and seventh in the Majors.
Dec. 4: Signed RHP Grimm
Justin Grimm pitched for the Cubs from 2013-17 and the Royals and Mariners in '18, but he did not appear in MLB during the '19 season. He got a Minor League deal with an invitation to Milwaukee's big league camp, where he will compete for a spot in a bullpen undergoing an overhaul.
Dec. 2: Non-tendered five
No team cut more players loose at the tender deadline than the Brewers, who were unwilling to pay what third baseman Travis Shaw, right-handers Jimmy Nelson and Junior Guerra, left-hander Alex Claudio and utility man Tyler Saladino were likely to earn in arbitration. All five became free agents. That doesn't preclude circling back to make a deal later this winter -- the Brewers negotiated with Shaw's representatives in the run-up to the deadline, for example -- but for the moment the decision opened yet more holes on the roster.
Nov. 27: Traded Trent Grisham and Zach Davies to the Padres for INF Luis Urías, LHP Eric Lauer and a player to be named or cash
Both teams dealt from areas of depth and acquired upside. In Urías, the Brewers are acquiring a versatile defender and a potential alternative for underperforming shortstop Arcia who can also play second base and third. Urías ranked among the elite prospects in baseball before accruing enough big league time in 2019 to shed that status, and is an accomplished defender with good bat-to-ball skills – the same traits that motivated the Brewers' acquisitions of Lorenzo Cain and Christian Yelich two winters ago. Lauer adds a left-hander to a Brewers rotation long dominated by right-handers.
Nov. 23: Signed RHP Jesus Castillo
The Brewers inked the 24-year-old Castillo to a Minor League contract that includes an invitation to big league Spring Training camp. He has pitched professionally for the D-backs, Cubs and Angels, topping out at the Double-A level so far. He has modest strikeout numbers (7.4 whiffs per nine innings in his career) but makes opponents earn their way on base. Last year at Double-A Mobile, Castillo struck out 80 batters versus 26 walks in 99 2/3 innings.
Nov. 20: Added prospects to 40-man roster
At the deadline to protect eligible Minor Leaguers from the Rule 5 Draft, the Brewers made a trade with the Indians for infielder Mark Mathias and added him to the 40-man roster. The Brewers also added outfield prospect Corey Ray and relief pitcher J.P. Feyereisen to the 40-man roster. Mathias has a full complement of Minor League options and has a chance to fill a utility role for the big league club by midseason 2020.
Nov. 15: Claimed RHP Eric Yardley off waivers from the Padres
In another move to add bullpen depth, the Brewers picked up the 29-year-old side-armer from San Diego, where he made his Major League debut in 2019 after a long Minor League journey and logged a 2.31 ERA with seven strikeouts over 11 2/3 innings. He has pitched parts of seven Minor League seasons, and while he does not have big strikeout numbers (7.0 per nine innings lifetime), Yardley does have a 2.90 ERA for his career and is coming off a season at Triple-A El Paso in which he held right-handed hitters to a .219 average. He has a full complement of Minor League options remaining.
Nov. 4: Chase Anderson traded; Eric Thames' option declined and Manny Piña's picked up
The Brewers' offseason overhaul began in earnest with a flurry of moves that coincided with the true opening of the free-agent marketplace. Picking up Piña's $1.85 million club option was an easy call, especially considering the departure of Grandal. But the Brewers opted to free up $15 million by trading Anderson to the Blue Jays for Minor League outfielder/first baseman Chad Spanberger and declining Thames' $7.5 million club option.
Nov. 2: Angel Perdomo added to roster
The Brewers purchased the 6-foot-6 left-hander's contract from Triple-A San Antonio rather than lose him to Minor League free agency. He impressed last year in big league camp and logged 13.9 strikeouts per nine innings during a Minor League season split between San Antonio and Double-A Biloxi.
Oct. 31-Nov. 1: Nine players elect free agency
On Nov. 1, Catcher Yasmani Grandal and third baseman Mike Moustakas declined mutual options, as widely expected, to test free agency again. Outfielder/first baseman Tyler Austin and utility man Cory Spangenberg, meanwhile, elected free agency after the Brewers outrighted them to Triple-A San Antonio in an off-ramp from the arbitration process. Those moves came a day after the Brewers' five other free agents formally hit the market on the day following the World Series. They were starting pitchers Gio Gonzalez and Jordan Lyles and relievers Matt Albers, Jay Jackson and Drew Pomeranz. In many of those cases, there could be dialogue about a return. Stearns, for example, made clear he would love to have Grandal and Moustakas back, but questioned whether market forces will align. Lyles, meanwhile, could help add depth to the rotation and Pomeranz, who thrived after a move to relief in July, will be a target for any number of clubs interested in a lights-out left-handed reliever.
Oct 18: Free agent RHP Deolis Guerra signs one-year deal
Guerra spent most of 2018 in Milwaukee's Minor League system but did make it to the Major Leagues for one forgettable outing on July 5 at Pittsburgh, when he took over with a 6-1 lead in the ninth inning and allowed the first four of five Pirates runs in the inning to force extras. The Brewers won the game in the 10th inning and Guerra was designated for assignment the next day. That day aside, he had a solid season, with a 1.89 ERA and a 0.89 WHIP in 45 games with the Missions.
Oct. 16: Hernan Perez elects free agency
Perez, who previously was designated for assignment in June but remained with the organization, opted to try his luck on the open market after the Brewers outrighted him to Triple-A San Antonio a second time to avoid going into the arbitration process. The popular utility man played seven positions during the 2019 season, while slashing .228/.262/.379 in 232 Major League at-bats.