Slumping Yelich sits for 'mental break'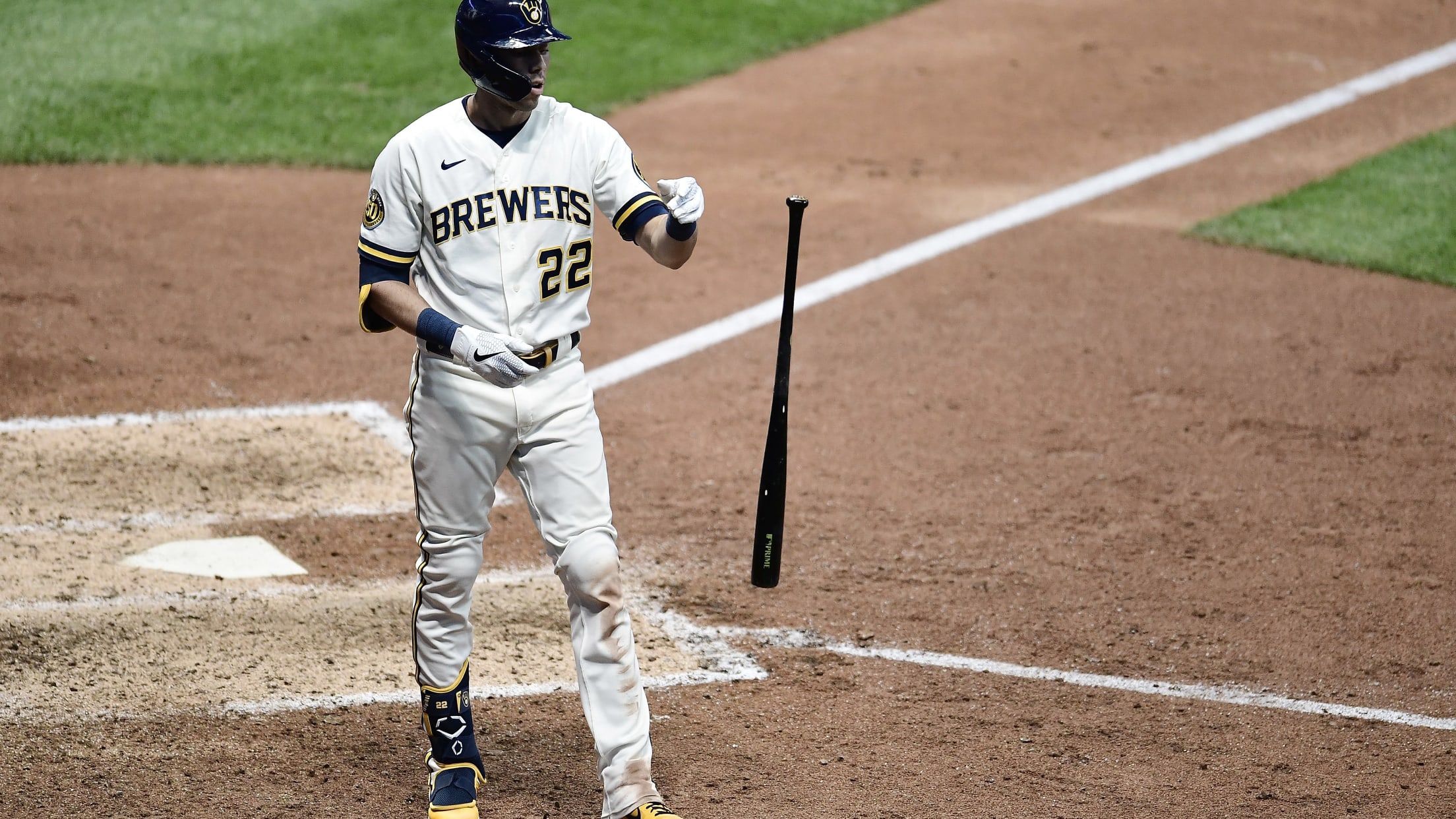 What came first, the mechanics or the mental wear and tear? The Brewers don't exactly know the answer when it comes to Christian Yelich's early-season funk, but it was "obvious" to manager Craig Counsell that it was time for his team's superstar outfielder to try watching a game from the
What came first, the mechanics or the mental wear and tear?
The Brewers don't exactly know the answer when it comes to Christian Yelich's early-season funk, but it was "obvious" to manager Craig Counsell that it was time for his team's superstar outfielder to try watching a game from the bench. Despite being only two games removed from four days with no games, Yelich was out of the starting lineup for Wednesday's game against the White Sox in Chicago.
"He's getting a mental break," Counsell said. "That's the best way of saying it."
Counsell said he made the decision Tuesday night, after Yelich went 0-for-3 with a walk and three strikeouts -- two called, one swinging -- in a loss to Lucas Giolito and the White Sox. Yelich swung seven times and made contact only once for a foul ball. He is slashing .088/.162/.206 with a 43.2% strikeout rate through 37 plate appearances.
"I think it's a 'chicken and the egg thing' with the mental, physical parts," Counsell said. "I don't want to suggest this is not physical; there's mechanical things that we see and he feels, but he's having a hard time fixing that are definitely part of this -- and a big part of this.
"But it also can be exhausting when you're just not getting the results that you want to get. I made a decision after the game last night, but we had a nice conversation today. I just think was kind of obvious after the game [Tuesday] that this was the right thing to do right now."
Yelich was among a number of Brewers batters who struggled in the early going. First baseman Justin Smoak entered Wednesday with the worst strikeout rate for a qualifying hitter in Major League Baseball, 45.5%, and was given his own mental break.
Lindblom: 'I think I'll be fine'
If there's one Brewers pitcher who may have benefited from the extra down time over the past week, it is veteran right-hander Josh Lindblom, who expressed confidence that he's tamed the "boa constrictor," which squeezed him short in his last start.
Lindblom used that reptilian reference to describe the back tightness, which ended his Brewers debut early in Pittsburgh last Tuesday. After going through a series of tests to rule out a structural problem in his back or obliques, the Brewers' athletic training staff figured the problem was related to hydration and/or nutrition, Lindblom said. He navigated a pair of between-starts bullpen sessions without trouble and is scheduled to start against the White Sox on Thursday. It will be his first outing in 10 days.
"I've had to weigh myself about 600 times a day," Lindblom said. "Before I work out, when I wake up. Just trying to check weight levels, how much water I'm losing when I work out, cutting back on some on-field work, not stress my body. We were joking around about diet a little bit. I'm used to a high-sodium diet, being in Korea the last five years. Maybe I need to order some Korean barbeque or some ssamjang sauce, get some extra sodium.
"It's just testing, seeing what works and doesn't work. I think I'll be fine. I felt great yesterday in my bullpen."
Mitchell makes Top 100 Prospects list
The Brewers are back on MLB Pipeline's Top 100 prospects list -- the latest of which was revealed on Wednesday -- thanks to 2020 first-round Draft pick Garrett Mitchell, who checked in at No. 69.
Mitchell, an outfielder from UCLA selected No. 20 overall in the shortened MLB Draft in June, was the only player to make the Top 100 from the Brewers, who were shut out before that after promoting a number of top prospects in recent years, including Keston Hiura in 2019. Mitchell, 21, is a five-tool talent who was rated the sixth-best pre-Draft prospect by MLB Pipeline.
Checkout day for Cardinals
After the Cardinals spent six nights in the historic -- and haunted, if you ask Carlos Gomez and countless other former players -- Pfister Hotel in downtown Milwaukee, the team finally traveled home to St. Louis on Wednesday. The Cardinals, who had nearly a fourth of their roster and a significant portion of their staff test positive for COVID-19, are expected to resume play on Friday against the Cubs.
The Brewers monitored the situation from a distance, with their own schedule impacted because they were supposed to host the Cardinals in a three-game series last weekend that was postponed in its entirety. The experience coincided with two players in the Brewers' 60-man player pool -- Lorenzo Cain and Shelby Miller -- electing not to play for the remainder of the 2020 season.
"We know new things are going to be thrown at us," Counsell said. "There's going to be new protocols thrown at us. There's going to be stricter protocols thrown at us. And I think we're at the point where we're ready for them. We are not complaining about it, but they're different. They're different than we expect. And we're not perfect at them, either. We're trying to be, and we know we have to be darn close to. But we all have to make adjustments in this world, in this era right now, and in these next seven weeks or eight weeks to get through these games."