Stearns talks offense, team's future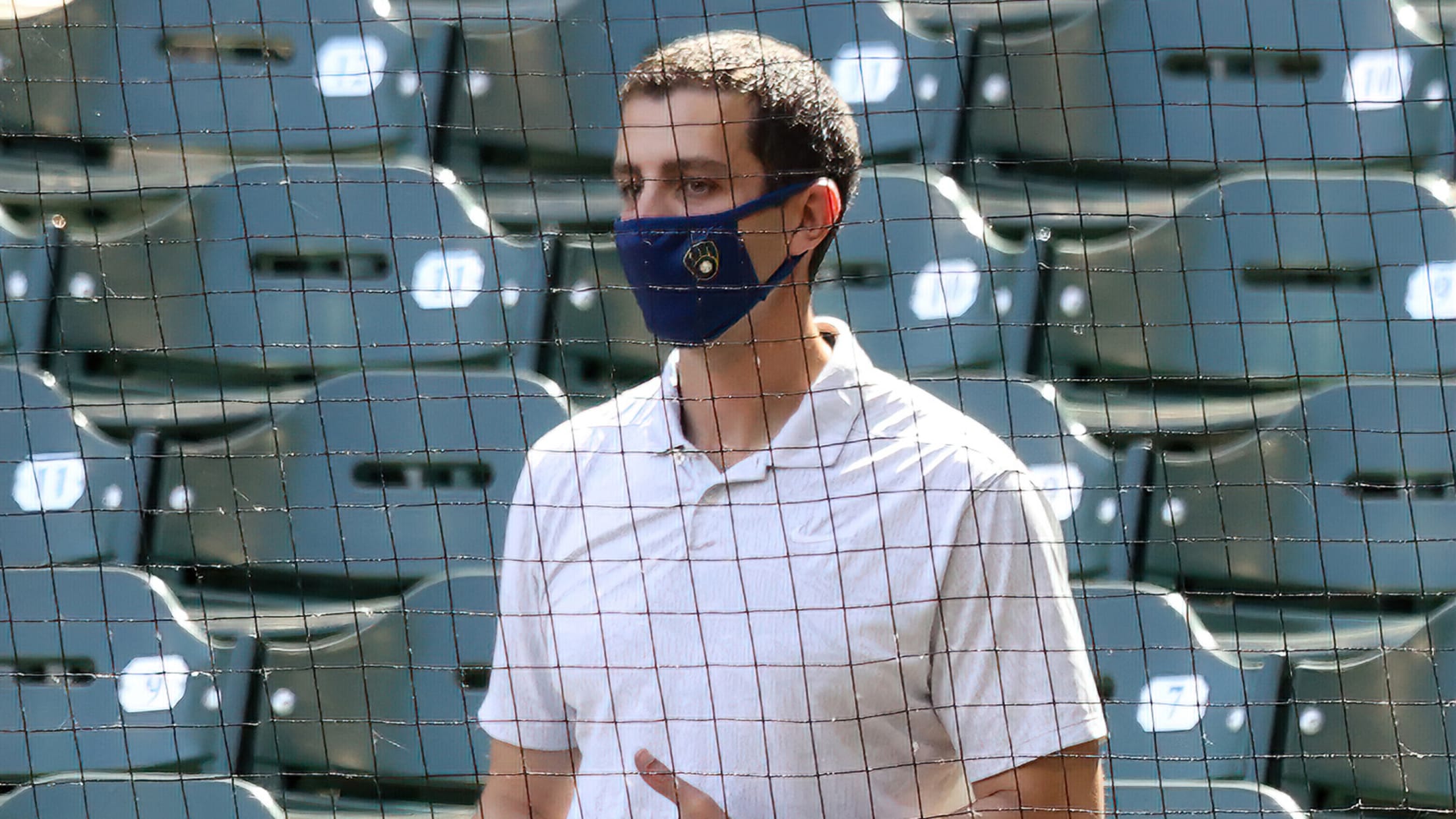 MILWAUKEE -- The Brewers got through 2020. Now what? A season of uncertainty yielded an offseason of even more uncertainty. The Brewers must figure out what went wrong with their offense as a whole and mainstays Christian Yelich and Keston Hiura in particular, decide whether to trust their original evaluations
MILWAUKEE -- The Brewers got through 2020.
Now what?
A season of uncertainty yielded an offseason of even more uncertainty. The Brewers must figure out what went wrong with their offense as a whole and mainstays Christian Yelich and Keston Hiura in particular, decide whether to trust their original evaluations of acquisitions like Omar Narváez and Eric Lauer or move on, predict which of the new rules put in place for 2020 will remain (designated hitter?) and do their best to project what the sport's economic landscape will look like in '21 and beyond.
"Generally, when we get to this point in a season, after our season ends, we like to try to summarize everything, wrap everything in a box and put a bow on it," Brewers president of baseball operations David Stearns said Monday, four days after the team's offseason began with a loss to the Dodgers in the National League Wild Card Series. "But it's tougher to do that this season. Everything about this season, everything about this year, has been messy. It's been unusual. It's been inelegant."
Looking ahead, Stearns said, "There is tremendous uncertainty right now. That is true in every business in the world right now. It's certainly true for every live entertainment business in the world right now, and we're right in the middle of that."
With much of the front office working remotely, Stearns & Co. will tackle each issue as it arises. Five days after the World Series, the first decision points arrive with Ryan Braun's $15 million mutual option and decisions on club options for Jedd Gyorko ($4.5 million), Eric Sogard ($4.5 million) and Ben Gamel ($2.55 million). In late November or early December at the nontender deadline, the Brewers must decide whether to proceed in arbitration with the likes of Narváez, Corey Knebel and Alex Claudio, or make them free agents and be unencumbered of those salaries.
Which all leads to the bigger question: What will the Brewers' payroll look like in 2021, coming off a season with no revenue from fans in the stands?
Asked whether the budget will be tighter, Stearns said, "I think it's a possibility. I think budgets are tighter everywhere right now, for most businesses. You know, over the last two years, we've run the two highest payrolls in the history of this organization. And I think it's uncertain at this point, as we look forward, whether our payroll next year would be at that same level."
The Brewers' payroll in 2019 was $125-$135 million, depending on how one counts deferred payments and other costs, and was projected to be in the $97 million range for '20 before the pandemic struck.
Already, the Brewers have paid $1.75 million in buyouts to Justin Smoak and Brock Holt, who were released, and will owe a $4 million buyout to Braun, assuming his option is not exercised. The buyout of Gyorko's option is $1 million and Sogard's is $500,000.
The decisions on those players will impact how the Brewers address a position player group that batted .223 in 2020, lowest in franchise history, while also setting a franchise record for strikeout rate. Catcher, third base and first base are all unsettled, just like last season, after the Brewers opted not to bring back Yasmani Grandal, Mike Moustakas and Eric Thames.
The Brewers like their pitching staff, which features controllable talent like Corbin Burnes and Brandon Woodruff atop the rotation, and Devin Williams and Josh Hader at the back of the bullpen. But the offense needs to be fixed.
"You start from the reality, which is it wasn't good. It wasn't good enough," Stearns said. "We have to work backward off that. We begin with a premise that there is something in there that is explicable, that through our work and our research and our time, we can understand why. That has to be the starting point.
"We also have to recognize that there are so many aspects of our game this year that were different, that ascribing too much weight to this particular season has dangers as well. Offense wasn't great in our division. It could be that our division had some really good pitching, which I think it did. It could be that we had a couple teams in our division that perhaps underperformed offensively, which is probably true as well. It could be that specific players were more impacted by ... lack of fans, no access to video, the changing environments that we had to play in this year. All of those could be factors.
"And we really don't know what these environments are going to look like next year, either. We don't know how packed ballparks can possibly be next year. We don't know what sort of access players may or may not have to their customary video libraries and in-game video access and video rooms. So, many of the same variables that came into play this year in some respects may still be around next year, and we have to recognize that. So, it's not as though we can assume that we're going to go back to a completely normal environment next April, because we just don't know."
In the business of predicting future results, it is an uncomfortable place to be.