Brewers facing difficult decision with Kratz
Counsell speaks on new rules; Yelich goes deep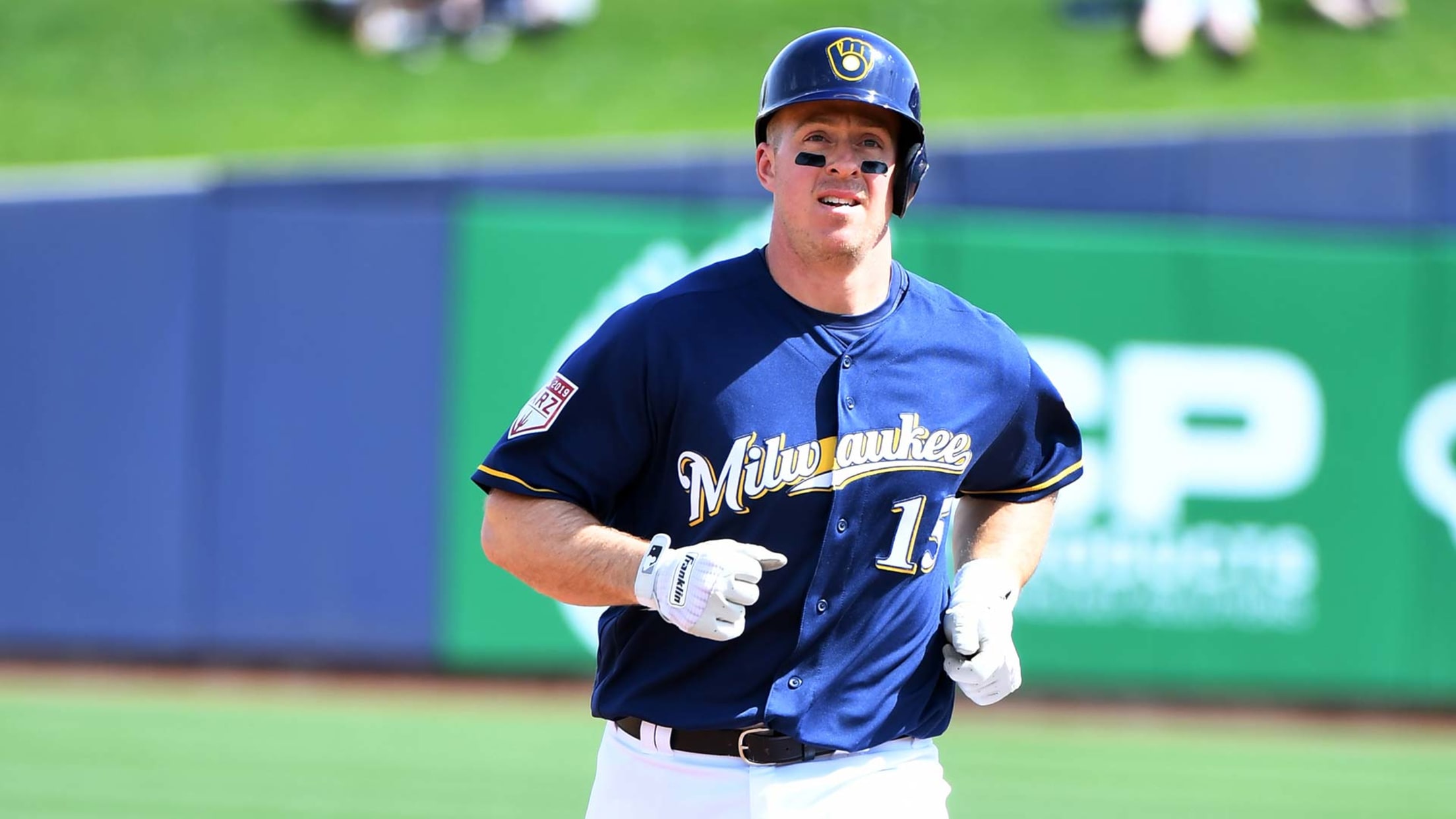 PHOENIX -- With 10 days to go before the Brewers depart the desert, 13 days before they set an initial 25-man roster and two weeks before Opening Day, veteran catcher Erik Kratz remained unsure Thursday where his 18th season in professional baseball will take him. Kratz is third on the
PHOENIX -- With 10 days to go before the Brewers depart the desert, 13 days before they set an initial 25-man roster and two weeks before Opening Day, veteran catcher Erik Kratz remained unsure Thursday where his 18th season in professional baseball will take him.
Kratz is third on the Brewers' catching depth chart behind Yasmani Grandal and Manny Pina. He is also out of Minor League options, meaning that should the Brewers try to send him to Triple-A, they would have to expose him to waivers. Were he to clear, Kratz would have a say whether to accept such an assignment.
There's comfort, the 38-year-old said, in the assurance that he'll be the first to know when there's something to know.
"They've been very open about it," Kratz said, referring to conversations with president of baseball operations David Stearns, and other officials. "They've been up front and honest, even before [Grandal] signed. That's what you hope for."
Said Stearns: "It's a balance between trying to preserve your injury insurance, and trying to assess the market and what's out there. We'll continue to balance that, but I imagine that resolution will happen close to the end of camp. … We are sensitive to doing right by the player."
The Yankees did right by Kratz last May when they traded him from their Triple-A team to the Brewers, who were demoting catcher Jett Bandy and needed a replacement. Kratz earned a timeshare with Pina late in the season and into the postseason, when he became the oldest position player in 35 years to make his playoff debut.
When the Brewers opted to re-sign both Kratz ($1.2 million, $300,000 of which is guaranteed) and Pina ($1.6 million guaranteed), avoiding arbitration, it appeared the duo would return. That changed when Grandal became available on a one-year, $18.25 million deal.
"The agreement we've made is we're going to give [Kratz] all the information we have," Brewers manager Craig Counsell said. "At some point, we have to make a decision there. … We've talked about that. He's as well-equipped to handle it as anybody in there. It's still a tough situation. At this point, we're not any closer to resolving it."
New rules
Counsell spent time Thursday morning digesting a series of rules changes being implemented this year and next, which will impact in-season trades, roster construction and bullpen deployment.
Gone are August waiver trades, which the Brewers used to acquire Gio Gonzalez and Curtis Granderson last season.
Beginning in 2020, the injured list will return to a 15-day minimum from 10, and pitchers optioned to the Minors will be required to stay there for at least 15 days, instead of the current 10, which could impact the way teams like the Brewers shuttle arms back and forth to keep the bullpen fresh.
Active rosters will expand in 2020 from 25 to 26 through the end of August, but will be capped at 28 in September instead of the current 40, which the Brewers used to great effect last September.
And a three-batter minimum being put into place for 2020 will prevent the one-batter "opener" strategy employed by the Brewers last September in St. Louis, and in Los Angeles for Game 5 of the National League Championship Series.
"You're saying they altered a lot of rules because of what we did?" Counsell joked. "I'm fine with all that stuff. Just do it differently."
He added, "We used the rules in September, and the schedule a little bit, to what we thought was an advantage, and a lot of this is personnel. 'Who is on my team? What are they good at? What are the strengths of our team?' We had a lot of depth in our pitching last year that allowed us in September to use our pitching a little bit differently. There are still different ways to look at these things -- and adding a player to the roster is the significant thing that is happening, in my opinion."
Several Brewers players said the implementation of a single Trade Deadline on July 31 stood out as a positive change. There was mixed reaction to the three-batter minimum.
"I know the purpose, the intention. I'll have to see its functionality," said Brent Suter, one of the Brewers' assistant-player representatives. "It will probably speed up the game somewhat, but in terms of the competitive part of the game, TBD."
Last call
Christian Yelich doubled, homered and scored twice in Thursday's 7-7 tie with the Angels to boost his spring batting average to .500 (12-for-24) with three home runs and five RBIs in 10 games.
"We've taken him out of the games quickly a couple of times, but it's [because] he squares up two balls every day," Counsell said. "You just want to make sure he's feeling good, and if we're feeling good, it's on to the next day."
Up next
Lorenzo Cain is expected back in action Friday, when Brandon Woodruff continues his bid for the rotation with a start against the Padres at American Family Fields of Phoenix. The 3:05 p.m. CT game will air exclusively via MLB.com audio webcast.